Dalat best things to do & travel guide
Dalat is clearly one of the highlights of Vietnam, especially if you like adrenaline. Dalat is completely different from any other place in Vietnam. The weather is spring-like cool instead of tropical hot, the city is littered with elegant French-colonial villas instead of a grim socialist architecture, and the farms around are littered with strawberries and flowers instead of rice.
5 reasons to visit Dalat
Increase the adrenaline pace with mountain biking, white water rafting, canyoning or a climbing adventure in the hills around Dalat.
Jump on a motorbike and explore the waterfalls, lakes and forests in the area.
In the early morning, gibbons wanted to track down and then search for crocodiles in the Cat Tien National Park.
Visit the local farms and plantations.
Enjoy local food, which comes directly from the area.
What is in this Dalat travel guide
Book your local Dalat experience
If you like adventure it is recommended to stay around 3 days in Dalat, so you have time to do some activities as well as driving through the area and visiting the waterfalls, forests and lakes.
Dalat is a relative big town with enough ATM's.
Local events and holidays
Dalat Flower Festival – A cultural festival which takes place every other year between late December and early January, with the purpose of exhibiting flowers, vegetables and ornamental plants from the local as well as other regions within the country
Spring (January-March) – Season of trees and flowers; between 20 and 28 degrees
Summer (April – June) – Season of fog and warm weather; between 24 and 31 degrees
Autumn (July – September) – Season of rain; between 24 and 31
Winter (October to December) – Season of flowers on the hills; between 20 and 26 degrees
10 best things to do in Dalat
Dalat is a cool mountain town for both Vietnamese and travelers who want to escape the heat and smog of the larger cities. Most people come here so that they can relax and enjoy the natural sights in Dalat, such as the lakes, forests, hills and plantations. But there is also a lot of action for those who want to make their heart beat in perhaps the adventure capital of Vietnam. These are the 10 best things to do in Dalat.
Without a doubt, canyoning is the best thing to do in Dalat. Especially for the real adventurous travelers it is one of the highlights in Vietnam. During canyoning in Dalat you abseil from waterfalls, jump from cliffs into the river, enjoy a zipline above the water, float in a river and slide down a natural water slide.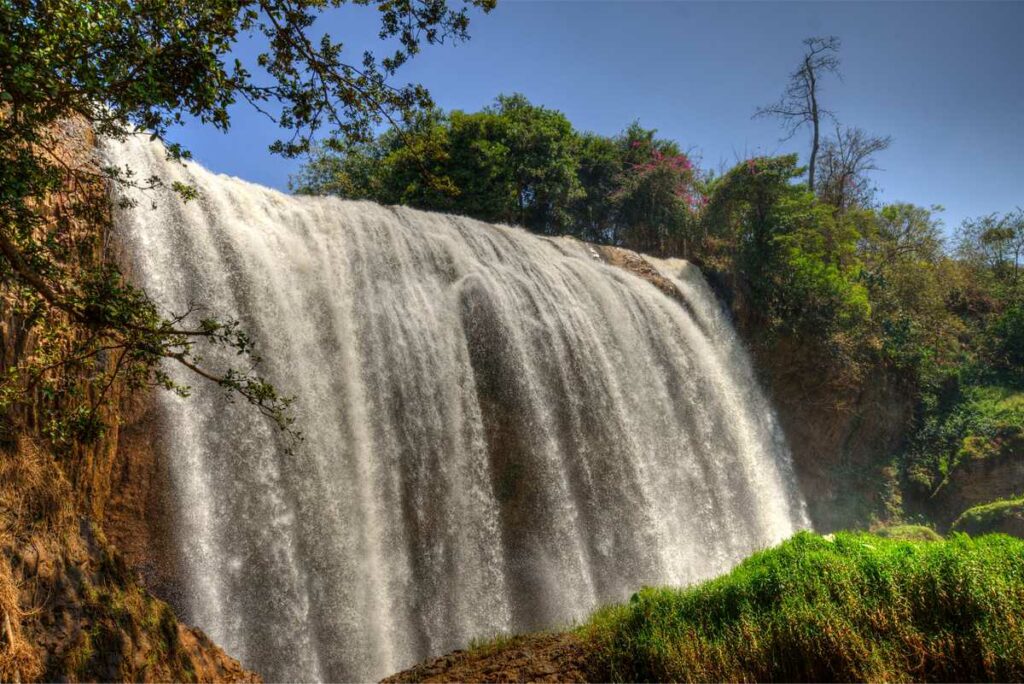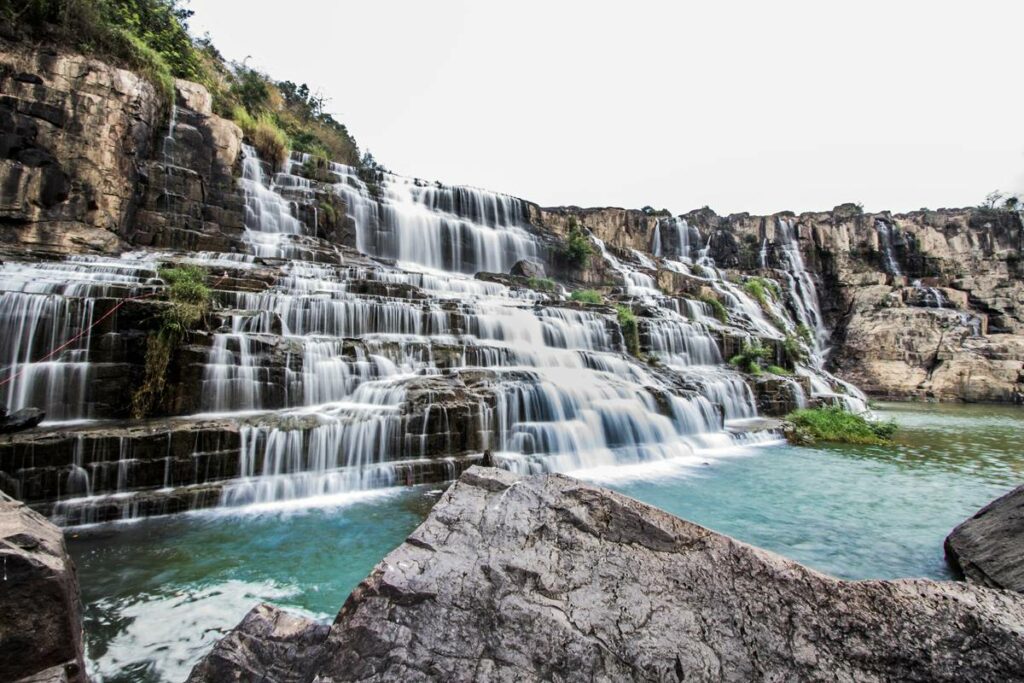 There are many different waterfalls in Dalat. Some of these are not far from the city and are therefore easy to visit, but others require a long drive. The most famous is the Datanla waterfall. Here you will also find a mountain toboggan roller coaster, cable car and the place where you will find the popular canyoning.
The Pongour waterfall is one of the most beautiful waterfalls, where the water flows down several steps. The forests around the waterfall give it an extra magical atmosphere.
The Elephant Waterfall is another impressive waterfall that is a little closer to the city. The path that leads to the waterfall is a bit tricky, but well worth a visit.
A number of other waterfalls around and in Dalat are Bao Dai waterfall, Prenn waterfall and Tiger waterfall.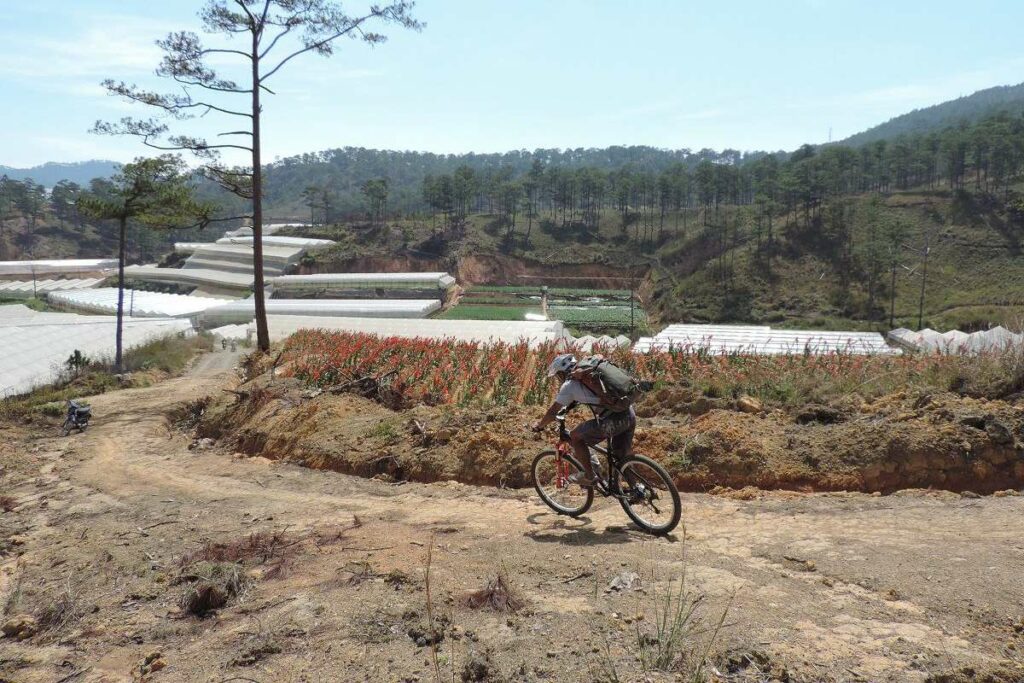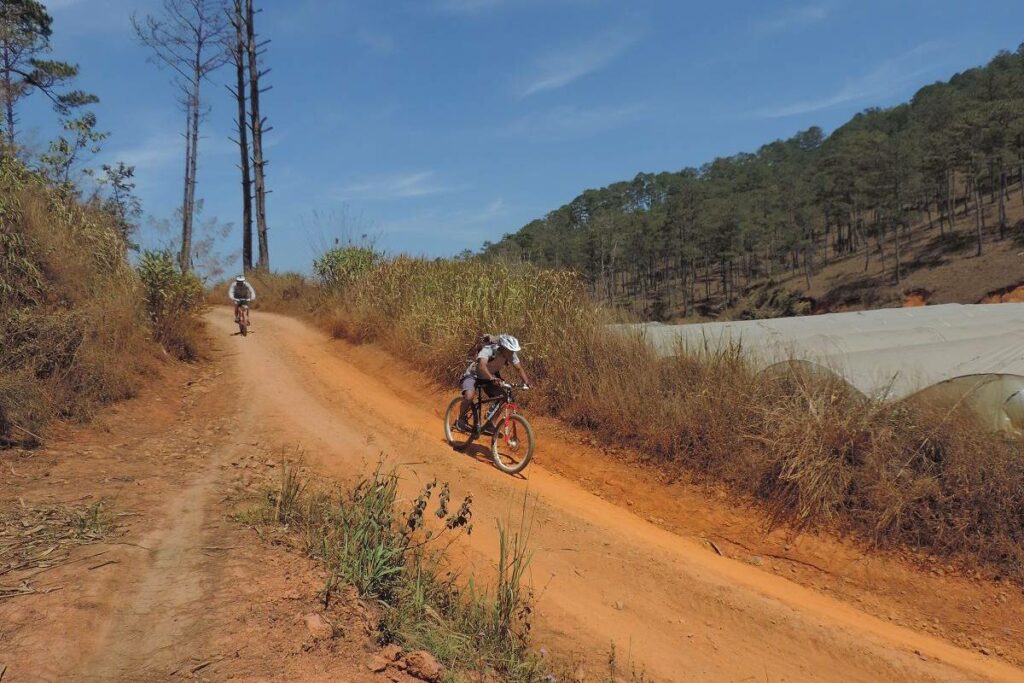 Dalat is a paradise for mountain bikers, with some great single-track, technical descents, mountain climbing and once on top, breathtaking views of fields, forests and mountains. Mountain biking is therefore one of the best things to do in Dalat and a great way to explore the region.
Relaxed walks or adventurous treks through nature and along forest paths are another way to discover the beauty of this area. It is full of many natural sights in Dalat where you can find interesting animals and birds. Some tours can lead you to caves, waterfalls, lakes, volcanic peaks, minority villages, suspension bridges and farmland. The best known treks are to the top of Lang Biang Mountain and treks through the Bidoup Nui Ba National Park.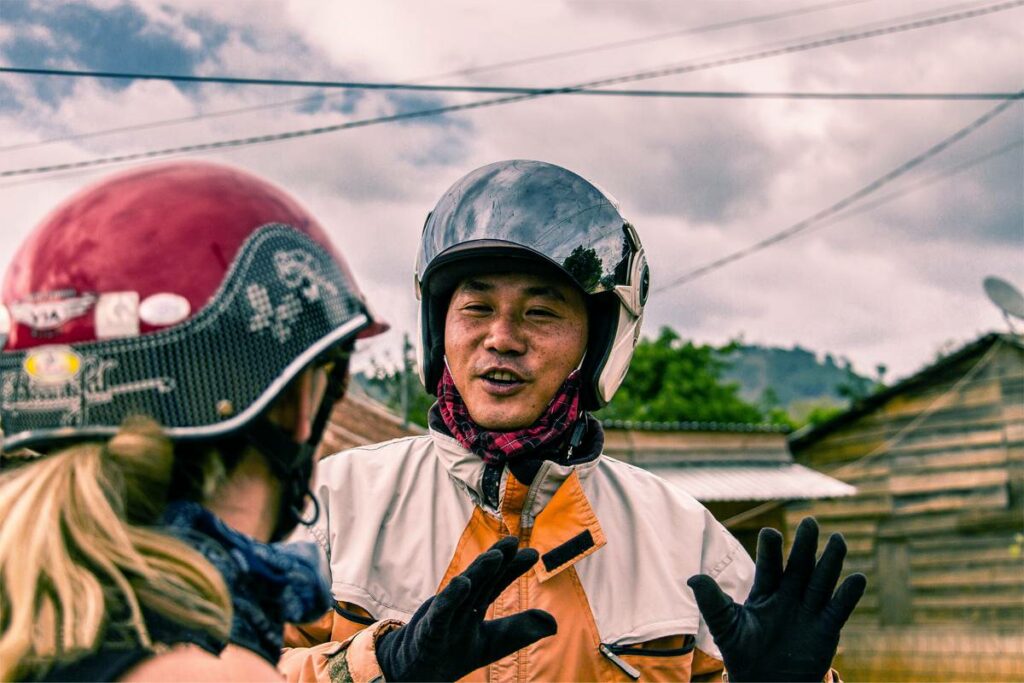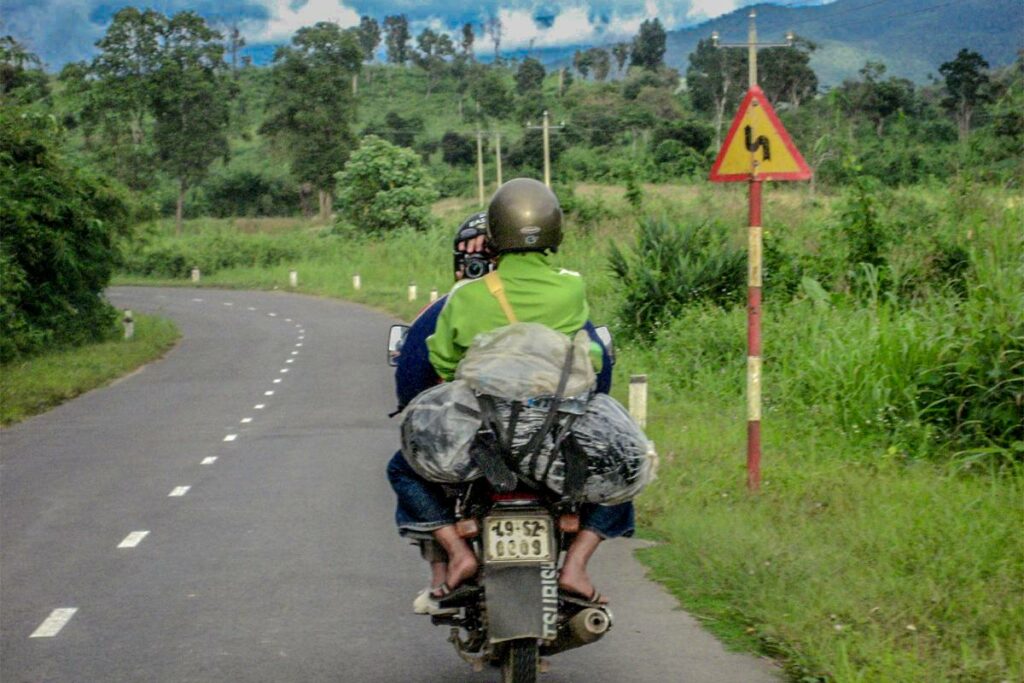 Would you like to explore the forests, lakes, waterfalls and plantations of Dalat, but would you rather not be in a car or would you rather not drive a motorcycle yourself? The Dalat easy riders are the perfect solution! Easy Riders are experienced guides who take behind travelers to popular sights, as well as places that all these local guides know where to find a more authentic experience. They can be found all over Vietnam today, but are originally from Dalat. This is therefore the best place to take an Easy Rider in Vietnam.
These motorcycle guides drive around the city, but you can also book them in advance. They often have a book with reviews and pre-made routes, but you can also indicate your wishes. It is possible to take a day tour to a waterfall, plantations and forests, but you can even take a multi-day easy rider tour, where you can choose to go through the central highlands or drive to the coast and continue along one of the most beautiful coastal roads in Vietnam.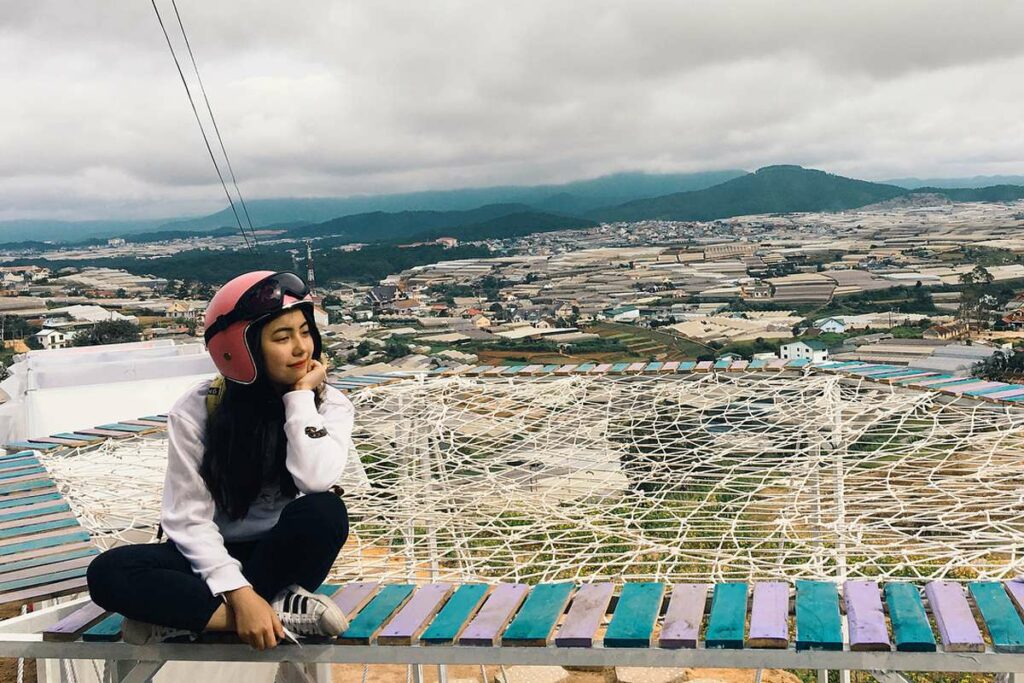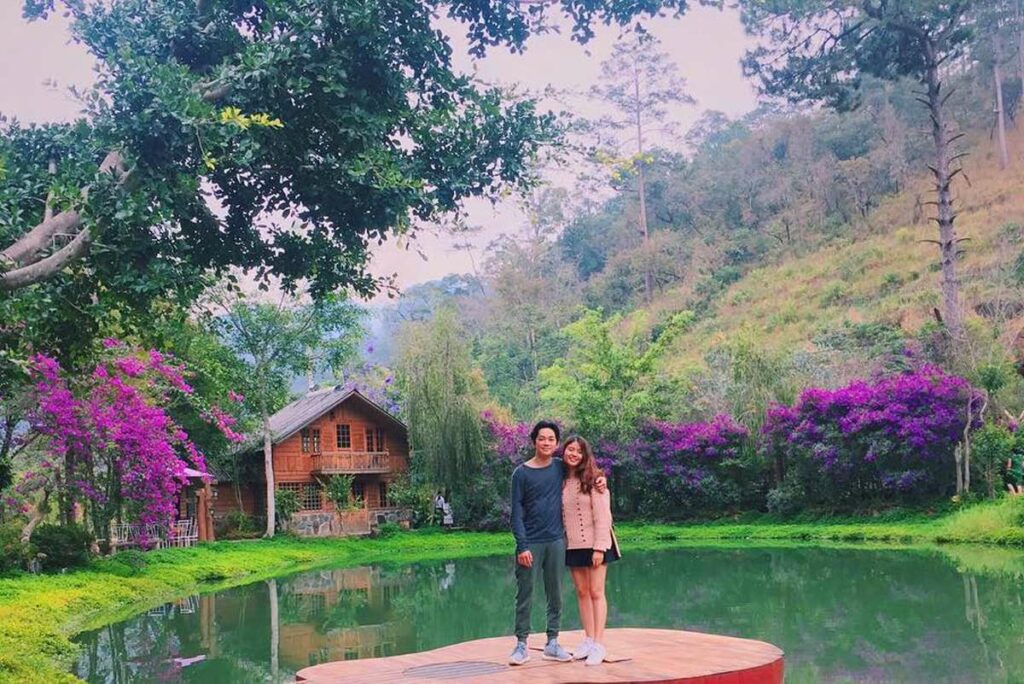 Vietnam is the second largest coffee exporter in the world, just after Brazil and most coffee comes from the central highlands, where Dalat is located. So what better place than to have a coffee in this region?
In addition to coffee in Vietnam, a whole culture has also developed around coffee shops, and Dalat is the capital of this. It is more than a place where you come to drink coffee, but also where you come for the environment. These small coffee bars are often uniquely decorated or have a special theme and others have are situated in a unique environment. For example, you will find coffee shops in Dalat on top of mountains with a beautiful view over the forests or greenhouses that are lid in the evening. Enjoy the view over a lake or the city. And coffee shops in less good locations are uniquely decorated or with a special theme, such as Harry Potter, fairy tales or a jungle theme.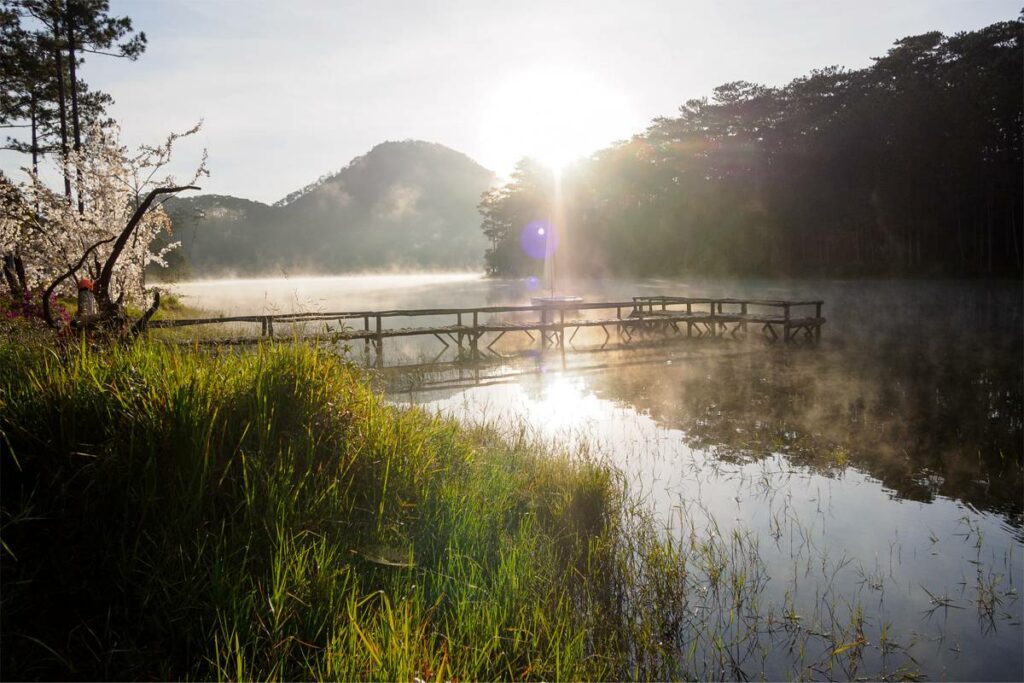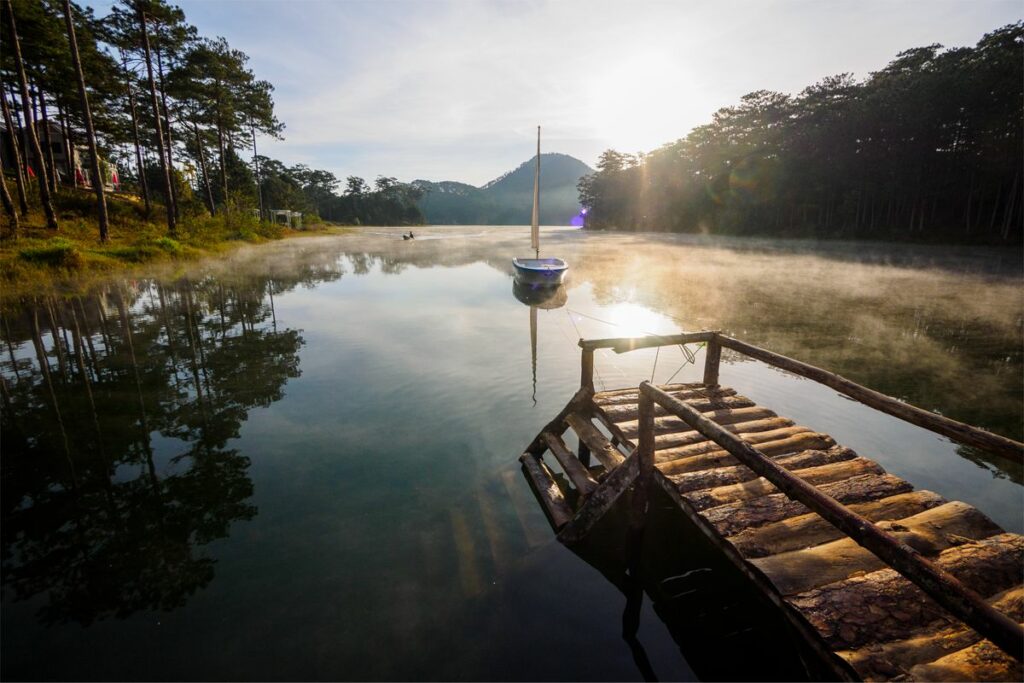 Tuyen Lam Lake is the most beautiful lake in the Dalat area and is also called Paradise Lake. The lake is surrounded by a green pine forest and gives a peaceful feeling in a beautiful landscape. In addition to enjoying the romantic scenery around the lake, you can go horse riding, climbing, fishing and kayaking. You can combine a visit to this lake with the cable car to Truc Lam Pagoda, which is right next to the lake.
The best thing to do in Dalat at night is a visit to the Dalat night market. When the night market is open in the weekend, the central market area is pure madness, with thousands of people shopping and socializing. It is a lively scene apart from the usual relaxed pace of the city. Even on weekday evenings, the area is rich with inviting scents from all street vendors.
9. Coffee and tea plantations
Vietnam is one of the world's largest coffee exporters and many of the highlands around Dalat are used for plantations. The central highlands of Vietnam offer the ideal climate for growing tea and coffee. When you drive through the Dalat region you will pass large plantations of both coffee and tea and depending on the season there will be countless tarps on the road where coffee beans dry in the sun.
The Crazy House in Dalat offers a bizarre structure and completely unique experience. It is officially called the Hang Nga Guesthouse & Art Gallery, but is known as Crazy House for its bizarre and crazy design. With many revolving corridors and odd spaces, this is something completely different.
You can choose to stay here overnight, altough you have to keep in mind it is also a tourist attraction. A better option might be just visiting this place for an hour.
Best hotels & hostels in Dalat
Where to stay
Staying in the center – Located near the Dalat night market, suitable for shopping, eating and relaxing, most means of transport (taxi, motorcycle, bicycle) are available, with many beautiful views that are worth seeing, including Xuan Huong Lake, the flower garden of the city of Dalat.
Hotels outside the city of Dalat – Staying further away from the city center also has some unique advantages: a peaceful and quiet atmosphere, less touristy and a cheaper price. Although it takes you more time to travel to the market or other highlights of the city, in return you get a beautiful landscape to enjoy, as well as more private space to relax.
Best hotels & hostels in Dalat
Budget hotels & hostels
The Lake House
Gaia hostel
Magnolia
Cozy Nook Hostel
Mr.Peace Backpacker's House
Mid range hotel
La Vie En Rose Villa
Tasme Hotel
Boutique Stop and Go
Tulip Hotel
Iris Dalat Hotel
Sam Tuyền Lâm Resort
High end hotel & resort
Zen Valley Dalat Resort
Swiss Belresort Tuyen Lam
Terracotta Hotel and Resort Dalat
Restaurants
Dalat has numerous restaurants to serve varied visitors, of all shapes and sizes, ranging from local Dalat dishes to central and South Vietnamese dishes and a large number of Western and French-inspired eateries, bars and restaurants. The city has a reputation for high-quality fresh produce and is also the source of some of the best coffee in Vietnam.
Restaurants
1. Artist Alley Restaurant
2. Le Chalet Dalat
3. Goc Ha Thanh Restaurant
4. Da Quy Restaurant
5. Chu Quan Bbq Grill
Cafe / coffee shop
1. An cafe
2. Me Linh Coffee Garden
3. Wednesday's Violet book cafe
4. Ma Rung Lu Quan (Ma Rung Inn)
5. Panorama Cafe Dalat
6. Cafe Nông Trại Vui Vẻ
Nightlife
The nightlife in Dalat is quiet compared to other cities in Vietnam because it is best known as a place for rest and relaxation. However, you can still find a handful of great bars and pubs until late in the evening:
Dalat Night Market
Maze bar
The Escape Bar
Beepub Hostel & Bar
Rain Nightclub
V Club Da Lat
There are regular flights with Vietnam Airlines, VietJet Air and Jetstar, including a daily service to Danang (1¼ hour), four daily to Hanoi (1¾ hour) and HCMC (45 minutes), and twice a week to Can Tho (1¼ hour) ).
Dalat is an important bus stop for open bus tickets. The Sinh Tourist has daily buses to Mui Ne, Nha Trang and HCMC.
Dalat's long-distance bus station is 1.5 km south of Xuan Huong Lake and is dominated by Phuong Trang buses that offer free hotel pick-ups and drop-offs and buses to all major regional destinations.
Motorbike: The bets way to get around is by motorbike/scooter. Rent is 150,000d to 200,000d per day. It is understandable if you don't want to drive around yourself, as the roads in Vietnam as not very safe. In this case we highly recommend doing a Easy Rider tour.
Car: Alternatively you can travel by comfortable car. Daily rental (with driver) starts at around $ 50.
Taxi: For within the city you can use taxis. Uses Mai Linh for reliable service.
Itinerary 2 days in Dalat
Visit the Datanla waterfall. Take the roller coaster down.
Take the cable car to Truc Lam Pagoda.
Kayak over Tuyem Lam Lake.
Visit Crazy House Dalat.
Walk across Dalat Night Market
Do the best thing to do in Dalat: canyoning!
If you don't want that, choose something else adventurous, such as trekking, mountain biking or rafting.
Then relax by the Xuan Huong lake.
Enjoy a drink at Maze bar.
More tips for traveling in Dalat
From the city you can easily travel by bus or car to the coast cities of Nha Trang (if you are planning to go north) and Mui Ne (if you are planning to go south). You can also go by bus or flight to to Ho Chi Minh City. It is possible to go straight to Hoi An / Da Nang by bus, but it is not recommended to takes these long bus trips. There are flights available too from Dalat to Da Nang.
You can also choose to continue your journey through the central highlands and visit destinations such as Dak Lak, Kon Tum and Pleiku.
Dalat is a nice destination in Vietnam with kids, especially if they are a little older. You can take wonderful walks through the forest, mountain biking and kayaking. There are also plenty of sights that you can visit in the city and the surrounding area.