In Vietnam, paying with cash is the standard. Hotels, some travel agencies and only the more luxurious restaurants accept credit cards, there are few places that accept payments by credit card. With low maximum withdraw amounts in Vietnam plus transaction costs, these costs can quickly absorb a significant part of your travel budget. That is why you can read here what the best ATMs are in Vietnam and some tips for withdrawing cash.
Tip: Read more about money in Vietnam here.
Withdraw cash in Vietnam
According to Vietnamese law, ATMs are only allowed to issue Vietnamese Dong (VND), even if your account is originally in Euro, Dollar or other currencies. The amount of money that you want to withdraw is automatically changed from your own currency to VND based on the bank rate calculated at that time.
Where can you find ATMs
Cash machines can be found everywhere, both in the big cities such as Ho Chi Minh City, Hanoi and Da Nang, as well as in the smaller cities. You will find them mainly around the tourist areas. Cash machines in Vietnam are available 24 hours a day, 7 days a week, so you can go to a cash machine at any time. Use Google Maps to find the nearest ATM or find a bank on Google.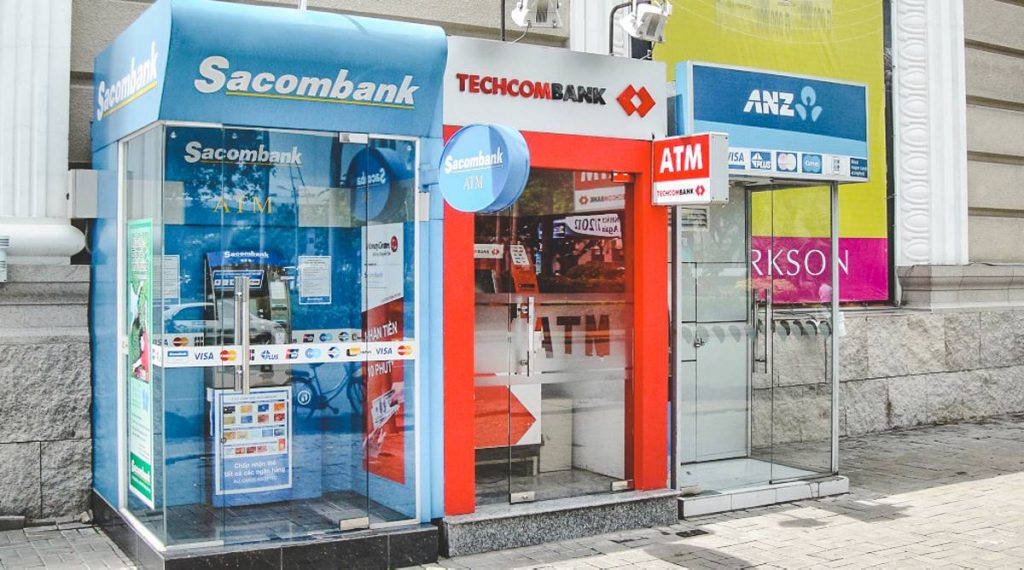 Although most ATMs accept different types of cards, including Master Card, Visa, Union Pay and JCB, do not forget to check the signs at any ATM that indicates which cards they accept. You don't want your card to get stuck.
Tip: ATMs are not refilled during Tet (Vietnamese New Year). It is possible that ATMs become empty during this period.
Vietnam maximum cash withdraw
The rules regarding the maximum amount of debit cards in Vietnam and the withdrawal costs for each transaction vary from bank to bank, but ATMs from local banks have a fairly low maximum withdraw amount per transaction compared to international banks.
Vietcombank: up to 2,000,000d
VietinBank: up to 2,000,000d
Agribank: up to 6,000,000d
HSBC: up to 8,000,000d
Citibank: 8,000,000d
Commonwealth Bank: up to 10,000,000d
ANZ: 10,000,000d
ATM fees Vietnam
At the time of debit card, transaction costs are also charged from generally an amount between 40,000 VND (~ USD 1.5) to 100,000 VND (~ USD 4). You can only avoid these costs by taking cash machines from your bank or choosing banks that are linked to your bank. Unfortunately, you will not find many foreign banks in Vietnam. There is no Vietnamese bank that allows customers to withdraw money from foreign accounts for free.
Vietcombank: transaction costs 50,000 VND
Agribank: transaction costs 22,000 VND
BIDV: transaction costs 30,000 VND
Sacombank: transaction costs 30,000 VND
Citibank: transaction costs 55,000 VND
ANZ: transaction costs 40,000 VND
Tip: You do not want to lose 4 dollar for paying only 40 dollar. That is 10%. Choose ATMs from foreign banks with a higher maximum withdrawal amount to minimize the total costs that you have to pay and to avoid having to go to the ATM too often to withdraw cash in Vietnam.