Are you planning to buy or rent a motorbike in Vietnam? And do you want to ride the entire length of Vietnam on a motorbike or take a short drive through the city or countryside? Then it is good to first find out what you need to know before you buy or rent a motorbike. Read this comprehensive guide so that you can set off safely and wisely.
This can read about buying or renting a motorbike in Vietnam:
Traffic rules and laws of Vietnam
Basic rules
You do not need a driver's license for motorbikes under 50 cc.
For motorbike with 50 – 174 cc you need the Vietnamese driving license A1
For motorbikes above 174 cc – you need the Vietnamese A2 driving license
When buying or renting a motorbike you must get a blue card from the owner (or at least a copy). This blue card provides information about the owner of the motorbike. If you do not have this blue card, you may get into trouble with the police if you are arrested.
No alcohol tolerance for motorists and 0.5 ‰ for motorcyclists. But be wise and never drink alcohol before you drive.
Motorcyclists must wear a helmet while driving.
More than 2 people on a motorbike is not allowed (as you will see this everywhere).
In Vietnam they drive on the right.
You must be 18 years old.
A stronger vehicle always has priority.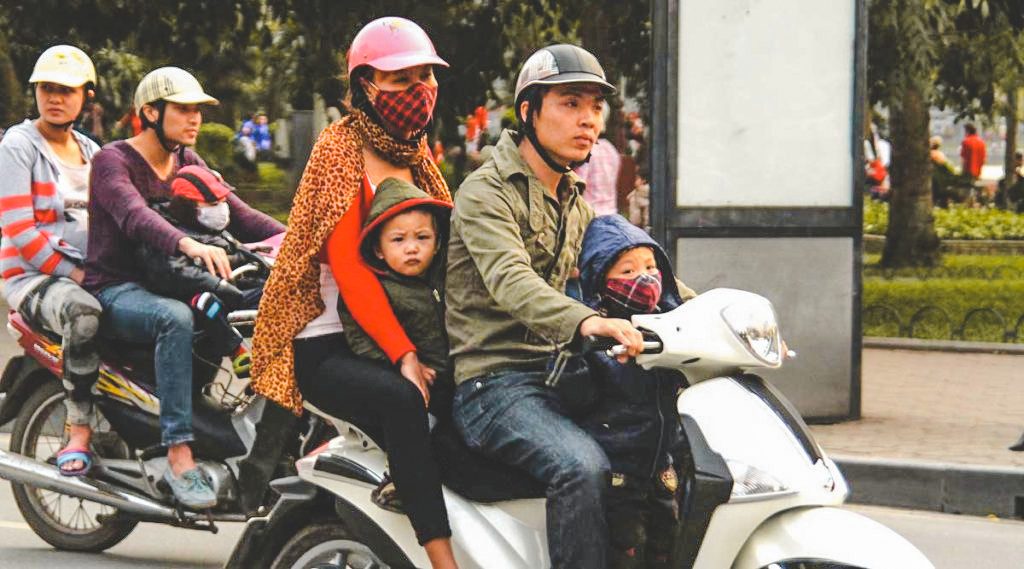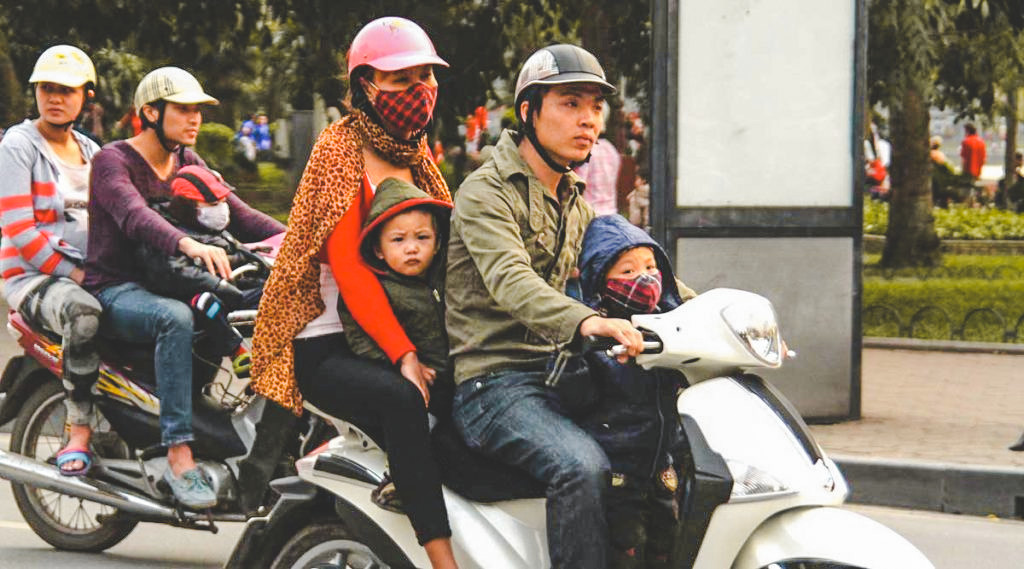 Can I drive with an international driver's license in Vietnam?
There are conflicting reports about this, but an international driver's license is not valid in Vietnam. You can only drive with a valid Vietnamese driver's license.
Why do tourists ride a motorbike any way?
There seems to be a kind of tolerance policy for motorcycling tourists. Police almost never stop foreigners, probably also because they are insecure because they speak poor or no English. So don't ruin it for others and behave in traffic.
Vietnamese driver's license
You can only apply for a Vietnamese driver's license if you have a Vietnamese business visa, a work permit and / or a residence card. With a normal tourist visa you cannot apply for a driver's license. Foreigners living in Vietnam can have their national driver's license translated into Vietnamese and get a Vietnamese driver's license without passing an exam. If you cannot drive a motorbike with your driver's license, you must pass a simple test.
Fines
Driving in an area where you are not allowed to drive or on the wrong side: 200 000 – 400 000
Alcohol (per level): 500,000 – 3,000,000
Without a license: 800,000 – 1,200,000
Driving without a helmet: 100,000 – 200,000
Making calls while driving: 60,000 – 80,000
In the bad cases, the police can seize a motorcycle. In the worst case, such as a major accident, you can go to jail …
Do it or not?
Are you planning to buy or rent a motorbike in Vietnam? If so, the first question you should ask yourself (seriously) is whether you can drive well. There are few rules when it comes to traffic in Vietnam. You must always be extremely reactive and be able to properly anticipate changes. If you have no experience at all, then Vietnam is not the right country to learn to drive. If you are not very self-assured, you can probably also look for an alternative better.
Why:
The best way to see Vietnam and visit local authentic places
Perfect to see the landscape and stop whenever you want.
Lots of freedom, not tied to bus and train times.
A unique and very adventurous experience.
Cheap and easy way to travel
Why not:
The traffic is very chaotic and can be very dangerous, accidents happen regularly.
When you are not experienced and not self-confident.
Officially you are not allowed by law to drive without a Vietnamese driver's license;
Because of this you are often not fully covered by your (travel) insurance after an accident.
The roads, especially in the north of Vietnam, are not always of good quality.
You have to navigate yourself.
The alternative
If you don't like driving alone, but still want to get some of this experience, there are a number of alternatives:
Rent a scooter and explore the region: You can of course choose not to see the whole of Vietnam with a motorbike, but only a certain region. From city to city you take the bus or train and once at your destination you rent a scooter to explore the region. Tip, check out the best motorbike routes in Vietnam to determine where you can best do this.
Motor tour with guide: There are a number of tours that you can do where you can drive yourself, but with an experienced guide that helps you. With this option you are not concerned with navigation either.
Easyrider: An easyrider is a local guide who takes you on the back of the motorbike to visit sights. This is the best and safest alternative. You still have freedom, but you don't have to drive and navigate yourself. The best thing about an easyrider is that this local guide can show you places you would otherwise never come to and he can put you in touch with the locals, giving you a unique insight into the culture.
Rent or buy a motorbike?
If you are certain that you can drive, you must decide whether you want to rent or buy a motorbike / scooter.
Renting: advantages and disadvantages
Saved hassle of selling / buying and paperwork
You will probably get more support and advice.
You do not have to take care of maintenance yourself and pay for it.
One-way costs more by shipping the motor to the original destination.
More expensive than buying and chances that you have to pay for damage when you return the motorbike (and if you are scammed by a bad company, you may have to pay for damage that was already there).
Buying: pros and cons
Cheaper than renting.
If you want to travel through other countries with the same motorbike.
No worries about damage you have to pay to the rental company.
You have to buy the motor yourself and also sell it again.
What are the costs?
Costs for renting a motorbike in Vietnam
Scooter / motorcycle for 1 day> $ 5 – 15 (Honda Wave, Future, Blade, Yamaha …)
Scooter / motorcycle for 1 month> around $ 100 – 200 (the longer you rent, the lower the price)
Stronger motors for 1 day> $ 30 – 60 (the longer you rent, the lower the price)
Costs for buying a motorbike in Vietnam
The costs for a scooter / motorbike are around $ 250 to 1500 (eg Honda Wave, Future, Blade, Yamaha …). Low prices from advertisers or street vendors (can be copies of motorbikes), higher prices from certified suppliers.
Some companies offer redemption, for example you buy a motorbike for $ 1 000 and when you return, you get $ 800 back.
You can sell your motorbike when you leave Vietnam through advertising websites, social media and sellers, usually at a lower price.
Where can you rent and buy a motorbike
You can buy or rent a motorcycle, especially in the center of major cities and tourist towns. Outside the store are a row of motorbikes and scooters with the inscription "Motorbike for sale / to rent". In Vietnamese – "Xe máy" = Motorbike, "Cho thuê xe máy" = Motorbike rental.
Recommended companies:
Hanoi, Ha Giang, Da Nang: rentabikevn.com
Hanoi: Phung Motorbike, Tigit motorbikes, Flamingo trail
Ha Giang: QT Motorbikes + Tours
Ho Chi Minh City: Saigon scooter rental
You can also take over a motorbike from another backpacker, read "how do I sell my motorbike" to see a number of websites where this is possible.
How do I sell my motorbike?
If you have chosen to purchase a motorbike, you must resell it at the end of your journey. There are a number of options for doing this. First of all you can try to sell your motorcycle in the hostel where you stay. Some hostels have a notice board where you can hang something to sell your motorbike. Another option is via a website or social media:
Checklist
Before you rent or buy a motorbike, it is necessary to carefully check and test the motorbike. Some companies offer cheap and used motorcycles and scooters of dubious quality. Other official and certified commercial companies rent and sell a good quality motorbike.
Check the lights and direction indicators.
Check the tires and the frame
Gasoline must not leak.
Check the noise of the motorbike.
Stability and control of the handlebars.
Check the standard.
Check the registration papers (the blue card)
What kind of motorbike can you buy or rent in Vietnam?
There are many different motorbikes that you can buy or rent, from various brands, but also many poor Chinese ones. The cheap Chinese copies of Honda Win (called the "Chinese Win") are well known, many travelers buy or rent this motorbike. This motorbike is very cheap (you can buy it from around $ 200), but what is very cheap is often not very good. Cheap often also means more breakdown and repairs while traveling.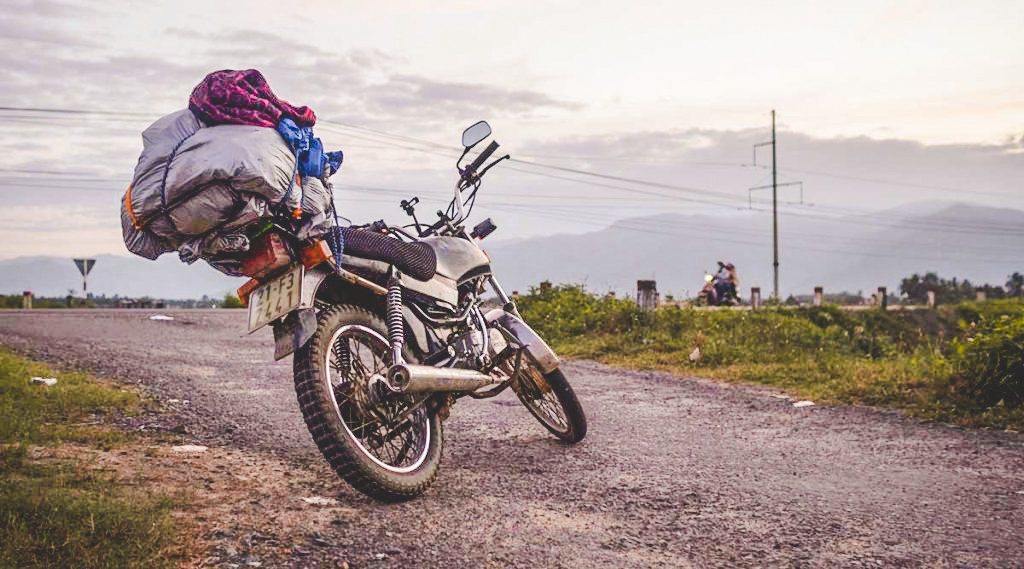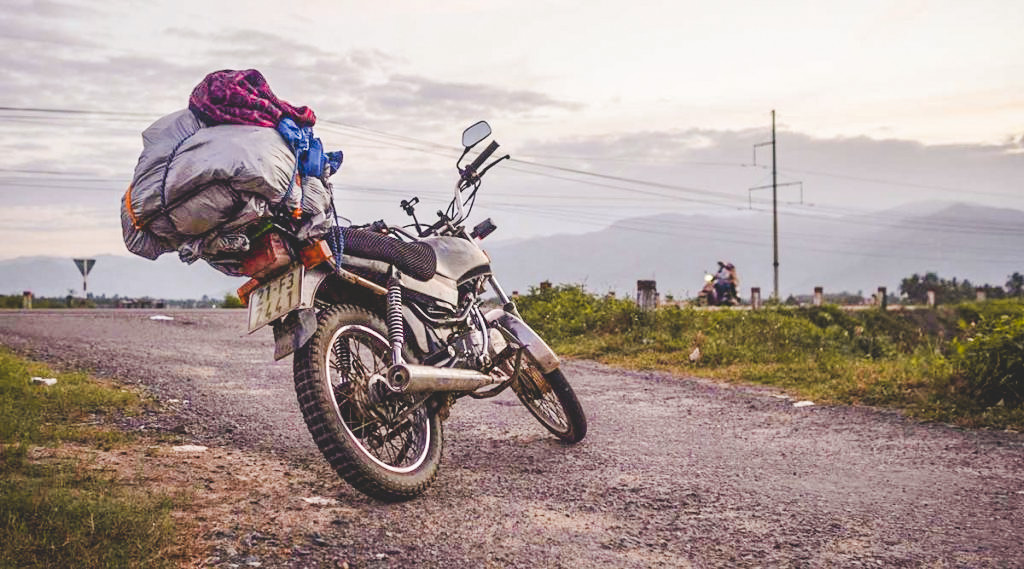 The most popular brands:
Honda
Most popular brand, but also many Chinese copies. Honda Blade, Honda Wave and Honda Future are a semi-automatic and a good choice to travel with. The Honda Win has a manual gear, cheap and has a place to put your backpack on.
Yamaha
The most popular models are the Mio and Nuovo. Strong motors for difficult terrain.
Suzuki
Hayate scooter is easy to maintain.
Minsk
Old motorbike for someone with a very low budget and not super reliable.
Best motorbike routes in Vietnam
The Ha Giang loop
The Hai Van Pass (between Dan Nang and Hue)
From Quy Nhon to Nha Trang
Sapa area
Dalat area
Motorbike tips
Make sure you are rested; although you sit all the time, traveling on a motorbike is physically tiring.
Check the weather. Drought means a lot of dust and when it rains hard means a lot of water on the road.
Plan your route in advance.
Stick to the speed and adjust your speed, the state of the road, the traffic and the weather conditions.
Keep a sufficient distance.
Take a break after every 1 or 2 hours of driving.
Make sure you have enough gas if you have to drive a long distance through a remote area.
Honking is very normal here to let them know that they are going to overtake you.
Depart early in the morning on days when you will be driving long distances.
What to bring:
Helmet (good quality)
Sunglasses and sunscreen. Glasses are also handy against dust.
Mouth cap against exhaust gases and dust
Phone for GPS
Water-resistant bag for your backpack
A metal carrier and cables to secure your backpack
Basic repair tool
Rain suit
Apps
Google maps: Since 2018, Google Maps has a special "motorbike mode". This option takes into account the speed of motorcycling and small roads and shorter roads that the car cannot take.
Maps.me: Has very detained maps and the best thing is that you have to download them in advance, so that you can always use this navigation, even if you have no network coverage on your phone.
What do you do if your motorbike breaks down?
Many travelers are not experienced motorbike technicians. Problems with the very cheap motorbike (eg the Chinese copy of Honda Win) often occur. If you get into such a situation, you can take your motorcycle to a repair shop or technicians. You find them everywhere along the road in Vietnam and are happy to help you. However, if such a place cannot be found, try asking the locals. Make sure you have a translation app on your phone or copy standard phrases in Vietnamese in advance.