Phu Quoc best things to do & travel guide
Phu Quoc is a beautiful island with crystal clear waters, incredible sunsets, lush tropical landscapes, perfect sandy beaches and welcoming locals. It is the largest island in Vietnam, the size of Phuket in Thailand. The northern part of the island is relatively unaffected by its status as a UNESCO protected national park, but there are numerous luxury resorts, funky bars and cafes along the southern coastline.
5 reasons to visit Phu Quoc
Enjoy a wonderful beach vacation
Take a boat trip to the An Thoi Islands
Explore the island and local life with the engine
Explore the underwater world with diving or snorkeling
Watch the sunset on the beach with a few cocktails or bbq
What is in this Phu Quoc travel guide
Besides the beaches, there is not much to do in Phu Quoc. So it mainly depends on how long you can lie on the beach without getting bored.
ATM's are mainly found in the main towns like Duong Dong.
Local events and holidays
Vul Lan Festival: Is held during the seventh month of the lunar calendar. Thousands of people from Phu Quoc go to the Dinh Tran Pagoda.
High season – November to March: the weather is exceptionally pleasant with an average temperature of 30 degrees and clear sky.
Shoulder season – April to June: the hottest months of the island. The chance of good weather is fifty-fifty.
Low season – July to September: a lot of rain.
10 best things to do in Phu Quoc
Most things to do in Phu Quoc revolve around the beautiful beaches. If you don't feel like a beach holiday or to end your tour here, you better skip the island. If you like this, you will be treated to the most beautiful beaches in Vietnam, with typical beach activities to choose from.
The best thing to do in Phu Quoc is enjoy the beach. This is also the main reason for most travelers to travel to the island. And not without reason, because here you will find the best beaches in Vietnam.
Sao Beach is seen by most people as the most beautiful beach in Phu Quoc. There are plenty of places where you can sit on a lounge chair with a parasol and enjoy the calm water.
Long Beach is the most popular beach, as it runs along Duong Duong, the largest city on the island. Here you will find many restaurants and resorts right on the beach.
Read the full list of the best beaches in Phu Quoc here.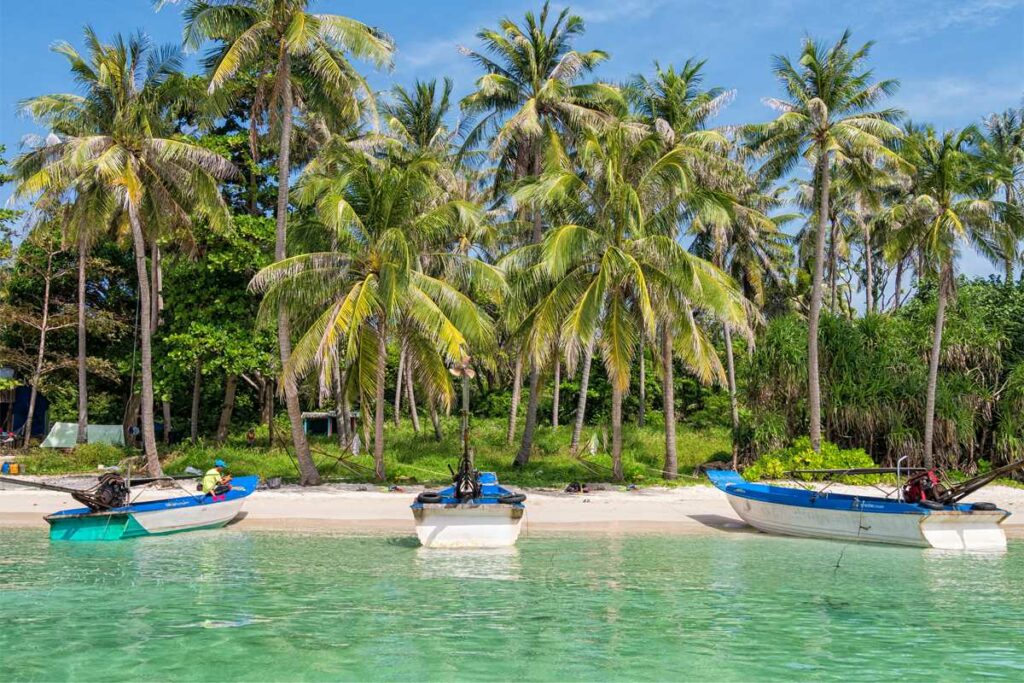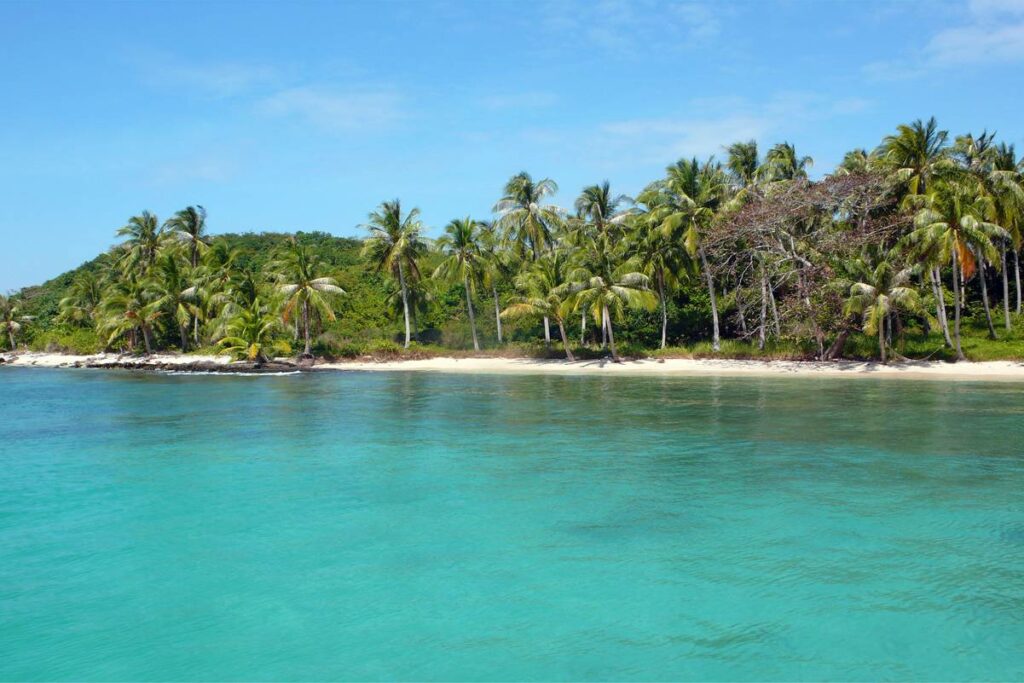 The third best thing to do in Phu Quoc has to do with the beaches again. Off the coast of the main island are many smaller islands with more beautiful beaches that you can visit by boat trip.
There are several boat trips that are organized. This way you can quickly visit various islands with a speedboat. The larger boats are slow, but have a place to enjoy a drink, have a BBQ and jump off the boat.
The most beautiful islands of Phu Quoc are the An Thoi island group, at the southernmost point. A perfect place for snorkeling, swimming and fishing.
The Phu Quoc prison is also called the coconut prison. It was built in 1949 during the French colonial era and used to imprison political dissidents. Later it was used by South Vietnam during the Vietnam War to detain and sometimes even torture North Vietnamese soldiers.
Today the prison is a museum that you can visit and where you can see how the prisoners lived at the time.
4. Visit local fishing villages
To get a taste of the Vietnamese culture, you can visit the fishing villages along the coast. See how boats are repaired on land, the houses the fishermen live in and the basket boats that lie on the beach to paddle to the fishing boats that lie off the coast. It is an authentic experience and an interesting change from the beautiful beach life. Ham Ninh village and Ganh Dau are two fishing villages that are well worth a visit.
If you have had enough of all the beaches, you can also explore the interior of the island. The Suoi Tranh waterfall is therefore a good option. At 4 meters high it is not a very special or impressive waterfall, but the natural pools and the location between the lush rain forest makes it worth a visit.
This island may not be the best place to dive in Vietnam, but it is one of the most popular things to do in Phu Quoc. There are several options for diving in Phu Quoc, for both beginners and experienced divers.
Snorkeling is possible during day tours. You can do a boat tour to May Rut Island Finger Island and Dam Ngang Island, where you can snorkel among the fish and coral.
What could be better than relaxing on the beach at the end of the day with a great view of the sunset. For example, you can choose to sit at a beach bar with a delicious cocktail or what is certainly recommended is a sunset bbq on the beach.
8. Visit local plantations and factories
For Vietnamese, Phu Quoc, beyond its beautiful beaches, is also known for its pepper and famous fish sauce that is used in almost every dish. Scattered across the island you will find pepper plantations and fish sauce factories. You can visit these without any problem to see how they work here. Of course you can also buy some souvenirs here to take home.
Phu Quoc night market, officially Dinh Cau nigh market, is an open-air market in Duong Dong town. Every evening from 5am, the streets here are closed to vehicles and more than 100 different street stalls emerge. Here they sell everything, such as seafood, souvenirs, ice cream, banana pancakes and drinks.
There are also several restaurants around the market if you'd rather eat somewhere where you can sit.
10. The Phu Quoc cable car
The Phu Quoc cable car is a cable car that starts on the most south-westerly part of the island and then goes across the sea to An Thoi island. This 15 minute tour is the longest and continuous 3 cable aerial car system in the world.
Along the way you can enjoy a panoramic view of the An Thoi island group, fishing villages and ocean.
Best hotels & hostels in Phu Quoc
Where to stay
Duong Dong – The heart of the island, centrally located to everything. The most important place for entertainment, shopping, dining and sightseeing. You can find most famous restaurants here and it is full of bars and coffee shops. A city literally for those who cannot live without comfort. With a beautiful beach and 10 minutes from the airport.
Other locations where you can find accommodation are Ong Lang, Cua Can, Vung Bau, Ganh Dau and An Thoi.
Best hotels & hostels in Phu Quoc
Budget hotels & hostels
Island Life Hostel
9 Station Hostel Phu Quoc
Dormstay Riverside
Seaside Homestay
Mid range hotel
Lahana Resort Phu Quoc
La Mer Resort Phu Quoc
Little Garden Bungalow
Cottage Village
Nadine Phu Quoc Resort
High end hotel & resort
Camia Resort & Spa
Ancarine Beach Resort
Green Bay Phu Quoc Resort and Spa
Dusit Princess Moonrise Beach Resort
There are quite a few restaurants of varying quality along the way along Long Beach. There are also some simple seafood restaurants at the end of Long Beach. If you stay at Ong Lang beach, you are more likely to eat at the resort most of your time. You will find lots of fresh fish at the night market in Duong Dong.
Local restaurants
Chuon Chuon Bistro & Sky Bar
Iris cafe
Nemo Restaurant
Bun Cha Ha Noi – Phu Quoc
Mango Bay Restaurant
Fine dining
The Pepper Tree Restaurant
May Restaurant
Happy An Restaurant
Sunset Beach Bar & Restaurant
Winston's Burgers & Beer
Nightlife
The nightlife and nightlife on Phu Quoc are mainly found in Duong Dong, the most popular region in Phu Quoc. You will find backpacker bars, luxury lounges, rooftop bars and night clubs here.
Dinh Cau Night Market
La Veranda Beach Bar
Golden Sand Bar
Eden Beach Bar
An Duong
Xin Chao
Coco Bar
Beer Garden
Boba Club
Phu Quoc International Airport (PQC) is located on the south side of Long Beach, approximately nine kilometers from the city of Duong Dong. There are several flights a day from Ho Chi Minh City and Hanoi. From the airport to Long Beach the taxi costs me around 100,000 – 150,000 VND. Jetstar runs a shuttle bus to Duong Dong for 50,000d.
When weather permits, ferries travel at least once a day from Ha Tien (1.5 hours) and Rach Gia (2.5 hours) to Phu Quoc and vice versa. The vast majority of travelers take the Superdong fast ferry, which is efficient, orderly, air-conditioned and comfortable.
Taxis are available outside of Phu Quoc International Airport, as well as prominent resorts and places of interest on the island. It is also possible to rent a car with driver for a day that takes you around the island.
Bicycle rental is offered by most hotels and resorts on the island of Phu Quoc for around US $ 1 per day. Ideal for short trips within Duong Dong and Long Beach.
Motorcycles and scooters are ideal if you want to explore Phu Quoc at your own pace. The traffic in the center of Duong Dong is less bad compared to other cities in Vietnam, but the roads that lead to the countryside and Phu Quoc National Park are quite winding and bumpy. Motorbike rental shops can be found in Duong Dong, with daily rates between VND 120,000 and VND 250,000. Most resorts also offer motorbike rentals. Always check the quality of the engine before you start driving, especially the brakes.
Itinerary 2 days in Phu Quoc
Explore the island on a motorcycle or car with driver.
Learn more about the Vietnamese revolution in the Phu Quoc prison museum.
Take a walk on the sands of Sao Beach.
Visit a local pepper plantation.
Explore the Suoi Tranh waterfall.
Enjoy the sunset on Long Beach with a cocktail.
Take a day trip to the An Thoi Islands.
You will visit various islands by boat and explore the underwater world with snorkeling.
Alternatively you can also take a diving excursion.
More tips for traveling in Phu Quoc
Via the international airport you can fly abroad as well as to the largest cities in Vietnam, such as Hanoi, Ho Chi Minh City and Da Nang.
If you don't want to fly then the most logical next destination is the Mekong Delta. From here you can travel to Cambodia or Ho Chi Minh City.
If you are traveling in Vietnam with kids than Phu Quoc should be on your list. Despite the increased tourism, there is little traffic. There are beautiful beaches where your children can play and there are a number of theme parks where you can go well. There is also plenty of choice in child-friendly hotels and resorts.
The island is very developed for tourism so it is easy to get by with English.