Con Dao best things to do & travel guide
The islands of Con Dao are nowadays one of the most famous highlights of Vietnam. It used to be called Devil's Island, because prisoners were tortured here. Today it is a beautiful island with white beaches, coral reefs, beautiful bays and dense forests. Hiking, diving and wildlife watching are some of the activities you can do on this island.
5 reasons to visit Con Dao
Relax on one of the beaches
Learn about the island's brutal history at various prisons
Discover the marine life around the islands
Watch turtles laying eggs on the beach
Go trekking through the National Park
What is in this Con Dao travel guide
Book your local Con Dao experience
It is great to spend 3 days on the island. That gives you plenty of time to enjoy the beach, explore the island and even do a bit of snorkeling or diving.
The main town has ATM's and most hotels and resorts accept card payments.
The best time to visit Con Dao Islands is from November to February during the dry season.
If you want to see the turtles nesting on Hon Bay Canh Island, it is best to visit between June and September.
For diving the best tome to visit Con Dao is from February till July when the waters around the islands have visibility averaging between 20 and 30 metres.
10 best things to do in Con Dao
Con Dao is not a very big island full of attractions and sights like in Phu Quoc. You mainly come here for the local life, the untouched nature and the tranquility. The best things to do are therefore mainly to explore the beautiful nature, on the island, on the water and underwater. There are also historical sites in Con Dao related to the Vietnam War and colonial times.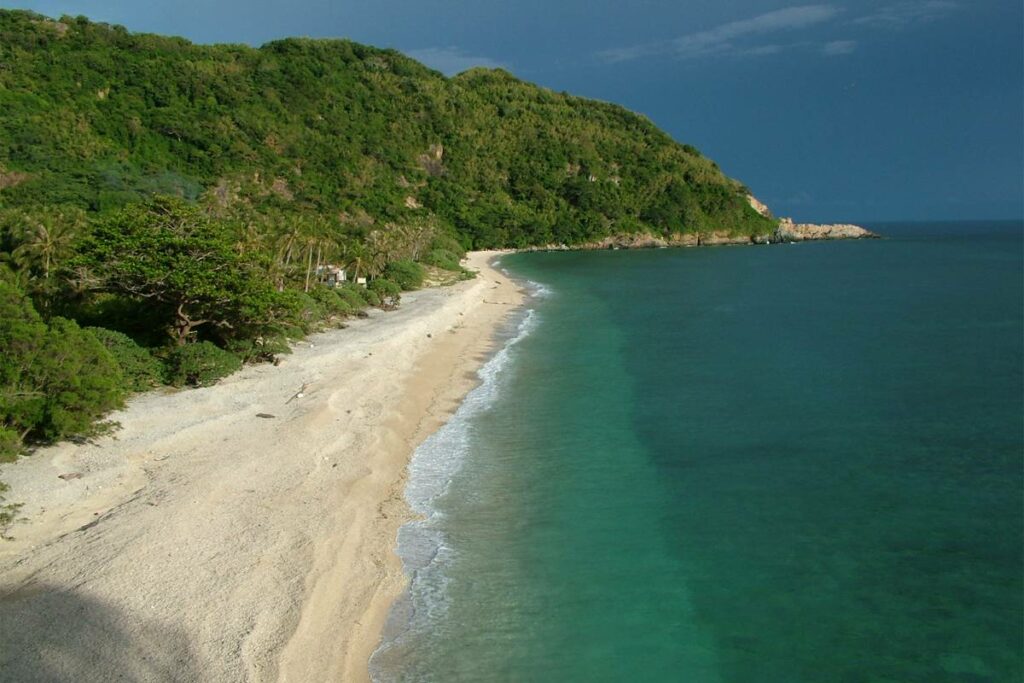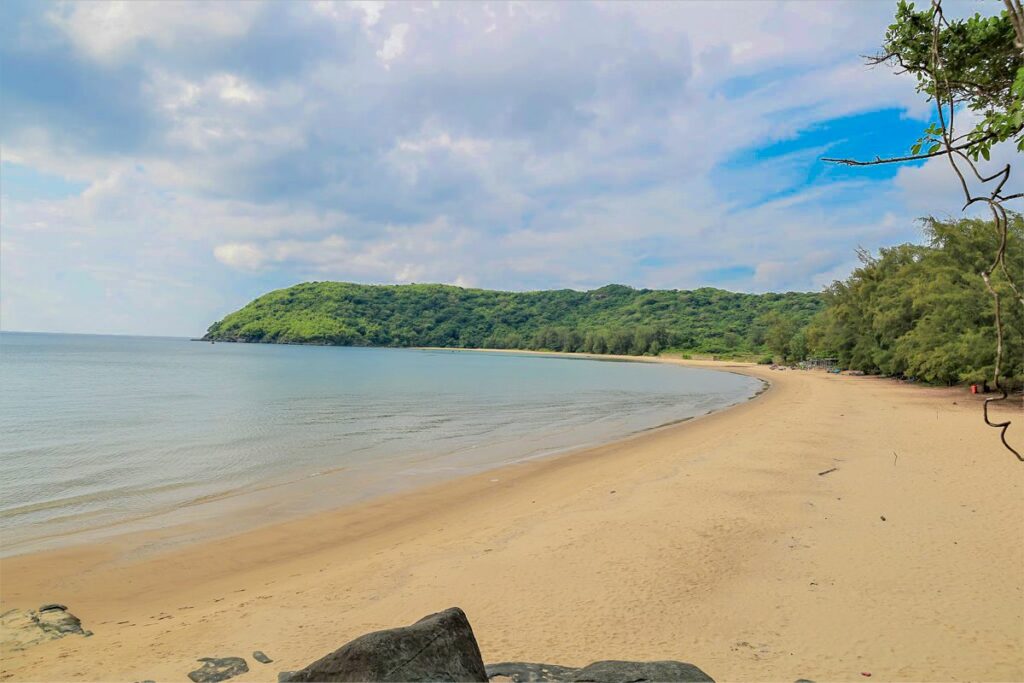 The beaches of Con Dao are some of the best in Vietnam and are the reason for many travelers to travel here. Most of these beaches can be found on the main island of Con Son and are easily accessible by road. Here you will find very soft with sand and fortunately little waste.
The best beach on Con Son Island, Bai Dat Doc is a pretty bay, made up of a mile long crescent of light sand, surrounded by green hills.
Dam Trau Beach is the second best beach on the island. Soft sand and clear water stretches wide, with rocky green hills on either side.
Bai Loi Voi is a wide sandy and pebble beach with lots of shells and shade. There is a good stretch of sandy beach in the center of the town of Con Son.
Bai An Hai on the south side of the town of Con Son is beautiful, but there are a large number of fishing boats nearby.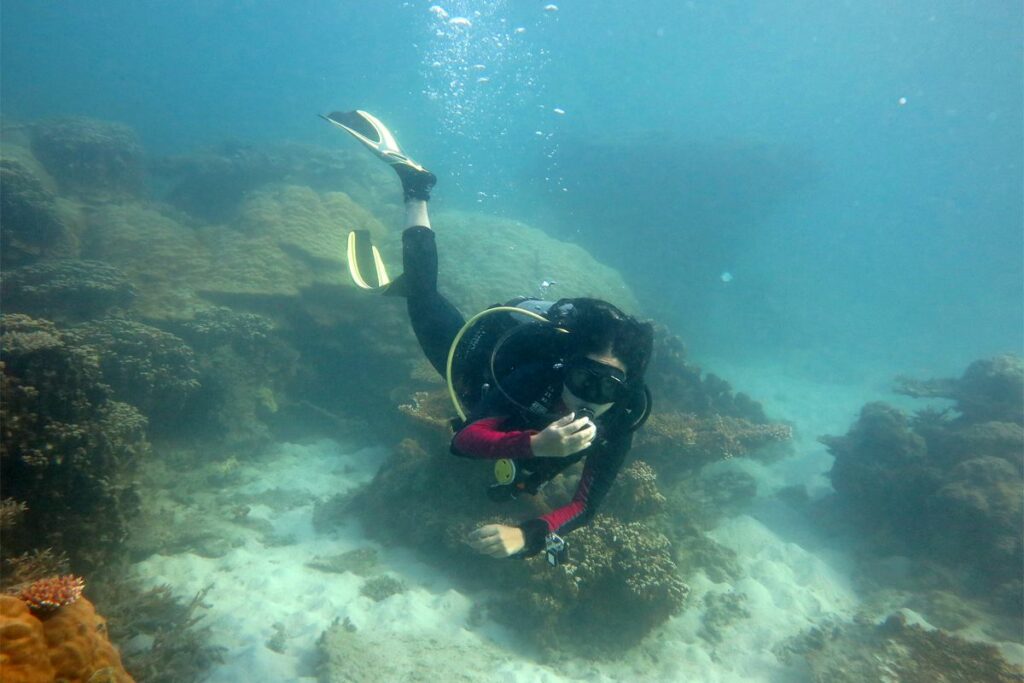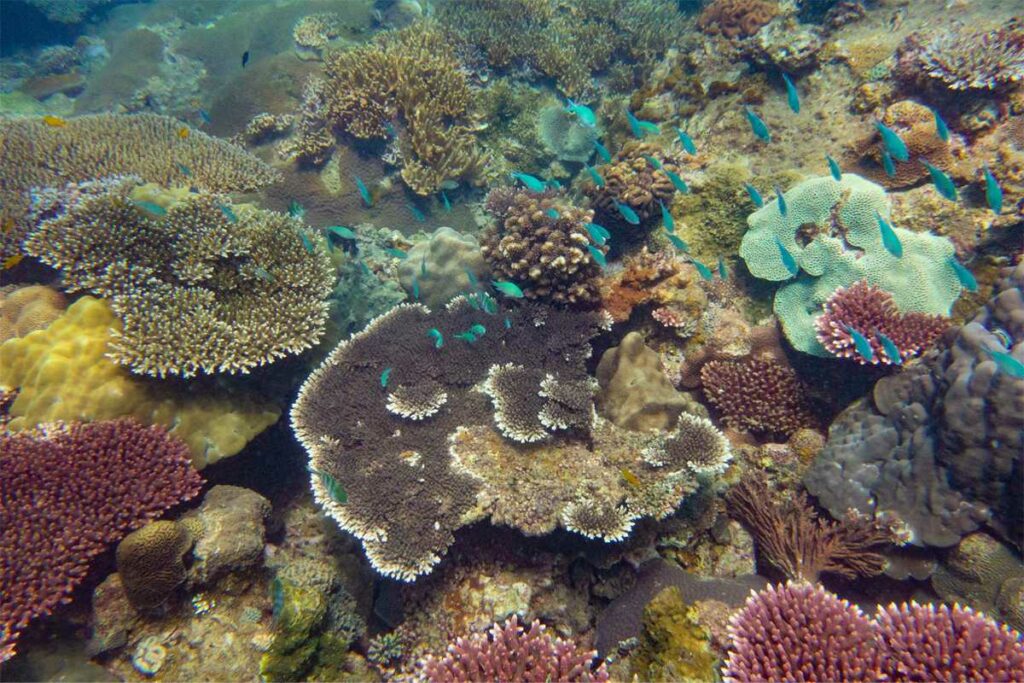 Diving in Con Dao is one of the best things to do, because it has the most pristine sea in Vietnam. The waters around the islands are officially protected and there is a lot of coral to be seen. It is best known for its biodiversity; there are over 1,300 species of marine life in the area. You will also find one of the only shipwrecks where you can dive in Vietnam. Diving is possible all year round, but for ideal conditions and good visibility, January to June is considered the best time.
3. Trekking in the national park
There are many treks around Con Son Island as much of the inland is heavily forested. The best place is in the Con Dao national park. It is recommended that you take a national park guide when going into the forest.
You can make short hikes to a cave, several beaches or a centuries-old tree. But the best trip is all the way to the peak of the park. On clear days you can enjoy a beautiful view of the entire island here.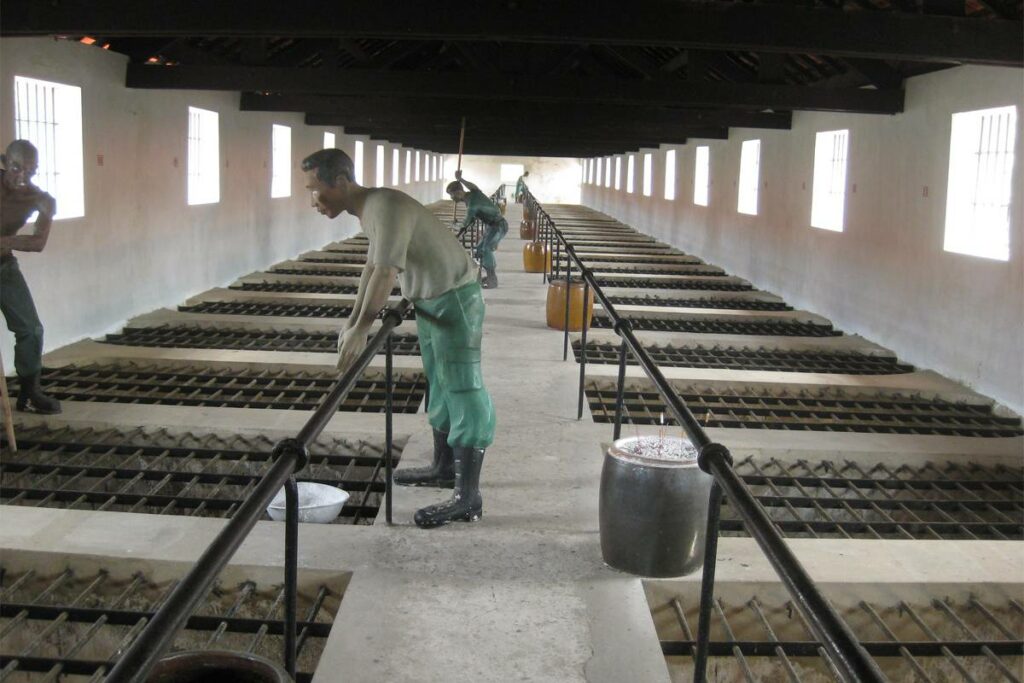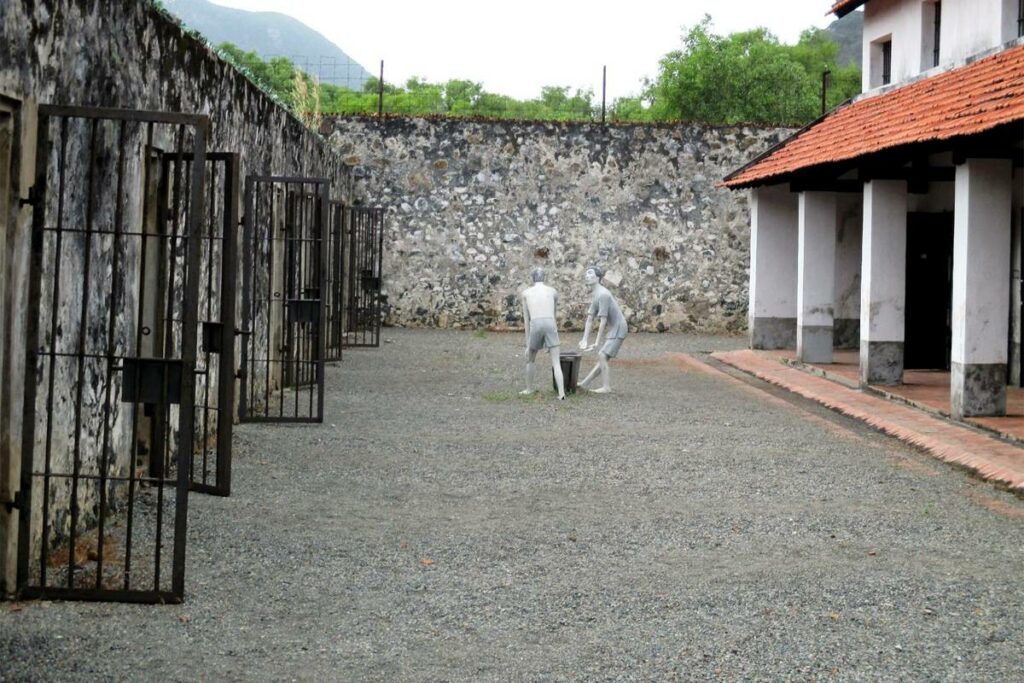 One of the most impressive things to do in Con Dao is to visit the old prisons. These prisons were built during the French colonial era and were also used during the Vietnam War. Political prisoners were detained here and tortured themselves. The three main prisons you can visit are the Phu Hai, Phu Binh Camp, and French Tiger Cages.
Phu Hai Prison (Con Dao Prison) is the largest of the 11 prisons on the island, dating back to 1862. Thousands of inmates were held here, with up to 200 inmates crammed into each detention building.
The infamous cells called "tiger cages" were built by the French in 1940 to hold nearly 2,000 political prisoners. There are 120 rooms where the guards could poke the prisoners like tigers in a Victorian zoo.
Phu Binh Camp was built by the Americans on the outskirts of the city in 1971 and had 384 rooms. The cells had corrugated iron roofs and became very hot. Here you will also find the "American Tiger Cages".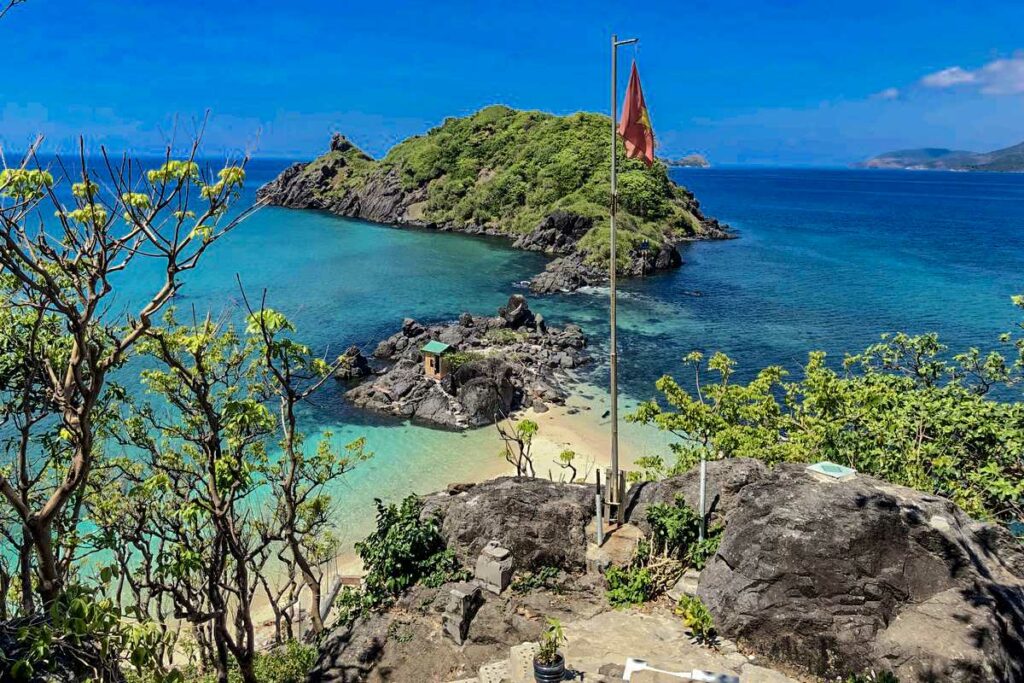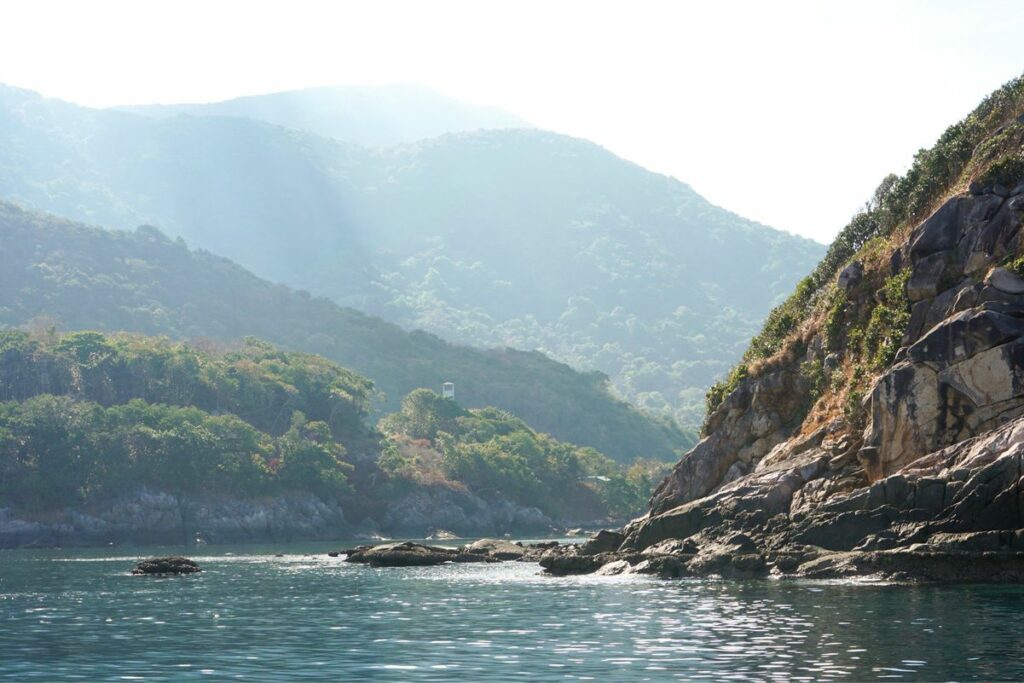 You will find many smaller islands around the main island of Con Son. You can visit these islands with a boat trip. There are a few boat tours available, both private and in a group. Take a good look at what is included, for some private islands you have to pay an extra fee for example.
On and around these islands you can enjoy the beach and great snorkeling. The water is clear and you will find the most beautiful coral in Vietnam here.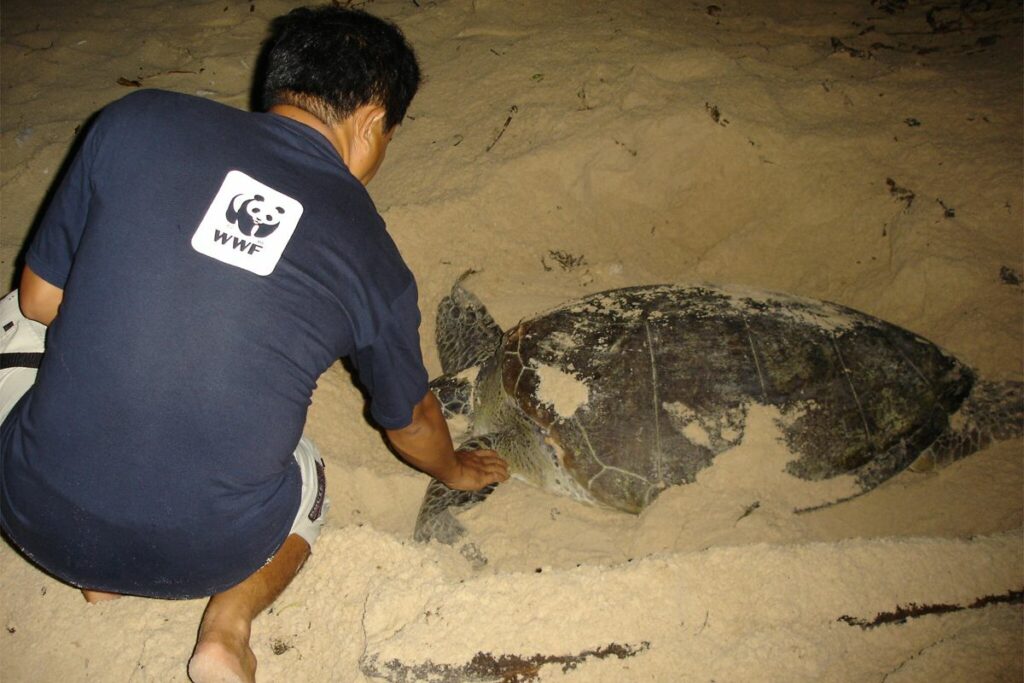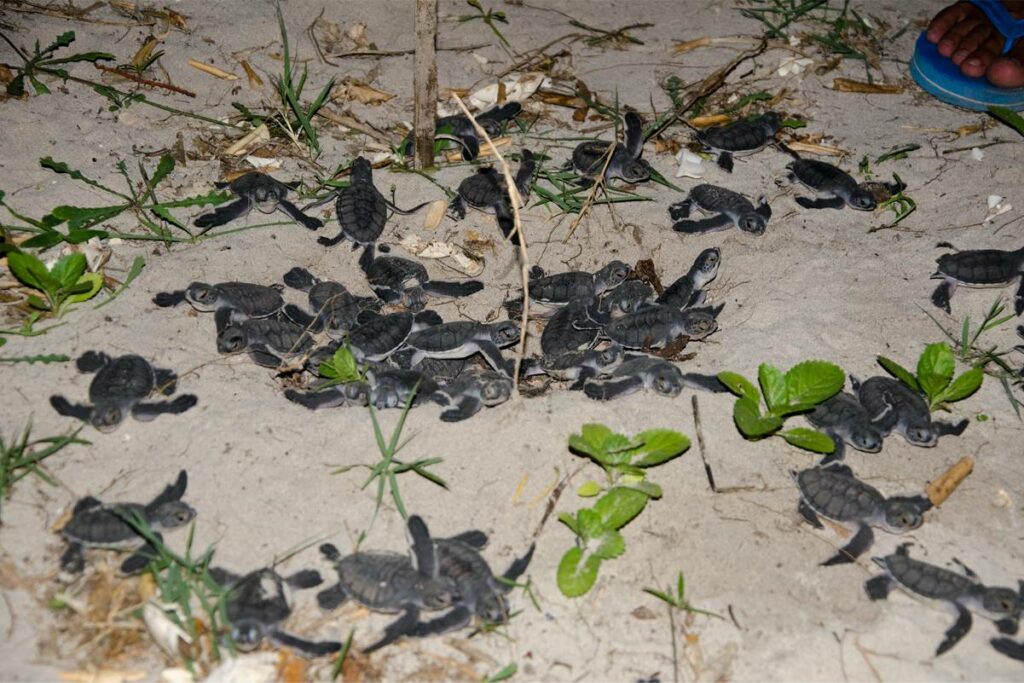 If you are here in the right season then the best thing to do in Con Dao is without a doubt turtle watching! The remote Con Dao Islands has the largest population of sea turtles in Vietnam and is home to many protected nesting sites for them. Every year, these sea turtles travel from the Philippines to Con Dao to breed. Once the turtles arrive in Con Dao, the female turtle will lay about 100 eggs at a time. The Con Dao turtle nesting season runs from May to October and peaks from June to September. There are about 400 sea turtles every year.
The most popular islands to see the turtles are Bay Canh Island, Tre Lon Island, Cau Island and Tai Island. Bay Canh Island, the large island right in front of Con Son Island, is the most popular island. If you want to see sea turtles laying eggs in Con Dao, you should join a Con Dao Turtle Tour, which is arranged by the Con Dao National Park office.
7. Drive around the island
If you want to visit different beaches, take a walk in the national park and visit a prison, it is useful to rent a motorbike. It is also great to drive along the coast and impossible to get lost as there is only 1 road.
There is little or no traffic on the island. You can rent a motorcycle from 150,000 VND per day. A sportier alternative is to rent a bicycle.
If you want to learn more about Con Dao's dark past, visit the Con Dao museum. Here you can learn more about the prisons on the island and how they were used during the French colonial era and later by the Americans in the Vietnam War.
Another part of the museum has a slightly light-hearted theme, but no less interesting. Here you will learn more about the unique biodiversity of the islands.
In Vietnam you will find markets everywhere, including in the very sparsely populated Con Dao. At the Con Son night market you will find a lot of local food, such as freshly grilled seafood and a few places where you can buy souvenirs. There is a fun atmosphere and one of the best things to do in Con Dao in the late evening.
Visiting a cemetery during your vacation sounds very gloomy, but it is recommended to visit the Hang Duong Cemetery. About 20,000 Vietnamese prisoners died on Con Son and nearly 2,000 of their graves can be seen in this cemetery, located on the eastern edge of the city. Unfortunately, only 700 of these graves have the names of the victims.
Best hotels & hostels in Con Dao
Where to stay
Con Dao is a cluster of 16 islands, including Con Son Island, the largest and the most populous island in the area. Most of the tourist attractions, historical sites and local spots can be found here.
Con Dao town and Con Son Bay you will find most of the sights. Here you should also look for a hotel. Other parts of the island are peaceful and quiet, with expensive resorts here and there.
Located in the south of the city, An Hai Beach is a sandy, naturally beautiful beach. It is good to book a hotel in this area if you want to enjoy the peace and nature.
That Doc Beach is on the north side of town. The luxurious Six Senses Resort is located here, which owns half of the white sandy beach.
Located a few miles west of Con Son Airport, Dam Trau Beach is also an interesting place to stay. From here you can enjoy glorious sunsets.
Nhat Beach, a few kilometers northwest of the Shark Nose, is a picturesque area with a series of small beaches. There are a few hostels in this area making it ideal for budget travelers.
Best budget hotels & hostels
Red Hotel; from $29
Phi Yen Hotel; from $25
Con Son Island Hotel; from $25
Lighthouse Boutique; from $19
 Average hotel
ATC Resort; from $50
Uyen's House; from $30 (dorm $10)
High end hotel & resort
Six Senses; from $600
Poulo Condor Boutique Resort & Spa; from $250
Con Dao Resort; from $100
Restaurants
More and more restaurants are popping up on Con Dao. Western food is also increasing. Most larger hotels have restaurants where good food is available, but are willing to pay a little more than the prices on the mainland. Also, hotels may not have everything on their menu available.
There are daily flights between Con Son and Ho Chi Minh City and Hanoi, all operated by Vietnam Airlines. The cost for a single ticket is from $ 70. There are also two flights a day from Can Tho in the Mekong Delta, starting at $ 50. From other destinations in Vietnam you always have to transfer in HCMC. (Read more about this here: How to Buy in Domestic Flights in Vietnam?)
Con Dao is accessible by ferry from the port of Vung Tau in 3 hours 15 minutes, as well as from the port of Tran De in Soc Trang in 2 hours 30 minutes.
Boat
Exploring the islands by boat can be arranged through your hotel. A 12-person boat costs about 2,000,000d to 5,000,000d per day, depending on the destinations. Local fishermen also offer excursions, but make sure you bargain hard.
Rent a motorbike or bicycle
This is one of the best places in Vietnam for cycling, with little traffic, no pollution and good paved roads. There is only one main road, connecting the airport in the north with Ben Dam in the south through the town of Con Son. Most hotels rent out motorbikes for about US $ 6 to US $ 10 per day. Bicycles cost approximately US $ 2 per day. There are good coastal cycling routes.
Taxi
Con Son Island has several taxis. However, because the taximeter rates are very high, always try to arrange a fixed price to destinations outside Con Son town and try to negotiate well.
Itinerary 2 days in Con Dao
Take a hiking or diving excursion.
You can do some walks in the rainforest on your own. You can also get free hiking maps at your hotel.
For diving, there are 35 dive / snorkel spots to choose from.
Sunrise at Ca Map Cape.
Breakfast and shopping in the Con Dao market
Learn about the culture and history of Con Dao. Visit the Con Dao Prison, Con Dao Museum, Ham Duong War Cemetery, Nui Mot Pagoda, and An Son Shrine.
More tips for traveling in Con Dao
If you don't mind taking the ferry you can combine Con Dao with the Mekong Delta. Otherwise you don't have any option but to take a flight to either Ho Chi Minh City or Hanoi.
Con Dao is suitable for children, because it is very quiet here with traffic. However, there are almost no activities that are especially for children, so when they are done on the beach there are few other options.