The currency of Vietnam is the dong, which you will see after an amount like "đ", "d" or "VND". You have bills for 500đ, 1000đ, 2000đ, 5000đ, 10,000đ, 20,000đ, 50,000đ, 100,000đ, 200,000đ and 500,000đ. Coin money is no longer used.

| | | | |
| --- | --- | --- | --- |
| Dong | US Dollar | Euro | Pound |
| 10,000 | 0.43 | 0.38 | 0.33 |
| 200,000 | 8.56 | 7.57 | 6.74 |
| 500,000 | 21.41 | 18.92 | 18.84 |
| 1,000,000 | 42.80 | 37.82 | 33.67 |
Withdraw at ATM
ATM's are available in every city in Vietnam. It is no problem to withdraw cash with a regular Maestro debit card or with a Visa or MasterCard credit card. However, beware of withdrawal costs (usually 25,000d to 50,000d) and withdrawal limit; most have a maximum of around 2,000,000d (75 euros); Agribank can hold up to 6,000,000d and Commonwealth Bank up to 10,000,000d.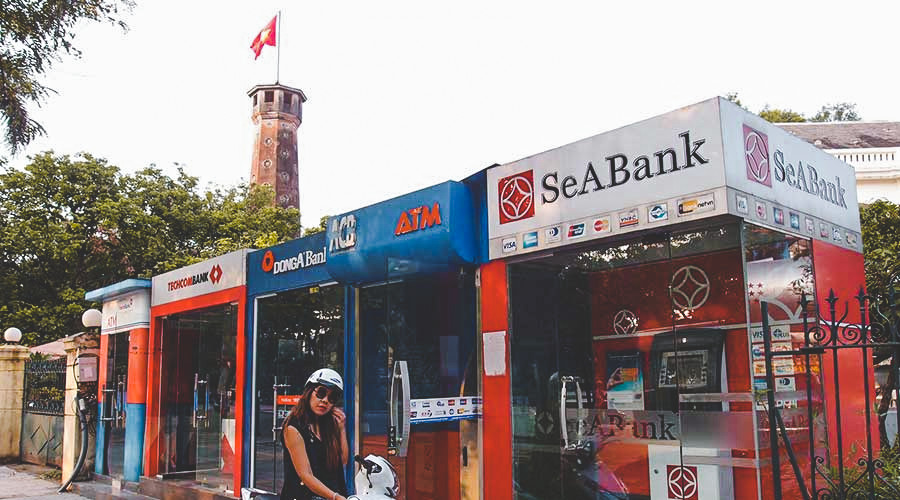 Pay with credit card
Credit cards are accepted in large cities at hotels and travel agents, but do not expect cheap guesthouses or local restaurants that accept a credit card. Payments commissions sometimes apply (around 3%).
Pay with other currencies (Euro, Dollar or Pound)
Although the official currency is the Vietnam Dong (VND), many major stores and hotels in Vietnam also accept the US dollar. With a few exceptions, the Euro is not accepted anywhere. When you travel to Vietnam, it is handy if you bring some dollars. Especially if you are planning to get a Vietnam visa upon arrival, it will save you problems, as the visa stamp at the airport must be paid in USD. A number of other currencies are accepted here, but high rates are charged.
Exchange money in Vietnam
Large currencies can be exchanged virtually anywhere in Vietnam, but not all exchange offices are the same. Banks and money changers at the airport often exchange money for bad prices. The most favorable exchange rates are often at a jeweler in the old quarter of Hanoi or behind Ben Thanh market in Ho Chi Minh City. Before you change money, always calculate whether you will receive a favorable rate.
Give tips
Tips are not expected in Vietnam, but it is greatly appreciated. For someone who earns US $ 150 a month, a $ 1 tip is important. Normally, minibus tour guides will share tips among themselves and the drivers.