Cao Bang best things to do & travel guide
The mountainous province of Cao Bang is one of the most beautiful regions in Vietnam. The town itself is not that spectacular, but it is a useful base from which to explore the area. An environment surrounded by beautiful nature. One of the best things to do in Bang is exploring the off the beaten track areas, because tourism is not yet at its peak like in Sapa or Halong Bay. You can really enjoy the peace here.
What is in this Cao Bang travel guide
Book your local Cao Bang experience
If you just want to visit the waterfall, cave and pagoda then one day will be enough. Though we highly recommend minimum of 3 days, because this province has so much more to offer. 
The largest city of Cao Bang, Cao Bang City, has enough ATM machines. Though when you go to the countryside, there will be none and credit cards are often not accepted.
Local events and holidays
Ban Gioc waterfall festival: in October you can enjoy festive activities, including a water procession ceremony and folk games such as tug of war, sack race and stick pushing.
The cool climate of Cao Bang province ensures that you can come here all year round. However, the beautiful nature with forests, mountains and waterfalls is best visited in the spring, from February to April. It rains a little less.
If you want to see the snow-capped mountains in Phia Oac National Park, you better come here from November to January. It might be a bit cold.
10 best things to do in Cao Bang
The main reason for travelers to visit Cao Bang is the Ban Gioc waterfall and though it is one of the highlights of this province, there is so much more to see. In fact, it is one of the most stunning provinces of Vietnam. There are so many great things to do in Cao Bang that are overlooked; and this created a unique opportunity to venture and go off the beaten track. To help you out for your visit, we made a list of 10 best things to do in Cao Bang.
The best thing to do in Cao Bang is visiting the Ban Gioc waterfalls. This is the largest waterfall in Vietnam, right on the border with China. They are spectacular waterfalls and a highlight of your trip through Vietnam.
The falls are "only" 30 meters high, but an impressive 300 meters wide. To the left of the large waterfall, you will find another smaller one, overshadowed by its big brother, but not less beautiful.
One of the best things to do in Cao Bang is exploring the hidden and more off the beaten destinations. Phong Nam valley is a place like that, not too far from the well known Ban Gioc, but this valley is hardly visited. Though, it is stunning and it might be one of the most beautiful valleys of Vietnam. On either side you will find mountains and in between small villages, lots of rice fields and a peaceful stream. It is a fairy tail setting, hardly visited by tourist.
Nui Thung Mountain is also referred to as Angel Eye Mountain and it is obvious why. Halfway up the mountain you will see a huge hole. It is not only the mountain that makes this a special place. Only a small road can take you to this area, which opens up like a hidden valley, with mountains, jungle, plains and a lake that reflects the Angel Eye.
Vietnam has many impressive mountain passes and Me Pja pass is one of the most impressive ones. It has 14 turns in total, winding down the mountain. There is a hiking trail starting from the top that can bring you to the viewpoint.
Thang Hen Lake consists of 36 small natural lakes around mountains at an altitude of 1000 meters. The lakes were formed in limestone formations. 
Cao Bang is dotted with small villages hidden in valleys, countryside and mountains. Some villages even date back from the french colonial times and other villages are known for their special trade. You can visit Phia Thap village to see the traditional way of making incense. Pac Rang village is a traditional blacksmith village. 
7. Phia Oac National Park
Phia Oac mountain range has the second highest peak in Cao Bang. The area is especially known for one of the only places in Vietnam where temperatures can plunge below zero with even snow and white frost. There is also a nice forest where you can wander around and the area is also known for its tea plantations.
8. Driving through the mountains of west Cao Bang
The are around Ban Gioc and Phong Nam is stunning, but when you are heading more to the west of the province you will find more and more mountains, similar to the ones you find in Ha Giang. There are some stunning mountain passes along the road of QL34 with epic views. The best way is to go on the back of a motorbike of a experiences guide, but for more comfort it is recommended to go by car.
9. Learn more about the local minority cultures
Like other places in norther Vietnam, such as Sapa and Ha Giang, you will also find many ethnic minorities living here. A great thing to do in Cao Bang is to experience and learn about their culture. A good way to do so is staying in a local homestay. One of the best areas to learn about the minority culture is Bao Lac.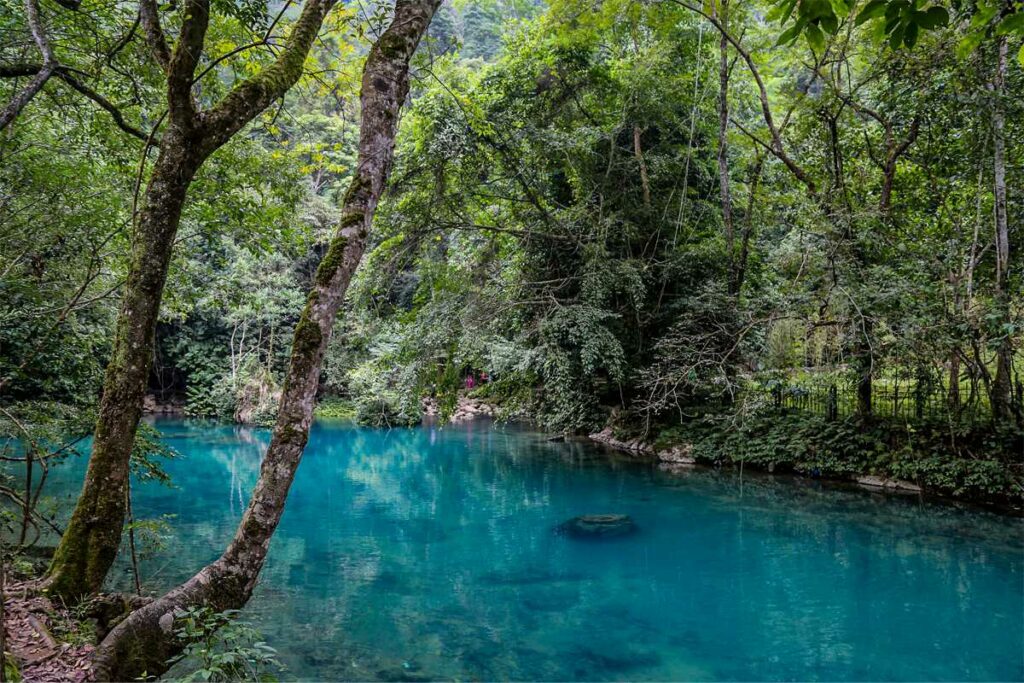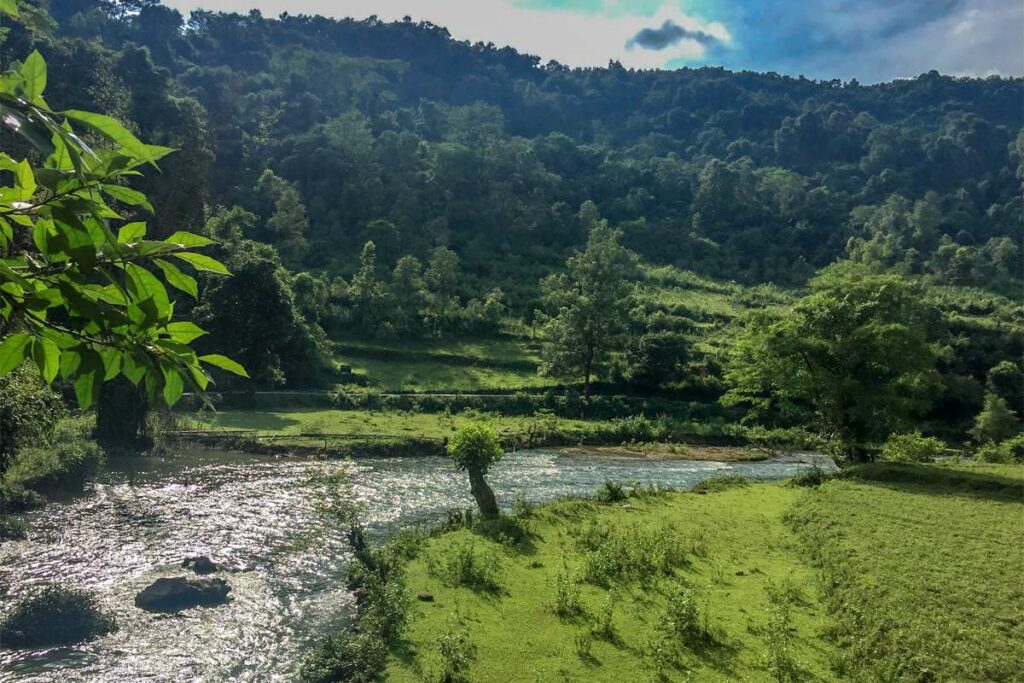 In the far north of Cao Bang you will find Pac Bo, the historic pilgrimage site for many Vietnamese. After Hồ Chí Minh crossed the border between China and Vietnam in 1941, Pác Bó became a place that will be forever salvaged in Vietnamese history. In this relatively small area you will find, for example, the cave of Hồ Chí Minh, better known in Vietnamese as "Hang Cốc Bó". In this cave, the leader of the revolution spent his first weeks protecting himself from his enemies and preparing for his rebellion. The so-called Lenin Stream flows past this cave, a brook of the bluest and crystal clear water. The peace and tranquility you experience in Pác Bó is regularly accompanied by a group of picnicking Vietnamese or couples who are more than happy to share their love by the water. You can buy tickets (20,000 ₫) for the area of Pác Bó on the spot at the entrance.
Best hotels & hostels in Cao Bang
Where to stay
Cao Bang city offers many options of different accommodations – hotels, homestays and guest houses. It is no problem to book some of these accommodations online. You can also find some accommodation in the area surrounding the Ban Gioc waterfalls. For the most local experience it is recommended to stay in homestays in small villages.
Recommended accommodations
Lan homestay – Traditional homestay on stilts near the Ban Gioc waterfall. Beautifully situated between the mountains and a river right in front of the homestay.
Khuoi Khon homestay – Beautiful homestay with impressive views, located in an authentic village of the Black Lo Lo ethnic minority near Bao Lac.
Jeanne Hotel – Hotel located in the center of Cao Bang city. Good service and great looking rooms
Max Boutique Hotel – Great hotel with comfortable beds and nicely decorated rooms in Cao Bang city.
Cao Bang city has a few restaurant where you can eat. When you stay outside the city, somewhere in the countryside, you most likely will eat at your accommodation – often homestays. 
There are also some local Cao Bang dishes you can try, such as Banh trung kien. This is ant's egg rice cake, as large as rice grains, a dish made by the Tay ethnic people.
Cao Bang is also home to many chestnuts. You will see them being sold along the road or at the waterfalls. 
Cao Bang is far north and lacks transportation infrastructure. There are no train stations or airport. Even though there are plans to built an aiport in Cao Bang, for now the only way is by road. 
There are different bus companies driving between Hanoi and Cao Bang. There are both sleeper buses (at night) as comfortable mini buses during the day time. The ride from Hanoi to Cao Bang takes about 6 to 8 hours. 
Cao Bang is not very well connected with other provinces and you might need to travel first back to Hanoi before continuing your trip to your next destination.
In addition to buses and mini vans you can also opt for a private car. A private car with driver gives you more freedom and opportunity to use it to explore the province. 
The only way to travel around Cao Bang is either by motorbike or car with driver. 
Make sure to check out our self made Cao Bang tours here.
How to get from Cao Bang to Ban Gioc waterfalls
The only way is to travel by bus or motorcycle. There are some local buses in Cao Bang city, for an up-to-date schedule it is advisable to ask at the bus station or your hotel. If you can, rent a motorbike in Cao Bang town and travel and explore this very beautiful area on your own.
Itinerary 2 days in Cao Bang
Take the day before a night bus to Cao Bang City or a early morning mini bus the same day.
From Cao Bang you driver via the Ma Phuc pass to Ban Gioc waterfall. On the way you can enjoy stunning landscapes.
Visit the Ban Gioc waterfall. Wander around and take time to enjoy and make photos.
After this you will visit the Ban Gioc pagoda.
Next you explore the Ngao cave.
Stay overnight close to Ban Gioc waterfall. 
In the morning you will driver through the stunning landscapes of Phong Nam valley.
Visit some local villages, such as Phia Thap incense village.
Next you visit Thang Hen lake and Nui Thung mountain, before heading back to Cao Bang City where your 2 day Cao Bang trip ends.
More tips for traveling in Cao Bang
A trip to Cao Bang is often combined with Ba Be lake. This stunning lake is located in Ba Be national park between Cao Bang and Hanoi. Interested in visiting both? Check out our Ban Gioc waterfall and Ba Be Lake tour here.
Cao Bang is a very peaceful province, without much traffic, making it save to travel here with children. The only downside is that to see this province well, you have to be on the road quit a lot.
When visiting the Ban Gioc pagoda or any other religious side, make sure your dress op politely.