Tet is Vietnam's premier holiday, but as a traveler you may be disappointed if everything is not what you expect. The Vietnamese New Year, Tet, follows the same Lunar year (lunar calendar) that celebrates Chinese New Year worldwide. So on the same day that the world celebrates Chinese New Year, the people of Vietnam celebrate Tet.
Since the festivities make it more difficult to travel, here are tips and what to expect when traveling during Vietnamese Tet New Year.
When is Tet's New Year?
| Year | Date | Holiday |
| --- | --- | --- |
| 2022 | 1 February | |
| 2023 | 22 January | |
| 2024 | 10 February | |
| 2025 | 29 January | |
How long does the holiday last?
There are 3 public holidays, but Vietnamese people get a week of vacation (7 days). So keep in mind that the Tet New Year tips below apply for the entire 7 days.
Tips for traveling during Tet Holiday
Officially, Vietnamese have 7 days off, which can cause some inconveniences during your trip. Here's some advice for a smooth stay:
1. Visa
Government agencies are also closed during the entire holiday (7 days). This means that the Vietnamese Immigration Service does not process e-visa and authorization letters for a visa on arrival. So be on time with the application for a Vietnam visa! Via Local Vietnam it is possible to apply for a visa on arrival authorization letter within 2 working hours.
2. Getting around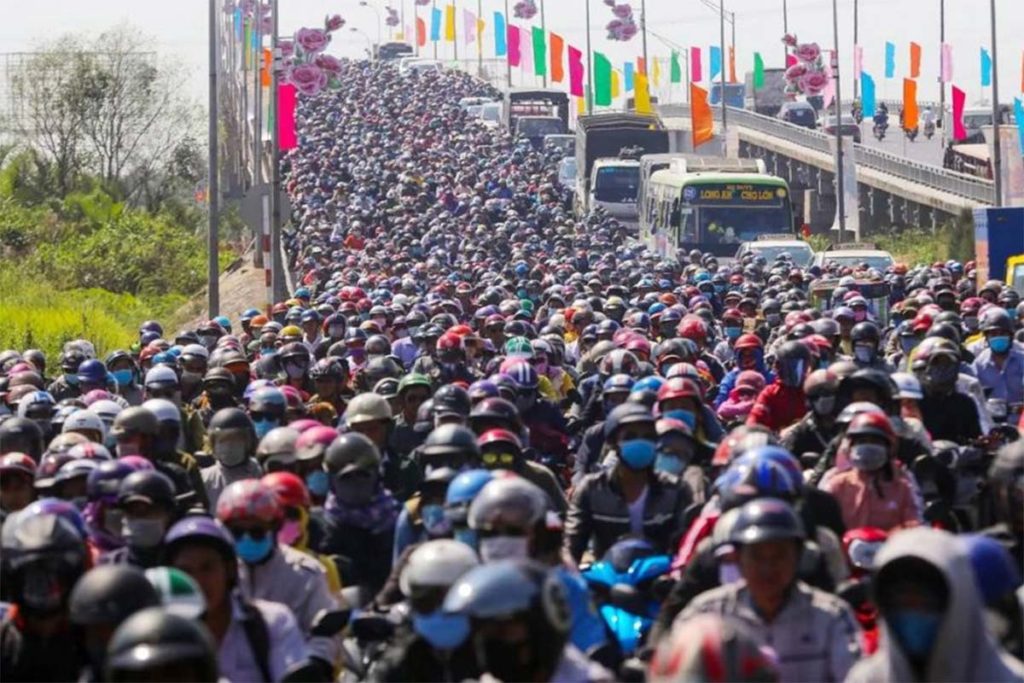 During the Tet Holiday everyone goes back to their parents in their hometown. This means that millions of people will travel at once. For economic reasons, many people have moved to places such as Hanoi and Ho Chi Minh City, which are originally from another part of the country. So these people travel back to their families every year to celebrate Vietnamese New Year.
The biggest problem for travelers traveling during Vietnamese New Year is that transport between cities is chaotic and many tickets for buses, flights and trains are sometimes fully booked months in advance. Transport prices can be two to three times more expensive, waiting in line for hours at the airport and more likely to experience delays. Therefore, read the tips below carefully.
First big tip: Most Vietnamese travel to their hometown at the beginning of the Tet Holiday and back to where they live at the end Tet New year. In the days in between it is very quiet everywhere. Plan your own travel days around that, so that you will not be too bothered by this or face problems.
Traffic from the Mekong Delta back to Ho Chi Minh City at the end of the Tet holiday
Flights
Book airline tickets as soon as possible, especially for domestic flights between major cities (Ho Chi Minh – Ha Noi, Ho Chi Minh – Da Nang and vice versa), or else you may have to pay 5x as much for a ticket.
If you're departing from Tan Son Nhat Airport in Ho Chi Minh City, be ready 5 or 6 hours in advance as traffic on the way will be incredibly heavy and you could queue for hours to check in (get off the taxi and walk to the airport if the situation does not improve). Bring a book or something to pass the time, as your flight can be delayed for hours, especially on cheaper airlines, such as Vietjet and Jetstar, which seem to have more delays than Vietnam Airlines.
Before the New Year, flights from north to south tend to be less crowded, and flights from south to north are less crowded after the holidays.
Read more: domestic flights in Vietnam
Trains
Getting a train ticket is even more stressful than flights and it's almost impossible to get a ticket at the train station during this time, so book it as early as possible; Like flights, the trains from the north to the south are less crowded before the holidays, and after that it's the opposite.
You can try to split your train journey into more parts as there may be tickets left for short routes instead of long ones, for example to get to Nha Trang from Saigon, buy the ticket for Saigon – Phan Thiet and Phan Thiet – Nha Trang.
Buses
Traveling by bus in Vietnam during New Year can also be very busy and advance booking is recommended. Try to avoid night buses as there are more bus lines running during this period causing more accidents. Bus travel is most crowded at the beginning of the holiday, when people are returning to they hometown and on the end of the holiday. In between most people don't travel, but keep in mind that there are probably less buses in service.
Taxis
There are still taxis, Grab and Uber during Tet, but the prices will be much higher.
3. Booking accommodations
Contrary to many reports, there are plenty of accommodations in Vietnam during Tet. Only in the destinations that are popular with Vietnamese holidaymakers, such as Dalat and Phu Quoc, can it be a bit more difficult to arrange accommodation. Some hotels also host New Year's Eve celebrations. Keep in mind that prices may be higher than normal.
4. Tours & Sightseeing
Many tourist attractions are closed during the holidays. The Cu Chi tunnels will remain open and other places of interest are not closed all week, but 2 or 3 days around New Year.
5. Eating & dining
During Tet Holiday, restaurants and coffee shops also take a few days off. Here too, some restaurants will remain closed for the entire week and others for 2 to 3 days. A few restaurants will still remain open.
6. Shopping
Local markets, supermarkets, shopping centers also include days off for Tet holidays ranging from 2 to 3 days.
7. Banks & ATMs
All the banks in Vietnam are closed during Tet Holiday and ATMs are not getting refilled. This means it will be hard to get cash around Tet New Year. It is best to withdraw money a few days money before Tet and make sure it is enough for 4 to 6 days.
Traveling during Tet Vietnamese New Year, do or not?
Tet is generally not the best choice for your visit to Vietnam due to the importance of the holiday to the local population and thus the difficulties you may encounter in services. During this period, you may not be able to fully experience the daily hectic rhythm of life. However, this opportunity will be more interesting for big fans of culture. If possible, arrange your trip to spend less time in big cities and more time off the beaten track.
Best Places to Celebrate Vietnamese Tet New Year
Tet New Year is the time when people go back to their parents, family and home villages. This means that it is a lot quieter in the big cities.
1. Hanoi
Since Hanoi is the capital of Vietnam, it offers a wide variety of things to do. Once Tet starts, you can't go to places like monuments or museums, but you can join in the New Year celebrations, especially around Hoan Kiem Lake. It is especially nice to visit markets, where you will find a lot of flowers and unique food and gifts. The blossoming peach tree is in fact the symbol of Tet in the north, especially of Hanoi. You will see people driving around with these yellow flowers.
2. Ho Chi Minh City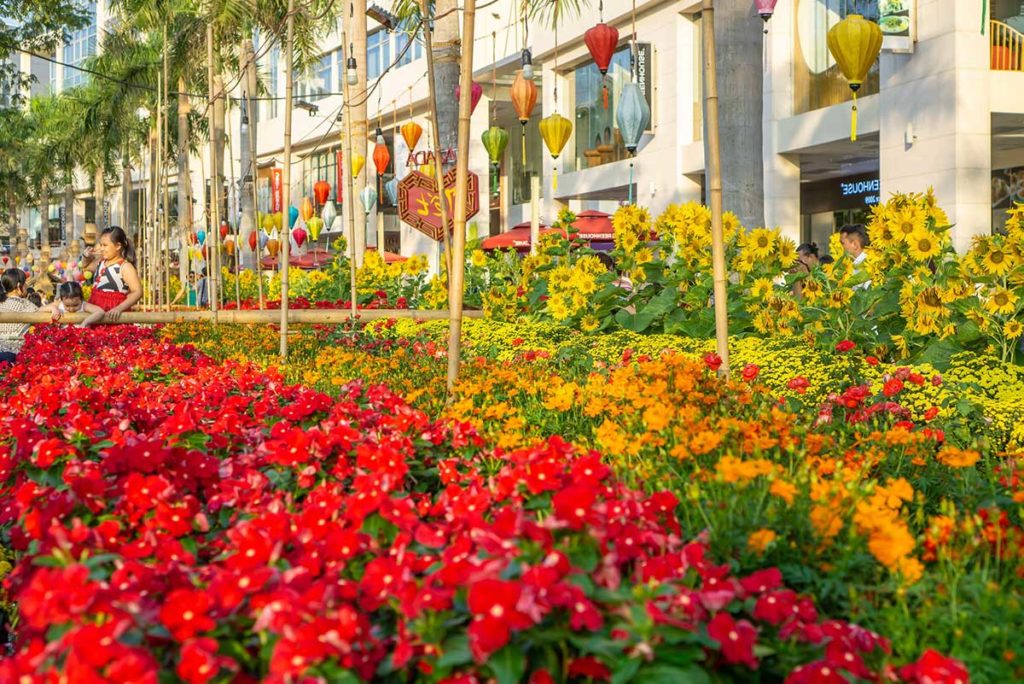 The streets of this city are very empty around this time, but if you are looking for a nightlife during Tet, Saigon is for you. On New Year's Eve, bars are packed and fireworks light up the streets. Check out the two festivals that are popular with the locals: the Tao Ban Flower Festival and the Nguyen Hue Flower Festival. Besides the beautiful pink flowers everywhere, you can enjoy incredible food, folk music and games. There are also certain spots along the river where boats from the Mekong Delta are moored to bring flowers for Tet.
3. Hoi An
One of the most popular places to celebrate Vietnamese New Year is Hoi An. A great thing is that a lot of shops and restaurants remain open during the Tet Holiday. You have to be in the old town; it has an energetic atmosphere, with lively festivities and street food vendors lit up with lanterns along the way. As the night wears on, the Old Quarter gets busier (more than usual), and all the residents flock to the festival next to the lake. People dressed in national costumes move around the stages to the beat of the drums.
4. Dalat
Dalat is extremely popular among the local residents of Ho Chi Minh City in particular to celebrate Tet. When you go to this city during this period it is useful to book well in advance. There are not many special activities, but it is busy and very cozy everywhere.
4. Ha Giang
The remote province of Ha Giang may not immediately think of celebrating Tet, but it is one of the best places. This is also the time of year when valleys full of flowers are in bloom, which is a beautiful sight. In addition, it is very nice to see how the ethnic minorities (hill tribes) are preparing and celebrating Tet.
Most important days during Vietnamese New Year
Dua Ong Tao Ve Troi (Kitchen God Day)
Time: 1 week for new Lunar year
For many people the holiday begins at this day. They will place a fish in a bowl in the kitchen and release it later in a bigger area, such as a pond or river for the kitchen god.
Tat Nien (for New Year's Eve)
Time: last day of the Lunar year
Usually, on the end of the year, everyone has to complete all the things left over from last year, like to pay outstanding debts or resolving conflicts. It is also the time that family comes together to celebrate.
Cung Giao Thua (New Year's Eve)
Time: midnight on New Year's Eve
New Year's Eve in Vietnam is the time that the family pray for their ancestors and good health, prosperity, luck and happiness.
The first days of Tet
Time: Generally the first six days after Vietnamese New Year
The first days of the new month, Vietnamese visit their loved ones, often in a certain order:
Day 1 – Tet of Father (Tet Cua Cha): On the first day, families visit the farther's side of the family.
Day 2 – Tet of mother (Tet Cua Me): The second day, families visit the mother side of the family.
Day 3– Tet of Teachers (Tet Cua Thay): It is an important tradition that teachers should also be respected, which happens on day three after Vietnamese New Year.
The following days, it's time to meet friends or go on a trip with family.
Ram Thang Gieng / Tet Nguyen Tieu (Full Moon Festival)
Time: The 15th day of the lunar calendar
Tet Nguyen Tieu is celebrated along with the full moon of the first month. This is also the end of the holiday.
Vietnamese New Year Traditions
1. Cleaning
A very important part of the Tet Holiday in Vietnam is the big cleaning. It is believed that dirt, dust and debt can bring bad luck and should be taking care off before Vietnamese New Year.
2. Decorate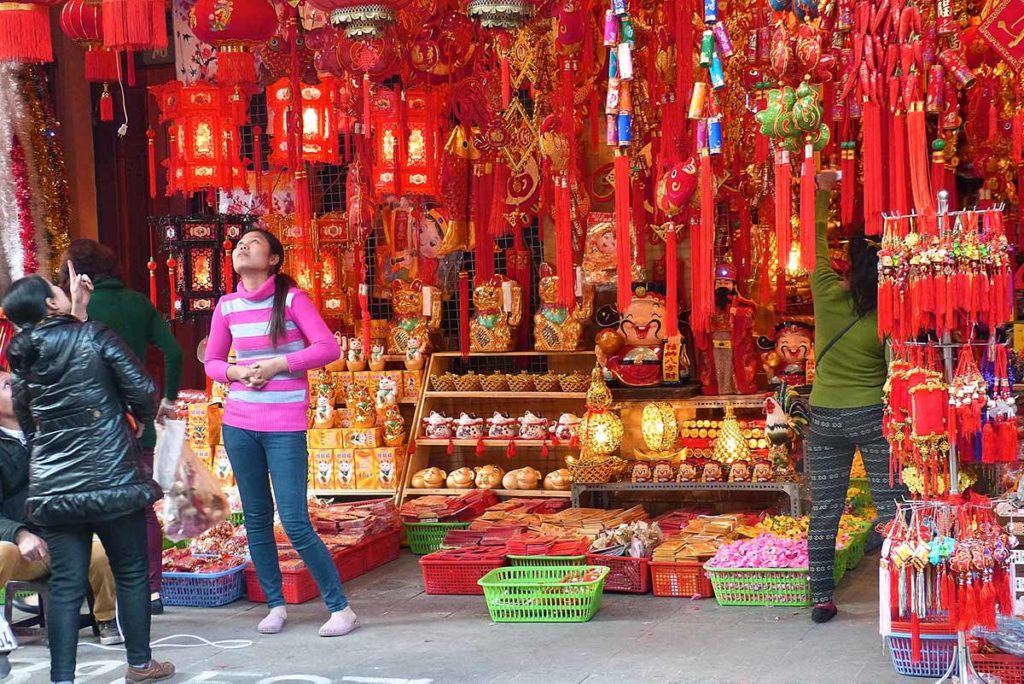 Numerous ornaments and items have been hung and placed to decorate the house:
Red: Rooms are decorated a lot more red, because this color stands for luck. Some well-known red things you are most likely going to see are red fruit, Bao Li Xi (red envelopes), Tranh Cau Doi (Chinese painting), Thu Phap (calligraphy art images), red lanterns and more.
Trees and flowers: It is also spring in Vietnam around this time of year. Many flowers are therefore used to decorate the houses around this time. In the north of Vietnam you mainly see the yellow flowers and in the south of Vietnam the pink flowers. Many Vietnamese put also a tree in their house and decorate it with lights and other decoration.
Mascot: Every year there is a new animal year. According to the tradition in Vietnamese, there are 12 animals in total, each representing a lunar year. In 2019 it was the year of the pig, so you saw a lot of decorations with a picture of a pig and in 2020 it was the year of the rat, so a lot of pictures are used for decoration with a rat on it.
Fruit Bowl: Mam Ngu Qua means Fruit Bowl and is also part of Vietnamese New Year's Day. Five different fruits each representing something different.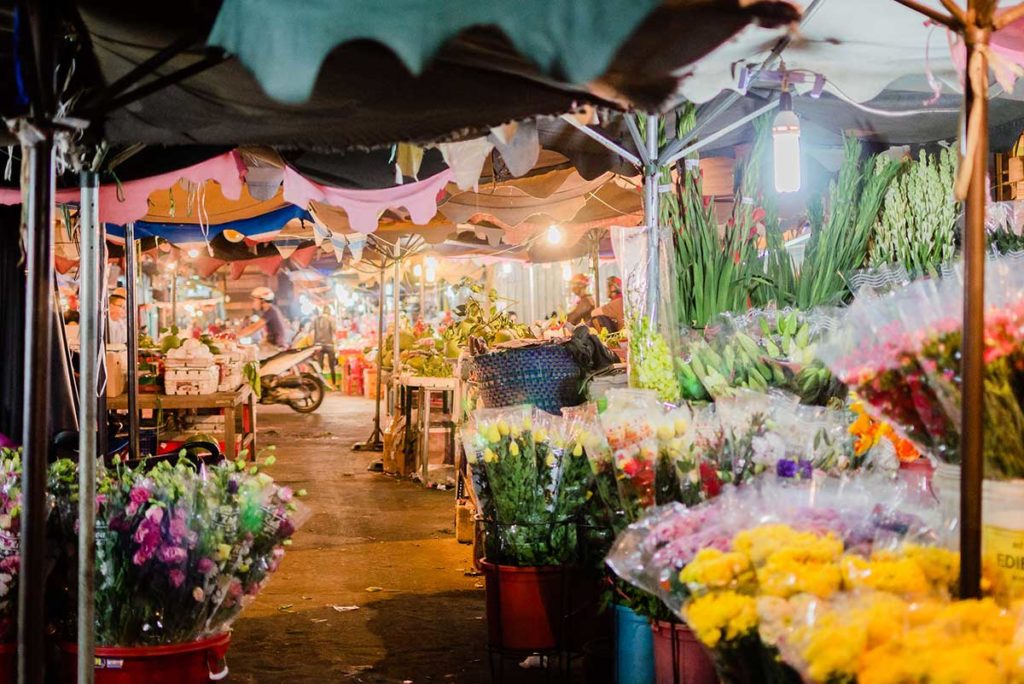 3. Making traditional cakes
Although many families purchase ready-made cakes, it is a real tradition every year on Vietnamese New Year to make traditional cakes made of rice, which are prepared in a large pot over an open fire, often on the street or in the garden.
4. New year greetings and giving lucky money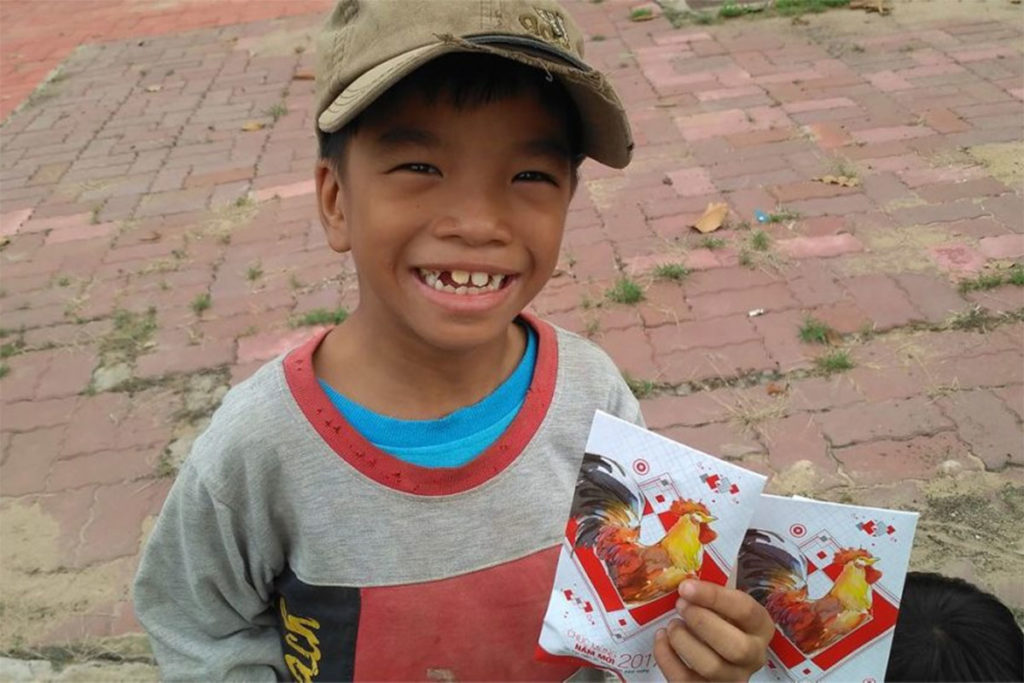 With New Year, of course, the New Year's greeting is brought and a healthy and prosperous new year. But for the kids, the real highlight is to receive lucky money (Chuc Tet). Usually the money is given in a beautifully decorated red envelope (for good luck) by parents, grandparents, relatives and sometimes close friends of the family to the children.
5. Xong Dat (first guest entering the house)
Vietnamese believe that the first guest who enters the house has a big impact on how the next year will go for the residents, so people tend to invite a respectful, neat person as their first guest.
6. Visiting Pagodas
Buddhism has an important role for many Vietnamese. That's why pagodas are busier than ever right after Vietnamese Tet New Year. They come here for praying for health, luck and prosperous for the new year.
7. Taboos
Many Vietnamese are very superstitious, so there are a number of things that are useful as a tourist to know so that you can take it into account. Because especially around Vietnamese New Year, there are many spiritual interests that they adhere to in order to avoid bad luck for the New Year.
It is best not to ask a family for water or fire as these two elements are important in spiritual life and this would mean giving away their own happiness.
Make sure not to break anything, because breaking a glass or ceramic is considered bad luck.
Try to avoid arguing, because this also brings bad luck (and is of course not pleasant for your own holiday mood).
Avoid combing your hair in another person's house, for this is tantamount to putting evil in someone's home.
Traditional food during Tet Vietnamese New Year
Banh Chung (sticky square cake)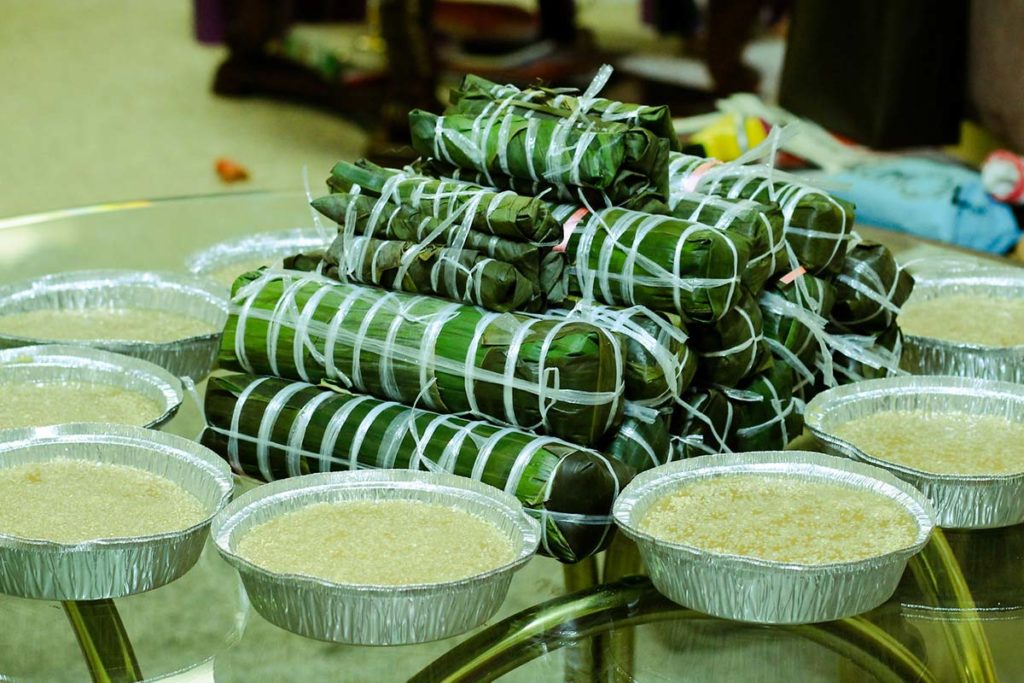 This is glutinous rice with mung beans and pork, which is then wrapped with banana leaves or la dong (phrynium leaves). The rice cake is square and green which presents the earth and is indispensable during Vietnamese New Year.
Gio Cha (Vietnamese sausage)
Gio cha (Vietnamese sausage/ham) is one of the dishes available during Vietnamese New Year and is mostly eaten with starchy foods.
Thit Kho Trung (Vietnamese Braised Pork with Eggs)
The best cuts of pork are braised with quail eggs or duck eggs. Many people in Vietnam think that thit kho trung will give peace and good health to everyone in the family.
Mut (jam fruits/candied)
Mut tet are dried fruits that people serve to their guests during the holiday time. This one-off snack mix can be found very wide in variety.
Seeds
Another snack that is everywhere on the table are seeds. You have all different seeds, but the most popular are sunflower seeds and watermelon seeds.