Mai Chau best things to do & travel guide
Mai Chau is located in a rural valley with towering cliffs, a unique culture and a relaxed atmosphere and only a three-hour drive from Hanoi. There are some nice things to do in Mai Chau, such as cycling through the beautiful green rice fields, visit minority villages, make a trekking in Pu Luong and enjoy the traditional Tai dances in the evening.
5 reasons to visit Mai Chau
Explore the beautiful rice terraces and jungle of Phu Luong.
Cycle past the rice fields through the Mai Chau valley.
Drive a motorbike to various viewpoints on the Thung Khe Pass.
Explore villages of local hill tribes.
Go on an adventurous trip with a kayak or go rock climbing.
What is in this Mai Chau travel guide
Book your local Mai Chau experience
There are not a lot of sights to visit, so if you are are here just to relax and bike between the rice fields, minimum two full days is good. If you are planning to visit Pu Luong nature Reserve it is recommended to stay a day or two longer.
There are a number of ATMs in Mai Chau, but not in most villages and sometimes hard to find. Take enough cash with you. Most hotels accept a bank card or credit card, but homestays often do not.
Best travel time: From December to May. The first 2 months can still be cold, but after that it gets warmer. There is also little rain this period.
From November to February it is winter and the temperature can drop to 10 degrees.
The rainy season is from June to September.
10 best things to do in Mai Chau
Mai Chau is a peaceful valley with extensive rice fields, villages of ethnic minorities and some small waterfalls. There is actually not much to do in Mai Chau, but this is what makes the area so attractive to visit. You come here mainly for the peace and the natural beautiful landscape.
1. Cycling through rice fields
Cycling in Mai Chau
is great and in fact, it is one of the best places to go
cycling in Vietnam
. In the valley you will find a beautiful landscape with rice fields surrounded by mountains and small local villages of ethnic minorities. The valley is almost completely flat, with small roads connecting the villages and almost no traffic. This combination makes it the perfect for cycling. You can go with a guide or rent bikes yourself at your hotel or homestay; accommodation offer them often for free or for a very small fee.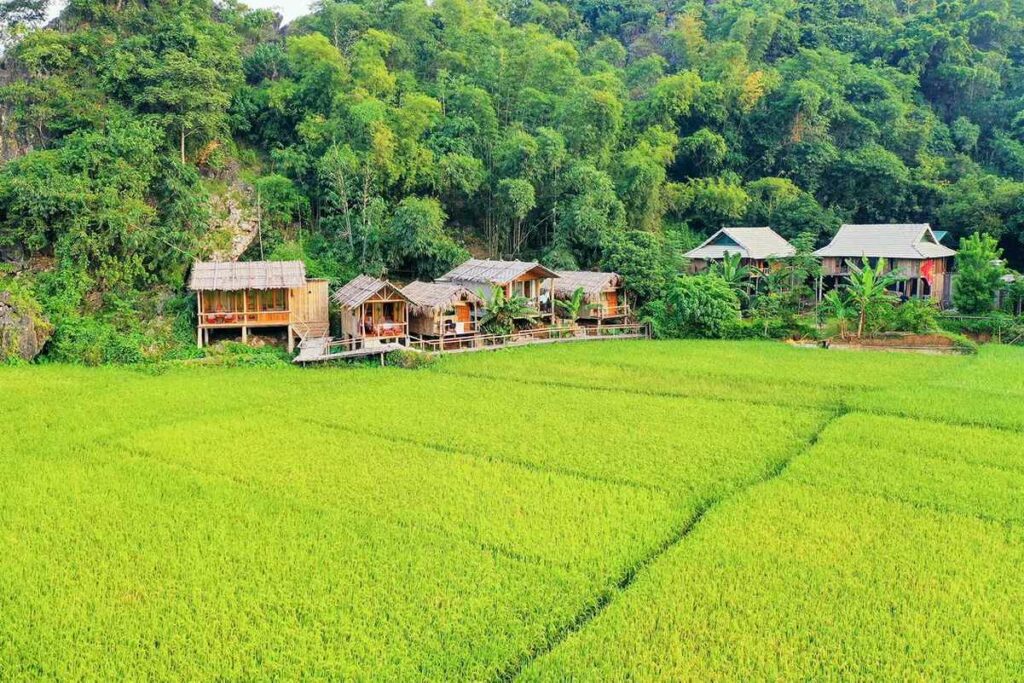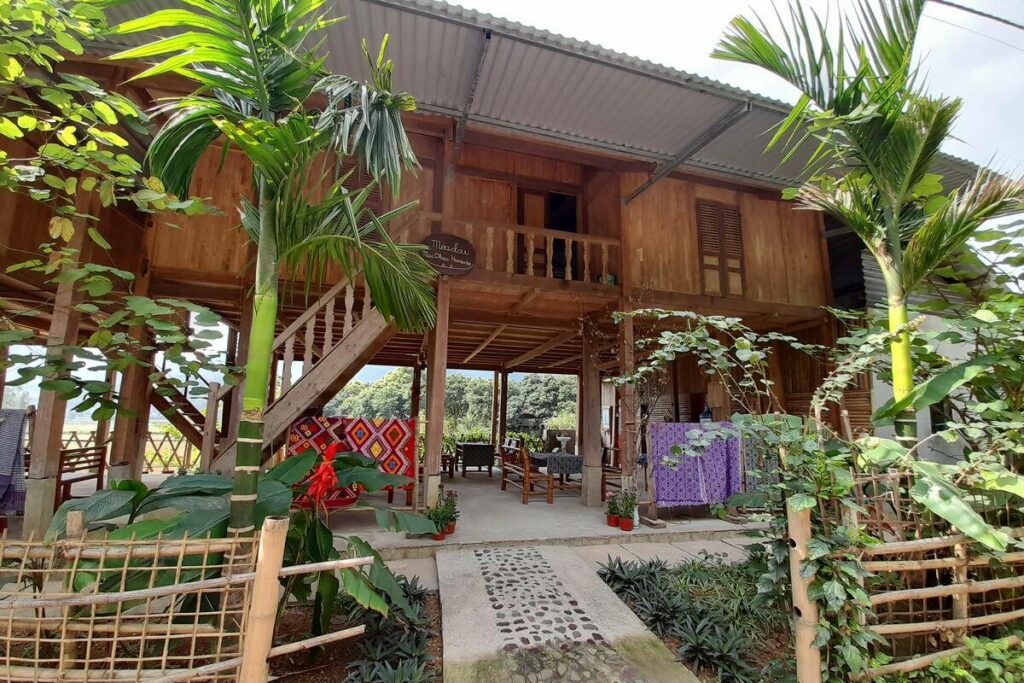 One of the best things to do in Mai Chau is stay in a homestay of a local ethnic minority. You learn more about their unique culture and traditions here. You can find homestays in one of the two largest villages in Mai Chau; Poom Coong and Lac. The houses here are usually built on stilts. Life is simple: you wake up to the sound of roosters crowing and farmers going to work, you sleep on a mattress lying on the creaking bamboo floor and you spend your evenings drinking the local wine and watching a cultural show.
Some homestays in Mai Chau have upgrades their accommodation, with more modern facilities and comfortable beds with private bathrooms. These small-scale accommodations are a little less authentic but still provide a unique experience compared to hotels.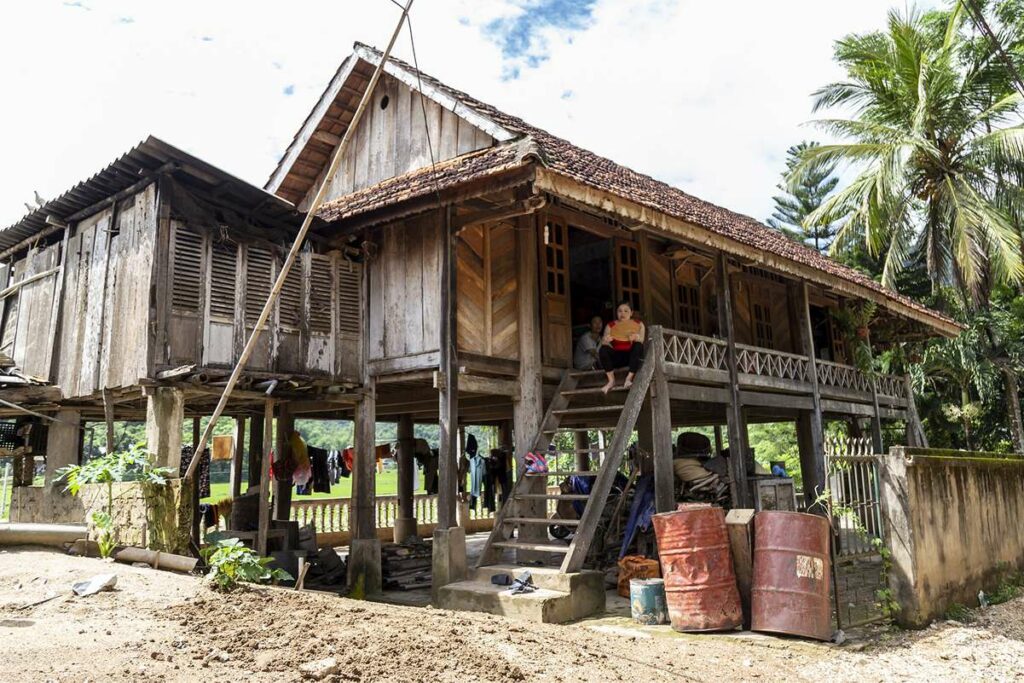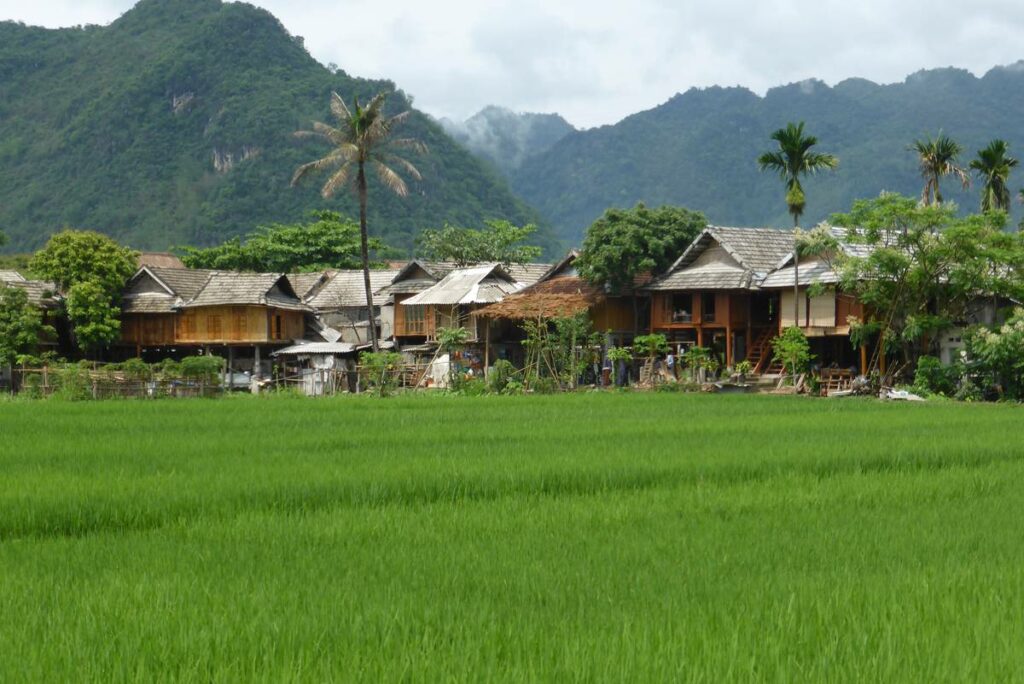 With stilt houses and lush, green rice fields, Ban Lac, Pom Coong and other villages dotted in the valley are quaint and serene, ethnic Thai villages with very hospitable inhabitants. During the day you see the local population working on the land and moving cattle. In the evening, you are invited to relax and enjoy traditional alcoholic beverages and participate in traditional songs and dances of Thai ethnicity. The best way to explore villages in the Mai Chau valley are by bike or a trekking.
One of the most beautiful sights in Mai Chau is the Go Lao waterfall. About 20 meters high and located in a beautiful setting. After descending the unpaved stairs, you stand next to the waterfall. In the dry season there is little water, but you can take a dip in the cool water.
It is located next to Hoa Binh lake so it can be perfectly combined. If you like to see more waterfalls in Mai Chau, you can visit the Pung Waterfall and the Tat Nang waterfall.
5. Pu Luong Nature Reserve
Pu Luong Nature Reserve is not only a top attraction in Mai Chau, but also one of the biggest highlights in Vietnam. In this beautiful landscape you will find very beautiful rice terraces that are immersed by water wheels made of bamboo. There are local villages of ethnic minorities where you can see how they live. The best way to explore this area of villages and paddy fields is by making a trekking. Pu long is one of the hidden jewels of Vietnam.
When you take the bus from Hanoi, you already drive over the Thung Khe Pass. but if you don't stop here is worth going back by car or motorbike. You can rent a scooter yourself and ride this pass, but be very careful here. On this mountain pass you have a viewpoint with the best view over the Mai Chau valley. Drive a bit further to have more amazing views of mountains and the countryside.
Lake Hoa Binh was created after the construction of Hoa Binh hydroelectric power station. It is the largest lake in Vietnam, with 47 large and small islands. You can rent a boat to explore the lake for around VND 50,000 – 70,000.
The most adventurous activity you can do in Mai Chau is rock climbing. Climb up to have a beautiful view of the Mai Chau valley. There are several possible routes for rock climbing to choose from, something for everyone, regardless of age, athletic ability or level of experience.
The shape of the mountains of Mai Chau come from limestone bottoms of karst, the same type of geological formations that Ha Long Bay has created. Where there is karst, you will find caves and Mai Chau is no exception. The two largest caves in Mai Chau are Mo Luong Cave and Chieu Cave.
10. Go off the beaten track
Mai Chau is already not as popular as Sapa or Ninh Binh, but you can even go more off the beaten track here if you don't mind traveling a bit. 
The two earlier mentioned waterfalls Pung and Tat Nang are located further from the tourist villages and are hardly visited by other travelers. In addition they are located in a stunning landscape. Around the latter named waterfall you can visit the entire area of Van Ho with many villages of ethnic minorities and beautiful rice fields. Continue a little further to Pac Co village where you can visit an unique ethnic minority market on Sundays. Around the Pung waterfall you will find one of the few terraced rice fields of Mai Chau in various places.
Best hotels & hostels in Mai Chau
In Mai Chau there are two villages where tourists look for their accommodation: Lac and Pom Coong. These two villages are also right next to each other, with a few hundred meters away. Most accommodations consist of homestays, but there are also a few hotels and luxury resorts. In the village there are shops and a few restaurants.
Budget hotels & hostels
Little Mai Chau Home Stay
Mai Chau Backpackers House
Lim's house
Eco Homestay
Mid range hotel
Mai Chau Nature Lodge
Mai Chau Valley View Hotel
High end hotel & resort
Mai Chau Villas
Mai Chau HideAway Resort
Mai Chau Ecolodge
Restaurants
There are a few restaurants in Mai Chau, but it is more likely that you eat at your homestay, hotel or resort. Eating at a homestay overnight is often included in the price and the food is great. There is no menu. Classic, country-style dishes are served from a set menu for lunch and dinner. It is simple and nutritious and a good fuel to explore the region.
The restaurants in Mai Chau can be find in the main villages, surrounded by shops. Expect mainly local dishes. For western food you want to check the restaurants that are part of a resort.
Nightlife
There is no real nightlife in Mai Chau; which is only a good thing for a town in this setting. But every night there are traditional dance shows being giving to welcome the new guest. You can find these shows at some of the hotels and resorts.
Mai Chau does not have a railway station or airport. If you want to use this, it is best to first travel to Hanoi and from here travel to Mai Chau.
The easiest and fastest way is by minibus from Hanoi. These minibuses from Hanoi to Mai Chau are also included in most Mai Chau packages with accommodation.
Direct buses to Mai Chau leave from My Dinh bus station in Hanoi at 6 a.m., 8:30 a.m. and 11 a.m. The journey costs around 80,000-100,000 and lasts between 3.5 and 4 hours. If you want to stay in the villages of Lac or Pom Coong, ask the bus driver to drop you off there. You will be dropped off at the crossroads, were you can get a taxi to your accommodation.
Buses return to Hanoi at 9 a.m., 11 a.m. and 1 p.m. Host families in your homestay or hotel can reserve this bus for you and arrange for you to be picked up from the village.
The best way to explore Mai Chau is walking or cycling. As you cycle or walk along the unpaved roads of Mai Chau, you can enjoy the landscape, wildflowers, rice fields, villages and the locals moving cattle from place to place. Guides can propose trekking or cycling paths. Most hotels and homestays have free bikes or can recommend a bicycle provider for a small fee.
In addition, if you are staying in a resort they also have electric golf buggies which they use to drive their guest around the rice fields. It is quiet, comfortable and offers a bit more cover for the sun.
Itinerary 2 days in Mai Chau
Check our 2 day example itinerary below to know what to do in Mau Chau.
The first day is a day of relaxation. Rent a bike and explore the valley. Drive through peaceful villages, past rice fields and see how the locals live.
Visit the main highlight of the area: Pu Luong Nature Reserve. Plan an organized trekking tour or day tour by motorcycle or car through this area. If you have more time it is recommended to stay here for at least one night.
More tips for traveling in Mai Chau
Pu Luong Nature Reserve is a good next destination after Mai Chau. You can also visit both Mau Chau and Pu Luong with our tours to Mai Chau, including transfers from Hanoi.
You can also choose to go directly from Mai Chau to Ninh Binh and from here travel back to Hanoi or go farther south to Phong Nha or Hue / Hoi An.
For other destinations in north Vietnam you always have to travel to Hanoi first. From Hanoi you can go to Halong Bay, Ha Giang or Sapa; though we recommend to either choose to go to Sapa or Mai Chau and not visit both if you have not many days to travel in Vietnam.
For people that want to go off the beaten track, they can head to Son La with Moc Chau. Here you can visit tea plantations, mountains and more minority villages.
This valley is one of the best places to travel in Vietnam with kids. Staying in a resort with a pool is highly recommended. Biking through the rice fields over small roads with little to no traffic at all. In addition, it is a great place to learn children about the ethnic minorities that live here.
It might not be as touristy as other destinations in north Vietnam, it has developed over the years. English at the resorts is often spoken, the homestays and restaurants often much less, but they always have an English menu.
The valley can get very hot most of the year, only not during the winter months in and around December and January. In the summer it can rain more. For that reason it is always good to see which season you are going.