In Vietnam, the bus is the cheapest and most convenient means of transport for tourists, since the bus system is well developed and can reach almost every part of the country. If you are stuck with the very first steps, such as how to find a bus or which route to follow, read this manual on how to best travel by bus in Vietnam.
On this page you will learn the following about traveling by bus in Vietnam:
Where to book bus tickets
When you want to book a bus ticket in Vietnam you can either do that by yourself online or with a travel agent, hotel or at the bus station. Keep in mind that during holidays in Vietnam, especially Tet New Year, you have to book way in advanced due to lack of availability.
Online
There are a couple of reliable websites were you can online book your Vietnam bus tickets.
Tips for booking online:
Research good were you have to go. Some destinations don't have a (big) bus station, which means you have to travel to a big city close to it and from their take a taxi or local bus. Ex. for Hoi An you often have to take the bus to Da Nang and for Phong Nha a bus to Dong Hoi.
Check the right name of the location. Sometimes when you use the search engines of these bus companies, you can not find the destination, because you write it wrong. Ex. Dalat or Da Lat, Danang or Da Nang, Halong Bay, Ha Long or Halong City.
When you don't find availability on one website, check one of the other websites. It is possible that each websites can show availability of a different bus company. So if one bus company does not have space, then maybe another bus company still has.
In Vietnam
You can book bus ticket at almost every travel agent in Vietnam and also most hotels and hostels can book for you. In most cases they earn a small commission, but sometimes they also add up a small fee. The cheapest tickets you can get at the bus station itself, but they are often not convenient located outside the city centre.
Bus options
The national bus network is slowly being upgraded, the rickety old buses being replaced by air-conditioned models, especially on the more popular routes. The journey can be slow because buses often stop to pick up passengers or make breaks.
Sleeper bus (night bus)
Modern air-conditioned buses run between the most important cities. You are certain of an allocated seat and sufficient space. Most have comfortable reclining seats, others have loungers for long journeys. These sleeping buses can be a good alternative to trains and the costs are comparable. The benefit of a sleeper bus is that it does not cost you a day of travelling and a night in an hotel.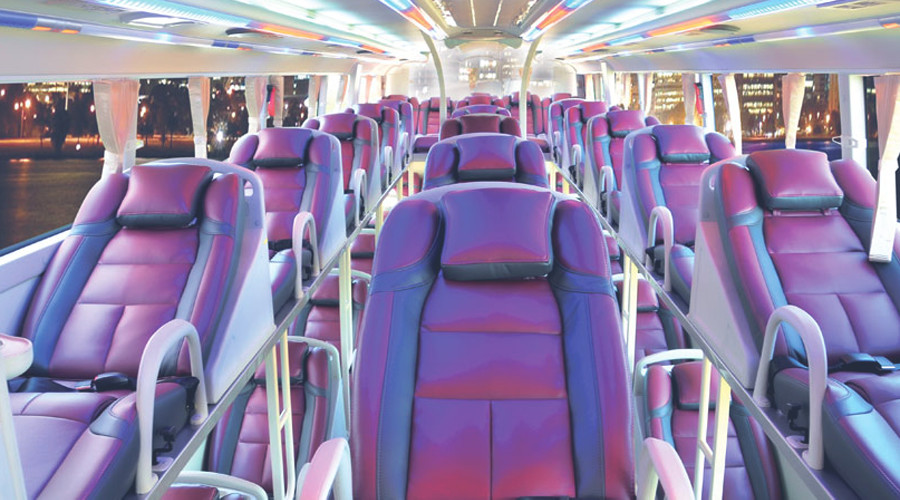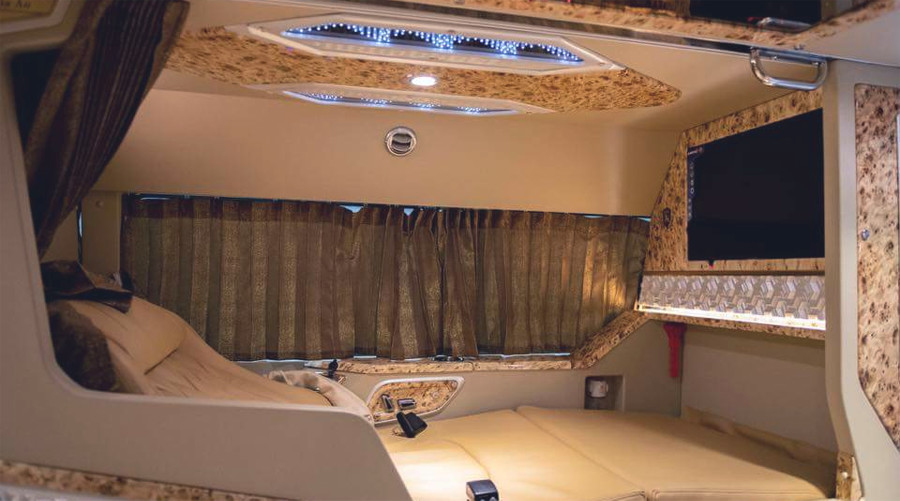 VIP bus
Between some destinations you have VIP buses. They are very limited, so if you want to use these buses it is wise to book them in advanced. In these buses you have a lot more space, more comfort and also include WiFi.
Alternatives
The alternative for travelling by bus in Vietnam are the mini buses. You have different qualities, but the most popular one are the limousine. One of the difference is that these limousine mini buses mostly drive during day, while the regular long distance buses are mostly night buses (sleeper bus).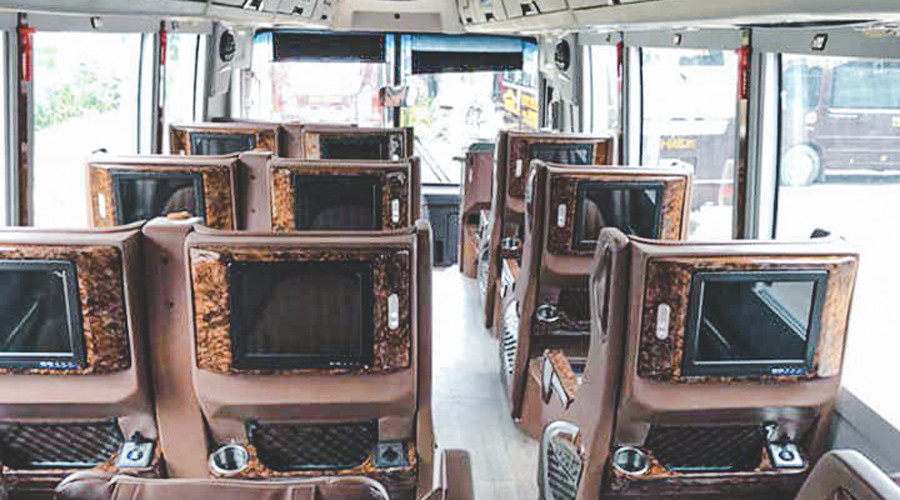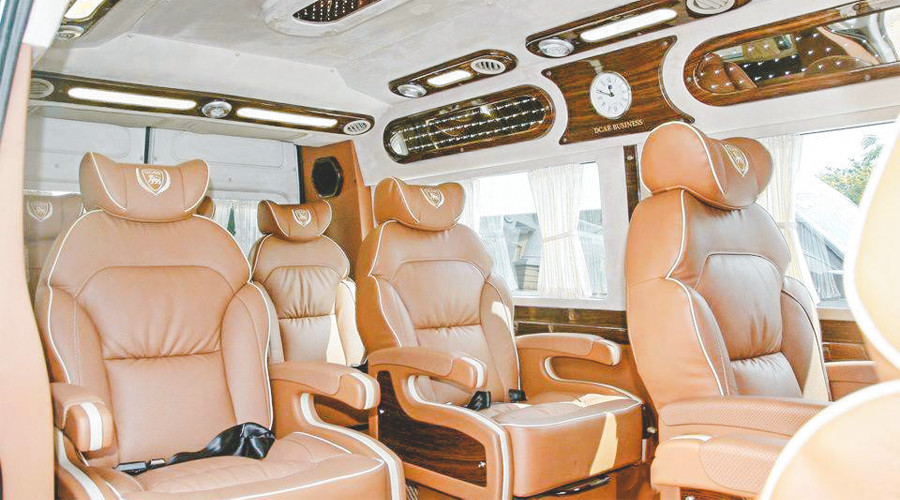 Public bus
Local buses run shorter distances and are a lot less luxurious. This makes it a lot less comfortable. These buses only run during the day. Local buses are often busy and drivers sometimes charge higher prices to tourists. Therefore not really popular with travellers.
Open bus ticket
In backpacker spots throughout Vietnam, you see many signs with advertisements for "Open Tour" or "Open Ticket". These open bus tickets are primarily aimed at foreign budget travelers. Air-conditioned buses run between Ho Chi Minh City and Hanoi (and other routes) and passengers can go and get off the bus in any major city along the route. If you want to interrupt your journey and then pick it up again, you only have to phone the organization one day before departure.
In general, open tour buses are a fairly comfortable way to travel through Vietnam: they have air conditioning, a limited number of seats and fixed timetables. In addition, the fact that they don't stop so often to pick up people makes it faster, and the competition is fierce that prices are almost as low as those for the national bus network. Buses are usually quite decent, but don't expect too much legroom or toilets on board; some of the more expensive bus services they have, but the vast majority will stop there every few hours for a combined toilet and snack break.
Example: You buy an open bus ticket in Ho Chi Minh City and reserve a place for the bus to Dalat. Now you have made 1 stop. After a few days in Dalat, your hotel can call the bus company to reserve a place for the bus to Nha Trang.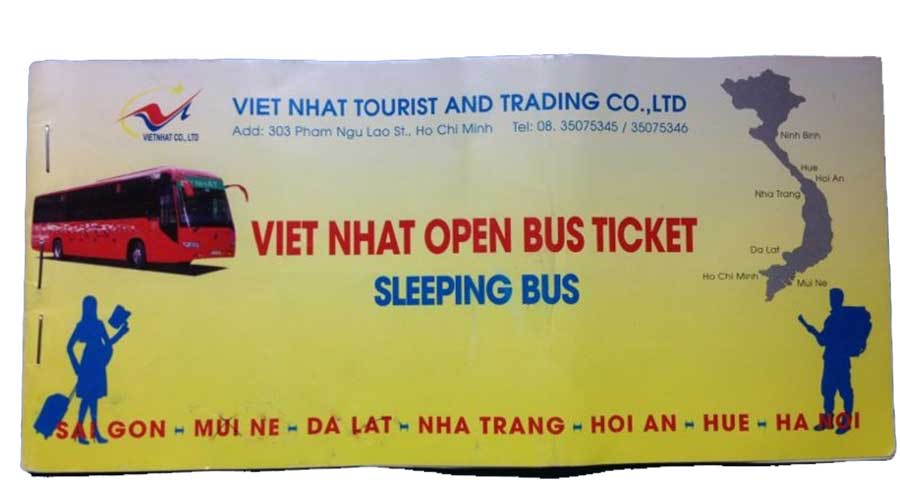 Cost of open bus ticket
The buses are comfortable and extremely cheap. Depending on the operator and the exact route, Ho Chi Minh City to Hanoi is $ 35 to $ 70 and HCMC to Hue is around $ 25. The more stops you add, the higher the price. Buses usually depart from central locations (often hostels that are popular with travelers), so you don't have to make an extra trip to the bus station. Some buses with open tour also stop alongside sights along the way.
Boarding places for open bus ticket
The most popular stops for the open bus ticket are:
Hanoi
Ho Chi Minh City
Ninh Binh
Phong Nha
Hue
Da Nang
Hi An
Nha Trang
Da Lat
Mui Ne
Pay attention
If you lose your open bus ticket, you cannot get a refund.
If you have chosen a bad bus company, you will be burdened with it the entire trip
You must adhere to the daily schedule of the bus company.
If you want to go somewhere else, such as to Sapa, you have to buy a separate bus ticket for that.
Buying separate tickets only costs a little more (or nothing at all), but still gives you more freedom.
Open bus companies
The most popular open bus companies:
The Sinh Tourist (most recommended)
Hanh cafe
Queen cafe
Tam Hanh
How does it work?
How to get to the bus station
Cities can have different bus stations. It may be that one bus station does not have the same connections than another bus station in the same city. For that reason, always first find out at which bus station you should be. There may also be a difference between the type of service (local or long-distance, express or no express) and some bus companies have their own station. Bus stations can look chaotic, but many now have a ticket agency with official prices and departure times clearly displayed.
Buses departing from smaller cities like Dalat and Ninh Binh, always include a pick up from your hotel. In this case a minibus will pick you up and bring you to the bus station.
In the bus
In the bus you always have a fixed seat. The number of your seat you can find on your ticket. If you prefer a seat in the front of the bus and top or bottom bunk in a night bus, it is wise to tell you preferences at booking. The bus often stops half way at a special bus stop. Here you can find toilets, a restaurant and one or a few shops to buy some snacks and drinks.
Arriving on your destination
When you arrive in a small or medium sized city there is also a drop off at your hotel included. You arrive at the bus station and a minivan will bring you to your accommodation. In large cities like Hanoi and Ho Chi Minh City you have to take a taxi or walk (but not all bus stations are not directly in the city centre) .
Safety
Bus accidents are not uncommon and increase regularly at night. Vehicles are often poorly maintained. Keep valuables with you and do not put them at the bottom of the bus. Some bus companies have a better reputation than others in both the quality of drivers and buses.
Travel times by bus
| | | |
| --- | --- | --- |
| From | To | Duration |
| Ho Chi Minh City | Can Tho | +/- 5 uur |
| Ho Chi Minh City | My Tho | +/- 3 uur |
| Ho Chi Minh City | Mui Ne | +/- 4 uur |
| Ho Chi Minh City | Dalat | +/- 8 uur |
| Ho Chi Minh City | Nha Trang | +/- 11 uur |
| Ho Chi Minh City | Phnom Penh (Cambodja) | +/- 6 uur |
| Can Tho | Chau Doc | +/- 4 uur |
| Mui Ne | Nha Trang | +/- 5 uur |
| Nha Trang | Hoi An | +/- 11 uur |
| Nha Trang | Danang | +/- 12 uur |
| Hoi An | Nha trang | +/- 9 uur |
| Hoi An | Danang | +/- 1 uur |
| Hoi An | Hue | +/- 4 uur |
| Hanoi | Ninh Binh | +/- 2 uur |
| Hanoi | Hue | +/- 14 uur |
| Hanoi | Cuc Phuong | +/- 2,5 uur |
| Hanoi | Halong Bay | +/- 4 uur |