Quy Nhon best things to do & travel guide
In Vietnam there is one place that deserves to be visited by more people: Quy Nhon. Even though it is not considered a tourist destination, this medium-sized city is bordered by beautiful beaches and the surrounding landscape is also breathtaking. Life here also feels much more authentic.
5 reasons to visit Quy Nhon
Visit local fishing villages
Beach hopping to secluded beaches
Snorkel and swim around the islands
Explore Champa architecture at Cham temples
Enjoy the sunset at Eo Gio
What is in this Hanoi travel guide
There are not many different things to do in Quy Nhon. It's a great place to relax at the beach for a day or two when traveling along the coast of central Vietnam.
There are banks and ATM machines scattered throughout the city. When you stay at Xep Beach it is convenient to bring enough cash. Hotels accept credit cards, but most local restaurants do not.
From March to August it is the dry season, when there is little rain. However, the best months are between January and March, when the worst of the rain is over and when it doesn't get as hot as during the summer months.
10 best things to do in Quy Nhon
The best things to do in Quy Nhon are mainly the activities you can do on and around the beach. This region has one of the most beautiful beaches in Vietnam. Relax with a book on the beach, visit islands or go snorkeling.
1. Stay overnight in Bai Xep
Although the city of Quy Nhon is already not touristy, staying in Bai Xep is even more fun and authentic. Bai Xep can be found in a small fishing village 12 kilometers from the city center. It started with two hostels that settled in this village right on the beach, but nowadays there are already some more accommodations here, including a luxury resort next door.
Yet you still feel the real authentic atmosphere of the fishing village here. There is not much to do here except to enjoy the beach and take a boat trip to the nearby island where you can snorkel well.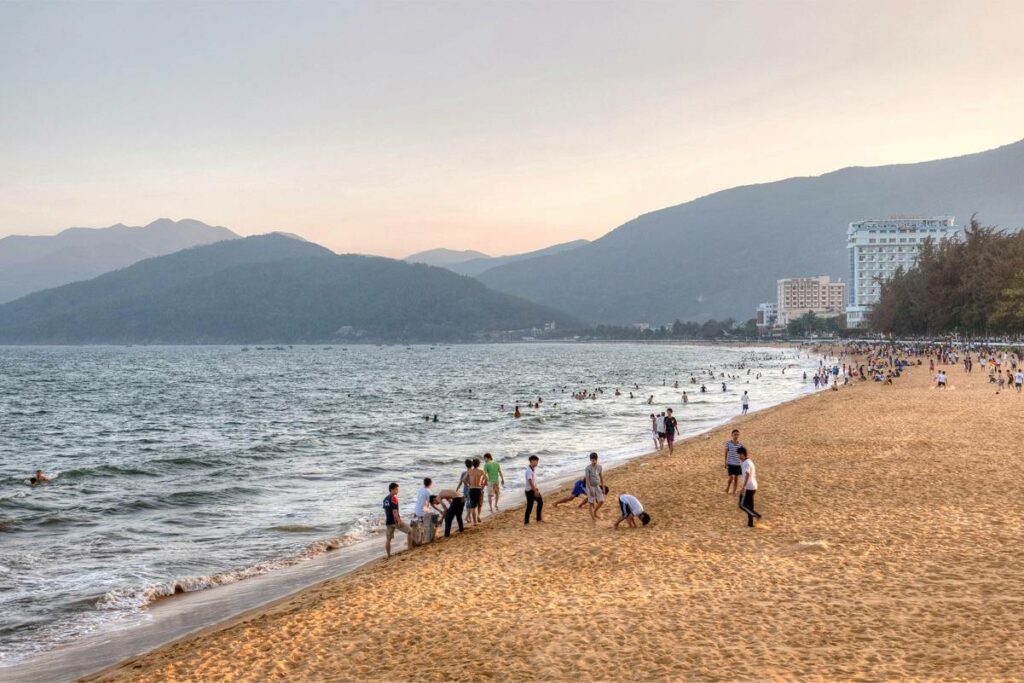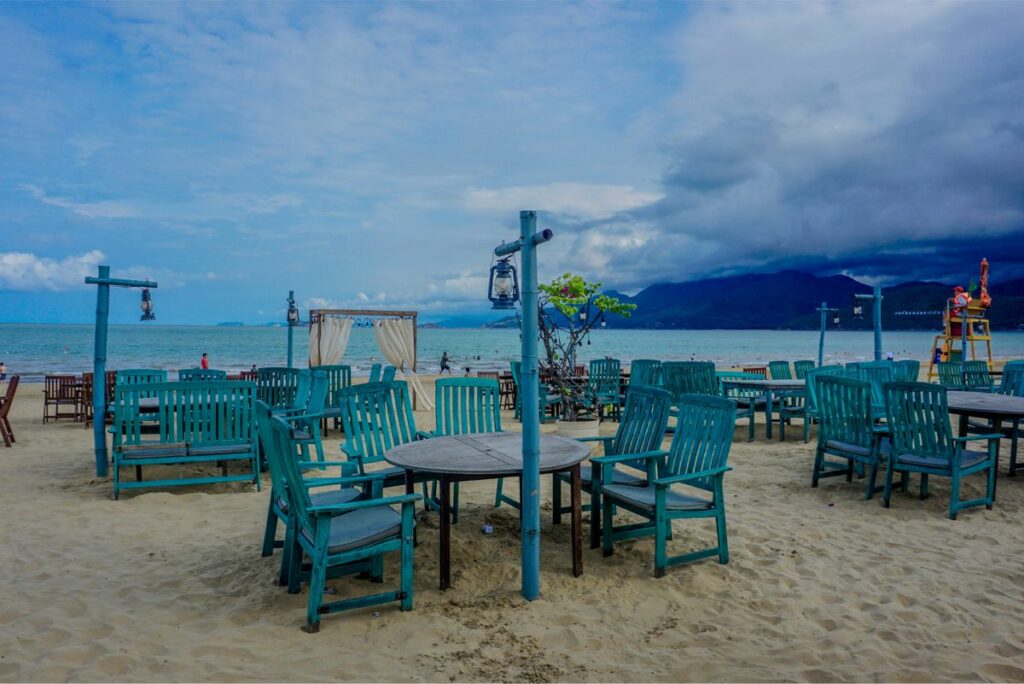 Besides Bai Xep, many more beaches can be found here. One of the best things to do in Quy Nhon is beach hopping, where you drive along the coast and choose beaches along the way to enjoy yourself. 
You don't necessarily have to get out of town to find beautiful beaches, because Municipal Beach, the main beach along the city's strip, is already beautiful. The waves are often calm here, making it an ideal place for swimming. There are a number of bars right on the beach where you can enjoy the sunset with a cocktail.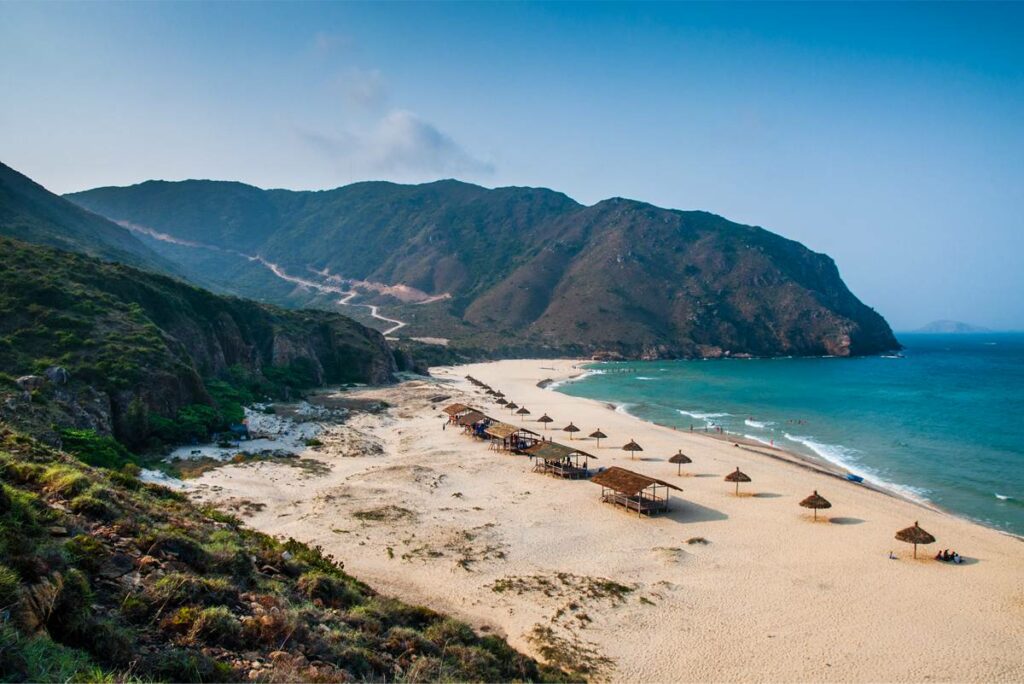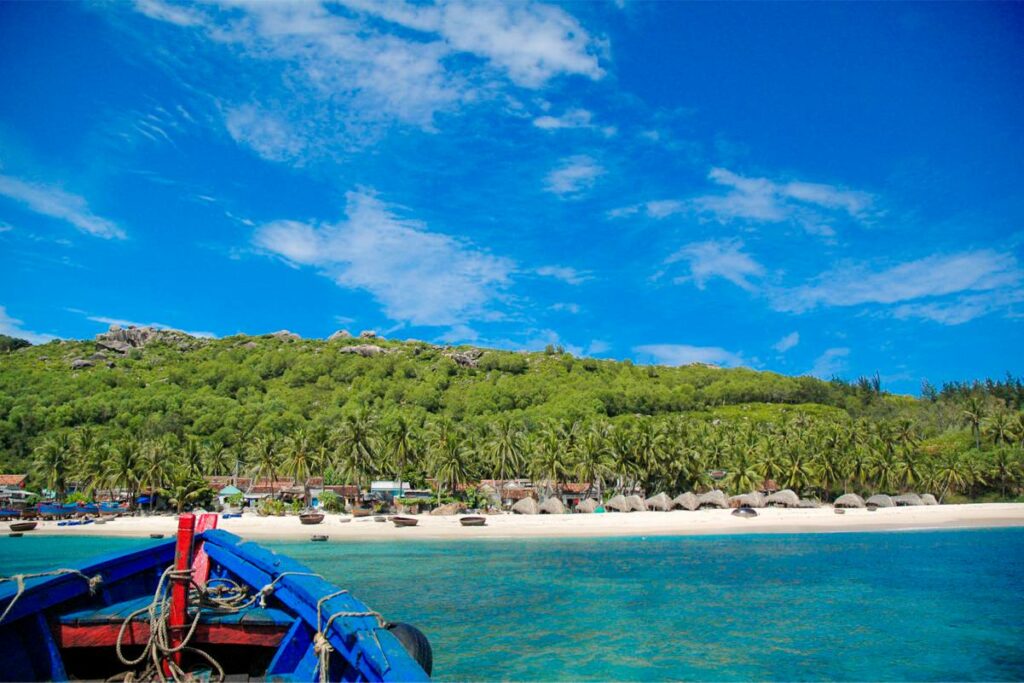 There are a number of small islands off the coast of Quy Nhon. Some are so small that you can only sail and snorkel around them. Many resorts can arrange boat trips to these islands, often combined with snorkeling.
The most famous islands where you can go are Ky Co Island and Kho Island. Khy Co is a remote island with a beautiful beach and crystal clear water that is so inviting that you have to go swimming. Kho Island is a good place to see coral reefs. Hon Kho is also a turtle conservation center.
One of the other great things to do in Quy Nhon is wathing the beautiful sunset at the ocean. The best place to do this is at Eo Gio. You can of course also visit this place during the day.
Eo Gio, known as the Windy Pass, is a naturally rocky structure in the sea. It is a beautiful landscape of rough cliffs that fall straight into the water and is fun to explore.
Mui Ne isn't the only place in Vietnam where you can find sand dunes so big it feels like you've landed in a desert. The Phuong Mai dunes are huge and can be found next to the beach of Nhon Ly. It is not only a place to take beautiful photos, but you can also enjoy sandboarding of the dunes.
You can combine a visit to these dunes with Hải Nam fishing village. A nice local and authentic village with a nice beach and island in front of it.
In the vicinity of Quy Nhon you will also find several Cham Towers. These come from the same era and culture as the temples you find in My Son, near Hoi An. They are not difficult to spot when driving through this area as they are usually on top of a hill. It is a mighty sight to see such an old building on a hill from the distance. There is also a Cham tower on the beach in the town of Quy Nhon. The two most famous Cham towers here are Thap Banh It and Thap Doi.
Quy Nhon feels very authentic and what you should do is explore the local life. Stop in one of the fishing villages to see how the fishermen make a living. When you drive along the coast you will come across dozens of small villages. In the sea in front of the village you can see all the blue fishing boats floating in the distance and on the beach you can see the basket boats that they use to paddle to their boat or to check the nets that are close to shore.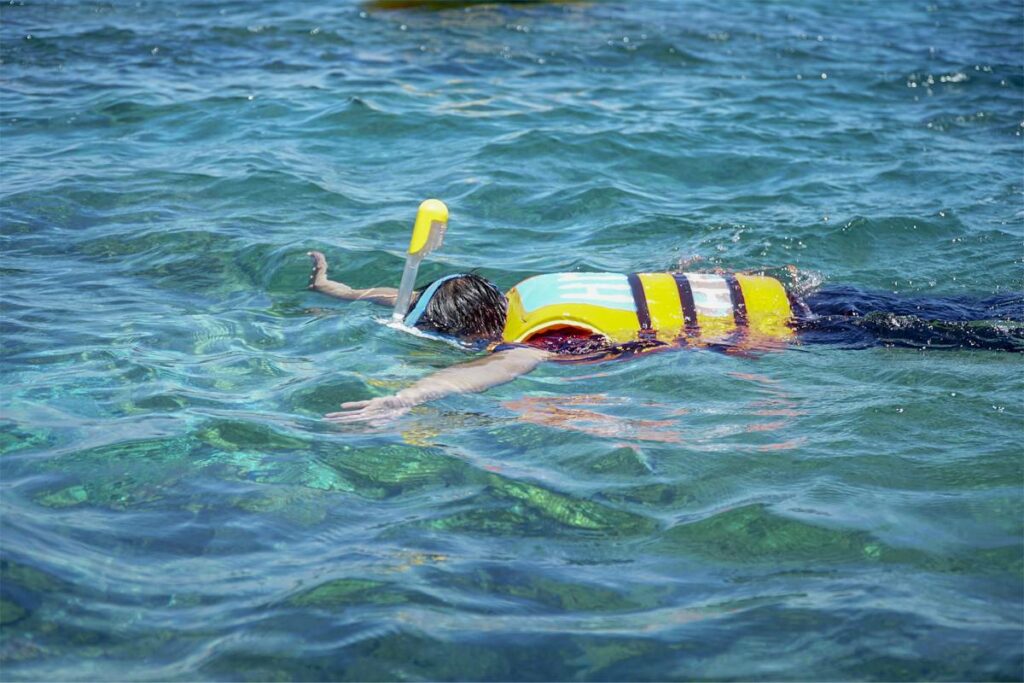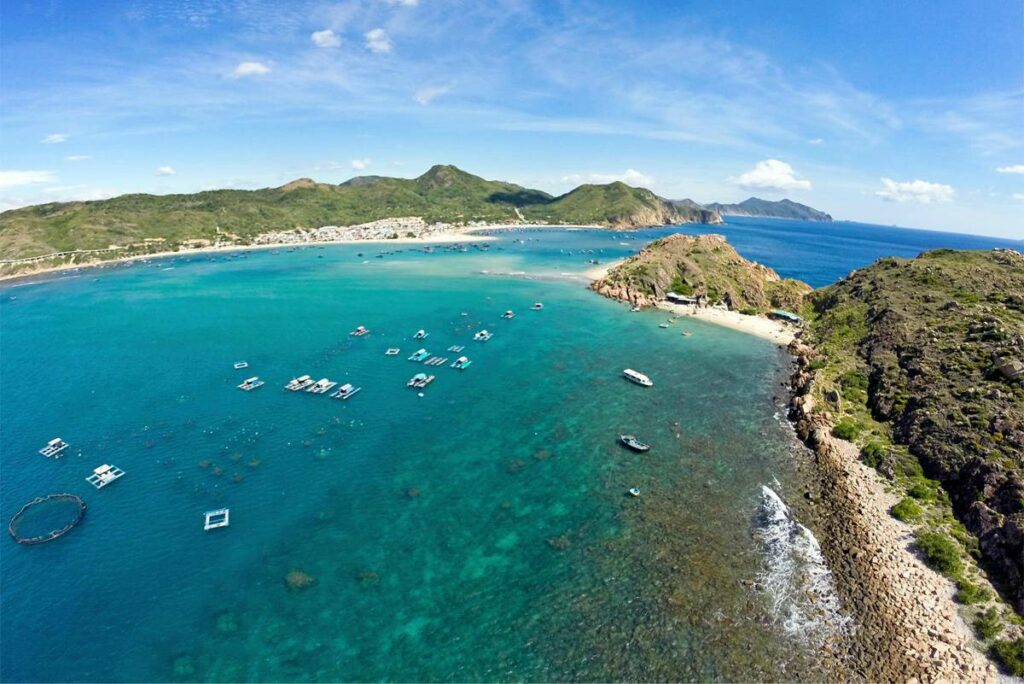 Quy Nhon is one of the best places to go snorkeling in Vietnam. In the first place that the coral around some places are very beautiful and the sea is also a lot calmer; especially at the parts of coast where there are islands in front or in the bays. Unfortunately, Vietnamese are very efficient fishermen, so many large fish have disappeared due to fishing.
It is not a problem if you do not have a snorkel set with you, as these can often be rented at the resorts, hostels and homestays by the sea. Also, usually snorkeling is included during the boat trips to the islands.
9. Countryside of Quy Nhon
When you've seen enough beaches and sea, you can visit the rugged countryside. These are places where tourists never come, not even Vietnamese, so expect a very authentic lifestyle. There are many rice fields and villages in the area. You do have to go out with a motorcycle or rent a car with a driver.
You'll find everywhere great food in Vietnam, but in Quy Nhon you should definitely try a few things. Because of the location at the sea you will of course find delicious seafood here. If you don't like seafood you can try a number of other dishes, such as Ban Xeo (very different from the Ban Xeo you find in the south), cuốn, one of the best fresh spring rolls in the country and bún thịt nướng, one of the best dry noodles.
Best hotels & hostels in Quy Nhon
Where to stay
Bai Xep – A charming place 10 km south of the city, not so long ago what made this just a simple fishing village. It is the favorite place for backpackers to stay in Quy Nhon, but for other travelers this village is more advisable than in the city of Quy Nhon.
Quy Nhon city – Accommodation in the city is spread over a four-kilometer beach. There is enough choice of resorts, hotels and other small to medium sized accommodations, depending on the budget.
Secluded beaches – On more secluded beaches you will find backpacker hostels such as Bai Bau, Bai Rang and Nhon Hai. It doesn't get much more authentic here.
Best hotels & hostels in Quy Nhon
Budget hotels & hostels
Life's A Beach
Big Tree Backpackers
John & Paul Inn
Mid range hotel
Life's a Beach Apartments
Seagull Hotel
High end hotel & resort
AVANI Quy Nhon Resort & Spa
Restaurants
Quy Nhon a surprisingly good city to eat. The local seafood along the beach are cheap and delicious. And some of the local specialties are also worth seeing. There are numerous small seafood restaurants along the beach north of the large statue of Ho Chi Minh with his father.
Nightlife
The nightlife in Quy Nhon is small but growing. There are no night clubs, but there are places where you can have a drink. Locals often gather around the beach in the evenings to enjoy a cold beer.
In Bai Xep all hotels and hostels have a bar, so you certainly won't get thirsty. Go to Life's a Beach Backpackers for wild nights and drinking games.
Quy Nhon has an airport. There are daily domestic flights from Ho Chi Minh City and Hanoi. The airport is called Phu Cat and is 30 kilometers from the city of Quy Nhon. A taxi or shuttle bus will take you from the airport to the city.
Quy Nhon is located between Nha Trang and Hoi An. The bus ride from Hoi An takes approximately 9 hours, the bus from Nha Trang 4 hours. There are also direct buses to and from Dalat (8 hours) and Pleiku (3 hours).
Quy Nhon train station is located in Dieu Tri, about 10 kilometers outside the city. From the train station you can take a bus or taxi to Quy Nhon.
The wide and flat boulevard along the water is excellent for cycling. Hotels rent motorbikes and scooters, perfect for exploring the area. The city is relatively small and a Mai Linh meter taxi can take you everywhere cheaply. If you do not want to explore the area by motorbike, you can rent a private car with driver.
Itinerary 2 days in Quy Nhon
Explore the surroundings of Quy Nhon.
Climb over the dunes of Quy Nhon: Phuong Mai sand hill.
Visit a fishing village: Hai Min.
Take a cultural trip to Thap Banh It Cham towers.
Stay on Xep Beach. From here you make a trip to Ky Co island.
A tour to this island includes lunch and snorkeling.
In the afternoon you go with a scooter or car to Eo Gio to see the sunset.
In the evening you eat bbq on the beach of Xep Beach.
More tips for traveling in Quy Nhon
If you want to see more beaches and go more off the beaten track in Vietnam, visit Phu Yen, south of Quy Nhon. Go further south to reach Nha Trang, Mui Ne and eventually Ho Chi Minh City. There are also direct flight to here.
Another option is to go through the central highlands, such as Pleiku, Kon Tum, Dak Lak and Dalat.
Far north of Quy Nhon is Hoi An and Da Nang. The distance is quite far, so a night train would probably be the more comfortable option.
There are not many things to do in Quy Nhon compared to other beach destinations such as Da Nang, Hoi An, Nha Trang and Phu Quoc, where you will find various attractions and water parks. It is very quiet around the city and there are beautiful beaches where children can enjoy themselves.