Vietnam with kids: if you're planning to visit Vietnam with kids or planning a family vacation to Vietnam, read on. Here are the best tips for family travel in Vietnam with a baby, toddler or teenager.
Why visit Vietnam with kids
Vietnamese people are great. They love children and most people will treat you differently if you are traveling in Vietnam with a baby, toddler or other young children. Solo travel in Vietnam and traveling in Vietnam with children are two completely different experiences.
Educational lessons can also be learned everywhere: from science (the biodiversity in the Mekong Delta) to social studies (the hill tribes in Sapa), to the rich and complicated history of the country – both recent (the war) and much older (colonial times and Chinese influences).
Warning: Of course not everyone who visits Vietnam has such a positive experience
Vietnam with baby or toddler
Vietnam is not the ideal country to travel with a baby or toddler, but it is certainly possible. In the big cities you have to take into account the chaotic traffic. You can get diapers and powdered milk in the supermarkets. Incidentally, Vietnamese are very fond of babies, toddlers and small children and will therefore receive you with great pleasure.
Best time to visit Vietnam with children
One thing you will notice when researching Vietnam travel is that it is a very large country. So if you choose the best time to visit Vietnam based on the weather, your best choice will be largely determined by location. In Northern Vietnam, such as Hanoi, Halong Bay and Sapa, March to May and September to November are good times to avoid the heat of summer and the cold rains of winter. For southern places, such as Ho Chi Minh City, Phu Quoc and the Mekong Delta, December to May is dry, with generally pleasant temperatures. In central Vietnam, in cities such as Hoi An and Hue, it is best to visit from February to June.
Safety and health in Vietnam with kids
1. Road safety
Vietnam is a safe country for children. However, there is one important point to know; traffic can be very chaotic. Motors, cars and trucks pass each other and there seem to be no real traffic rules.
Crossing busy streets seems dangerous, but the key is to walk at a steady pace and be predictable. Traffic continues to flow around you. Check out the locals for tips or follow them closely.
2. Food and drink
In general, you don't have to worry about traveling with children in Vietnam if you follow your common sense. Yes, Vietnam's delicious street food can be a problem for sensitive tummies, but asking for recommendations at your hotel avoids problems and only eat meals that are freshly prepared while you wait. Don't drink the tap water, but ice is usually fine in restaurants and bars. Read more about safe eating in Vietnam here.
3. Medicines
Pharmacies in the larger cities are generally well supplied, but it can be difficult to obtain medicines outside of them. Take plenty of special medicines with you (in the original packaging) or ask the doctor for a prescription.
4. Malaria and Zika
Malaria occurs all along the coast of Vietnam. Only remote areas in the far north and south of the country are a small chance. View the Malaria map here. Dengue (or dengue fever) is slightly more common. It is therefore useful to use anti-mosquito repellants with DEET. The Zika virus is almost non-existent. Only a few cases have occurred in the last 10 years.
5. Vacinations
There are no mandatory vacations for Vietnam, but a few are recommended, such as DTP and hepatitis A. It is useful to consult your doctor or the GGD in advance.
6. Dealing with animals
Rabies occurs in Vietnam. It is better not to get close to mammals, such as a cat or a dog.
7. Liabilities
If you are in cities, as with any destination, keep valuables close by and be on the lookout for scams by people trying to sell you a product or service on the street.
Tips for traveling with children in Vietnam
1. Visa
As far as the visa is concerned, most people can apply for a Vietnam e-visa online, at least one week before departure or at an embassy of Vietnam. It is a simple application process online. You only need to apply for a Visa On Arrival if you are going to Vietnam for more than 30 days.
2. Flying with children to Vietnam
Keep in mind that there are not a lot of direct flights to Vietnam from Europe and the US. Flights including 1 change are available from 3 pm. You can choose to fly to Hanoi or Ho Chi Minh City, depending on your travel schedule.
3. What to bring for kids to Vietnam
When packing, light travel is the best choice, especially if you want to visit different regions. Most domestic flights allow only 20 kg of checked baggage. While you can get most of the things you need in major cities, it is best to bring the necessary as they are often more expensive in Vietnam and you may not find the brands you like.
Bring your own medicines, toiletries, baby food, diapers, sunscreen, mosquito repellent and basic first aid kit. Light, cotton clothes are best and you really only need flip flops and sneakers. When you go north around December and January you also need warm clothes. It is best to dress in layers and not bring bulky sweaters and jackets. For example, bring warm shirts with long sleeves and a raincoat.
View the general packing list for Vietnam here.
4. Bring plenty of water and snacks
You can find places to eat and drink everywhere, but you will just find that when you need something you cannot find an open restaurant or supermarket. Vietnam can also be very hot and humid, so always bring plenty of water.
5. Do things for children
Vietnam can be hot, busy and overwhelming, make sure to spend some time with activities for kids. Vietnam has parks, playgrounds, beaches, play centers and water parks. There are cooking classes and there are cool shows. Pick something they'll enjoy and look forward to, and make sure they know it's coming.
7. Travel with a plan
It's easy to travel relaxed in Vietnam without a plan, but that requires a certain amount of flexibility, which can be difficult when traveling with children. Book your hotels in advance, especially in high season. Check out the best travel times if, for example, you want to sit at the beach with your children. And schedule any domestic flights.
How to get around with children in Vietnam
domestic flights
Domestic flights in Vietnam are often dirt cheap. You can already have a flight between Ho Chi Minh City and Dalat from 20 euros per person. It is a good option when you have to travel long distances. A popular flight route is for example from Hanoi to Hoi An via Da Nang Airport.
Trains
The reunification express, the train that runs from Hanoi to Ho Chi Minh City, is often described as a must. The sleeping wagons are more spacious than buses, there are more places for kids to get up and walk around when needed, and you have reliable access to a toilet that buses don't provide. In addition, they are also more reliable and safer than the bus. The disadvantage? They are slow.
Buses
Trains are better for transport from city to city. There is more room for maneuver and usable toilets on rail cars. Buses don't have this. They are often extremely tight by Western standards (they are designed for the average Vietnamese height) and the toilet breaks along the way are insufficient. Consider this when comparing prices.
Walking & cycling
Many attractions in the cities themselves are within walking distance of each other, such as in Hoi An, Hue and Ho Chi Minh City. In addition, the country also has some great places to catch a bike and go out into nature or explore the countryside. Read more about top destinations to cycle on in Vietnam here.
Walk with a pram
Walking with a pram is not recommended. The roads and sidewalks are not made to be driven over with a pram.
Taxis and car with driver
Because the cities in Vietnam have a poor public transport system, you are quickly assigned to taxis. The advantage is that taxis are very cheap and when you travel with kids a taxi is very handy. Within the center you often pay no more than a few euros per ride.
For longer distances you can rent a car with a driver. It is not possible to drive yourself in Vietnam. Surprisingly, renting a car with a driver is relatively cheap, especially when traveling with your family.
Best destinations in Vietnam with kids
1. Mai Chau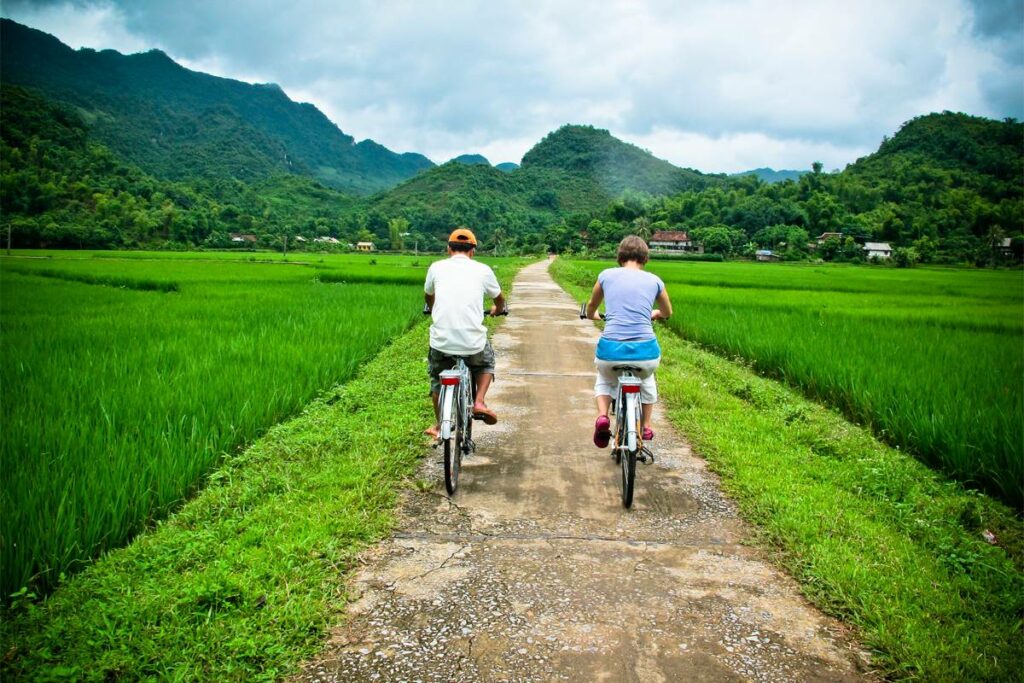 A quiet valley, with beautiful rice fields and minority villages. The valley is quite flat and there is almost no traffic, making it one of the best places to cycle in Vietnam. In the minority villages you can learn more about the local culture of the hill tribes, who you will see at work with traditional clothing.
2. Mekong Delta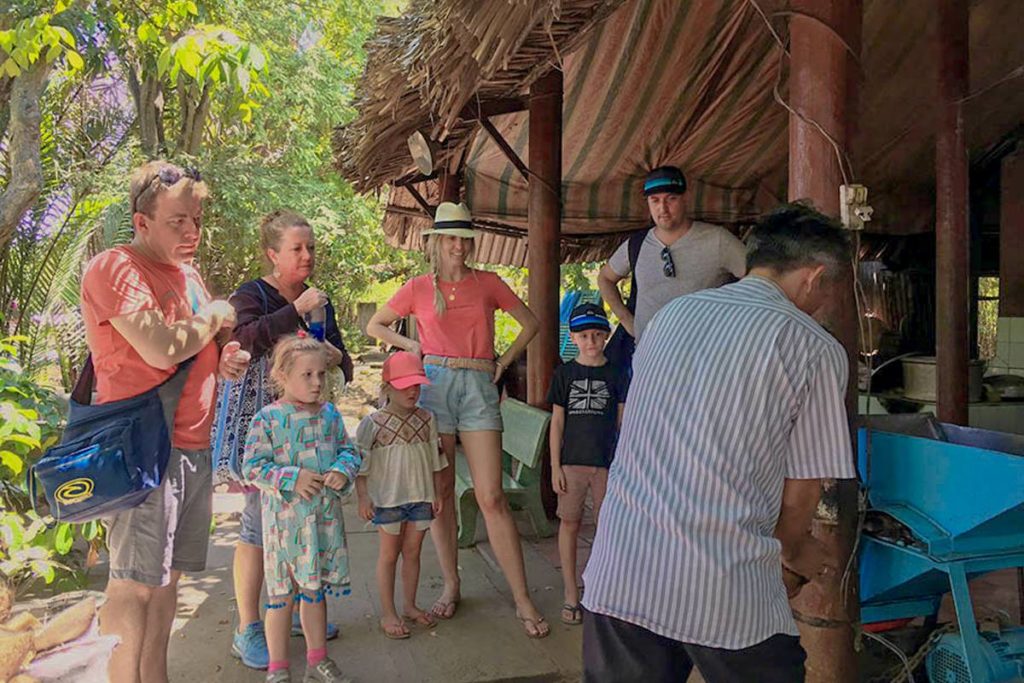 Stay in a homestay for a truly local experience. There are numerous boat trips that are organized where you go to floating markets, visit local coconut factories and take a small row boat through the narrow canals hidden between the palm trees. You can also take bike rides or opt for a leisurely cruise that takes you everywhere.
3. Ninh Binh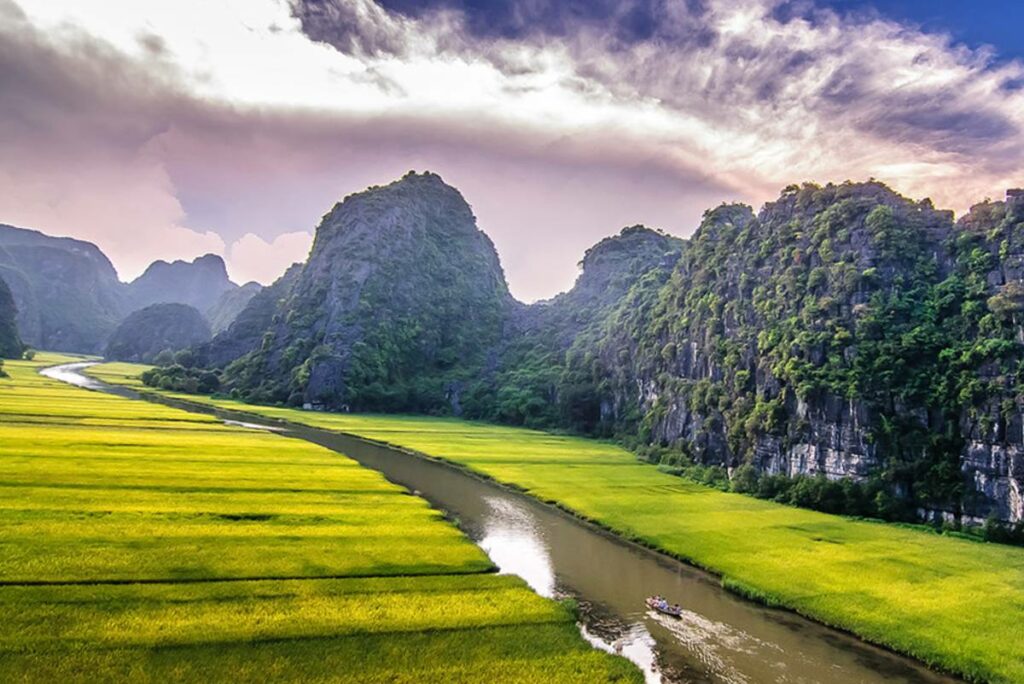 Despite the fact that this province attracts many tourists, this is again a quiet destination and perfect for cycling. It is flat between the gigantic limestone rocks and the sights are all close together. You can take boat trips along beautiful rice fields and through cave systems. Visit ancient temples and a citadel for cultural excursions.
4. Halong Bay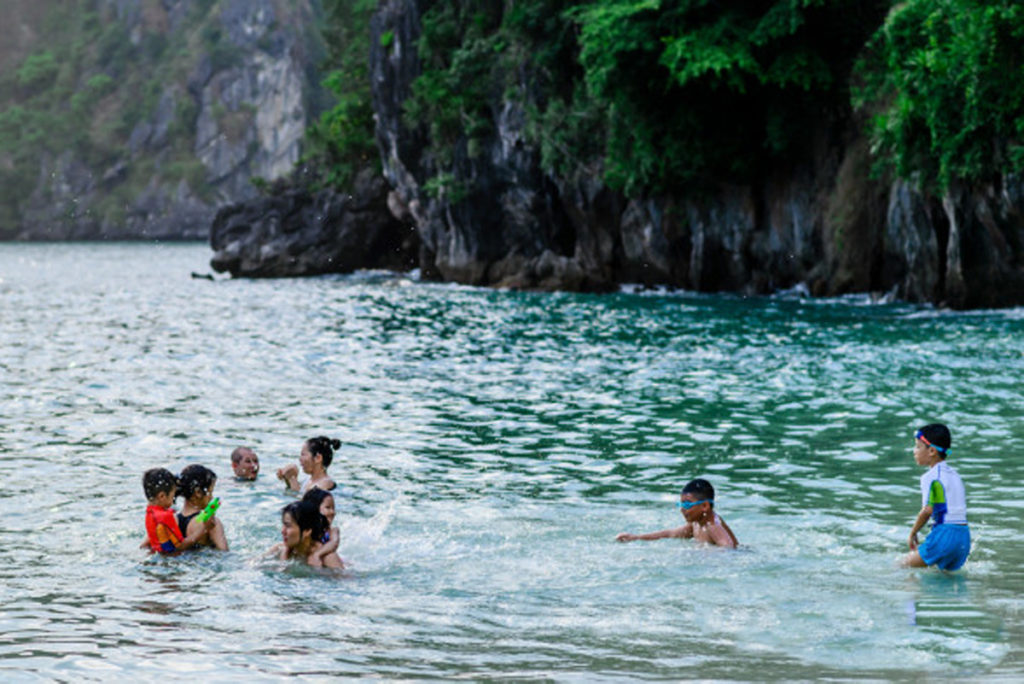 Of all the places to go in Vietnam with kids, you don't want to miss the incredible Halong Bay tour. You will cruise through the World Heritage area over emerald waters, past the limestone cliffs. Visit caves, floating villages and go kayaking for the complete experience. There are many luxury cruise boats in Halong Bay with family rooms. The easiest starting point is the country's capital, Hanoi.
5. Hoi An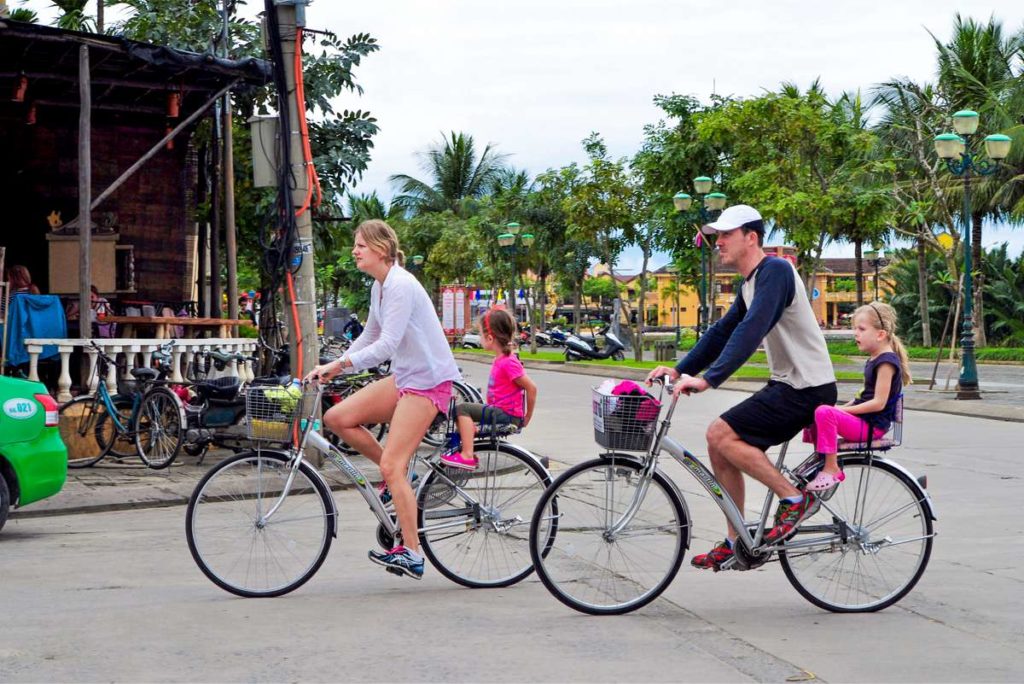 The magical, lantern-lit Hoi An Ancient Town will enchant and leave children in awe. Fly to Da Nang from Ho Chi Minh City and it's only a 30-minute drive to the UNESCO-protected city. Explore the narrow streets of the old town on foot and cycle into the countryside through rice paddies. Take a night boat ride on Thu Bon River and visit the night market, visit the world-renowned tailors for new tailor-made clothes and swim in the calm seas at An Bang and Cua Dai beaches.
6. Sapa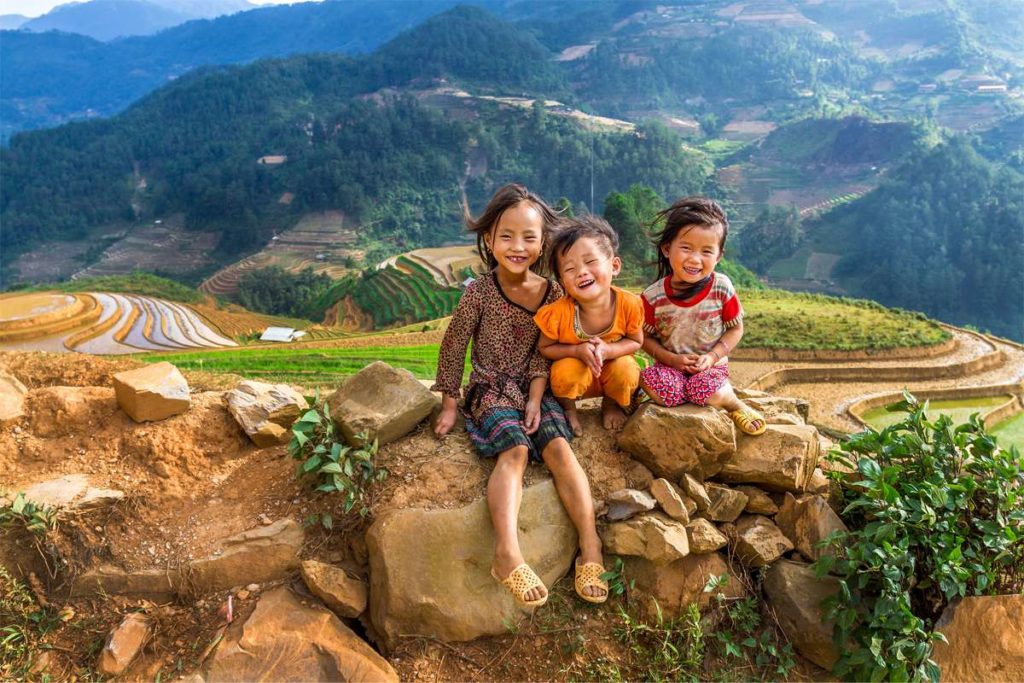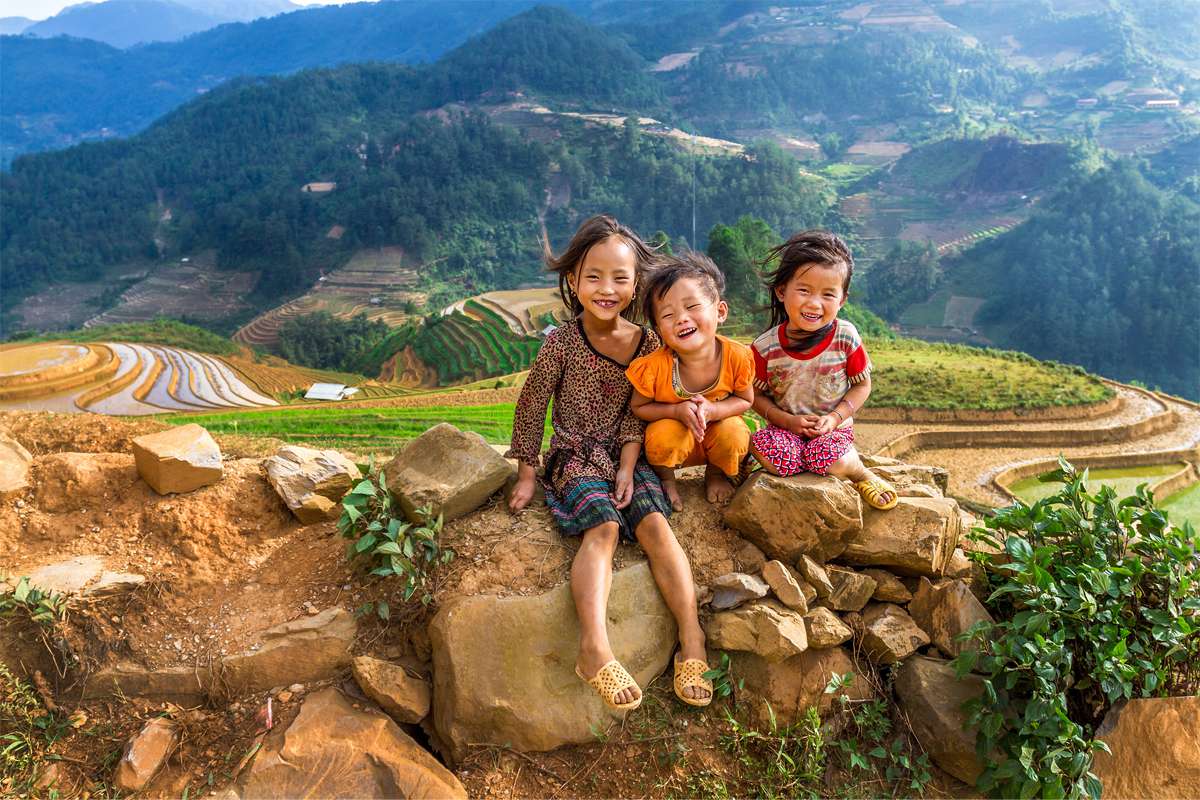 If your children are a bit older, a visit to Sapa is highly recommended. This is the most famous place where trekking tours are held through the rice fields. You can walk half a day, a whole day, two days or even 3 days. If you go out for several days, you will stay in a homestay of local minorities. Expect little luxury, but a unique cultural experience.
7. Hanoi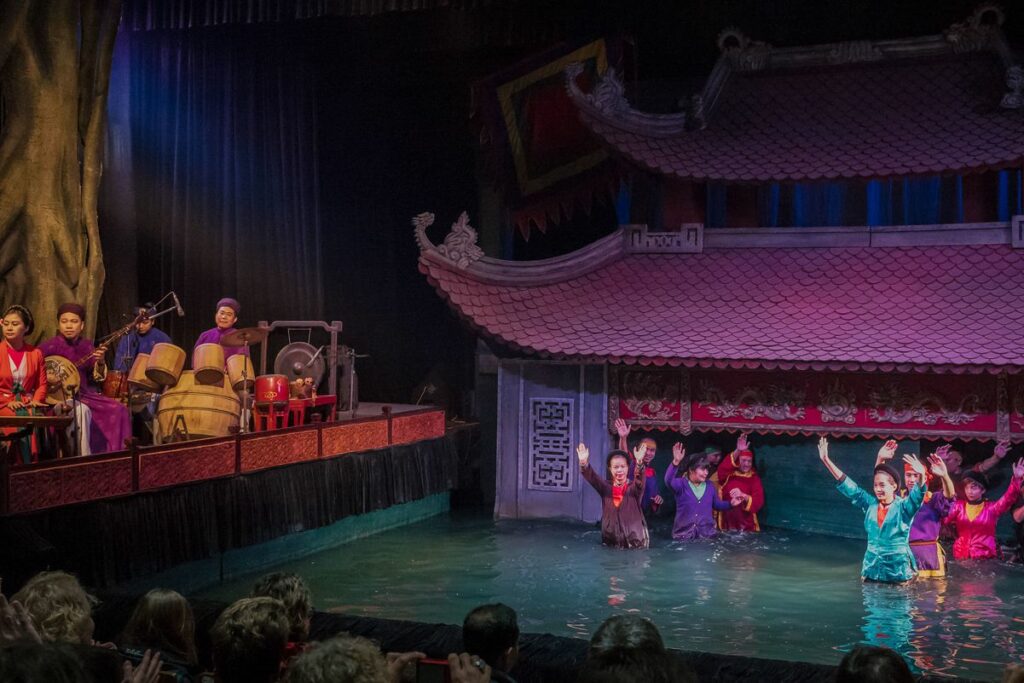 Enjoy a traditional water puppet show at the Thang Long Water Puppet Theater or Central Circus, take a cooking class or street food tour, shop in the bustling streets of the Old Quarter, and eat bowls of Pho by Hoan Kiem Lake.
8. Phu Quoc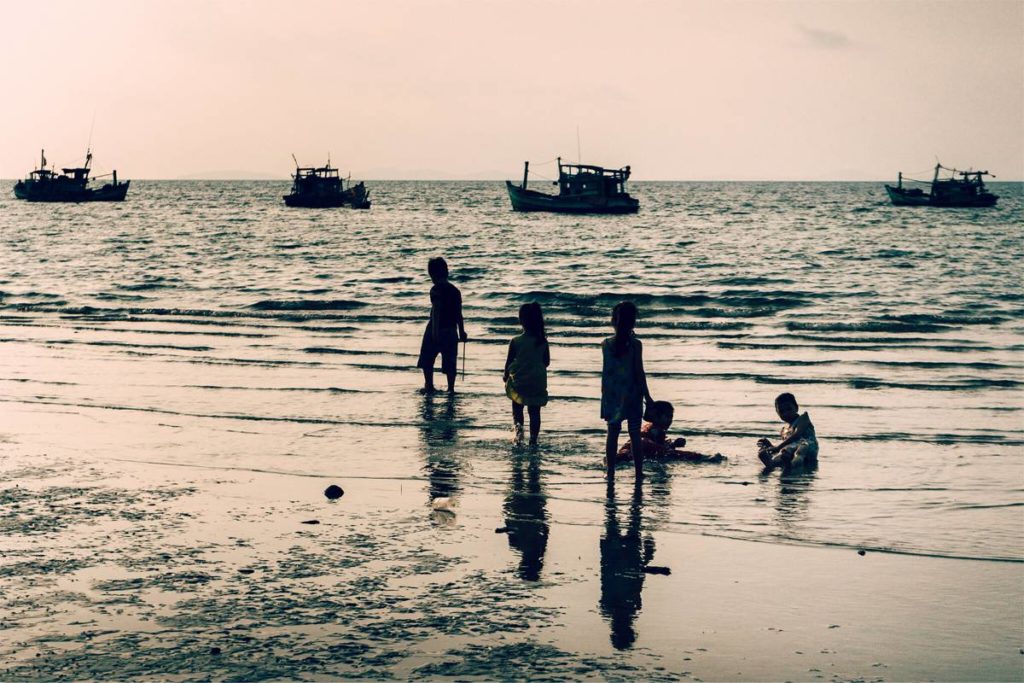 If you also want to enjoy the beach during your trip, the island of Phu Quoc is perhaps one of the best places for children in Vietnam. This quiet island has beautiful sandy beaches with palm trees. There are resorts and hotels especially for families and you can also take day trips, such as a boat trip to nearby islands, pepper plantations and authentic fishing villages.
Example tour Vietnam with kids
Day 1 – 2 Ho Chi Minh City
Take a day trip to the Cu Chi Tunnels where you will learn the history of the Vietnam War. You can, among other things, crawl through the tunnels that have been adapted for tourists.
Day 3 – 4 Mekong Delta
Stay 2 days in the Mekong Delta to experience the floating life. Take a boat trip on the big rivers and think of small side canals with coconut trees. Visit a floating market and a local coconut factory. Explore the countryside by bicycle.
Day 5 – 7 Hoi An
Back from the Mekong Delta, take a flight from Ho Chi Minh City to Da Nang Airport. From here you can be in Hoi An in 30 minutes. Hoi An has the most beautiful old center in Vietnam. During certain times of the day, the streets are closed to motorized vehicles, allowing you to quietly view the beautiful old buildings.
The surroundings of Hoi An are also great for kids. You can plan days at the beach, cycle through the countryside or take day trips to the Cham islands or a historic day out to the temple complex of My Son.
Day 8 – 9 Hanoi
Fly to Hanoi via Da Nang. Explore the Old Quarter, Hanoi Old Quarter, by traditional cyclo. Watch a show in the water puppet theater and introduce your children to Vietnamese food culture with a food tour. In addition, there are also a number of other historical sights that you can visit in the city.
Day 10 – 11 Ninh Binh
From Hanoi you can take a two-day trip to Ninh Binh province; also called Halong Bay on land. This beautiful province consists of imposing limestone mountains, with in between planes valleys with rice fields, rivers and villages. The best way to explore this area is with impressive boat trips and cycling in Ninh Binh.
Day 12 – 14 Sapa
Back in Hanoi in the evening, take the night train to Lao Cai. From here you go by taxi or bus to the mountain village of Sapa. This is the place to take a nice hike through one of the most beautiful rice fields in Asia. Walk through local hill tribe villages where your family can learn more about the local culture.
If your kids are not yet old enough for a walking tour, choose Mai Chau. This flat valley also has beautiful rice fields, perfect for short bike rides.
Day 15 Hanoi
From Sapa you take the night train back to Hanoi where you will spend the day and night.
Day 16 – 18 Halong Bay
In the morning you will be picked up from your hotel in Hanoi and transfer to the port in Halong. Enjoy a great cruise through Halong Bay or Bai Tu Long Bay. See the beautiful scenery from the luxury boat, go for a swim, explore hidden corners by kayak and join a cooking class.
Day 19 Hanoi
After the cruise you will be brought back to Hanoi where you will stay 1 night before flying back to home..