Hoi An best things to do & travel guide
Hoi An Town is an exceptionally well-preserved trading port from the 15th to the 19th centuries. It is also known for the most atmospheric city in Vietnam, or perhaps even in the whole of Southeast Asia. The city is full of picturesque historic houses, pagodas and cafes. It is extremely popular to buy handmade clothing. But even if you do not want to shop, Hoi An provides a relaxing destination in an otherwise hectic country. After all, a day at the beach is just a 20-minute bike ride from the city.
5 reasons to visit Hoi An
Visit the most atmospheric old town of Vietnam.
Cycle through green rice fields through the countryside.
Relax on one of the beaches.
Explore the city in the evening with lanterns illuminating the street.
Take a day trip to My Son or Cham island.
What is in this Hoi An travel guide
Book your local Hoi An experience
This town is easy a place where you could spend a week, because there are so many things to do in Hoi An and around. Besides wandering around the city there are dozens of day trips you can do, and cycling tours. If you are in the right season, it is also a great destination to linger on the beach.
ATM's can be found everywhere in Hoi An town, but less near the beach and countryside.
Local events and holidays
Mid-Autumn Festival: On the 14th and 15th of the eight months of the Lunar year, Hoi An organizes traditional cultural activities such as a Mid-Autumn Party, parade of lanterns and music and singing competitions.
Full Moon Festival: Every month with full moon. Cars and motorbikes are forbidden in the old town, street markets with handicrafts, souvenirs and food open everywhere and all lanterns come out. Traditional plays and musical events are also performed.
February to April: pleasant temperatures, low humidity.
From June to August: the temperatures are the warmest, up to 38 ° C
From September to January: the rainy season of Hoi An. October and November are wettest
November to January: coldest temperatures, ranging from 19 to 24 ° C
10 best things to do in Hoi An
Most sights in Hoi An can be found in the old town that you can easily explore on foot. But there is more to see and do than walk through the old center. So you have beautiful rice fields in the area, beautiful beaches, islands and craft villages.
The best thing about Hoi An is that there is also a lot to do. So you can cycle through the area, take a boat trip on the river, have clothing made, take a cooking class or take a day trip to the ruins of My Son. To make clear what to do and see, check out this list of top 10 attractions in Hoi An and the most popular activities.
1. Walk through the old city
Hoi An offers a breathtaking mix of ornate Chinese temples, a Japanese-style bridge, wooden shop buildings, French-colonial houses and old canals. Most of the old shops have been carefully converted into modern businesses for tourists, including countless tailors, souvenir shops, art galleries, restaurants and cafes. The best way to explore this city is on foot. Visit the city both during the day and in the evening, when the lanterns illuminate the old town.
The most famous sights in Hoi An are the Japanese bridge, Cantonese Assembly hall, Fujian Assembly Hall and the Chuc Thanh Pagoda.
2. Cycling through the countryside
The rice fields in Vietnam are extremely popular. Those you find around Hoi An may be less spectacular than the rice terraces in northern Vietnam, but they are much more accessible.
One of the best thing to do in Hoi An is exploring this beautiful countryside by a bicycle ride along narrow paths through the rice fields. From the center it is only 10 minutes by bike to the countryside. You see locals with water buffalos walking the land and when you are in the right season they are nice and green. You can also use the bike to cycle to the nearby beaches and other places of interest in Hoi An.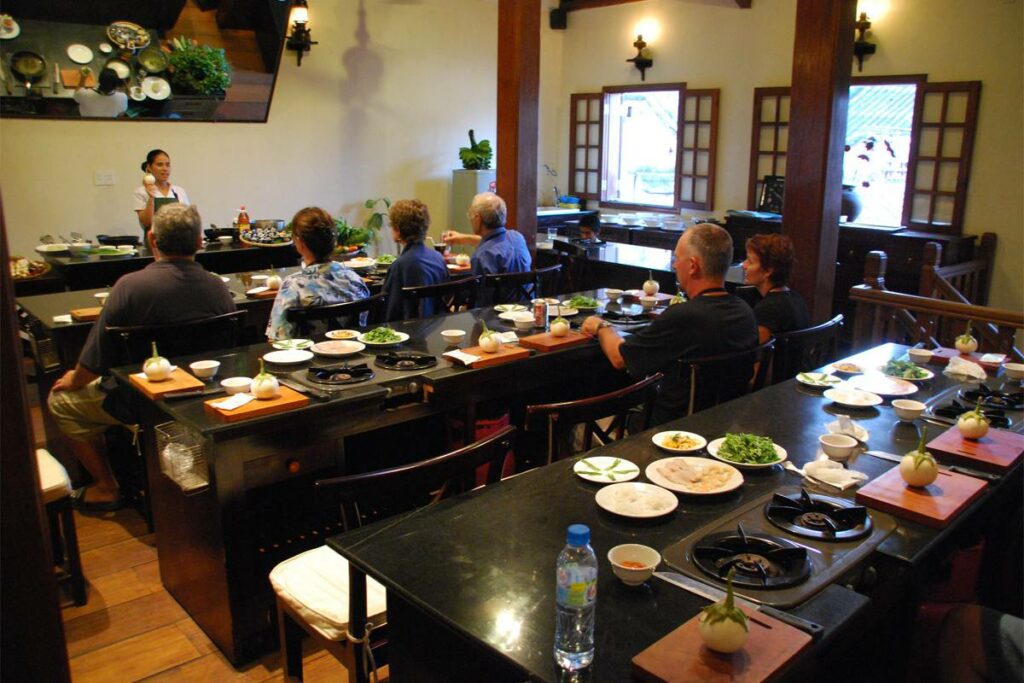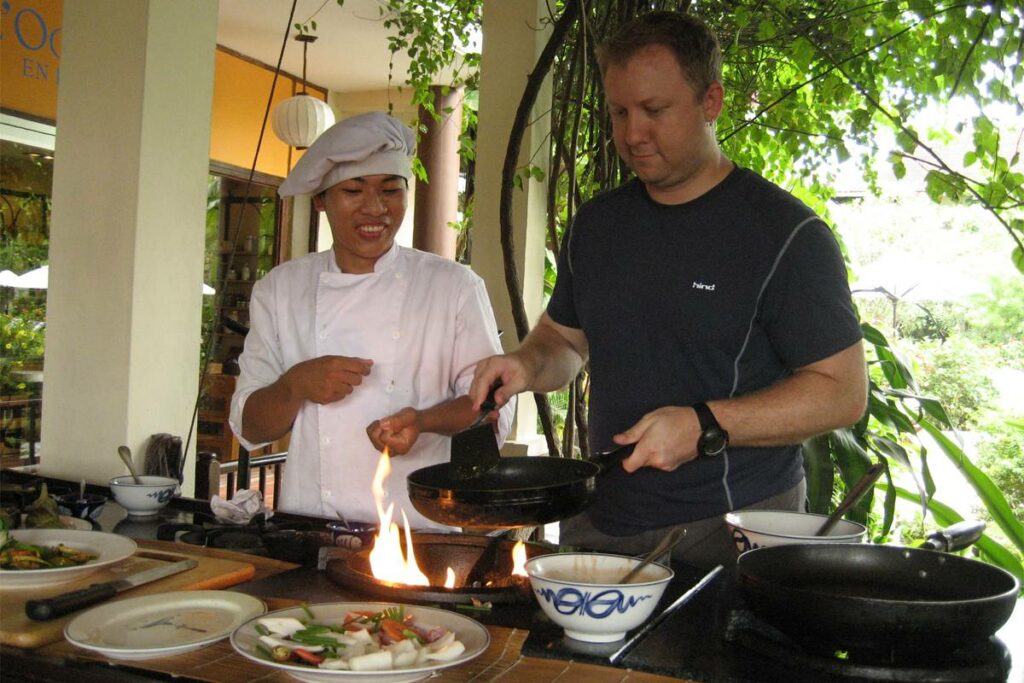 Hoi An is the most popular place to take a cooking class in Vietnam. A cooking class in Hoi An is often more than just learning to make dishes, but there are often many other activities that you do, such as a visit to a local market, boat trips, cycling and visiting craft villages.
There are dozens of restaurants that offer cooking classes. Check the options first. Which activities does it include, are there vegetarian or vegan options and how long does it take. 
If you have been walking around for a whole day to see all the sights in Hoi An, you might be ready to relax the next day. Fortunately there are a number of beaches in Hoi An and in the area. The two most popular are An Bang Beach and Cua Dai Beach. You can easily reach these beaches by bike from the center. With a scooter or taxi you can even go to the beaches of Da Nang.
Hoi An offers plenty of opportunities to get on the water. Enjoying some of the many river roads in the city is a must – rent a boat, go paddling or take a tour where you see life on and along the water. You can walk to the river from the old town where you will be flooded by boat trips on the Thu Bon river. You can also go to Cam Thanh Village where you can paddle through the forest of coconuts with a basket boat.
Once an important port on the Silk Road, the perfectly preserved 15th-century trading history of the city continues to flourish today, where the tailors in Hoi An use their magic to produce high-quality clothing at a bargain price for the seemingly endless passing trade. There are many tourists who have clothing made in Hoi An and why not? It will certainly be worth your money and it will be a great souvenir and a reminder to take home.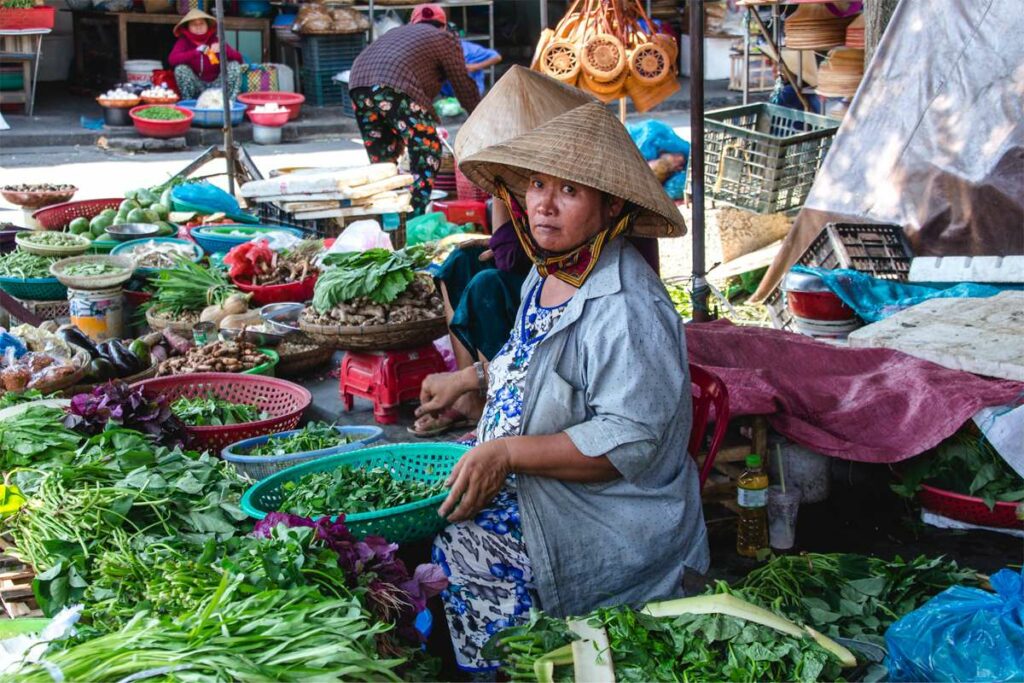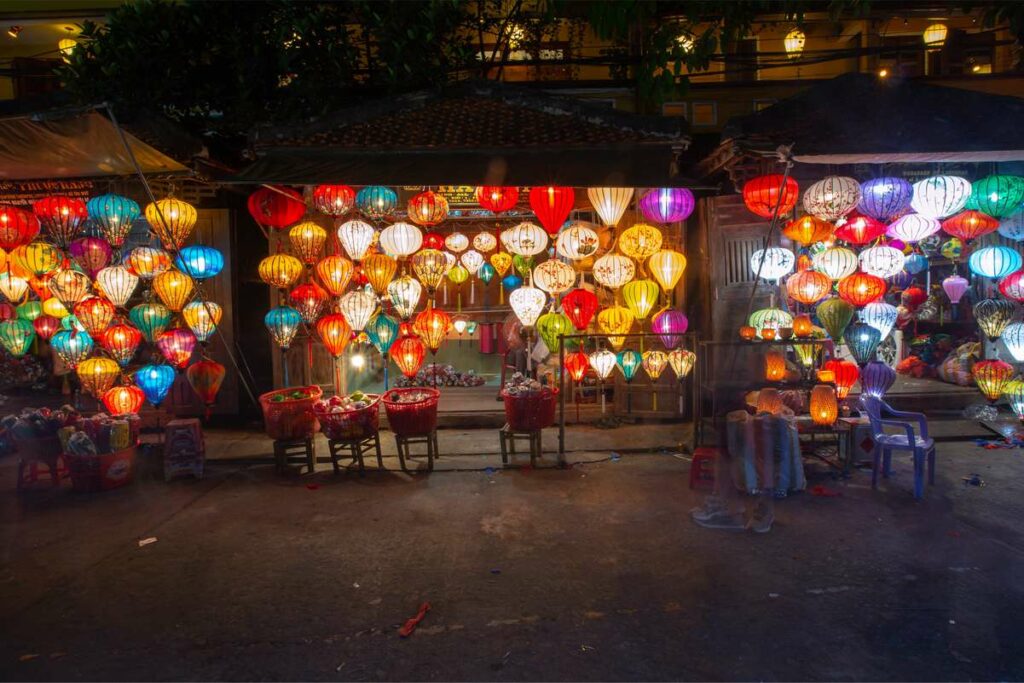 One of the most popular sights is the markets in Hoi An. Markets are also one of the best places to see the local life. In the middle of the city next to the river you will find the central market where you can really find everything. Every night there is a Night Market. The 300-meter-long Nguyen Hoang Street changes into a sea of ​​color, while vendors set up stalls selling everything from handmade jewelry and clothing to delicious snacks. This market is illuminated by hundreds of different colored lanterns that decorate the street and illuminate the stalls.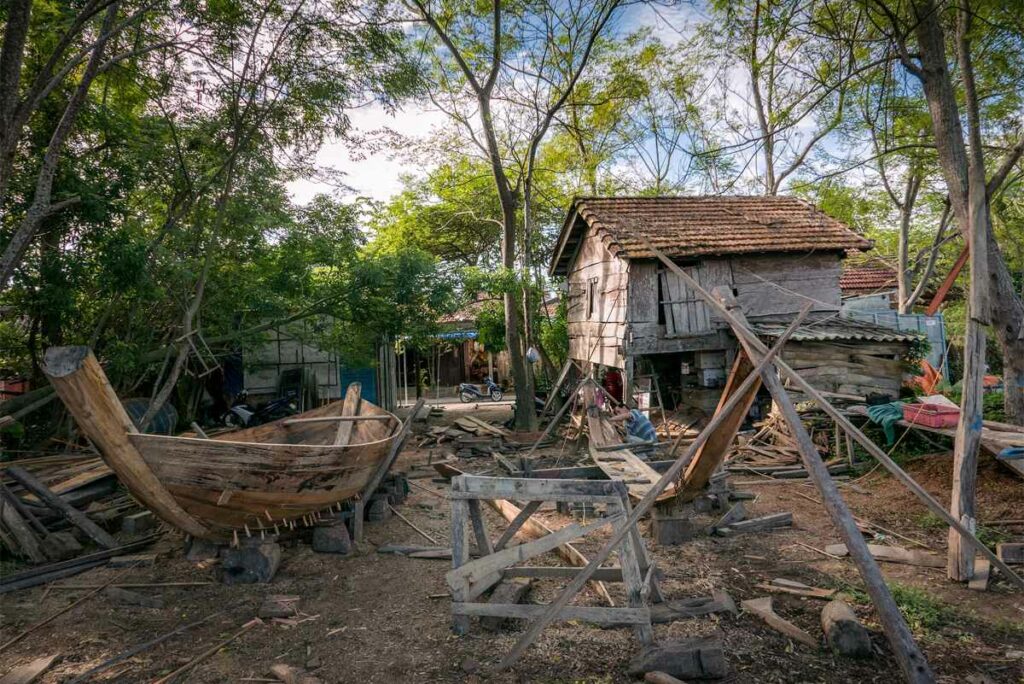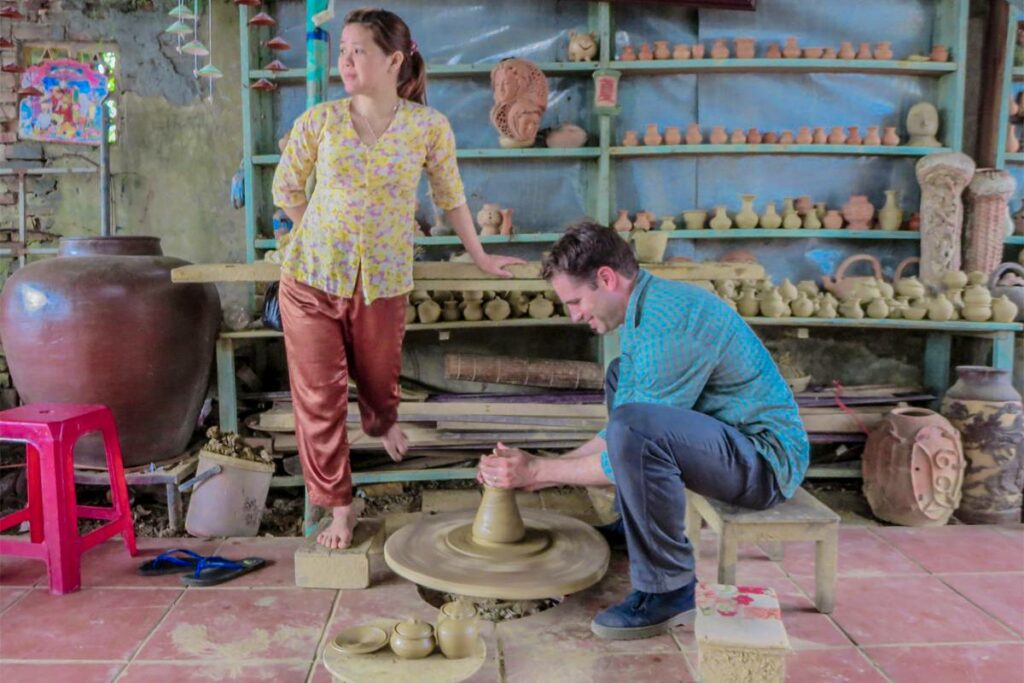 What you should definitely not miss is a visit to one of the craft liquorice around Hi. Kim Bong Carpentry Village is a special place where carpenters work to produce furniture and other items for remarkable buildings. TraQue Herb Village, a vegetable village, shows you the agricultural techniques of the local population, ranging from plowing the soil, sowing, watering, harvesting vegetables and other agricultural activities. You also have Thanh Ha Pottery Village and Phuoc Kieu Bronze Casting Village.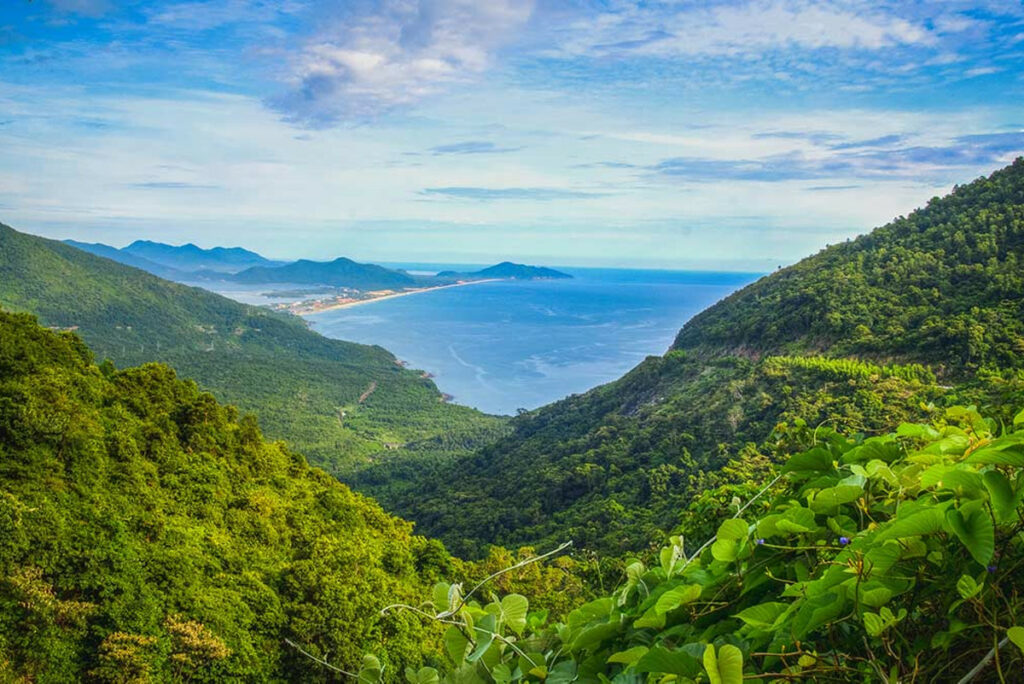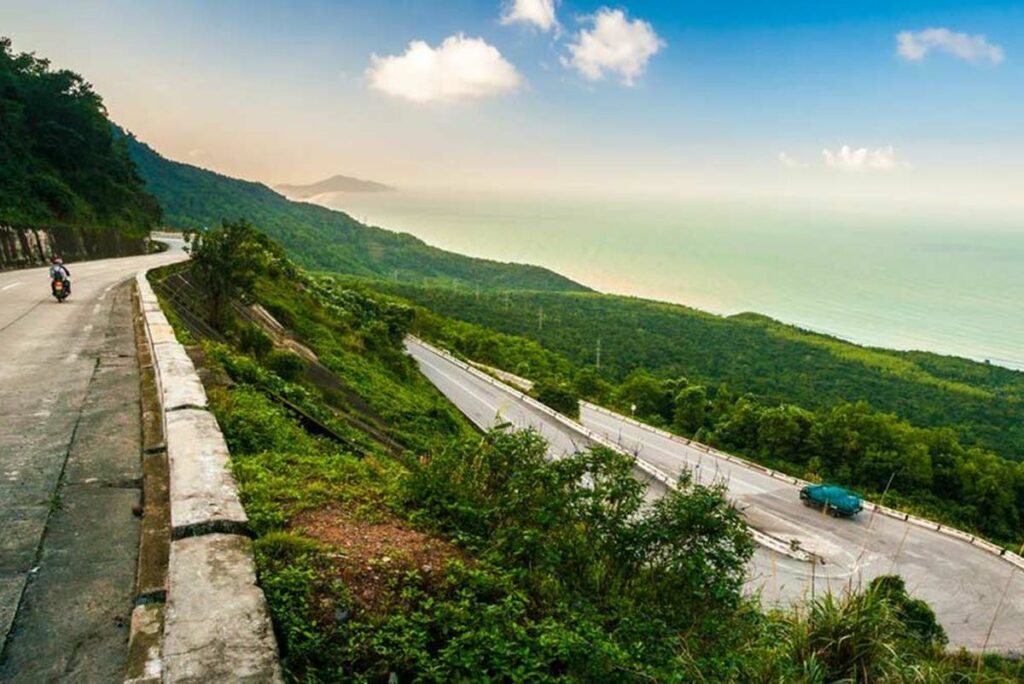 The route from Hoi An to Hue is very impressive and is already an activity in itself, with the highlight being the Hai Van Pass. This mountain pass is known for the TopGear TV program and offers great views of the sea, mountains and beaches. You can drive a scooter over this mountain pass yourself, you can hire an Easy Rider on the back of the motorcycle or rent a car with driver. When you go with an Easy Rider or car you often visit other sights on the route such as the Marble Mountains and Lang Co Beach.
10. Day trips from Hoi An
What's also great about the city is that there are not only many places of interest in Hoi An, but also beyond. You can visit these places by day tours or driving a motorbike yourself. These are the most popular day trips from Hoi An:
My Son: A collection of ancient Hindu temples built by Champa people, which are now ruins. This is the most popular day trip from Hoi An and takes half a day.
Cham Island: On this island you will find the most beautiful beaches in the area, with palm trees and clear water. A day trip to Cham Island includes lunch and snorkeling.
Marble Mountains: Between Hoi An and Da Nang you will find the Marble Mountains, limestone mountains with a series of caves and religious sites. You can visit them, but there are also opportunities for climbing and abseiling from these mountains.
Son Tra: The Son Tra peninsula is at Da Nang. You will find different viewpoints, deserted beaches, mountains and rare monkeys here.
Best hotels & hostels in Hoi An
Where to stay
The Old Town – In the heart of Hoi An is the Old Town with the iconic sights. Though there is not much accommodation right in the Old Town. If you prefer a bit more comfort or a hotel with a pool, it is recommended to search for accommodation just outside the old town. 
South of the old town you have the island of An Hoi, known for the famous night market and where the liveliest nightlife of Hoi An can be found. 
Cam Chau and Cam Thanh are located in the countryside between the beach and the old town of Hoi An. It is approximately 10 minutes by bike to the old town and 15 minutes by bike to the beach of Cua Dai. There are a lot of nice small boutique hotels and homestays around this area. You are right between the rice fields, rivers and both close to the beach and city. This makes this area the best place to stay in Hoi An.
If you prefer to spend the majority of your time on the beach and visit the old town once or twice, An Bang Beach is a good option.
Best hotels & hostels in Hoi An
Budget hotels & hostels
Kiman Hoi An Hotel and Spa
Vietnam Backpacker Hostels – Hoi An
Lazy Bear Hostel
The Seaside Bungalow
Mid range hotel
Cozy Hoian Boutique Villas
Pham Gia Boutique Villa
Golden Pearl Hoi An Hotel
La Residencia . A Little Boutique Hotel & Spa
Royal Riverside Hoi An Hotel
Hoi An Central Boutique Hotel and Spa
Hoi An River Town Hotel
High end hotel & resort
La Siesta Hoi An Resort & Spa
Hoi An Silk Marina Resort and Spa
Restaurants
Deciphering Hanoi's street food scene can be astonishing, but it is worth keeping up and diving into. The city's best food comes from the dozens of vendors that line the city's sidewalks with smoking charcoal burners, tiny plastic stools and queues of locals.
Aubergine49 Restaurant
Tra Que Garden Restaurant
FireFly Restaurant & Bar
Nhan's Kitchen
Restaurant & Cafe Tuan
Phi Banh Mi
Nhu Bau Resturant
Mr. Son
Am Vegetarian Restaurant
Purple Lantern
Nightlife
Across the river, the area known as An Hoi, is popular for backpackers. There are quite a few options for drinking. They fluctuate from night to night and are easy to find.
Make a walk through Hoi An to see the lanterns lit the street
Visit Hoi An Night Market
Dive Bar
Mango Mango
Dublin Gate Irish Pub
Tiger Tiger
This town does not have an airport or train station, but neighboring city Da Nang has, making Hoi An still easy reachable. 
The closest airport to Hoi An is Da Nang International Airport (DAD), located in the heart of Da Nang. It is 30 kilometers from Hoi An. From the airport, the ride to Hoi An takes approximately 30 minutes by taxi or bus. There are flights to Da Nang from all over the country, including Hanoi, Ho Chi Minh City, Dalat and Phu Quoc.
Hoi An has two bus stations with buses to and from many destinations in Vietnam, such as Nha Trang (10 hours) and Hue (2.5 hours). But in Da Nang there is a larger busstation with a lot more busses and connections.
Between Hoi An and Da Nang there is a public bus that stops just outside the center of Hoi An and runs through the Da Nang center.
The nearest train station is in Da Nang. Several trains a day arrive from Quy Nhon (6 hours), Hanoi (17 hours), Ho Chi Minh City (17 hours), Hue (3 hours), Nha Trang (11 hours) and Mui Ne (16 hours). At the station you have no problems finding a taxi to take you to Hoi An.
Hoi An is small enough to walk effortlessly through the old city. Every day from 8 a.m. to 11 a.m. and from 3 p.m. to 9:30 p.m., the old town is closed to motor vehicles and is only accessible to pedestrians and cyclists.
With a bike you have more reach and it is a cheap option to go to the beaches and explore the countryside. Most hotels offer guests bicycles free of charge or cost a dollar or two per day.
Cyclos are a nice way to explore the old city. Expect to pay around 100,000 dong for a one-hour tour.
If you are a confident motorbike driver there are very beautiful trips through the countryside, to the many islands and further over the Hai Van Pass and the area around Lang Co.
Itinerary 2 days in Hoi An
Walk through the old town and visit the most famous sights.
Take a boat trip on the small waterways and view the local life.
In the evening you walk through the city again to see everything illuminated with lanterns. Also visit the Night Market.
Rent a bike and ride through the surroundings of Hoi An. Explore the countryside and visit local craft villages.
Cycle to Bay Mau Coconut Forest to take a short trip in a bamboo basket boat.
Then cycle to the beach to enjoy the sea.
In the evening you follow a Vietnamese cooking class.
More tips for traveling in Hoi An
Through Da Nang, Hoi An is well connected with other destinations in Vietnam via domestic flights. For example, you can easily fly directly to Hanoi, Ho Chi Minh City or Phu Quoc.
When traveling north, your first destination is the historic city of Hue. Then you can make your way to Phong Nha and Ninh Binh.
Heading south you can choose to follow the coastal road via Quy Nhon and Nha Trang or via the central highlands via Kon Tum and Dalat.
Hoi An is one of the best cities to travel in Vietnam with kids. You can walk through the stunning old town when roads are blocked for motorbikes and cars, enjoy biking through the countryside, relax at the beach or make fun day trips in the area.
Hoi An is very much developed, so it is no problem to communicate in English at most hotels, shops and restaurants.