Dalat is one of the most popular holiday destinations among Vietnamese tourists. The area of ​​Dalat is blessed with an abundance of natural wonders with plenty of lakes, mountains and rivers to explore. One of the highlights are the waterfalls in Dalat and region.
A couple of the waterfalls in Lam Dong Province, especially those close to Dalat, have turned into tourist attractions, attracting mainly local tourist. The further you go from the city of Dalat, therefore, often means the more natural the environment in which the waterfall is located. That does not mean that you should skip the tourist waterfalls or that there is no fun to be found.
Here is a list of the most beautiful waterfalls in Dalat and the surrounding area. On the basis of this list you can determine whether a waterfall is worth a visit or not.
Pongour waterfall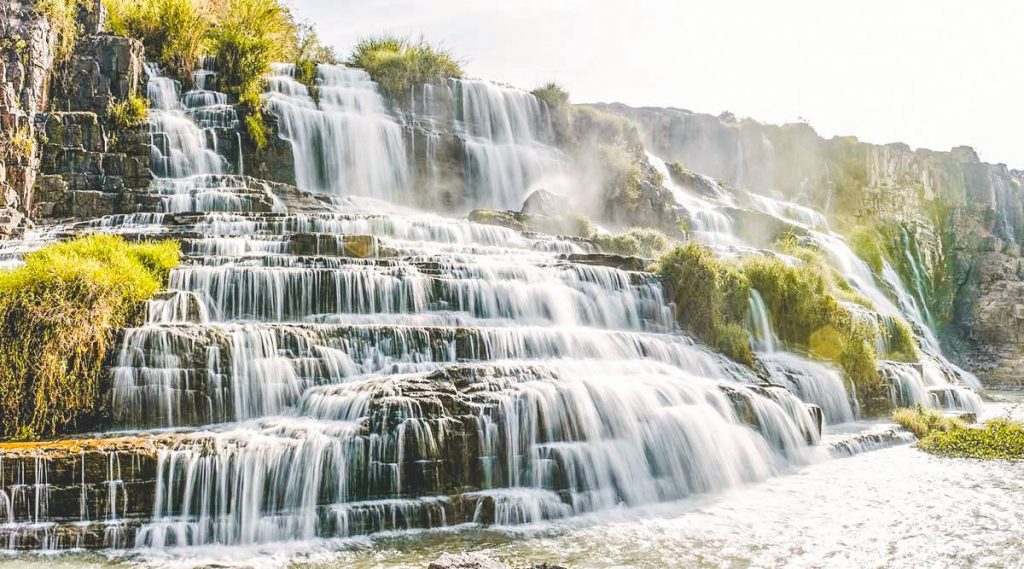 Pongour is one of the most famous waterfalls in Dalat area. It is loved and visited a lot. As a result, the waterfall has been developed to accommodate large numbers of visitors, but unlike other popular waterfalls, this has been tastefully done for Pongour. The waterfall is still very beautiful, but the reduced current through a dam lacks its grandeur.
Distance from Dalat: 50 kilometers
Admission : 10,000VNĐ
Location: Map
Bao Dai waterfall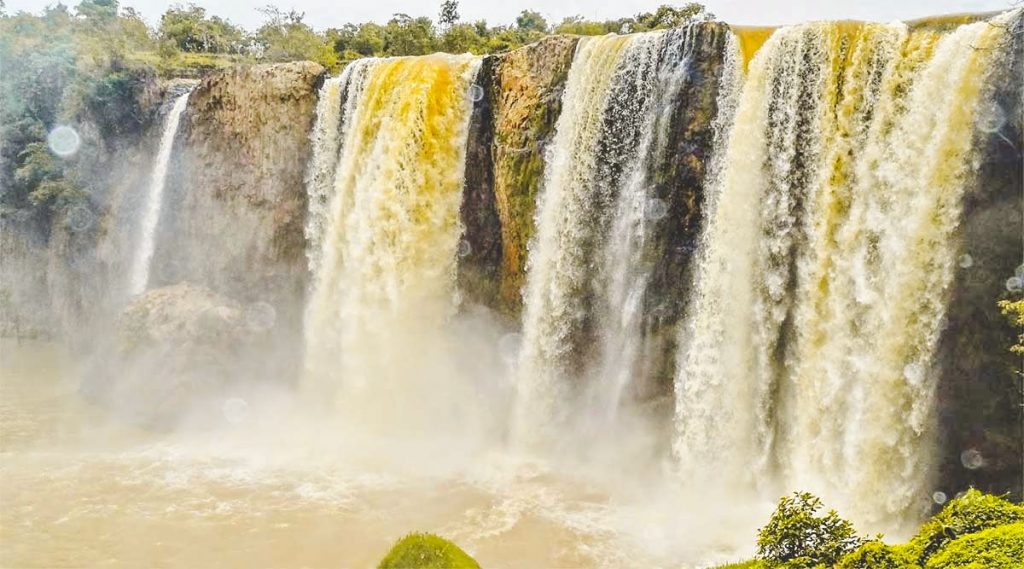 This huge, thundering waterfall is far from the beaten track. The dense jungle creates an exotic atmosphere and with approximately 70 meters high and more than 100 meters wide, these waterfalls are the largest and most spectacular in this list of most beautiful waterfalls in Dalat area.
Distance from Dalat: 50 kilometers
Admission: Free
Location: Route
Elephant waterfall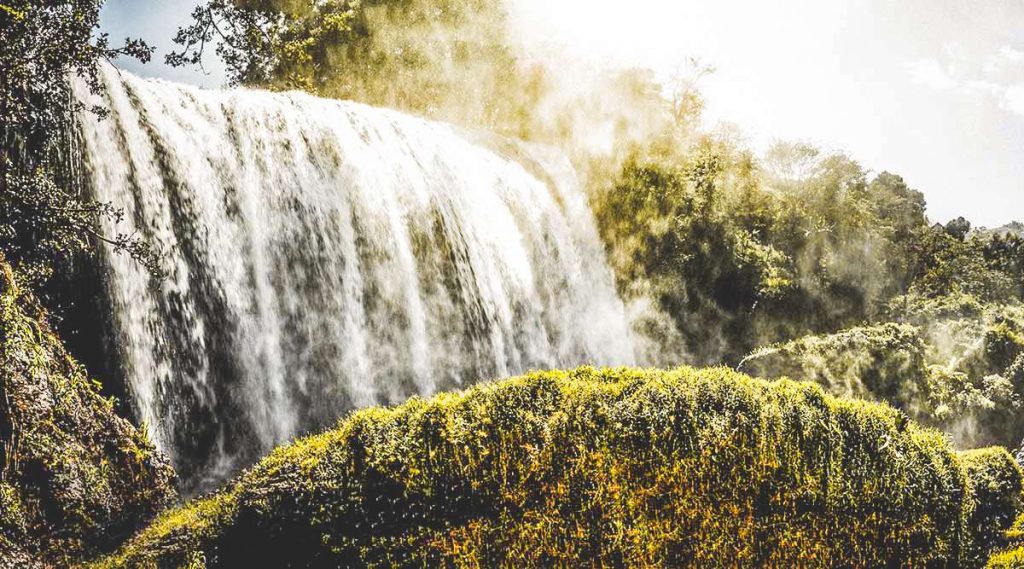 The drive to Elephant Falls is amazing. A beautiful winding mountain road, and this alone makes Elephant Waterfall worth a visit. The waterfall in impressive, but be careful. The paths are slippery and treacherous, consisting of moss-covered stones and steps cut from the rock. This waterfall is not the largest in this list, but because you look at it from below, the volume of water seems much larger than it actually is. It is also a popular excursion for travelers on Easy Rider tours through the Central Highlands.
Distance from Dalat: 30 kilometers
Admission: Free
Location: Route
Prenn waterfall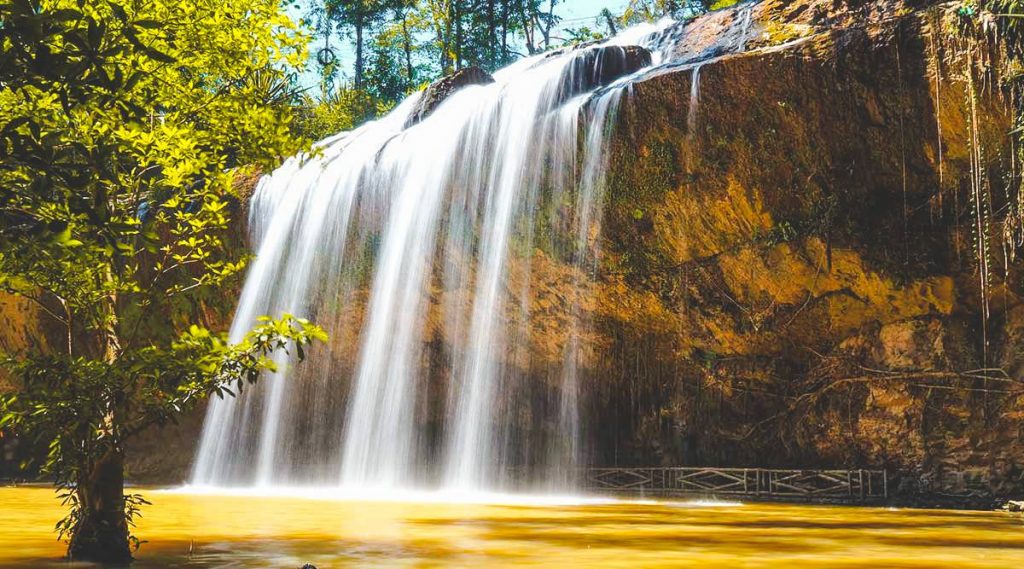 The Prenn waterfall has long been a favorite attraction for Vietnamese tourists. It is located in a beautiful area, among pine trees below the Prenn pass. The actual waterfall has been reduced in size by the extensive tourist attractions, which includes canoeing, animal rides, cafes, restaurants and a cable car over the top of the falls. It's all a bit of a circus. But the waterfall is still pretty beautiful, and tall trees still loom above the waterfall.
Distance from Dalat: 16 kilometers
Admission: 20,000VNĐ
Location: Map
Datanla waterfall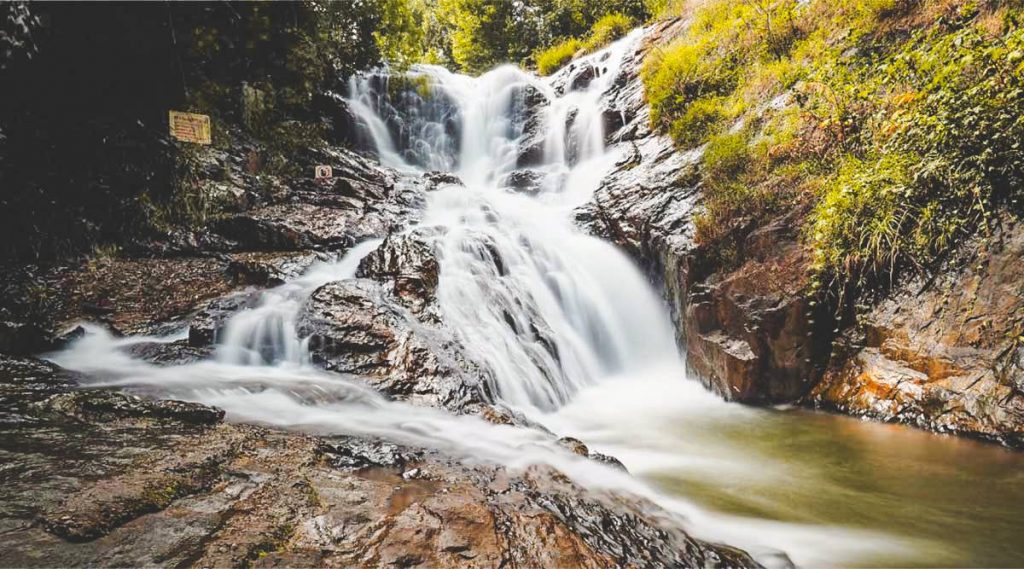 The Datanla Waterfall is just 6 km from the center of Dalat. It is therefore no surprise that this is the most touristic and developed of all the waterfalls in Dalat on this list. The waterfall has different "levels", each offering different "attractions", including a roller coaster, cable car, abseiling, rafting and the famous canyoning is also done here. The waterfall itself is pretty beautiful but not impressive. If you like peace and nature, this tourist waterfall is not recommended, but there are fun activities to do.
Distance from Dalat: 6 kilometers
Admission : 10,000VND
Location: Map
Bo Bla waterfall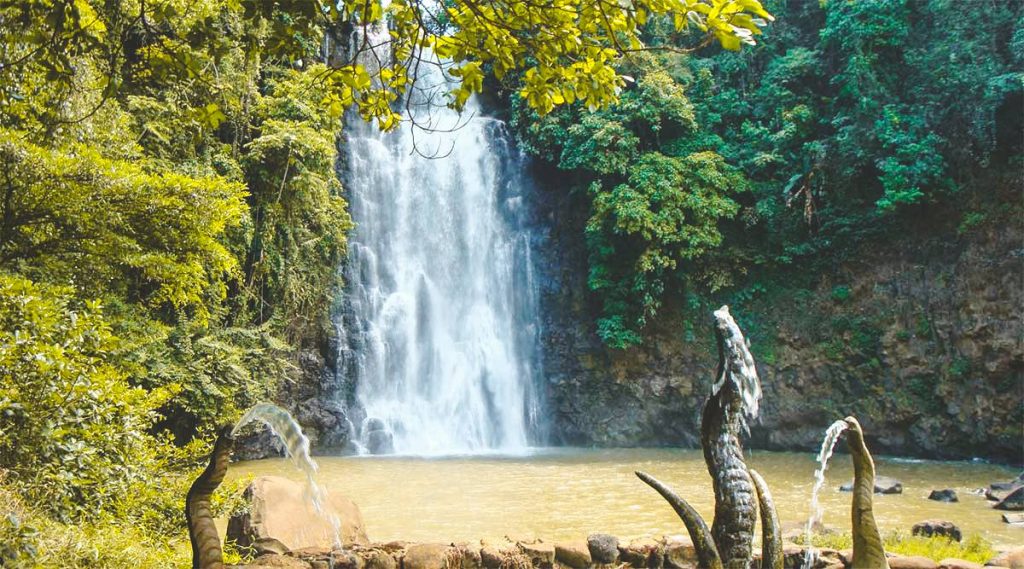 This spectacular waterfall was once a major attraction for Vietnamese tour groups. Now it seems that the glory days of Bo Bla are over and that this once popular tourist place has been left behind.
Distance from Dalat: 80 kilometers
Admission: Free
Location: Map
Cam Ly waterfall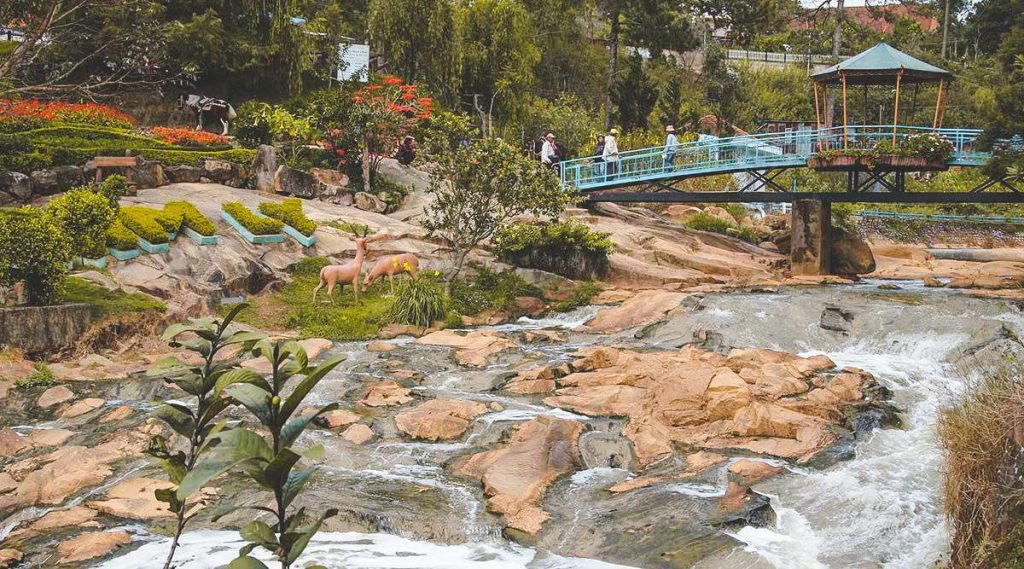 Cam Ly waterfall is a small but beautiful waterfall, with unfortunately some sad developments. Because this waterfall is located almost in the city of Dalat, it is exposed to sewage, which enters the river a few kilometers upstream. The waterfall is small and beautiful, but the smell that comes out of the gray water is not nice. In addition, there are also some concrete mushrooms, elephants and tigers scattered.
Distance from Dalat: 2 kilometers
Admission : 10,000VNĐ
Location: Map
Tiger waterfall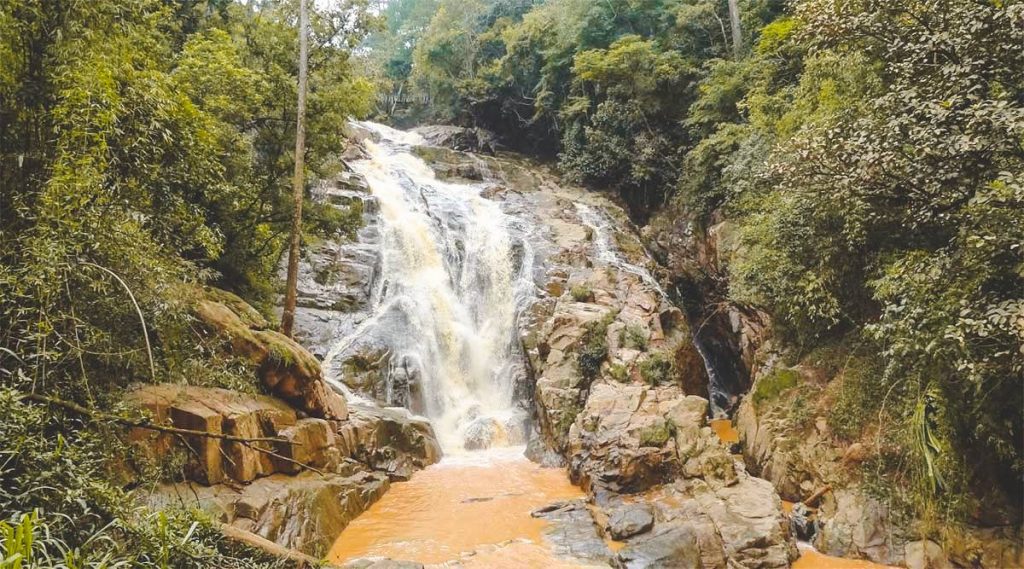 The Tiger waterfall lies deep in the pine forests around Dalat. Just 15 km east of the city, these waterfalls are easily accessible, but they feel far more remote than they actually are. Like many of the waterfalls in this list, Tiger Falls was developed some time ago as a tourist attraction, but it seems to have failed, it is now largely deserted. There are benches, picnic huts, toilets and even a restaurant here, but it looks like they are used a lot.
Distance from Dalat: 15 kilometers
Admission : 10,000VNĐ
Location: Route
Dambri waterfall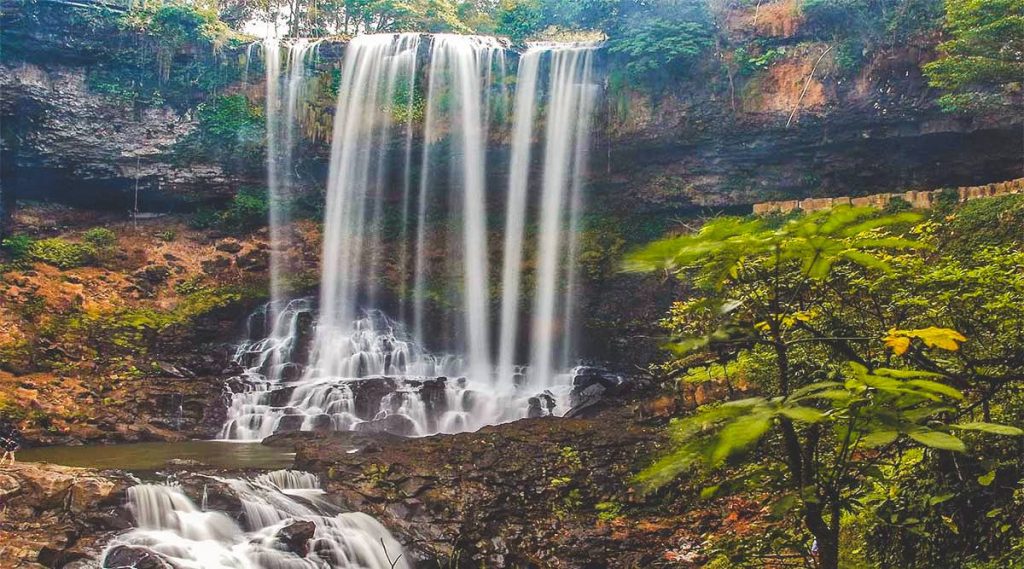 The Dambri waterfall is far from Dalat, but is still in this list because the waterfall is in the province of Dalat (Lam Dong). This impressive waterfall is, according to some, the highest in the province. The water falls down from a rocky slope of 70 meters high. Gigantic tropical trees surround this large waterfall, but unfortunately also kitschy decorations and amusement park attractions do. Dambri is a major domestic tourist attraction. There are swan-shaped pedal boats, a mini roller coaster, shops and restaurants. However, the waterfall itself is still beautiful.
Distance from Dalat: 130 kilomter
Admission : 50,000VNĐ
Location: Map
Gougah waterfall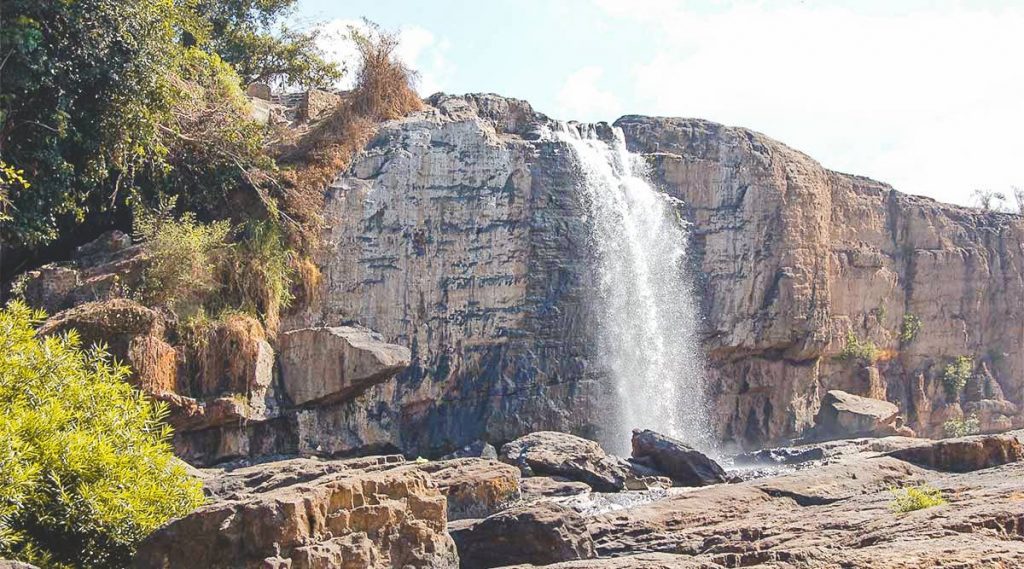 The once mighty waterfalls of Gougah have been tempered by the construction of a dam and a reservoir nearby. When the water became less, the visitors also became less. Gougah is now also an abandoned tourist place. But this waterfall near Dalat still has something beautiful that makes a visit worthwhile.
Distance from Dalat: 35 kilometers
Admission: Free
Location: Map