Ha Giang best things to do & travel guide
Ha Giang province is one of the most adventurous destinations in the country. Filled with beautiful karst mountains, steep mountain passes, winding roads and foggy villages. The province is home to a wide variety of local ethnic minorities who still preserve their traditional culture and lifestyle. The remote areas  offer an experience like no other, the cultural diversity and unique, beautiful landscapes remain pure and authentic. The best thing to do in Ha Giang is to jump in a car or on the back of a motorbike and go discover this amazing landscape and the unique cultures.
5 reasons to visit Ha Giang
Explore the Dong Van Geopark with Vietnam's most beautiful mountain passes.
Travel through the most authentic ethnic minority villages.
Enjoy the view of Lung Cu flag tower, the northernmost point of Ha Giang.
Visit local markets.
Behold the rice terraces of Hoang Su Phi.
What is in this Ha Giang travel guide
Book your local Ha Giang experience
If you would like to do the Ha Giang loop, you need a minimum of 3 days and 2 nights. Though we recommend 4 or 5 days.
In Ha Giang City, Dong Van and Meo Vac you will find ATM's. Small villages don't have it and do not except credit cards.
The scenery of Ha Giang is stunning all year round. The warm and rainy season runs from April to October. If you can, try to avoid the months July and August, as this is the time of the year with the most rain and chance of landslides. The dry season starts in November and ends in March. In December and January it can get quite cold in the mountains. 
10 best things to do in Ha Giang
There are a lot of great things to do in Ha Giang, as this is one of the most impressive and authentic regions of Vietnam. We combined some of the highlights in a list of 10 best things to do in Ha Giang.
1. Ha Giang motorbike loop
Everything in this list of best things to do in Ha Giang can be combined into this one highlight: the Ha Giang Loop. The Ha Giang loop is a 3 to 5 day route that starts and end in Ha Giang City. Each day you visit a new place and the scene along the road between your destinations is getting better and better. 
You will driver over high passes, enjoy landscapes with the most impressive mountains of Southeast Asia and discover the unique cultures of the local minorities. The best way to do the loop is on the back of a motorbike with an experience guide. If you prefer a bit more comfort and protection against the weather, you can also do the Ha Giang loop by car.
2. Stunning roads & mountain passes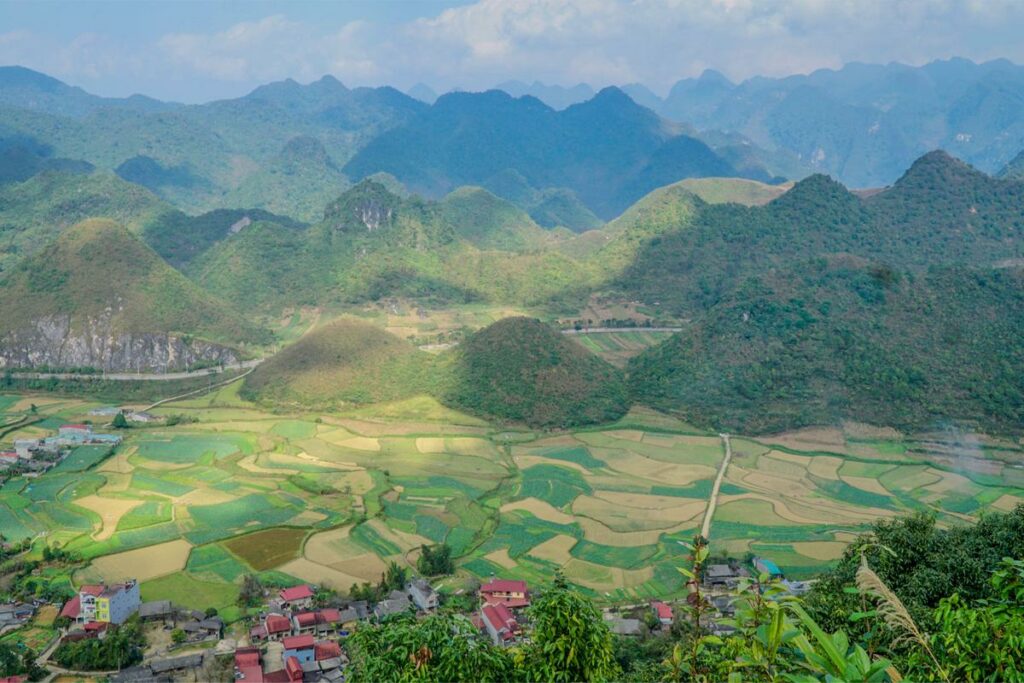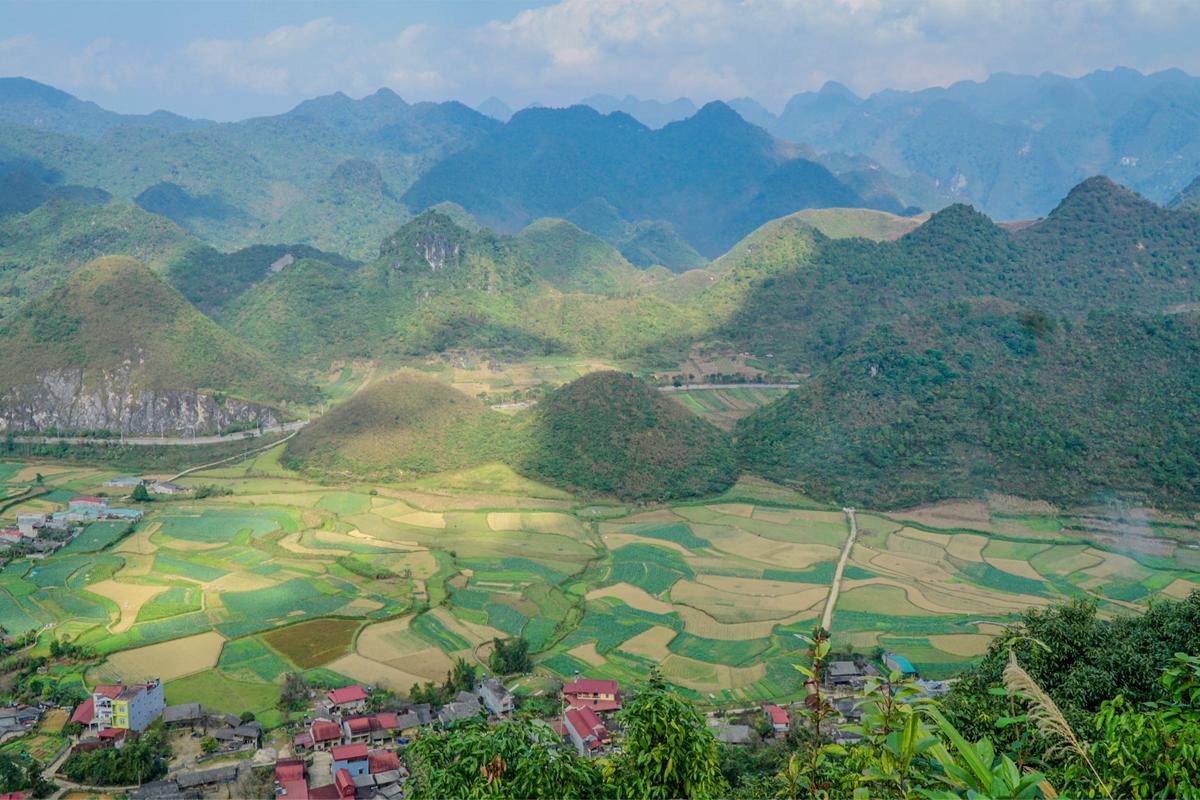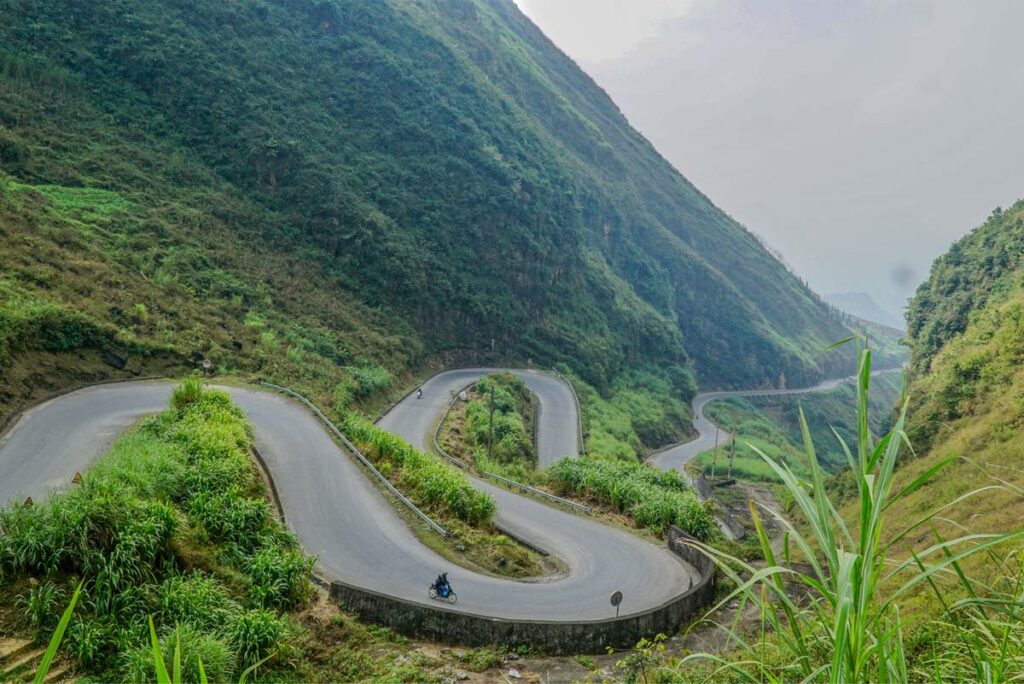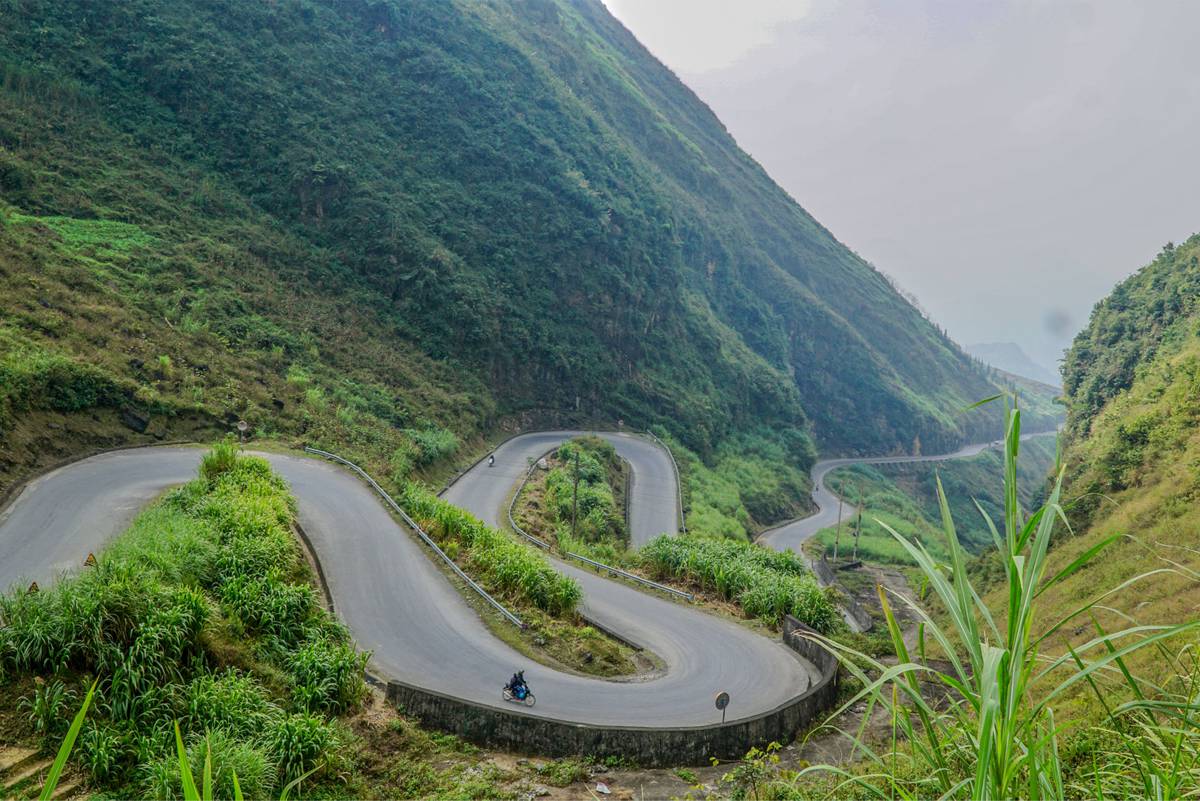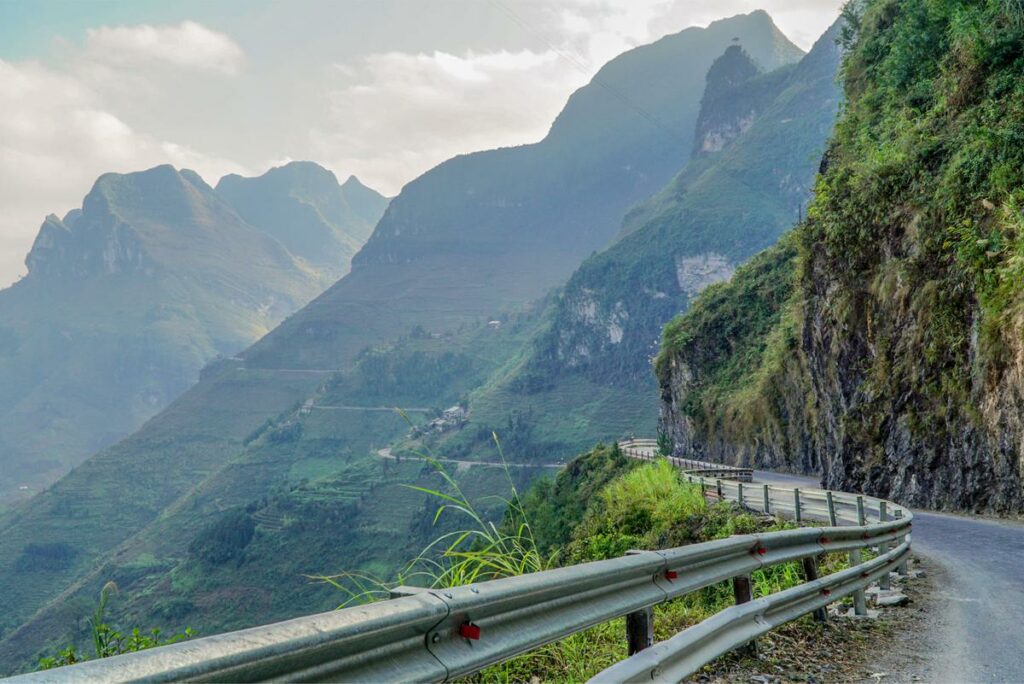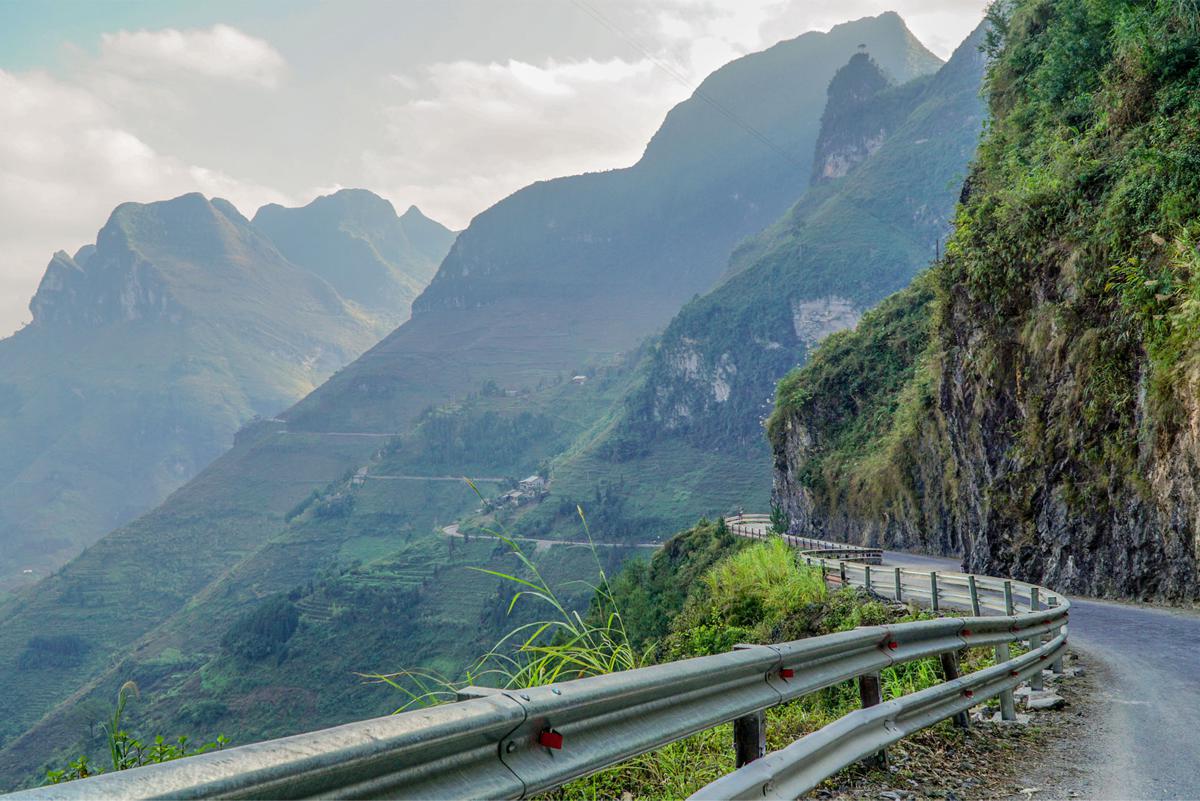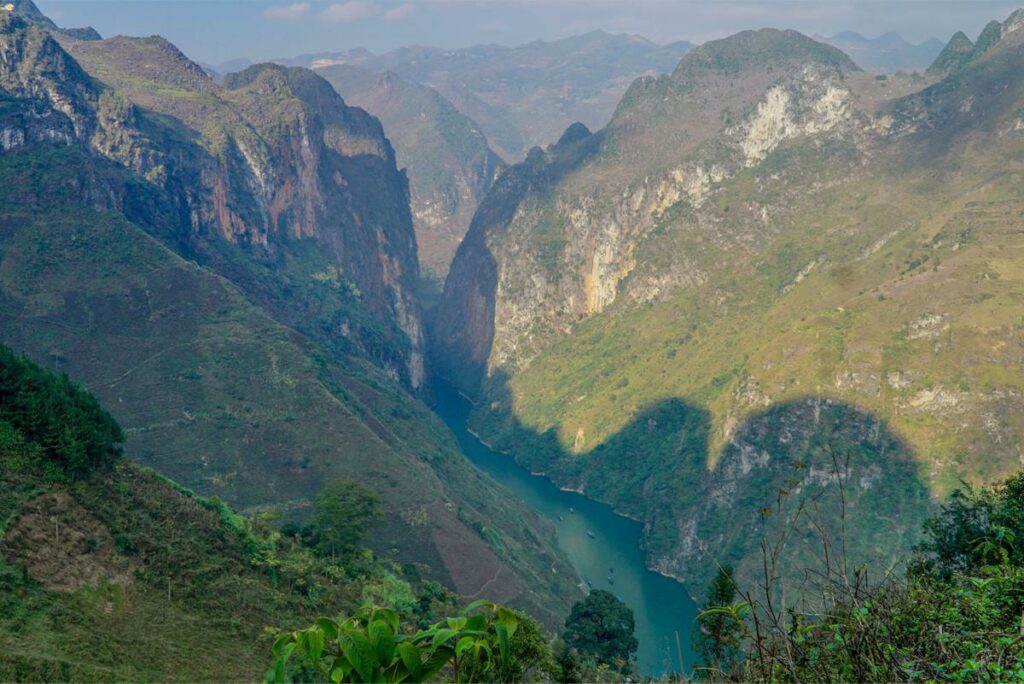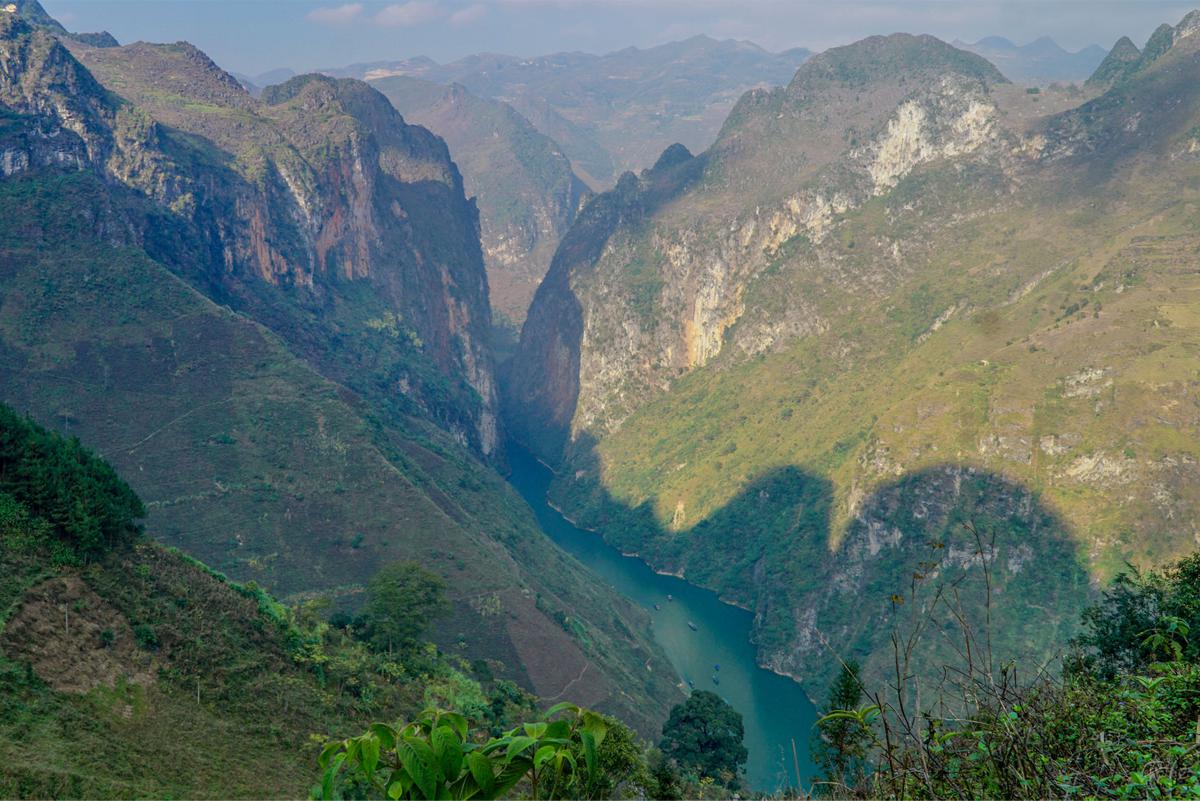 As mentioned, the best thing to do in Ha Giang is exploring the impressive mountains. There are dozens of mountain roads and mountain passes worth mentioning, and we could easily have used them to fill out the complete list of the 10 best things to do in Ha Giang. Instead we highlight some of the best.
The Quan Ba heaven gate is the first impressive mountain pass you wil pas starting from Ha Giang. From here you can enjoy stunning views on the Twin Mountains. Next mountain pass in the Tham Ma pass, with the iconic s-shape road. From here you drive through Sung La valley and have the option to either go straight to Dong Van or a detour via Lung Cu with some of the best mountain views you can wish for.
The Ma Pi Leng Pass is the king of the mountain passes of Vietnam. This road between Dong Van and Meo Vac has some of the most steep cliffs and impressive views. After Meo Vac heading to Du Gia via Mau Due you can expect lots of more scenic views with mountains.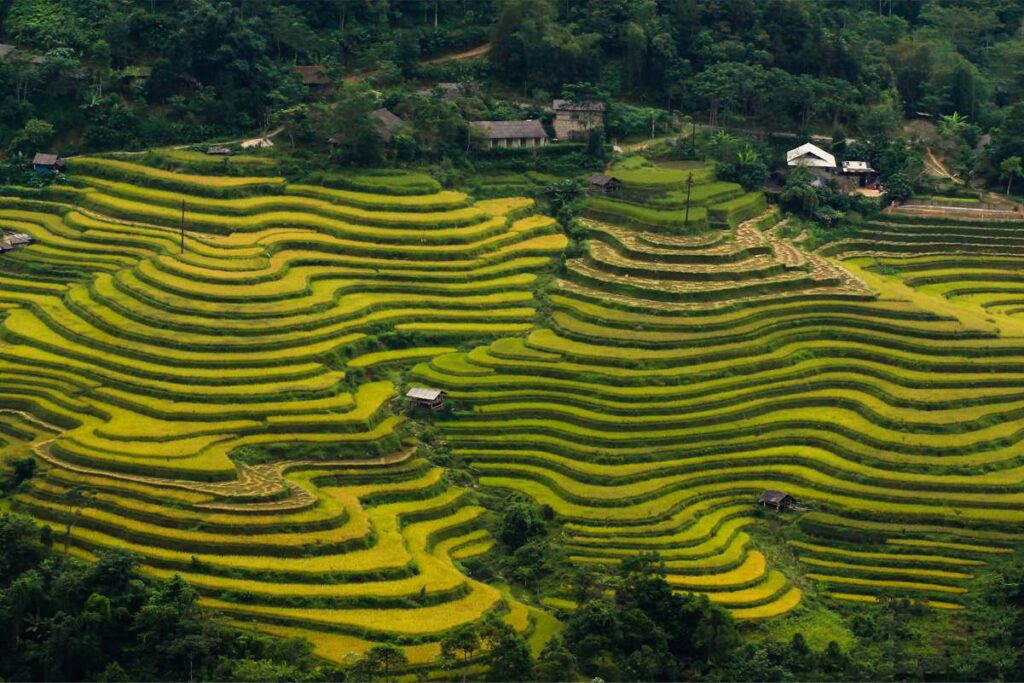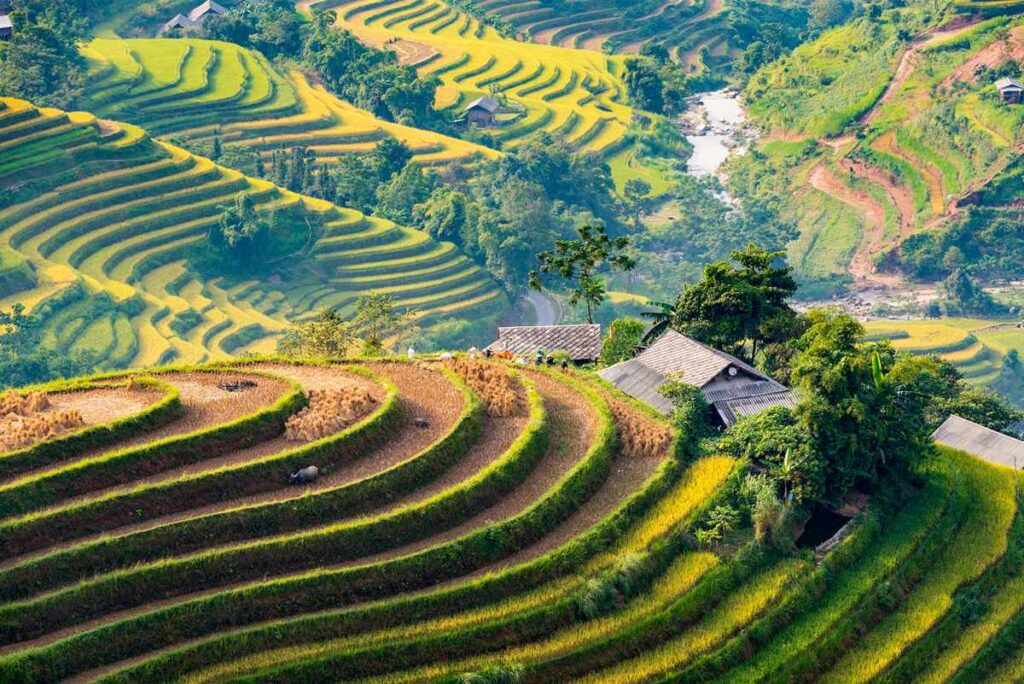 Hoang Su Phi is one of the most off the beaten track destinations of Vietnam. It is not along the famous loop and there is hardly any transportation to this area. For this reason, most travelers have never heard of this place. And this is weird, because around harvest season, you can find here some of the most stunning rice fields of Vietnam. Very high terraced rice fields built in the mountains of Ha Giang. It is a great place for trekking and discovering the local minority villages that have cultivated the lands here for many generations.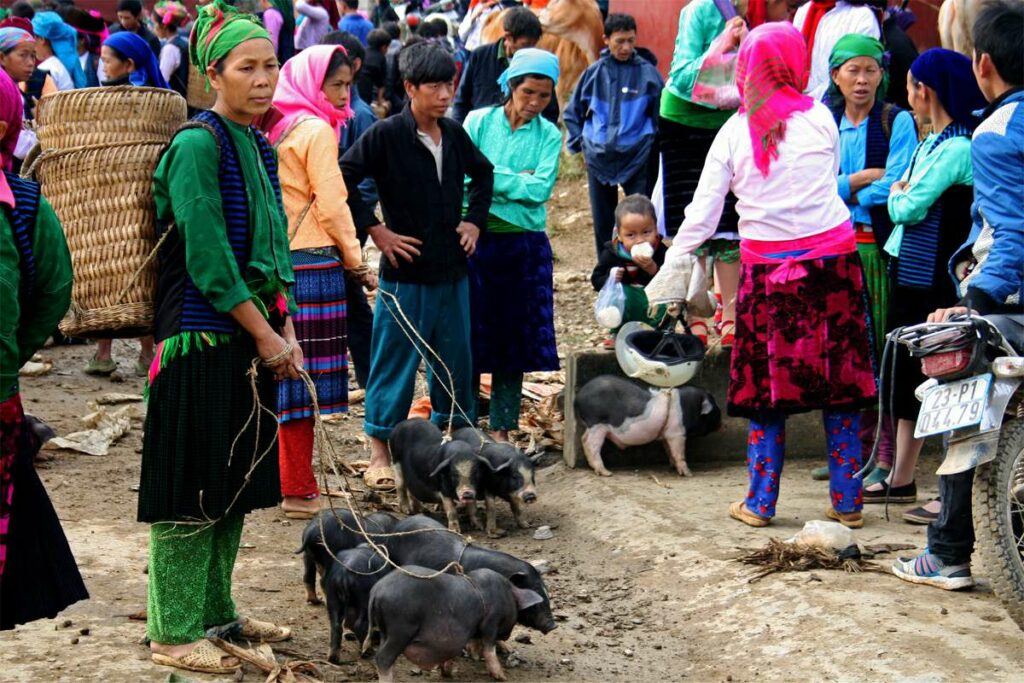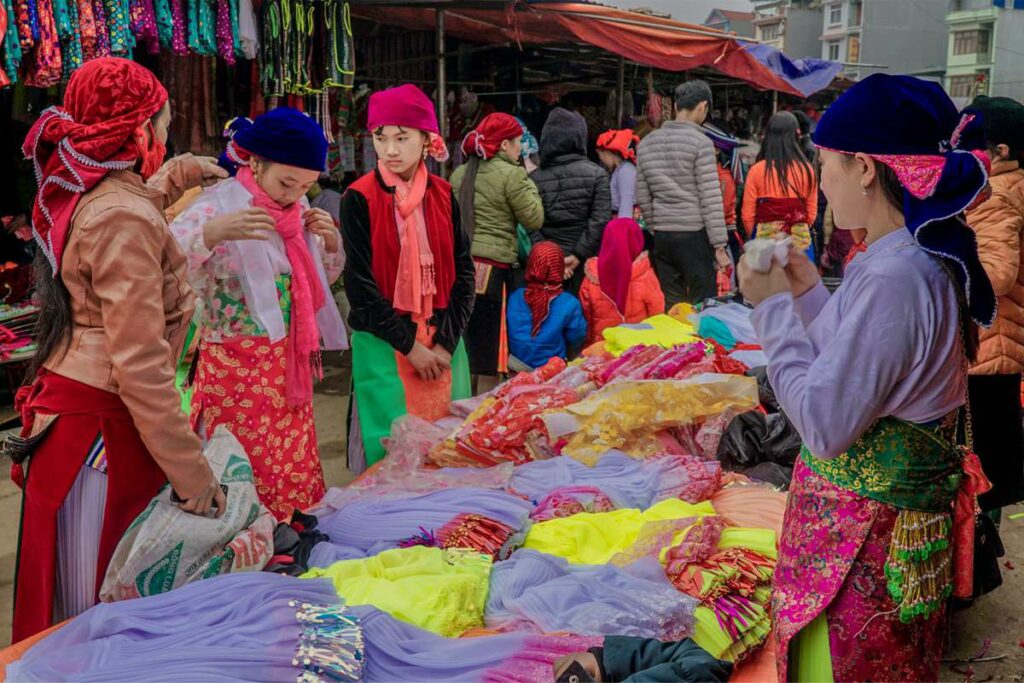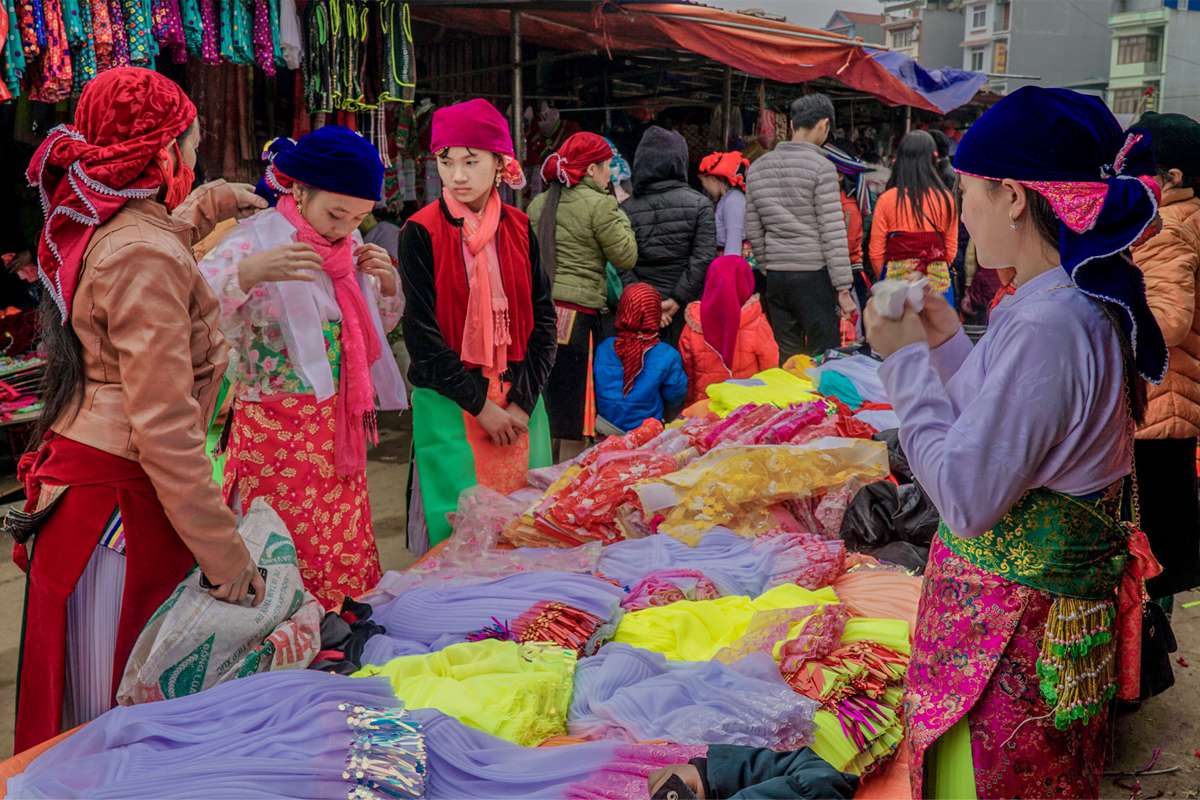 One of the other best things to do in Ha Giang is learn about the culture of the local minorities. In this province you will even find the highest number of ethnic minorities in Vietnam! While driving through this landscape they will not be difficult to see, as they often wear the most colorful and unique clothing. It is impressive to see them.
The easiest way to see these colorful ethnic minorities is to visit a market in Ha Giang. These mountain markets are often held once a week and hill tribes from all over the area come here to trade and socialize. It is a unique and colorful gathering, where people trade local goods, food, clothing and even farm animals. The largest market is the Meo Vac Market, which is held every Sunday.
5. Local minority villages
Another great way to discover this unique culture is to visit the small ethnic village. Here you can see their daily life, like work on the land and other different crafts. If you are traveling with a guide, he or she can help you communicate with them.
The villages can be found all over the province. Several different minorities live here, such as the Hmong, Dao, Lo Lo, Giay and Tay. They all have their own unique clothing, culture and language. You will also see various houses in these villages. Some minorities live in houses on stilts, while others live in stone or clay houses.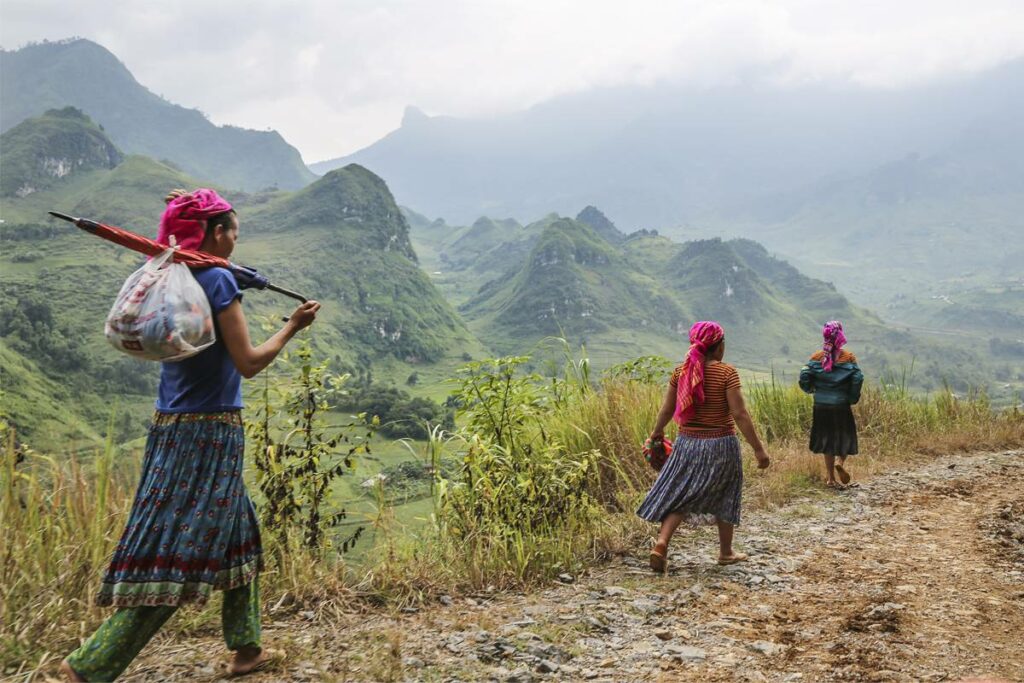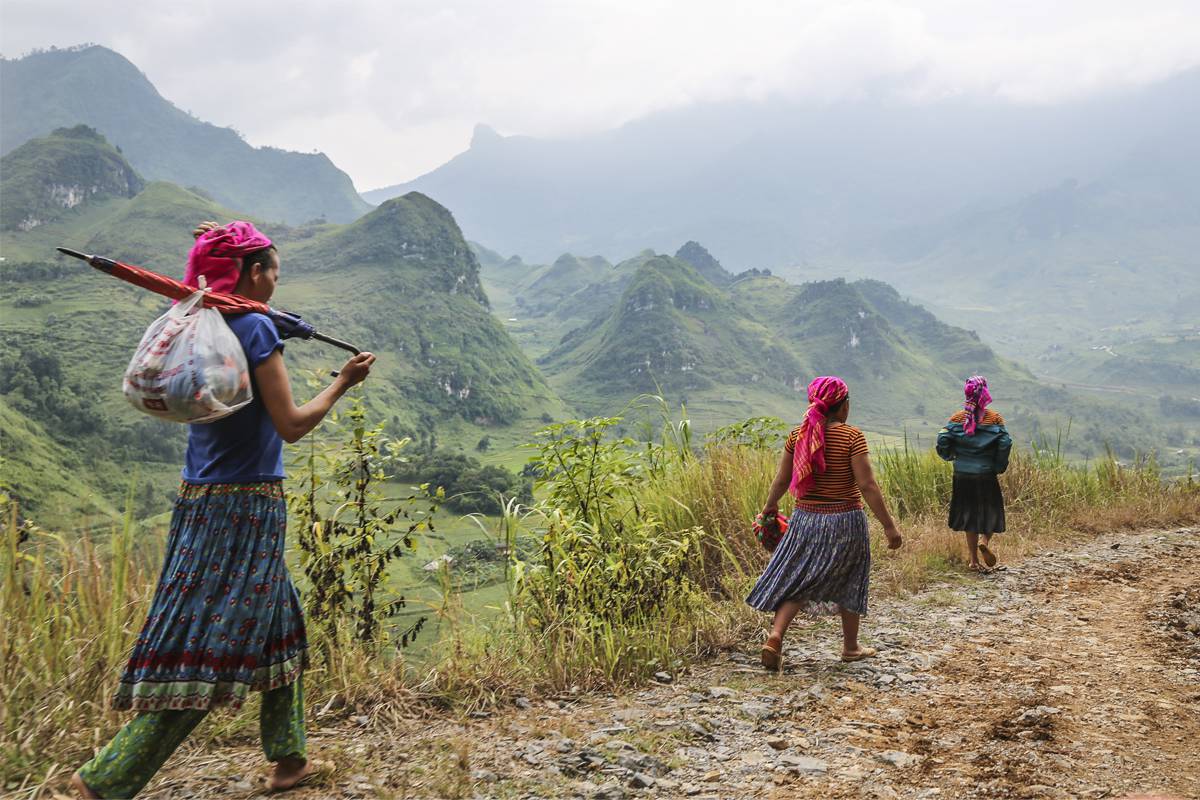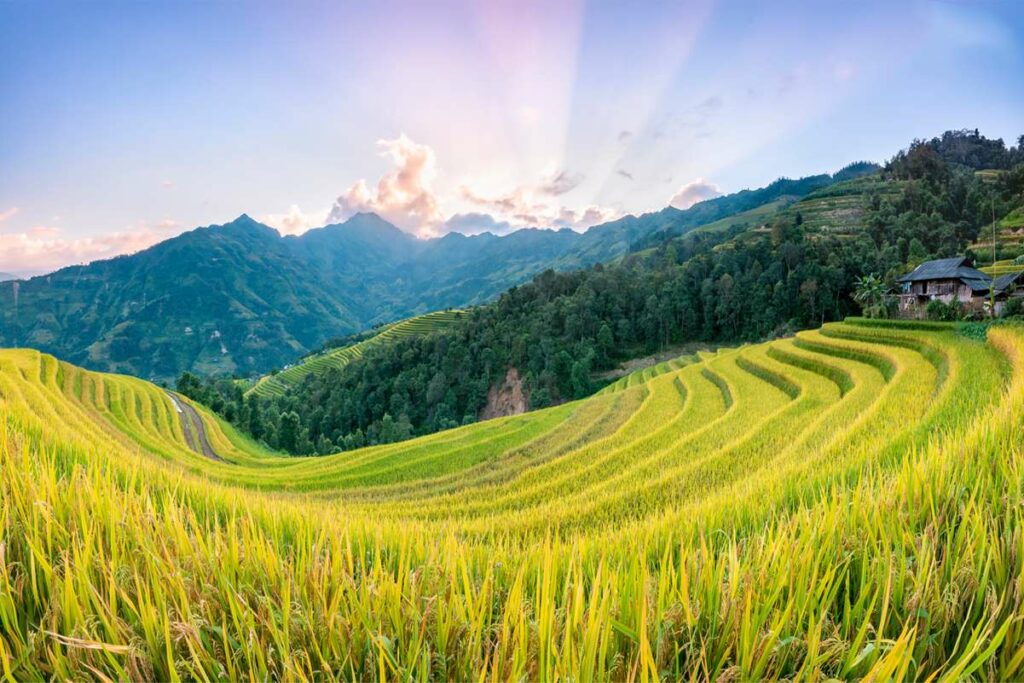 Sapa is the most famous place for a trekking in Vietnam. But not many people know that you can also do great trekking in Ha Giang. In the area around Hoang Su Phi you can hike through the terraced rice fields and spend the night in a local homestay. If you want to do a trekking during your Ha Giang loop, Dong Van is the best place. You won't find many terraced rice fields, but hiking trails run through the most impressive mountains of Vietnam.
A walk is a wonderful change after sitting on the back of a motorcycle all day or in a car.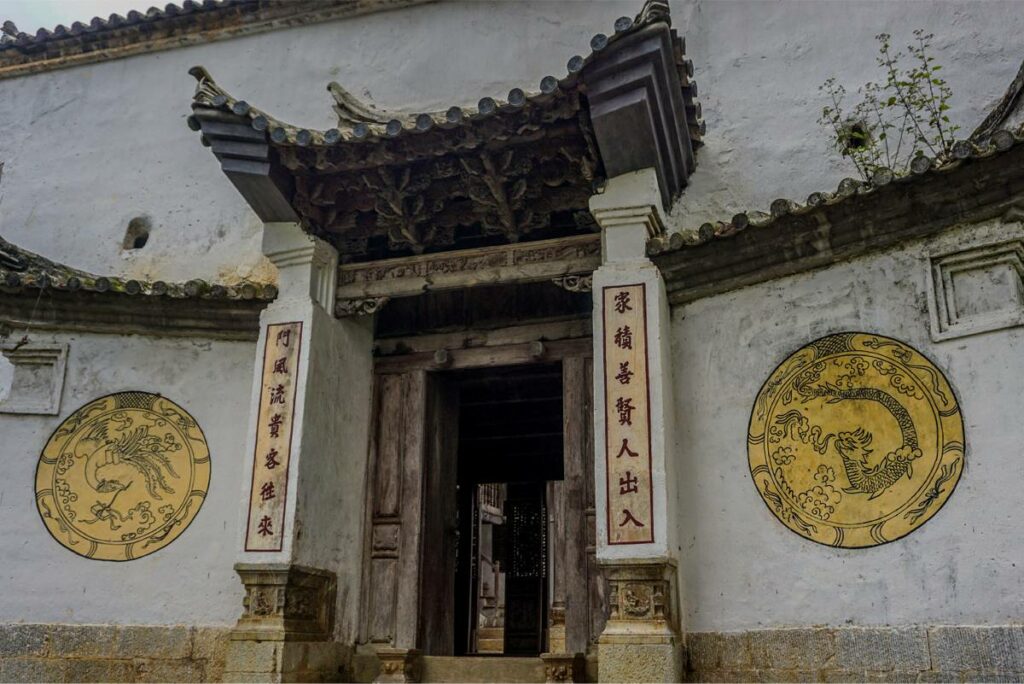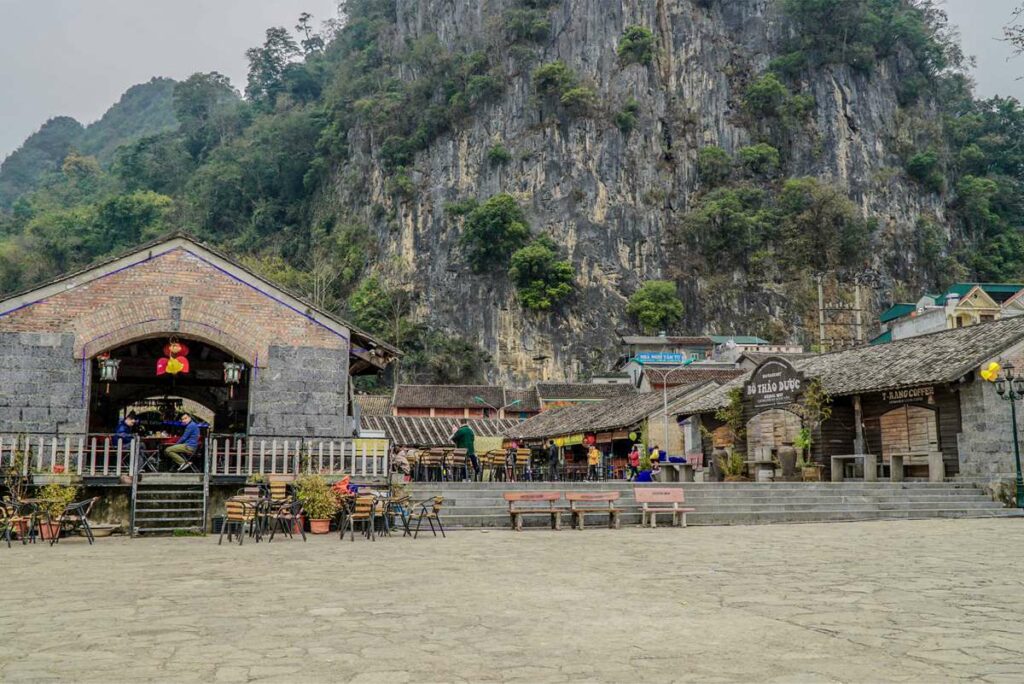 Ha Giang does not have large ancient cities such as Hoi An, Hue or Hanoi. Although there are some nice historical sites to visit along the way. The Hmong King Palace is where the former Hmong kings lived when they ruled much of northern Vietnam. In Sung La you will find the House of Pao (used in a famous Vietnamese movie). This house and the neighboring houses are also from the Hmong minority and about 100 years old.
You will also find buildings in the province that date back to the French colonial era. The old quarter in Dong Van is the best example of this. You will find an old French fort on a mountain behind the Old Qaurter where you now have a great viewpoint of the town. Between Meo Vac and Mau Due you will also find the ruins of a French guard post, set in a beautiful landscape.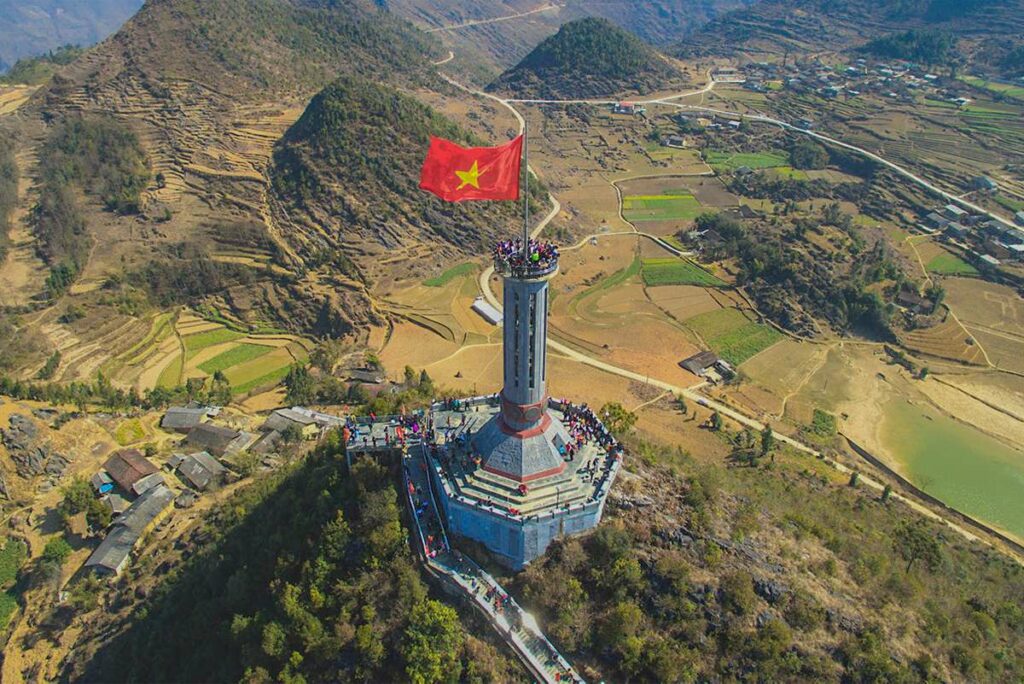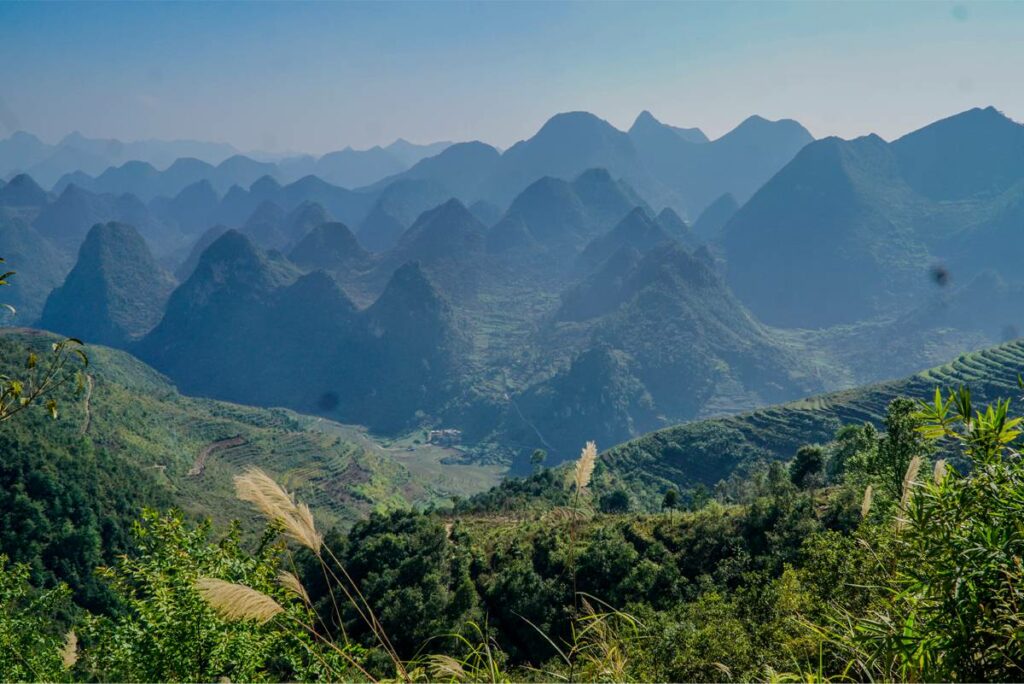 The Lung Cu Flag Tower is the tallest flag tower in Vietnam, indicating the most northern point in the country. The tower is nice to visit, but the road to Lung Cu makes this one of the best things to do in Ha Giang. You will pass some of the most stunning mountain scenery in Ha Giang and even the country. Make sure to stop at some of the local villages along the way to explore rural life.
Another great way to experience the local culture is to stay overnight in a local homestay. These homestays are often owned by an ethnic minority family. Some homestays can be a bit basic with facilities, but you do an overnight stay mainly for the experience. It is highly recommended to have a family dinner where you eat very tasty local dishes together with all other guests and the local family.
After riding motorbike for days or sitting in a car, it is nice to have a place where you can relax between the rice fields. The village of Du Gia is a great place for your last stop during the loop. It is mainly visited by people that do the loop in 4 or 5 days. Sit down to enjoy the views, walk along the rice fields or swim at the local waterfall.
Best hotels & hostels in Ha Giang
Hotels in Ha Giang CIty
QT Guest House
Kiki's house
Ha Giang Amazing hostel
Hotels in Dong Van
Green Karst Hostel & Bar
Binh Minh Hostel
Lam Tung Hotel
Hotels in Meo Vac
Ong Vang Meo Vac Hotel
Little Yen's Homestay
Lam Tung Hotel
Although Ha Giang is slowly becoming more developed, the available accommodation is generally fairly simple. Larger cities such as Dong Van and Ha Giang do have hotels, but guesthouses and homestays are more common. They may offer fewer basic services, but they give you the opportunity to communicate with your local hosts and give them a glimpse into their daily lives.
The far north of Vietnam is a surprisingly tasty place to find good Vietnamese food. The restaurant scene consists of small "quan" restaurants where you have to sit on a small stool while the food is being cooked before your eyes. The locals will probably beg you to taste some rice wine, something you should be careful with.
Breakfast and dinner you will often eat at your homestay. It is recommened to book a family dinner and eat with the family of the host and other guest.
Ha Giang does not have an airport (yet) or train station. The only way to get here is by road
There are buses and limousine vans driving between Hanoi and Ha Giang. You have the options for different night buses, varying in comfort, with the limousine VIP buses being the most comfortable option. The limousine vans drive during the day time and are a very comfortable option. The drive takes about 6 hours.
In addition there is also a bus between Sapa and Ha Giang. For other destinations you first have to travel to Hanoi.
You can also take a private car from Hanoi to Ha Giang or extend your Ha Giang loop by starting already from Hanoi. 
Motorbike – Going from one city to another in Ha Giang is easy and most fun by motorbike. Roads are winding and steep, but generally well-paved, so you can drive comfortably. If you are an inexperienced driver, do not underestimate these roads. You may want to consider taking a driver for safety. Being on the back of an easyrider is a great way to discover Ha Giang.
Car – Another good way to travel around Ha Giang is by car with driver. Book in advance to make sure that someone is waiting for you when you arrive in Ha Giang.
Itinerary 3 days in Ha Giang
This is a very brief itinerary of the route. Read a full detailed guide and route of the Ha Giang loop here. 
Ha Giang
Quan Ba Pass
Tham Ma Pass

Hmongs King Palace

Dong Van
Dong Van
Lung Cu Flag tower
Ma Pi Leng pass
Meo Vac
Meo Van
Mau Due
Du Gia
Ha Giang
More tips for traveling in Ha Giang
Ha Giang can be perfectly combined with the neighboring province Cao Bang, where you can find the Ban Gioc waterfall, the biggest waterfall of Vietnam. It is also possible to combine Ha Giang with Sapa, though the distance is quite a bit further. Check our Ha Giang tours for there two combination trips. 
If you want to go to Halong Bay, Mai Chau, Ninh Binh or any other destination south, you would always need to travel first to Hanoi.
It is possible to bring you children to Ha Giang. Being in the car for 3 to 4 or even 5 days can be a bit much for them though. What children do love a lot is being on the back of a motorbike of an experience guide. Driving with a guide is very safe, though it is important that children are tall enough and comfortable with this idea.
This province is not far developed for tourism (fortunately). This gives a very authentic view on life here, but keep in mind that communication would be difficult.
When you go on a motorcycle, it is useful not to take too much with you. Choose a backpack instead of a trolley case. In the summer it can be very hot, but bring clothes to protect you against the rain. In winter it is mainly dry, but it is advisable to bring a windbreaker against the cold wind and some warm clothing. Do not bring too much, but wear thinner clothes in layers.