Vietnam's rich religious and cultural history spans centuries and millennia, blending influences from China, Indochina, and Europe. Throughout the country you will find various religious buildings from modern to centuries old. Visiting one of these pagodas and temples in Vietnam will give you a unique insight into the traditions and culture of the country.
Religion and Type of Temples in Vietnam
Most of the Vietnamese population has no religion. They do, however, pray to deceased relatives and burn money and belongings for them. This is also known as folk religion. The next largest religion at 15 percent is Buddhism. However, Buddhism has been a driving political force in Vietnamese history, and in 1963 monks led the resistance against the government of South Vietnam. About 7 percent of the population is Christian, and there are also small numbers of Hindu and Muslim believers.
Difference Between Temples and Pagodas
There are two types of Buddhist religious places to visit in Vietnam: pagodas (chùa) and temples (đền). Temple is more the more general term denoting any building where people go to worship. Monks live in temples, while pagodas provide a spiritual home for Buddhas.
Tips for Visiting Temples in Vietnam
Please wear polite clothing when entering temples, monasteries and pagodas. Do not wear shorts or sleeveless T-shirts when entering the sacred religious sites in Vietnam. This rule applies to both women and men.
Don't make too much noise and don't talk too loud.
When you go to the temple, don't forget to enter through the right gate and exit through the left gate. The middle gate is for monks only, for academic purposes on important occasions.
Places such as museums, temples, shrines, churches often restrict filming and photography. It is often not a problem outside of the complex, but inside a temple it is often not allowed.
1. My Son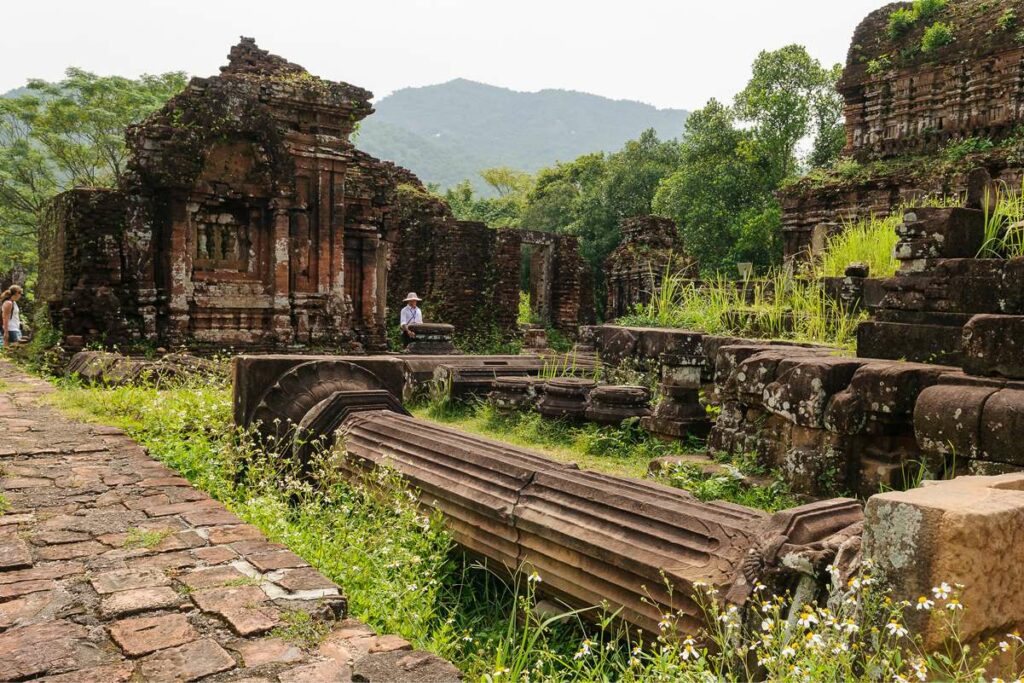 A UNESCO World Heritage Site, My Son ruins are a cluster of Cham temples built between the 4th and 14th centuries, what makes these temples in Vietnam even older than the famous temple complex of Angkor Wat in Cambodia. They are now abandoned and unused, so you will not see any active worship or religious visitors in this place. During the Vietnam War, many of the historic temples were partially destroyed or are currently being restored.
The My Son ruins are located outside of Hoi An and Da Nang and are only one or two hours away by car. Combine a visit to My Son with a visit to a local lantern factory and a boat trip on the Thu bon River with this My Son tour from Hoi An.
2. Bai Dinh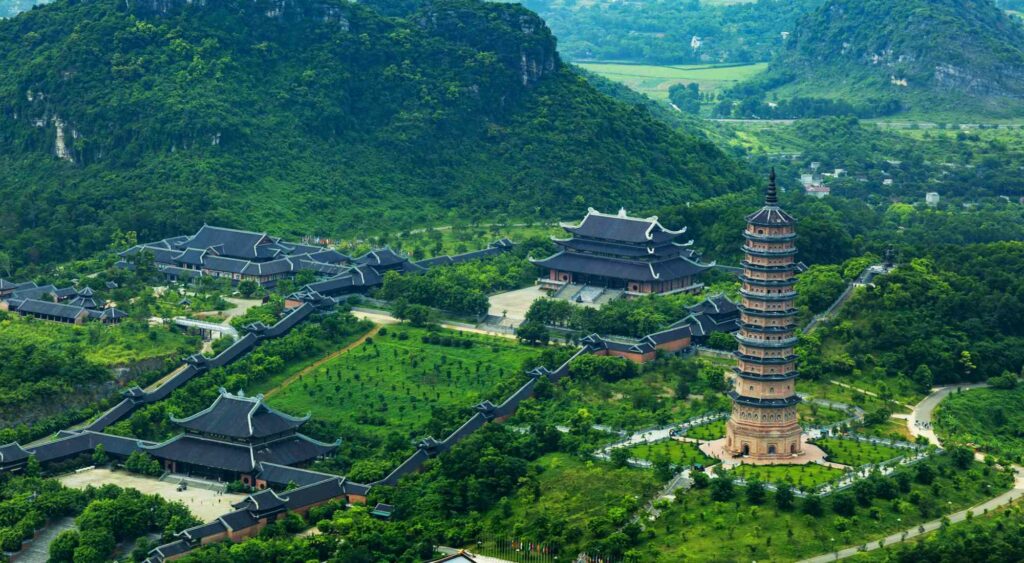 Bai Dinh is the largest complex of Buddhist temples in Vietnam. It is a fairly new complex, where construction of the pagoda started in 2003 and was completed in 2010. Today it covers a large area of ​​700 hectares, with the original old temple and a newly created larger one. This complex is extremely popular among pilgrims and locals who want to pay their respects.
Bai Dinh is located in Ninh Binh province. You can also visit this temple from a day trip from Hanoi combined with a boat trip in Trang An and cycling through the countryside.
3. Bich Dong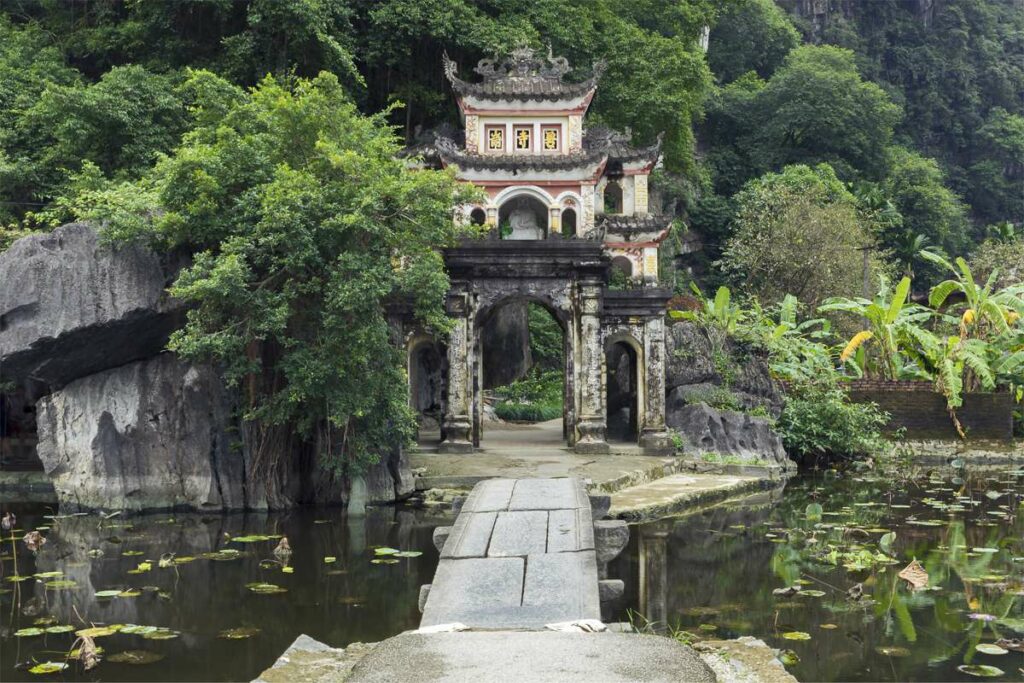 Bich Dong Pagoda is another temple in Ninh Binh and only very small, but it has become popular with Instagrammers who take beautiful pictures from the bridge over the water to the entrance gate. This pagoda can be found in Tam Coc (Ninh Binh) and can easily be combined with the boat trip in Tam Coc and the viewpoint at Mua Cave.
4. Perfume Pagoda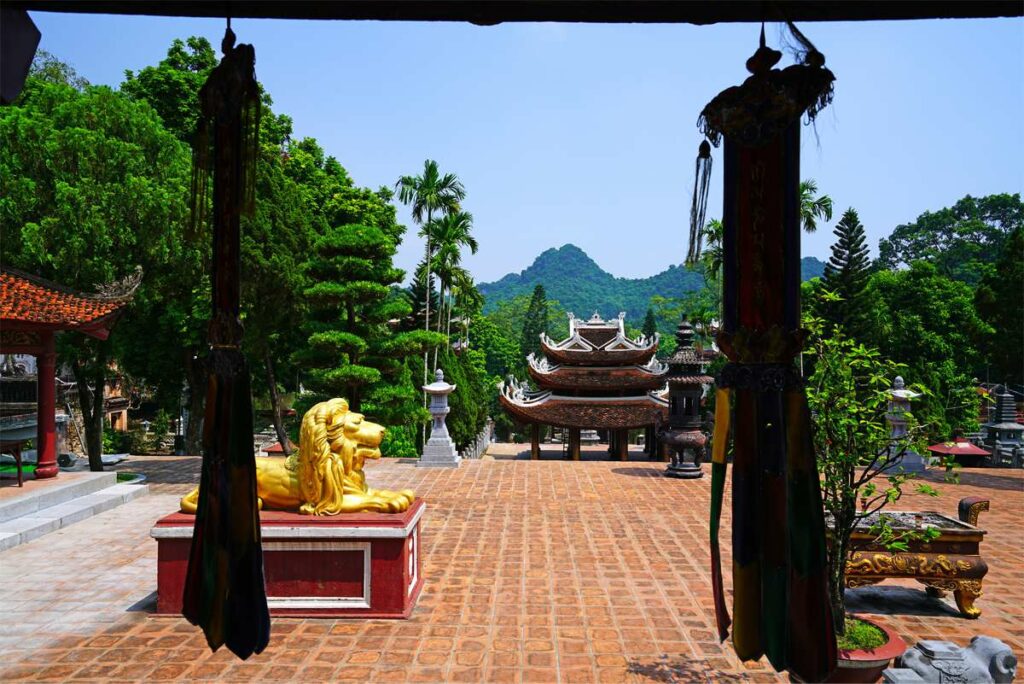 The Perfume Pagoda is a popular pilgrimage site for Vietnamese and one of the most sacred temples in Vietnam. About 2 hours from Hanoi, you will arrive at a small harbor where you will go by a rowing boat through the beautiful green landscape. Docking below the mountain, you go via a steep staircase (or cable car) climb to the top of the mountain to the Perfume Pagoda, which is hidden in a cave. The pagoda is one of the holiest in Vietnam, but for travelers the journey across the river and going up the green mountain is probably more impressive.
5. Cao Dai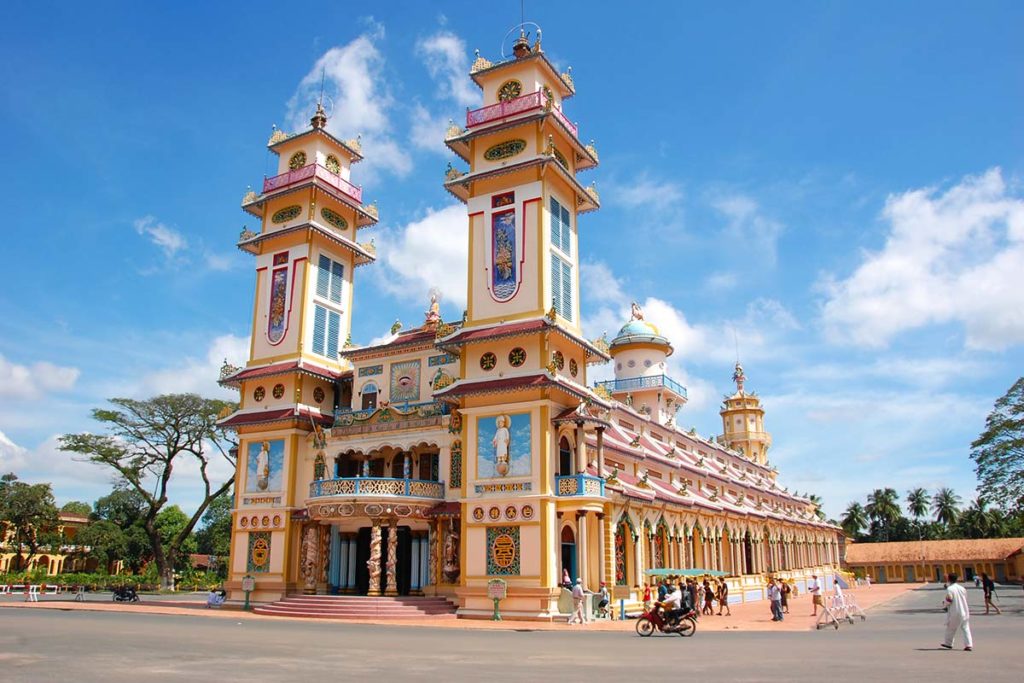 About 90 km northwest of Ho Chi Minh City you will find a very special temple. The Cao Dai temple is the sacred building of a religion that has not been around for very long. The faith originated in Tay Ninh around the year 1926 and gained its followers mainly in South Vietnam. Nowadays you can also find Cao Dai temples in the United States and other countries. You will also come across a Cao Dai temple more than once in other cities, especially in the south of Vietnam.
Cao Dai is a combination of Christianity, Hinduism, Judaism, Islam, Buddhism, Taoism, Zoroastrianism and Confucianism. You'll find more of these temples throughout Vietnam, but the largest is just outside Ho Chi Minh City.
6. One Pillar Pagoda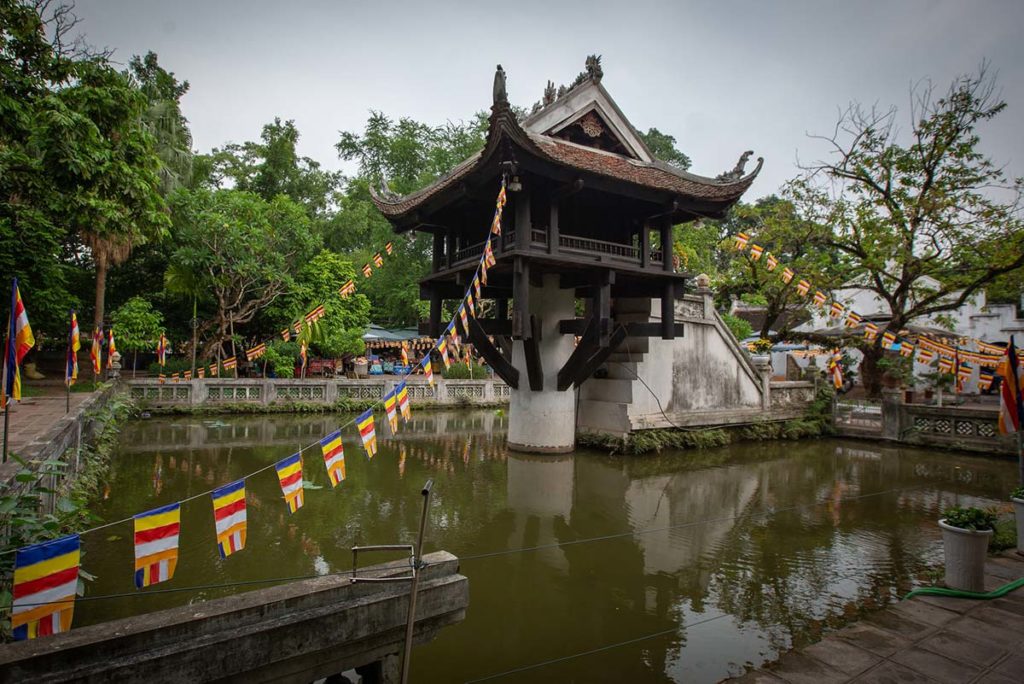 There are many temples in Hanoi that have a long historical background and still play an important role among Buddhist Vietnamese today. This Buddhist pagoda is considered by many to be the most important religious site in the country. Throughout the year you will see families here who come to the One Pillar Pagoda to pray. You will find the pagoda in the complex of the Ho Chi Minh Mausoleum, so there is no shortage of other activities during your visit to the complex.
7. Temple of Literature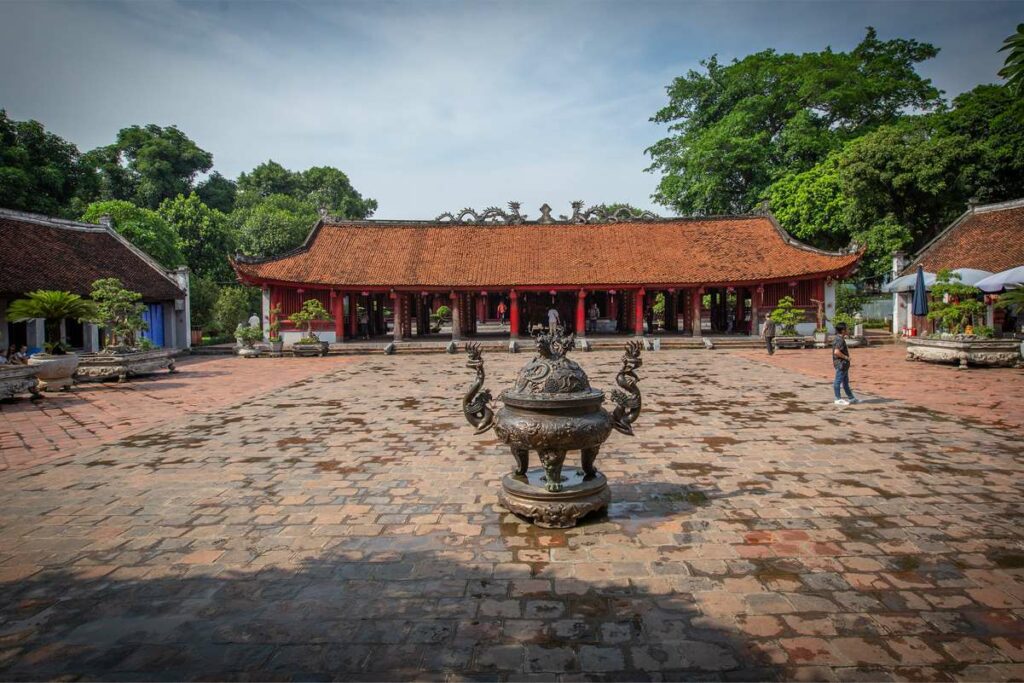 This is one of the most well known temples in Vietnam, found in Hanoi. Home to Vietnam's first university, hence its name, the Temple of Literature is a Confucian temple founded in 1070 and featured on the back of the 100,000 Vietnamese dong banknote. The pavilions, gardens, passageways and the pond make this temple a place of peace, in the middle of a busy city.
8. Thien Mu Pagoda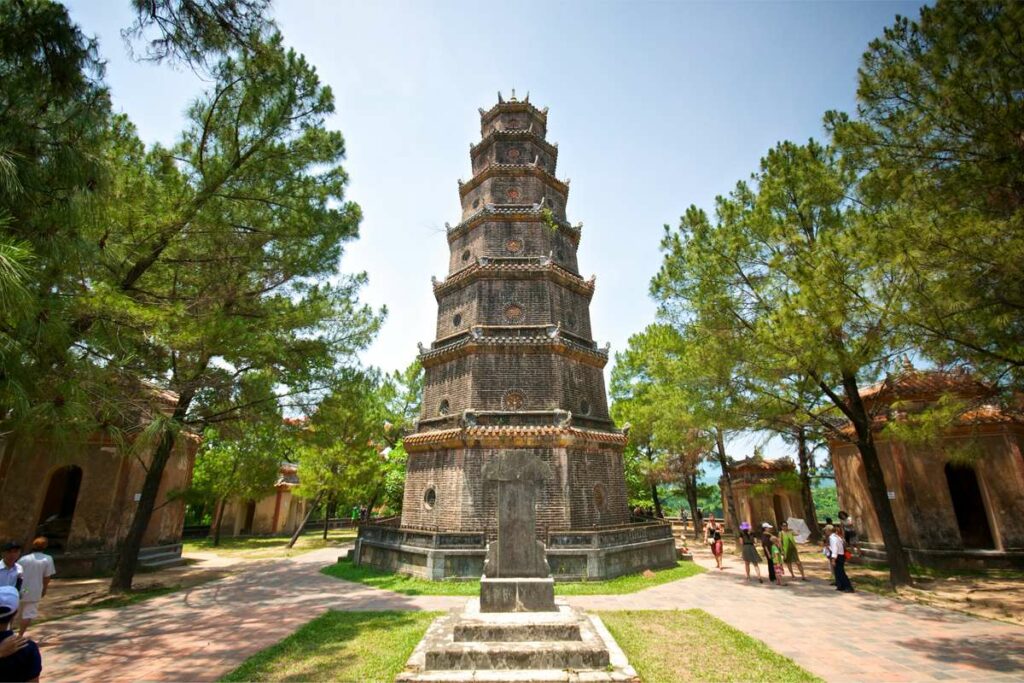 The Pagoda of the Heavenly Lady is a historic temple in the former imperial capital of Hue and the highest religious site in Vietnam. It is also one of the most famous temples in Vietnam. Thien Mu Pagoda is located on Ha Khe Hill and on the north bank of the Poetic Perfume River, about 5 km from Hue Citadel.
9. Tran Quoc Pagoda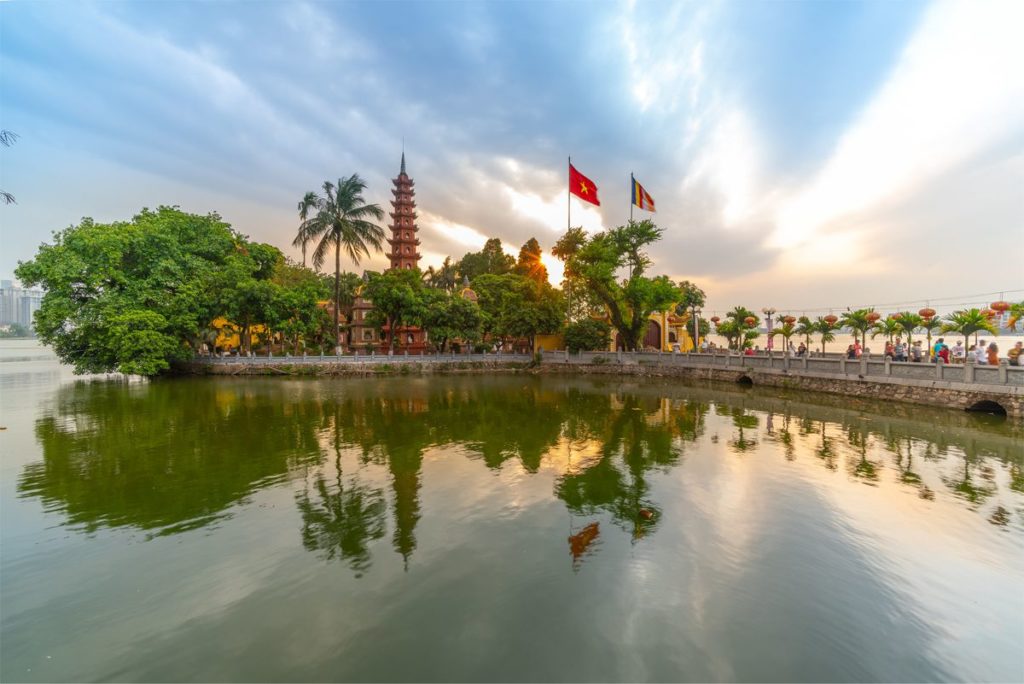 Tran Quoc Pagoda is the oldest temple in Hanoi and is a perfect example of Buddhism in Vietnam. The temple has eleven floors and a beautiful courtyard where you can burn incense. There is also a museum with relics related to the temple. It is located right next to West Lake, the biggest lake in Hanoi.
10. Jade Emperor Pagoda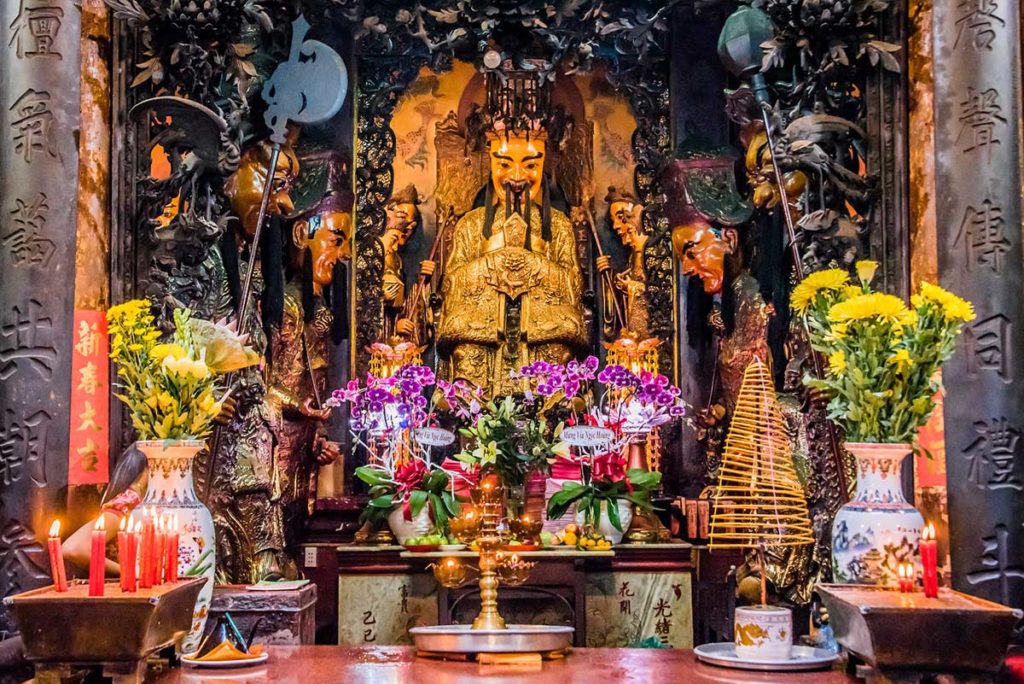 Jade Emperor Pagoda in Ho Chi Minh City may be less impressive from the outside than others in this list of the most beautiful temples in Vietnam. But unlike many ancient temples in Vietnam, this temple is lively and active with the locals making offerings and praying. It is a beautiful experience to see active, local worship at this pagoda. In May 2016, US President Barack Obama visited this temple.
11. Vinh Trang Temple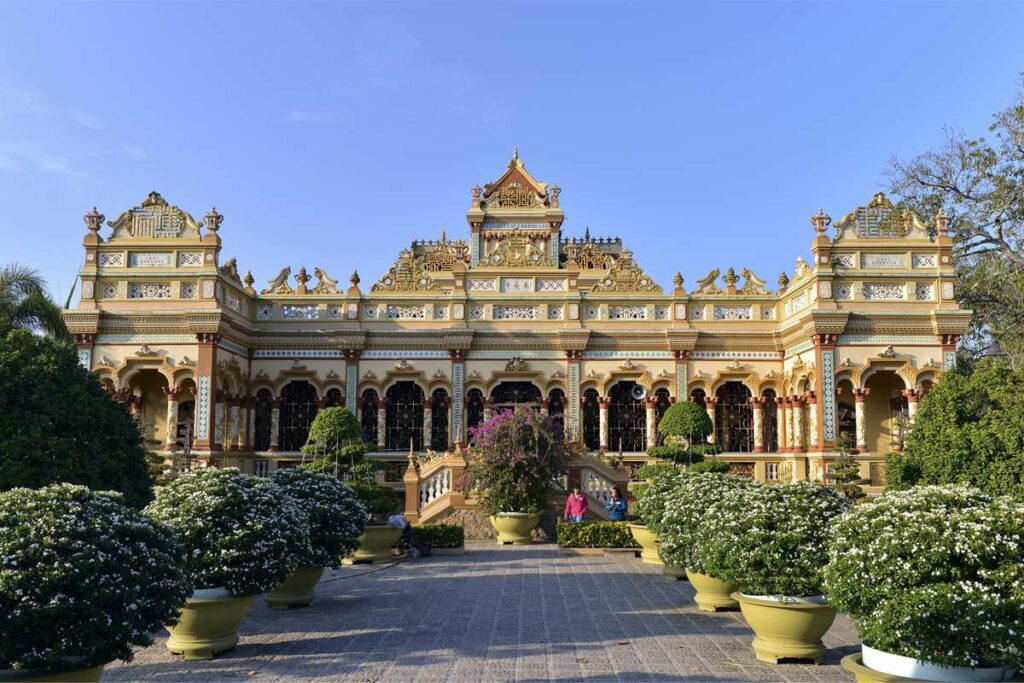 Located in the Mekong Delta near My Tho, Vinh Trang Temple is arguably one of the most beautiful temples in South Vietnam. The architecture and colors immediately stand out and are unique compared to other temples you will find in Vietnam. The Vinh Trang Temple resembles an Indian Raj Palace, restored with mosaic decorations.
12. Linh Ung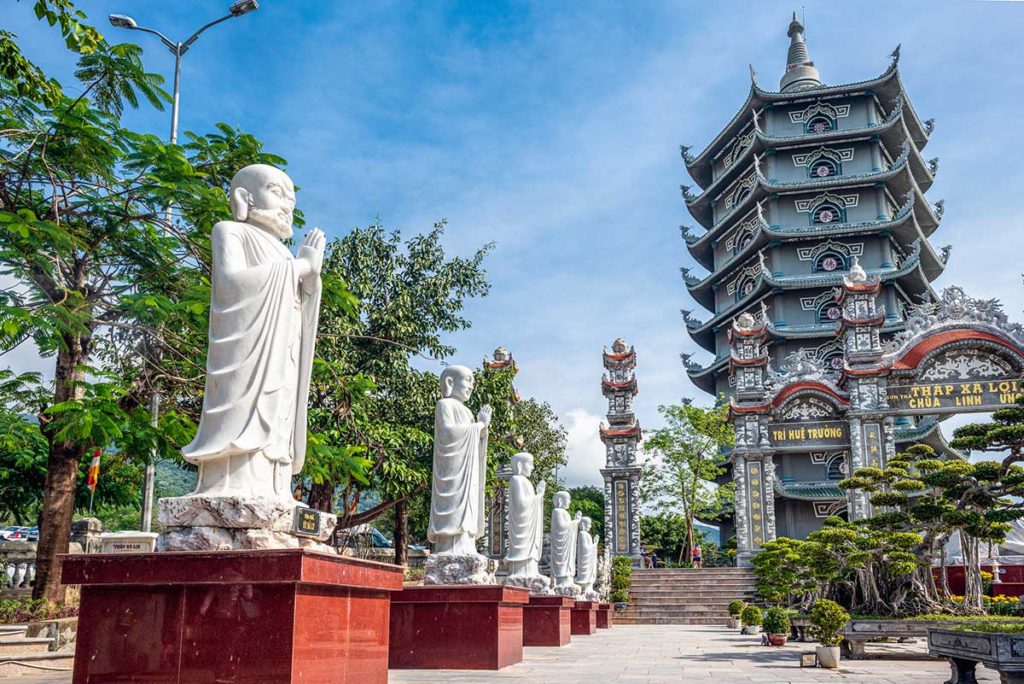 Located on a hill on the Son Tra peninsula, Linh Ung Temple overlooks the sea. Its position in the city is of historical importance as the pagoda is intended to protect the city and its inhabitants. Her symbolism represents compassion and motherhood in the Vietnamese tradition. The view is beautiful, especially during sunrise and sunset, overlooking Da Nang city and the ocean.
13. Truc Lam Zen Monastery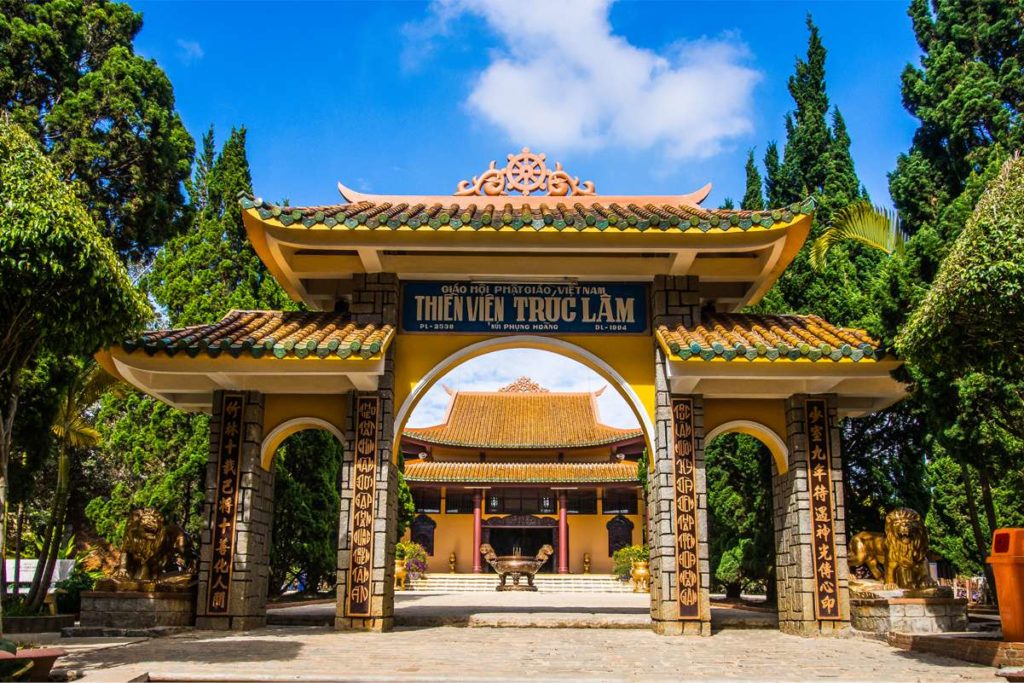 Just outside the popular central highlands city of Dalat, Truc Lam Temple is a young Zen Buddhist monastery built in 1994. It overlooks Tuyen Lam Lake and is reached by 222 stone steps. In the private part of the temple you will find an area with about 100 monks and nuns.
14. Buu Long Pagoda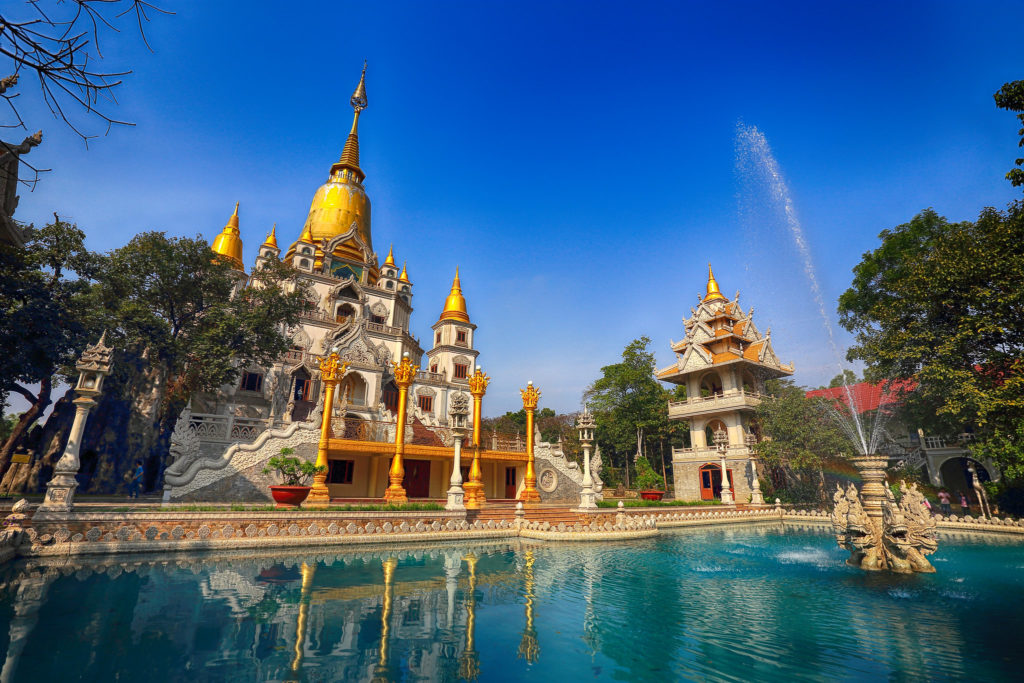 Buu Long Pagoda can be found in District 9 in the far east of Ho Chi Minh City. What makes this temple in Vietnam so unique is that it is in a totally different style compared what you will see in the rest of the country. This pagoda is more similar in style to what you'll see in Myanmar and Thailand, as the temples in Vietnam are more of an East Asian style.
As this temple is located far from the center in a rural neighborhood, a visit also gives you also a unique insight into the local and authentic culture here.
15. Minh Thanh Pagoda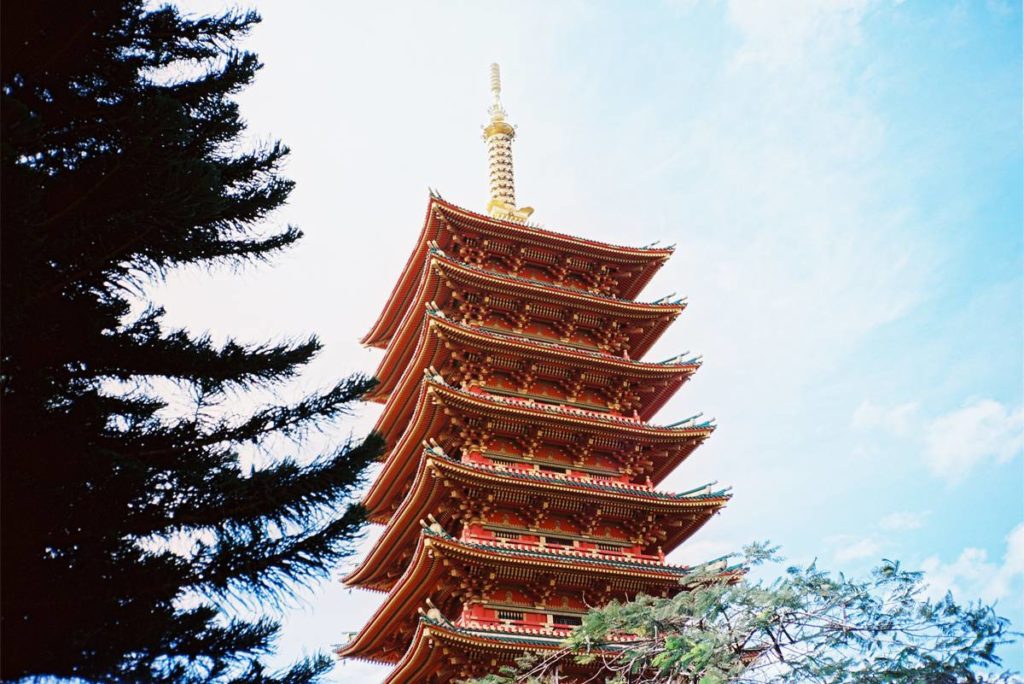 Minh Thanh Pagoda is located in Pleiku, hidden in the Central Highlands of Vietnam. It is a large complex with a huge tower that you can see from afar. It is best known because the temple is a mix of Japanese and Chinese architecture.