Tam Coc (Tam Coc – Bich Dong) in Ninh Binh is one of the most popular tourist destinations in northern Vietnam. It is after Trang An the most popular attraction in the province. The most popular attraction here is a boat tour on the Tam Coc river, but you can also explore this beautiful area by bike.
Tam Coc boat tour
With limestone mountains, vast rice fields and small rivers that run between them, Tam Coc can best be experienced with a quiet rowing boat trip. The boats are rowed by women and men who often use their legs and feet to row. They taught themselves this technique because they spend long days rowing and this way they can rest their arms. A boat trip takes you past rice fields and between huge limestone mountains with three small caves (Hang Ca, Hang Hai and Hang Ba) that you sail through.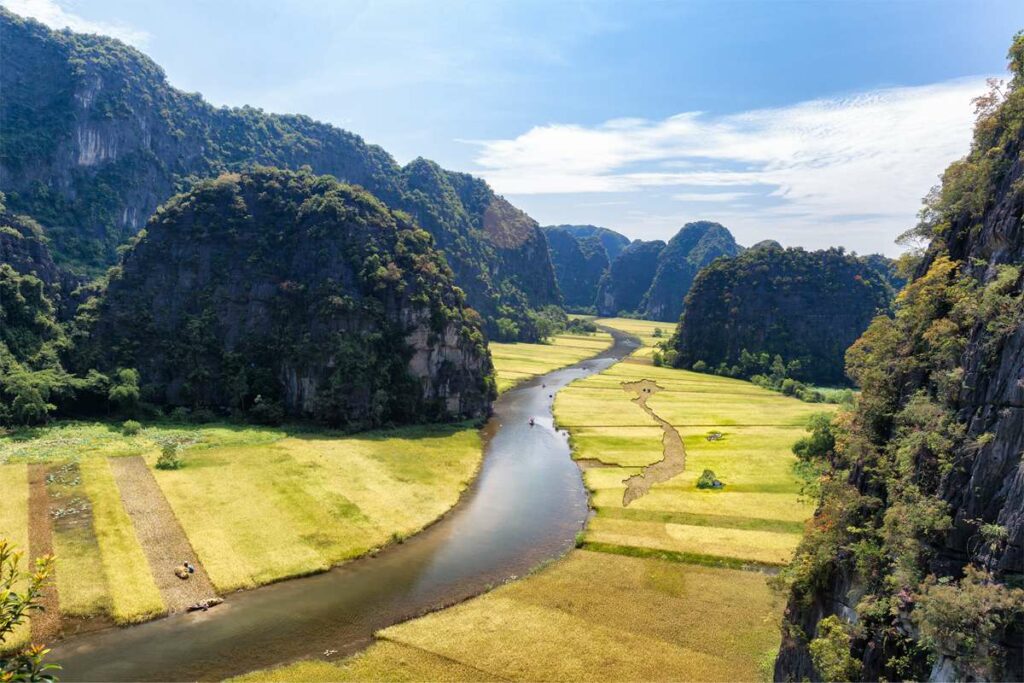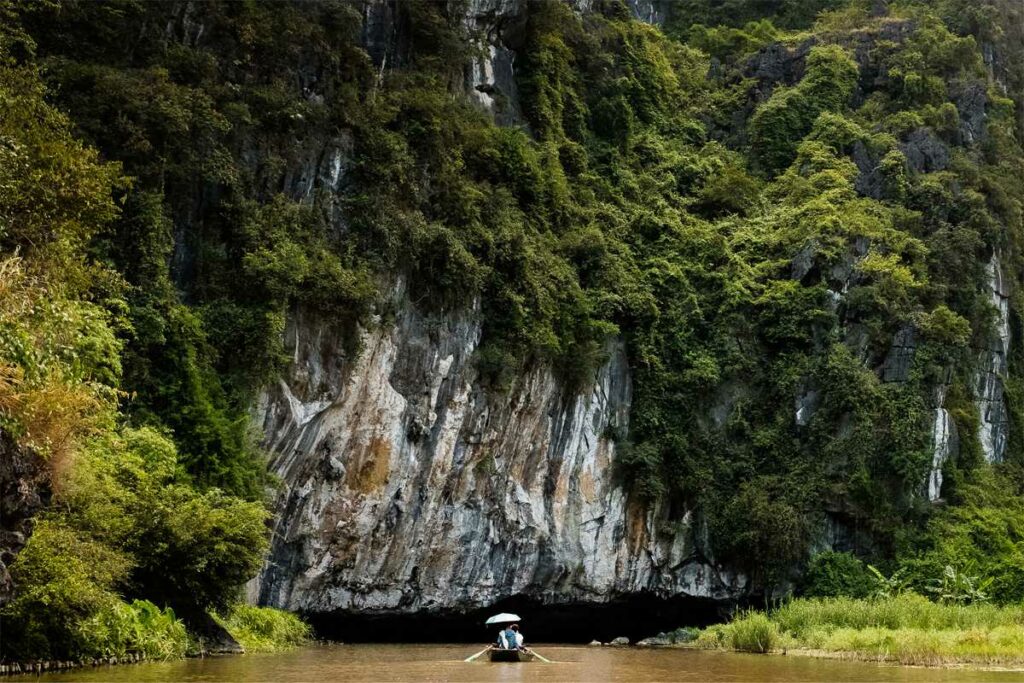 Unfortunately you have to be prepared for a number of persistent sellers. The boys you photograph ask for money for photos, and overpriced drinks and snacks are sold during and especially at the end of the river. Bring some water and food yourself and say clearly and politely "no" and show that you are not interested.
Location: Van Lam, Tam Coc, Ninh Binh (Google Maps)
Tam Coc boat tour price: You can buy tickets at the port of Van Lam at the main entrance. You have two costs: entrance per person plus the costs for the boat.
By boat: 150,000 VND
Adults: 120,000 VND per person.
Children (up to 1.40 meters): 60,000 VND per child. Children up to 3 years old are free.
Duration: 1.5 – 2 hours
Opening hours: 8:00 am to 6:00 pm
Number of people per boat: Maximum two people per boat.
What to bring: Drinks and snacks. Protect yourself well against the weather. Take something with you on sunny days to protect yourself against the sun and something against the rain on rainy days.
Things to do in Tam Coc
Tam Coc is more than just a boat trip on the river. There are a host of other places of interest nearby or rent a bike to explore the area with high limestone mountains and rice fields.
1. Tam Coc boat tour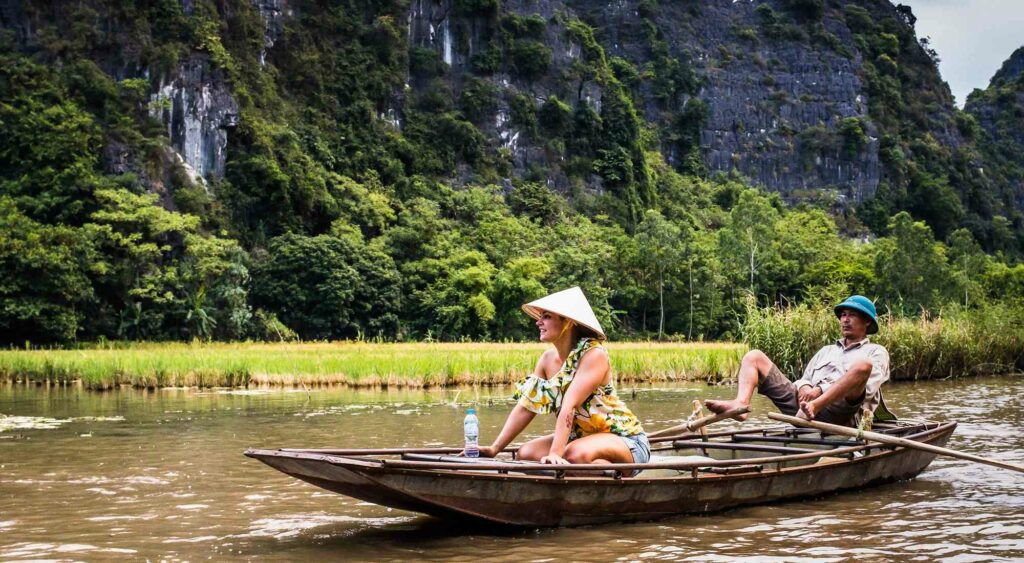 The biggest highlight is the Tam Coc boat tour, as mentioned before. Enjoy being paddled between the rice fields and the impressive karst mountains. Make sure to read the best time to visit Tam Coc, if you want to see the rice fields here on their best, with bright yellow or green colors.
2. Mua Cave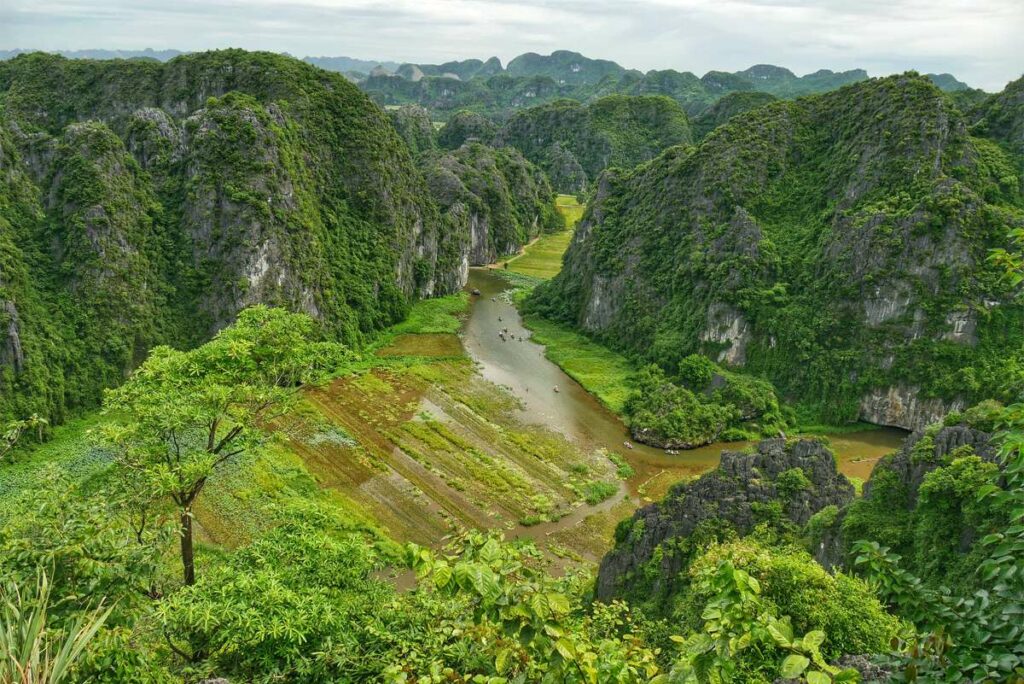 Mua Cave is no longer a hidden place, but now a tourist highlight. Nevertheless it is still of the best things to do in Ninh Binh and this viewpoint is definitely worth a visit, because the views you have here are amazing! Mua Cave is approximately 4 km from where the boats leave form the Tam Coc boat tour.
3. Bich Dong Pagoda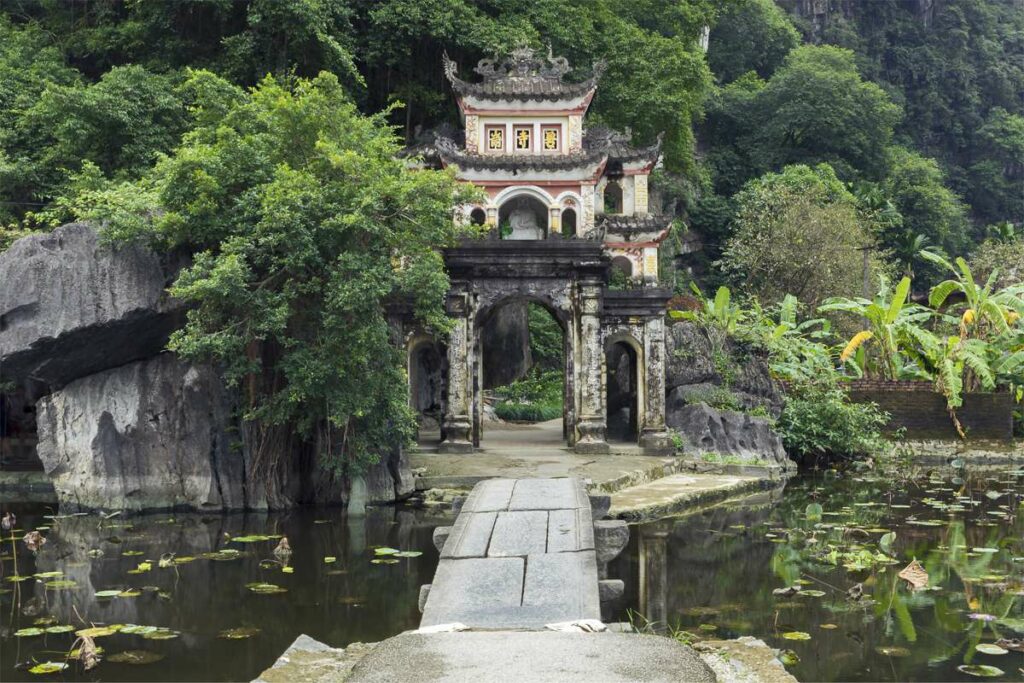 About 2 km from the port you will find the Bich Dong Pagoda. Through the iconic bridge you enter the small complex with a number of temples and a cave that you can visit. Admission is free but you pay a small fee to park your motorcycle or bicycle.
4. Thung Nham Bird Park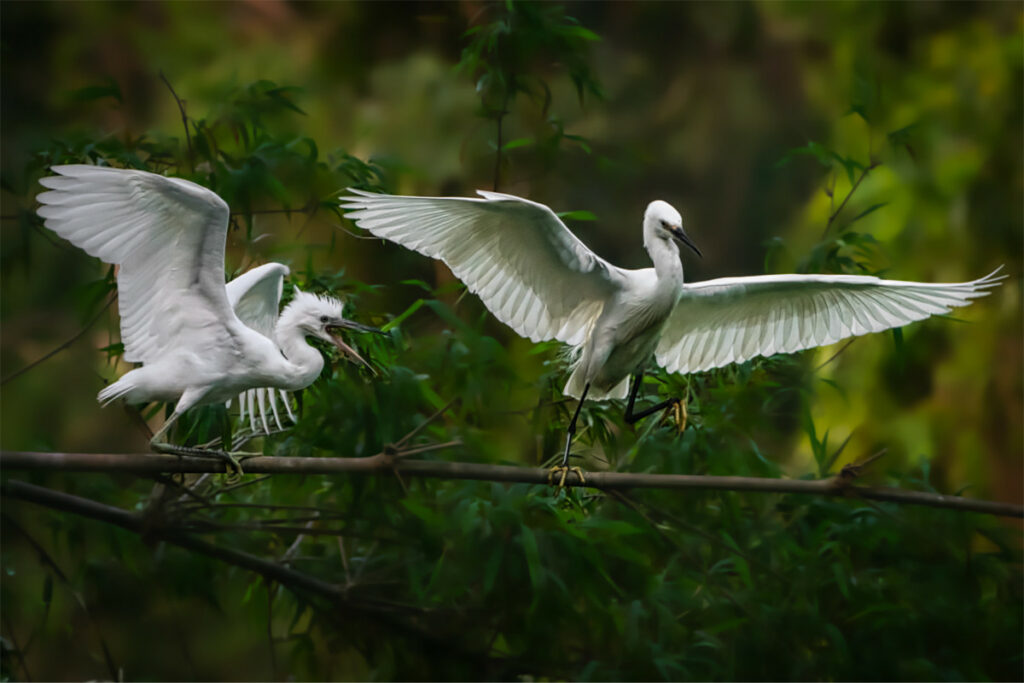 The Thung Nham Bird Garden is about 7 km from Tam Coc harbor. In this park you will find limestone mountains, many valleys and you can visit a number of caves, but the real highlight is the storks that fly back to their nests in the late afternoon.
5. Thai Vi Temple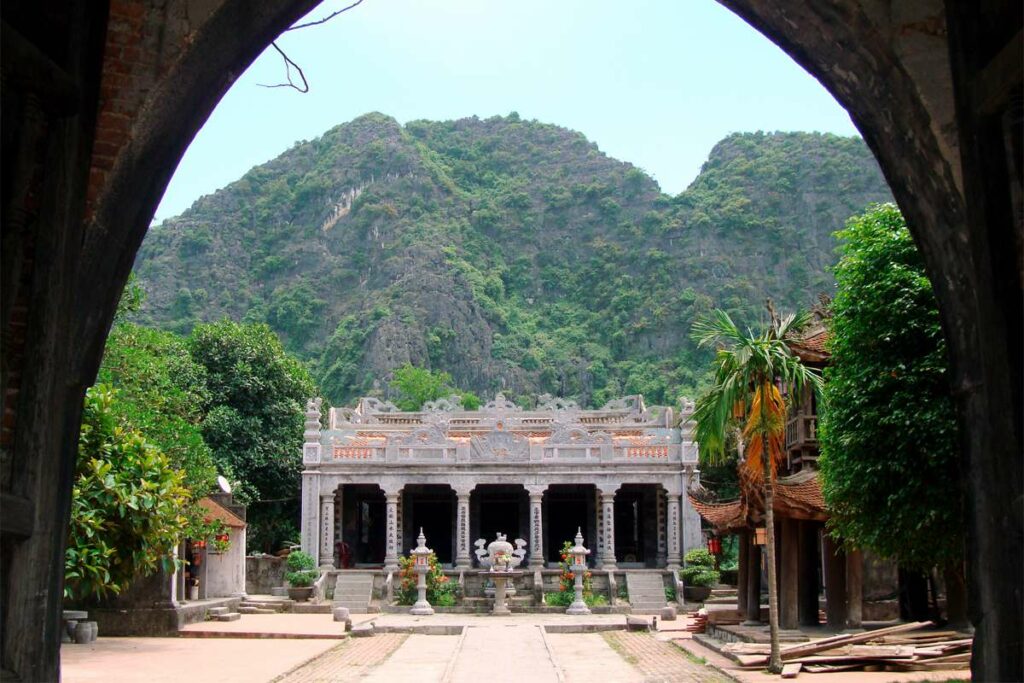 Thai Vi Temple is an ancient temple from the 13th century and is located directly in the same village as the harbor for the boat trip (Van Lam).
6. Cycling in Tam Coc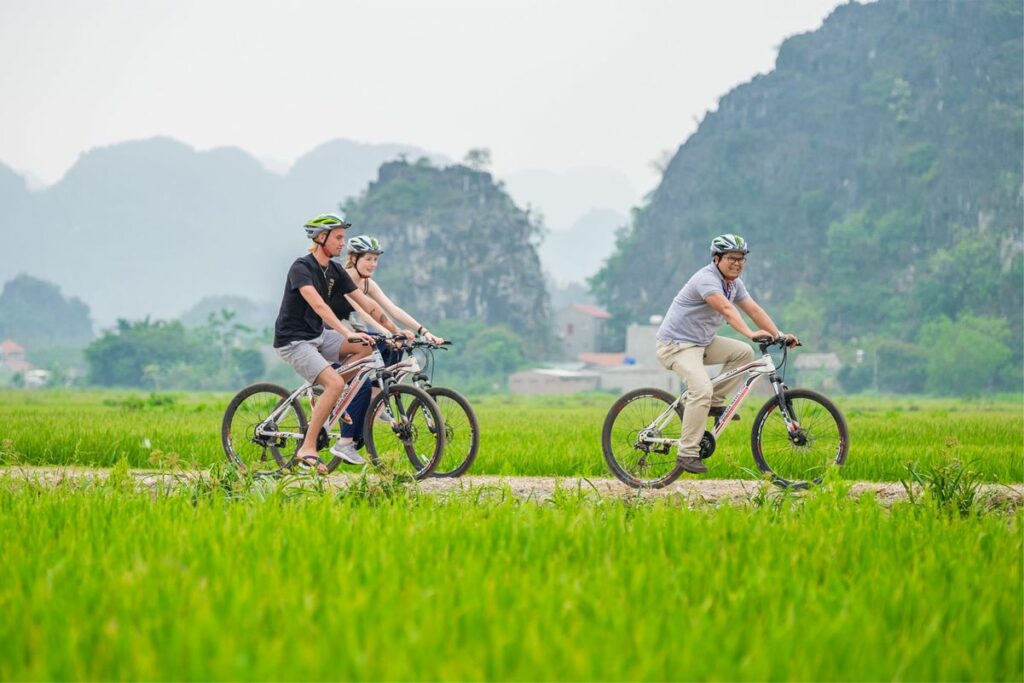 Cycling in Ninh Binh is great, because the roads are flat, the scenery stunning and the traffic is low. Some of the best scenery for cycling can be found in Tam Coc. Enjoy biking through the rice fields with views of the impressive mountains in the background. Go more off the beaten track to discover the more rural countryside life of Vietnam. If you don't like to bike around, you can also choose to rent a scooter.
7. Staying overnight in Tam Coc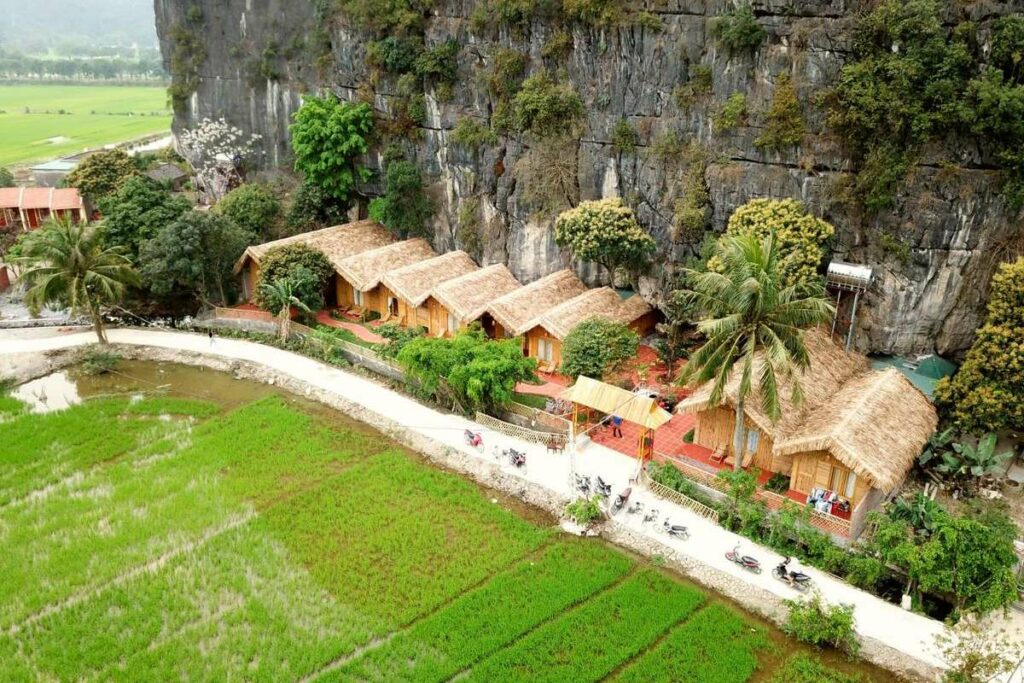 Tam Coc is one of the best areas to look for an accommodation in Ninh Binh. Inside the Tam Coc village are some cozy accommodation, which is a lot better then the accommodation you will find in the main town, Ninh Binh City. But if you really are looking for something special, you should check the accommodation right on the countryside of Tam Coc. Here you can enjoy stunning views from your place on the rice fields, lotus lakes and impressive mountains.
8. Visit some of the attractions around Tam Coc
Tam Coc is also a great base to visit some of the other attractions in Ninh Binh. The Trang An boat tour is just 10 km from the Tam Coc boat tour port. The road between the two places is flat through the villages and along the coutnryside without much traffic. This makes it perfect for cycling or driving it by scooter. Also Hoa Lu, the ancient capital of Vietnam is located in that area. You can visit here some old temples in a beautiful location.
Van Long Nature reserve (25 km), a scenic wetland area full of births and Bai Dinh Pagoda (22 km), the biggest temple in Vietnam, can be visiting a bit further from Tam Coc.
Best time to vsit Tam Coc
The best time to visit Tam Coc is from mid-April to early June, during the rice harvest season. In April the rice fields are green and from the end of May to the beginning of June they turn yellow as they mature. But you can visit Tam Coc all year round and it is always impressive, but try to avoid September because there may be typhoons.
How to get there?
There are various 1-day and multi-day tours from Hanoi to Tam Coc. You will be picked up at your hotel in the old center of Hanoi and via a new highway you will be in Ninh Binh in 1.5 hours. You can also travel to Tam Coc yourself. With a tourist bus to Ninh Binh from Hanoi, Phong Nha or Halong Bay (Cat Ba), transportation is usually included to your accommodation in Ninh Binh city or Tam Coc. Ninh Binh also has a train station with connections to Hanoi, Dong Hoi (Phong Nha), Hue and Da Nang.
From Ninh Binh
If you travel with a local bus or train to Ninh Binh you have to travel from the city to Tam Coc. From Ninh Binh city to Tam Coc is about 7 km and it is best to take a taxi for this. When you stay in Ninh Binh city or somewhere in the countryside you can also visit Tam Coc by bike or scooter.
Getting around
The landscape here is flat, so cycling through the rice fields is very nice. Drive at your leisure while enjoying the breathtaking view and the lush green colors. Bicycles can often be borrowed for free at your homestay or hotel and otherwise very cheap to rent. You can also rent a scooter or motorcycle to visit different places. Renting a scooter costs around 5 to 6 euros per day. The most comfortable option, especially if you want to travel a little further than Tam Coc, is to rent a car with driver for a day or go by taxi to the different sights in Tam Coc and beyond.
Accommodation in Tam Coc
The accommodations in Tam Coc have been greatly improved in recent years to cater to tourists. You have a choice of regular hotels, homestays, bungalows and dreamy resorts among the rice fields with a great view. Tips for best accommodation in Tam Coc are:
Tam Coc Rice Fields Homestay – From $ 14
Tam Coc Westlake Homestay – From $ 19
Tam Coc Melody Homestay – From $ 13
Tam Coc Craft Homestay – From $ 15
Tam Coc Tropical Homestay – From $ 16
Gia Bao homestay – From $ 13
Tam Coc Sunshine Homestay – From $ 19
Tam Coc Nature – From $ 40
Tam Coc Horizon Bungalow – From $ 40
Ninh Binh Hidden Charm Hotel & Resort – From $ 80
Alternatively you can also find a hotel or homestay in Ninh Binh city, Trang An or in the countryside between the rice fields.
Tam Coc tour
Interested to visit some of these highlights in this area of to do the Tam Coc boat tour? Check our combination tours, where you can visit Tam Coc with some of the other great sights you can find in Ninh Binh. There are also options to combine Tam Coc with Halong Bay or Pu Luong Nature Reserve.