Bai Dinh Pagoda is a spiritual place and the largest Buddhist complex in Southeast Asia. There are dozens of temples and over 500 Buddha statues, in different sizes and materials. It is one of the most impressive temples in Vietnam you can visit.
What to see at Bai Dinh Pagoda
Tam Quan Gate
The impressive Tam Quan Gate (Three-entrance gate), is the official entrance of the Bai Ding Pagoda complex.
Temples of Bai Dinh
There are two main temples of the Bai Dinh complex having the same name, but are referred to as to Old Bai Dinh Pagoda and the New Bai Dinh Pagoda. The first one is situated on the slopes of the mountain. You can get there by walking up a stairs with 300 stone steps. The second temple is a tower with a great view over the stunning landscape in and around the temple complex, around 800 meter from the new pagoda.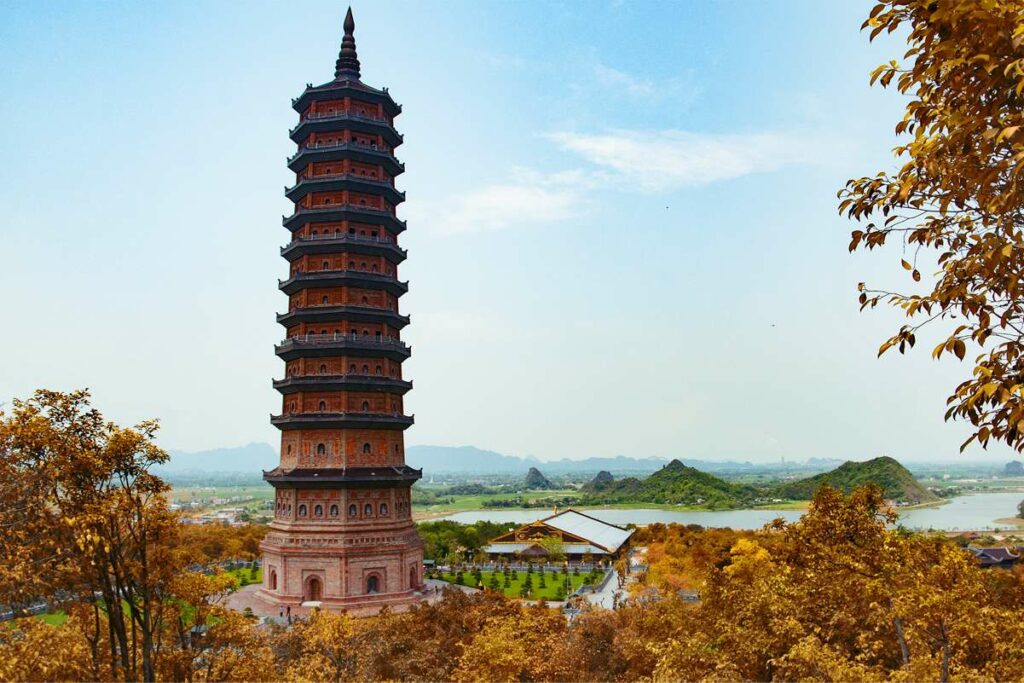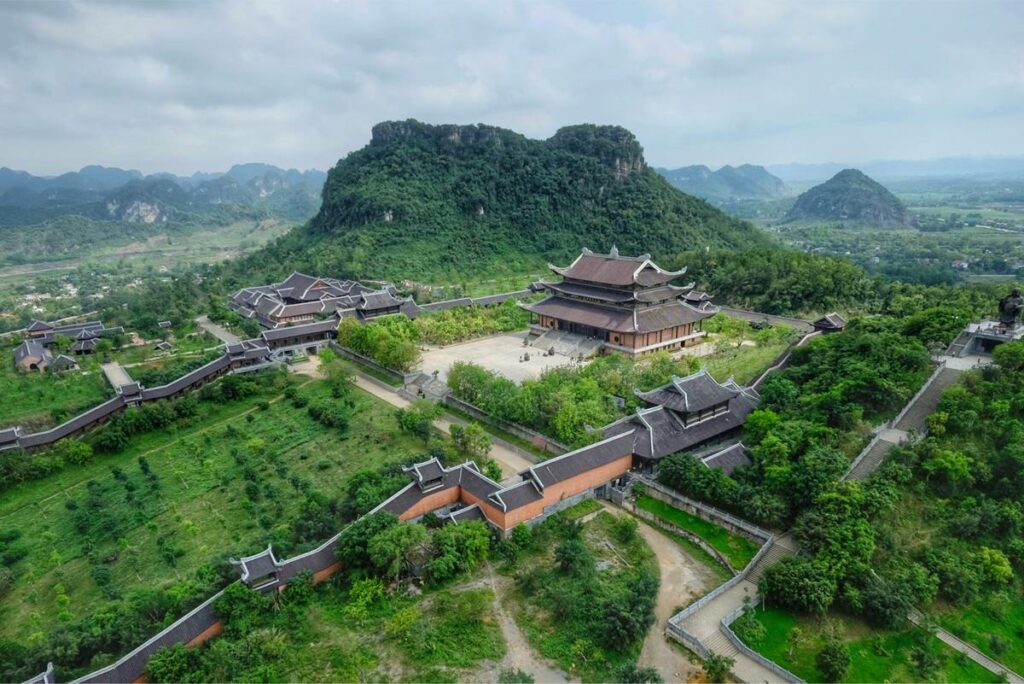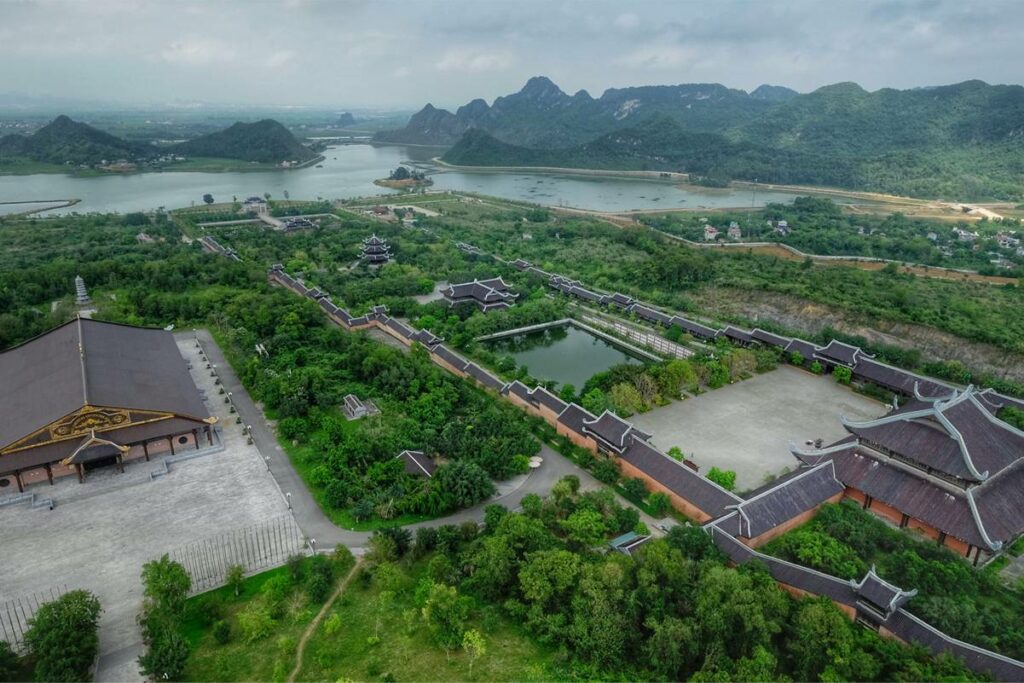 In total, the complex comprises four temples: three of them representing past, present and future; the fourth is dedicated to the Goddess of Mercy. From the valley behind the magnificent entrance gate, two stairs (500 steps each) lead up to the temples. Along the stairs are hundreds of white alabaster statues: larger than life monuments of enlightened Buddhas. On the wall rest hundreds more golden Buddha figures in small niches.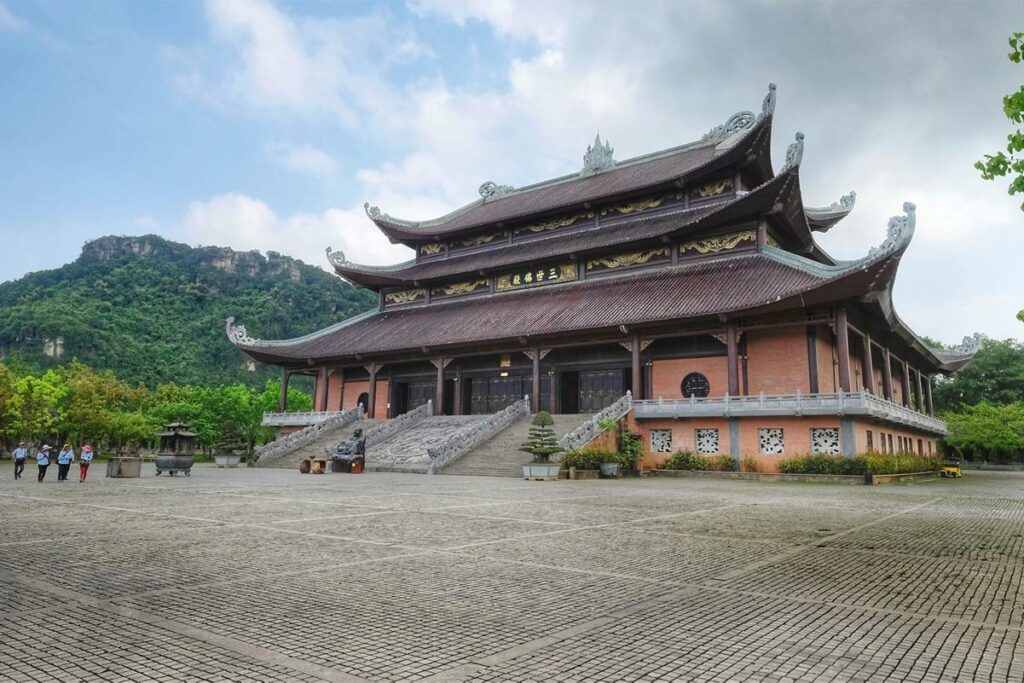 In the heart of the complex is an oversized bell tower with the largest bell in Vietnam. At the top of the mountain is the main square, with the triple-roofed Phap Chu Pagoda. In it a 10 meter high bronze Buddha is worshiped.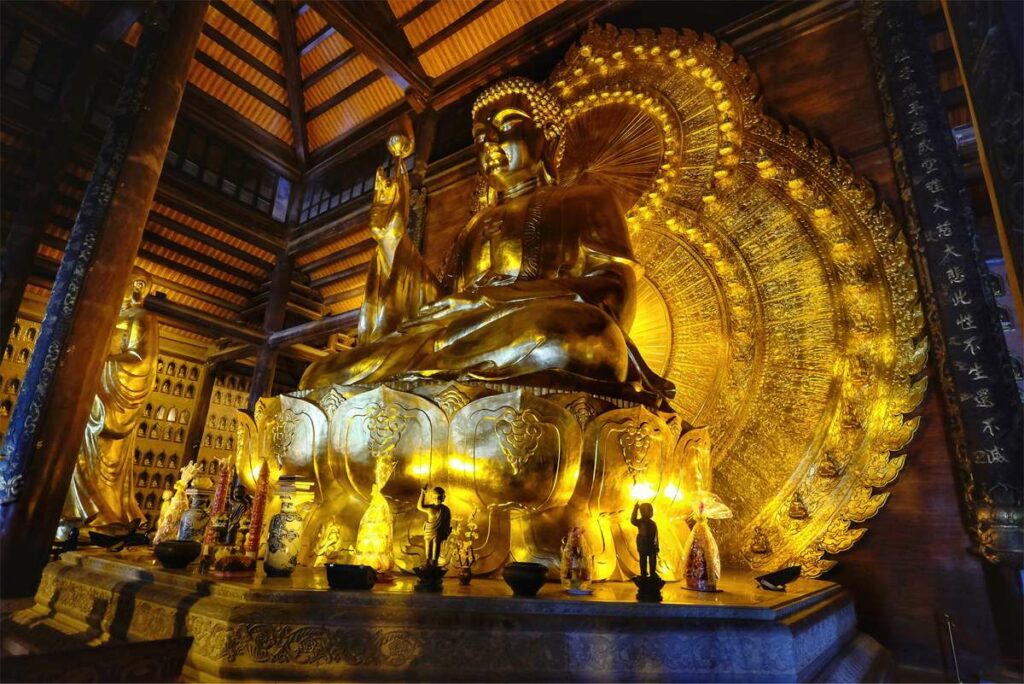 The Biggest Bronze Bell in Vietnam
The new Bai Dinh Pagoda is also famous for many large-scale items in. The largest bronze bell in Vietnam has a height of 5.5 m, a diameter of 3.5 m and has a volume of up to 36 tons. This copper bell is carved with many different ancient symbols and Chinese characters such as vivid dragon images.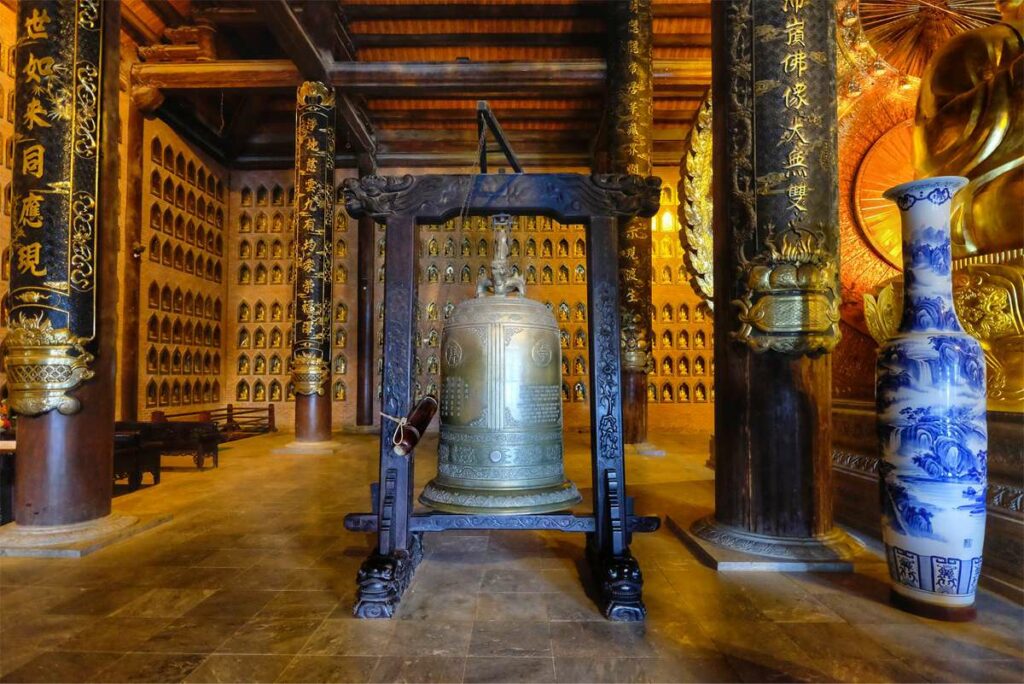 Light Cave & Dark Cave
Light Cave (Hang Sang) and Dark Cave (Dong Toi) are right at the first main temple after walking up the stairs. Both caves are small and full of statues of gods and Buddha. There are also a few other caves around the complex.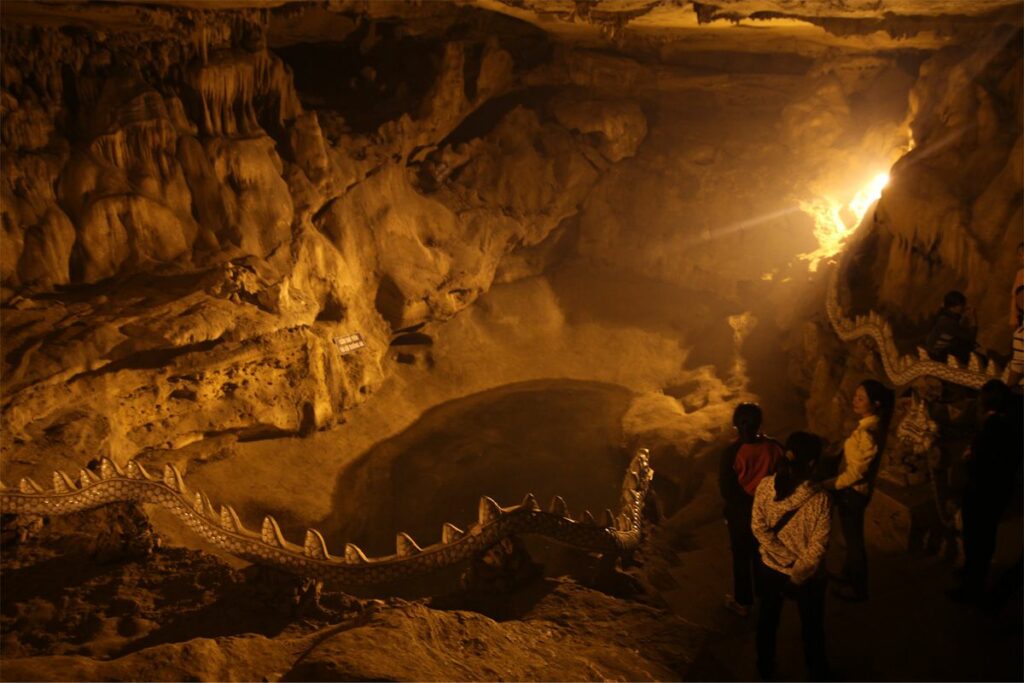 Ngoc Well
The Gieng Ngoc well is one of the oldest part of the complex. The well was built in the shape of the moon and is around 6 meter deep and 300 meters in diameter. It was the inexhaustible source for water.
Visiting Bai Dinh Pagoda
Ticket price
Price: Free
Because the complex is so large, there are electric golf carts that drive around. It cost 30,000 VND per person to ride along.
Opening hours
Opening hours Bai Dinh Pagoda: daily from 7:00 AM to 6:00 PM.
Best time to visit
From January to March in the spring, when the weather is warm and dry is the best time to visit Bai Dinh Trang An. This is also the time of Bai Dinh festival, on the sixth day of the Lunar New Year. There are ritual ceremonies, folk games you can participate in and traditional dance and music performances. However, this is also the peak tourist season, so it can get very crowded. So if you do not like this, it is better to visit Bai Dinh pagoda outside the tourist season.
Another way to skip the tourist crowds is to visit the pagoda in the early morning. Many people visit this place as part of a day trip from Hanoi, arriving here either later in the morning or in the afternoon.
Visiting tips
Dress code: Bai Dinh Pagoda is a religious place and for that reason dress appropriate; avoid wearing short skirts, shorts, tank-tops and leggings.
Walking shoes: It is a large area, so be prepared to do quite some walking.
Protection against the weather: Take sun scream for sunny days and umbrellas and rain jackets for rainy days.
Map of Bai Ding Pagoda
How to get there
Bai Dinh Pagoda is a temple complex located on the Bai Dinh mountain, 8 km from Hoa Lu ancient capital and 20 km from Ninh Binh city.
From Ninh Binh City
From Ninh Binh it is around 20 km to Bai Dinh. You can rent either motorbikes or bicycles. Cycling in Ninh Binh is very popular, as the area between the steep karst mountains are flat and there are many roads to the countryside. If you don't want to bike or ride a motorbike/scooter, you take a taxi or go by tour.
Tour from Hanoi
The distance between Hanoi and Bai Dinh Pagoda is 100 km and takes less than 2 hours driving. There are enough tours going to this temple complex from Hanoi. You can either choose a day trip or a multiple day trip to Ninh Binh, combining Bai Ding with other local attractions in Ninh Binh, such as Tam Coc, Trang An and Hoa Lu.
Other things to do around Bai Dinh Pagoda
You can combine a visit to Bai Dinh Pagoda with other attractions in Ninh Binh. The closest attractions are Hoa Lu (8 km), Trang An boat tour (12 km) and Tam Coc (22 km).