The Bich Dong pagoda in Ninh Binh is just a small cluster of a few temples against a mountain, but got very popular by photos on Instagram with the bridge at the entrance. Even though it received more fame, it is still relatively a quiet spot to visit.
About Bich Dong Pagoda
You can find the Bich Dong pagoda in the mountains of Truong Yen, not far from Tam Coc. It was built around around 600 years ago, under the rule of Le Thai To. The place exist out of a gate with a bridge and three small pagodas. The three pagodas are situated on three different levels and for that reason got the matching names Low Pagoda (Ha Pagoda), Middle Pagoda (Trung Pagoda) and Top Pagoda (Thuong Pagoda). The complete area of the pagoda is stunning and tranquil, surrounded by mountains and lakes full of lilies.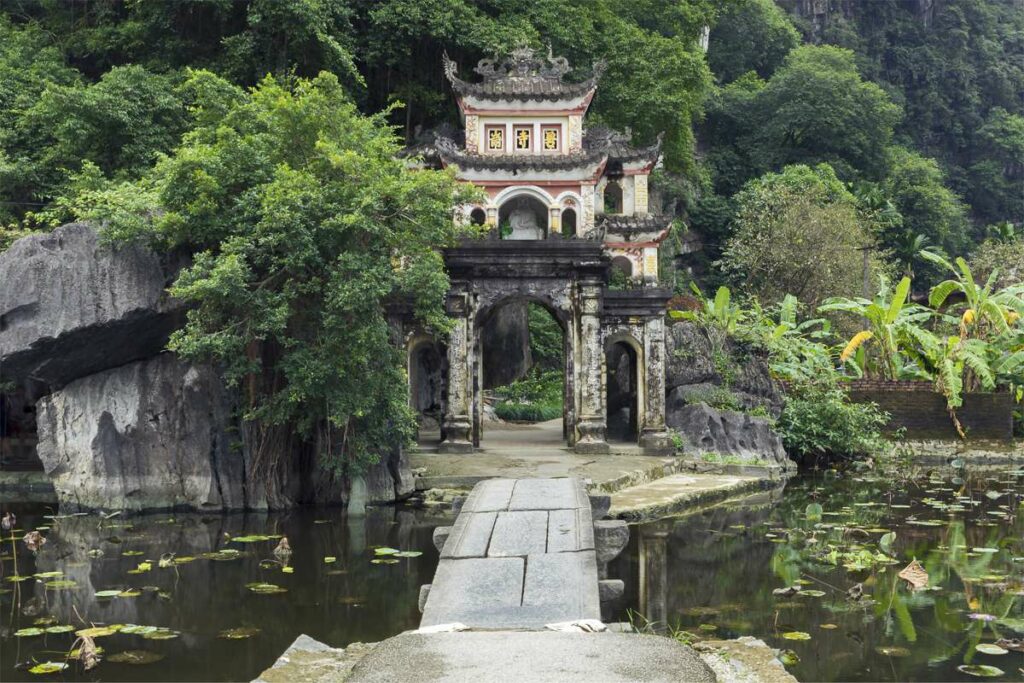 The entrance to the Bich Dong pagoda in Tam Coc is the highlight for many people visiting this place. It is a unique photogenic spot that you will see a lot when searching for this pagoda online. Though there is more to explore. Walking over the bridge through the beautiful gate brings you to the first pagoda on ground level. It has 5 rooms with large wooden and stone pillars. Inside you will find a Buddha statue. Around this pagoda you will find a garden with some fruit trees.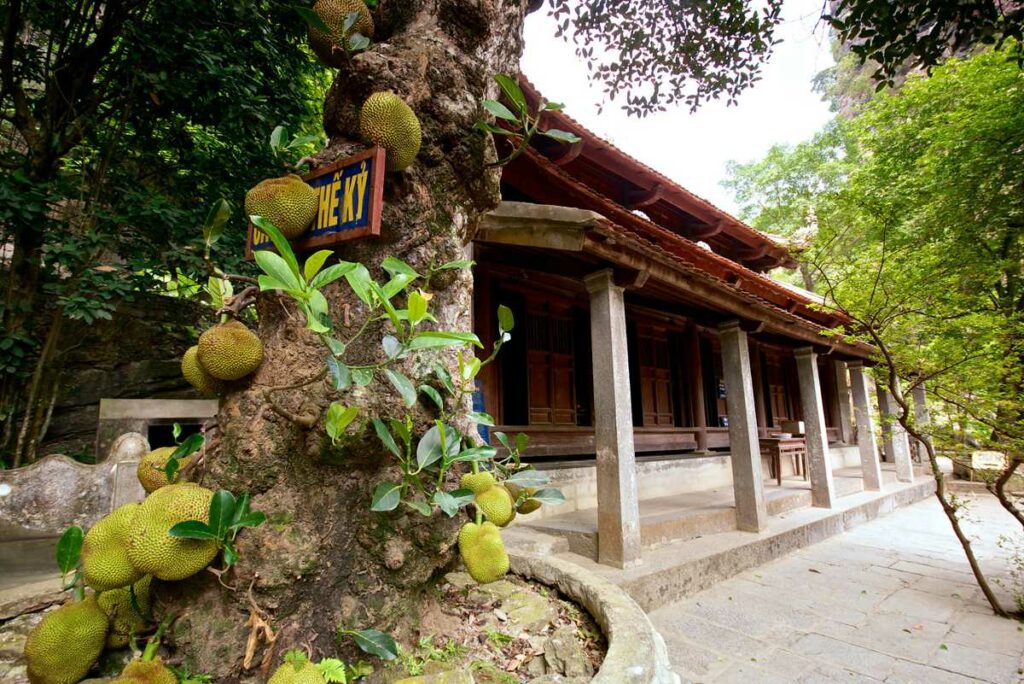 From the pagoda and ground level you have to walk up 120 stone steps to reach the Middle Pagoda. This Pagoda is built inside a dark cave. You can walk inside the cave to see the back of the pagoda and continue the trail up.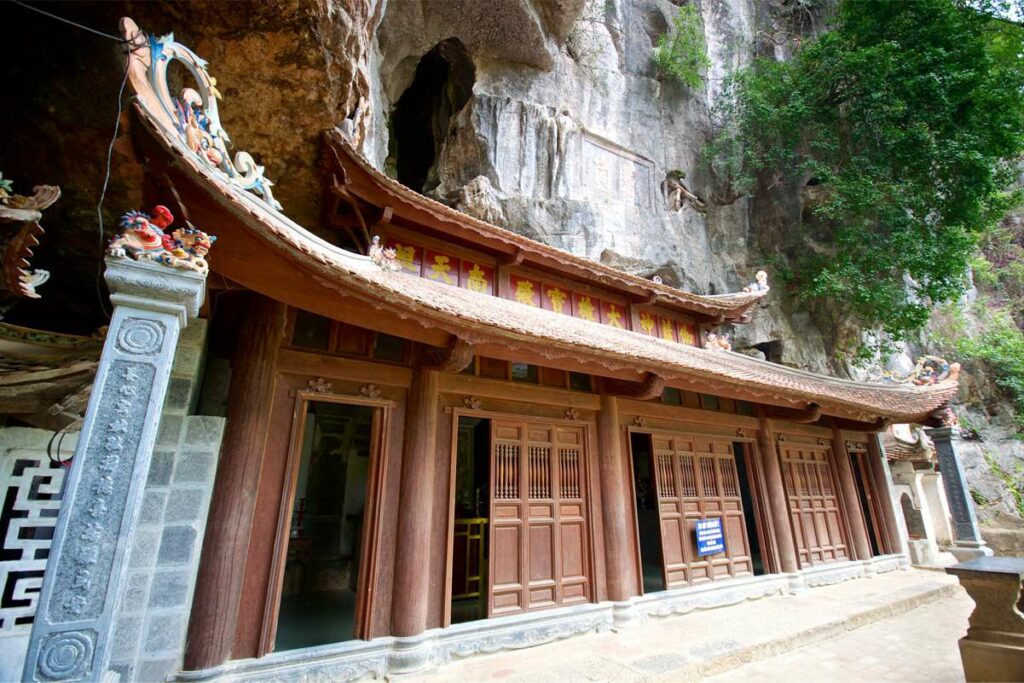 If you walk all the way through the cave and taking the stairs up, bringing you to the last relic, the Top Pagoda, on top of the mountain. There are two shrines on both sides of the pagoda and a water tank named Cam Lo water tank of Bodhisattva. From here you also have great views over the scenic mountain landscapes of the area.
Visiting information Bich Dong Pagoda
Opening hours
There is no ticket booth, so you can visit the pagoda at any time. Though it is recommended to visit early morning or late afternoon.
Entrance fee
There is no entrance fee, but there are parking fees for bicycle (5,000 VND) and motorbike/scooter (10,000 VND).
How to get there
Bich Dong pagoda is located close to Tam Coc, around 2 km. You can easily get there by bike, car or motorbike. If you are coming from Hanoi, you first need to travel to Ninh Binh province, preferable around Tam Coc. Cycling in Tam Coc is very popular and most accommodations in this area have free bikes to lent. You can also rent a motorbike here from 100,000 VND a day.
Tip! You can also visit this pagoda via our Ninh Binh tour, combining some other stunning highlights of this province, including one of the famous boat tours. Check here our unique Ninh Binh tours.
Best time to visit
You can visit the pagoda all year round, although the months between November to April it is dry season. During rainy season there are fewer tourist and it is hotter, but the landscape is also a lot greener.
This area is not visited by a lot of travelers, but to be sure to ovoid the crowds, it is best to com here in the early morning.
Other things to do around Bich Dong Pagoda
Bich Dong Pagoda is less than 2 km from the Tam Coc boat tour, 5 km from Thung Nham Bird Park and 8 km from Mua Cave. You can rent a bicycle to bike between these places. If you go by car with driver, taxi or motorbike you can explore other parts of Ninh Binh easily, including Van Long Nature Reserve and Trang An.