The most beautiful and impressive Cham temples of Vietnam can be found in My Son. It is located 40 kilometres from Hoi An and 70 kilometres from Da Nang. This temple complex was added to the UNESCO World Heritage List in 1999. It is also compared to the immense temples of Angkor in Cambodia, however, there are fewer temples in My Son and they are a lot smaller and much destroyed. However, this does not mean that it is not worth a visit.
History of My Son
The Champa empire
My Son was built by the Champas who controlled Central Vietnam from 200 – 1700 until it was annexed by the Vietnamese in the 19th century. The Champas were building their temple complexes mainly in Central Vietnam in a style that is influenced by Hinduism. The best preserved temple can be found in Nha Trang; the Po Nagar Cham tower, that is even still used by Buddhists. The temple complex of My Son used to be the most important in the Champa kingdom.
Red bricks without cement were used to build the temples, with sculptures of animals, gods and priests. They used soft stones to built the walls that were baked at a low temperature and placed on top of each other. When the temple was completed, they set it on fire to make the stones hard and lock them in place. No cement was used, but there are no holes.
The complex consists of more than 70 buildings dedicated to Hindu gods and goddesses and was also the political center and a royal cemetery.
Vietnam War
The jungle began to reclaim the complex after the fall of the Champa Kingdom. Eventually the temples were completely covered in jungle. The French discovered this complex in 1898 and realised this complex was comparable to other discovers temples complexes in Southeast Asia such as Angkor in Cambodia, Borobudur in Indonesia and Ayutthaya in Thailand.
In 1960 the Viet Cong used My Son as a base and for hiding. Even though the US Congress banned the bombing of My Son during the Vietnam war, unfortunately it suffered by bombings. However, most of the central complex managed to survive the bombs and parts of the ruins have now been rebuilt. The scattered craters and the grenade and bullet holes in the brickwork still witness this tragic period in the history of My Son.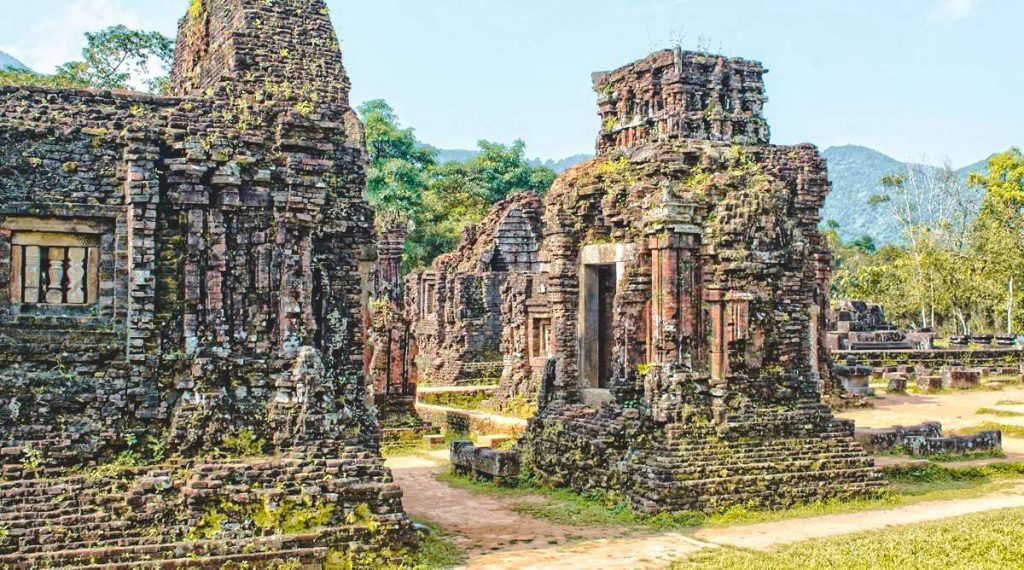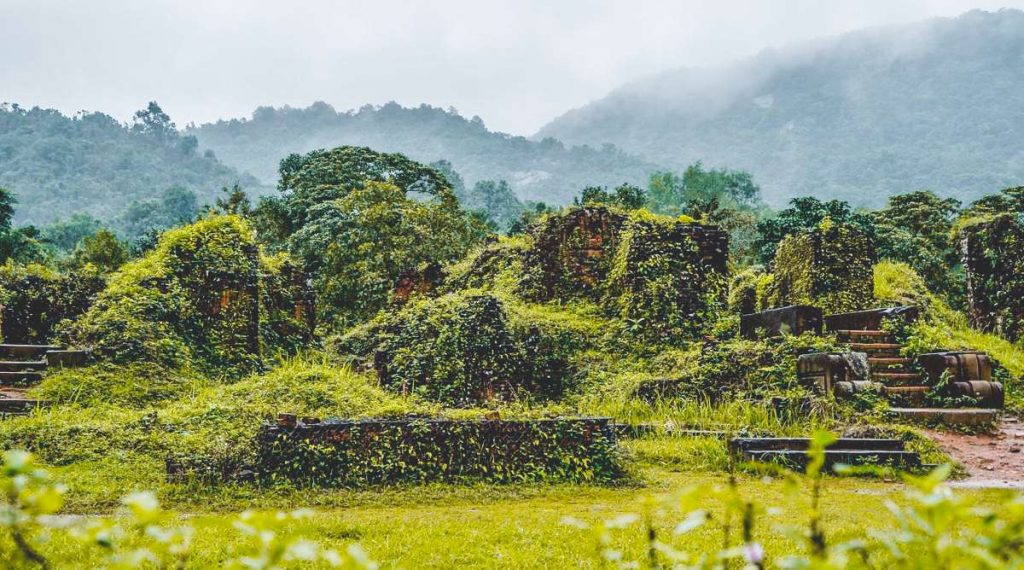 Visit My Son
The name "My Son" means "beautiful mountain" and it is easy to see how it got its name. The complex is located in a green jungle under a cluster of impressive peaks. The plants dominate everything, greenery grows from the cracks of every original building. All this makes it an extra magical place to visit.
The most important temples
The temples are in different states of decline, with repairs to some. There are nine "groups", indicated by A-G. The important groups are: A, B-C-D and E-F. The ruins of G, H and L are separate and much smaller than the rest. All places are well connected and have good hiking trails.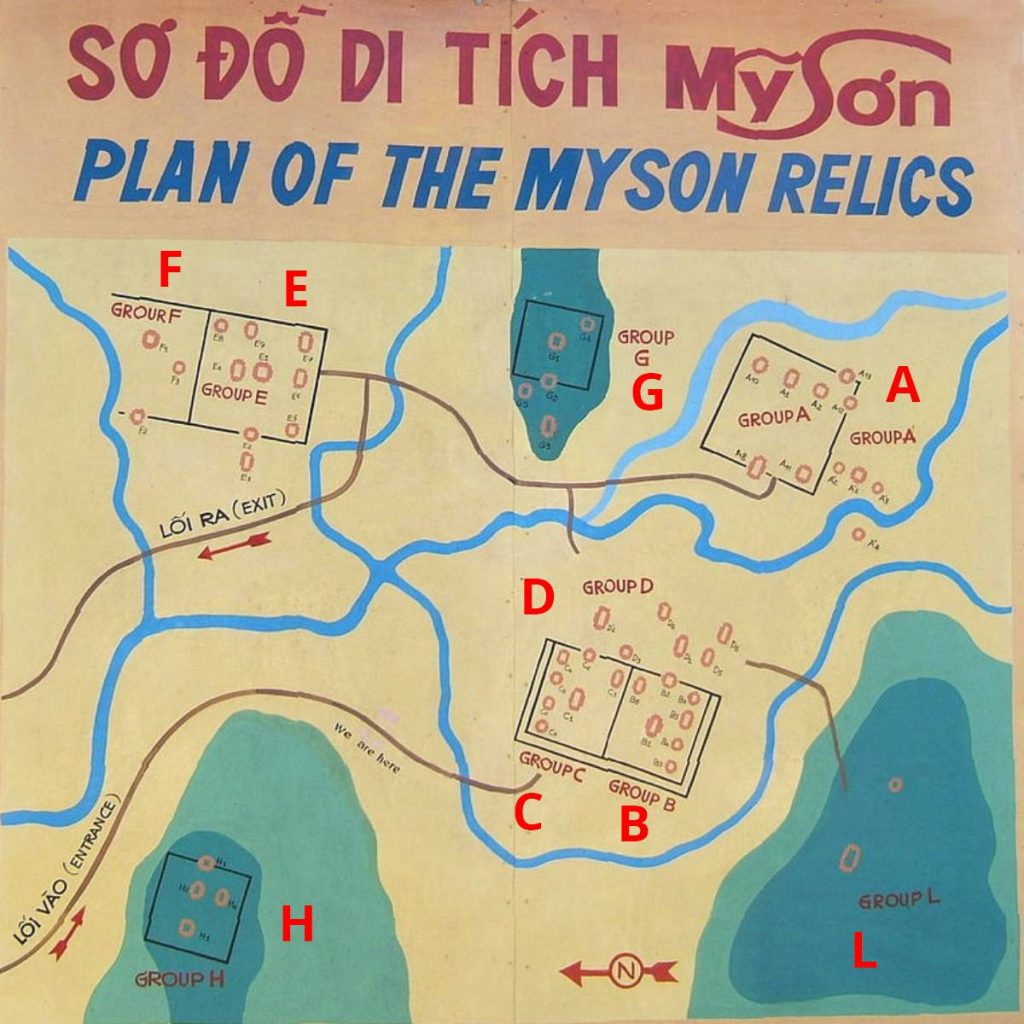 The most important temples in My Son Sanctuary can be found in group B. Here is a temple dedicated to both king Bhadravarman and Hindu god Shiva. In this part of the complex you can still clearly see the characteristic of the Cham culture. A linga was also dug up here, a phallus symbol from the Hindu faith.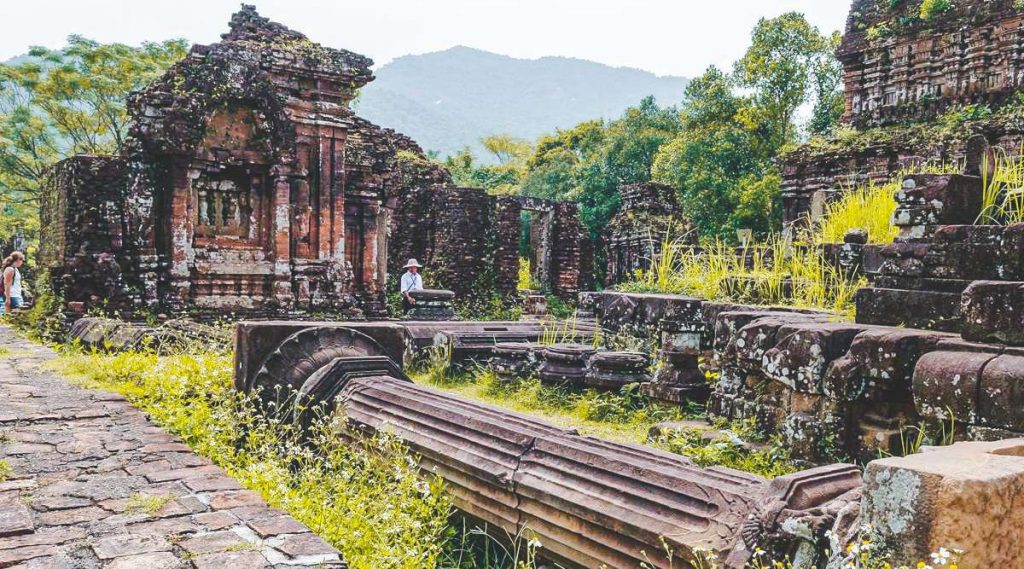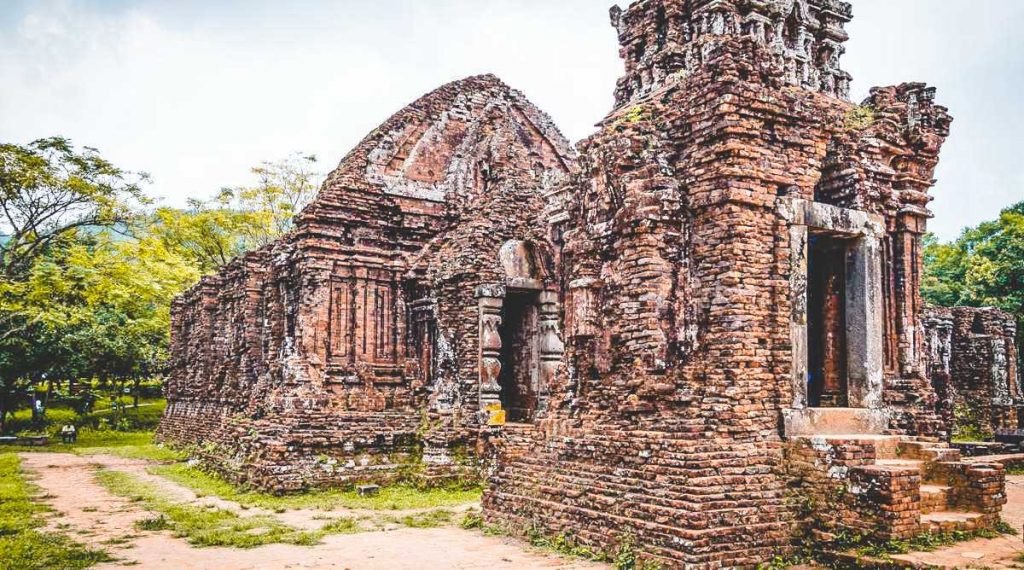 The smaller area that you can see is where the bombs destroyed the temple complex. Grass has largely grown over it and it is difficult to get an idea of ​​what has been there for so many centuries. There are also places where they are busy with restorations. In addition, you can still see bullet impacts and bomb craters that have often become small lakes.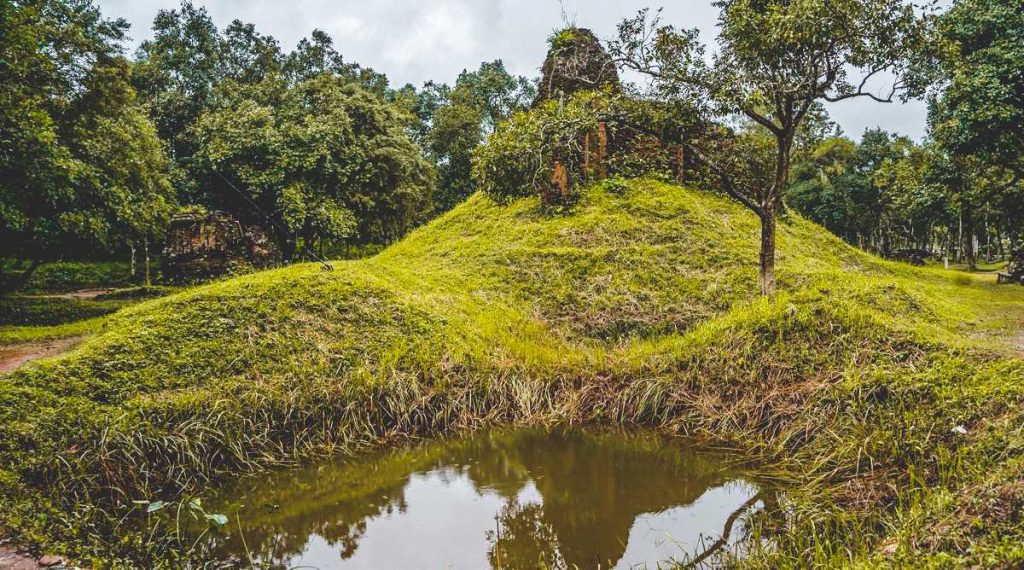 Museums
Near the entrance there is a Champa museum, with many objects and statues. You learn more about the history here and it describes how the complex used to look like. Almost all the better preserved sculptures can be found in the ruins and can be found here or in the second small museum in group A. It is advisable to visit the museum before walking around the ruins.
Cultural dance show
There is a traditional dance shows every day at 9:30 am and 10:30 am for the tour groups that come here in the morning. The stage is before you reach the first group of ruins, opposite the souvenir shop.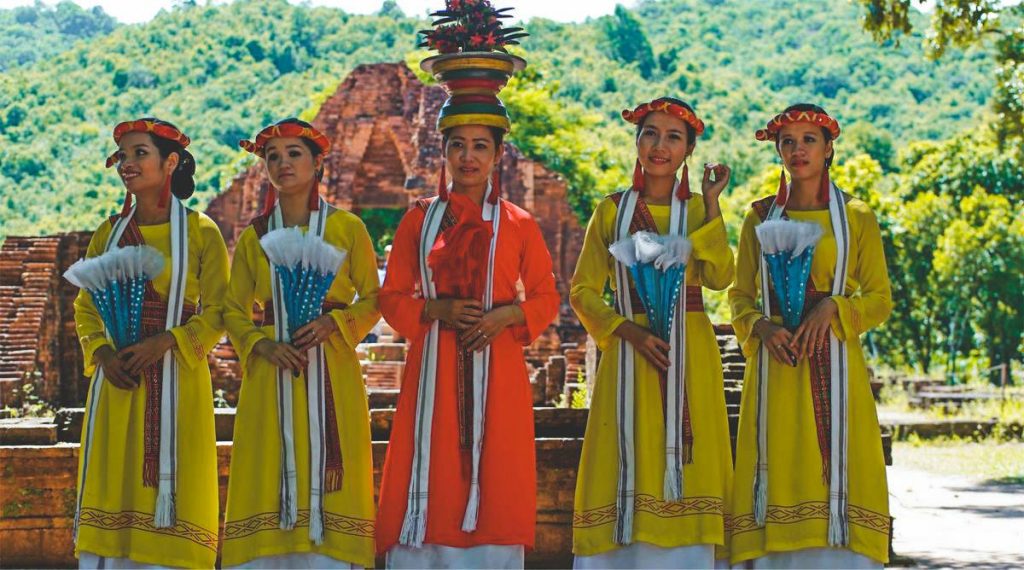 My Son Lake
There are not many people who know that the streams on the My Son site lead to a small lake. It is an unspoilt part where few tourists come, and the ideal place to go out with a kayak. The lake is three kilometres long and that gives you plenty of room to paddle over the calm water at your leisure. On the way to My Son and near the entrance you will find plenty of places where you can rent a canoe or kayak. A fun activity to combine with your visit to the My Son temples.
Tips
Because this is a sacred area, wear clothing that covers your shoulders, abdomen, and knees.
In the morning it is busy with group tours, but in the afternoon it can sometimes be very hot.
Ticket price and opening hours
Price: 150,000 VND (including My Son Sanctuary and the Champa Museum)
Parking for scooters: 5,000 VND
Opening hours: 6:30 am – 5:30 pm
* These prices are only for when you visit My Son on your own. These prices are included in most tours.
How to get there?
There are three ways to reach My Son Vietnam:
A tour from Hoi An or Da Nang
Cab
Motor or scooter
Tour
If you want to visit My Son with a tour, it is important that you look carefully in advance to see what kind of tour it is. There are already very cheap tours starting at 5 dollar, but this often means that you are traveling in a large group, are on the road for more than half a day, but often only get an hour at the temples themselves. The best tours are those in small groups combined with a visit to the countryside.
Cab
You can take a taxi to My Son, but this can also be quite expensive; at least $ 30-50.
Rent a scooter or motorbike
You have the most freedom when you drive to My Son. You can rent a scooter in Da Nang or Hoi An for around $ 5 (100,000 VND), and gasoline from Hoi An will cost you around $ 3-4 for round trip. Keep in mind that driving in Vietnam is not without danger. Read more about motorbike driving in Vietnam here.