One Pillar Pagoda in Hanoi is named for its unique architecture: this entire shrine is built on a single pillar, which is planted in the middle of a lotus pond. The One Pillar Pagoda represents a lotus flower growing up from the water, which is also the national flower of Vietnam. This monument is not only a famous tourist attraction but also a religious place for local pilgrims. It is seen together with the Perfume Pagoda, as one the two most iconic temples in Vietnam.
One Pillar Pagoda History
The One Pillar Pagoda was built in 1049 by Ly Thai Thong (1028-1054). According to records, Ly Thai Thong had no children. In a dream he met Avalokiteshvara, a female Buddhist goddess, who handed him a son sitting on a lotus flower. He then married a farm girl he had met and she bore him a son. In gratitude, he built a temple on one pillar in a lotus pond similar to the one from his dream.
In 1954 the pagoda was destroyed by the French at the end of the French colonization. The building was complete destroyed, remaining one stone pillar. The following year, the Vietnamese government restored the pagoda and pond based on the architectural style left behind by the Nguyen dynasty.
Highlights of One Pillar Pagoda
The One Pillar Pagoda is built of wood on a single stone pillar in a lotus pond. It is seen as a symbol of the city and a visit is one of the best things to do in Hanoi.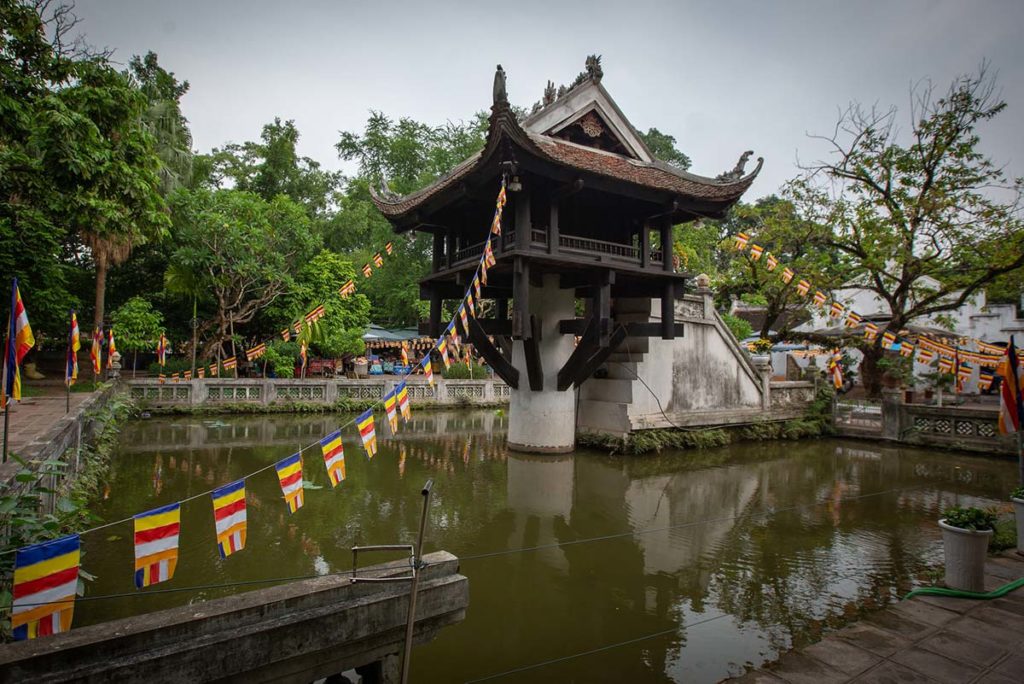 The pillar consists of two stone blocks stacked on top of each other with a height of 4 meters and a diameter of 1.2 meters. Lien Hoa Dai, the wooden structure on the pillar is 3 meters by 3 meters in size. It has four curved roofs covered with four dragon head shape. The roof of the pagoda is covered with traditional red and mossy tiles, showing the craftsman's meticulousness.
In the pagoda you will find the statue of the female Buddhist goddess Avalokitesvara on a wooden and red lacquered throne in the highest position. In addition, there are adoring objects such as vases, a few candles and flower pots.
This building then stands in the middle of a lotus pond with 20 meters on each side and four low walls around it. There is a stone staircase that you can climb to walk to the pagoda.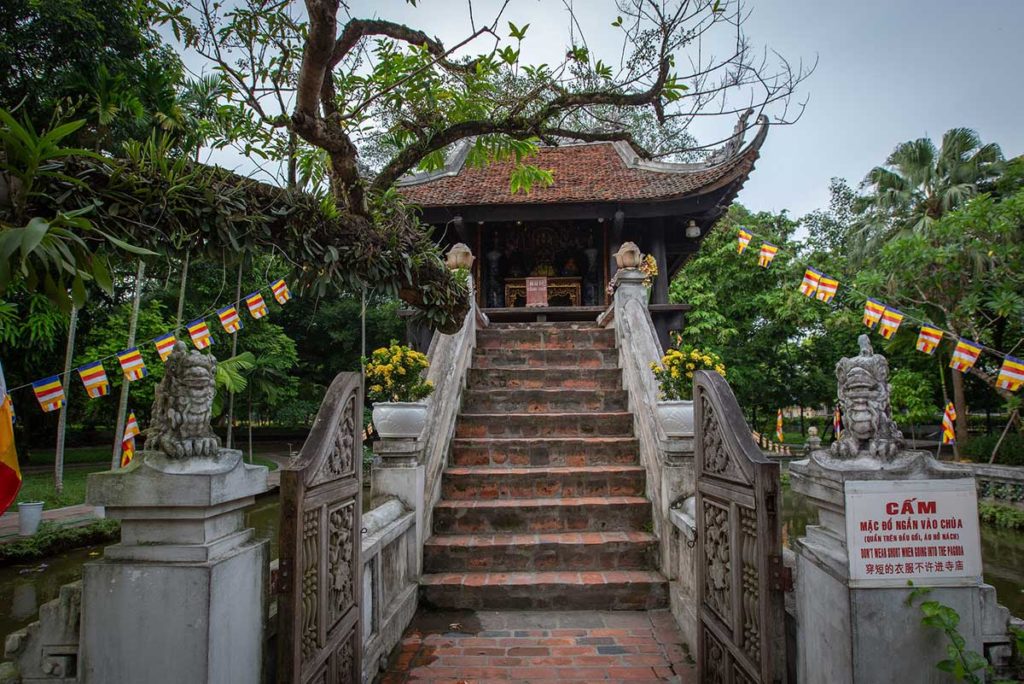 Another point of interest is a bo tree that stands behind the pagoda, which legend says is an offshoot of the tree under which Buddha was enlightened – the tree was given as a gift from the Indian president to Ho Chi Minh in 1958.
The temple is located in a park with peaceful gardens, benches and there are a few small cafes where you can have a drink or get an ice cream. Before leaving the pagoda, also take time to visit the Dien Huu Pagoda which is located nearby in a courtyard full of beautiful bonsai trees.
Visiting the One Pillar Pagoda
Dress code
Like other religious sites, such as temples and pagodas, dress appropriately before entering. This means that your knees and shoulders are covered. For example, on hot days you can bring a sarong that you can wrap around you and easily take off afterwards.
Entrance fee
There is no entrance fee to enter One Pillar Pagoda.
Opening hours
One Pillar Pagoda opening hours are from 8am to 5pm daily.
Location
The One Pillar Pagoda is of the most important temple in Hanoi and located in the park behind Ho Chi Minh museum and Ho Chi Minh Mausoleum at Ba Dinh Square.
How to get there
One Pillar Pagoda is about 3.5 kilometers from the center of the Old Quarter, where most travelers stay. To travel to the pagoda from here you have a number of options. The easiest option is by taxi, which costs around 4 USD. If you are traveling alone, you can also take a motorcycle taxi. A more fun way is by traditional cyclo (bicycle taxi). These can be found everywhere in the Old Town, but negotiate the price well.
By tour to One Pillar Pagoda
As an alternative to visit the One Pillar Pagoda by yourself, you can also visit it with Local Vietnam's Hanoi City tour by small group. You will visit several highlights of the city, such as the Temple of Literature, Ho Chi Minh Mausoleum and Hoan Kiem Lake and include a traditional cyclo ride.
Other things to do around One Pillar Pagoda
What's great about the One Pillar Pagoda is that you can combine it with other great things to do in Hanoi. There are several points of interest immediately surrounding it within walking distance, most of which are related to Ho Chi Minh. The most famous place is the Ho Chi Minh Mausoleum, where Vietnam's greatest president ever lies in state. Next to it is the Ho Chi Minh Museum where you can learn everything about the complete life of this leader. Behind it in the same park as the One Pillar Pagoda are the Presidential Palace and Ho Chi Minh's stilt house.