The center of the city, Hanoi Old Quarter, offers French-colonial architecture, a rich food culture and a long history. In the heart of the city you will find streets full of scooters, street food stalls, cyclists and walkers.
Just like Ho Chi Minh City, Hanoi exists in districts. The most famous and important districts in Hanoi are Ba Dinh District (also known as the French Quarter) where the government offices are located and Hoan Kiem District (also known as the Old Quarter), which is considered the business center and the main tourist destination in the city.
Hoan Kiem district
Hanoi Old Quarter is located in Hoan Kiem district, near Hoan Kiem Lake. In this neighborhood you will find beautiful colonial architecture, Buddhist temples and pagodas.
The atmosphere of the old center is reflected in the old shopping streets that are named after the original companies that are around 1000 years old. The preserved retail properties that lie along these roads were built just over a century ago and in a long and narrow style to avoid having to pay high taxes. The front part of the building is where the trade takes place and the family lives in the rest of the house. Although one storehouse was intended for one family (with many generations in it), it is more common nowadays that several families sit under one roof.
Expect to find many trendy cafes, bars, a variety of restaurants, bakeries, boutiques and art galleries in this historic area.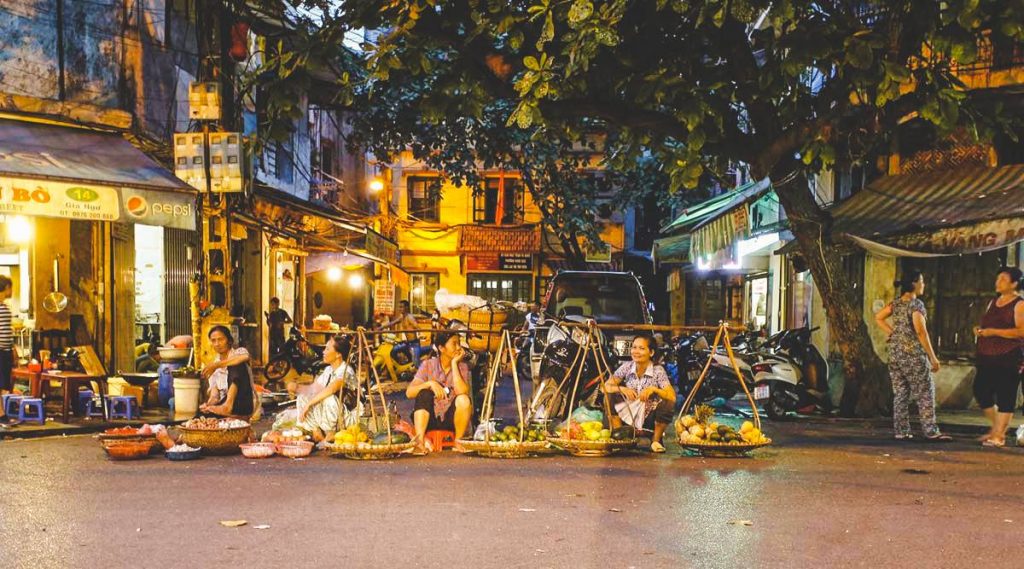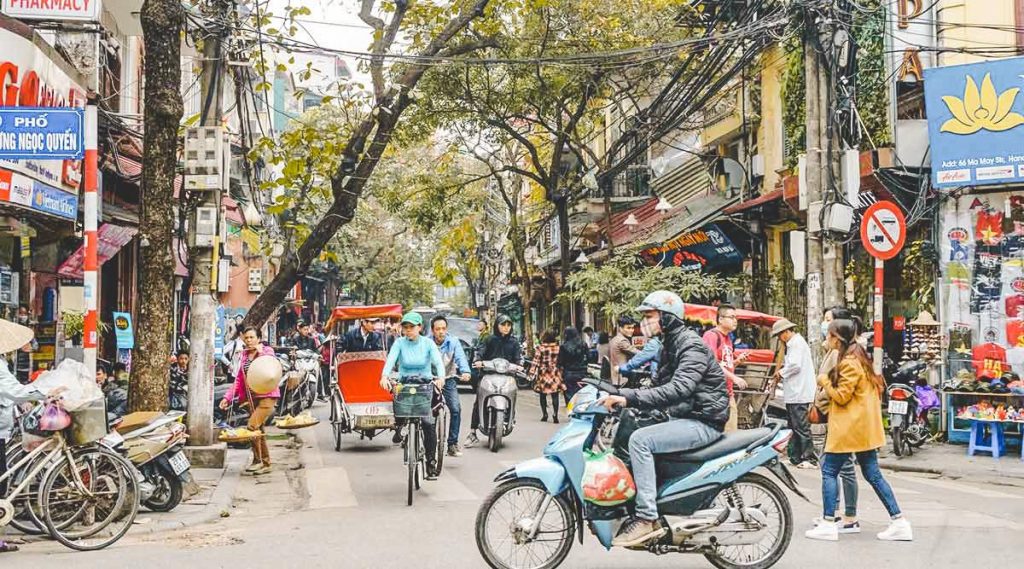 A common street scene in Hanoi is that the streets are full of scooters, bicycles and cars. Then there are the many street vendors with their stalls on the doorstep and people walking everywhere in between. In the popular Old Quarter this is no exception, so don't expect to be able to walk around in a relaxed way to view sights in peace. But the experience of exploring the historic center is a must-do and really worth it.
Hanoi Old Quarter on the weekend
This neighborhood is relatively pedestrian-friendly compared to other cities in Vietnam. The streets are closed to cars and scooters on weekends and evenings to make way for bia hoi bars and food stalls with a variety of Vietnamese food.
How to get to Hanoi Old Quarter and go around
From Hanoi airport to the center
Bus: bus number 86, a premium bus, has both English and Vietnamese broadcasting system. The price is $ 1.5 and it takes 1 hour. Avoid other regular buses.
Taxi: it costs around $ 20 for a trip from the airport to the city center.
Grab: Grab is a taxi app like Uber. Read here: how does Grab work.
Getting around the old quarter in Hanoi
Grab: They are cheap and almost always available.
Walking: The best way is to walk through Hanoi Old Quarter yourself. Most sights are also within walking distance of each other.
Cyclo: Cyclo has been a well-known means of transport in Vietnam for decades. Nowadays it is used in tourism. It is a unique experience to see the city on a cyclo, at your own pace.
Old Quarter things to do & see
In case you don't know where to start your journey around Hanoi Old Quarter, the best sights and activities are:
Hoan Kiem lake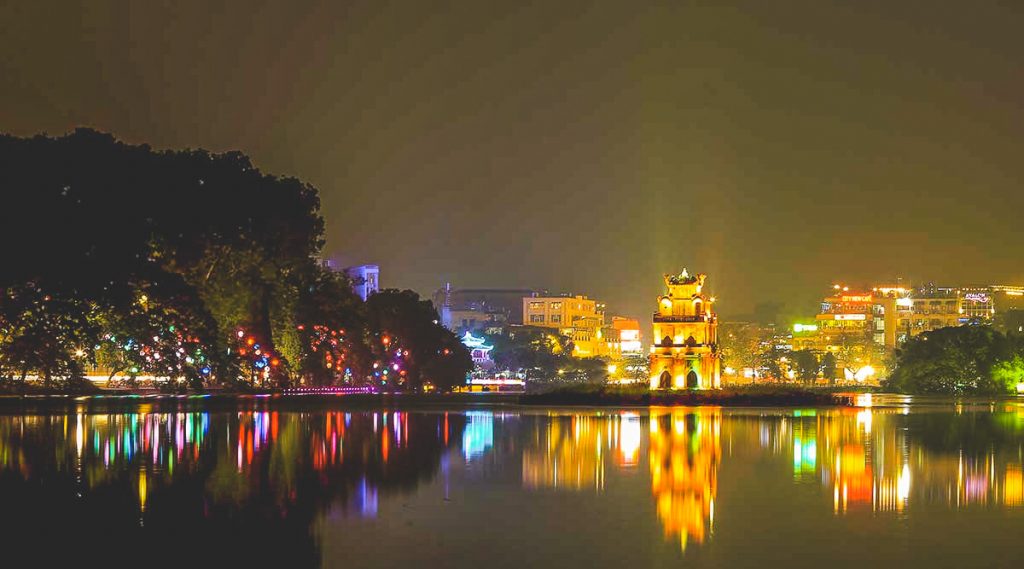 Around Hoan Kiem Lake you see locals jogging, enjoying a cup of coffee and even Tai Chi and line dancing. The Ngoc Son Temple is located in this tranquil lake, an 18th-century pagoda on a small island that is accessed via an ornate wooden bridge.
Water puppet show
The water puppet theater in Hanoi (Thang Long Water Puppet Theater) offers traditional entertainment in the form of puppets in water that in a short show depict Vietnamese traditions and culture. Every story comes with a Vietnamese orchestra, with musicians playing traditional opera music with drums, wooden bells, horns and bamboo flutes.
Hoa Lo prison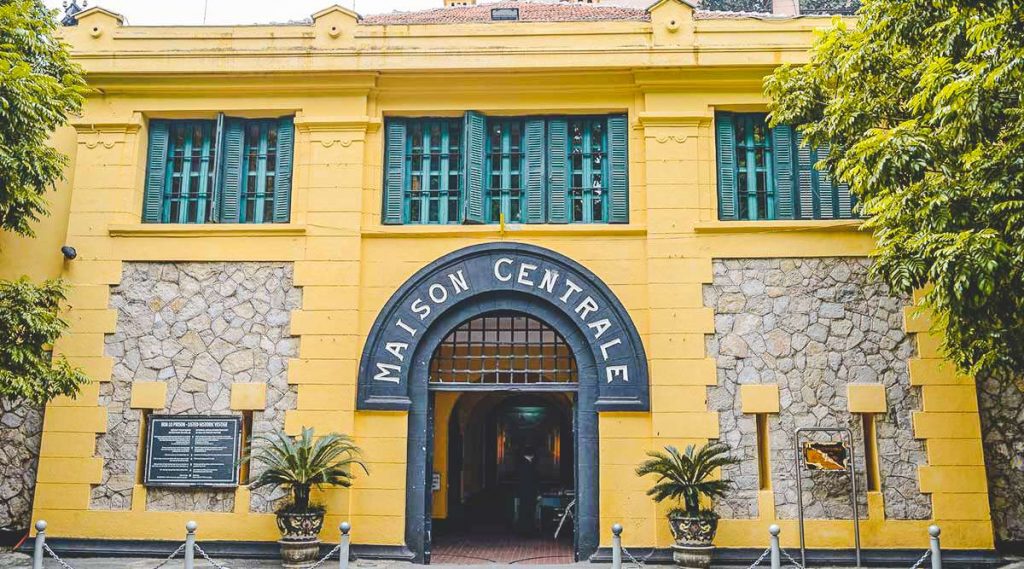 Hoa Lo prison in Hanoi, also known as Maison Centrale and the Hanoi Hilton, housed Vietnamese revolutionaries and American prisoners of war during the Vietnam War. The fort was once a huge colonial-style prison, most of which was demolished in the 1990s. Now it is a museum, where you can learn more about the time of French rule.
Saint Joseph Cathedral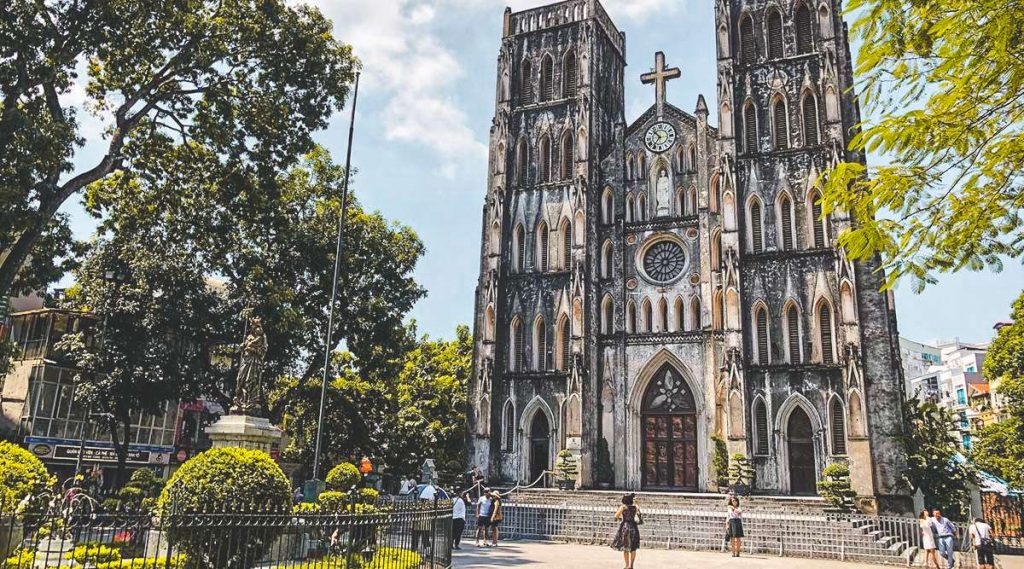 The oldest church in Hanoi, St. Joseph's Cathedral, is the first building of the French colonial government in Indochina.
Dong Xuan Market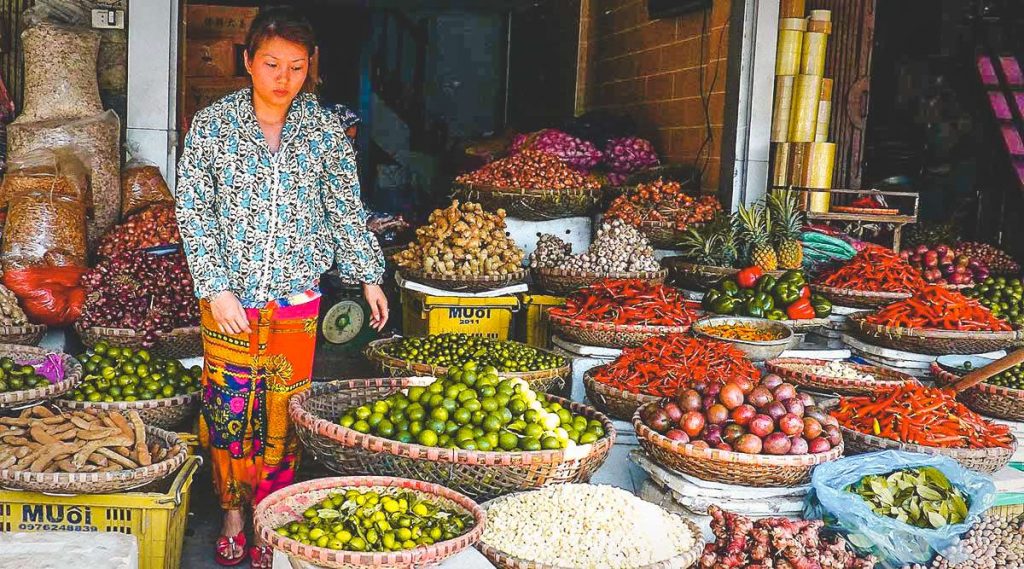 Dong Xuan market is the largest market in Hanoi and has a wide range of products for sale over four floors. Located on the northern edge of the old quarter, it is an imposing Soviet-style building, surrounded on all sides by shops and stalls.
Hanoi Weekend Night Market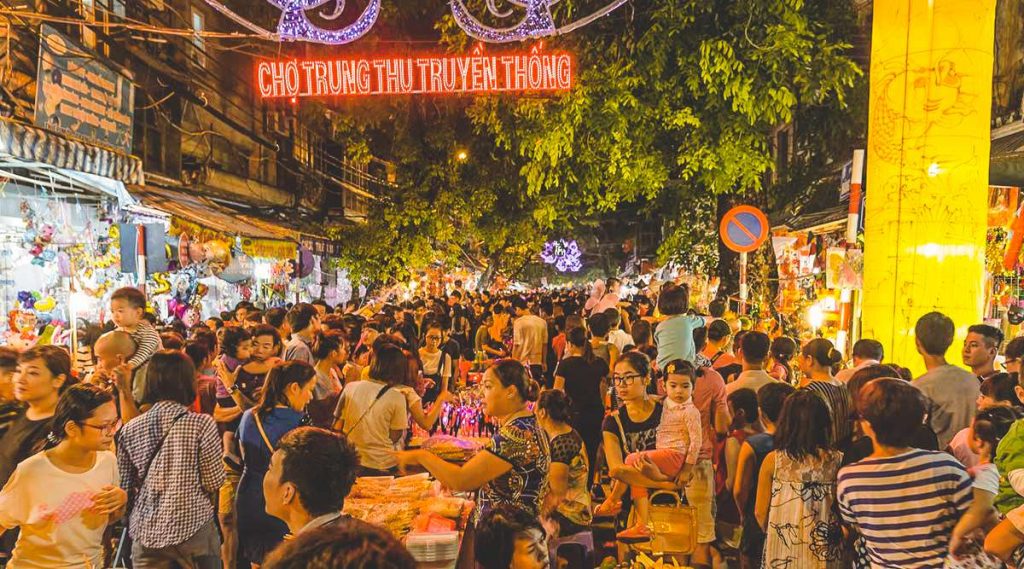 The Weekend Night Market in Hanoi is a busy, lively gathering of stalls and sellers. The market runs through Hanoi Old Quarter every Friday, Saturday and Sunday from 7 pm. You will find clothing and souvenirs, but the best are the endless food stalls that sometimes also sell interesting and exotic food …
Bach Ma Temple
The Bach Ma temple dates from the 11th century and is known as the oldest of its kind in the old quarter of Hanoi.
Ma May ancient house
This old house was built at the end of the 19th century with the typical architecture of that time. It has been restored and reflects the traditional architecture of the old quarter of Hanoi.
Long Bien Bridge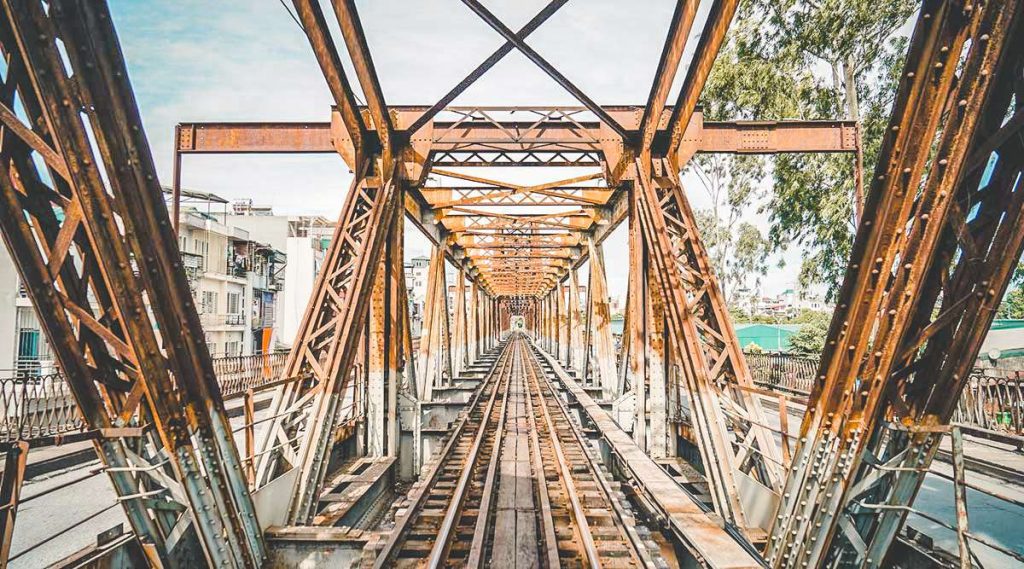 The Lange Bien bridge was bombed several times during the American war and quickly restored by the Vietnamese. Designed by Gustave Eiffel (known from the Eiffel Tower).
Hotels and hostels in Hanoi Old Quarter
The best hostels
Old Quarter View Hanoi Hostel
Central Backpackers Hostel – Old Quarter
Hanoi Vietnam Backpacker Hostels Downtown
The best hotels
Hanoi Old Town Hotel
New Vision Palace hotel
Hanoi Graceful Hotel
Hanoi Trendy Hotel & Spa
Hanoian Elite Home Hotel
Thebest High end hotels
Essence Hanoi Hotel & Spa
Hanoi La Siesta Hotel Trendy
Hanoi La Siesta Central Hotel & Spa
Restaurants and food
Bun Cha Huong Lien: This street tent was announced by TV presenter Anthony Bourdain who sat here with the former American president Barack Obama.
Bún Bò Nam Bo: Try the bún bò nam bo (Southern style beef noodle salad).
Banh Mì 25: Delicious banh mì sandwiches.
Bun Cha Nem Cua Be Dac Kim: Serves one of the best nem chua (crab meat rolls) and bun cha (grilled pork with noodles) in the city.
Green Tangerine Restaurant Hanoi: Nice brasserie-style restaurant with authentic Vietnamese and French cuisine.
The Veg – Organic Vego & Tea: Good option for vegetarians.
Nightlife in Hanoi Old Quarter
The old quarter of Hanoi is busy at night, especially during the weekend. It would be a shame if you spent a night in Hanoi without going out at least once.
Bia Hoi Corner: Punctually on one is Bia Hoi Corner, also called Bia Hoi Junction or Bia Hoi street. This area is especially popular with backpackers because they can enjoy the famous bia hoi (Vietnamese draft beer) for only VND 5,000. The atmosphere here is very busy, with countless shops with plastic stools on the street.
Water puppet theater: A "must visit", with live music and performances about the local lifestyle.
Hanoi Weekend Night Market: Busy, lively gathering of stalls and vendors every Friday, Saturday and Sunday from 7 a.m.
Legend Beer Hanoi: Located on the third floor of a building in the center of Hanoi, with a beautiful terrace overlooking the busy traffic and Hoan Kiem Lake.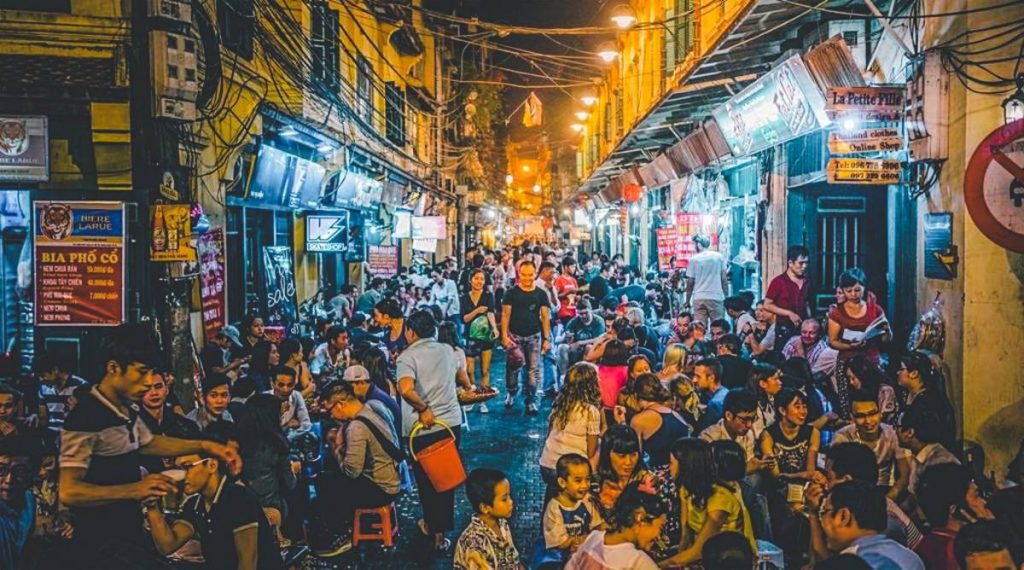 Shopping
Hanoi Old Quarter is a shopping paradise because it offers many unique types of handicrafts, souvenirs, clothing and the like at reasonable prices. Here are some highlights around the old quarter of Hanoi where you can shop:
Hanoi night market (Hang Dao Street – after 7 pm every Friday, Saturday and Sunday): Clothing, accessories and lots of street food.
Dong Xuan market (Dong Xuan Street): They sell everything here.
Hang Da Market (Hang Da Street): clothing
Hang Dau Street: Shoes for both men and women
Trang Tien Plaza (Hang Bai Street): Clothing