The Ho Chi Minh Museum in Hanoi shows exactly what you already suspect: the life of the greatest president Vietnam has known, Ho Chi Minh. There are museums dedicated to Ho Chi Minh in every major city and city in Vietnam, but none like this one.
It's museum was designed by the same Soviet architects who also designed the Ho Chi Minh Mausoleum 300 meters away. Construction was also funded substantially and assembled with support from the Soviet Union.
Ho Chi Minh Museum
The entire museum is a comprehensive account about the life Ho Chi Minh, with 8 chronological topics. The first, from 1890 to 1910, is about his upbringing, hometown and childhood. The second topic is about the next decade in which Ho Chi Minh traveled the world to find a way to save the country from colonialism.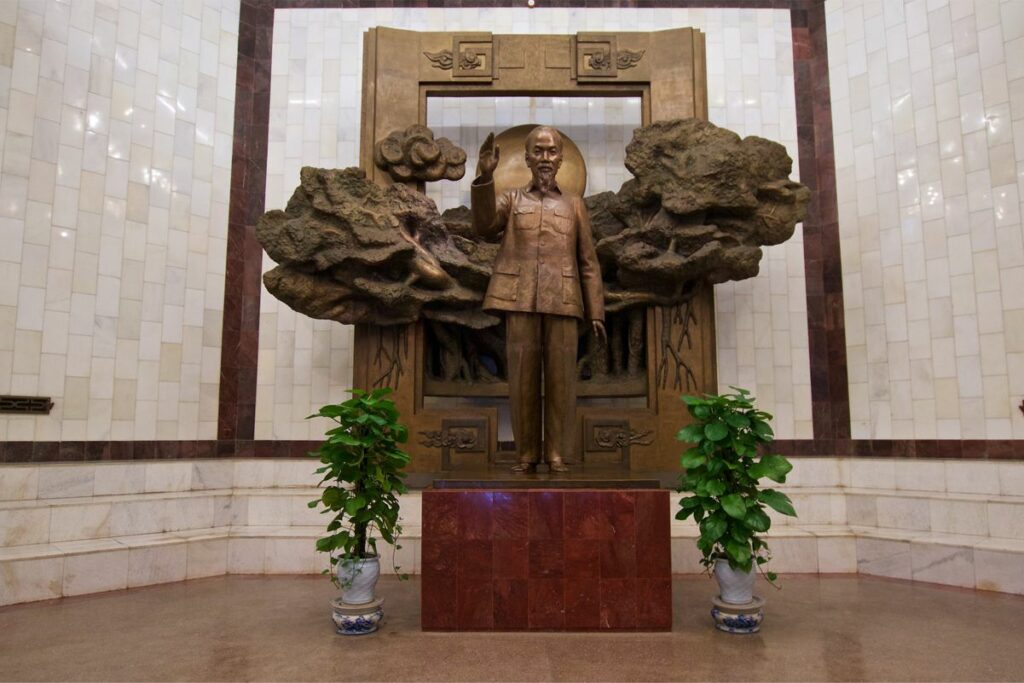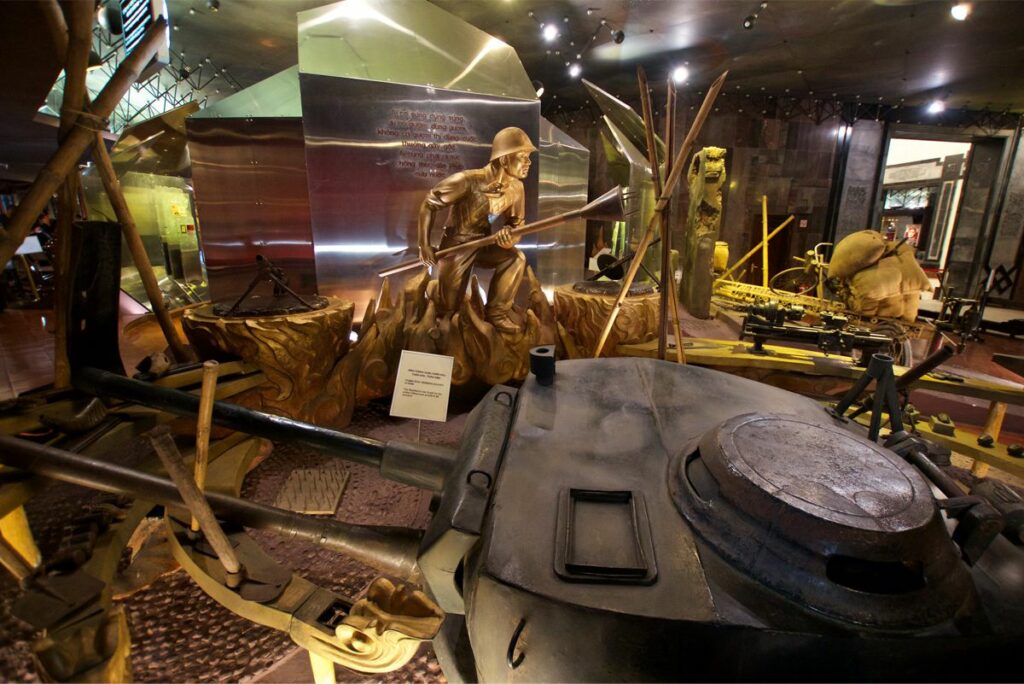 The following three topics are about the time of 1920-1945, depicting how Ho Chi Minh translated the influence of the Marxism and Leninism ideal into the founding of the Vietnamese Communist Party and the pursuit of national independence. From 1945 to 1969, the timetable is on topics 6 and 7, where the national hero is mainly discussed in his political life until his death.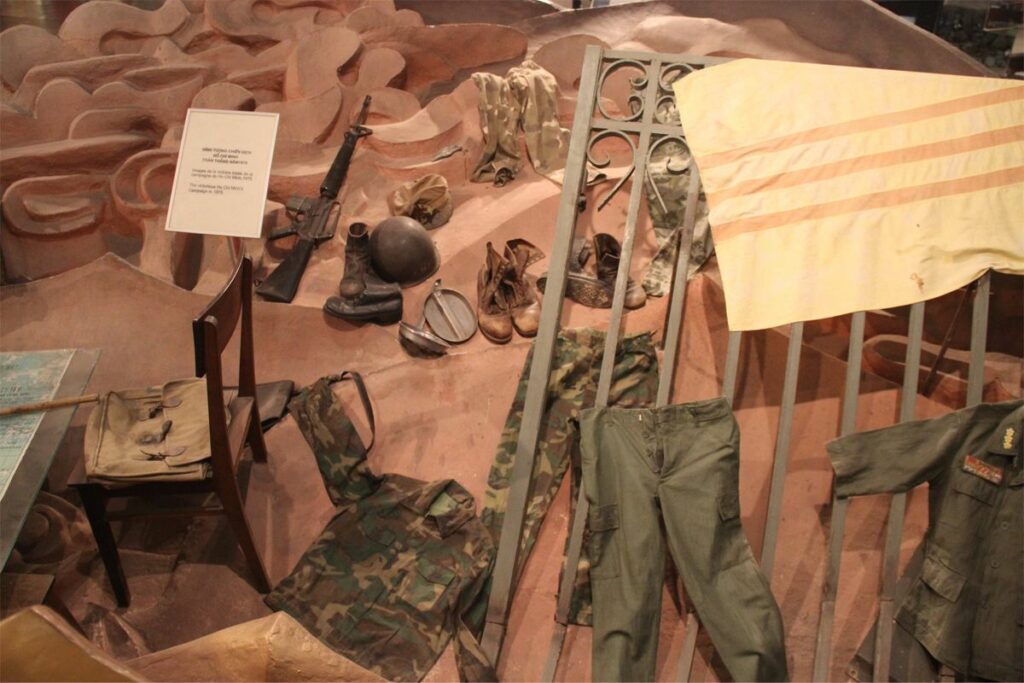 The museum is a collection of items, miniatures and more than 2000 photos and documents about the struggle of socialism. There is also a description in English and French, as well as guided tours on request.
Is the museum worth visiting?
If you have a lot of time in Hanoi and you like learning about the history, then yes it is nice to visit. Ho Chi Minh is considered the most important person that ever lived in Vietnam. Every student in Vietnam has to learn about him. To understand more about the culture and how Vietnam is formed, a visit to the museum is very interesting. If you are not into this or don't have much time, we would rather recommend other museums in Hanoi.
Visiting information & opening times
Reserve a maximum of two hours for visiting Ho Chi Minh Museum. Photography is prohibited in the museum. Bags and cameras can be left at the reception.
Address: 19 Ngoc Ha, Ba Dinh, Ha Noi (Location on Google Maps)
Opening hours: Every day except Monday and Friday, from 8:00 am to 11:30 am and from 2:00 pm to 4:30 pm
Entrance fee: 10,000 (USD 0.45)
Great places to visit around Ho Chi Minh Museum
Ho Chi Minh Museum is around 2.5 km from Hanoi Old Quarter, so it might be too far to walk and not worth the taxi ride. Luckily in the same area there are some of the best things to do in Hanoi.
Right next to the museum you will find the One Pillar pagoda, one of the most sacred temples in Hanoi. The pagoda is was built of wood on a single stone pillar and resembles a lotus blossom. Right next to that and just a few hundred meters from the museum you will find the Ho Chi Minh Mausoleum. This huge cubic building is the last resting place of Ho Chi Minh. In the park behind this building you can find the Presidential palace of Vietnam and a small pond with Ho Chi Minh's Stilt House . This use to be the resident of former president Ho Chi Minh.
If you don't mind to wander a bit further, then about 1 km or 15 minutes walking, you will find the Imperial City of Thang Long. The citadel dates back to the 7th century, when its very first foundation was set up. If you walk another kilometer south you will get to the Temple of Literature. This was built in 1070 originally as a university and has been very well preserved.
Local market
If you wan to get away from the crowds you can visit a local market opposite to Ho Chi Minh Museum in a small alley. There are a lot of different options for eating here, like Pho (Vietnamese noodles) and Che (Vietnamese dessert) and Banh Mi (filled baguette). It is not only a very cheap lunch you can get here, but also a very local experience.