Markets in Ho Chi Minh City are an essential part of the city's culture, offering a vibrant and immersive experience for both locals and travelers. From bustling wet markets brimming with fresh produce to specialized markets catering to unique interests, the city is a haven for market enthusiasts. Exploring these markets allows you to engage with the local community, indulge in delicious street food, and discover a wide array of traditional crafts and souvenirs.
Markets in Ho Chi Minh City
Ho Chi Minh City, the vibrant metropolis of Vietnam, is home to a multitude of markets that play an integral role in the daily lives of its residents. Divided into districts and further into wards, almost every ward in the city boasts at least one market. Unlike Western countries where supermarkets dominate, locals in Ho Chi Minh City rely on these markets as their primary source for groceries, often visiting them on a daily basis to procure fresh food for the day.
These markets have a rich history, with some dating back many years and others housed within colonial buildings that add to their unique charm. While some markets are structured within covered spaces, others sprawl out onto the streets, creating a bustling atmosphere filled with the sights, sounds, and aromas of local life. In addition to the regular markets, there are specialty markets catering to specific needs and interests. From souvenir markets where you can find unique mementos, to flower markets bursting with vibrant blooms, to military surplus markets and motorbike parts markets, the diversity of specialty markets in Ho Chi Minh City is boundless.
Exploring the markets of Ho Chi Minh City provides a fascinating glimpse into the local culture and lifestyle.
1. Ben Thanh Market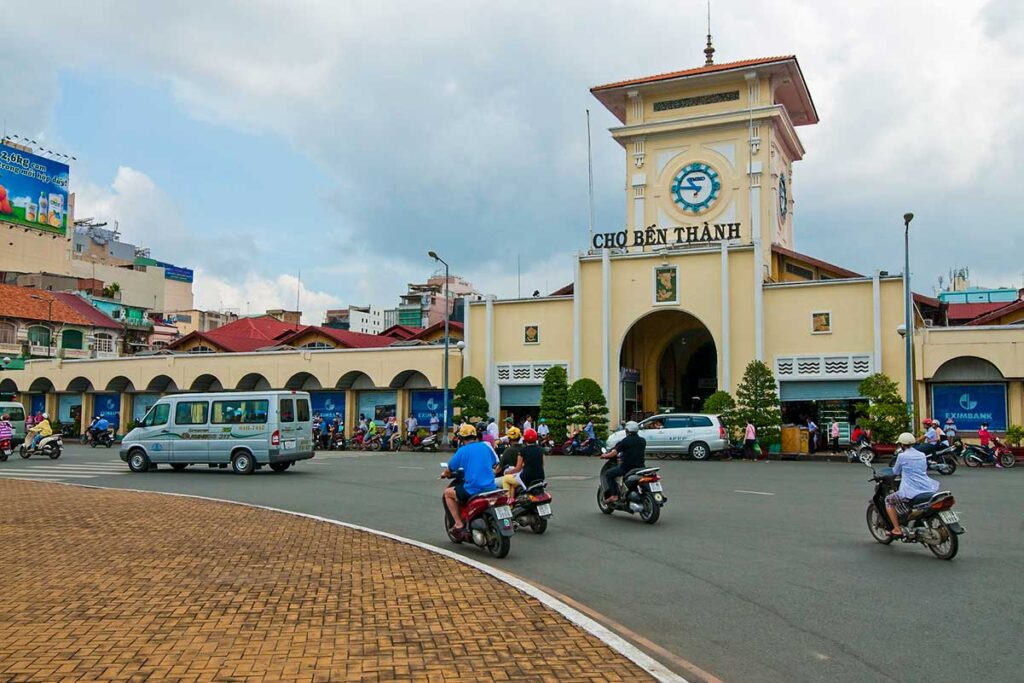 Located in the bustling District 1, Ben Thanh Market is a renowned market in Ho Chi Minh City. With its vibrant atmosphere and diverse range of products, including clothing, handicrafts, spices, and street food, it is a must-visit destination for shopping souvenirs in Ho Chi Minh City.
Address: Le Loi Street, Ben Thanh Ward, District 1.
2. Binh Tay Market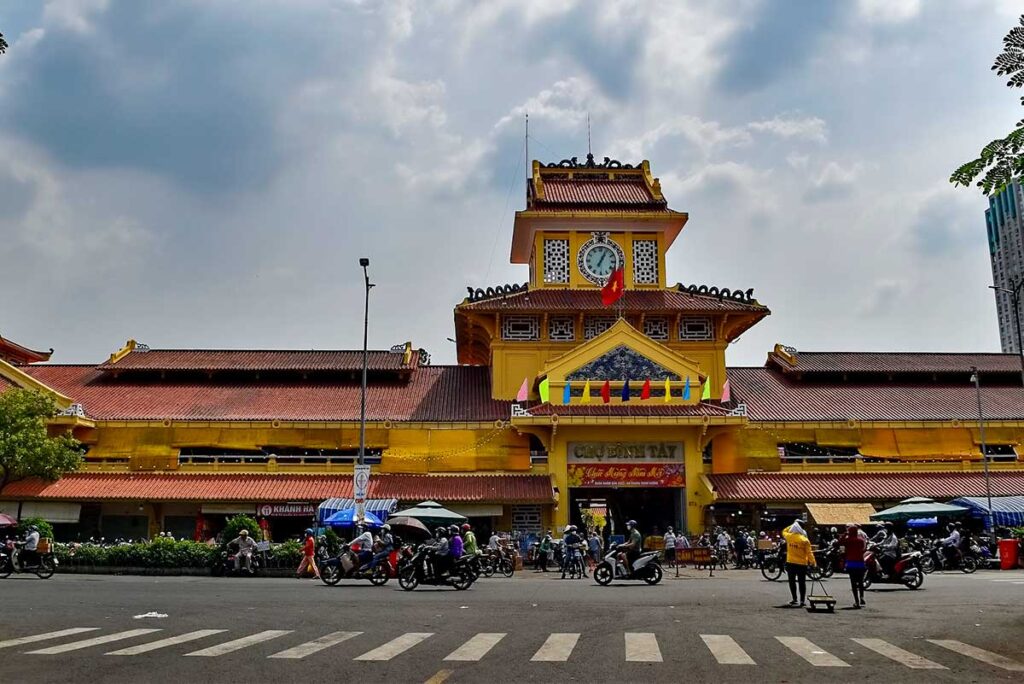 Situated in the heart of Chinatown (District 6), Binh Tay Market offers a glimpse into the local Chinese-Vietnamese community. This wholesale market is known for its fresh produce, dry goods, and traditional Chinese medicines. It's a great place to explore and experience the bustling market atmosphere.
Address: Thap Muoi Street, Ward 2, District 6.
3. Tan Dinh Market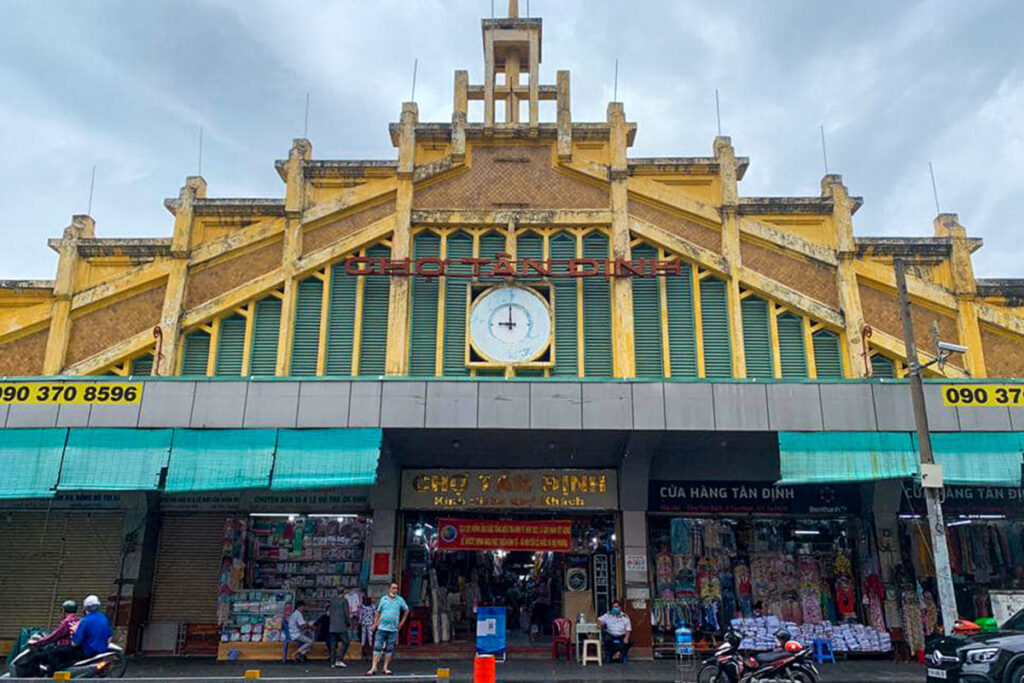 Nestled in the charming neighborhood of District 1, Tan Dinh Market is a favorite among locals for its wide array of fresh produce, seafood, and local delicacies. It is a great spot to immerse yourself in the daily lives of the residents and indulge in the vibrant flavors of Vietnamese cuisine. Don't forget to also visit the eye catching pink church here.
Address: Hai Ba Trung Street, Ward 8, District 1.
4. An Dong Market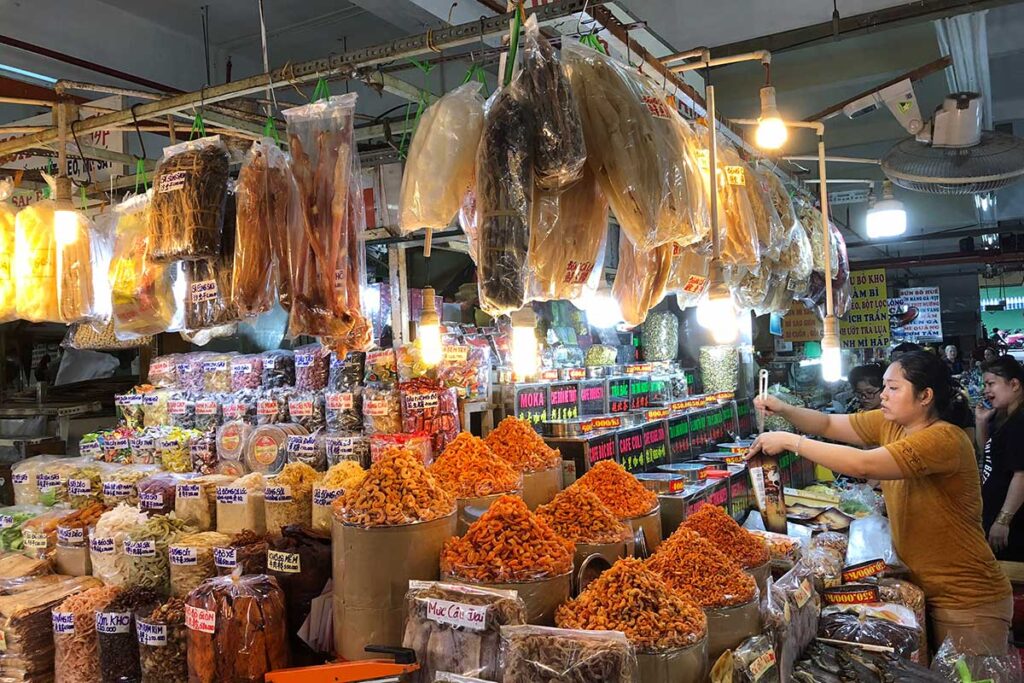 Located in District 5, An Dong Market is a bustling market known for its fashion items, fabrics, and textiles. It is a treasure trove for those looking for quality fabrics at affordable prices. Explore the various stalls and find unique fabrics or tailor-made clothing.
Address: An Duong Vuong Street, Ward 9, District 5.
5. Tan Binh Market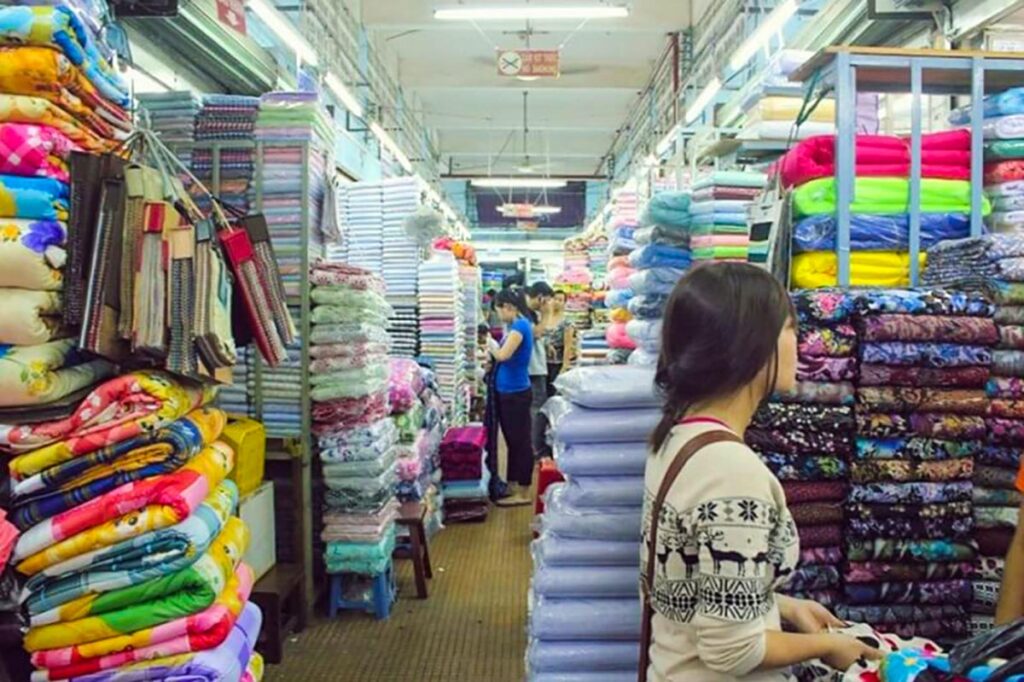 Situated in Tan Binh District, Tan Binh Market is a local market where residents shop for daily necessities. Here, you can find fresh produce, household items, and local snacks. It offers an authentic experience away from the tourist crowds, giving you a glimpse into the daily lives of the locals.
Address: Tan Binh District, Ho Chi Minh City.
6. Ho Thi Ky Flower Market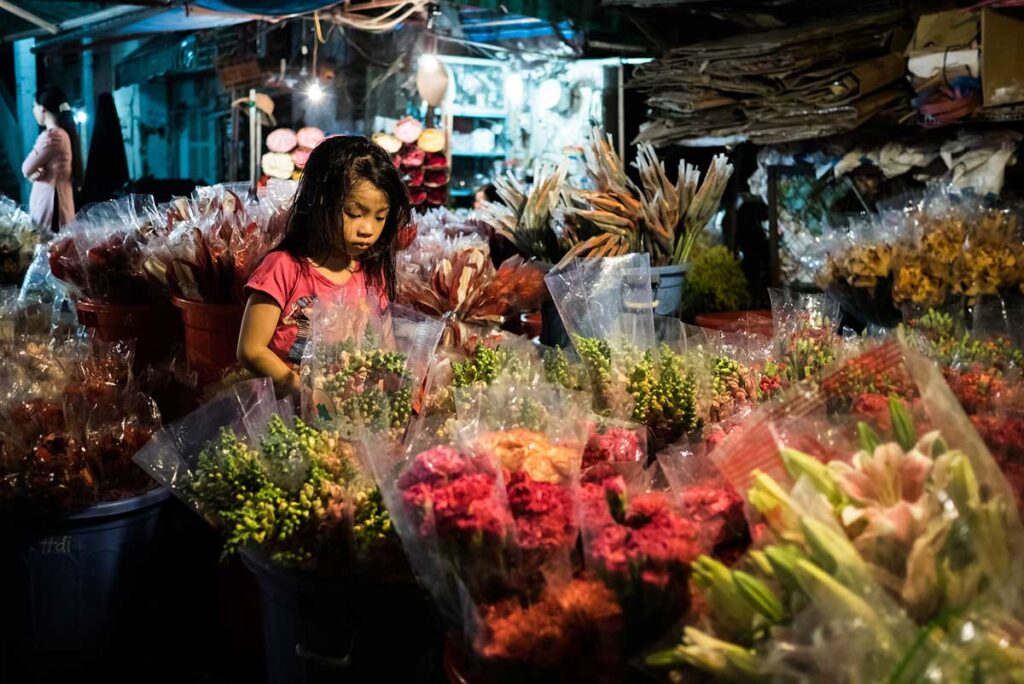 Known as the largest wholesale flower market in Ho Chi Minh City, Ho Thi Ky Flower Market is a paradise for flower enthusiasts. Located in District 10, this bustling market offers a wide selection of flowers, plants, and floral decorations. Stroll through the market's vibrant displays and immerse yourself in the beauty and fragrance of the flowers.
Address: Ho Thi Ky Street, Ward 1, District 10.
7. Russian Market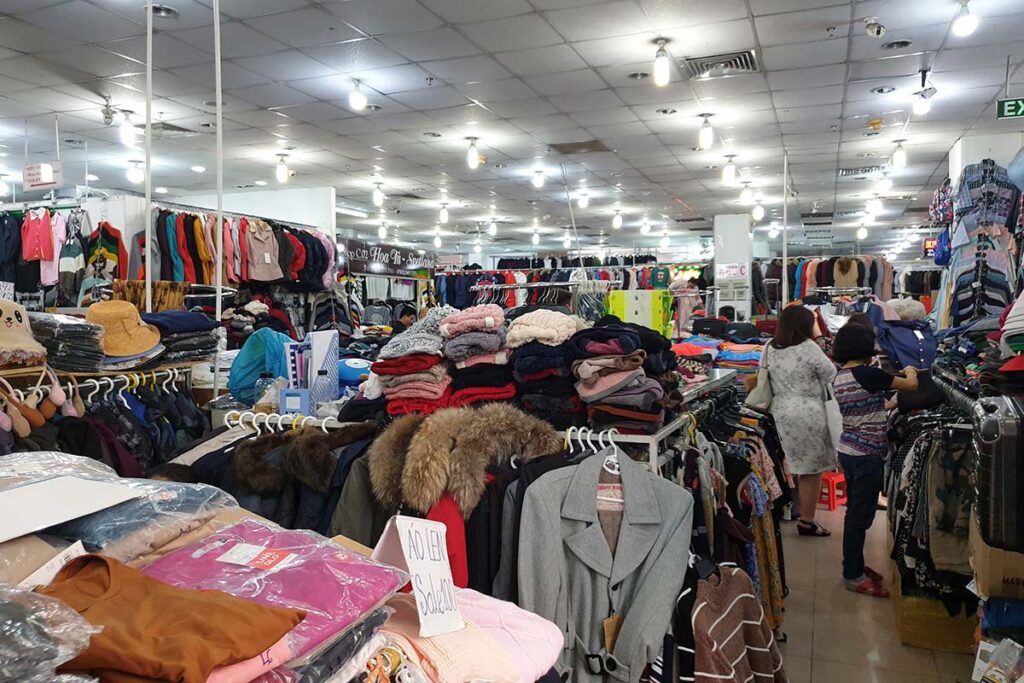 Situated in District 1, Russian Market is a popular shopping destination for affordable clothing, accessories, and souvenirs. It gained its name due to the influx of Russian tourists in the past, and it continues to attract visitors with its unique offerings. Explore the market's stalls and find budget-friendly items while enjoying the lively atmosphere.
Address: Nguyen Thai Binh Street, Ward 1, District 1.
8. Ba Chieu Market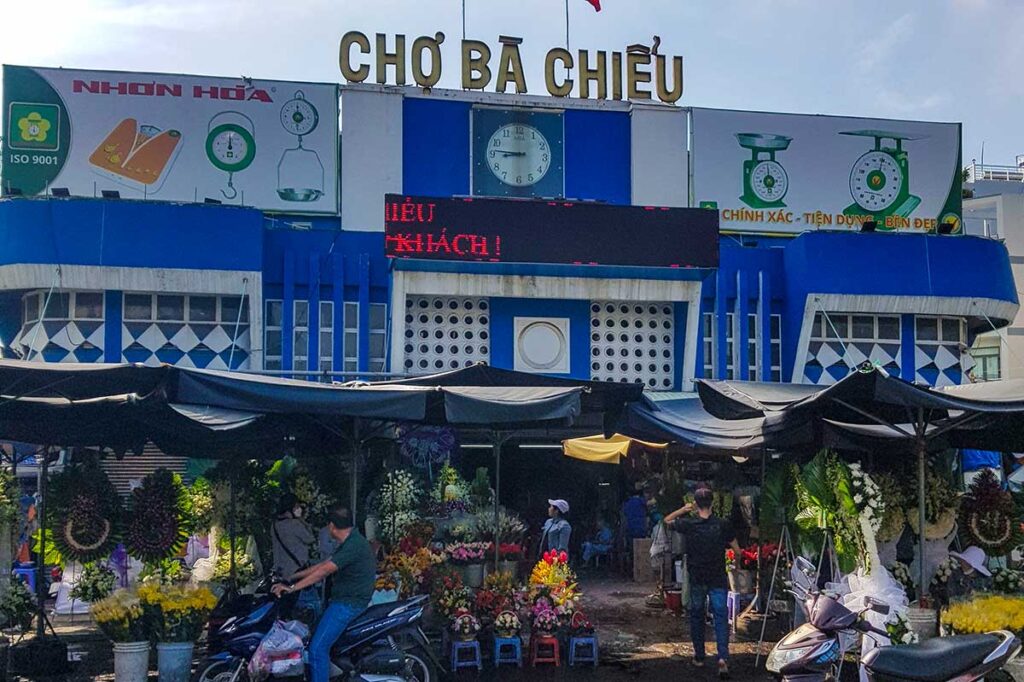 Located in Binh Thanh District, Ba Chieu Market offers an authentic local experience. With its combination of a dry market and wet market, you can find a variety of goods ranging from clothing and jewelry to fresh produce and street food. Immerse yourself in the bustling atmosphere and enjoy local delicacies.
Address: Le Quang Dinh Street, Ward 8, Binh Thanh District.
9. Hoa Binh Market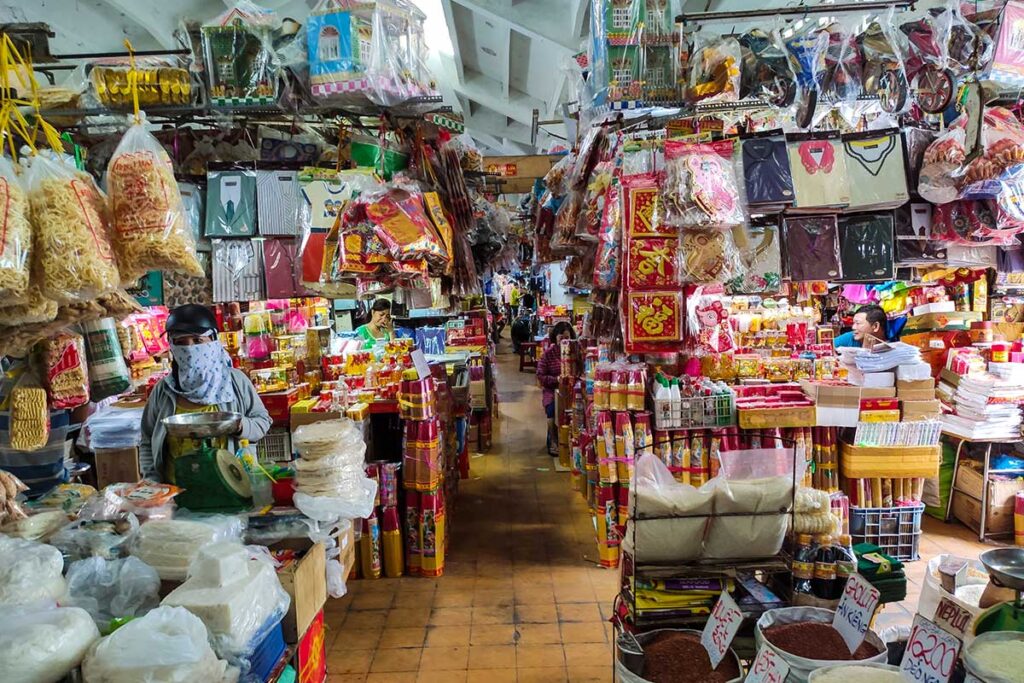 Situated in District 5, Hoa Binh Market is a vibrant market offering a wide range of products, from food and fashion to houseware and kitchenware. It is a favorite among locals for its affordable prices and diverse selection. Explore the market's various sections and discover hidden gems.
Address: Bach Van Street, Ward 5, District 5.
10. Dan Sinh Market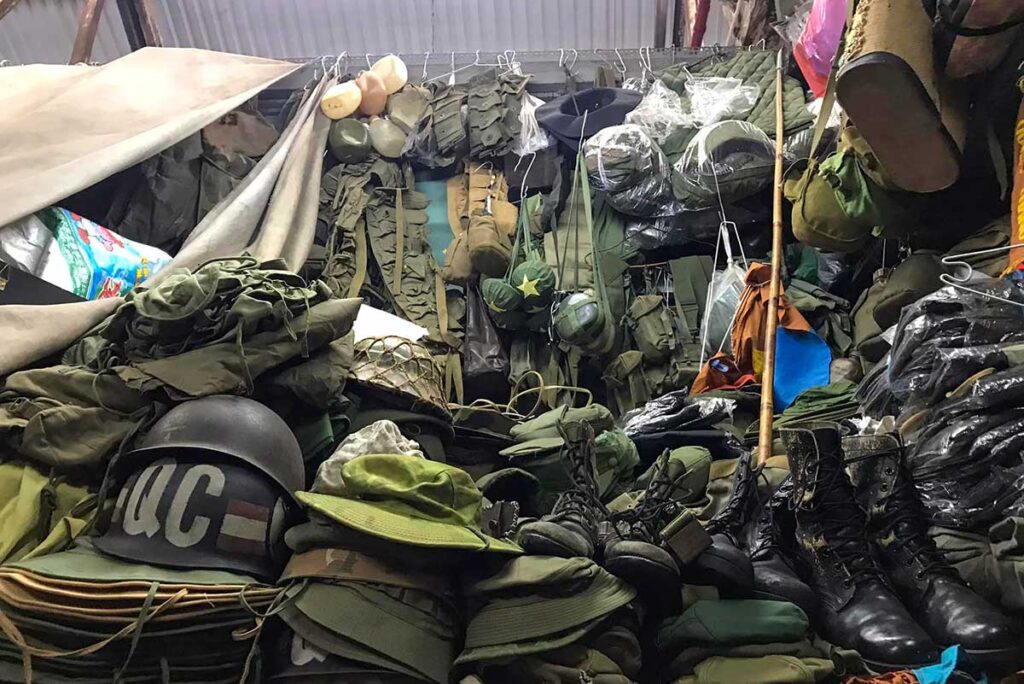 Known as a war surplus market, Dan Sinh Market in District 1 is a unique shopping destination. It offers a wide array of military equipment, memorabilia, and antiques related to the Vietnam War. If you're interested in history and searching for distinctive items, this market provides a fascinating experience.
Address: Yersin Street, Nguyen Thai Binh Ward, District 1.