Tan Binh Market, established in the 1960s, is a prominent fabric wholesale market that has expanded over the years to include shops offering cheap wedding dresses, suits, and wedding accessories. While there is a designated market building, the market area extends beyond its premises, with numerous shops lining the surrounding streets, creating a bustling and vibrant atmosphere. Whether you're seeking fabrics, garments, or jewelry, Tan Binh Market provides a diverse range of options for shoppers in search of affordable and quality products.
Visiting information
Address: Tan Binh Market, District 6, Ho Chi Minh City, Vietnam
Opening times: 5:00 AM – 6:00 PM (Animal, meat, poultry, seafood, vegetable area opens at 5:00 AM, while all stores, kiosks, and shops open at 6:00 AM)
Tan Binh Market is located in District 6, which is quite far from the city center of Ho Chi Minh City, approximately 6 km away. The most convenient way to reach Tan Binh Market is by taxi, which takes around 30 minutes and costs between 90,000 and 120,000 VND. Alternatively, you can use ride-hailing apps like Grab to check the fare upfront and enjoy a hassle-free journey to the market.
History of Tan Binh Market
Tan Binh Market has a history that dates back to 1960 when a small market was established at the crossroads of Ly Thuong Kiet and Le Minh Xuan Streets. Originally, it was a modest market serving local residents. However, in 1977, vendors from two open-air markets in Tan Son Nhat Market and Bay Hien Crossroads relocated to Tan Binh Market, giving it a significant boost.
After the reunification of North and South Vietnam in 1975, Tan Binh Market underwent repairs to accommodate the growing demand for business activities. Subsequent upgrades from 1982 to 1985 transformed Tan Binh Market into one of the largest shopping complexes in Ho Chi Minh City. In 1991, the market came under the direct control of the People's Committee of Tan Binh District, solidifying its importance in the local community.
The market building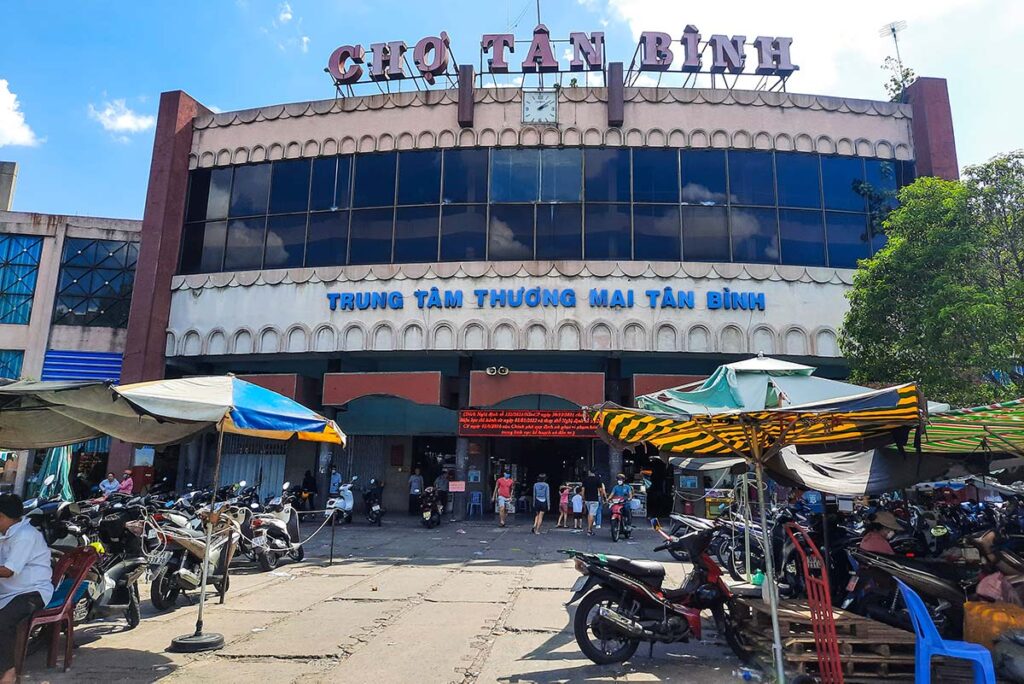 The architecture of Tan Binh Market is a blend of traditional and modern elements. Its facade, painted in brown and light orange, reflects an old design aesthetic, with glass cells in various shapes. The market features nine gates, including four main gates and five smaller gates, with the main entrance located on Ly Thuong Kiet Street. A square clock and the name of the market are on the top center of the building. The canopies, in dark brown orange, and triangular roofs contribute to the unique visual appeal of the market.
What you can find on Tan Binh Market
Tan Binh Market offers a wide range of products to cater to various needs. With approximately 3,000 vendors, the market is a bustling hub for shoppers. Here's a breakdown of the items you can find:
Wedding costumes and accessories: Tan Binh Market is renowned for its extensive collection of wedding dresses, suits, and accessories. From Western-style wedding gowns to traditional Ao Dai, customers can choose from a variety of options. The market also offers wedding accessories like headbands, ties, bows, artificial bouquets, and more.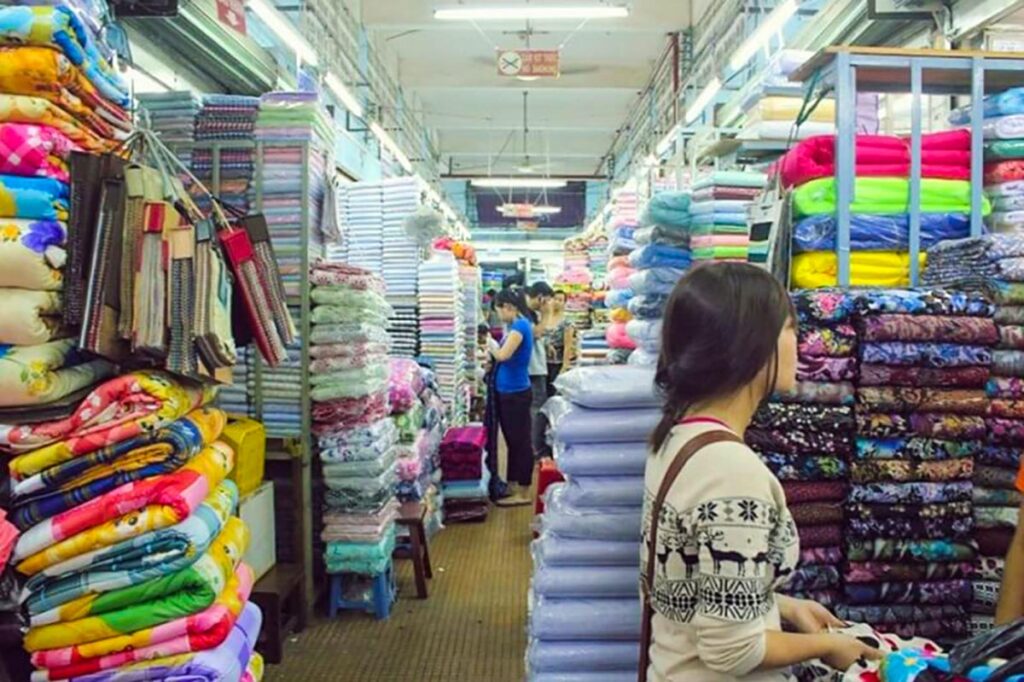 Fabrics: Tan Tien Street within the market area is dedicated to fabric stores, offering a vast selection of fabrics for retail and wholesale. These stores feature rolls of fabric from Vietnam, Thailand, Taiwan, China, Korea, Japan, Italy, and other countries, allowing customers to find materials for their sewing and design projects.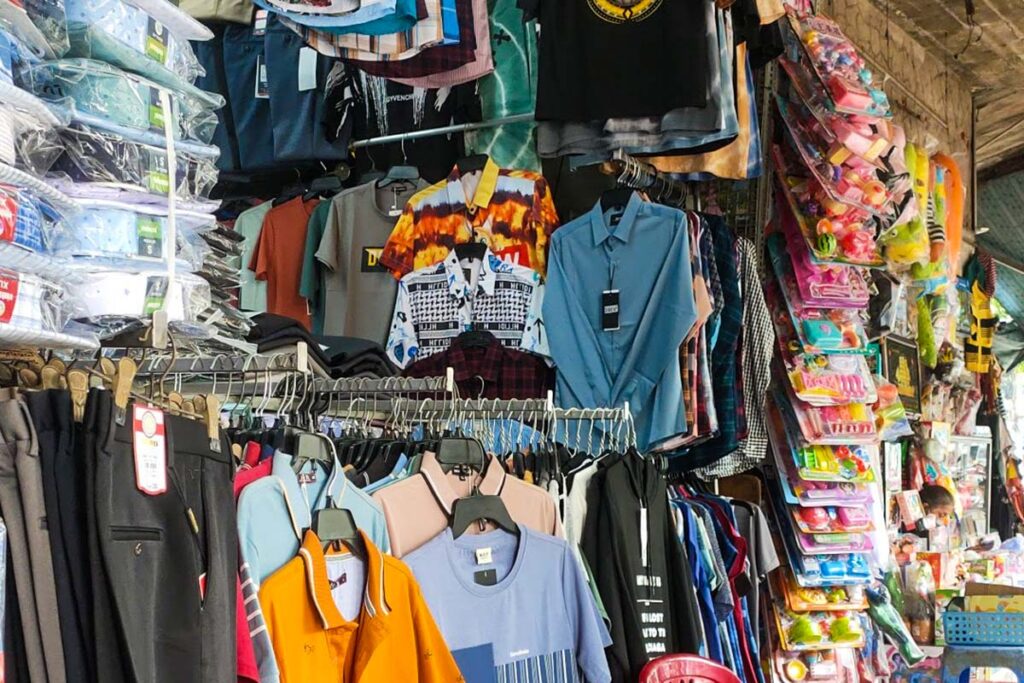 Ready-to-wear clothing: With over a hundred stores spread throughout the market building, as well as along Le Minh Xuan Street and nearby streets, Tan Binh Market offers a diverse range of ready-to-wear clothes. Visitors can explore a wide variety of trousers, pants, tank tops, blouses, shirts, T-shirts, dresses, skirts, and house clothes. The clothing options are sourced from both Vietnam and other countries, ensuring a good quality selection.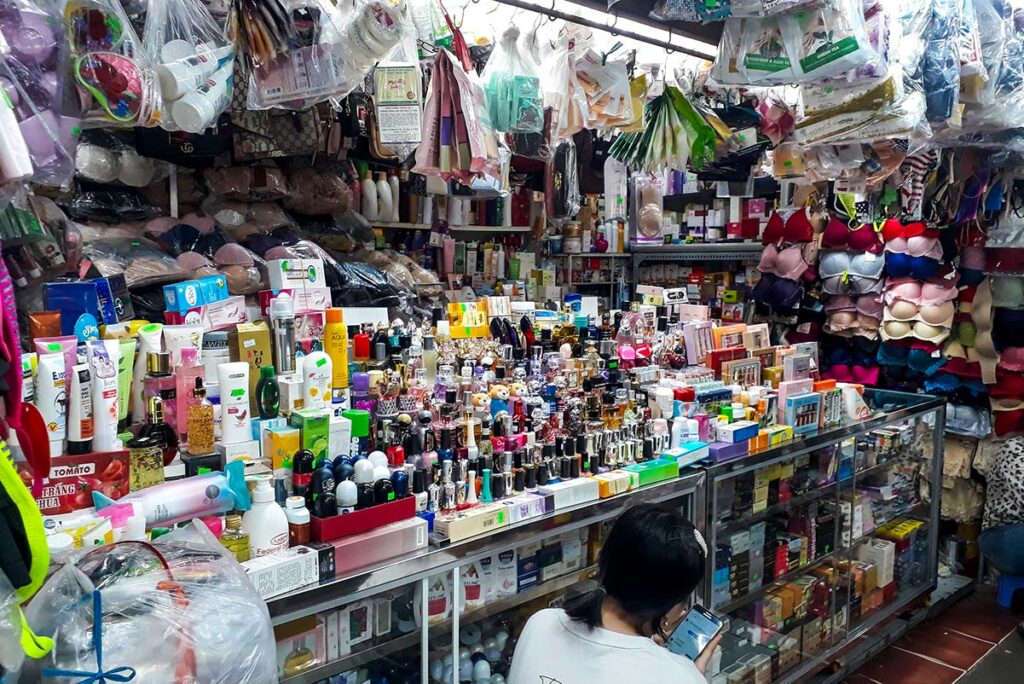 Accessories: Tan Binh Market also caters to accessory needs, including undergarments, socks, eyewear, jewelry, luggage, bags, backpacks, and toys. Shoppers can find a range of accessories to complement their outfits or fulfill their everyday needs.
Food at the market
Tan Binh Market not only offers a diverse range of products but also satisfies visitors' appetites with its enticing food options. Here's what you can expect in terms of food at the market:
Fresh street food: The food area at the back of the market features stalls selling Vietnamese traditional foods. You can find steamed rice with various main dishes, noodle soups like beef noodle soup and Hue beef noodle soup, traditional cakes, and more. These prepared meals provide a convenient and delicious option for a quick bite.
Drink stalls: Throughout the market, you'll come across drink stalls offering a variety of beverages. You can enjoy the classic Vietnamese iced tea, Vietnamese coffee, soft drinks, and refreshing juices.
Dried foods and ingredients: Alongside the prepared meals, the food area also offers dried foods, sauces, fermented foods, vegetables, meat, and seafood. This is where the locals come to purchase ingredients for cooking.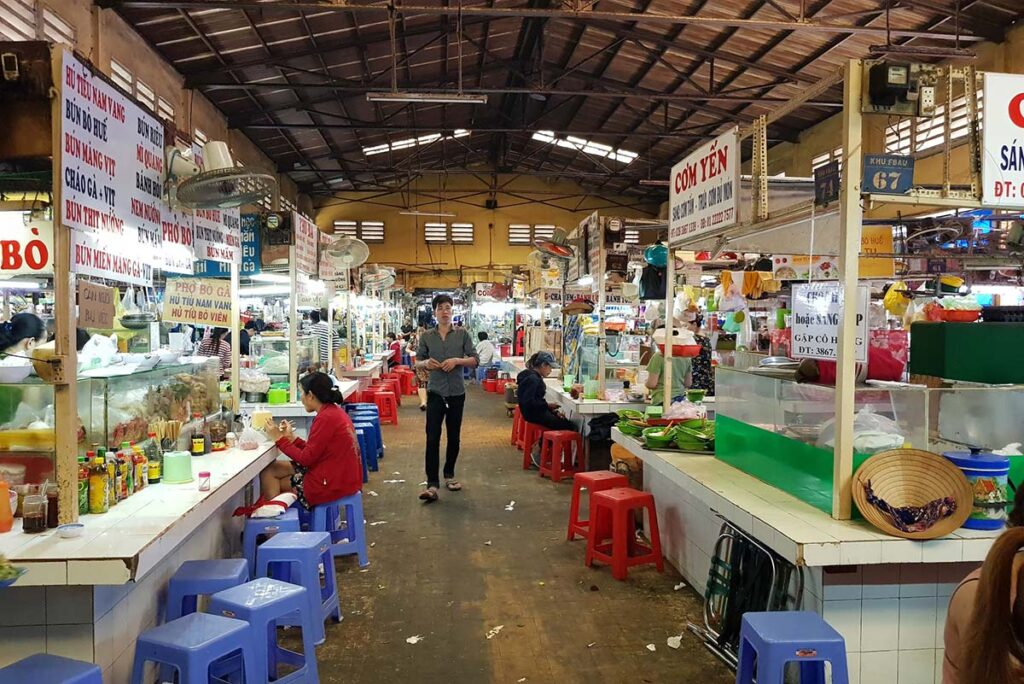 In addition to the stalls inside the market, on Le Minh Xuan Street, you'll find vendors setting up their street food stalls. These mobile carts and stalls offer a range of treats, such as soy milk, orange juice, kumquat tea, lime tea, coconut water, and kumquat juice. You can also indulge in dishes like crab soup cake, grilled pork rice noodle salad, and clear rice noodle soup.
Tips for visiting
Shopping opportunities: Don't miss the chance to shop at Tan Binh Market, even as a tourist. Remember to engage in bargaining to get the best prices for your purchases. It's part of the shopping culture in Vietnam.
Optimal visiting time: To fully experience the vibrant atmosphere of the market, consider visiting in the early morning when locals flock to the market for their daily shopping. If you prefer a quieter visit with fewer people around, the afternoon can be a suitable time.
Authentic local experience: Tan Binh Market is located quite far from the main city area, which means you'll encounter fewer tourists and have the opportunity to immerse yourself in an authentic local experience. Interact with the locals and observe their way of life, making your visit truly memorable.
Explore Giac Lam Temple: While there may not be many attractions in the immediate vicinity, you can venture just 1.5 km to reach Giac Lam Temple. This large and impressive temple is actively used by locals for worship and often bustling with visitors. It's a wonderful opportunity to witness local religious practices and experience the cultural richness of the area.