An Dong Market, situated in the vibrant Chinatown of Ho Chi Minh City, is a 70-year-old wholesale market renowned for its wide selection of clothes and accessories. This bustling market attracts a large number of visitors and locals alike, offering an authentic shopping experience. While primarily catering to the Vietnamese Chinese community, tourists can also find great deals on fashion items at An Dong Market.
Getting to An Dong Market
Address: No. 34 – 36, An Duong Vuong Street, Ward 9, District 5
Opening hours: 7:00 AM to 6:00 PM every day
An Dong Market is located in District 5, the heart of Chinatown in Ho Chi Minh City. To reach the market, you can take several buses such as routes 06, 139, 45, and 56. However, for a more convenient option, it is recommended to take a taxi. The market is approximately 3 to 4 km away from District 1, and depending on your location, a taxi ride will cost between 50,000 VND and 90,000 VND, taking around 15 minutes to reach your destination.
Short history
An Dong Market has a rich history dating back to the 1950s. It was established during a time when the Chinese community in Ho Chi Minh City thrived and flourished. The market was initially a small trading hub, mainly catering to the local Vietnamese-Chinese population.
Over the years, An Dong Market grew in size and popularity, becoming one of the most significant wholesale markets in the city. It gained a reputation for offering a wide variety of goods, particularly clothes and accessories, at competitive prices. The market's strategic location in Chinatown further contributed to its success and appeal.
Architecture and layout of the market building
An Dong Market, originally constructed in 1951 and later reconstructed in 1991 by the Vietnamese Chinese community, features a vintage and nostalgic architectural style. The market's design draws inspiration from buildings in Hong Kong from the 1980s and 1990s.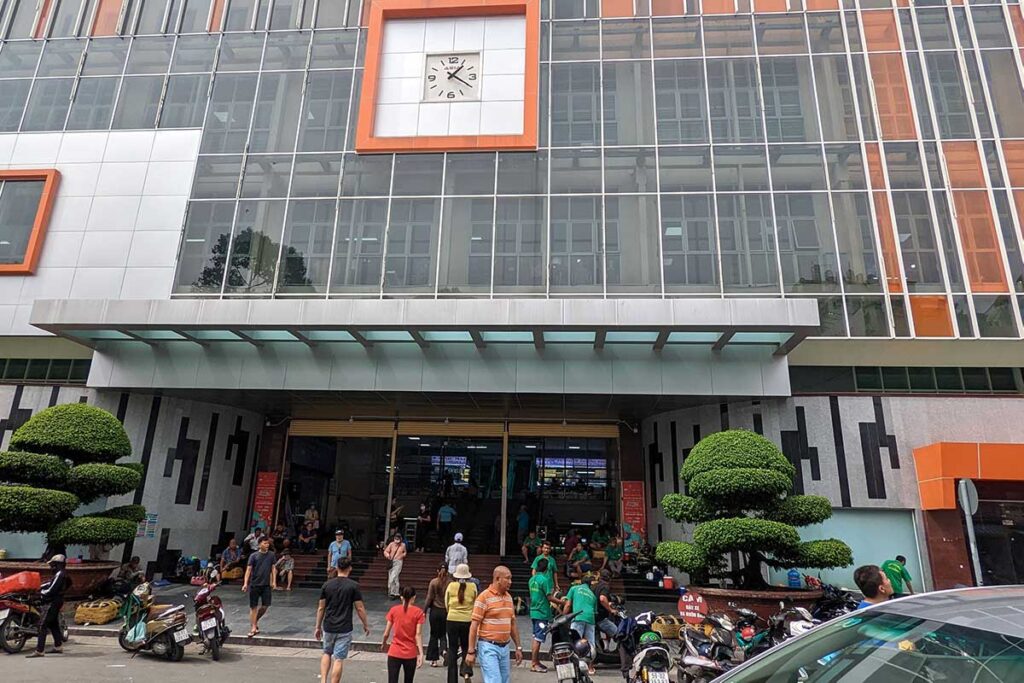 The market is characterized by its rectangular prism shape and its faded white color, which has taken on a grayish hue over time. The exterior is adorned with a concrete grid facade consisting of 306 cells. This unique design not only adds visual interest but also serves a practical purpose by providing protection from the elements while allowing for ventilation.
The building of An Dong Market spans multiple levels, including a basement, ground floor, and first and second floors. Each level is bustling with shops and stalls offering a diverse range of products, from clothing and accessories to electronics and household goods. The layout of the market is designed to maximize space and facilitate easy navigation for visitors.
What you can find on An Dong Market
An Dong Market is a bustling marketplace known for its diverse range of products, although it has gained particular fame for its extensive selection of fashion items.
Here's a glimpse of what you can find at the market: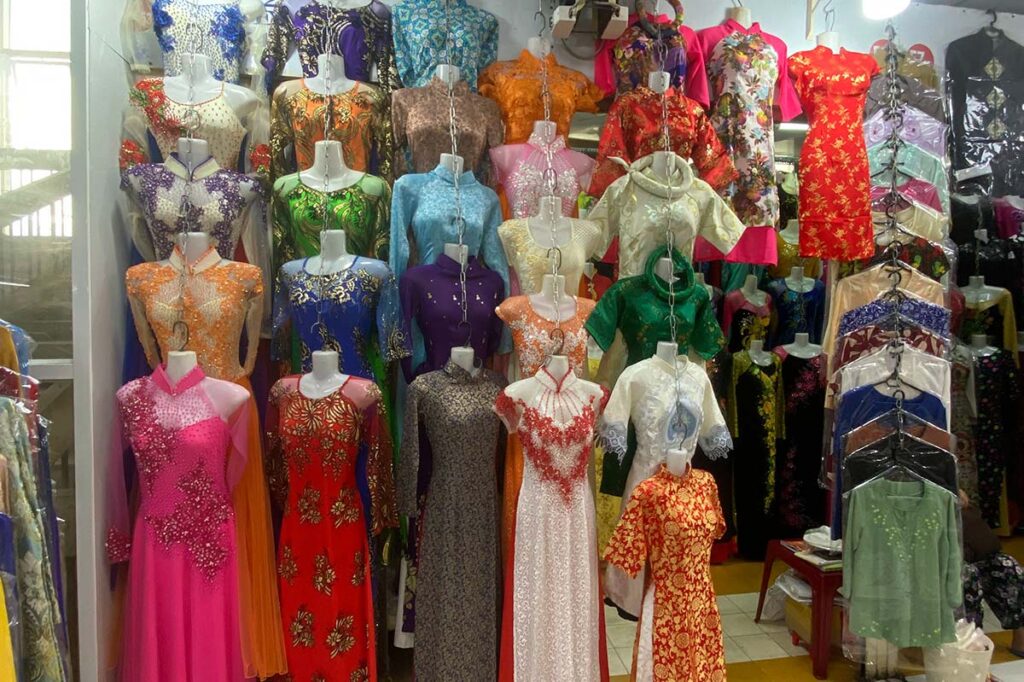 Clothing and Accessories: An Dong Market, the largest wholesale fashion market in Ho Chi Minh City, offers a wide range of fashion items not only for local retail stores but also for agents and businesses in the southern provinces. The market is a treasure trove of clothing fabrics, shoes, and fashion accessories sourced from various locations.
You'll find an assortment of fashionable clothing items such as dresses, shirts, pants, skirts, and traditional ao dai. Additionally, there are plenty of accessories including bags, shoes, belts, hats, and jewelry to complement your outfit.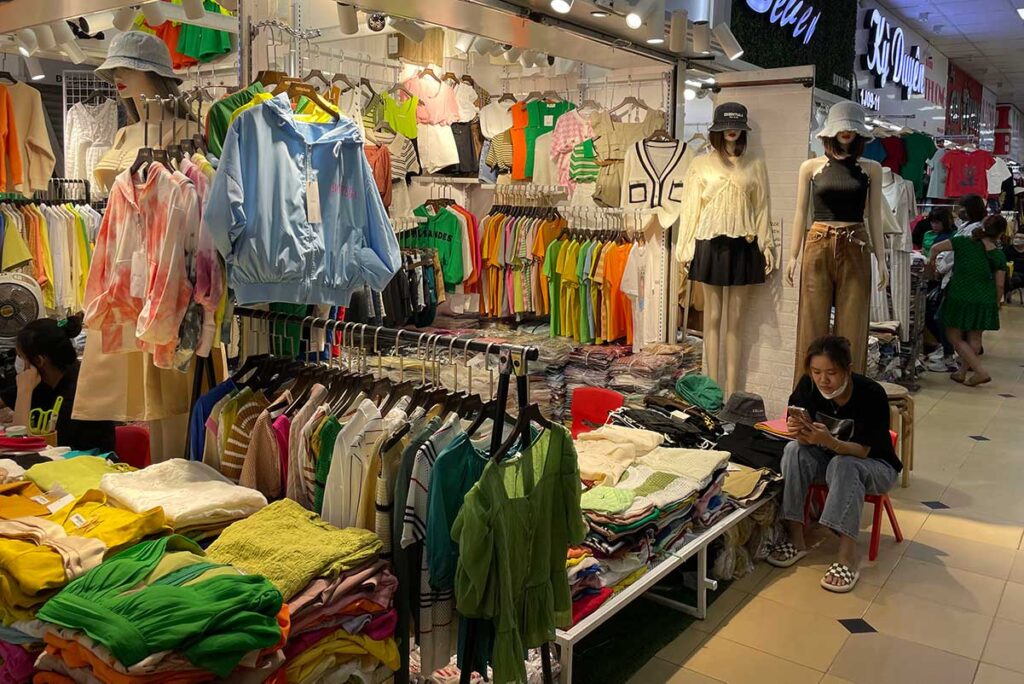 Whether you're looking for Guangzhou (China) products, domestic textiles, Japanese items, or Thai products, An Dong Market caters to different tastes and budgets, providing a diverse shopping experience for fashion enthusiasts.
Fabrics and tailoring services: The market is a haven for those seeking fabrics and tailoring services. With numerous fabric stores, you can explore a diverse range of materials such as silk, cotton, and lace to create custom-made clothing. Skilled tailors are also available on-site to bring your fashion ideas to life.
Electronics and gadgets: An Dong Market caters to tech enthusiasts with its selection of electronics and gadgets. From mobile phones and tablets to cameras, headphones, and other electronic accessories, you can find a variety of tech products at competitive prices.
Home goods and decor: The market offers an assortment of household items and decor pieces. You'll find kitchenware, tableware, home decor, bedding, and other essentials to spruce up your living space. Whether you're looking for practical items or decorative accents, An Dong Market has a wide range of options.
Cosmetics and beauty products: Beauty enthusiasts will find an abundance of cosmetics and beauty products at the market. From skincare and makeup items to hair care and fragrances, there are plenty of options to enhance your beauty routine.
Food at An Dong Market
At An Dong Market, the basement is a haven for food enthusiasts, with a variety of food stalls offering a range of local delicacies. From pre-made packaged foods like sweetened dried fruits and snacks to freshly prepared street food dishes such as broken rice with grilled pork chops and noodle soup, visitors can indulge in a satisfying culinary experience.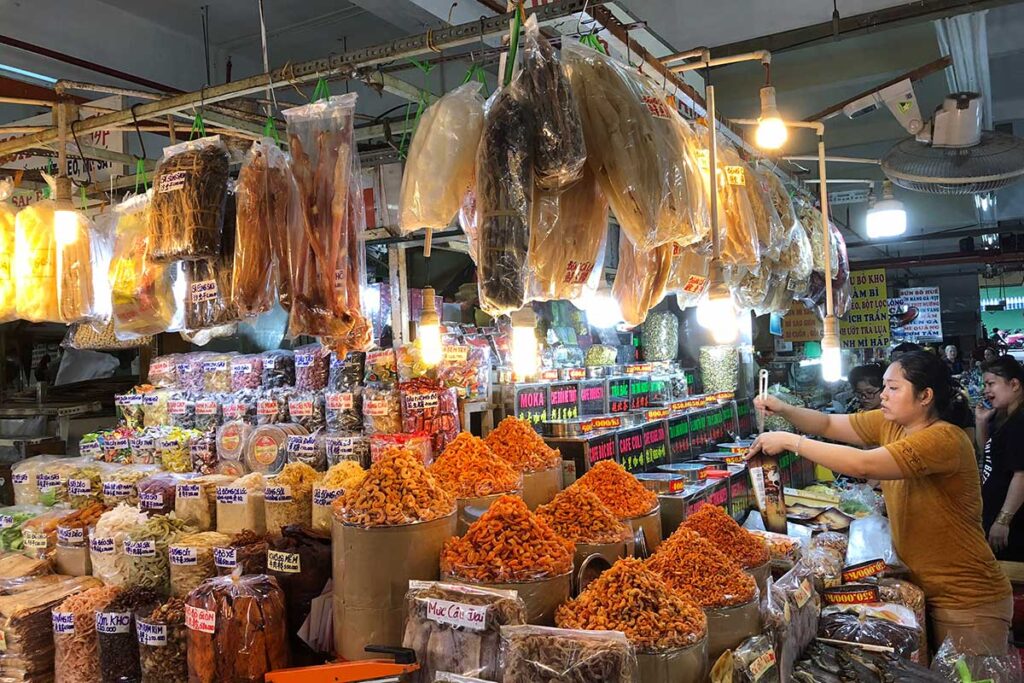 Additionally, there are sugarcane juice stalls, drink stalls serving coffee, iced tea, and soft drinks, as well as fruit stalls showcasing a selection of Vietnamese fruits that are ready to eat.
Visiting tips
Shopping: As a wholesale market, tourists are welcome to make purchases and explore the wide range of items available.
Bargaining: Bargaining is a common practice in the market, so feel free to negotiate for better prices.
Language barrier: Keep in mind that vendors at An Dong Market may have limited English language skills compared to vendors at Ben Thanh Market, so be patient and use gestures to communicate.
Explore and compare: Take a stroll around the market to explore different stalls and compare prices before making a purchase.
Play it cool: Avoid showing excessive interest in an item as it may weaken your bargaining position. Maintain a casual demeanor during negotiations.
Walking away: If a vendor does not accept your offer, don't hesitate to walk away. They may call you back with a better deal. If not, it indicates that your offered price was not reasonable.
Banking facilities: An Dong Market has ATMs available for customers to withdraw money. Additionally, most jewelry stores in the market offer currency exchange services.
Facilities: The market is equipped with staircases, escalators, and air-conditioning in certain areas.
Explore Chinatown: Take the opportunity to combine your visit to An Dong Market with other highlights in the Chinatown area.
Other sights close to An Dong Market
Located in the vibrant Chinatown area, a visit to An Dong Market offers a fantastic opportunity to explore the lesser-known parts of Ho Chi Minh City, providing a genuine and local experience away from the typical tourist spots. Within close proximity to the market, you'll discover remarkable temples like Thien Hau Temple, where you can immerse yourself in the rich cultural heritage of the Chinese community.
Additionally, a must-visit destination nearby is Binh Tay Market, the largest and most renowned market in Chinatown. Here, you can witness the bustling atmosphere of daily shopping among the local community, browse through an array of goods, and experience the vibrant ambiance of this historical trading hub. As you wander through the streets surrounding An Dong Market, you'll also come across hidden alleys and lanes that evoke the charm of Hong Kong or mainland China, offering a unique glimpse into the cultural fusion of this vibrant neighborhood.