Ho Thi Ky Flower Market, located in Ho Chi Minh City, is a bustling market known for its vibrant atmosphere and a wide variety of flowers. With its many alleys full of flower stalls and adjacent market offering exotic cuisines from Cambodia, it provides a unique experience for both the senses of sight and taste. The market showcases an array of fresh flowers, including traditional favorites and unique blooms, reflecting the significant role that flowers hold in Vietnamese culture.
Getting there
Address: Ho Thi Ky Street, Ward 1, District 10, Ho Chi Minh City, Vietnam.
The easiest way to reach the flower market is by taxi. From the city center (District 1), it is approximately 3 to 4 kilometers south to District 10. The taxi fare will range from around 50,000 to 70,000 VND, and the travel time can take around 15 minutes, depending on your exact location and the traffic conditions.
Exploring Ho Thi Ky Flower Market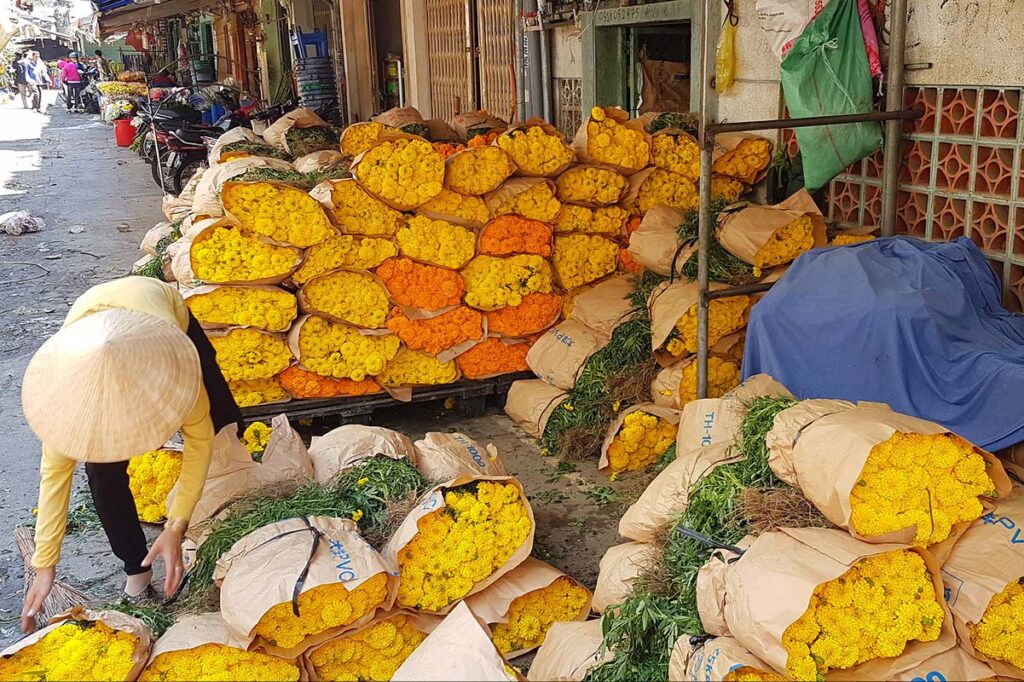 Flowers hold a significant place in Vietnamese culture, serving as expressions of love, celebration, and reverence. Whether it's for weddings, funerals, home altars, or occasions like opening a new shop or during Tet New Year, each flower and its color carries symbolic meaning. Ho Thi Ky Market, one of the largest flower markets in Ho Chi Minh City, is the perfect destination for those seeking fresh blooms and a glimpse into the vibrant local flower culture.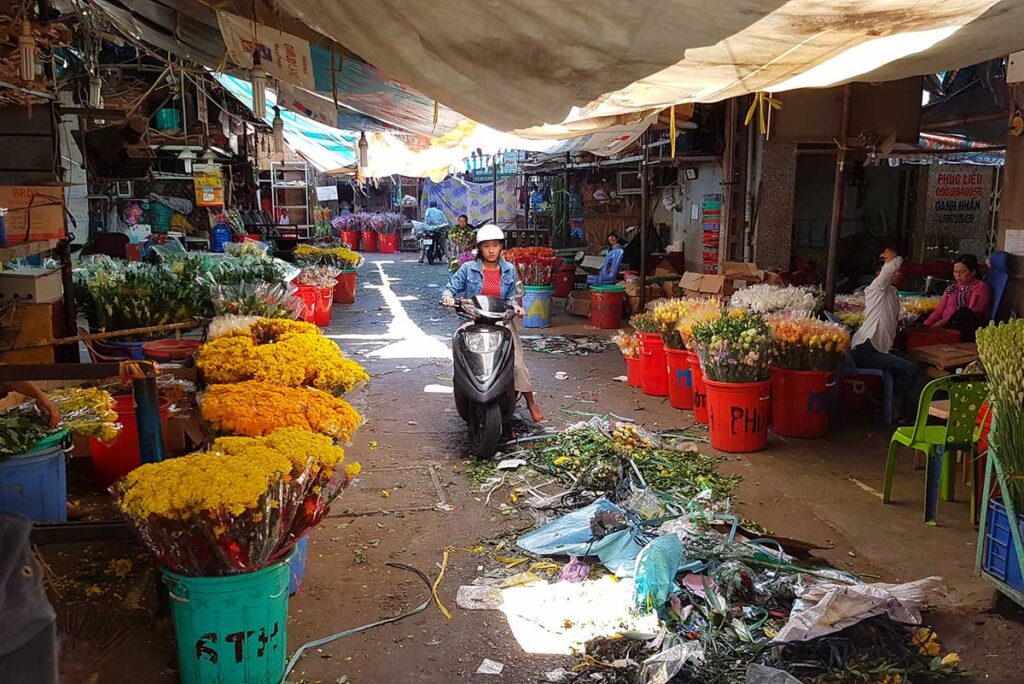 Located on Ho Thi Ky Street, just a turn from Ly Thai To Street in Ward 1, the market beckons with its entrance on the left and a multitude of flower shops scattered along its alleys. As you traverse the pathways of Ho Thi Ky Street, you'll encounter an array of flower shops, forming a tapestry of colors and fragrances. The market is divided into two sides, each offering a captivating exploration of the local way of life. The alleys, some leading to main roads like Le Hong Phong, Tran Binh Trong, and Hung Vuong, provide glimpses into the daily rhythm of the area.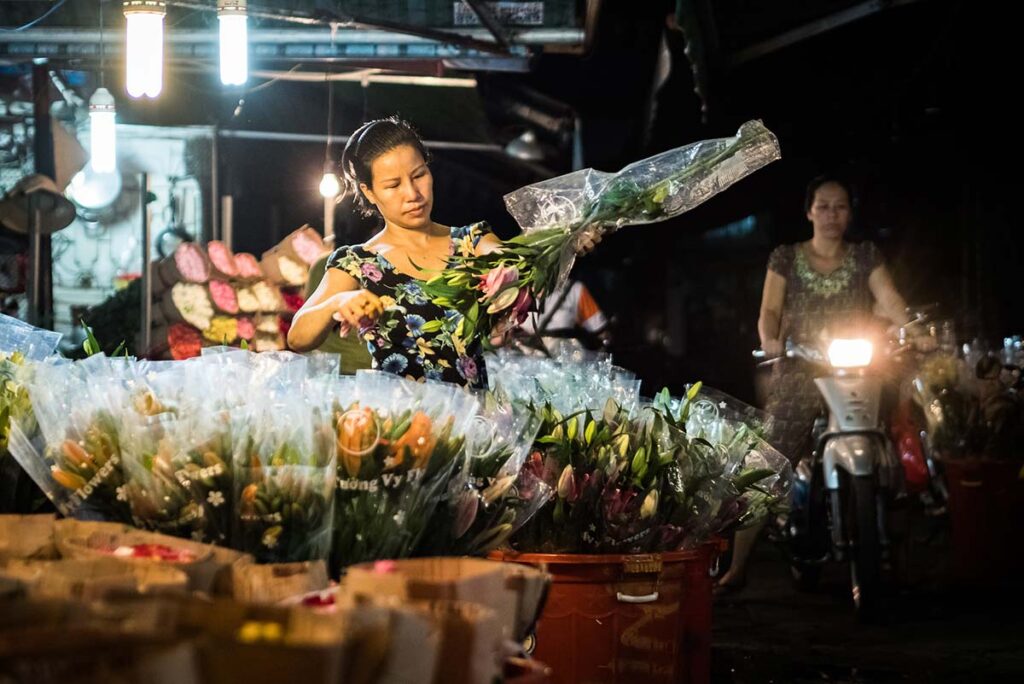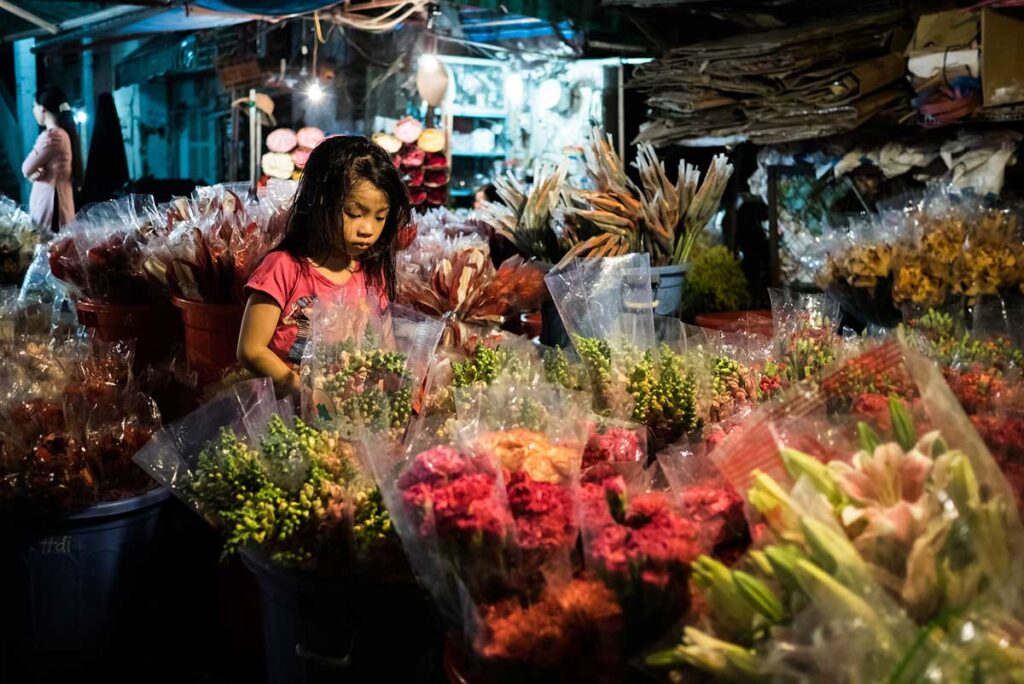 From the early morning until late at night, the flower shops and food stalls come alive with activity. For the freshest selection, visit before dawn around 4 AM – 5 AM, when trucks from provinces like Hanoi, the Mekong Delta, and Dalat deliver a bounty of flowers. Some exquisite blooms are also imported from Japan, Thailand, and China. The morning ambiance resembles a bustling wholesale market, as traders flock to purchase flowers in large quantities for distribution to local shops and other markets. The market truly thrives from 8 AM to 11 AM when locals descend upon it to personally select their favorite blossoms.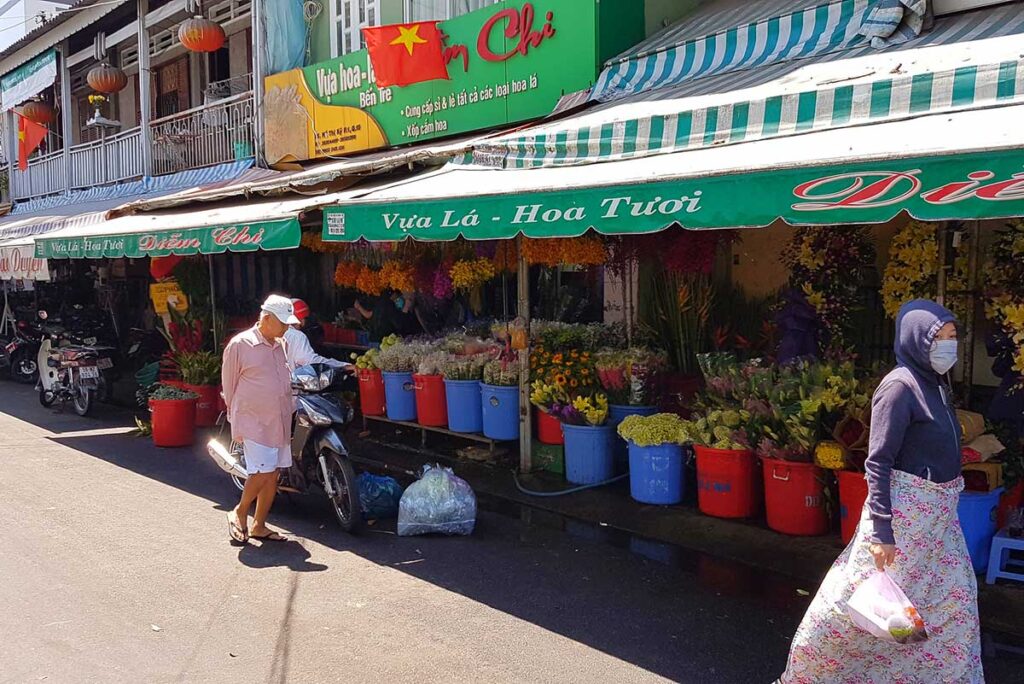 A remarkable variety of flowers graces the market, including orchids, lotus, sunflowers, and many more. Whether you seek freshly picked blooms or elegantly arranged bouquets, Ho Thi Ky Market caters to all preferences. With prices ranging from 2,000 to 3,000 VND per flower, it offers affordability without compromising quality. Bouquets and baskets are also available, allowing you to create your own personalized floral arrangements.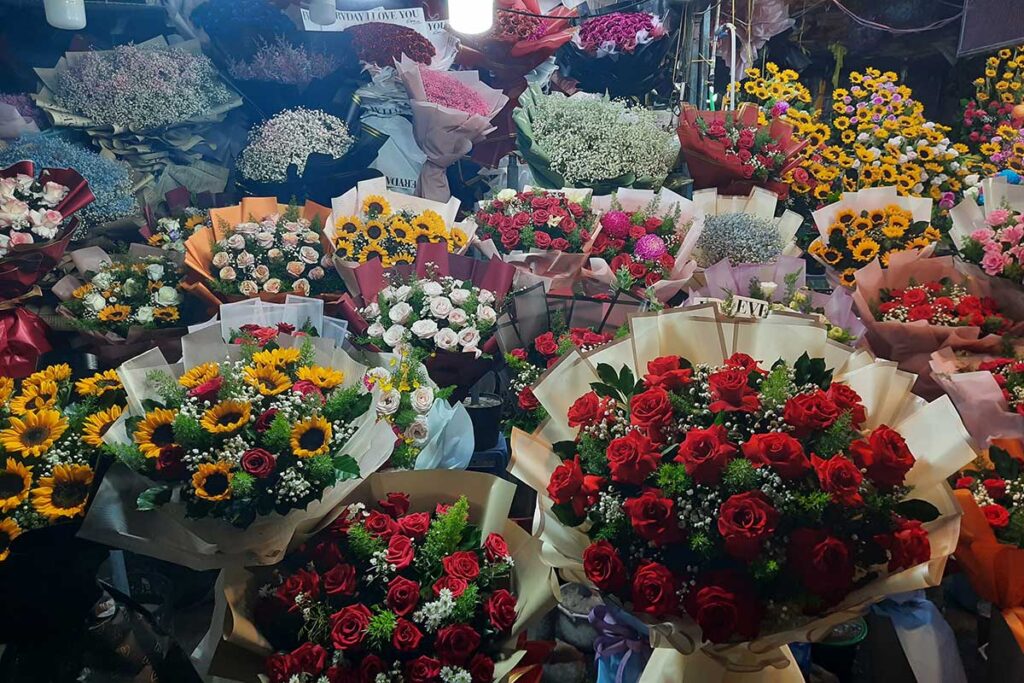 Street food market
Adjacent to Ho Thi Ky Flower Market, you'll discover another vibrant market that tantalizes your taste buds with exotic Cambodian cuisines. The alleys of Ho Thi Ky Street are renowned for their diverse and delectable street food offerings, where you can savor Vietnamese delights like Banh beo, Banh bot loc, Balut, as well as Cambodian specialties.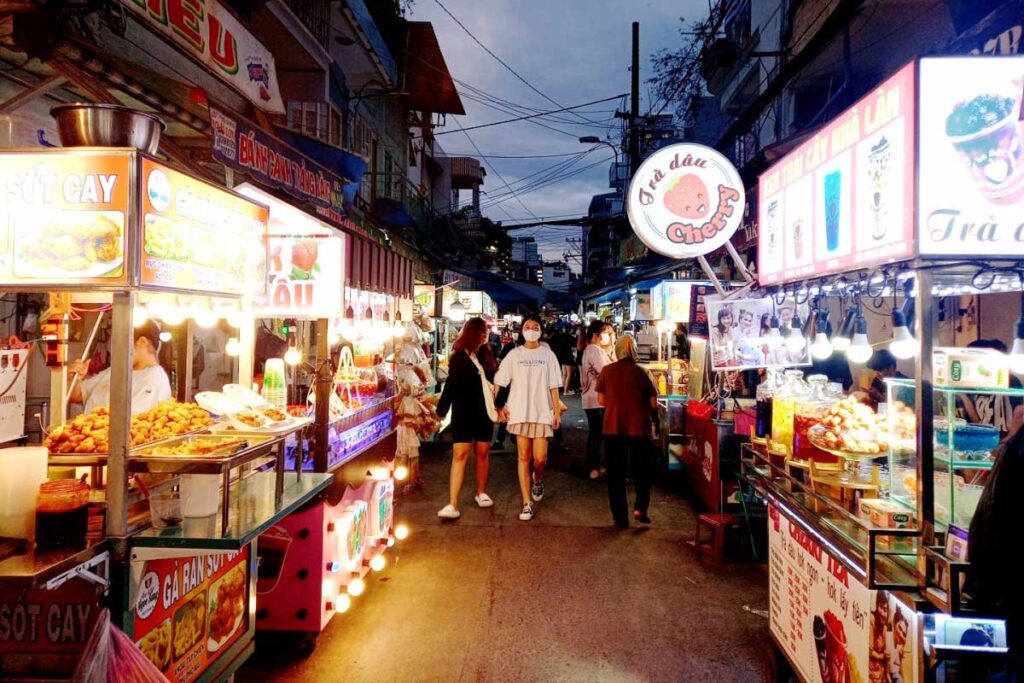 Le Hong Phong Market, known as the Cambodian market, is a bustling hub where Cambodian and Cambodia-Vietnamese vendors offer their unique products and traditional dishes. From 3 PM, as the evening approaches, the street comes alive with food stalls offering Saigon's signature foods and Cambodian dishes, making this area an even more lively atmosphere.
When you visit this area, follow the locals as they navigate the alley behind the flower market. The bustling energy and aroma of diverse street foods will guide you to this culinary haven, where you can experience the rich tapestry of Vietnamese street food culture. Keep in mind that the market can get crowded, so it may not be suitable for those who dislike large crowds. However, if you thrive on the vibrant atmosphere of bustling markets, this is an absolute must-visit destination.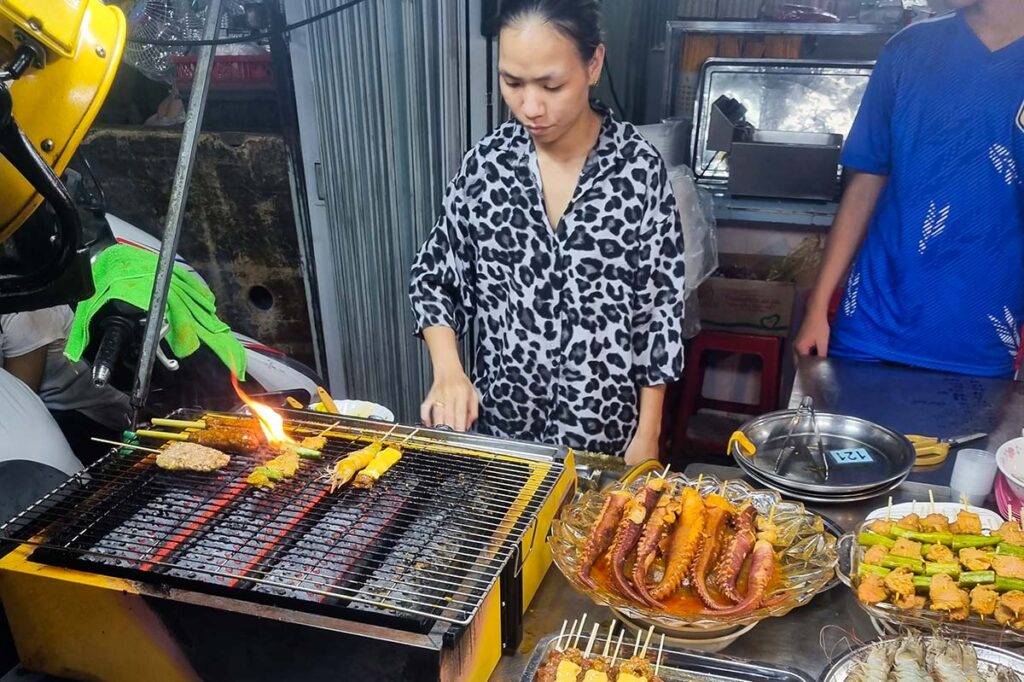 You'll find affordable beef hotpot and BBQ options priced around VND 150,000 – VND 200,000 per person. As the evening progresses, this spot becomes increasingly crowded, with eager salespeople vying for your attention, so it's helpful to have a destination in mind before diving in.
For an authentic taste of Hu Tieu Nam Vang, a beloved dish originating from Cambodia and Southwest Vietnam, you can't go wrong in this area. This rice noodle dish is typically served with shrimp, pork, fried shallots, peanuts, and bean sprouts. Indulge in the flavors of Hu Tieu Nam Vang, prepared by the locals who have preserved its original essence, for approximately VND 40,000.
Bun Num Bo Choc is a culinary gem that is rarely found elsewhere in Ho Chi Minh City. Hailing from Cambodia, this dish features vermicelli noodles in a turmeric-colored soup with snakehead fish. A bowl of this unique specialty can be savored for just VND 40,000.
For those with a sweet tooth, the Cambodian Market is a paradise of delightful treats. Explore the array of sweet soups and grilled bananas, indulging in the flavors of Cambodia. Prices for these sweet indulgences range from VND 10,000 to VND 20,000.
Visiting tips
Best Time to Visit: To experience the vibrant atmosphere of the flower market, it's best to visit in the early morning when it's bustling with activity. However, if you prefer a less crowded experience, you can visit in the afternoon. The flower market remains open in the evening, making it a great opportunity to combine your visit with the adjacent food market.
Tet New Year: Keep in mind that during Tet New Year, the market gets extremely busy and crowded. While it can be exciting to witness the festivities, it may be overwhelming for some people. Plan accordingly and be prepared for larger crowds during this time.
Explore Chinatown: If you're looking for other things to do in the area, head south towards Chinatown. This neighboring district offers a unique and authentic local experience with fewer tourists. You can explore various sights and attractions that showcase the rich heritage and culture of the Chinese community.
Respect for photographing: When taking photos at the stalls, be considerate and respectful towards the sellers. Some may not be comfortable with being photographed, so it's important to ask for permission before taking any pictures.
Shopping: Although flowers may not be the easiest souvenir to bring home, you can still enjoy shopping at the market as a tourist. Remember to engage in bargaining while making your purchases. Negotiating prices is a common practice in Vietnamese markets and can add to the fun of the shopping experience.