Tan Dinh Market is one of the oldest and largest markets in Ho Chi Minh City, offering a truly local and authentic shopping experience. Unlike for example Ben Thanh Market, this Tan Dinh Market is a real market for the locals and provides a wide range of daily necessities, from fresh fruits, vegetables, and meats to clothing, kitchenware, and cleaning supplies. Located just outside the main city center, it is conveniently close to the iconic Pink Church, making it a great combination for a memorable visit.
Visiting Tan Dinh Market
Address: Tan Dinh Market, 48 Ma Lo, Tan Dinh Ward, District 3, Ho Chi Minh City.
Opening times: Tan Dinh Market is open daily from early morning until late afternoon, typically from around 6:00 AM to 6:00 PM.
Located in District 3, which borders District 1, Tan Dinh Market is conveniently situated in close proximity to the city center. It is just 1.5 km away from the War Remnants Museum and 1.7 km from the Saigon Notre Dame Cathedral.
To get to Tan Dinh Market, the most convenient option is to take a taxi. From District 1, the taxi ride typically costs between 50,000 to 80,000 VND, depending on the exact location, and takes approximately 15 minutes.
When visiting Tan Dinh Market, it's highly recommended to seize the opportunity to explore Tan Dinh Church, widely known as the Pink Church, located just 150 meters away on the same street.
History of Tan Dinh Market
Tan Dinh Market, originally known as Phu Hoa Market, has a fascinating history that stretches back to the 1880s. Initially situated in Phu Hoa Hamlet, the market thrived as a bustling hub of trade and commerce, attracting both local vendors and affluent buyers. In 1926, the French officially constructed the market within a year, renaming it Tan Dinh Market after the amalgamation of Phu Hoa Hamlet and another nearby hamlet into Tan Dinh Ward.
During the 1960s and 1970s, Tan Dinh Market gained prominence as a destination for purchasing renowned French coffee brands like Jean Martin and Meilleur Gout. Additionally, the area became renowned for its custom shoe orders at Trinh Shoes, located on the bustling Hai Ba Trung street.
Throughout the years, Tan Dinh Market has remained a steadfast presence in the city, witnessing the growth and transformation of Ho Chi Minh City. While some minor changes have occurred, the market continues to hold a special place in the memories of generations of locals, serving as a testament to its enduring legacy and significance.
The market building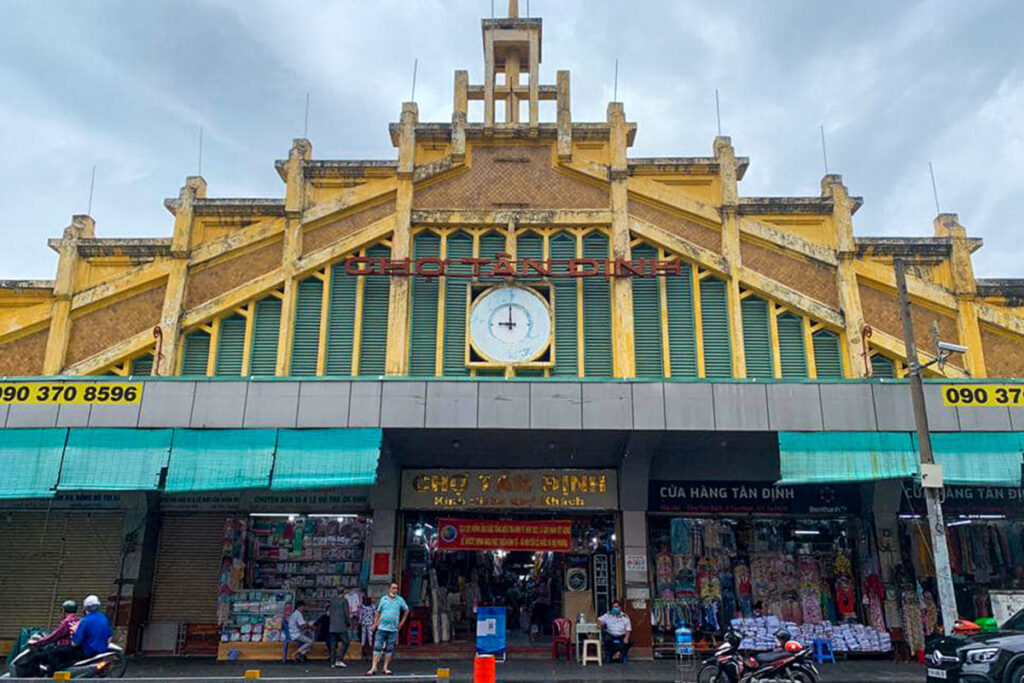 The building of Tan Dinh Market showcases a captivating architectural style that serves as a nostalgic reminder of old Saigon. Resembling other renowned French architectural landmarks in the city, such as the Saigon Central Post Office and Binh Tay Market, Tan Dinh Market is distinguished by its vibrant yellow color. The market is accessible through its four gates, and its roof is adorned with three charming bell towers, with a solitary bell remaining in the central tower. These bell towers used to chime daily at a designated time.
What you can find on the market
Tan Dinh Market is a real local market serving the locals and has everything what people in the area need for their daily life. Here's a glimpse of what you can find:
Foods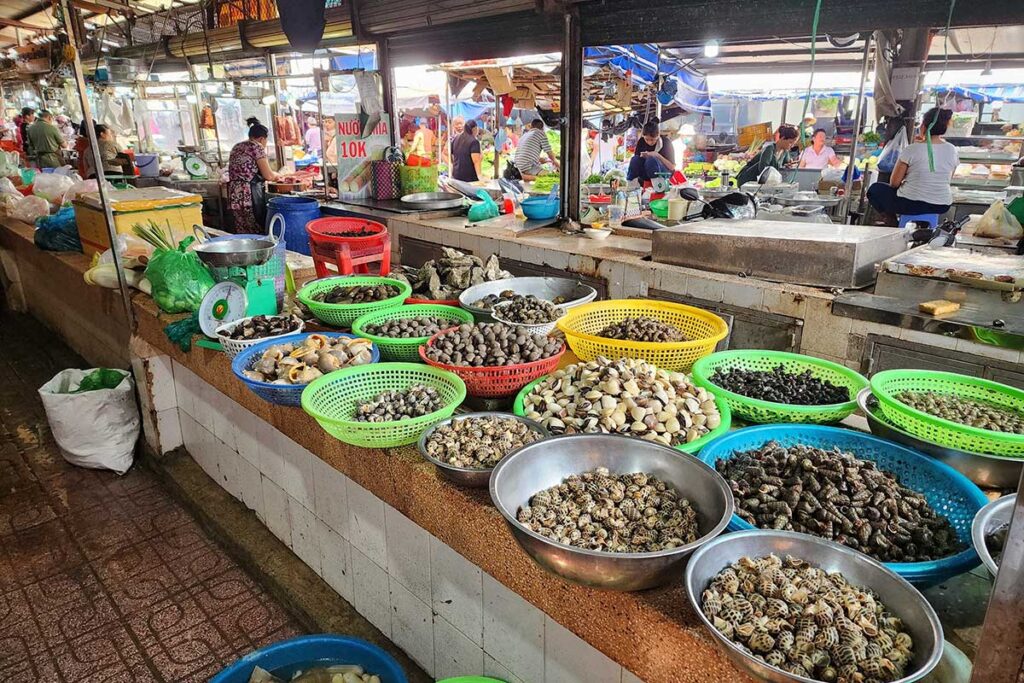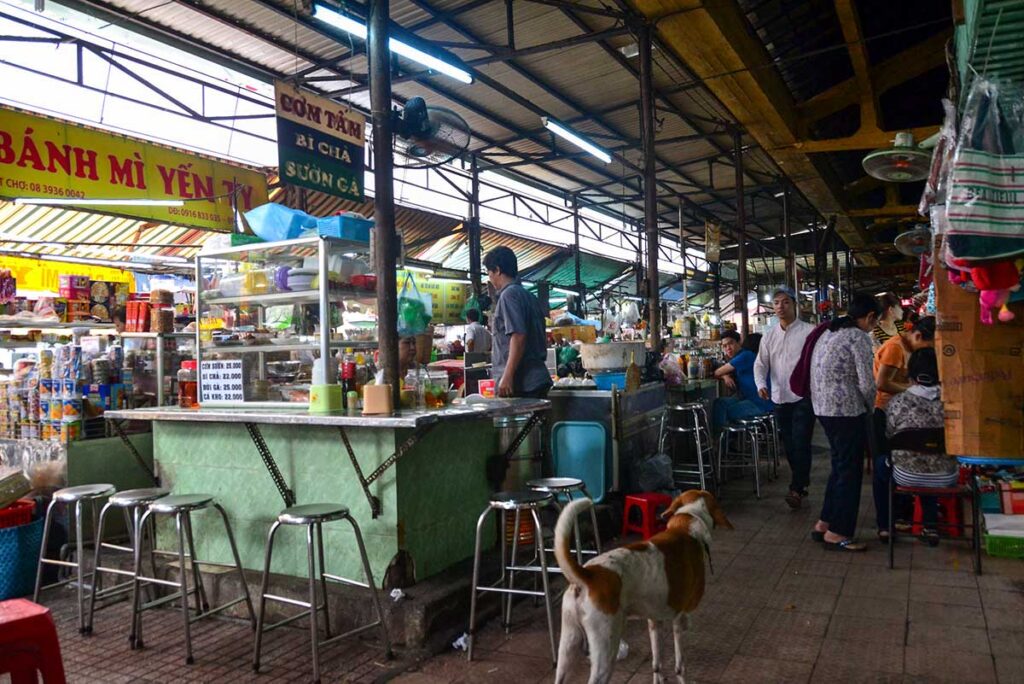 The market is a bustling hub where housewives gather each morning to select fresh ingredients for their meals. From meat and seafood to vegetables, dried goods, noodles, and rice, Tan Dinh Market provides a diverse selection of food items.
Flowers
Tan Dinh Market is known for its vibrant assortment of flowers, including lilies, sunflowers, daisies, and roses. These beautiful blooms are often used for various purposes such as home decoration, gifts, and special occasions.
Kitchenware and household products
The market caters to the practical needs of households with its selection of kitchenware and household items. You can find rice straw handbrush brooms, bamboo pads for hot pots, clay stoves, and traditional clay pots used for medicinal purposes, among other useful products.
Clothes and accessories
Tan Dinh Market showcases a plethora of clothing options for men, women, and children. You can explore a wide range of dresses, blouses, trousers, pants, shirts, T-shirts, as well as accessories such as belts, socks, ties, purses, handbags, clutches, and backpacks. Most of these products are locally made, with some imports from Thailand and China.
Fabrics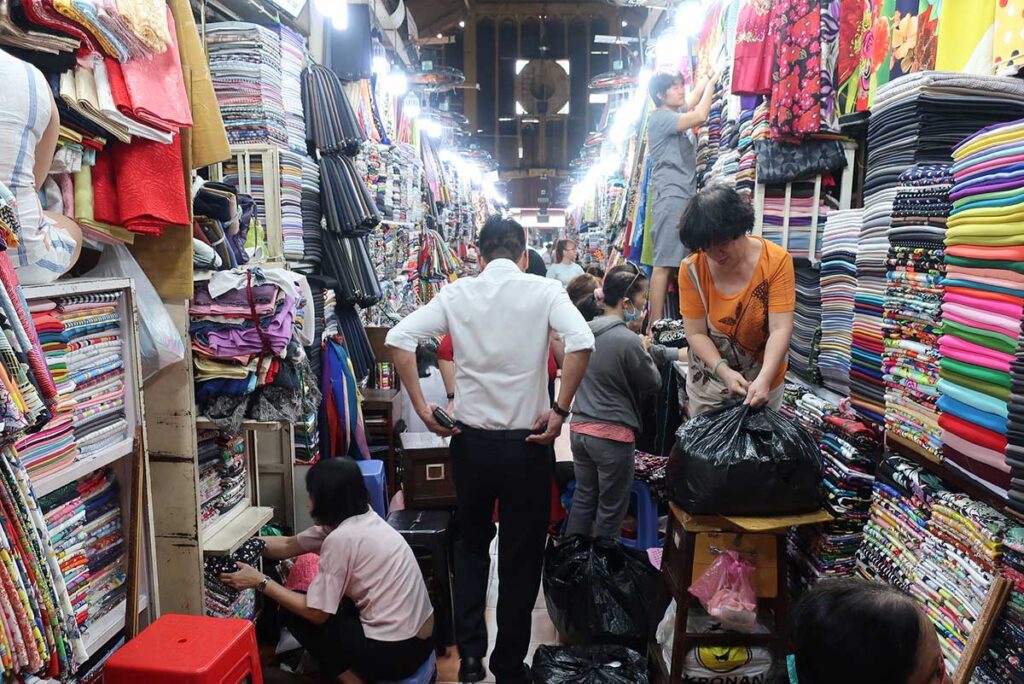 The market is renowned for its extensive collection of fabrics suitable for clothing, accessories, and curtains. Various shops offer a diverse range of materials including silk, cotton, denim, tartan, corduroy, and more. Customers can find fabrics for traditional Vietnamese Ao Dai, suits, shirts, blouses, dresses, skirts, trousers, and other garments. The market also offers a variety of decorative fabrics with intricate patterns and embellishments.
Jewelry
Nguyen Huu Cau Street, known as the "jewelry street," is located near Tan Dinh Market. It is home to numerous jewelry stores that specialize in gold, platinum, and gemstone accessories, including earrings, bracelets, necklaces, and rings.