Hoa Binh Market, located in Ho Chi Minh City, is a bustling and vibrant market that offers visitors an authentic local shopping experience. This market is situated in District 5, also known as Cholon, which is considered the city's Chinatown. Hoa Binh Market is a hub of activity where locals come to buy fresh produce, household items, clothing, and a variety of other goods.
Getting there
Opening times: Hoa Binh Market is typically open daily from early morning until late afternoon, around 6 AM to 5 PM.
Address: 155-157 Ly Chinh Thang Street, Ward 7, District 3, Ho Chi Minh City.
Hoa Binh Market is situated in District 5, which is approximately 4 to 5 km away from District 1, the city center of Ho Chi Minh City.
To get to Hoa Binh Market from District 1, the best way is to take a taxi or use a ride-hailing app like Grab. The journey typically takes around 15 minutes, depending on your exact location and traffic conditions. The cost of the taxi ride is usually around 50,000 to 80,000 VND.
Local market experience
Hoa Binh Market, located in District 5 of Ho Chi Minh City, is a bustling market that showcases the vibrant atmosphere and cultural diversity of Cholon, the city's Chinatown.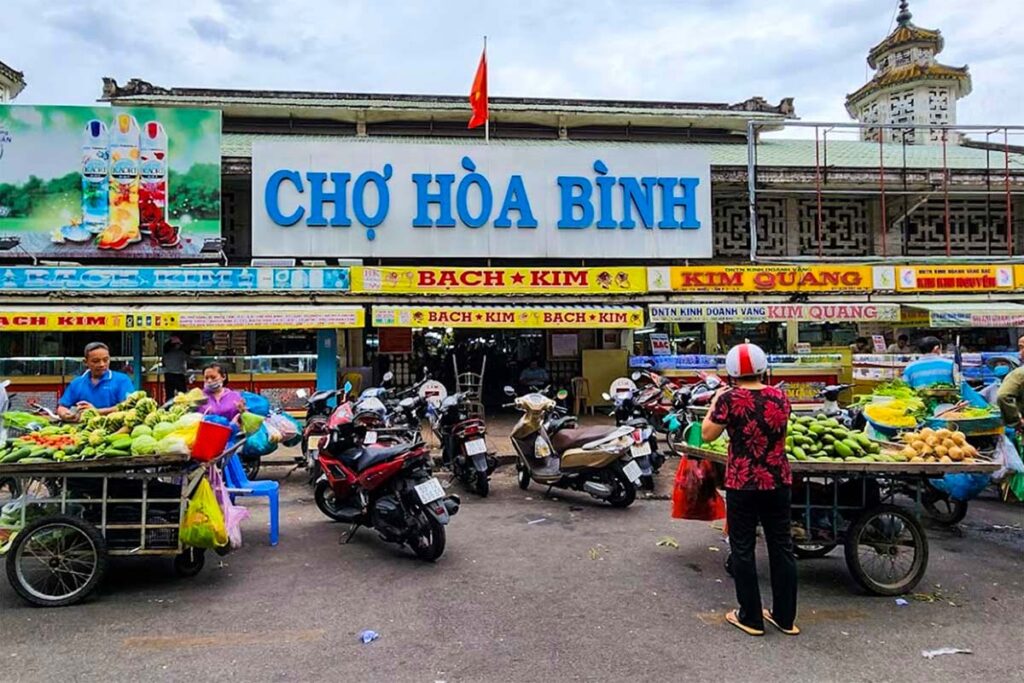 This market is a local favorite, attracting many residents with its wide array of goods and lively atmosphere. Wandering through the market gives you a glimpse into the daily lives of the local community.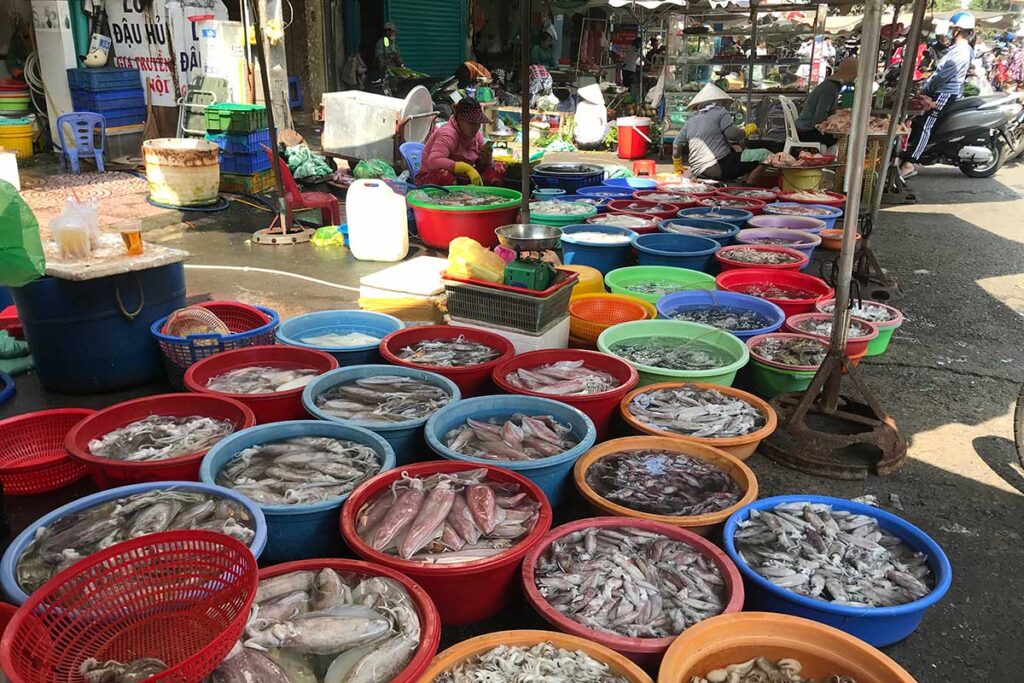 Spread across several blocks, Hoa Binh Market is divided into different sections, each offering a unique shopping experience. The market is particularly known for its extensive selection of fresh produce, ranging from colorful fruits and vegetables to aromatic herbs and spices. Vendors skillfully arrange their products, creating vibrant displays that entice shoppers to explore further.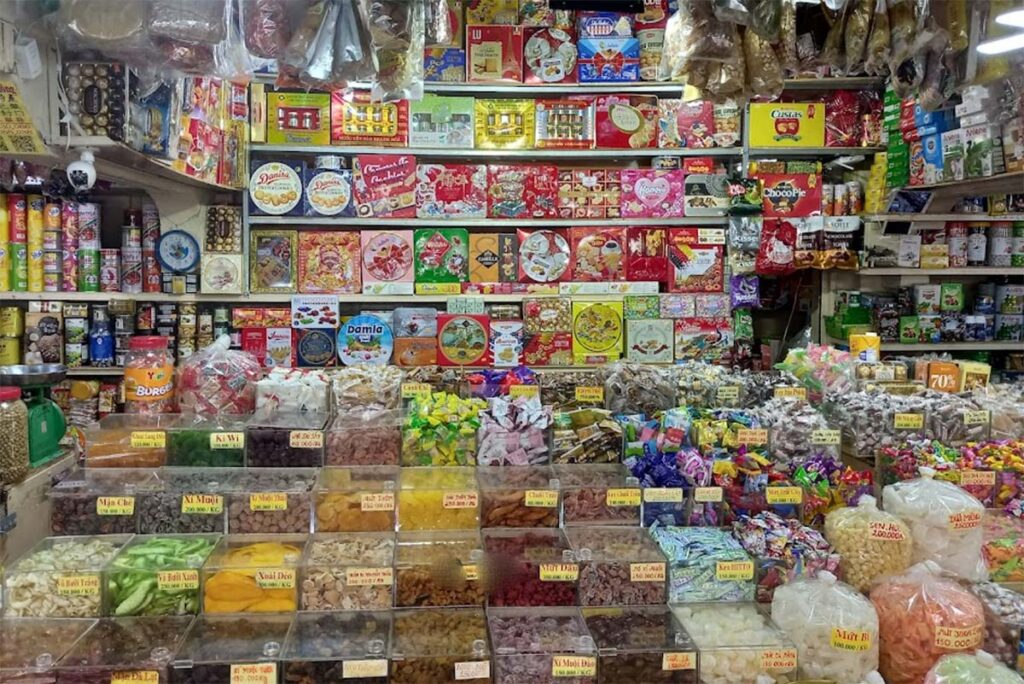 Apart from fresh produce, Hoa Binh Market also offers a variety of other goods. As you navigate through the market's narrow alleys, you'll come across stalls selling clothing, shoes, accessories, household items, and kitchenware. From traditional Vietnamese ao dai dresses to fashionable garments, the market caters to different styles and preferences. You can find great deals on clothing and accessories, making it an ideal place for bargain shopping.
Street food
In addition to the shopping experience, Hoa Binh Market is also renowned for its street food. Numerous food stalls and small eateries are scattered throughout the market, offering a wide range of local delicacies. From steaming bowls of pho and fragrant banh mi sandwiches to savory rice dishes and delectable desserts, you can satisfy your cravings for authentic Vietnamese cuisine while exploring the market.
Visiting tips
Hoa Binh Market may not be a typical tourist market, but you can still find various items for sale. Don't forget to practice your bargaining skills to get the best prices.
While Hoa Binh Market is worth a visit, if you're looking for a more extensive market experience, you might consider visiting Binh Tay Market instead. Binh Tay Market is also located in the Chinatown area and offers a wider range of products and a livelier atmosphere.
When exploring the Chinatown area, you can combine your trip to Hoa Binh Market with visits to other nearby attractions. Some popular sights in Chinatown include Thien Hau Temple, Binh Tay Market, Hao Si Phuong Alley, and the colorful streets of Cho Lon.
If you're interested in exploring more local markets in Ho Chi Minh City, you can refer to our list of the best markets in the city for further inspiration and recommendations.