Trang An is known as Halong Bay on land. The spectacular landscape is dominated by towering limestone mountains covered with tropical plants, rivers and hidden temples and pagodas. Trang An is the only place in Vietnam which is both a natural and cultural UNESCO heritage site. The best way to see it's full glory it to take a Trang An boat tour. With only 100 km from Hanoi you have the choice to visit this place as a day trip or stay among the beautiful rice fields.
What to see in Trang An
Trang An has one of the most beautiful and impressive karst mountains in the world. The entire landscape is composed of pointed limestone mountains covered with flowering jungles and rice fields in the valleys between them. The rivers are all interconnected and some extend over a kilometer, making boat trips the perfect way to explore the landscape. Besides from the amazing scenery, there are countless of beautiful natural caves.
The various historical temples and pagodas in Trang makes it also a religious and spiritual place. You can find these ancient religious buildings hidden in the mountains and jungle, often only reaches by boat or climbing, making this place even more mystical.
"Halong Bay on land"
Trang An is also called the "Halong on land", but there are major differences. Trang An offers a lot more cultural and historical background. You don't find any luxury cruise ships sailing through the landscape, but only the small rowing sampan boats fit in the narrow rivers. But taking a rowing boat and going gently over the small rivers between towering karst mountains and jungle fits perfect in the magical scenery.
Kong Skull Island movie location
In 2017, Trang An was one of the most important film locations of the blockbuster "Kong: Skull Island". A couple of months later after the movie, the local tourist board opened a small part of the movie set of "Kong: Skull Island" to visit. In particular, a reconstructed jungle tribe village in the film one, with locals dressing up as the aborigines in the film.
Trang An boat tour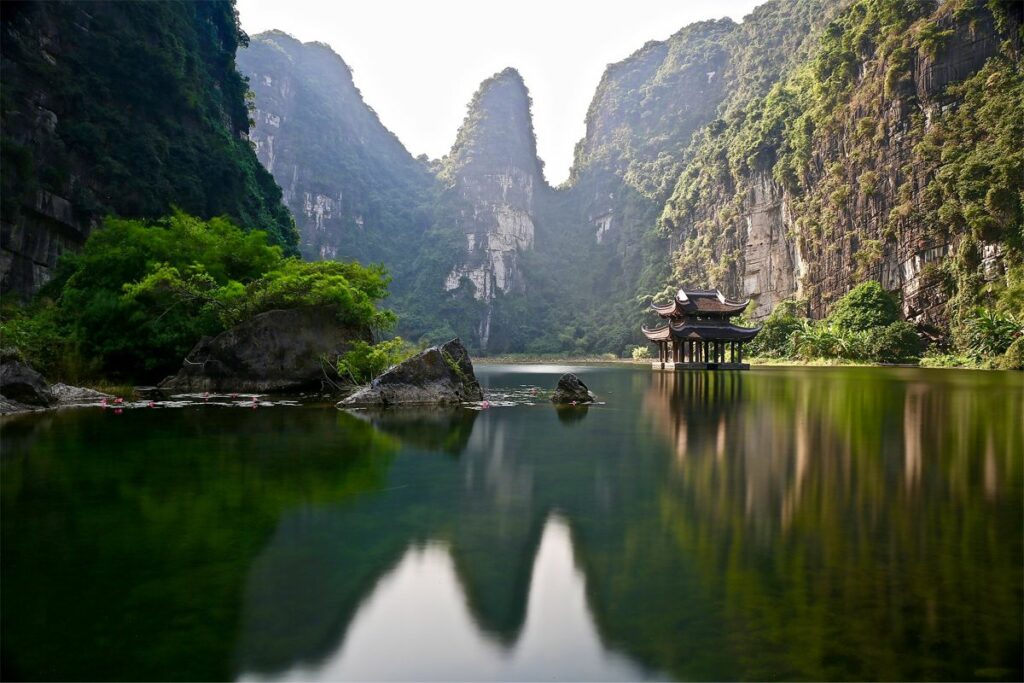 To see the impressive landscape of Trang An you have to take a boat trip. With a rowing boat you go over the river, past the towering limestone mountains, through caves and you can visit a number of temples. There are currently three boat routes in Trang An, one of which you must choose (all the same price). In all three boat routes you will see the beautiful landscape, but there are a few small differences:
Route 1
Route 1 was the first boat trip and during this tour you visit most caves, 9 in total. You also go to 3 temples and pagodas.
Route 2
Route 2 is new and now also the most popular, because it has a good mix of caves and other sights. During this Trang An boat trip you will visit three caves, two temples and King Kong village; a part from the Kong Skull Island film set.
Route 3
In route 3 you also visit 3 caves, 1 of which with 1 km is also the longest in Trang An. You also visit 2 temples and the film set in King Kong Village.
Which should I choose?
In route 2 and 3 you go to King Kong Village from the latest Kong movie. Route 1 is nowadays the most peaceful route, but has many caves. Route 2 is the best mix of sights, but it is also the busiest.
Trang An bout tour prices and opening hours
Location: Ecotourism Trang An Boat Tour (Google Maps)
Price: Tickets can be purchased at the counter in the Trang An Ecological Park parking lot. As soon as you arrive, you will see the tourist center.
Adults: 200,000 vnd
Children under 1 meter: 100,000 vnd
Opening hours: 7:00 AM – 4:00 PM
Duration: 2.5 – 3 hours
Tips
If you plan to do a Trang An Tour in the middle of the day, don't forget to bring an umbrella, sunscreen and hat to protect yourself from the sun or rain.
Bring water and snacks as this boat trip takes approximately 3 hours.
Every boat has an extra paddle. If you want, you can use them for rowing.
Trang An highlights
1. Trang An boat tour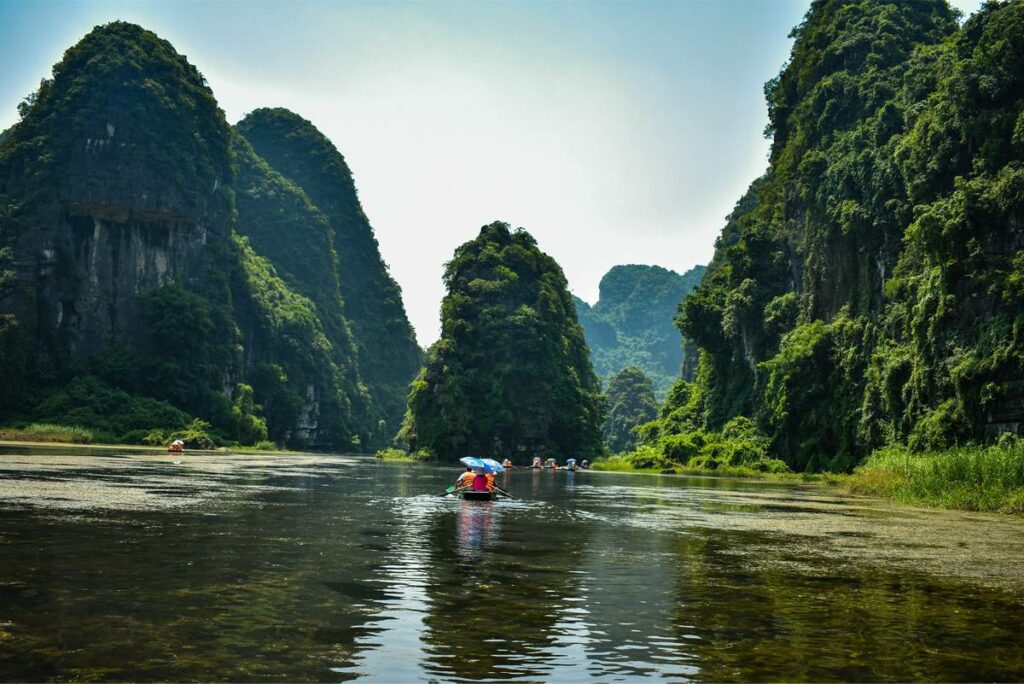 As mentioned, the Trang An boat tour is the highlight of a trip to this area. Enjoy a traditional rowing boat ride over the stunning stream, between impressive karts mountains.
2. Hoa Lu Ancient Capital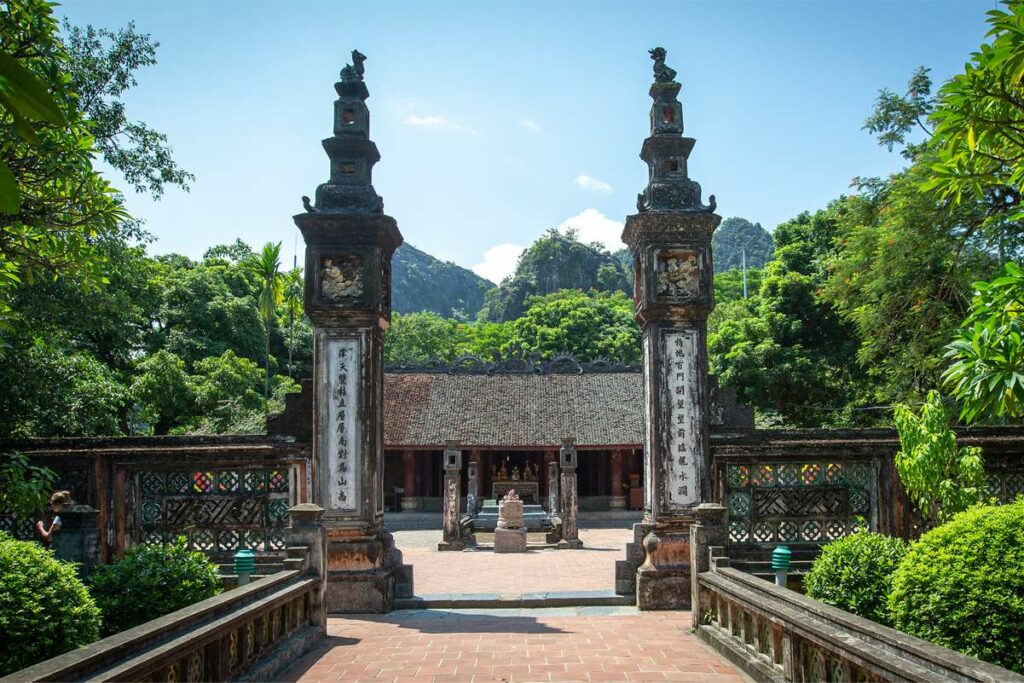 Just 4 km from where the boats leave for the Trang An boat tour, you find Hoa Lu, the ancient capital of Vietnam. The original citadel may no longer exist, but the remaining tenth-century buildings and the beautiful surroundings of Hoa Lu are well worth a visit.
3. Cycling through Trang An's countryside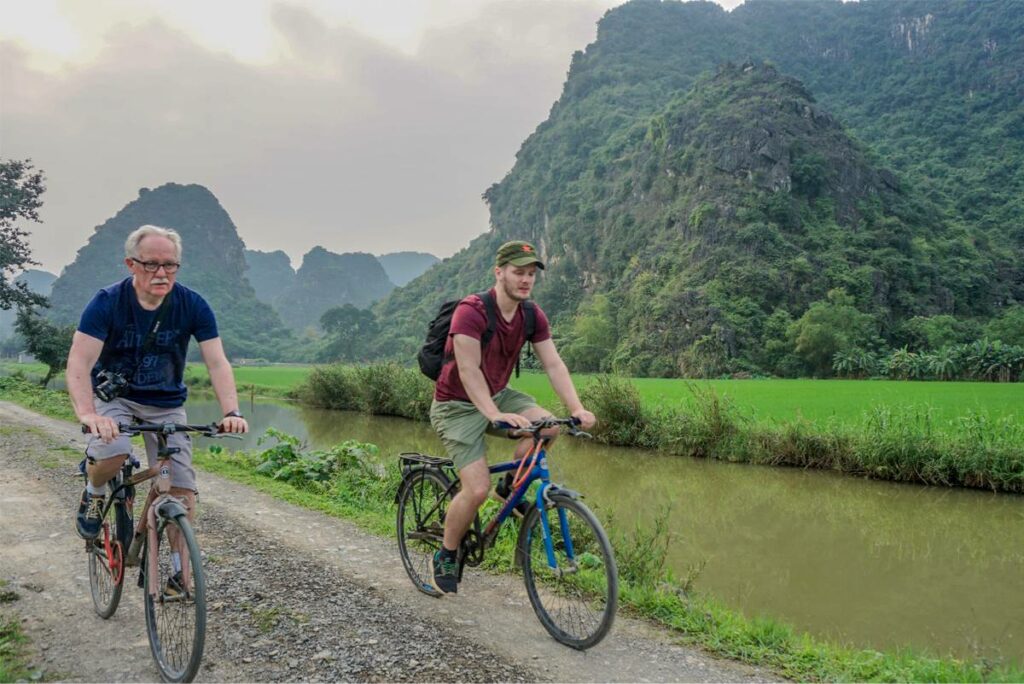 The countryside of Trang An is impressive, with extensive rice fields, where you can see buffalos and their owners at work. Steep mountains covered with jungle and some hidden goats jumping from rock to rock. The roads between these mountains and rice fields are flat with little traffic, which makes it ideal for cycling. Cycling in Ninh Binh is extremely popular and most hotels and homestays offer free bicycles to borrow. You can also choose to rent a scooter.
4. Staying overnight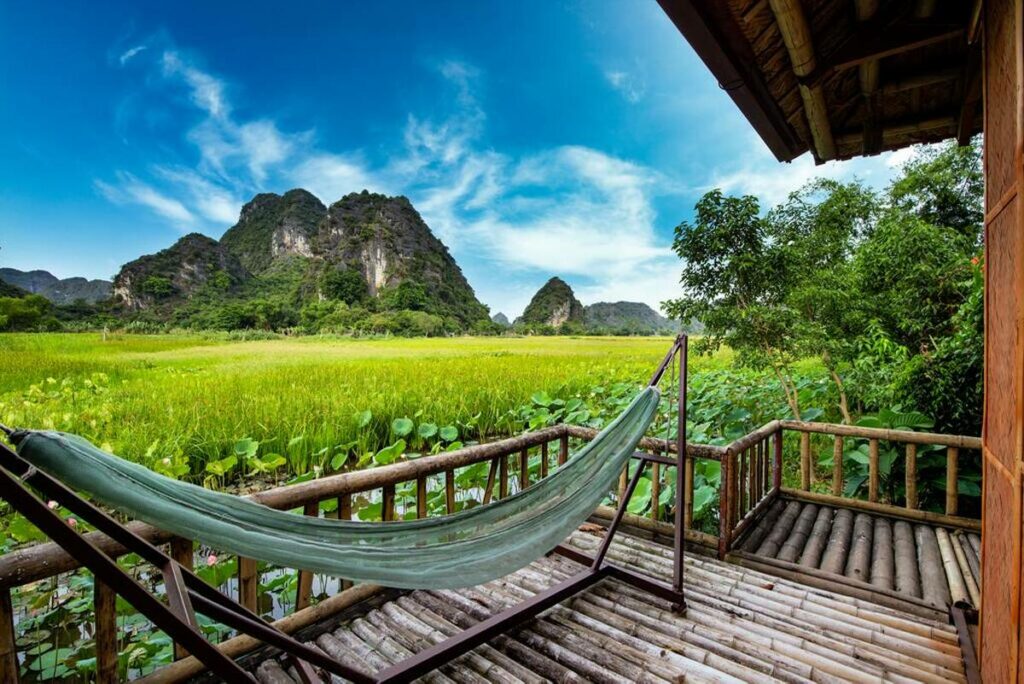 The countryside of Ninh Binh is one of the main highlights for travelers to visit this area. What better place is there to stay then right in this area. The Trang An area has some stunning accommodation, often hidden behind the cliffs and mountains. Expect scenic views from your stay over the countryside or a wetland area. In addition, staying in this area also means staying close to the main things to do in Ninh Binh, so it is easy to reach the main attractions by bicycle or scooter.
Other sights around Trang An
Apart from all the temples and the boat trip, there are no other sights in Trang An itself. About 7 km from Trang An is Tam Coc, here you will find another popular boat trip and Mua Cave, the best viewpoint in Ninh Binh.
Southeast Asia's largest Buddhist temple complex is 12 km from Trang An and is called Bai Dinh Pagoda. It consists of various temples and more than 500 images of Buddha. The complex is huge but not very old; built in 2003.
How to get there?
From Hanoi
There are many tour operators who offer a 1-day or 2-day tour from Ninh Binh or Hanoi. If you choose a day tour to Trang An, transport is included. This usually means that you will be picked up by a tour operator and brought in a shuttle bus or private car.
You can also travel to Ninh Binh from Hanoi, Hue and Phong Nha, among others. Ninh Binh has a train station that connects it to the north and south. Many buses also stop here. Because it is only a 1.5 hour drive from Hanoi you can also hire a minibus or private car at a reasonable price.
From Ninh Binh city or Tam Coc
If you are in Ninh Binh or Tam Coc, Trang An is best reached by bike, motorcycle or taxi. You can rent a motorbike or scooter for 150,000 VND per day. A taxi costs around 15,000 VND / km. The best thing is by bike, because the roads between Tam Coc, Ninh Binh and Trang An are quiet and you can cycle between beautiful rice fields.
Best travel time
You can visit Trang An all year round. In contrast to Tam Coc, you have fewer rice fields in Trang An, which means that it is not much nicer in Trang An during the correct rice season. You do have to deal with the rainy season and the drying season. The best weather is in the months from November to April. It can be cold in December and January in particular.
Accommodation in Trang An
Trang An offers many accommodation options, with hotels, resorts, homestays, hostels and bungalows. The advantage of staying at Tam Coc or Trang An is that you are right in the vicinity of the popular sights, boat tours and located in a beautiful area. You can visit most sights from here by bike. Some recommended accommodations in Trang An are:
Lotus Field Homestay
Trang An Farm Stay
Hoalu Eco Homestay Ninh Binh
Trang An Retreat
Trang An Nature House
Recommended tours to Trang An
Are you excited to do the Trang An boat tour, Hoa Lu or just to visit this stunning region? Check our tours to Ninh Binh and Trang An. You can also combine a visit to Ninh Binh with Pu Luong Nature Reserve and Cuc Phuong National Park.