What to expect
In this two day trip to Ninh Binh from Hanoi, you explore the best highlights of Ninh Binh's countryside and nature. Bike along rice fields, a boat trip through hidden valleys and a trekking in Cuc Phuong National Park.
Highlights
Make a trekking through in Cuc Phuong National park
Visit the best viewpoint of Ninh Binh
Make a boat trip through the impressive mountains of Trang An
Stay in a nice bungalow with cooking class and dinner
Itinerary
Day 1: Trang An & Mua Cave – Cooking class, overnight at Bungalow (L/D)
From 8:00 AM to 8:30 AM your guide and bus will pick you up from your hotel and start driving to Ninh Binh.
First stop is in Trang An, were you will take a boat trip over the river and explore caves, impressive high mountains and hidden temples.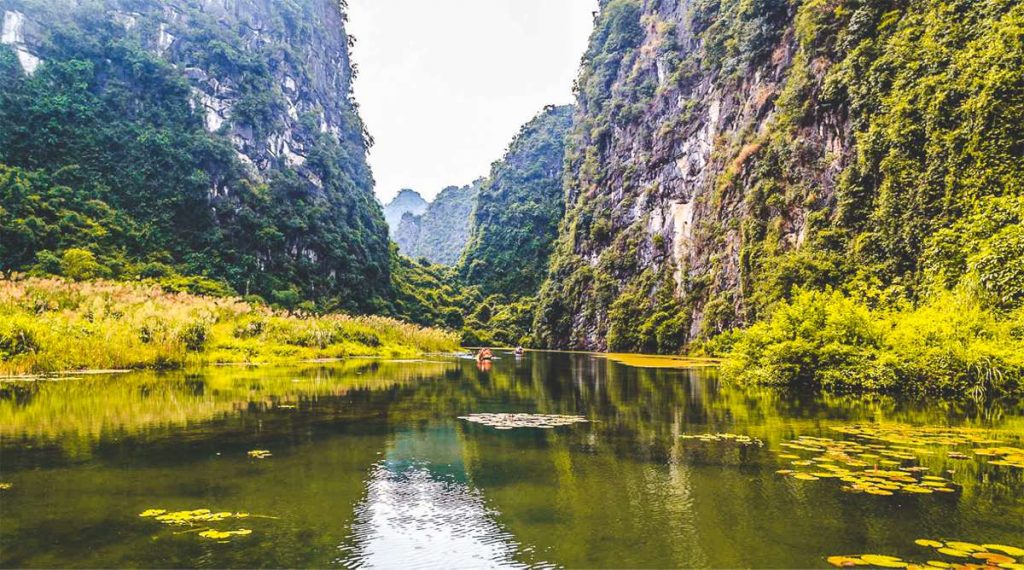 Then you have buffet lunch at a Vietnamese restaurant.
In the afternoon you go biking through the countryside of Ninh Binh, with stunning rice fields and buffalo's and goats along the road.
You bike to Mua Cave, were you are going to climb the stairs up the mountain, to behold the most impressive viewpoint in Ninh Binh. Enjoy a panoramic view over rice fields, mountains and rivers.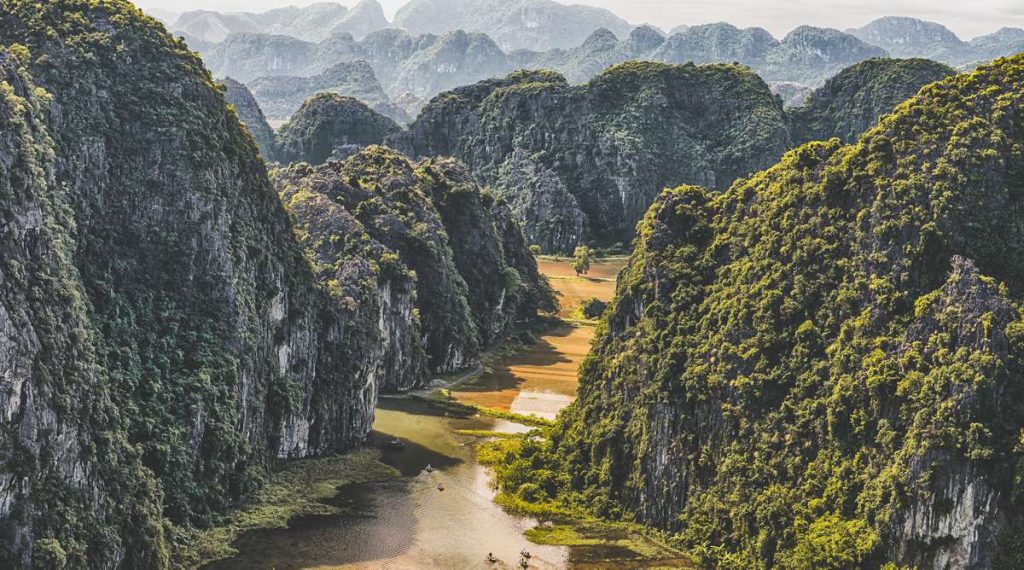 After this you cycle back to Trang An through villages were you can see the daily life. In the area of Trang An you visit Tuyet Tinh Coc. This place is hidden and can only be reached by tunnel. On the end of the tunnel you arrive to a hidden peaceful lake between the mountains with a pagoda on the end. You can walk around the lake and visit the pagoda, from which you have a great view over the lake.
You cycle to your bungalow were you can check in. After check in there is a cooking class of how to make local cakes. There is also time for swimming before dinner.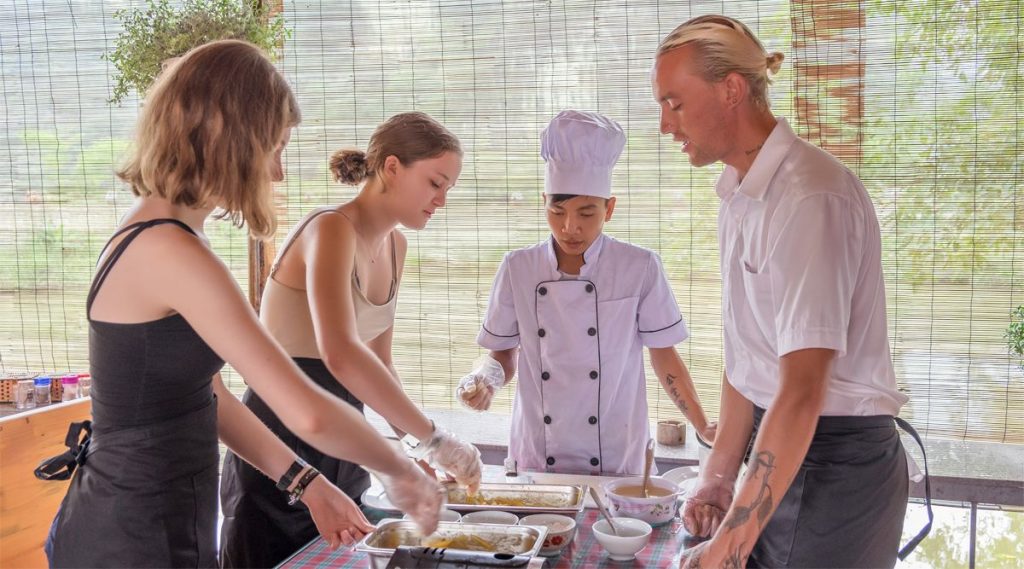 At around 7:00 Pm dinner starts. The bar will be open till around midnight.
Day 2: Cuc Phuong National Park – Hanoi (B/L)
At 6:30 AM there is a sunrise Tai Chi session before breakfast.
After breakfast a van will bring you to Cuc Phuong National Park.
In the morning you will visit the Endangered Primate Rescue Center. This unique place has some very rare animals that are almost extinct and luckily rescues from poachers. Some animals you can find are the langur, loris and gibbons, with shelters kept as close to their natural environment as possible.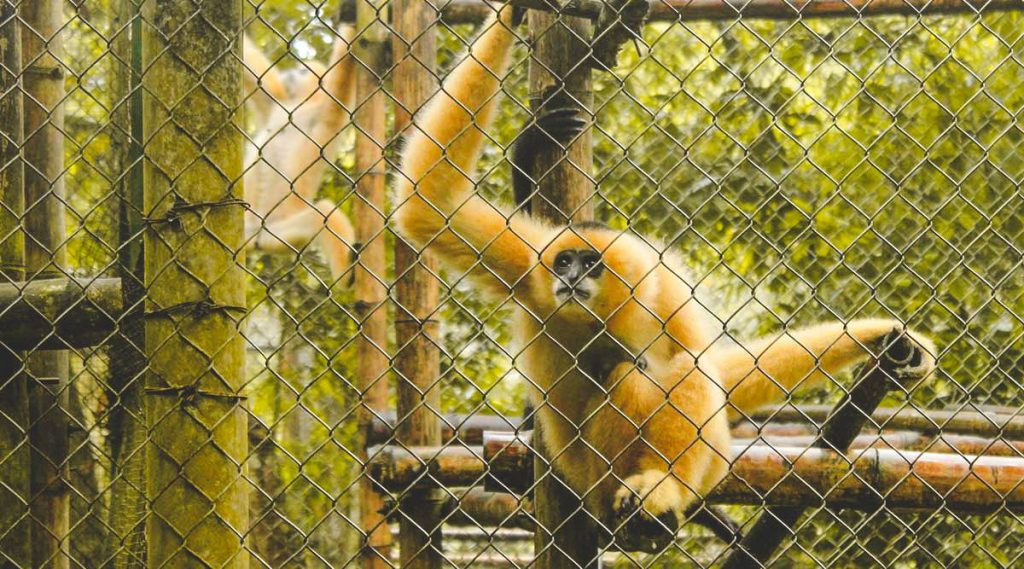 Afterwards it is time for lunch at the jungle restaurant.
Next you go trekking into the heart of the jungle. During your trekking in Cuc Phuong National Park you visit a one-thousand year old tree, a prehistoric cave and trying to spot monkeys, birds, insects and reptiles.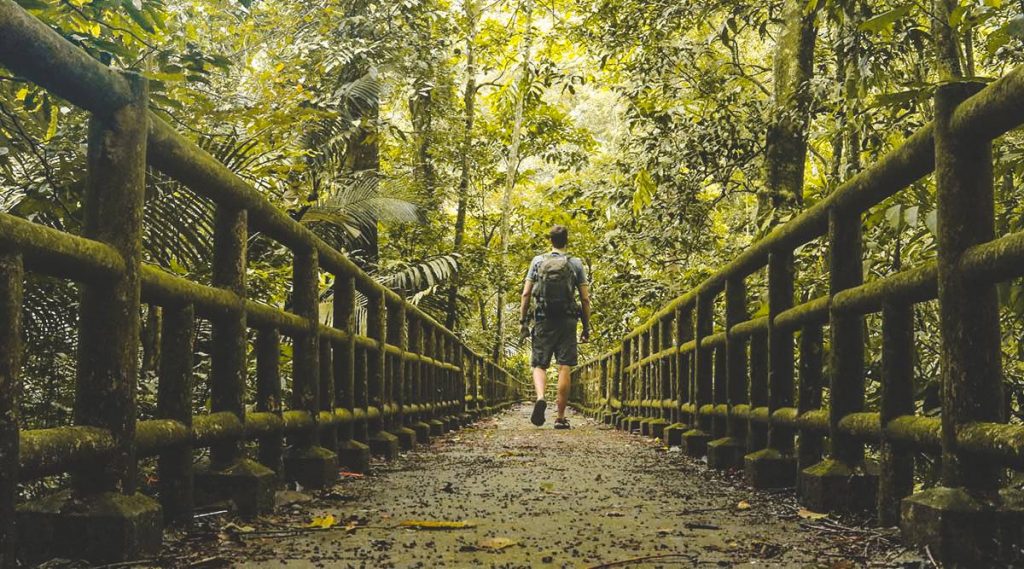 A van will bring you back to Hanoi, arriving around 7:00 PM at your hotel.