Thung Nham Bird Garden in Ninh Binh is a peaceful place, were you can make a boat tour to see hundred of birds. This area is a wetland area, with many trees sticking out of the water were the birds live. The best way to discover the area is to take a boat through the flooded forest. It is a lot less popular than other boat tours in Ninh Binh, such as Trang An and Tam Coc. And besides the boat trip, there are also hiking trails to different caves you can discover.
What to see at Thung Nham Bird Garden
Bird garden
The biggest reason for going to Thung Nham is of course the bird garden. This garden, a large wetland area, is home to to many types of birds, such as stork, heron, mallard and forktail. There are around 50,000 birds from 40 different species. What makes the garden extra special is that there are very rare bird species recorded here that are on the Vietnam red list.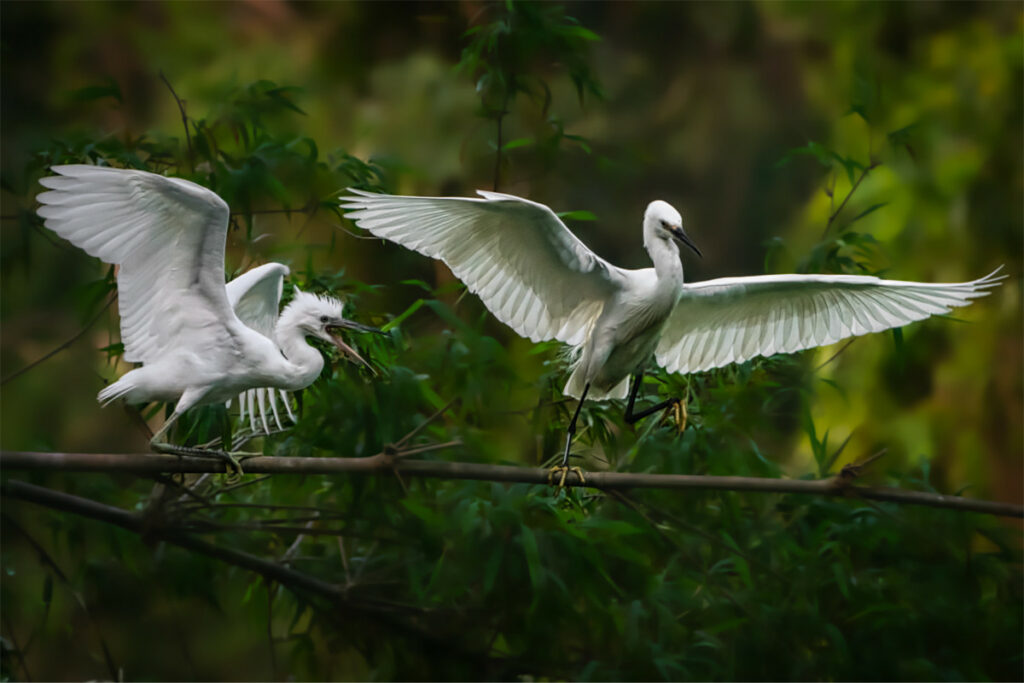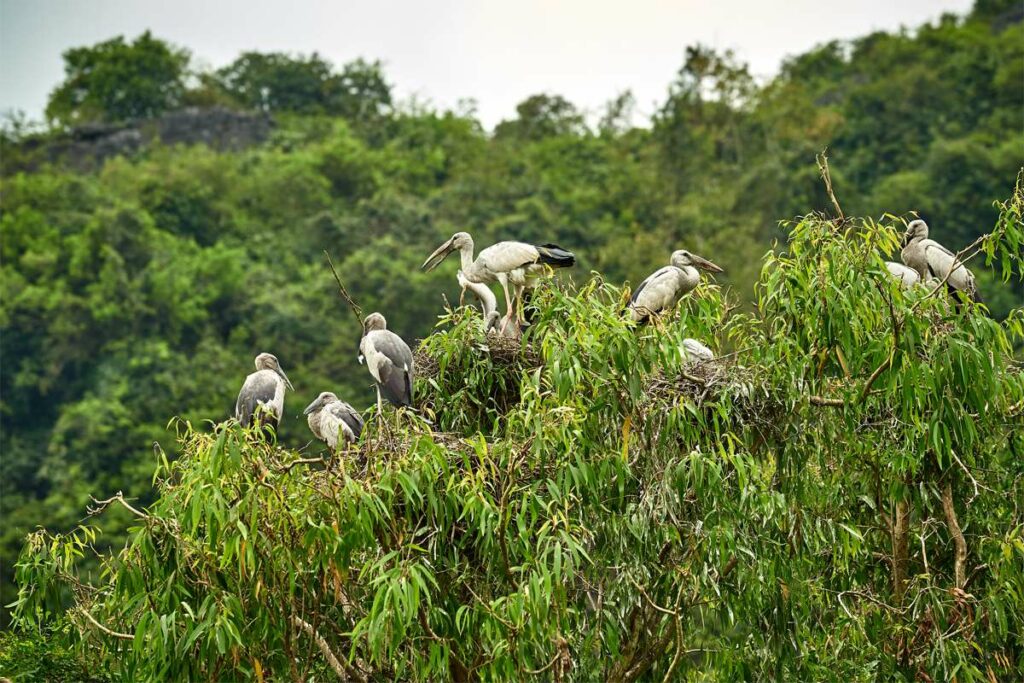 You can take a boat tour through the Thung Nham Bird Garden to explore the area. Best is to get here either at sunset, around 5:00 PM, when the birds are flying back to their nest or at sunrise, when the birds are leaving. It is a beautiful spectacle, with hundreds or even thousands of birds flying over.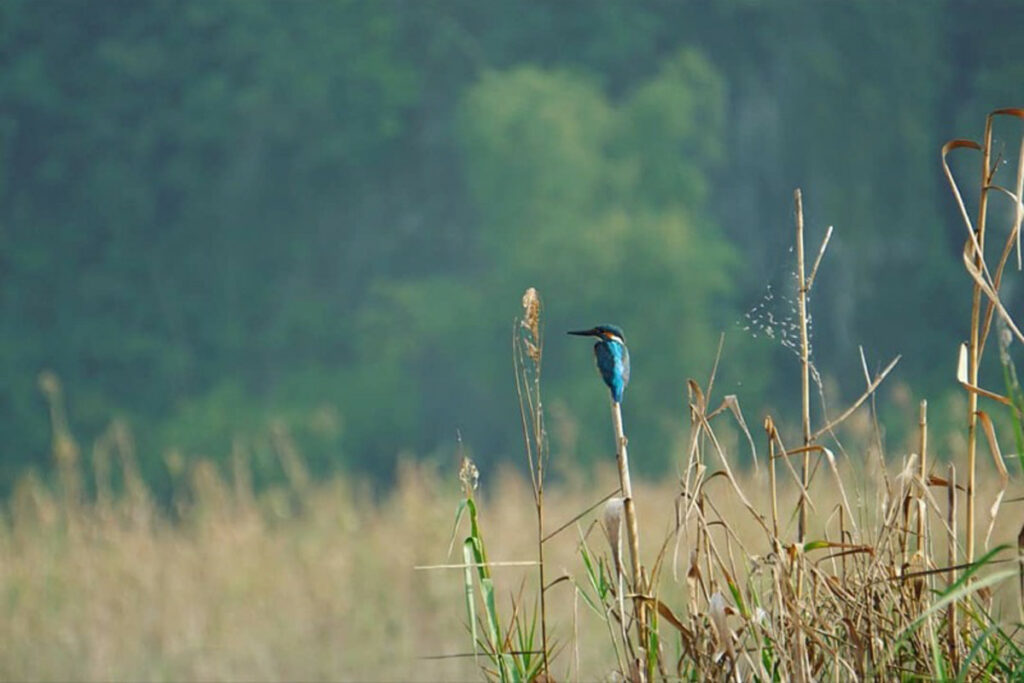 The limestone mountains on the background make silhouettes in the water and with the flocks of birds flying over creating a poetic scenery rarely found anywhere else.
Buddha Cave (But Cave)
The cave got his name from a large rock inside that is shapes like Buddha. The 500 meter long cave is one of the highlights of Thung Nham. Inside the cave there are no lights, so you need a torch to walk around. Discover the cave with an underground lake, stalactites and stalagmites in the dark with a flashlight is part of the experience.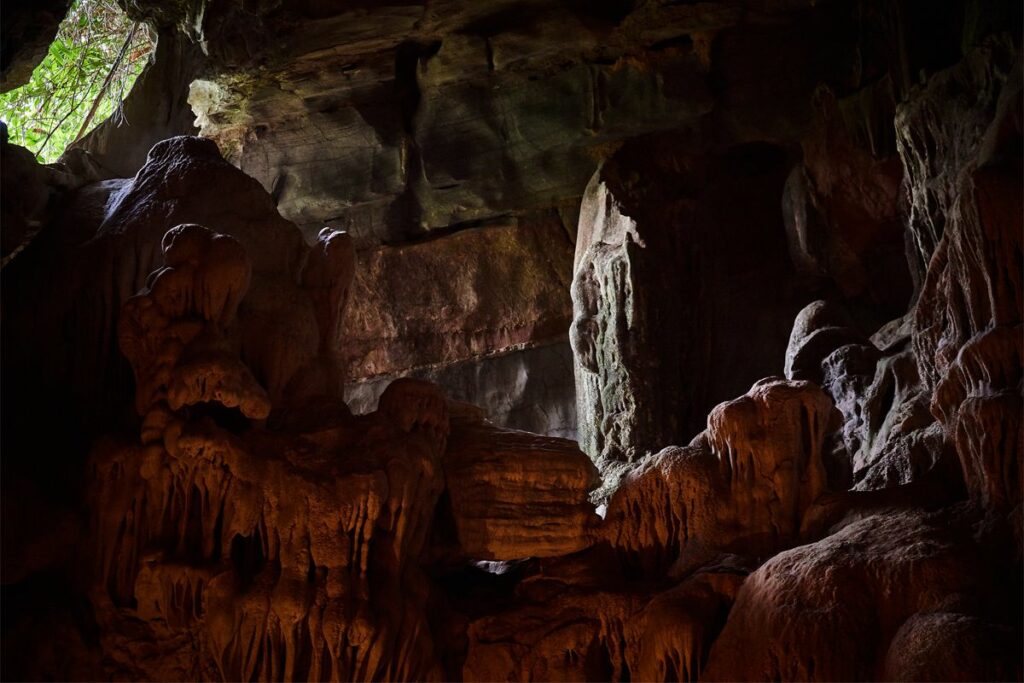 Vai Gioi cave
The Vai Gioi cave is located higher up the mountain, making it a lot cooler than the other caves. To get here you have to walk up the over 400 stone steps. Inside the cave is divided in 3 levels and named "World, Paradise and Hell".
Tien Ca cave
If you want to enter Tien Ca cave or Mermaid Cave, you have to walk down the stairs into the darkness. Calling it the mermaid cave has probably to do with the underground water well and small underground river you find here. You can explore the cave walking over the stones paths and sometimes you need to duck to pass the hanging stalactites.
Walking trials
There are a couple of walking trails to explore Thung Nham, with bamboo and wooden bridges. There are orchards of mango, apples and guava. You will also find the 1000-year old tree, growing on a rock and green jungle.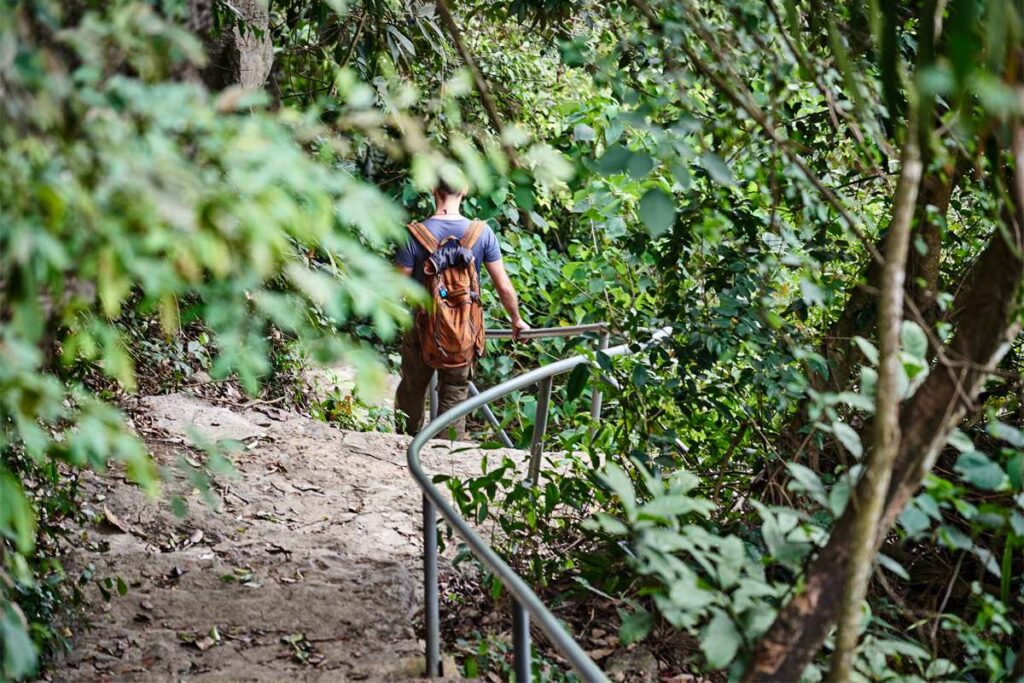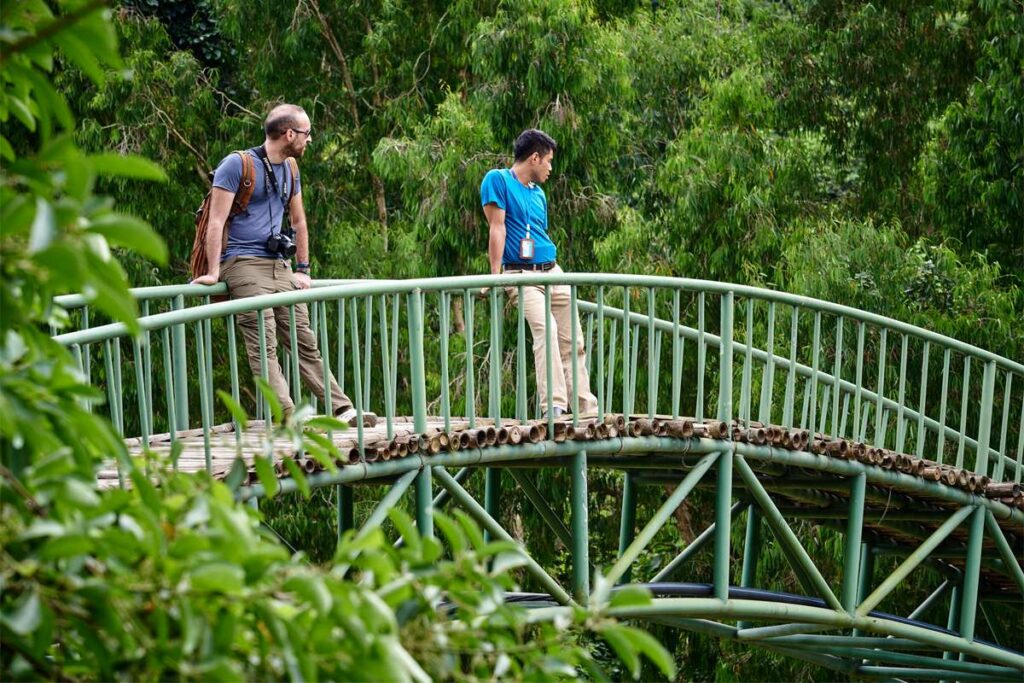 Visiting Thung Nham Bird Garden
Entrance fee
Adult: 100,000 VND
Children from 0,8m to 1,3m: 50,000 VND
Children below 0,8m: Free
After 5:00 PM you get 50% off.
Optional:
Boat tour through the bird garden: 20,000 VND
Entrance to Buddha Cave (But Cave): 20,000 VND
Visiting tips
Come late in the afternoon, so you first explore the area with caves, than around 5:00 PM you take a boat tour to see the birds fly back to their nests.
Use mosquito and insect repellent.
If you are planning to walk around the area, use good shoes, flip flops are not recommended.
Protect yourself against the weather; sun cream against the sun and rain jackets or umbrellas against the rain.
Get a map at the entrance if you are planning to discover the area by yourself.
Getting there
You can find the bird garden close to Tam Coc area. You can either use a bicycle if you stay close to here, rent a motorbike or private car/taxi with driver.
Map of Thung Nham Bird Garden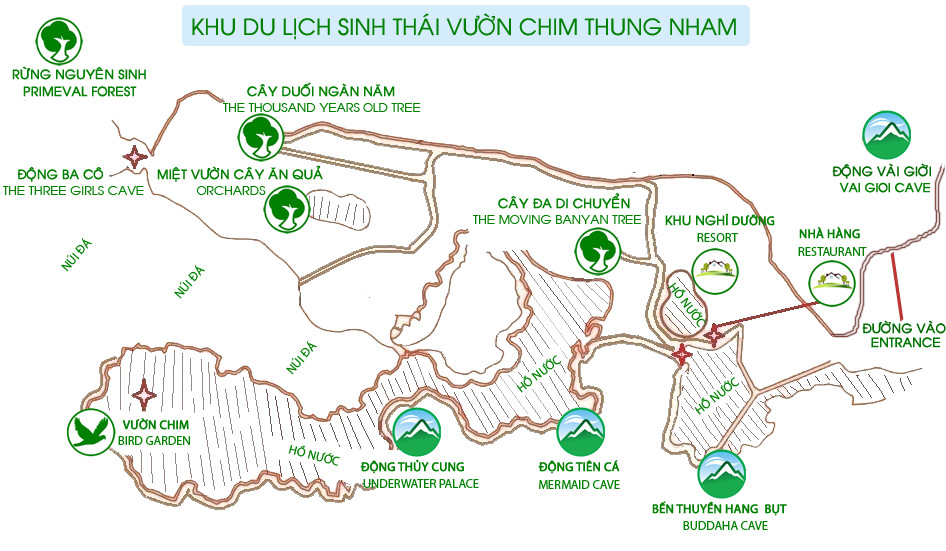 Best time to visit Thung Nham Bird Garden
The best time to see the birds is autumn, from August to October. And from January to March you have the best weather. It is best to do the boat trip at around 5:00 PM, when the birds are flying back to their nest.
Other things to do around Thung Nham
Thung Nham is close to Tam Coc. Here you can go to the Tam Coc boat tour (7 km), the Bich Dong Pagoda (4.5 km) and the famous viewpoint of Mua Cave (12 km). You can easily use a bicycle to bike between these places.