Quan Ba is a famous stop along the route of the Ha Giang loop. It is here where you enter the real mountain area of the province, after driving over the stunning Heaven Gate pass with views on the Twin Mountains. If you have time, make sure to check out some of the remote local villages of minority and when you arrive at the right day, you can also see their unique market.
Quan Ba Heaven Gate
Quan Ba Heaven Gate or Quan Ba pass, feels like the doorway to real mountains of Ha Giang. It is here where the scenery changes rapidly to towering mountains with small villages dotted in the valley. It is around 40 km from Ha Giang City and it has some great viewpoints of the topped limestone mountains. On the top of the pass is a small coffee shop with a view, and with cold weather it is recommended to get a hot cup of chocolate here.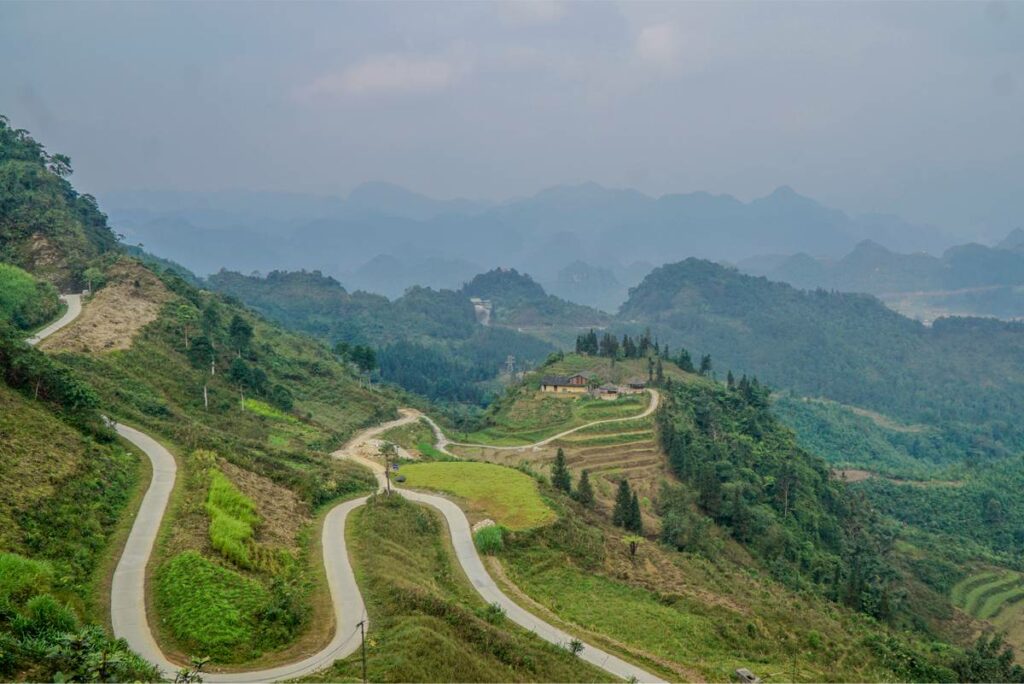 When you head down the pass for Tam Son town there is a parking lot halfway where you can stop and climb the stairs up for an amazing view over the mountains, village down below and the Twin Mountains.
Twin Mountains (Fairy breast mountains)
The Twin Mountains of Quan Ba are, as the name suggest, (almost) identical mountains next to each other. It is also called the Fairy Breast Mountains, after an ancient tail of the local Hmong minority, that could whistle so beautiful that a fairy came from the sky and fell in love with him. The Jade Emperor was mad when finding out she was gone and took her back. But because she already got a child with the Hmong man that needed nursery, she left her pair of breast so her son could drink the milk. The pair of breast grow round to feed the child and later turned into two mountains.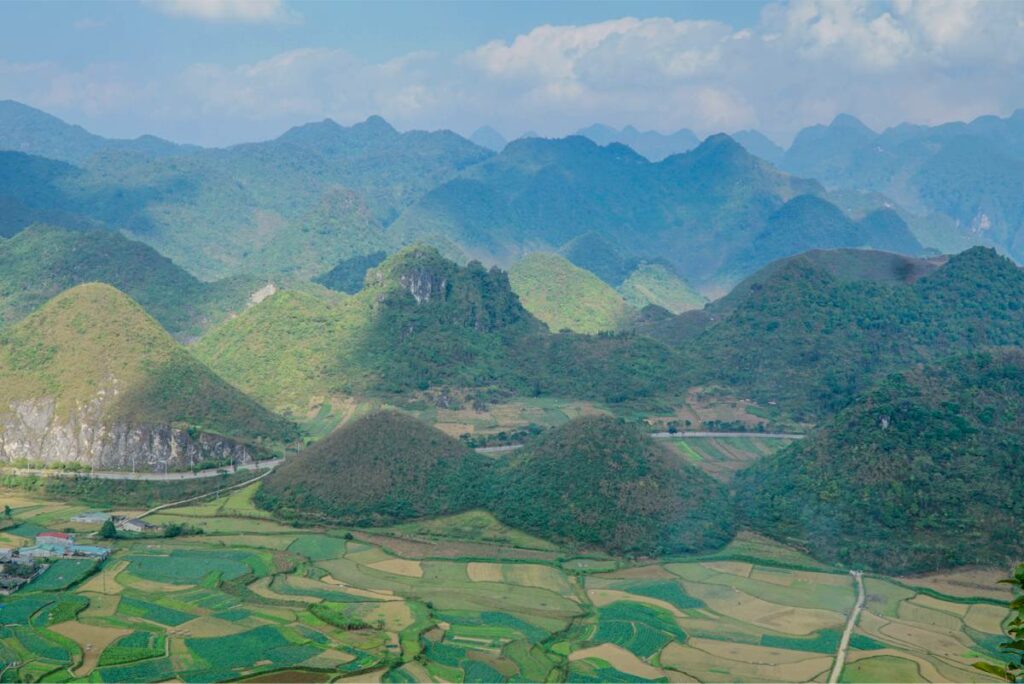 There is a viewpoint from the Heaven Gate pass when you are driving down from the top to Tam Son town around halfway. You can park the motorbike or car at the parking lot and take the stairs up for a beautiful view over the Twin Mountains, the town and the mountains of Ha Giang.
Villages and other things to do in Quan Ba
Villages
Quan Ba is more than the Heaven Gate and the Twin Mountains, there are also a lot of villages to explore. When you are coming from Ha Giang City via the QL4C then there are a few roads after Tam Son Town on your right that takes you down to the river. Along the river you can explore some villages and at the same time enjoy the view of the houses, with river and mountains on the background. When you cross the river you can also find a road that takes you higher up, from which you have an even better view of the area.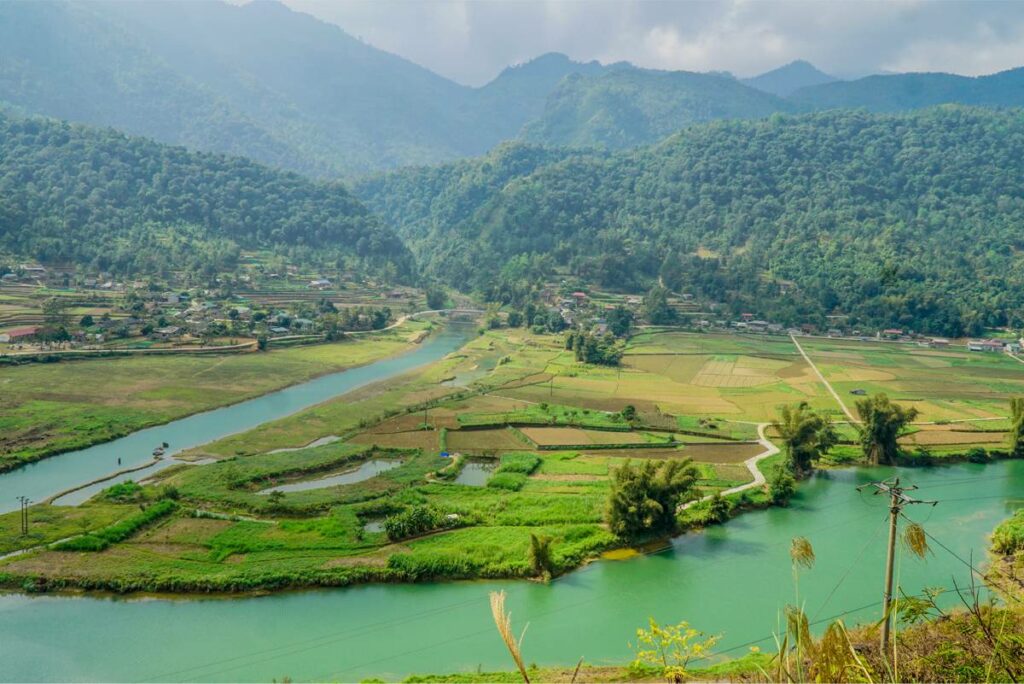 One of the villages you can visit in this area is Lung Tam village. It is a Hmong village that are doing traditional weaving and dying of the fabrics. It is proving jobs for over 120 people in the village and there are not many places in Vietnam where you can see this old tradition.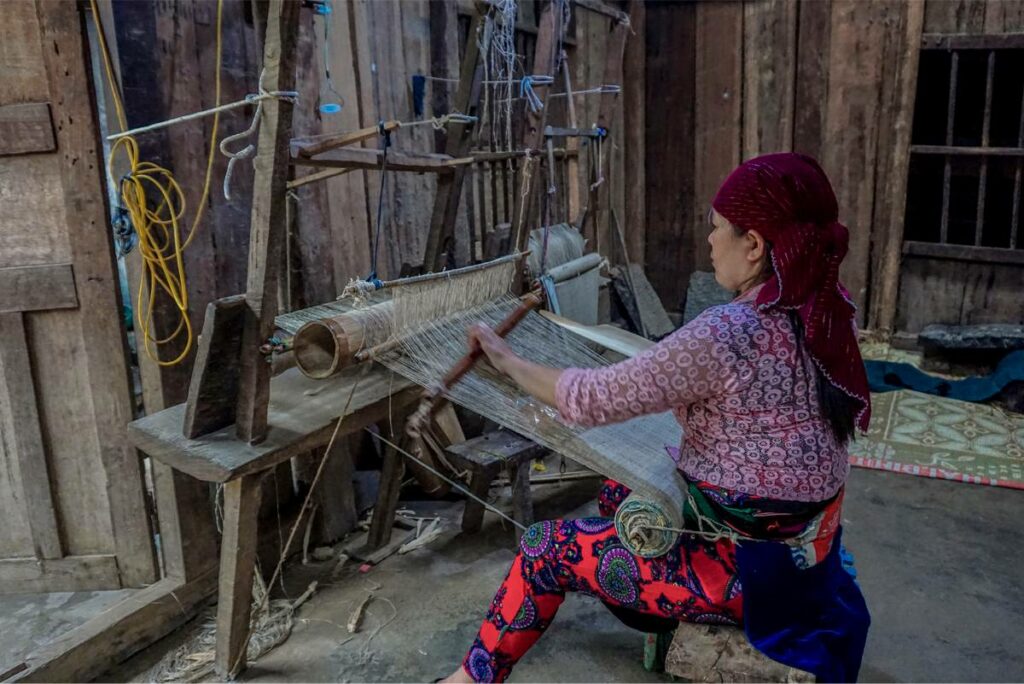 Local markets
Visiting one of the minority markets in Ha Giang is one of the highlights of the province. Quan Ba has around 8 markets you can visit, but are often held one time a week. The biggest market is in Tam Son town, the capital of Quan Ba district and his held every Saturday morning. The market often starts already at 5 AM and start to weaken from 10 AM, so make sure you are there early. The market is very colorful due to bright clothes of the minorities that come here to trade. You will see farm equipment, house hold goods, clothes, cloths, jewelry and even phones being sold at the market.
Other markets in Quan Ba you can visit are Cao Ta Tung Market, Tung Vai market, Tung Tam Market, Bat Dai Son market, Quyet Tien Market, Cho Lang market and Nghia Thuan Market. Make sure to check on which day they are being held as they are often not daily.
Lung Khuy cave
If you already went to the caves in Phong Nha, or planning to go there, the cave itself can be skipped as it is not hugely impressive. Though the road to the cave and along the mountain is quite scenic, with stunning views of mountains and villages. The cave is close to Tam Son Town, around 7 km on a side road of the QL4C and indicated with a big sign in the beginning of the road. Their are two places where you can park the motorbike, the first place is in the village. Here you pay a small parking fee and have to walk around 1,5 km to the cave entrance. But if you actually drive further along the small mountain road, you end up at a small parking area closer to the cave and free parking.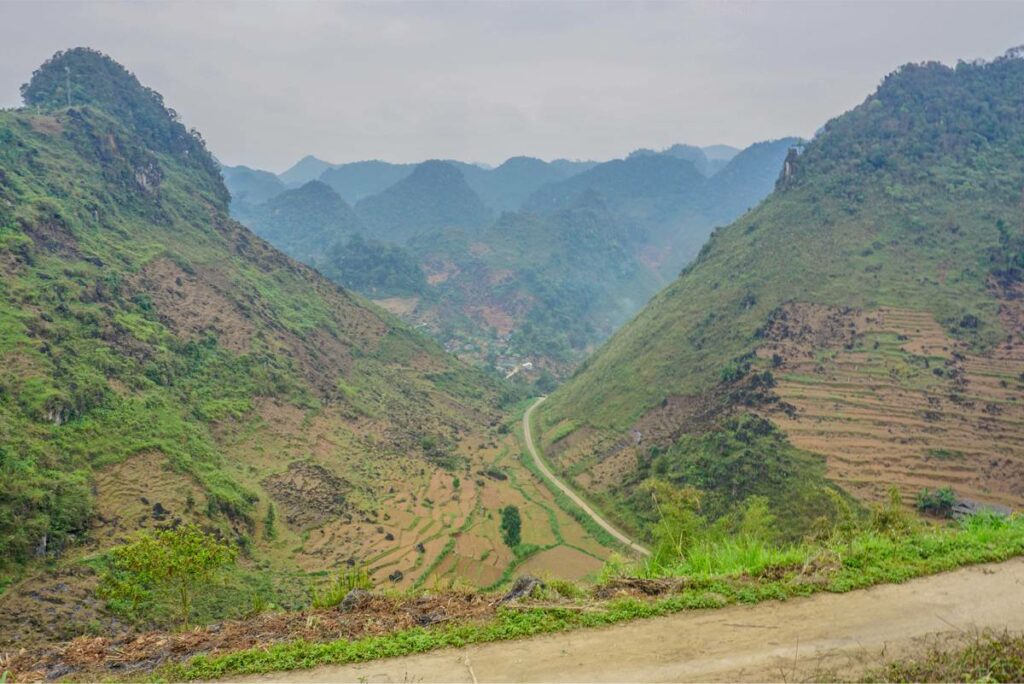 There is still a small entrance fee at the cave before you walk up the stairs to opening. You can walk around 300 meter inside the cave and there are nicely built wooden paths including lighting, so it is easy to walk around. You can find some large stalactites and stalagmites, different rock formations and small underground ponds.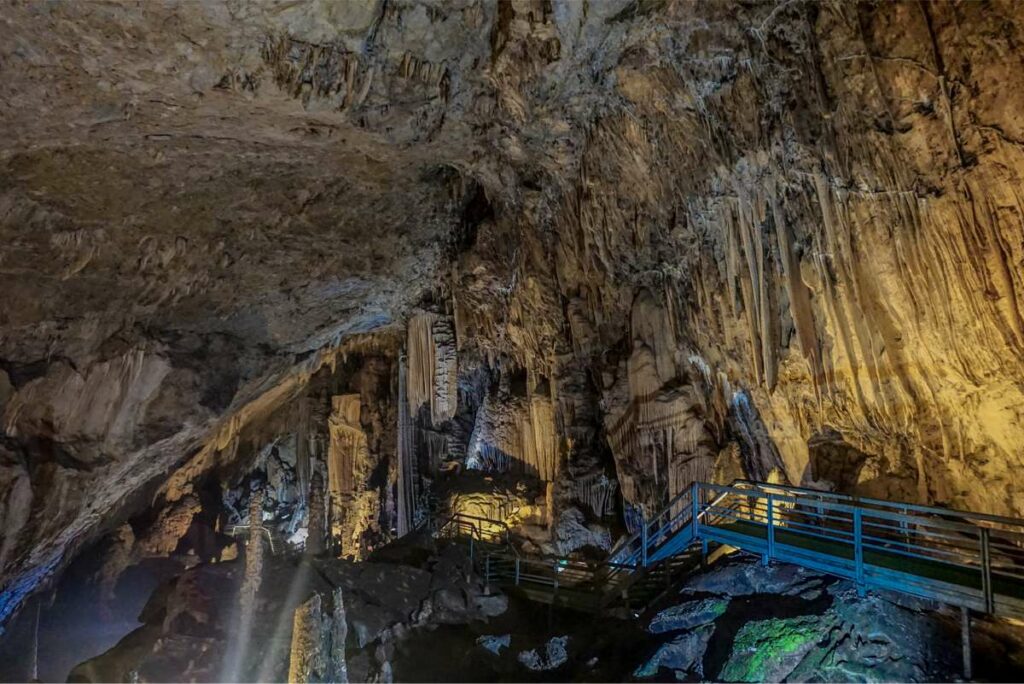 Accommodation
Quan Ba is with just 60 km from Ha Giang City not a very popular place to stay, due to that most people that do the Ha Giang loop already arrive here in the late morning or early afternoon. It is best to continue driving to either Yen Minh or even Dong Van, depending on the time you have and how fast you travel. Though there are some nice accommodation options here of mostly local homestays and budget hotels. It is a great experience to stay at one of the homestays that are mostly owned by the Dao ethnic people. By staying with them you have a unique look into their culture.
How to get there
Quan Ba is over 300 km from Hanoi. It is best to first travel to Ha Giang City from Hanoi by bus. From here you can start your Ha Giang loop tour, either on the back of a motorbike or by private car with driver. You can also choose the drive a motorbike yourself, but be aware that driving through the mountains of Ha Giang can be dangerous and without a Vietnamese drivers licence it is not legal to drive and for this you are often not fully insured.
From Ha Giang City it is just 60 km to Quan Ba and from Quan Ba to Dong Van is around 80 km.
Other sights around Quan Ba
There is a lot more in Ha Giang to see, so make sure you have three to four days to explore some of these highlights. When you follow the QL4C up north heading to Dong Van, you will driver over the stunning Tham Ma Pass, before entering the beautiful Sung La Valley. Drive further to Sa Phin where you can visit the historical HMong King Palace. From here you can choose to drive straight to Dong Van to do the king of mountain passes Ma Pi Leng Pass, or choose to first go to the most northern point of the country at Lung Cu flag tower, with rewarding views along the way.