Ha Giang Loop tour: the highlights in 3 days
Driving the Ha Giang loop is the best experience you can do in Vietnam
Choose either on the back of a motorbike (adventurous option) or by jeep (comfortable option) – both private tours
Explore the most remote villages and markets and learn more about the unique minorities living in the mountains.
Behold the most impressive views of mountains and passes in Southeast Asia; lots of stunning photo oppurtunities
Local experience staying in a homestay and eating in local restaurants
Local English speaking guides that can stop whenever you want
Options to get to Ha Giang & back
Depart from Hanoi in the early morning the day before you want to start the Ha Giang loop (Day 0). Transfer from your hotel in Hanoi to Ha Giang by luxury limousine minibus.
Arrive in the afternoon in Ha Giang. Stay in a local authentic minority village just outside town. You have the afternoon to explore the beautiful village, including rice fields around. The village belongs to the Thai minority, who live in houses on stilts. You will spend the night in a homestay in this village where you will be picked up the next day to start the Ha Giang loop tour.
Unique experience in staying in a beautiful local village of ethnic minorities
Stunning area with rice fields
Private bungalow style room for the comfort option
Clean and specious dorm room for the standard option
VIP Limousine Sleeper Bus
Bus travel can be tiring. For a few dollar more you have a luxury VIP bus, with seats that are almost twice as large as the normal sleeper bus.
We can arrange a private car from Hanoi or other destinations in Vietnam to Ha Giang
If you are planning to visit Sapa too, it is recommend to get our tour Sapa + Ha Giang Loop – that includes direct transfers between Sapa and Ha Giang City.
Arrange your own transfer to Ha Giang
If you are traveling to Ha Giang from another city, you can arrange this yourself or contact us in advance.
Day 1: Ha Giang Loop tour
Quan Ba ​​pass – Yen Minh – Tham Ma Pass - Vuong Palace– Dong Van
On this first day we drive just over 150 kilometers to the town of Dong Van. There are several stops along the way and you will hike for about 1 hour.
The first stop is Heaven's Gate at 1500 meters high with beautiful views over the mountains. A little bit lower down the pass there is another stop at a viewpoint with a view on the famous twin mountains.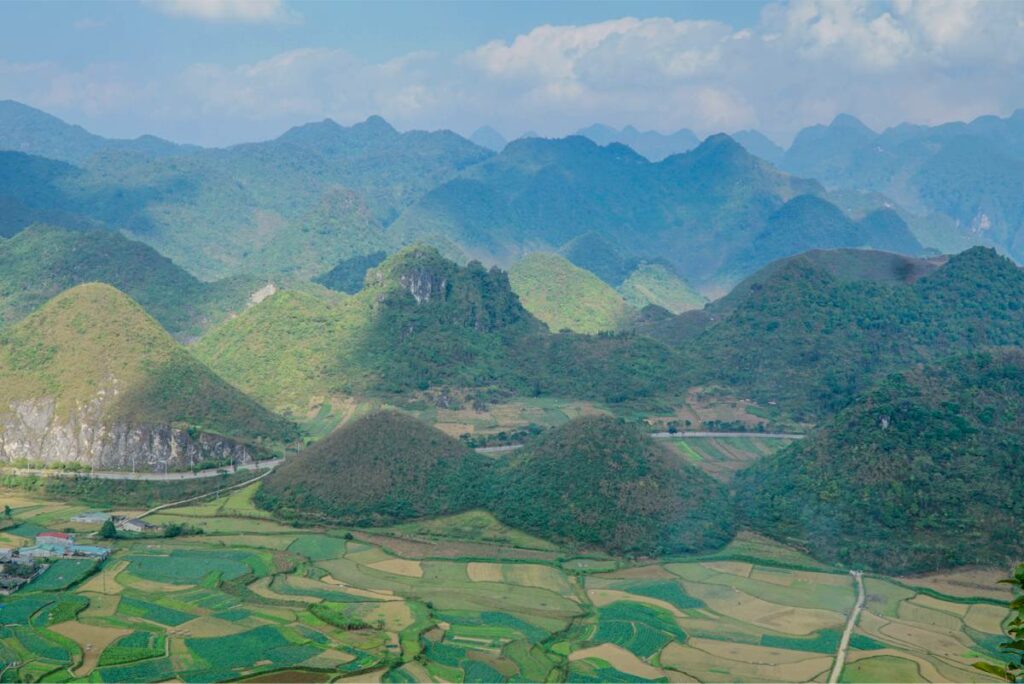 After these stops you will have lunch at a local restaurant in the village at the bottom of the pass.
When you are done eating your Ha Giang Loop tour continues with more and more high mountains on the way and small villages of ethnic minorities.
One of the places where you definitely want to stop during this part of the loop is the photogenic Tham Ma Pass.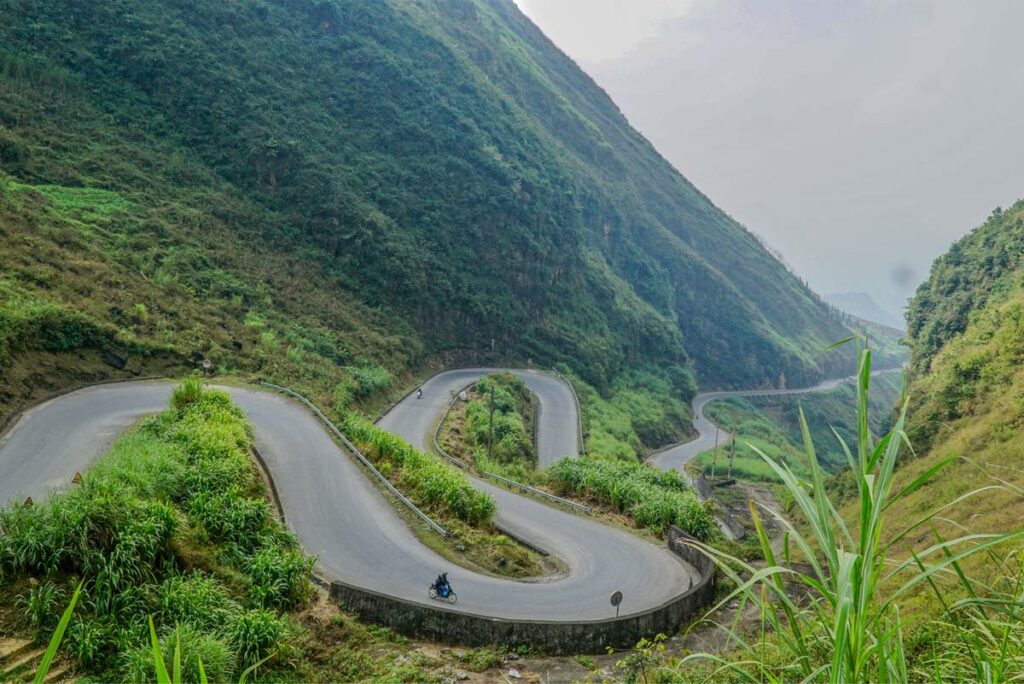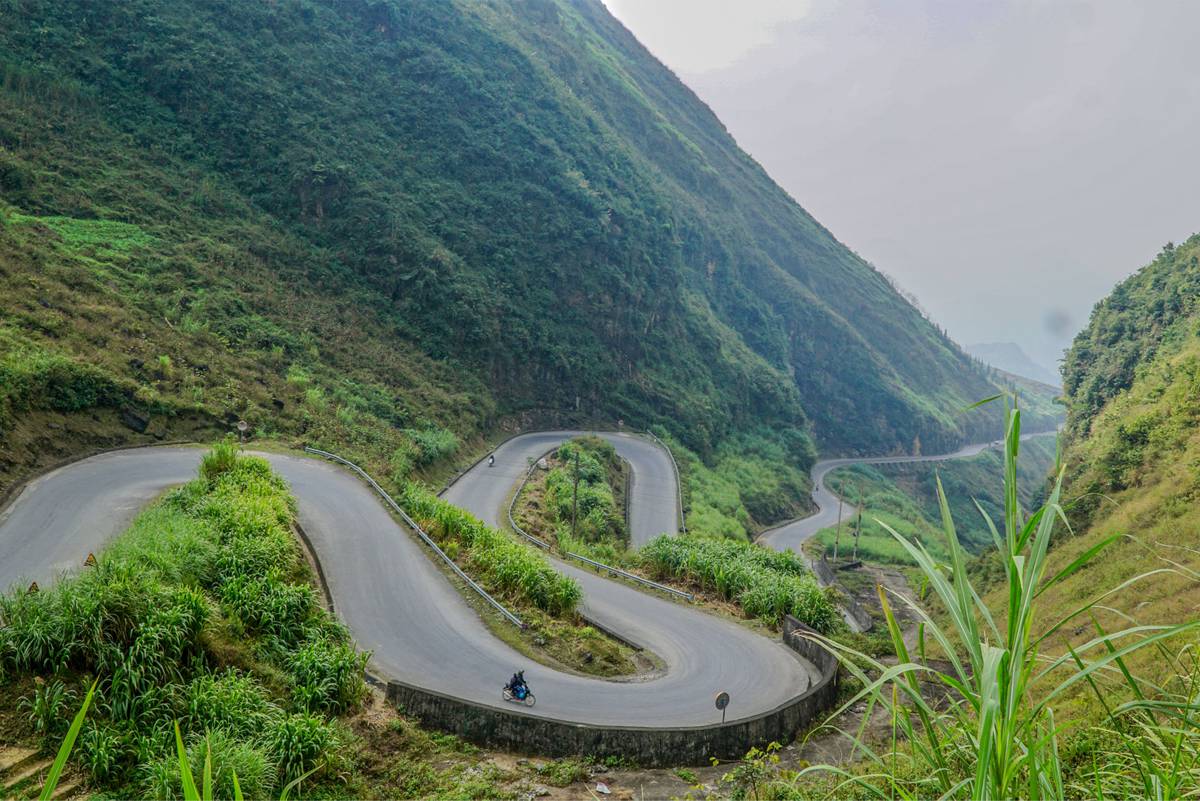 Views are only getting better and better. Enjoy your drive through the stunning Sung La valley, where you can also find an ancient village.
After passing this village you climb the Chin Khoanh pass.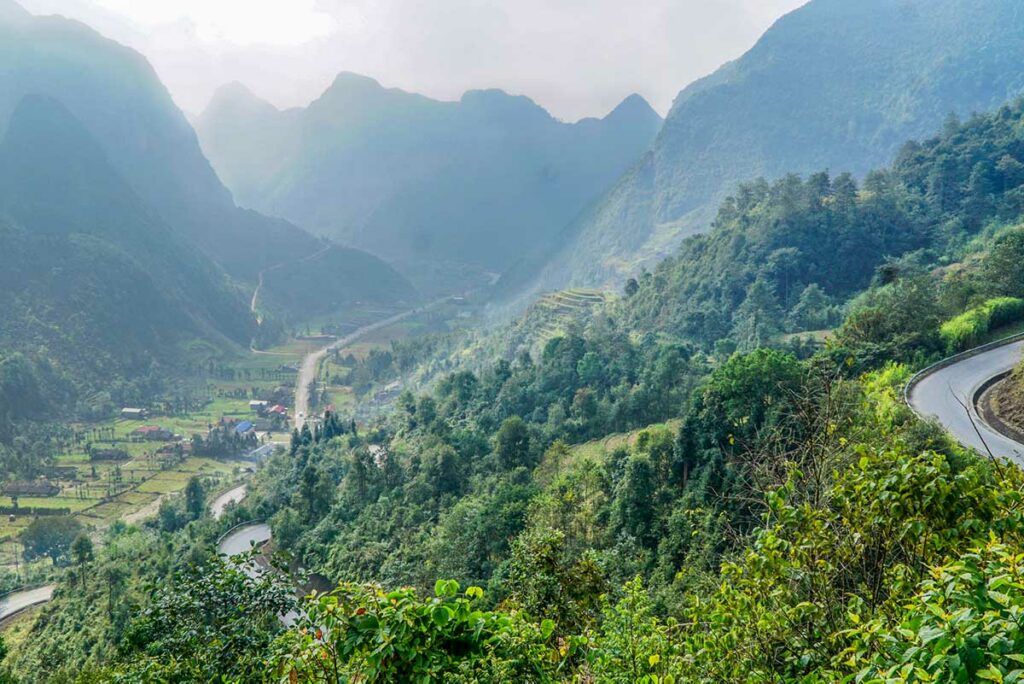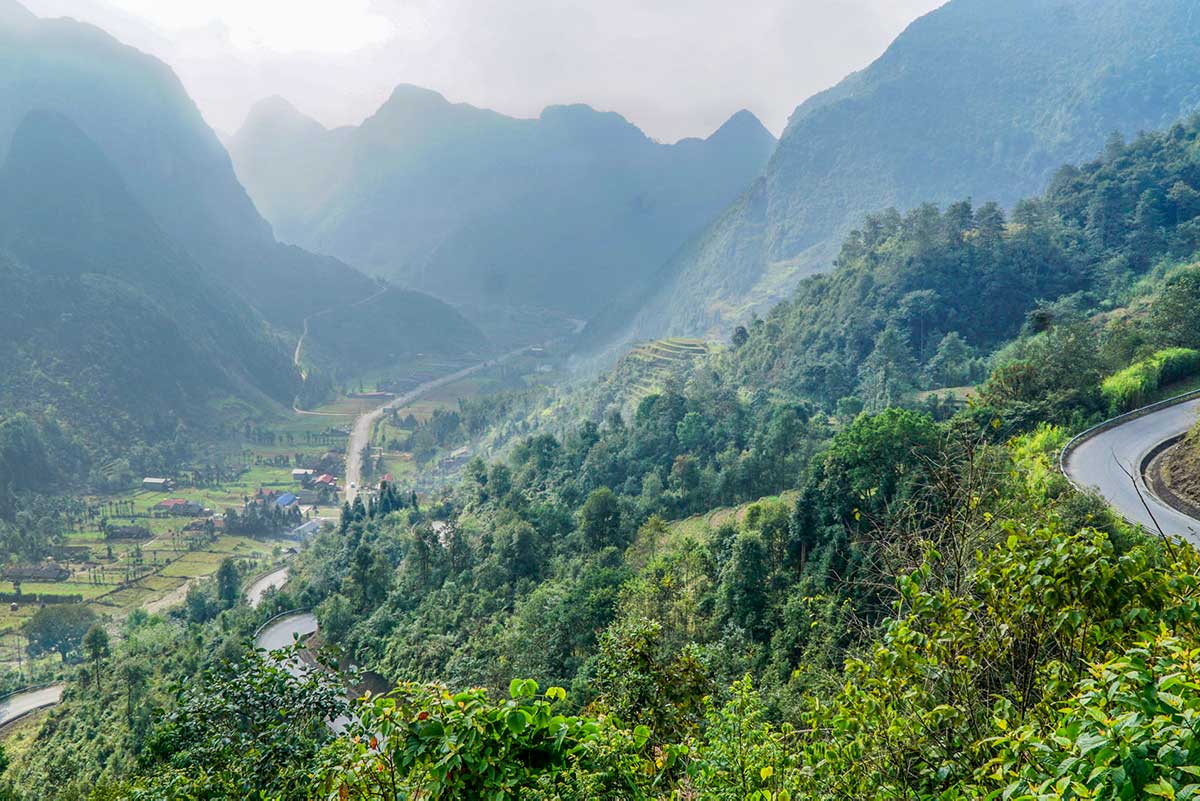 Before you are at Dong Van there is at least one more stop and that is at the HMong King Palace (Vuong Palace). This palace was built for the king of the Hmong minority.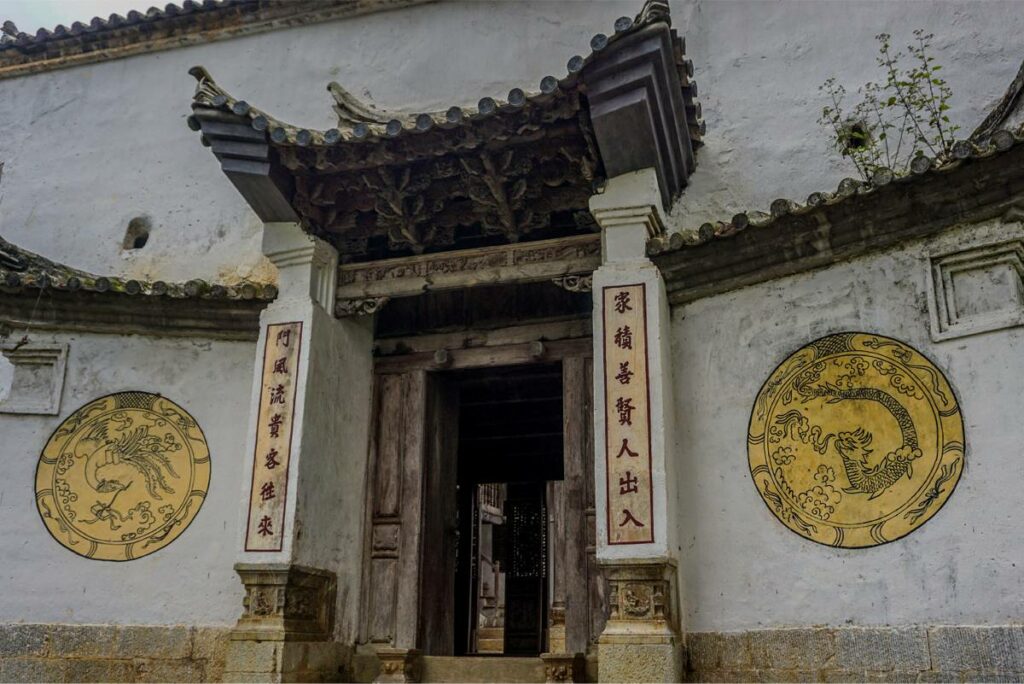 Depending on the amount of stops you will be at Dong Van at around 17:00 (5 PM). 
Check in to your homestay or hotel. After dinner you could visit the small but beautiful looking Old Quarter of this town.
Nice local homestay surrounded by the beautiful mountains of Ha Giang
Good  atmosphere, often full of other travelers
Both private rooms with ensuite and dorm rooms available
Stay overnight with a local family
This hotel is located right in the center of Dong Van. You can easily walk to Dong Van Old Quarter and the big Sunday market. Lots of restaurants nearby.
The hotel is for Ha Giang standards very good, with clean rooms, private bathroom, air conditioning and all the basics you need for a short overnight stay
Add optional day(s): Dong Van Trekking
Optionally you can add an extra day in Dong Van to do trekking. Multiple day trekkings are possible too.
We explore the mountains, countryside and small local villages of ethnic minorities and go off the beaten track where other travelers don't come. 
Day 2: Ha Giang Loop tour
Dong Van – Chinese border – flag tower – Ma Pi Leng pass – Meo Vac
Your Ha Giang Loop tour by motorbike or car continues on day two, where you will explore the most impressive mountain areas.
If this day falls on a Sunday, you are very lucky, because then you can first visit the large minority market in Dong Van.
You will depart after breakfast and drive through the Dong Van Plateau, a protected UNESCO Geopark. The views you will have from this road are breathtaking.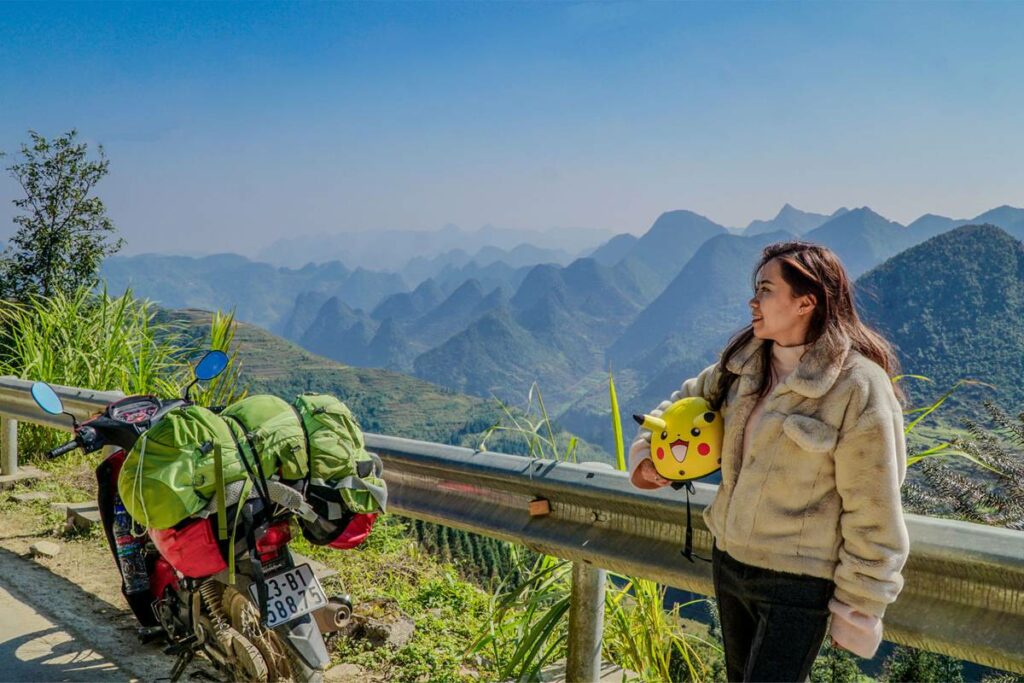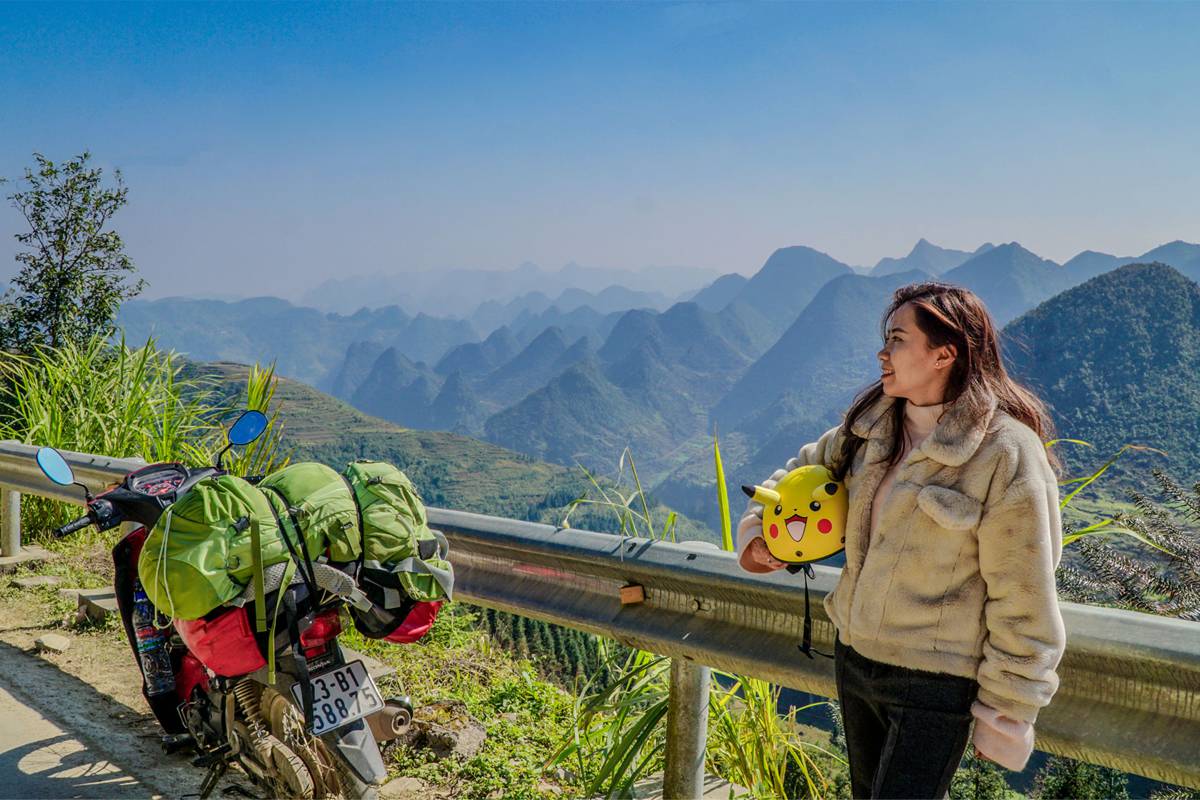 Eventually you arrive in Lung Cu where a huge flagpole stands on top of a mountain. This place is the northernmost tip of Vietnam. At the top you can see the mountains of Vietnam on one side and the mountains of China on the other.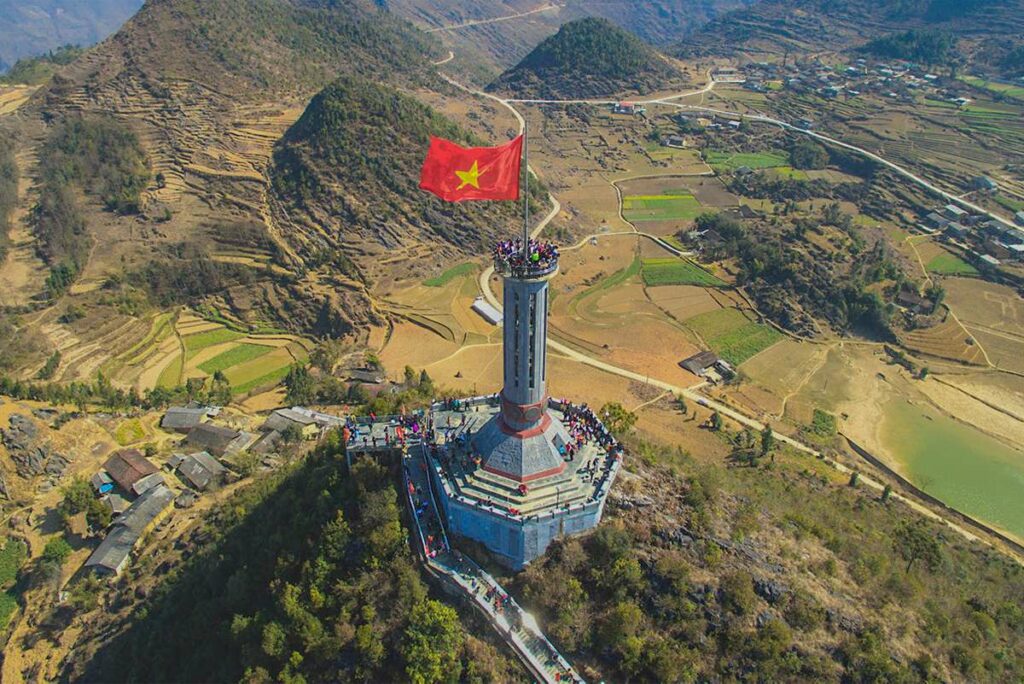 After lunch comes the absolute highlight of the Ha Giang Loop tour for many travelers: the Ma Pi Leng Pass. The absolute king of all mountain passes in Vietnam, with steep cliffs and epic views.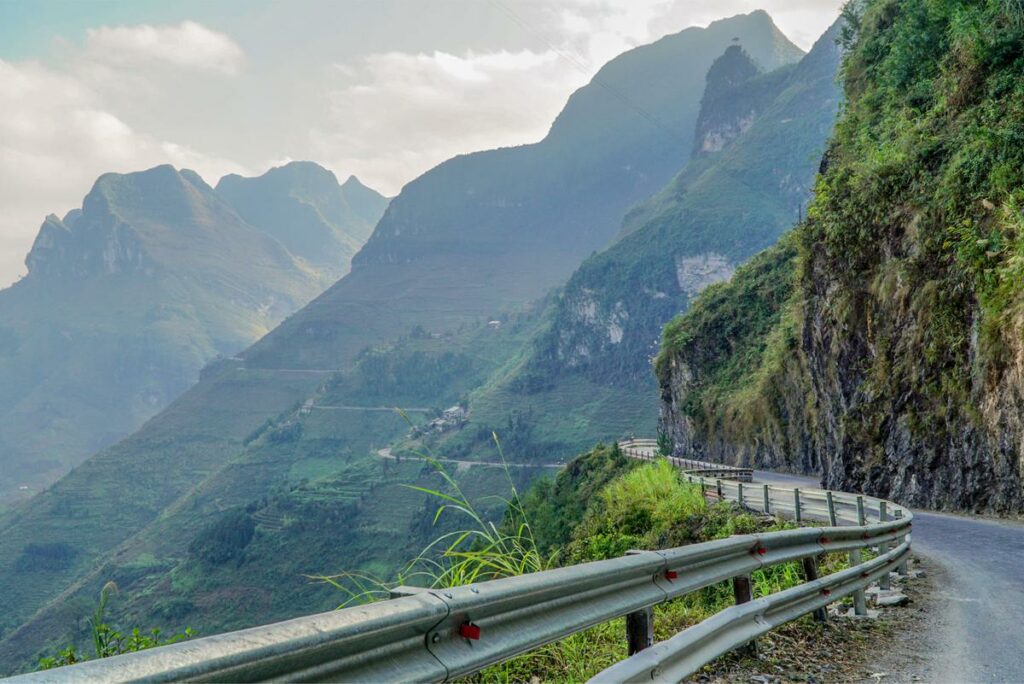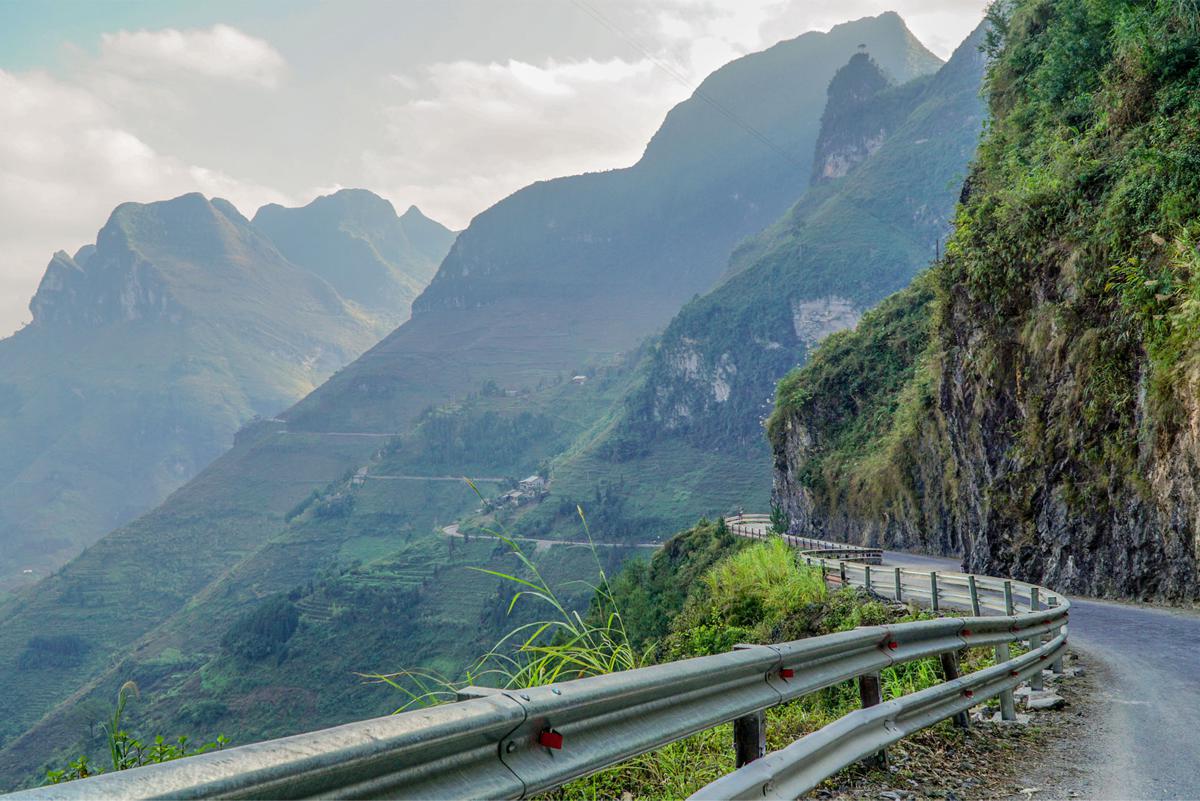 Take your time to take pictures and enjoy the view everywhere.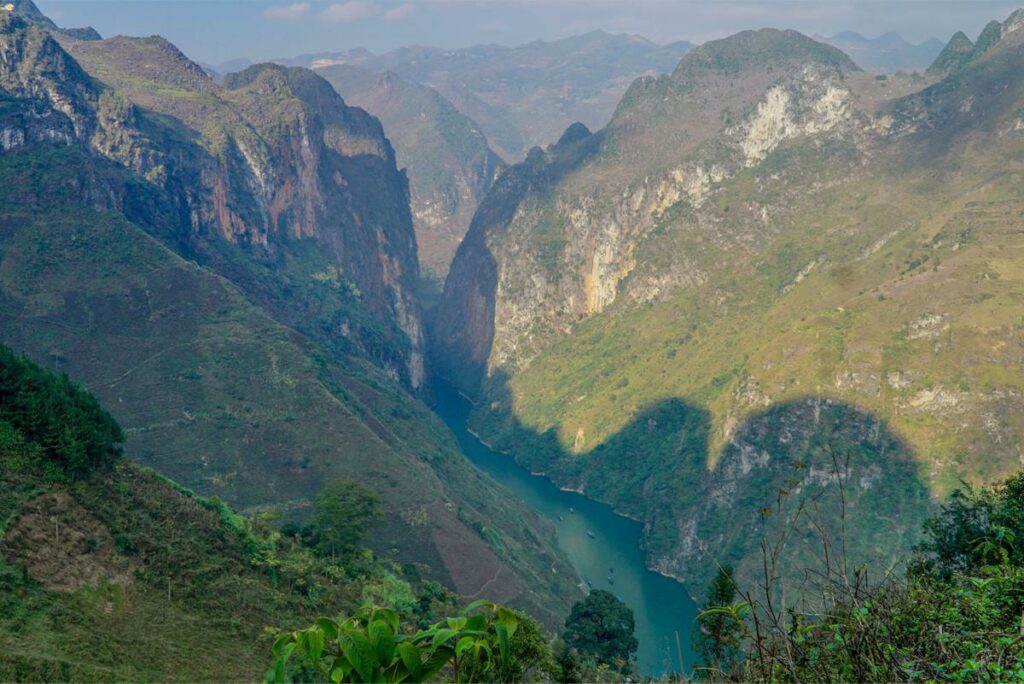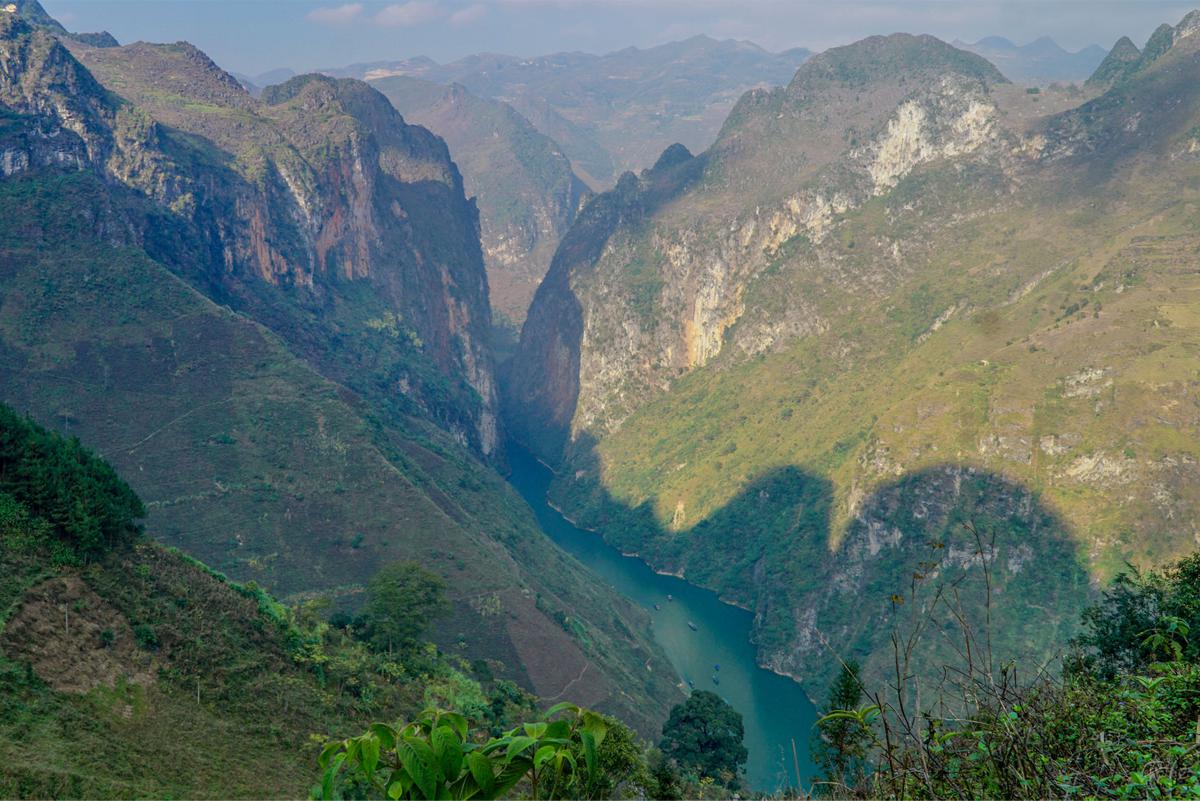 Then you will continue to the town of Meo Vac, where you will arrive around 5:00 PM (5 PM) and stay overnight.
Day 3: Ha Giang Loop tour
Meo Vac – Long phin – Mau Due Du Gia – Ha Giang
Also in Meo Vac there is a market on Sunday. It is even the biggest ethnic minority market in Ha Giang, so you are in for a threat if you happen to be in Meo Vac on Sunday.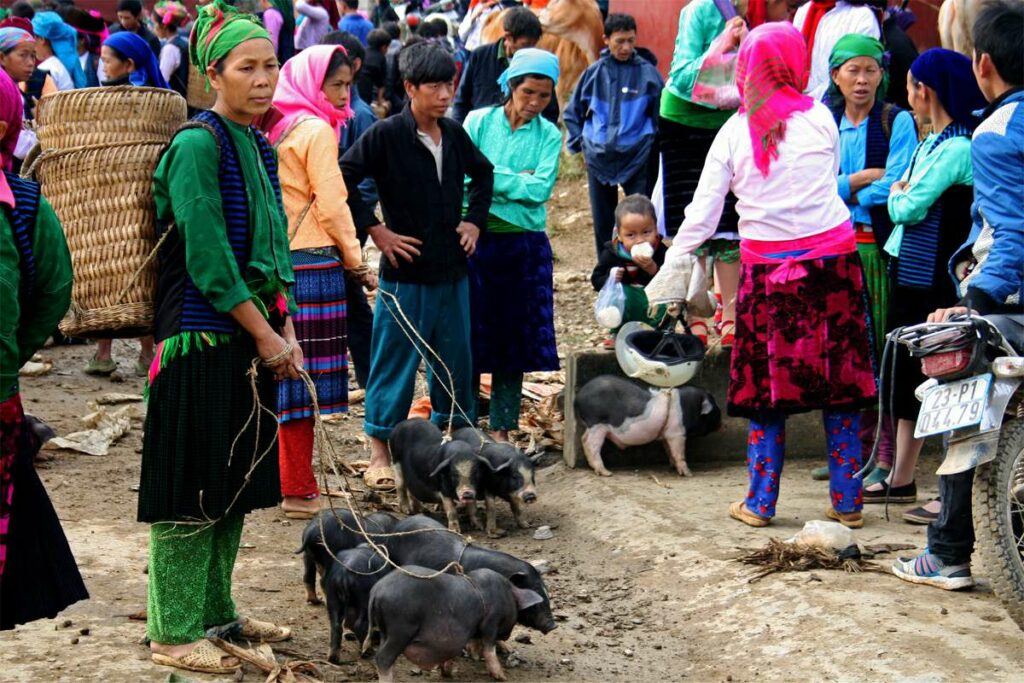 In your last day of the Ha Giang Loop tour we have to head back to our starting point Ha Giang City to complete the loop. But not before you enjoy many more beautiful views and drive through many minority villages on this day.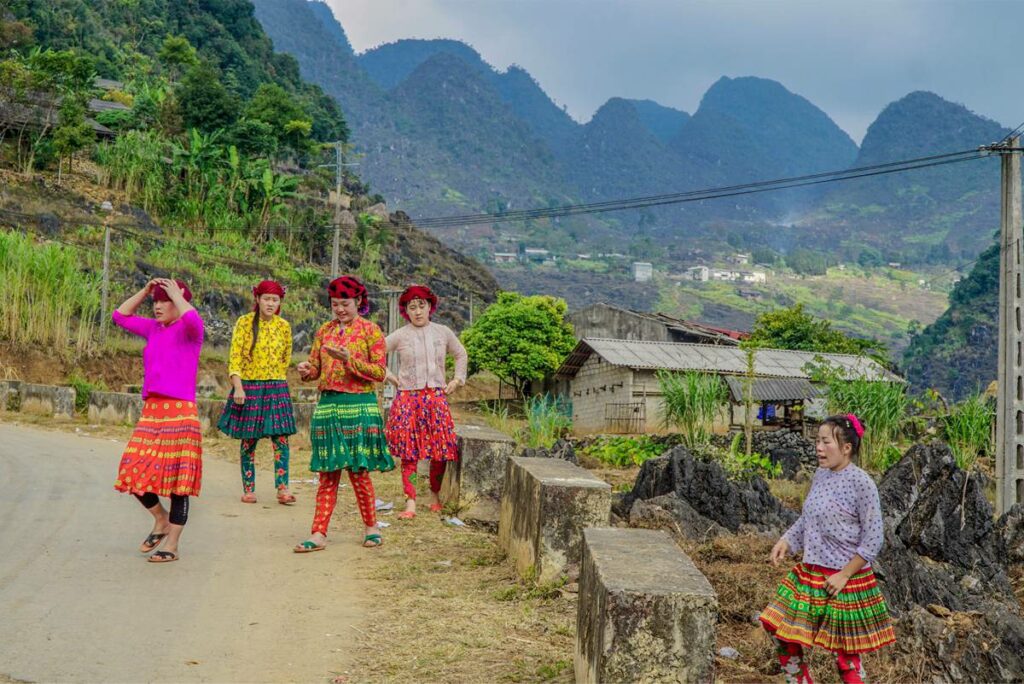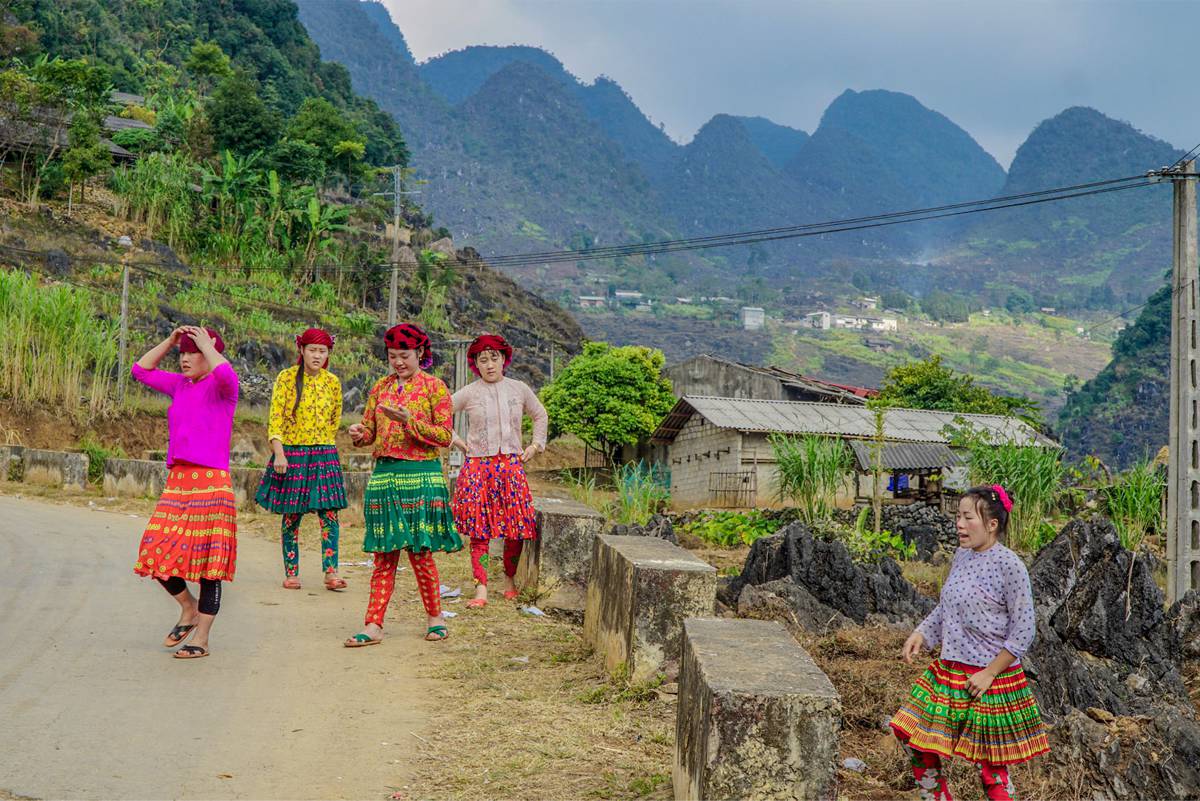 Lunch is halfway in a village.
From now on the landscape changes a bit. You will start to see more and more rice fields, including terraced rice fields.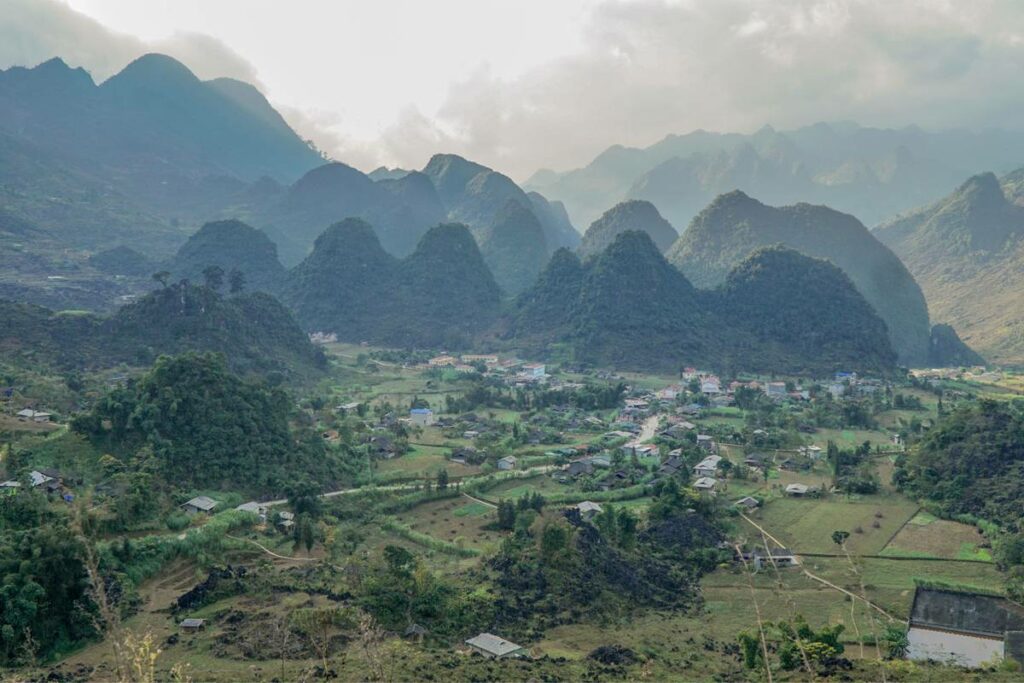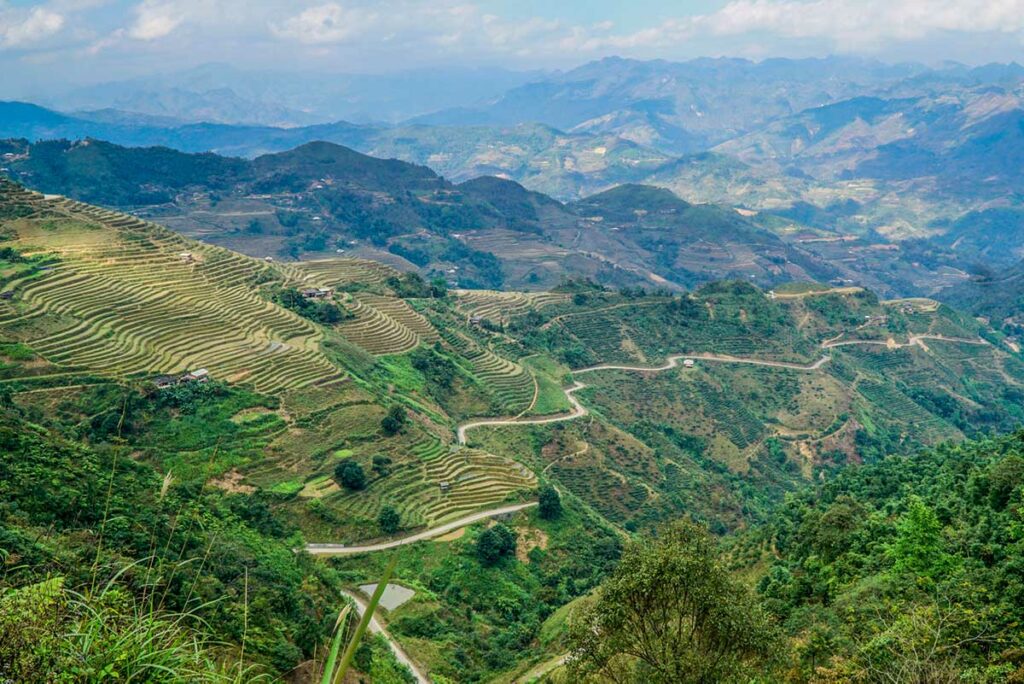 At 16:00, we will be back in Ha Giang. A limousine bus will take you back to Hanoi. Arrive in Hanoi around 22:00.
Tour options
1) Transfers Hanoi – Ha Giang (and back)
Limousine day bus + Thon Tha village
VIP sleeper bus
Normal sleeper bus
Private transfer
2) Transportation options
Ha Giang Loop tour by motorbike – Most recommended option
Ha Giang Loop tour by car/jeep – Most comfortable option
Ha Giang Loop motorbike tour self driving – Only available with motorbike license and IDP
3) Accommodation option
Standard: More local experience with staying in homestays and more chance to meet other travelers. Rooms are often more basic.
Comfort: Stay overnight in more comfortable accommodation, like hotel, lodge and bungalow.
4) Optional activities
Trekking in Ha Giang: 1 day or multiple day tours available
Planning
Start tour: Ha Giang City or Hanoi
End tour: Ha Giang City or Hanoi
Duration: 3 – 4 days
Starts: Daily
This is a private tour. We do have a join-in tour available, with a slightly different itinerary. When you are interested, ask us for more information.
Including
English speaking guide
All accommodation mentioned in the itinerary
All meals mentioned in the itinerary
All transfers mentioned in the itinerary
All entrance fees mentioned in the itinerary
Excluding
Meals and services not mentioned in the itinerary
Drinks
Personal expanses
Additional information
Confirmation: You will receive a confirmation immediately after booking. You will receive a voucher by e-mail within 3 working hours. If you have not received your voucher, please check the Spam or notify us via email or chat.
Voucher:Save a digital voucher on your phone. As a sustainable company, we would like to ask you not to print the voucher..
Itinerary: The itinerary is subject to change depending on the weather and other conditions.
Pick-up:Please arrive at the hotel lobby 10 minutes prior to departure. Please be patient on shared / group tours in case of unforeseen delays along the pick-up route.
Cancellation:View the cancellation conditions here.
Yes this is a private tour for both the motorbike and car option. We do have a join-in option for the motorbike, with a slightly different itinerary. Ask us for more information when interests.
On the back of the bike is the most recommended. You travel through the mountains like a local, it is both easy to look around you and stop everywhere, but what makes this the best option is for most of all the actual experience of being on the back of the motorbike.
The option with car is the most comfortable. You sit more comfortably and are better protected against the weather elements, such as rain, strong sun, cold and heat.
There is little traffic in Ha Giang, but the roads wind through mountain passes and sometimes they are of poor quality. However our motorbike guides are highly experiences and very professional drivers who have done this trip countless times. They can guarantee your safety and let you enjoy a great experience without any worries.
It is possible to drive the Ha Giang loop yourself by motorbike, however we only offer this to people who have a motorbike license with IDP. Ha Giang is not for unexperienced drivers without a license and it is also illegal to drive without the right driving papers, meaning that the police can stop you and not let you continue.
But we can assure you that riding on the back of a motorcycle is just as much fun, as you don't have the stress of driving on these roads or being stopped by the police. This gives you more freedom to look around and enjoy all the beautiful views.
If you are planning to visit only Ha Giang and not go to Sapa anymore, we highly recommend extending your stay in Ha Giang with a trekking. We offer beautiful hiking tours through the mountains, with local villages and rice fields. In addition, it is also a pleasant change from being on the motorcycle or in the car most of the day.
If you choose the car option, a suitcase is no problem. If you opt for going on the back of the motorcycle, it is more convenient to use a smaller bag or backpack.
Yes it is no problem to leave your suitcase. We have a space available to store things in Ha Giang City (the starting and end point of the Ha Giang Loop). Also most hotels in Hanoi have the option to leave your belongings behind if you choose to return there.
Ha Giang is not as developed for tourism as other parts of Vietnam, such as Sapa. This means that you will mostly stay in a basic hotel or simple homestay. Homestay will be a authentic experience. Hotel rooms are not luxury, but clean and always private bathroom.
Minimum age guidelines exist, but it is more important that children are confident and fit on the back of the bike. Contact us for more information.
You can talk to the guide if you want to change something in the Ha Giang loop. The guide can change the plan within the possibilities of time, weather and distance.
The weather in the mountains can be difficult to predict, but even if it rains you can still follow the Ha Giang loop. If you go by motorbike, your luggage will be protected against rain with a rain cover. Even if the weather is not perfect, this trip is still one of the best experiences you can do in Vietnam.
Ha Giang is the most impressive region in Vietnam. Here you will find the most beautiful mountains and the most authentic minority villages. You'll regret going not long enough here; the longer the better. But Ha Giang is not developed for tourism, so this also means that accommodations and restaurants are more basic. This gives a more authentic feel, but can also take some people out of their comfort zone.
Booking & Information request
Ask for booking, availability, pricing or general questions about this tour.