The Lung Cu flag tower is a 33 meter high tower with a 54 square meter flag on the most northern point of Vietnam in the province of Ha Giang. It is one the highlights along the famous Ha Giang loop.
Lung Cu flag tower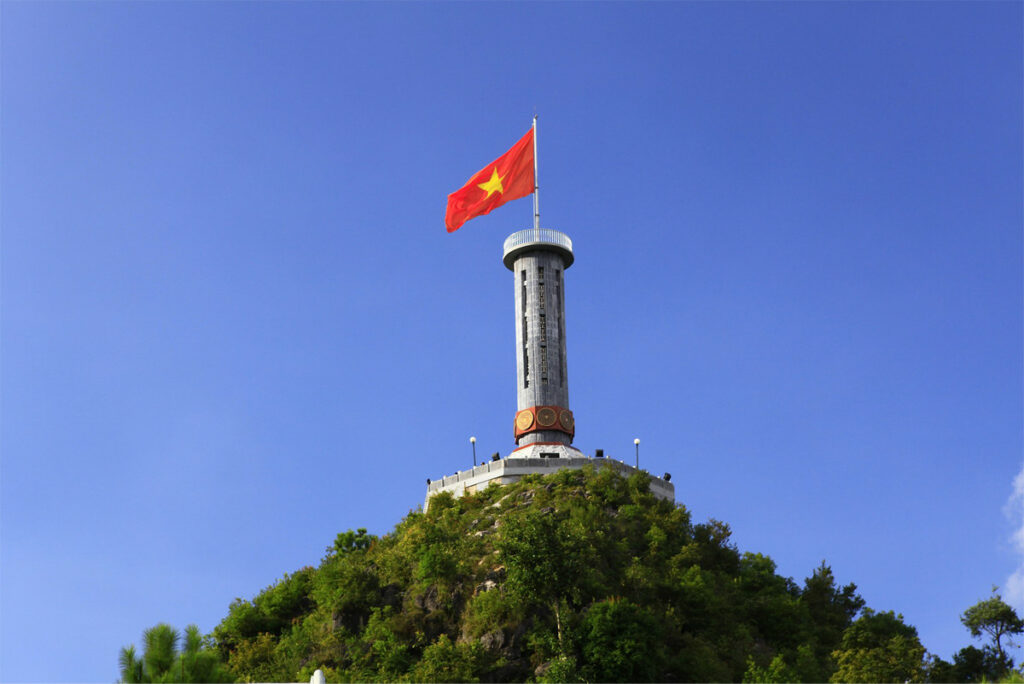 On top of the Rong Mountain, on the height of 1700 meter above sea level, you will find the Lung Cu flag tower. The tower has an impressive height of 33 meters and a huge flag of 54 square meter, that represent the 54 ethnic groups in Vietnam. It stand on the most northern point of Vietnam, right at the border with China.
There are 839 stone steps, divided into 3 parts that bring you to the top. If you get here by motorbike you can drive to the top parking spot, so you only have to walk the last 283 steps. If you get there by car you can take an electric buggy to the the top parking spot. After walking the last steps you get to the viewing platform and the base of the Lung Cu flag tower. From here you have great views over the Vietnam countryside and the mountains of China.
Admission: 20,000 VND per person
Location: Find on Google Maps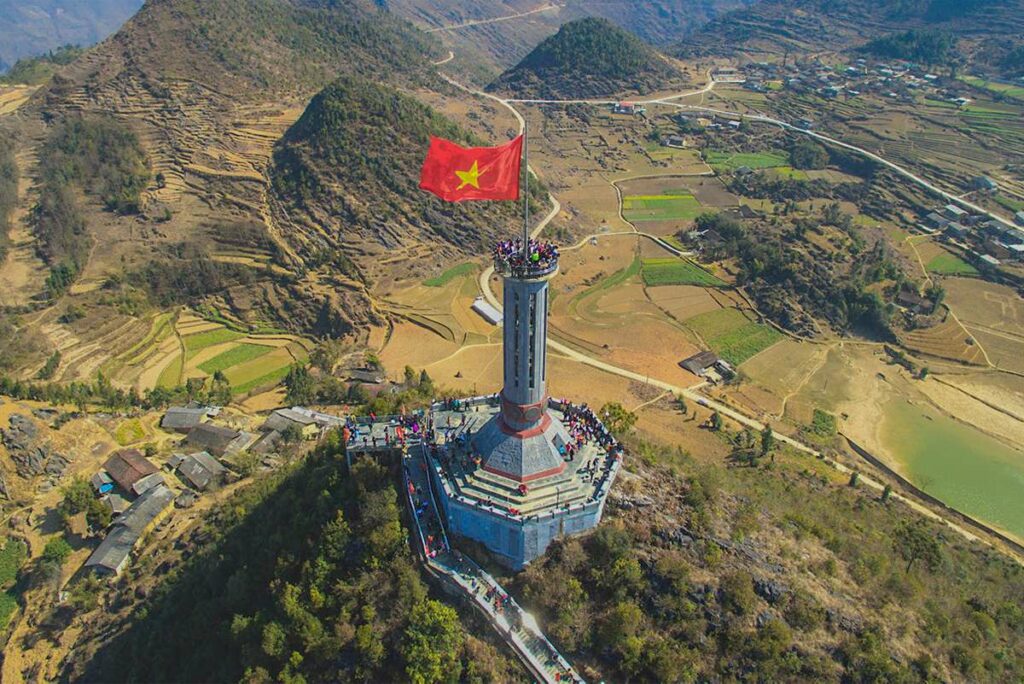 There are not many facilities around the tower, but you can find a few local shops where you can buy some snacks and drinks and there are a few restaurants. It is recommended to visit Cafe Cuc Bac, located in a small authentic minority house.
Lung Cu village and area
Lung Cu is not just a flag tower, it is also the name of the village, with lots of other small villages around it. If you are not interested in visiting the tower, you should at least go here for the superb views along the way and the small villages. Driving from either Ha Giang City via Sa Phin or coming from Dong Van brings you through one of the most scenic roads Vietnam has to offer. Towering mountains on both sides, with small villages dotted in the valley below are views you can expect.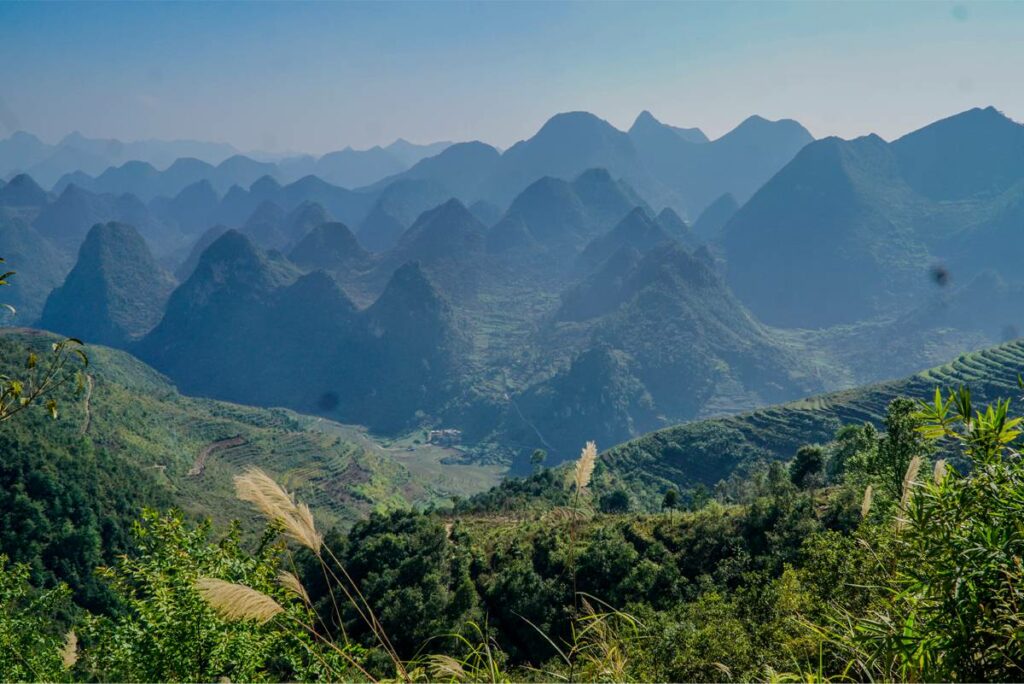 Lung Cu and the whole area around the town is a place of ethnic minorities, such as the Lo Lo and the Hmong. Lo Lo Chai village and Ma Lé village are two of the few minority villages you can visit in this area. Here you can experience the authentic local life and learn more about the culture of the people. Some of these villages also have homestays where you can stay overnight for a true local experience. When walking through these villages you will notice that the houses are made of yellow clay, this is unique from this area.
Ma Le has also a market which is held each Saturday. Here you can see local minorities from villages in the area come together and trade local goods, such as farm equipment, clothes, house hold goods and food they grow them self. The market is very bright when you see the minority in their colorful clothing. It is not only a place for trading, but also to socialize, with drinking, fetching friendships and making new friends. The market can be best visited in the early morning, between 5 AM and 10 AM.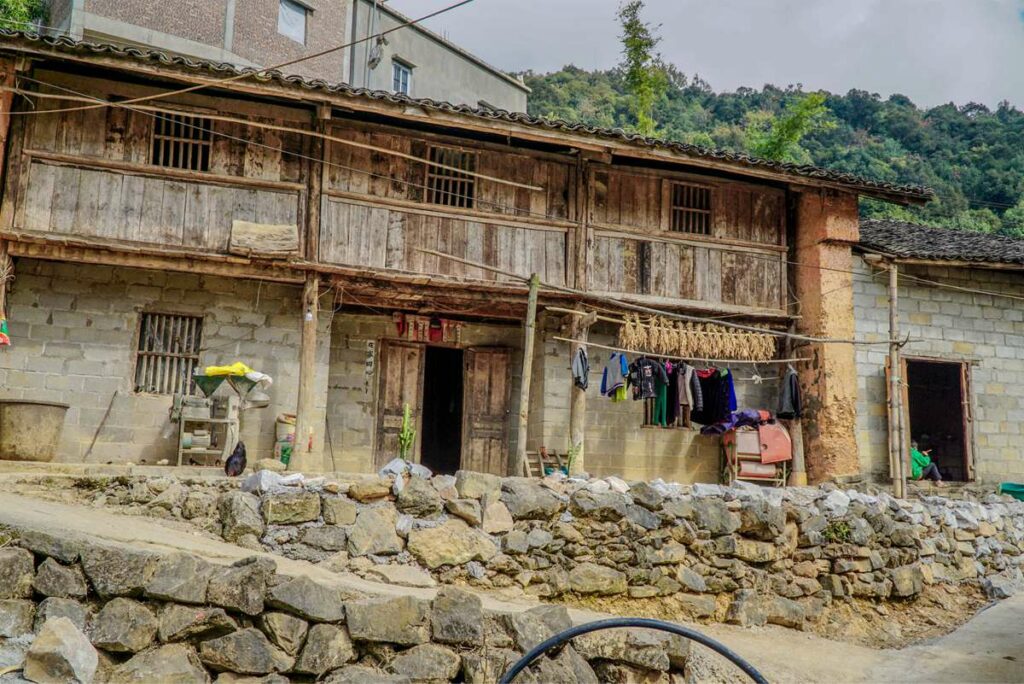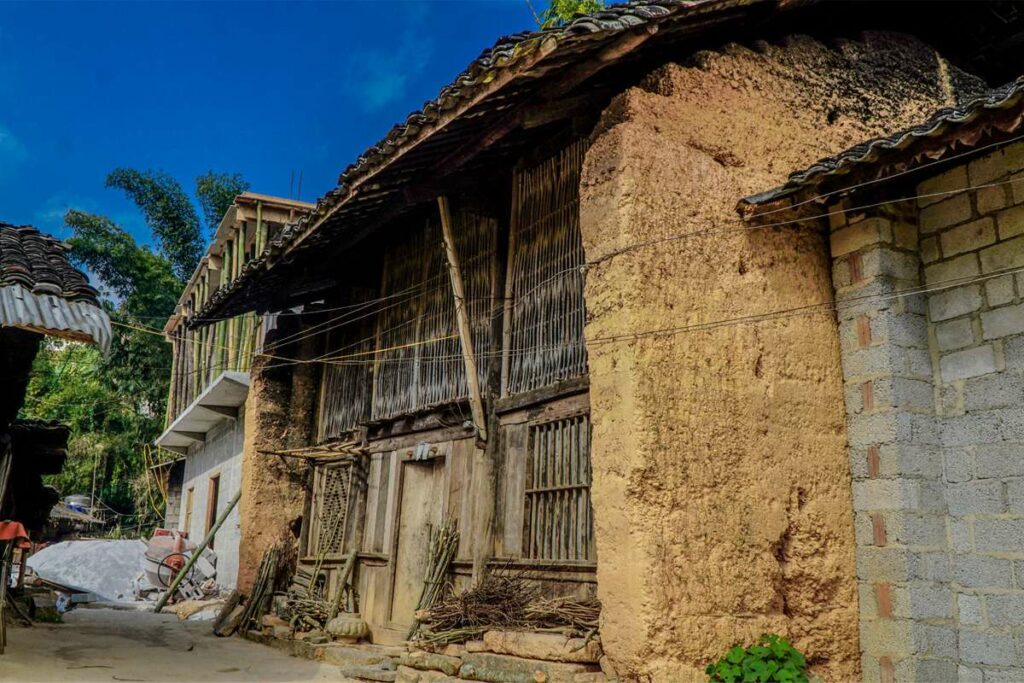 How to get there
If you are traveling from Hanoi, you first have to take a overnight bus or a daily mini bus to Ha Giang City. From here you can go by motorbike or car with private driver to Lung Cu, about 160 km. There are many great stops on the way, including Tham Ma pass, Quan Ba and HMong King Palace. If you are coming from Dong Van it is just 25 km, but because of the winding mountain roads it can take up to one hour driving.
Tip! Excited to visit Lung Cu and the stunning mountains and villages around it? Check out our Ha Giang loop tour that brings you here and many other highlights of this province.
Accommodation
The most popular place to stay in the area is actually in Dong Van town and not in Lung Cu. There are however accommodation in the area, mostly homestays. A great thing about staying around Lung Cu is for a more authentic experience than staying in Dong Van. All the homestays here are of the ethnic minorities living here and staying at their place will give you a unique look into their culture.
Recommended homestays in Lung Cu
Lolo Eco House – For a truly unique local experience, stay here. Practical traditional house which is beautifully situated. Run by an ethnic minority who provides good service.
Sister's House – The rooms of this homestay are very basic, but it feels very authentic, hidden in the back of the village of Lung Cu. The family is incredibly friendly and there is also a great common area with a pool table.
Homie homestay – Located in Lung Cu in a traditional yellow clay house and hosted by a nice family.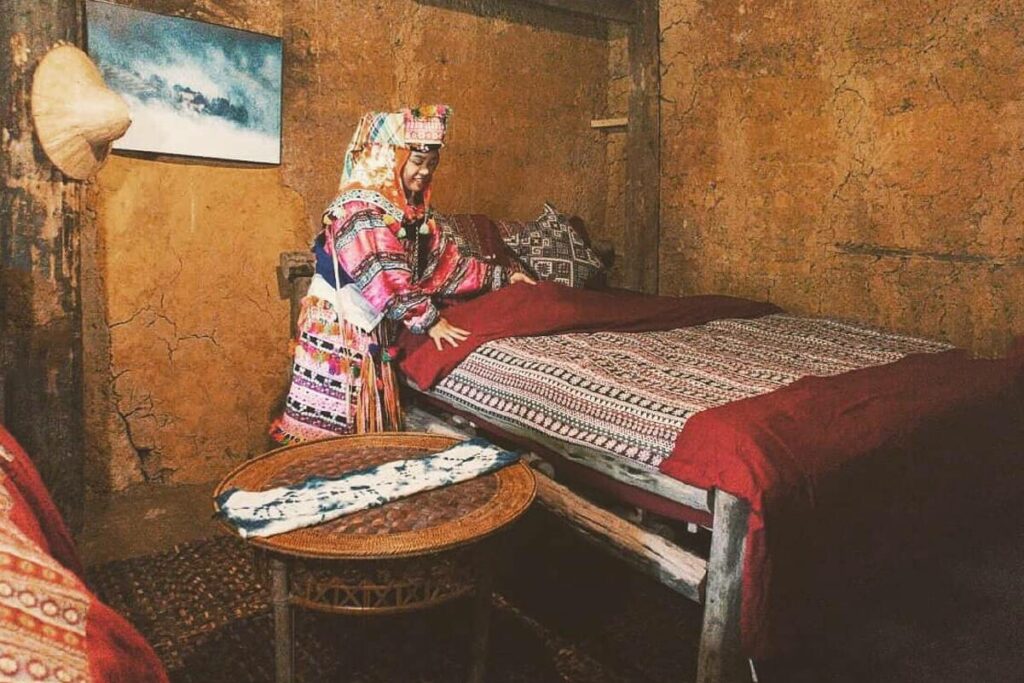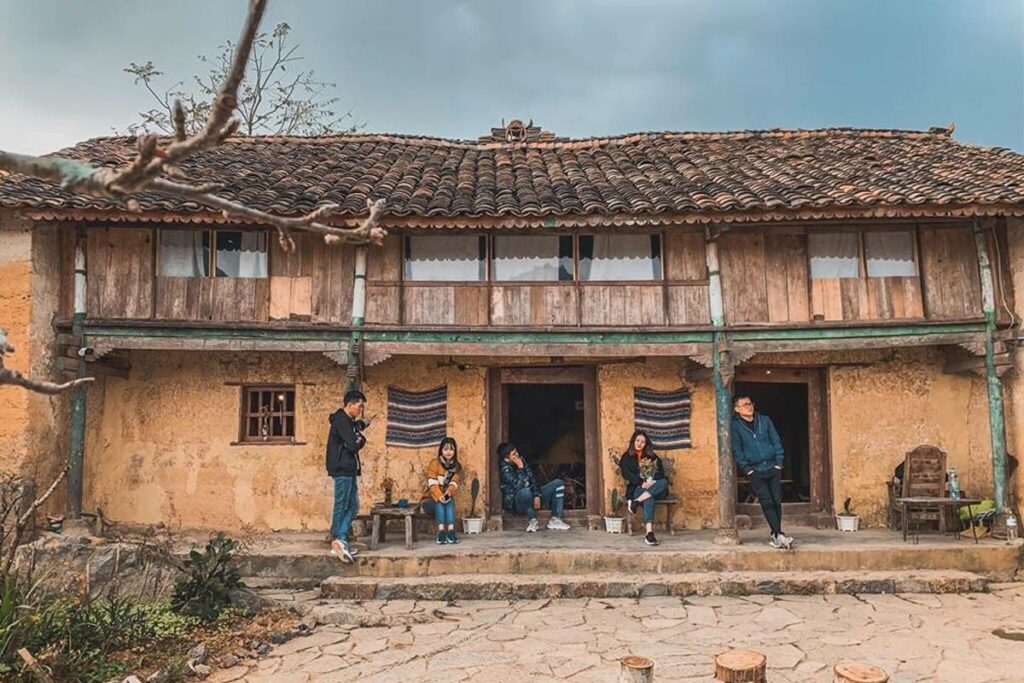 Best time to visit
Lung Cu can be visited all year round, however, like the rest of Ha Giang, the mountains can some times be foggy with limited visability. There is more change on rain during the summer month, especially the months July and August. During the winter months of December and January it can get quite cold here.
Other things to see around Lung Cu
The towns is located quiet remote and the only attraction in the Lung Cu flag tower. Though the mountains are impressive and minority villages authentic, so it is highly recommended to explore this area. The closest main town near Lung Cu is Dong Van, from here you are close to the Ma Pi Leng pass to continue your trip heading for Meo Vac.