Sung La valley is located on the highway QL4C between Ha Giang City and Dong Van and getting here you first have to drive over the Chin Khoanh pass, also called Nine Ramps. Besides exploring the stunning valley there are also some villages you can visit and the House of Pao.
The Chin Khoanh pass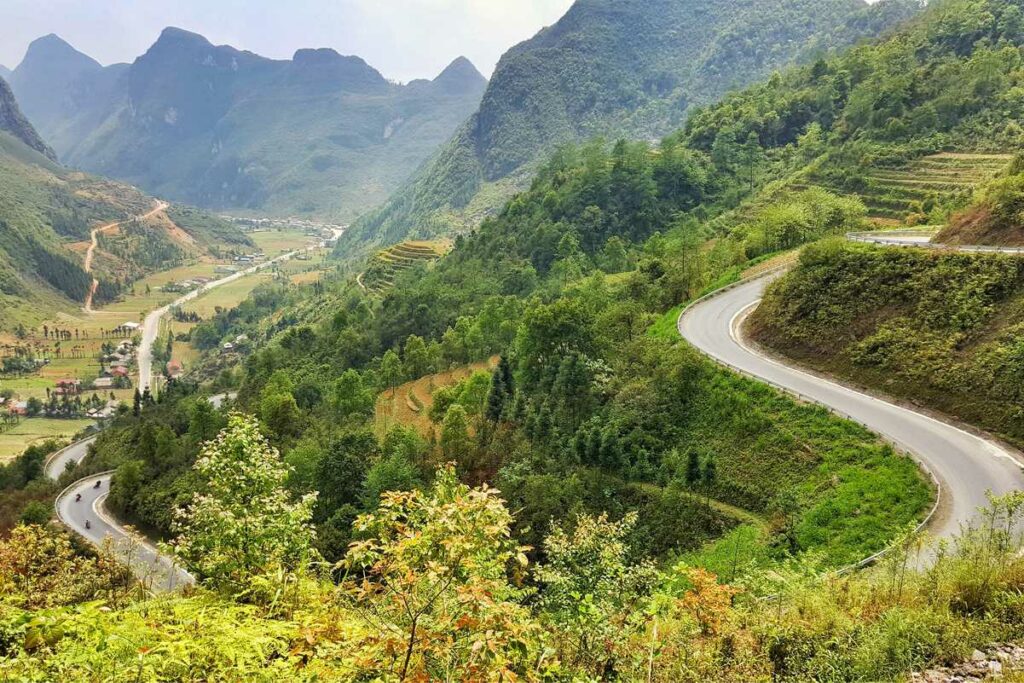 Before entering Sung La valley from Ha Giang City you will first drive over the Chin Khoanh pass, also called the 9 Nine Ramps, because of 9 turns on different levels. The road on the pass is in great condition and it is fun to drive all the way up. On top of the pass you have stunning views over the valley behind you.
Sung La valley
Sung La Valley is the hot spot in Ha Giang for blooming flowers and for that reason also called the flower gardens of Ha Giang. The valley can feel like a bit of a fairy tail, with flowers and ancients houses located between the rocky mountains of the Dong Van Karst Geopark. There are vast fields where you can see the flowers in alternation with agriculture lands like rice fields and corn fields. Especially on weekends you will find many Vietnamese from Hanoi in these flower fields who are taking pictures here during their two-day trip.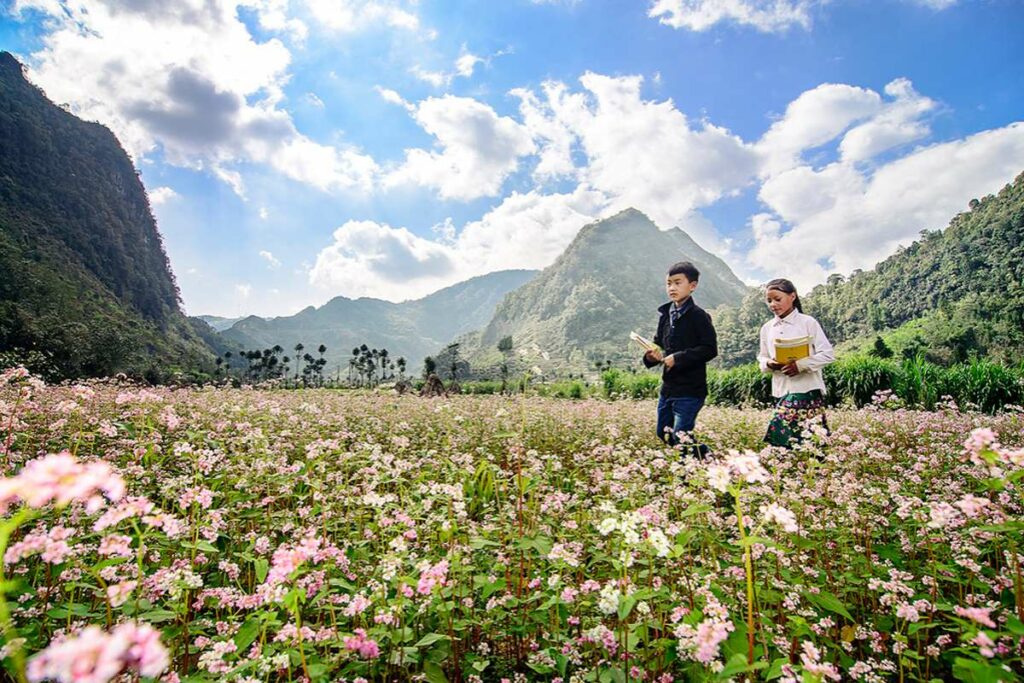 House of Pao
The biggest attraction in Sung La Valley is the House of Pao. Don't worry if you have never heard of it before, because it is mainly known for Vietnamese as the house was featured in a famous Vietnamese movie called "Pao's story", though the movie also had some international success. The movie takes place in this breath-taking primitive landscape and tells the story of a Hmong tribe girl named Pao. She was raised by her stepmother, for her real mother left her when she was little. One day, her stepmother dies in an accident, and she begins to track down her birth mother.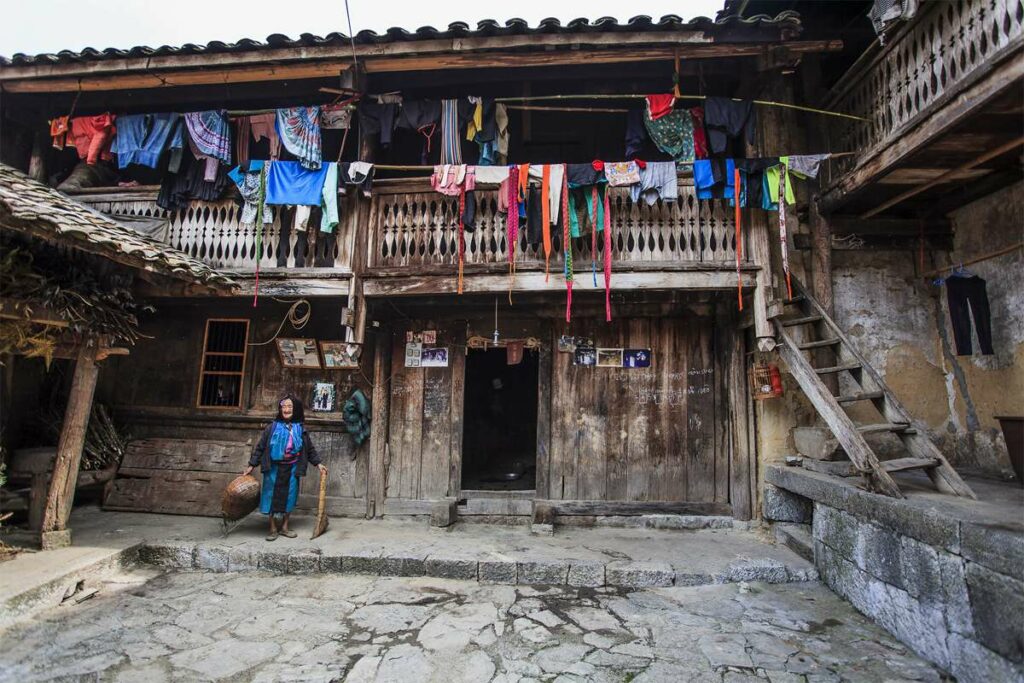 Although you might not be interested in visiting movie hot spots, the house itself is actually an authentic Hmong house and very beautiful. The seventy year old building has been the home to four generations. It originally belonged to Mua Sua Pao and after he and his son died, his grandson Mua Phai Tua inherited the house in 1980. Walking through the house gives you a good impression how a typical Hmong house looks like.
Entrance fee: 10,000 VND
Lung Cam Village
The House of Pao is located in Lung Cam Village, home to many ethnic minorities. Though there is just one famous house in the village, most houses here are beautiful and nearly 100 years old. There are around 60 families living between the walls of these ancients houses. Most of them are from three ethnic groups, namely the Lo Lo, Hmong and Han. The houses are made from locally collected materials, such as soil for the walls, stone for the tiles and wood for the doors and fences.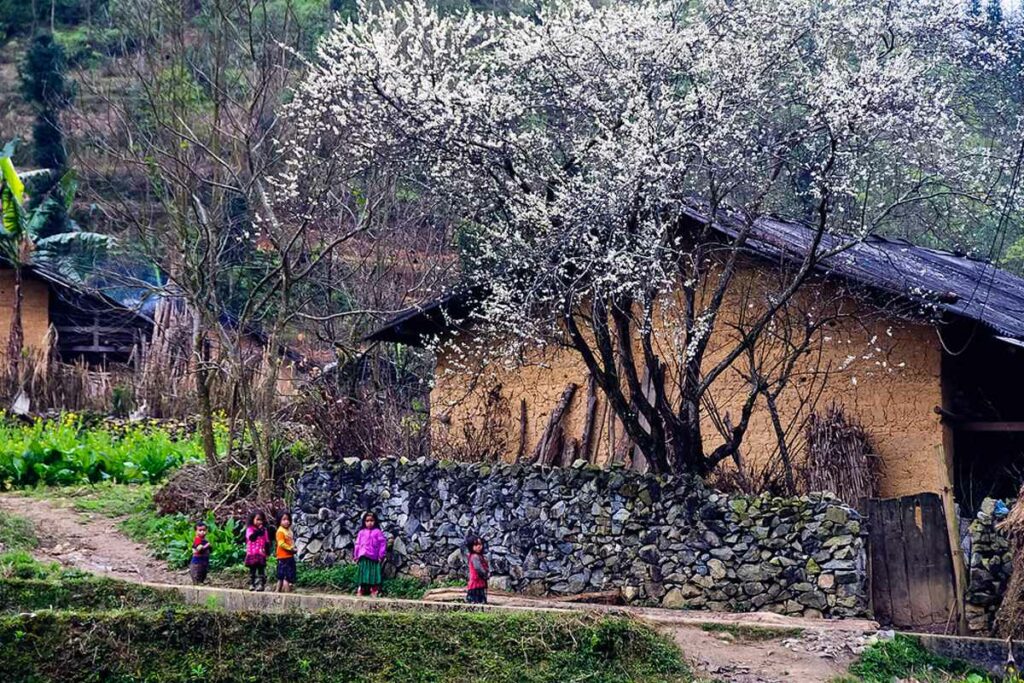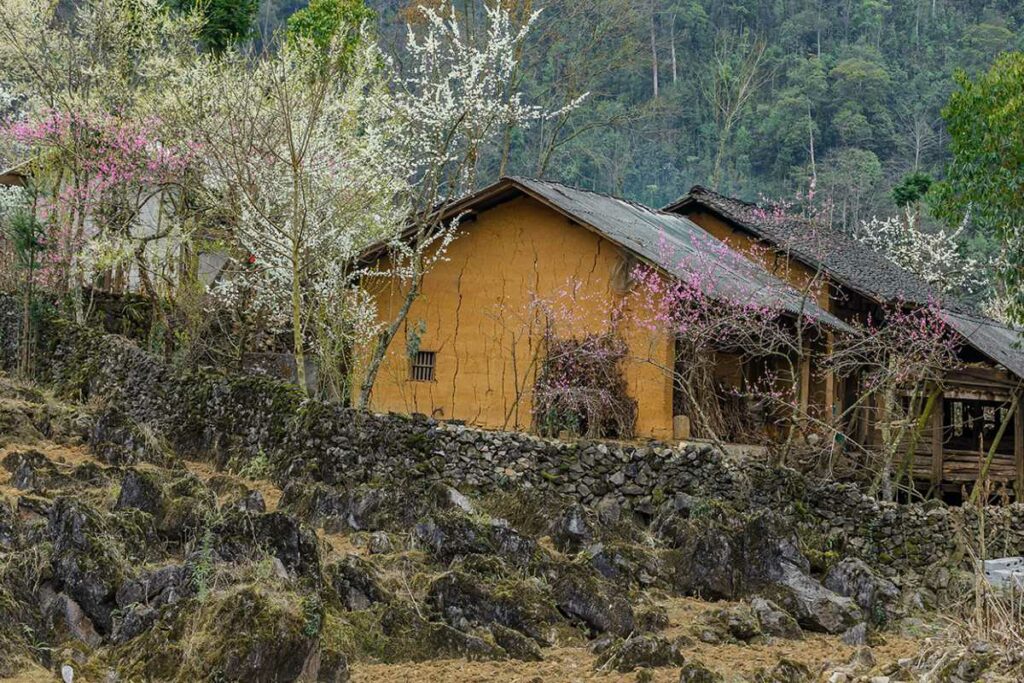 Best travel time
Although you can visit the Sung La valley all year round, there are certain periods that the valley looks a lot more beautiful. The famous flower season of the valley is during the Spring. You can also visit during the the buckwheat flower season in the autumn, from September to November. They are mostly grown by the locals on high hills.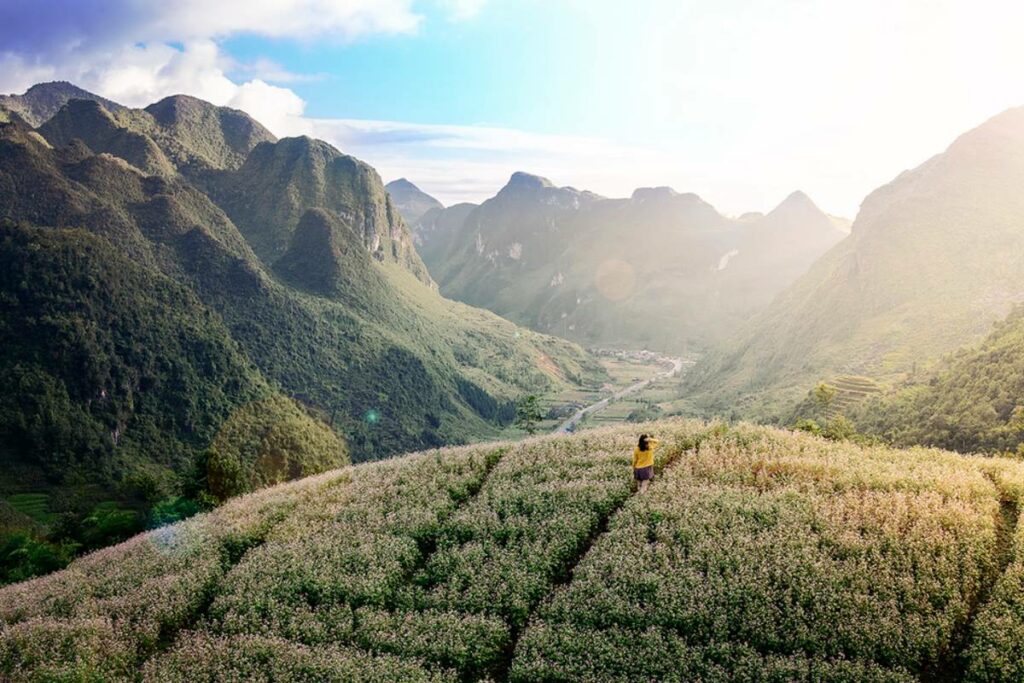 How to get to Sung La valley
Sung La valley is more than 400 km from Hanoi. If you start from Hanoi, you first need to take a bus to Ha Giang City. From here you can start your Ha Giang loop tour either on the back of a motorbike or by private car. During this tour you visit many of the highlights around this province. You can also choose to rent a motorbike yourself. From Ha Giang City to Sung La is around 127 km and from Dong Van Old Quarter it is just 24 km.
Other sights around Sung La valley
There is a lot more to do around Sung La. Before you drive over the Chin Khoanh pass there is another stunning pass called the Tham Ma Pass. If you continue driving to the north heading for Dong Van, you can visit Sa Phin village with the ancient HMong King Palace. From here you can go directly to Dong Van or take a scenic detour to Lung Cu, the northern most point of Vietnam. There is a flag tower you can visit, though the actual highlight is the road to here with small ethnic villages along the way.