Best of the north! Explore the famous and stunning rice fields of Sapa as well as the most amazing mountain scenery of Vietnam during the Ha Giang Loop.
Amazing opportunity to learn from the many local ethnic minorities during this trip
Enjoy a trekking tour in Sapa with local guide
Drive through the mountains of Ha Giang by either motorbike or car
Sleeper train from Hanoi to Sapa
Your Sapa and Ha Giang Loop tour both start and ends in Hanoi.
To save you a few hours of traveling during the day time, but also for the train experience, you will go from Hanoi to Sapa by sleeper train.
You stay overnight in the comfortable tourist train, the Dream Train Express, in a 4-berth cabin. All the bedding is provided and your cabin is air-conditioned.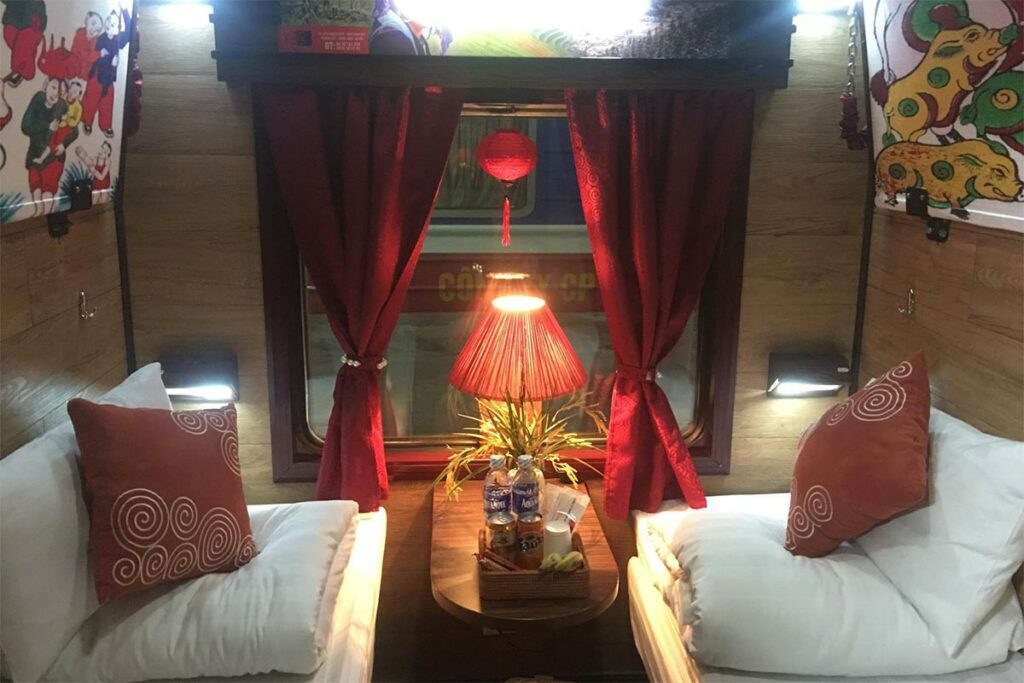 SP3: Depart Hanoi – Lao Cai: (22:00 – 05:55)
The bunk berths are pretty comfortable, but if you're over 6 foot (1.83cm) you won't be able to fully stretch out, if you are over 6 foot or (1.85cm) you might pull your legs a bit, however the ride is comfortable but it can be noisy of the train track is a bit bumpy ride.
If you like to have a snack during the night, it is best to bring your own.
Sapa waterfalls & Tram Ton Pass
The next day early in the morning you arrive at the train station of Lao Cai. There is a car ready to take you to your hotel in Sapa.
Arriving in Sapa, you can take a shower and enjoy breakfast.
When you are ready, you will explore the surroundings of Sapa by car.
Your first stop during this morning sightseeing tour is the Love Waterfall, located almost 15 km from Sapa town. 
There is a 30 min walk along a stream and going through the forest that brings you to the waterfall. Not many people come to the waterfall, so it is wonderful to take this walk and relax at the waterfall to recover from the train journey and getting up early.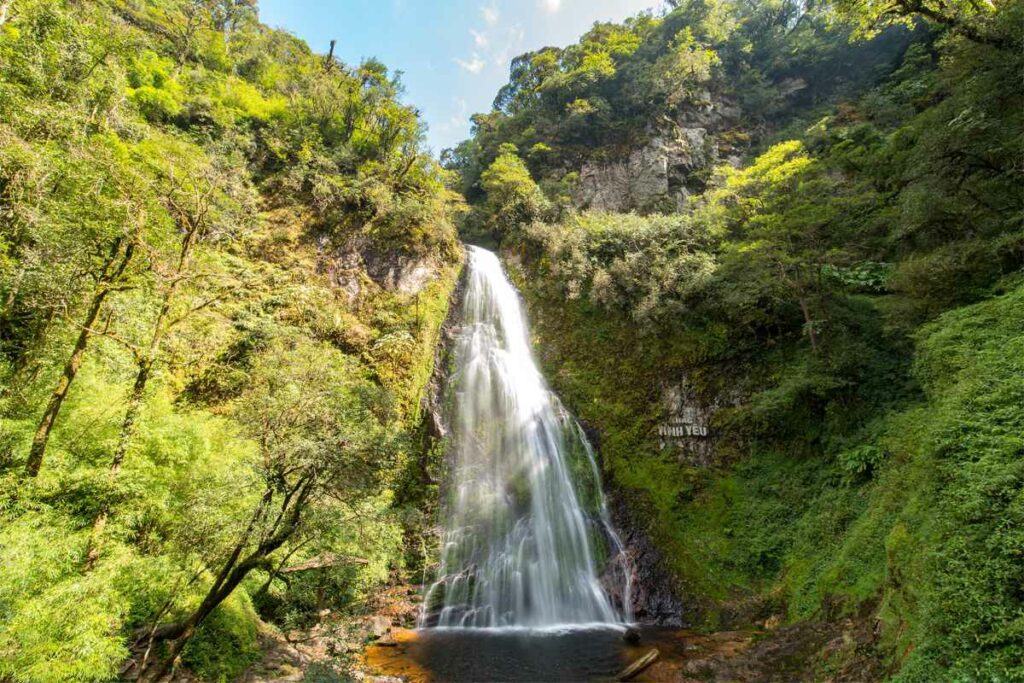 Back at the car, you will continue on your way, culminating in a drive over the highest mountain pass in the country, the Tram Ton Pass. You have beautiful views right from the road.
Along this mountain pass is another waterfall where you make a short stop, the Silver Waterfall.
After the mountain pass and waterfall, return to Sapa for lunch.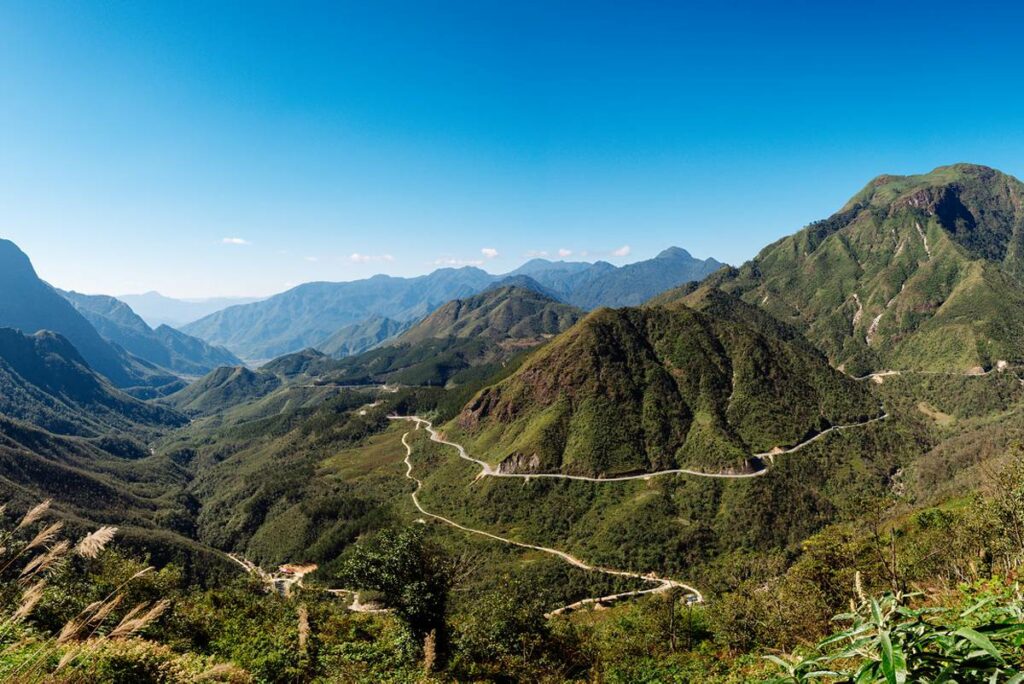 And after lunch you have the afternoon at leisure to explore Sapa. For example, you can take a cable car to the top of Fansipan, the highest mountain in Vietnam. Or visit the local market, the stone church, take a walk to Cat Cat Village…
Sapa trekking: Y Linh Ho – Lao Chai – Ta Va
Today you will explore some of the famous and stunning terraced rice fields of Sapa by a trekking tour. A guide will pick you up after breakfast from the hotel
The first part of your Sapa trekking goes along Cat Cat's road heading to a village. Here the path continues to the Muong Hoa river which you will cross by a a hanging bridge.
Next part is going uphill into the mountains and through the bamboo forest. 
You will see some amazing rice fields, which have been dug out of the mountain in terraced fields. The hiking trail will give you lot of photo opportunities of these rice fields, as well as colorful ethnic minorities and farm animals, such as water buffaloes.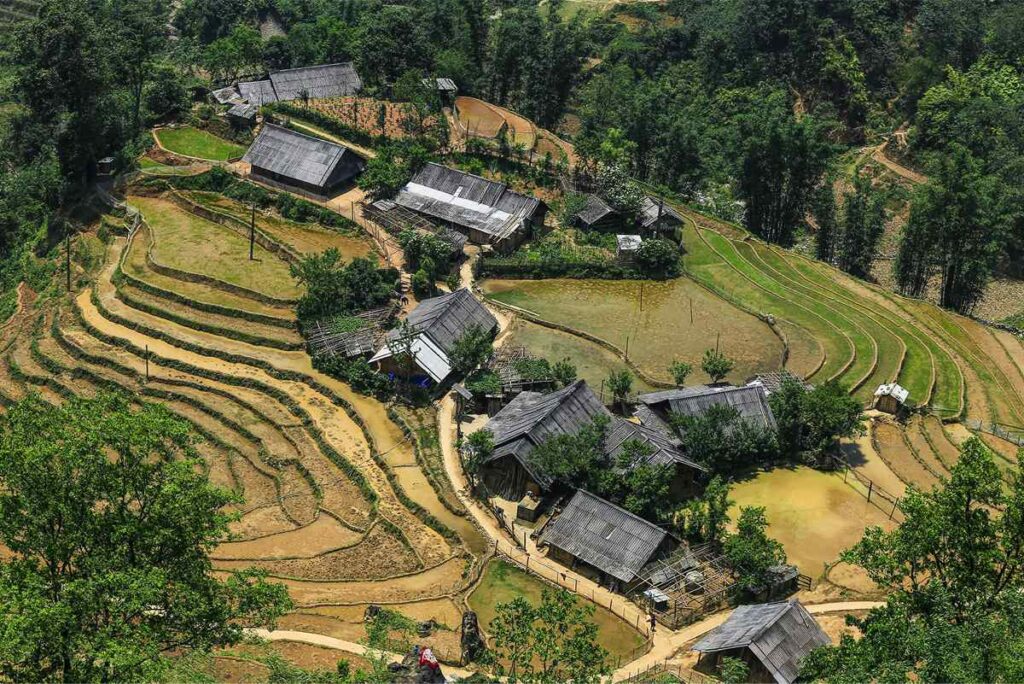 The path continues to the village of Y Linh Ho . In this minority village you can enjoy lunch in a traditional restaurant of a local Hmong family.
After lunch, your guide will bring you to Lao Chai village of the Black Hmong group.
Walking on different paths between the rice fields you then arrive in the next village, of yet another minority group. In the village of Ta Van you will meet the Giay.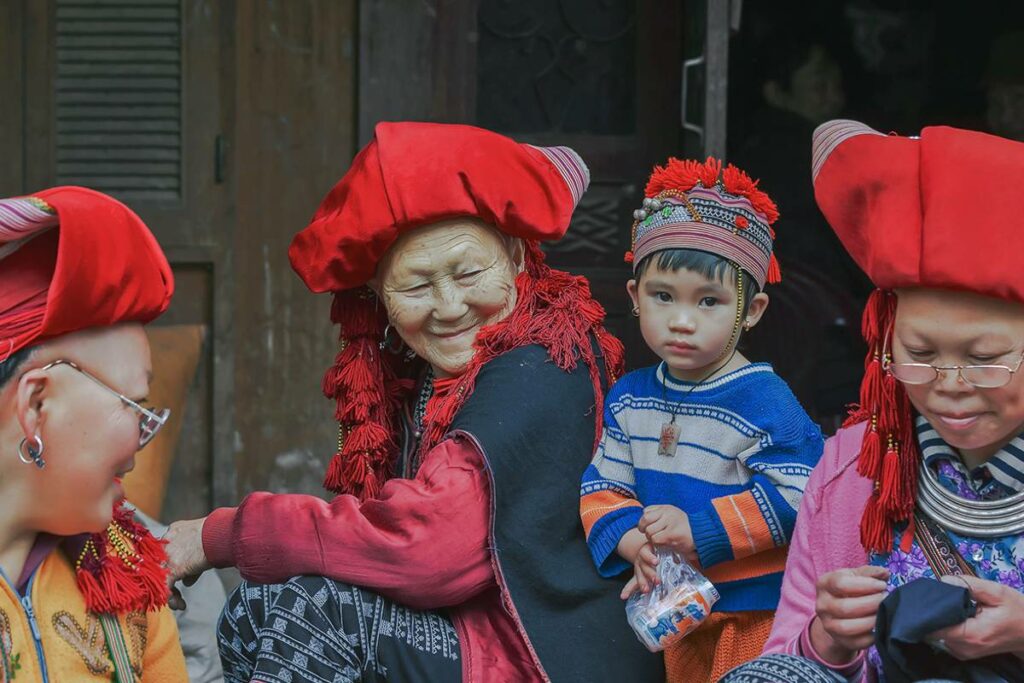 Your guide will tell you all about the different groups, their culture, costumes and more.
At the end of the walking tour, a car will be waiting to take you back to the hotel in Sapa.
Transfer to Ha Giang & Minority village stay
The limousine bus that will bring you to Ha Giang picks you up from the meeting point in Sapa. 
The complete transfer from Sapa to Ha Giang takes around 6 hours, with 1 or 2 stops on the way for a toilet visit and to eat and drink something. It might be wise to bring some of your own snacks and drinks with you too.
When arriving in Ha Giang you will have lunch first.
After you are done with lunch, you will brought to a homestay outside of the city in a small and beautiful village of the Tay minority.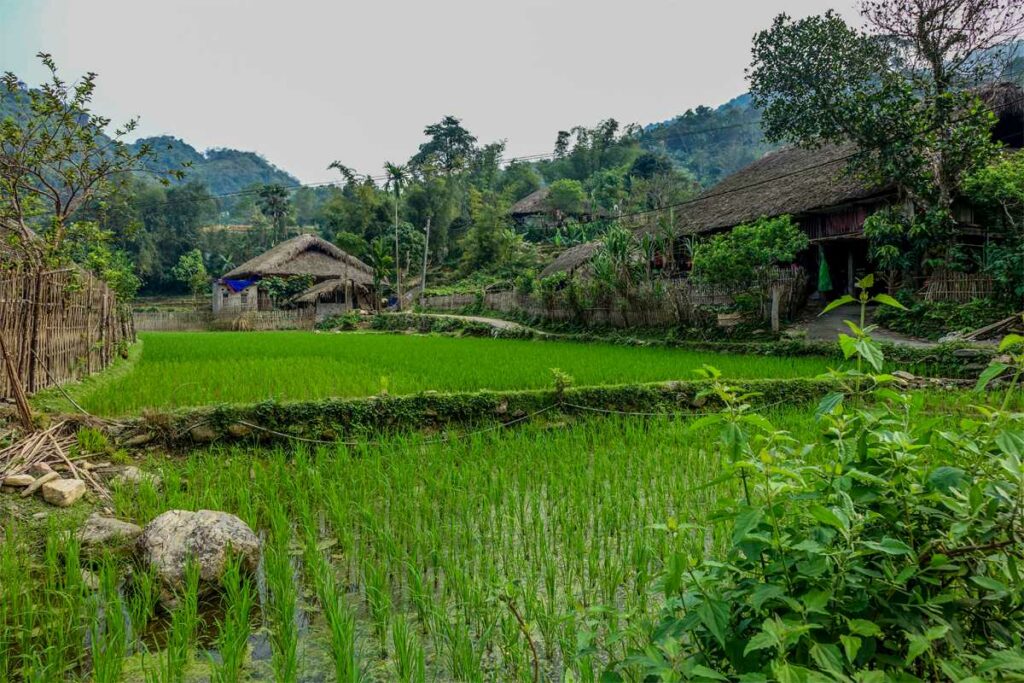 Check in to your homestay and spend the rest of the afternoon relaxing or exploring the beautiful village and area around it. All the housed are traditional build on stilts in Tay minority style. There are lots of farm animals walking in and around the village, as well as being surrounded by beautiful rice fields.
In the early evening you can enjoy a family dinner together with the minority family who runs the homestay and other travelers.
Unique experience in staying in a beautiful local village of ethnic minorities
Stunning area with rice fields
Private bungalow style room for the comfort option
Clean and specious dorm room for the standard option
Day 4: Ha Giang Loop to Dong Van
Ha Giang - Quan Ba - Yen Minh - Dong Van
After breakfast you will start the second part of your Sapa and Ha Giang Loop combination tour. Depending on your wishes, you will be picked up by either a car or motorbike to travel the first 150 kilometers of the Ha Giang Loop.
It's a private tour, so basically you can stop anywhere you want to take pictures or just enjoy yourself. However, there are a number of places where you will stop anyway and the first of these stops is Quan Ba Heaven Gate, a 1500 meter high mountain pass with a great view over the mountains of Ha Giang.
A little further down the mountain pass there is another viewpoint over the Twin Mountains.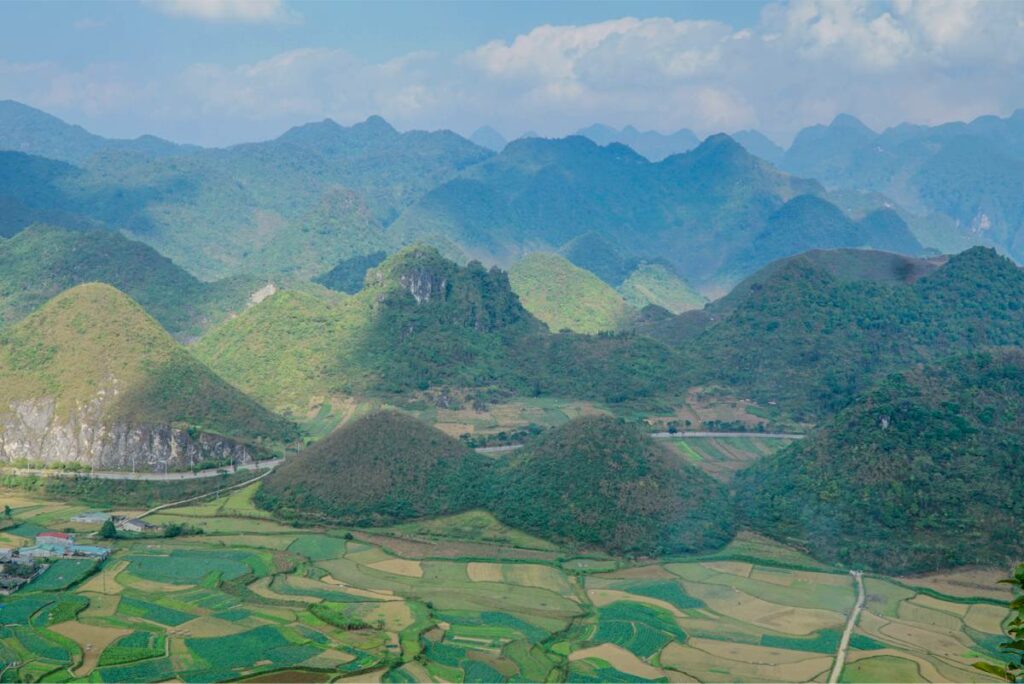 And all the way down the pass is a village where you will have lunch.
The first stop after lunch is the photogenic Tham Ma Pass.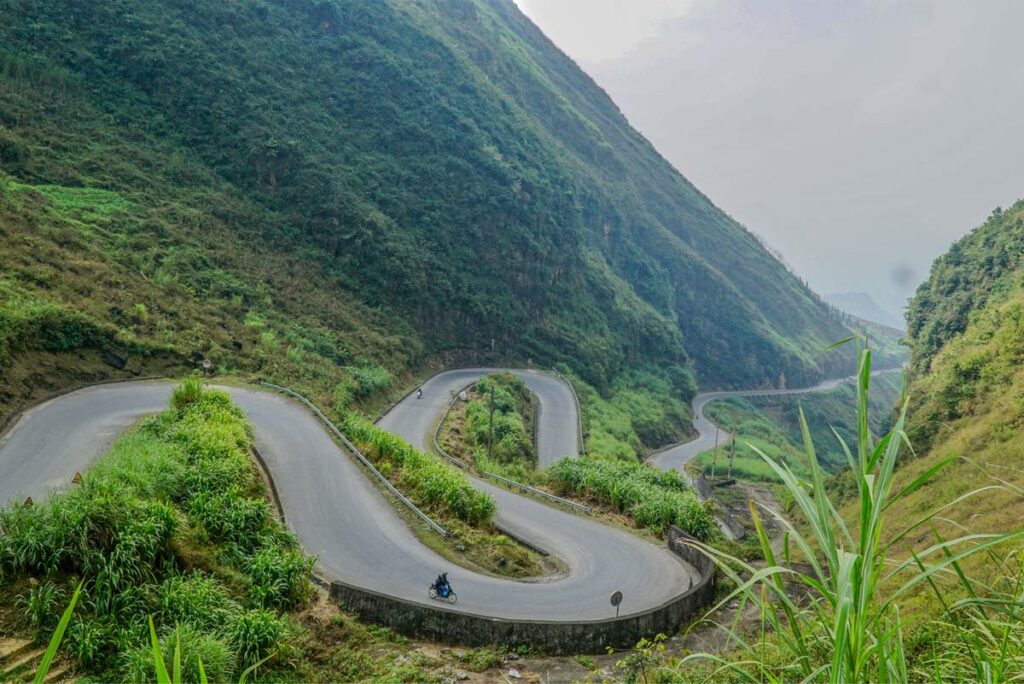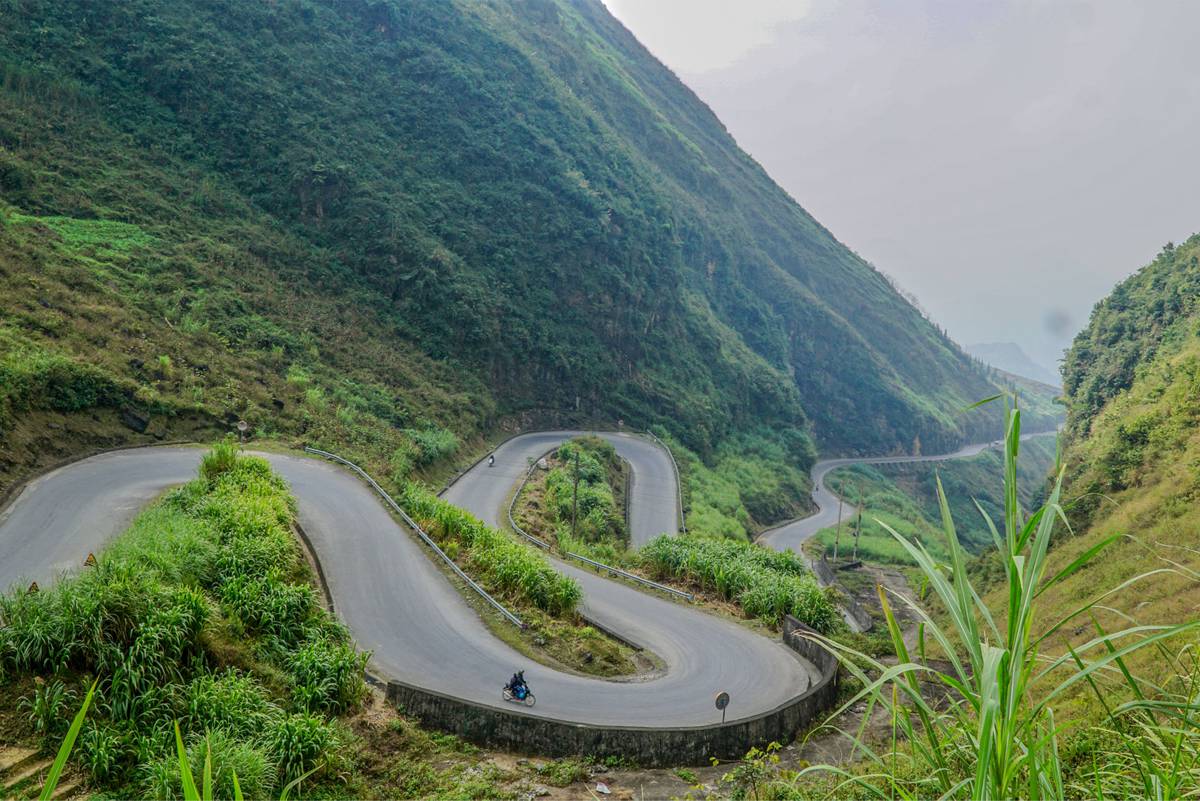 Next you will visit the former palace of the king of the Hmong minority group.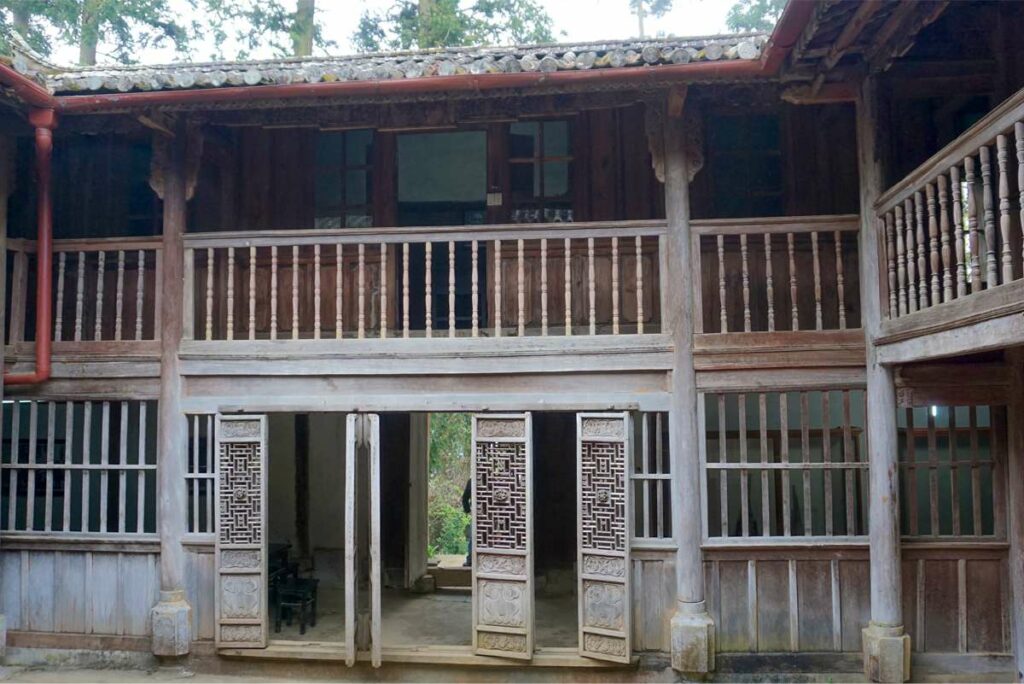 Another great part of the loop this day is through Sung La Valley, including another amazing mountain pass. 
On the end of the afternoon, around 5 PM, but also depending on the amount of stop on the way, you arrive in Dong Van, your final destination of today. Check in to your hotel or homestay and enjoy dinner. 
In the evening you could explore the cozy Old Quarter of Dong Van town.
Nice local homestay surrounded by the beautiful mountains of Ha Giang
Good  atmosphere, often full of other travelers
Both private rooms with ensuite and dorm rooms available
Stay overnight with a local family
This hotel is located right in the center of Dong Van. You can easily walk to Dong Van Old Quarter and the big Sunday market. Lots of restaurants nearby.
The hotel is for Ha Giang standards very good, with clean rooms, private bathroom, air conditioning and all the basics you need for a short overnight stay
Day 5: Ha Giang Loop to Meo Vac
Dong Van - Ma Pi Leng - Meo Vac
If your second day of the Ha Giang Loop happen to be a Sunday, you are in luck! Especially if you like minority culture. The reason is that a huge market is held every Sunday in the center of Dong Van with hundreds of ethnic minorities dressed beautifully.
Get your breakfast before your Ha Giang trip continues through Dong Van Plateau, an UNESCO Global Geopark, with the most stunning mountain scenery.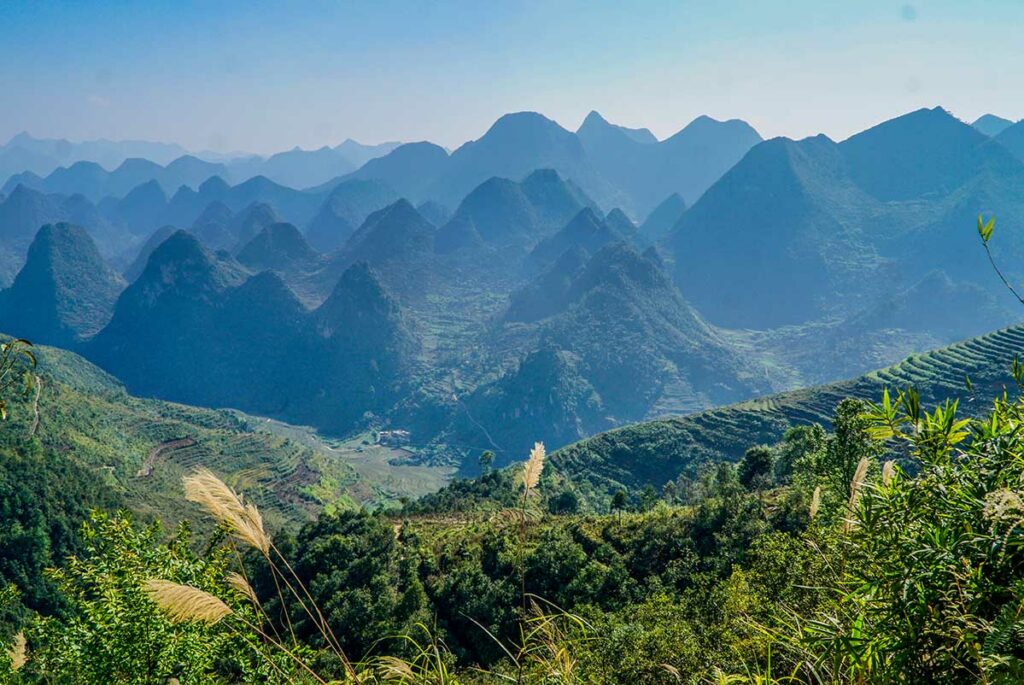 Finally, you will arrive in Lung Cu, the northernmost point of Vietnam bordering China. As a symbol you will find a gigantic flagpole on top of a mountain with views of both Vietnam and China.
Then for most people the highlight of the Ha Giang Loop, namely the Ma Pi Leng Pass, the absolute king of the mountain passes in Vietnam.
Enjoy epic views from the pass down the deep cliffs with a river below. This 20 kilometer long road takes you zigzagging through the mountains. Plenty of photo opportunities for you on this part of the loop.
Optionally, you can enjoy a boat trip along Nho Que River at your own expense.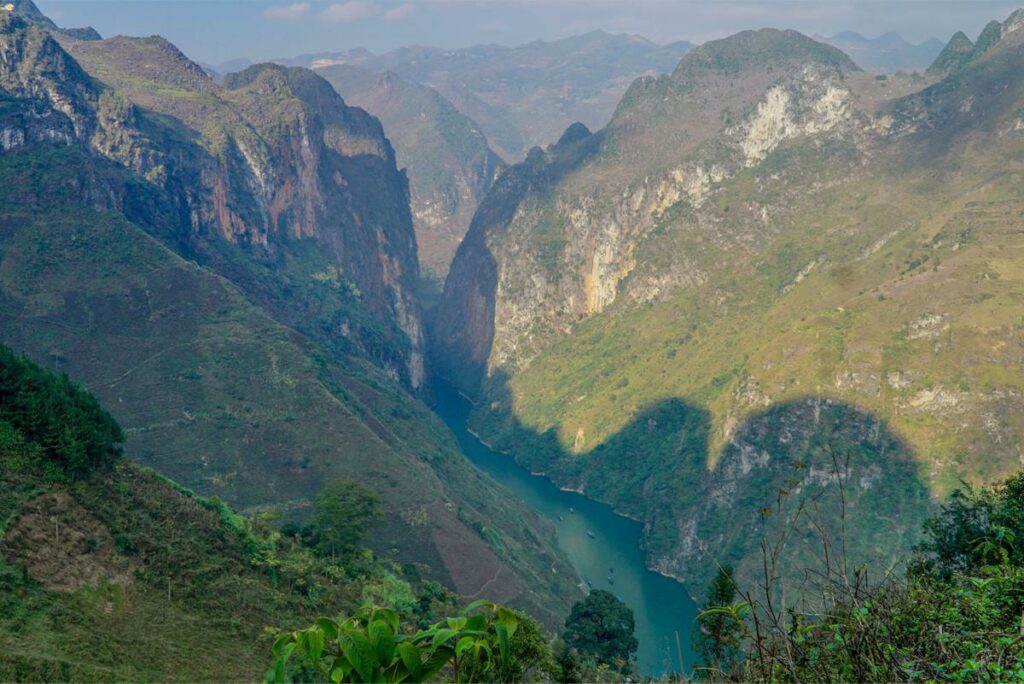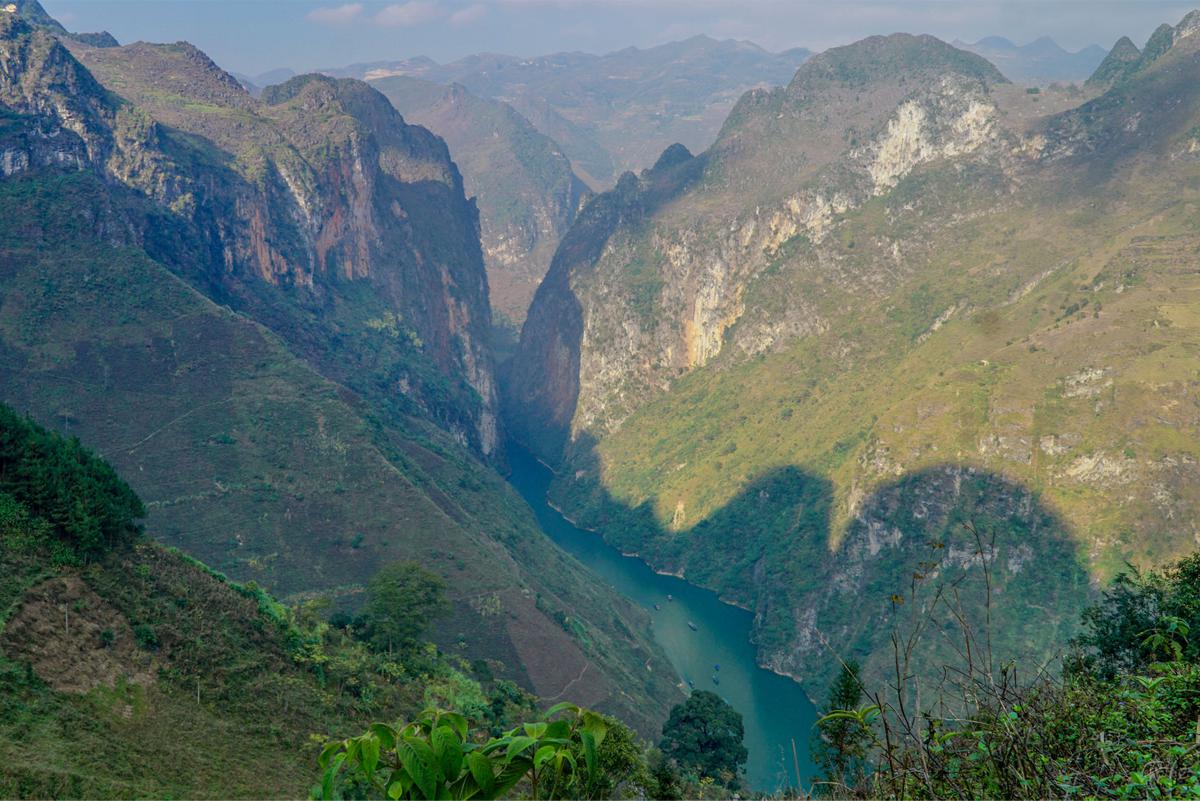 Finally you arrive in Meo Vac and stay in a homestay or hotel.
Day 6: Ha Giang Loop - Hanoi
Meo Vac – Long phin – Mau Due Du Gia – Ha Giang
This Sapa Ha Giang combination tour ends in Hanoi, so in your last day we have to cover quite a distance. Fortunately, the route is great and even after the past few days you will definitely not be bored.
But before you leave Meo Vac you also have the chance to visit the largest ethnic minority market in the province, which is only held on Sundays.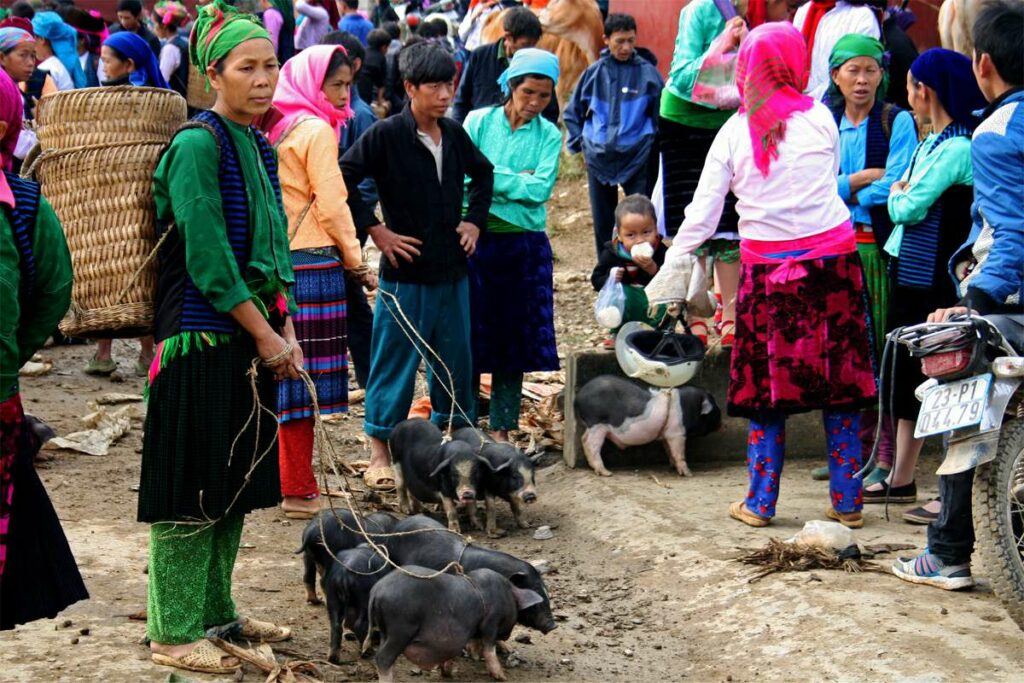 On the way to Ha Giang city you drive through the beautiful mountains with many villages of ethnic minorities.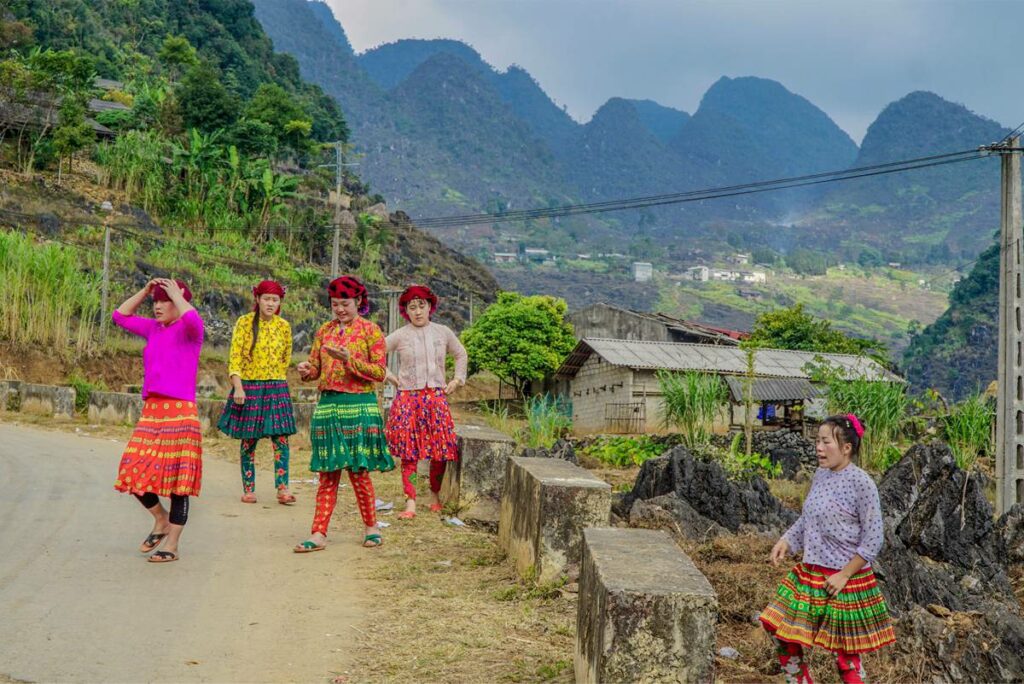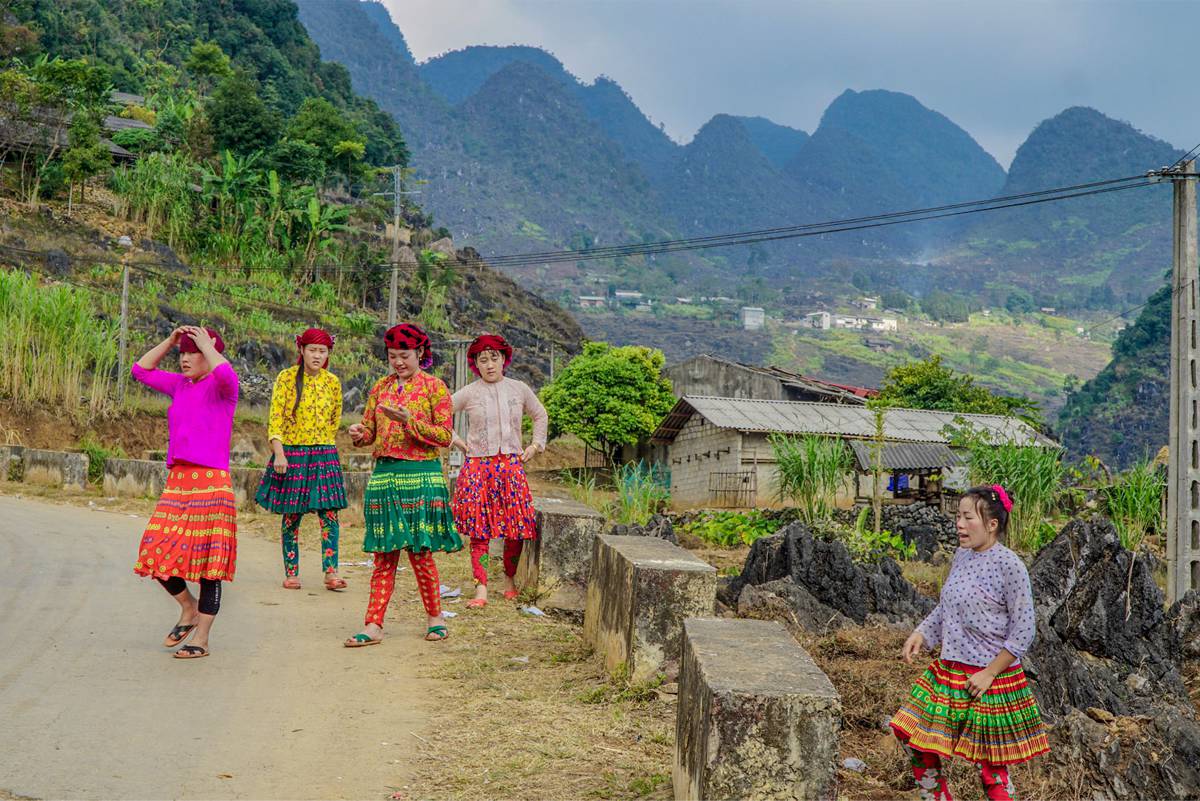 Eventually the landscape changes a bit and the views of rocky mountains give way to mountains with green terraced rice fields.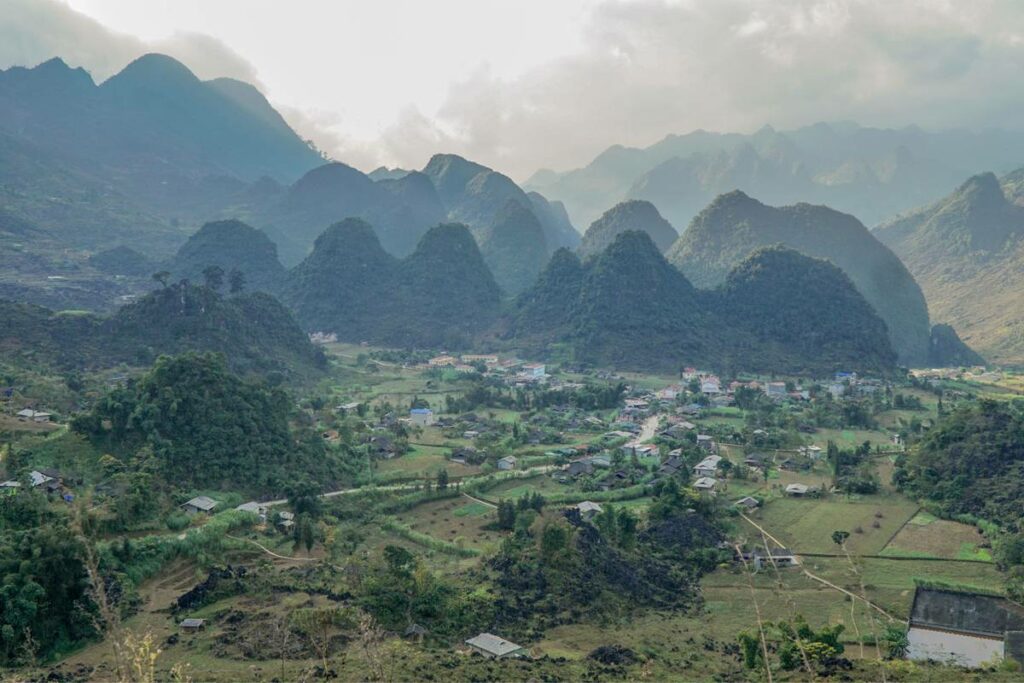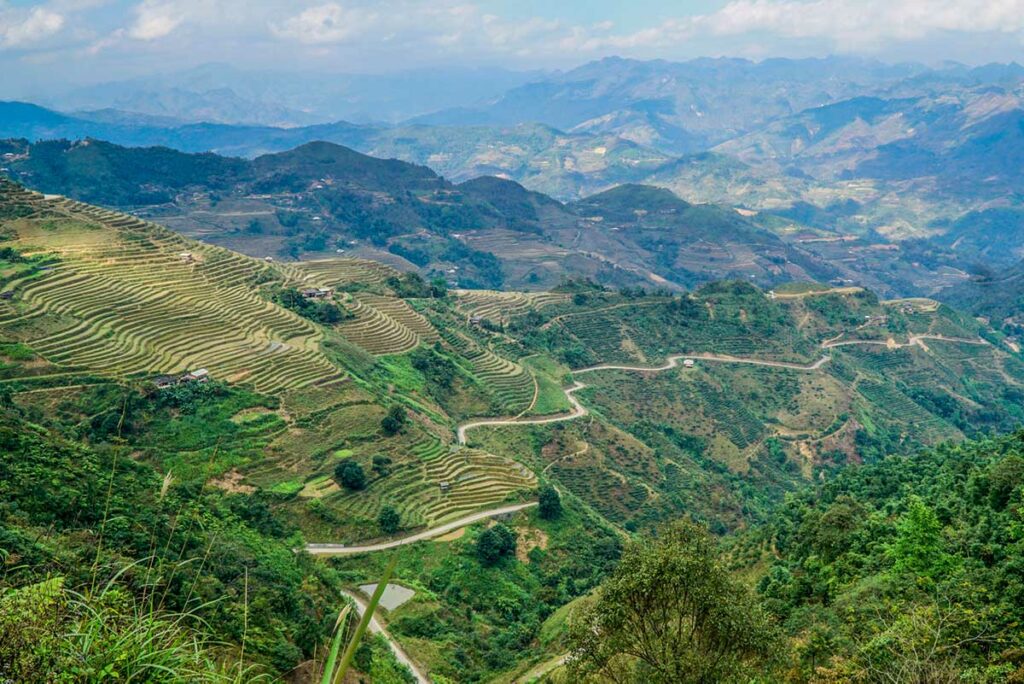 In the late afternoon you will be back in Ha Giang city. From here you will be picked up to take a comfortable limousine bus back to Hanoi where your Sapa Ha Giang tour ends.
Planning
Start tour: Hanoi
End tour: Hanoi
Duration: 6 days
Starts: Daily
Type of tour: Private
Including
All accommodation described in the itinerary
All meals described in the itinerary (B = Breakfast, L = Lunch, D = Diner)
All transfers described in the itinerary
Excluding
Meals and services not describer in the itinerary
Personal expanses
Additional information
Confirmation: You will receive a confirmation immediately after booking. You will receive a voucher by e-mail within 3 working hours. If you have not received your voucher, please check the Spam or notify us via email or chat.
Voucher:Save a digital voucher on your phone. As a sustainable company, we would like to ask you not to print the voucher..
Itinerary: The itinerary is subject to change depending on the weather and other conditions.
Pick-up:Please arrive at the hotel lobby 10 minutes prior to departure. Please be patient on shared / group tours in case of unforeseen delays along the pick-up route.
Cancellation:View the cancellation conditions here.
Sapa and Ha Giang Loop are hard to compare.
Ha Giang has the most impressive mountains and is best explored on the back of a motorcycle or optionally by car.
Sapa has some of the most beautiful terraced rice fields that are best explored with a trekking.
So why choose 1 when you can do both?
It is recommend to bring good walking or hiking shoes. Don't pack too heavy and avoid too thick clothes. Instead bring clothes that you can wear in layers so that you can easily take them on or off depending on the weather and activity. Consider, for example, a rain jacket against the rain and wind instead of a winter coat.
A suitcase is possible to bring, however if you are choose to do the Ha Giang Loop by motorbike it is recommended to bring a backpack. It is also possible to leave you suitcase at the start of the loop, because you also end there, and bring something lighter during the trip. If you choose the car option, a suitcase is not a problem.
We recommend the Ha Giang Loop by motorbike, as it is the most fun experience. However, if you are uncomfortable with the idea of being on the back of a motorbike, you can opt for the car option. The car also protects you better when it is rainy, too sunny or cold.
There is plenty to do in Sapa. For example, visit the local market, take the cable car up to the top of Fansipan, the highest mountain in Vietnam, visit the stone church or take a walk to Cat Car village. If you need more inspiration, ask us.
Booking & Information request
Ask for booking, availability, pricing or general questions about this tour.