If you are planning to go hiking in Vietnam, you should include Dalat. Trekking in Dalat is great, because it has everything you need. Expect peaceful forest, rolling hills, stunning waterfalls, wildlife spotting, but also local farms and minority villages.
Tips for trekking in Dalat
Check the weather before trekking in Dalat. Heavy rain can turn forest trails into large mud puddles.
Put on the right clothes. The most important thing is good walking shoes. Dalat can get chilly in some parts of the year compared to the coastal areas and the south. However, by walking you warm up quickly. It is therefore best to wear layers of clothing that you can easily take off or put on. Always bring protection against the rain and sun.
Bring extra food and drinks. When you go on a trekking tour in Dalat, water and lunch are almost always included. Still, it can be useful to bring an extra snack for a little more energy.
Choose the right hiking tour. Dalat has many hills. Some hiking routes can have significant ascents, which are a bit too steep for some travelers.
Best time to go trekking in Dalat
Trekking in Dalat is possible all year, but some months you have more change of good weather than other months. The dry season, from November to March, is the best time of the year to go trekking in Dalat. Temperatures are between 20 and 30 degrees. This might be a bit too warm for hiking for some travelers, but often it feels cooler in the hills and in the shade of the forest.
Camping and trekking
If you are a truly adventurous outdoors traveler, consider combining trekking in Dalat with camping. When you go camping in Dalat, you can go further and you have a better chance of spotting wildlife. Not only because you get to quieter places, but also because for some animals you are more likely to see them in the late evening (with flashlights) or very early morning.
Other than that, camping is of course a great experience in itself. It is great to be in the middle of nature, away from the chaotic city life of Vietnam. In the evening you can snuggle around the campfire and share stories while sipping some rice wine.
There are a few great camping and trekking tours in Dalat you can do.
Best hiking trails in Dalat
Below are some of the best places for trekking in Dalat. But don't limit yourself to these places either. Rent a scooter or car with driver and explore the area. You will see forests and hills everywhere. Park your vehicle at a nice spot and take a walk yourself. For longer trekking tours it is best to choose one of the routes below.
1. Langbiang mountain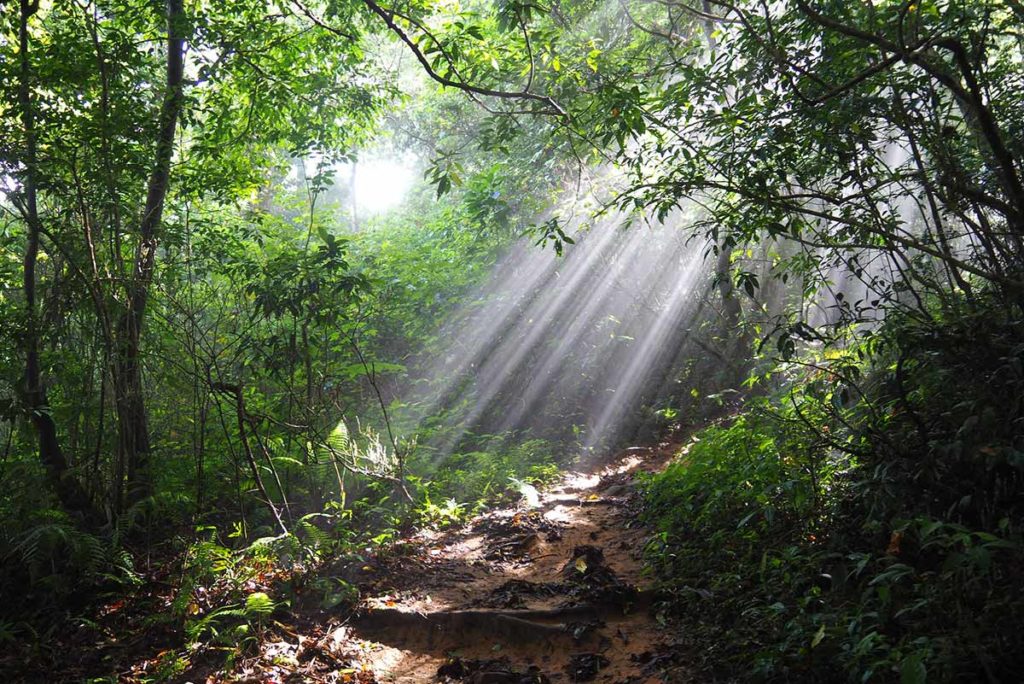 Climbing a mountain can feel incredibly fulfilling, often more than a normal hike, because it feels like you've actually accomplished something. Therefore, Langbiang mountain is one of the best places for a trekking in Dalat.
Hiking up the mountain takes about 3 to 4 hours. Starting at the foot of the mountain, with stunning pine forest. Higher up, the forest get even denser. At some point when you get closer to the top the the vegetation stops and you start getting to see some of the stunning views over the whole area. Getting to the top of Langbiang mountain is rewarding, with views over Dalat, the forst, hills, rivers and small local villages of etnic minorities.
2. Bidoup National Park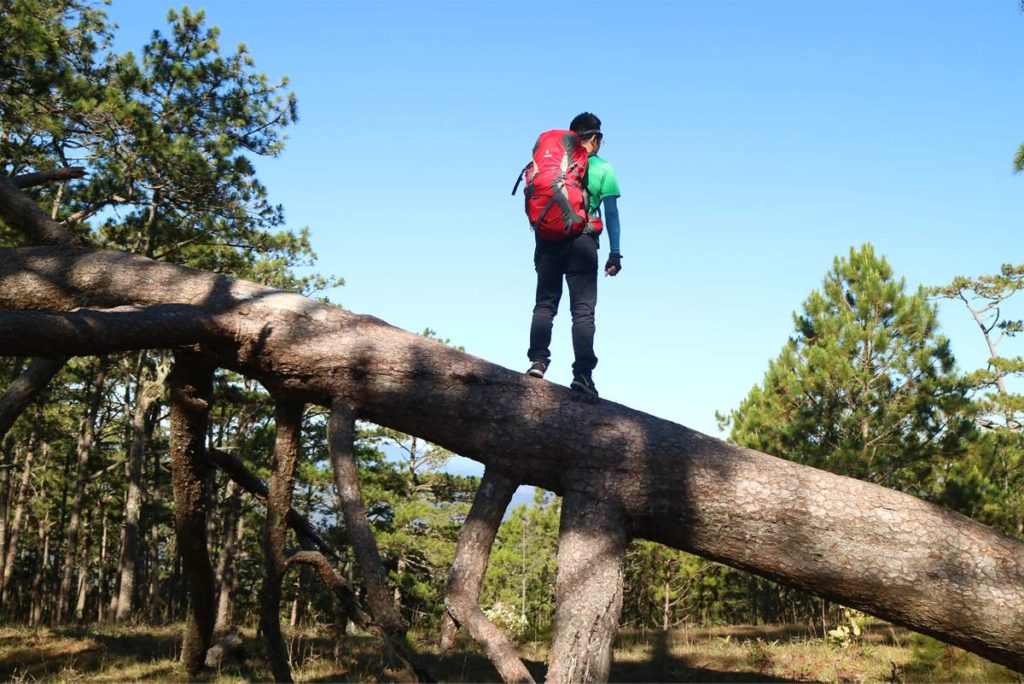 Bidoup National Park is 30 kilometer from the city center of Dalat and of of the best places for hiking. Especially for people that like to spot wildlife during their hike. Chances of seeing a very rare gaur or sun bear are unlikely, but animals like gibbons are frequently spotted. It is also home to lots of different birds and reptiles.
There are different walking routes through the national park, including short hiking trails from 3,5 kilometer and medium trails around 9 kilometer. But if you really up for it, it is recommended to take the 30 kilometer walking trail that takes two days. It includes camping inside Bidoup National Park, which is an amazing experience.
Interested in going trekking and camping in this beautiful national park? Check our Bidoup National Park 2 days trekking & camping tour, which starts from Dalat.
3. Tuyen Lam Lake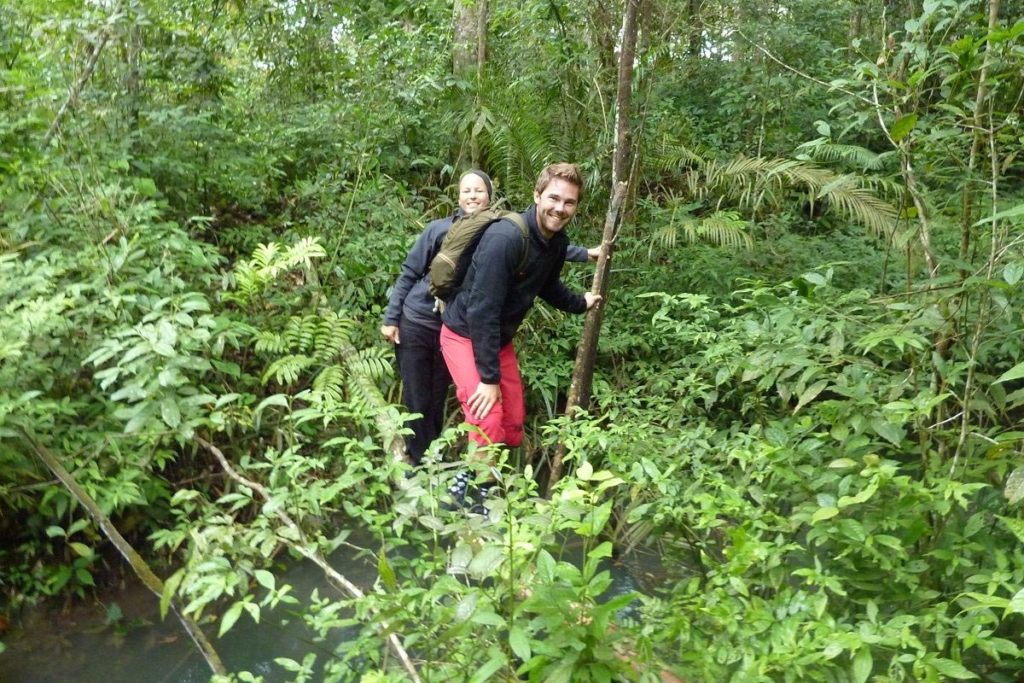 Tuyen Lam Lake is considered the most beautiful lake in Dalat. It is quite large, so it is ideal for walking tours and it is easily accessible, so you can even walk here without a guide. The best way is to first take the Dalat cable car to the top of Robin Hill, where you have a monastery that you can visit. From you can walk down the hill to the lake and walk a bit along the lake
If you really want to make a long trekking trip through the woods, it is recommended to go with a tour. Going out on your own and wandering through the woods is probably less fun, because no real good trails are marked.
With the Jungle fever trekking you visit the lake, make a great trekking in Dalat and go camping in the forest. Another option is a combination of kayaking and hiking in Dalat.
4. Heaven gate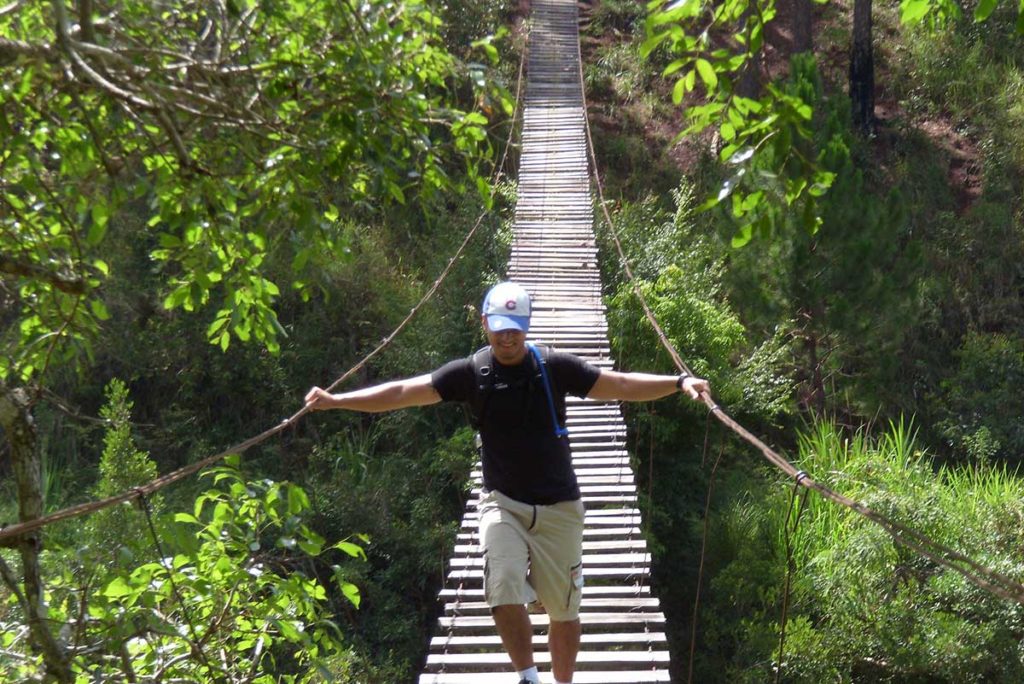 If you love to go hiking in Dalat, but don't want to climb a mountain or stay overnight camping, the Heaven Gate trail is highly recommended. The 18 kilometer trek is not a walk in the park, because you go up and down through the hills of Dalat. On the way you cross suspension bridges, enjoy the peaceful forest and beautiful nature in general. You will also make a stop at a waterfall and visit a local village of the K'ho minority.
The combination with a local village, waterfall, hanging bridges and beautiful forest are making this a very fun walk. It is perfect if you need a break from the busy city life. You can read the full itinerary of the Heaven Gate trekking here.
5. Ta Nang – Phan Dung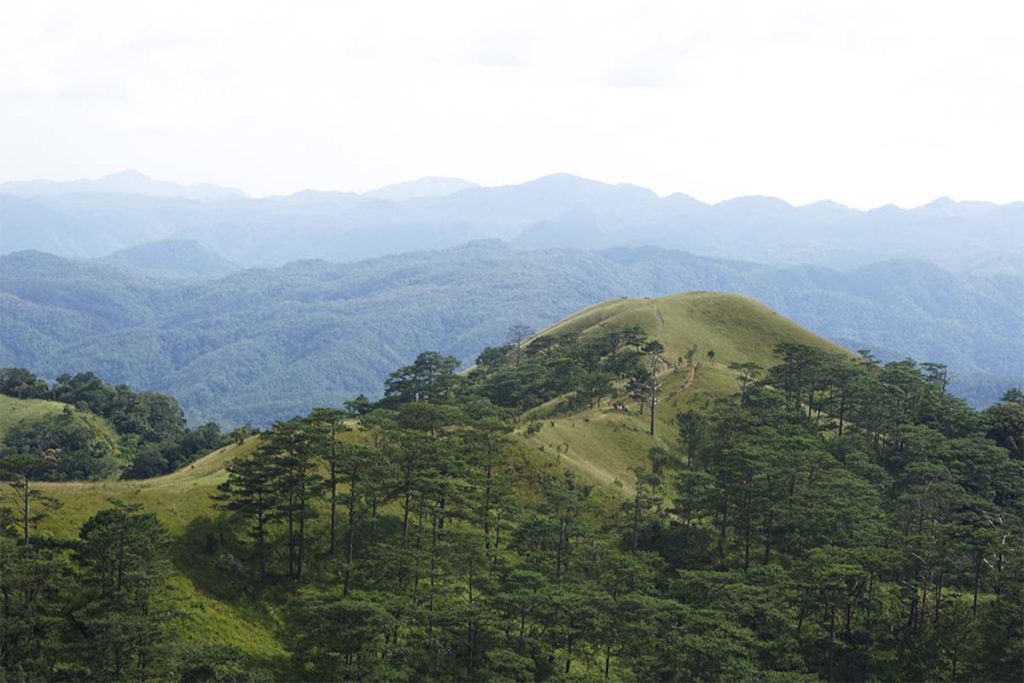 The Ta Nang to Phan Dung trekking is not really Dalat any more, but really worth mentioning for the experience hikers. It is considered as one of the best hiking trails in Vietnam. Ta Nang, the start of the trail, is still in the same province of Dalat, but around 100 kilometer for the city. The complete trail is 55 kilometer, takes 3 days and brings you to three provinces: Lam Dong (fo Dalat), Ninh Thuan and Binh Thuan.
The route goes over mountains, hills and through rice fields, coffee plantations, pine forests, high grass and forest. Some of the mountain peaks go up to 1,800 meters high. At night you go camping on hill tops with beautiful views of the area.