The capital of Vietnam has many special sights to see. But what they are most proud of here is the food. Much of this food can be found in modern or upscale restaurants, but often the best dishes are not here, but on the street. Before you hit the road, it is useful to first check where you can find the best street food in Hanoi. After all, you want to eat at hygienic places that prepare good quality food. If you don't dare to do this yourself or if you also want to learn more about the real food culture in the city, go on a real street food tour with a local guide.
What to expect
Not only in Hanoi, but throughout Vietnam there is a huge street food culture. It is something that is in the identity of Vietnamese and something that they are extremely proud of. But what exactly is it and what can you expect?
Street food can literally be a food stall on the sidewalk. You see them everywhere, from quiet neighborhoods to busy motorways. Depending on what they prepare for food, they are equipped with all necessary cooking equipment, such as a gas stove with gas bottles, a BBQ and pots, pans, soup bowls, plates and cutlery. They often place low stools and tables around the stall where their guests can eat and which can also be quickly stored.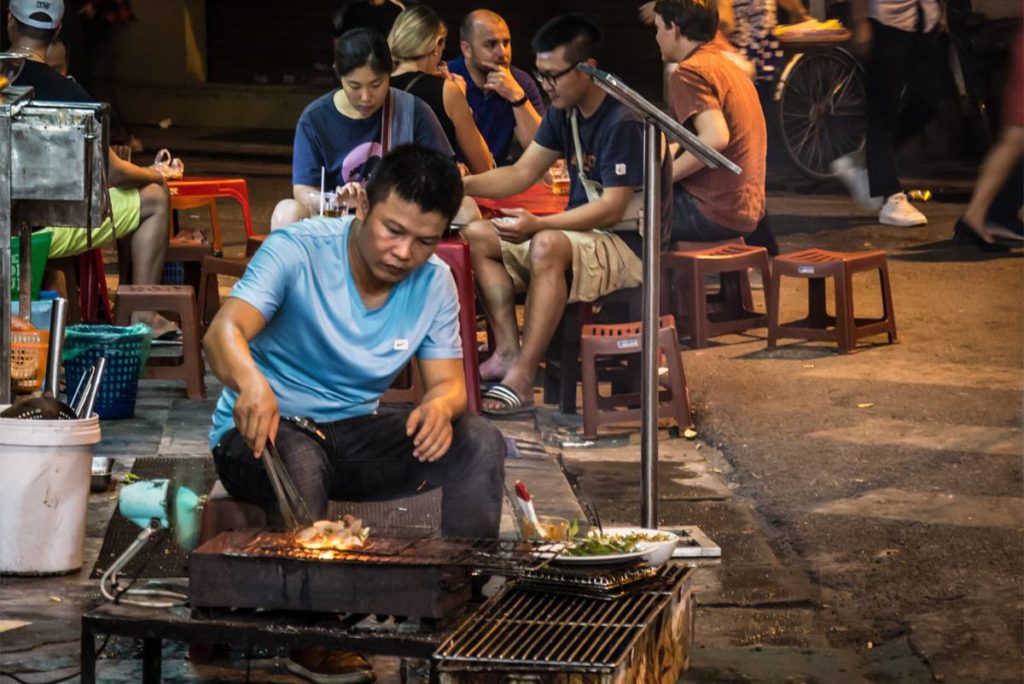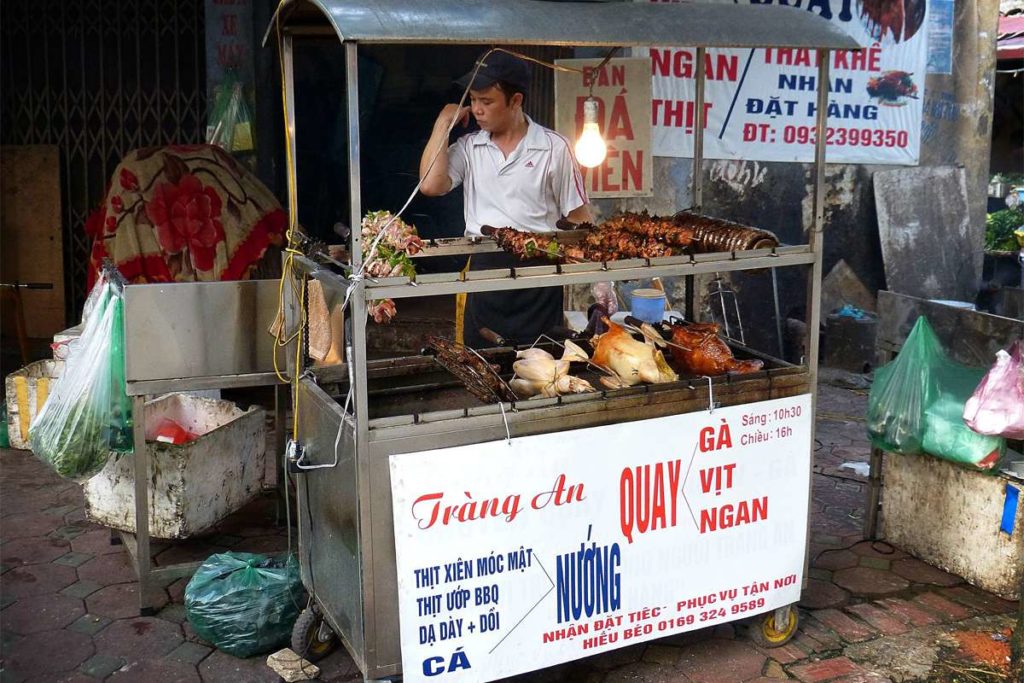 But what is often also counted under street food are the people who use their own home to cook food from there and sell it directly on the street. Here too you often find low plastic stools on the sidewalk in front of the house.
Many street food stalls only sell 1 dish. This ensures that all dishes can always be made fresh. What all the street food stalls also have in common is that it is cheap. You often pay no more than 1.5 dollars for a bowl of noodle soup and 1 dollar for a filled baguette.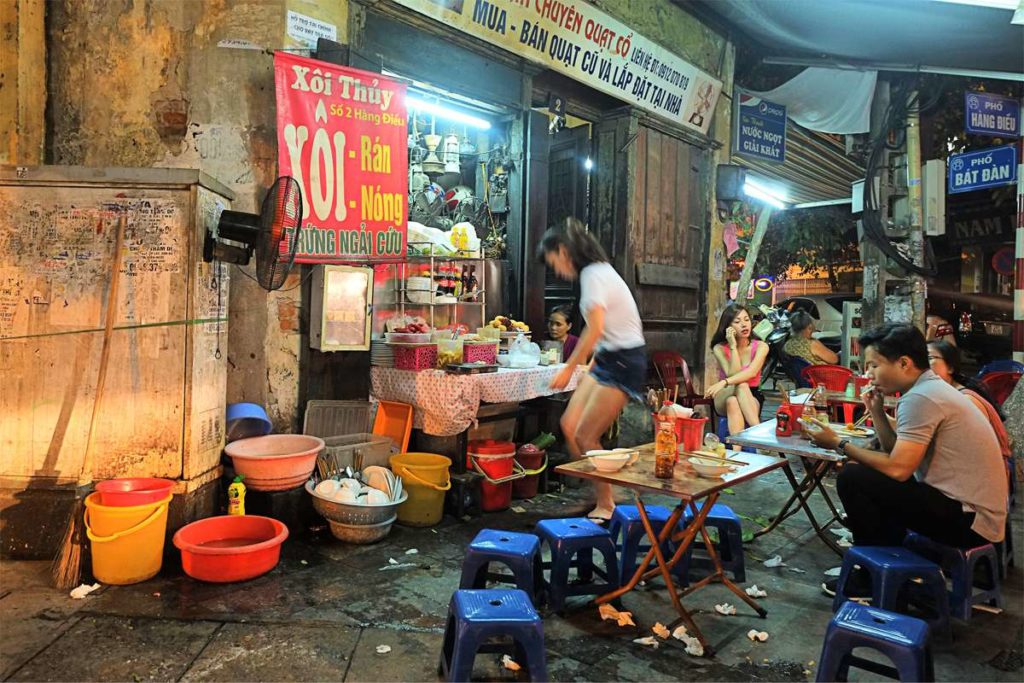 Important to know when eating street food in Hanoi
You can use our list below of selected street food restaurants in Hanoi, but you can also join a stall on the street yourself. For hygiene, food safety and whether it is a place with good food, it is important to check 3 points before you sit down:
1. Is the arrangement of tables, utensils and cutlery clean and organized?
Check whether the cutlery, plates, bowls and tables appear (slightly) clean. It may be useful to clean the cutlery yourself with a napkin or cloth before using it.
2. Are the ingredients or dishes beautifully presented, colorful and fresh?
See what the ingredients are like. Does it seem fresh? Is it somewhat shielded and are there flies?
3. Is there a group of local customers eating or waiting to be served?
Probably the best way to tell if it's a good place for street food in Hanoi is when it has many local customers sitting there. First of all, this means that the food is tasty, but it is just as important that there is a flow. This means the food does not remain too long waiting for the next customer and is therefore always freshly made.
If the answers are "yes", you have chosen a good place.
Street food tour Hanoi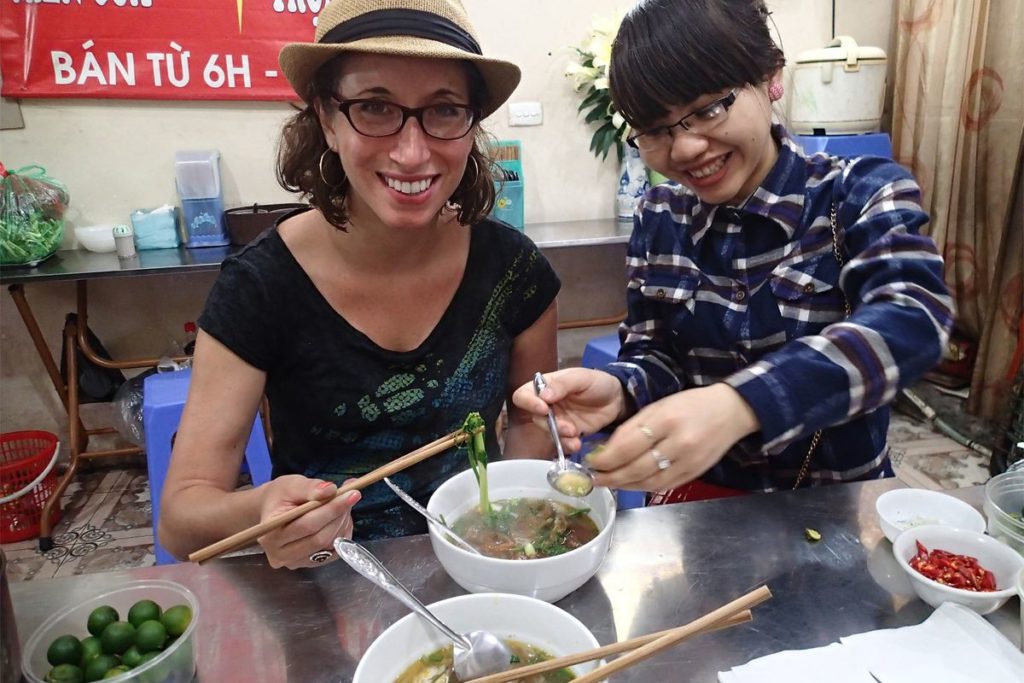 Do you not trust to go out on your own? Or do you want to try and learn more about the food culture in Hanoi? Then explore the local street food in Hanoi with a guide. It is one of the best things to do in Hanoi. Not only delicious, but also a very interesting and fun way to learn more about the city and Vietnam. Because a street food tour in Hanoi is more than tasting dishes, it is also a tour where you will explore the old streets and learn more about the culture and history. A local guide can give you great insights and show you hidden street and alleys.
Local Vietnam's Street Food Tour in Hanoi
Join our local street food tour in Hanoi, either in a small group or a private tour. Our local guide will bring you to some great and safe street food places and show you hidden streets and local culture. It is our biggest recommendation in Hanoi, where you explore the old streets in a fun (and tasty) way.
Best street food dishes and restaurants
1. Pho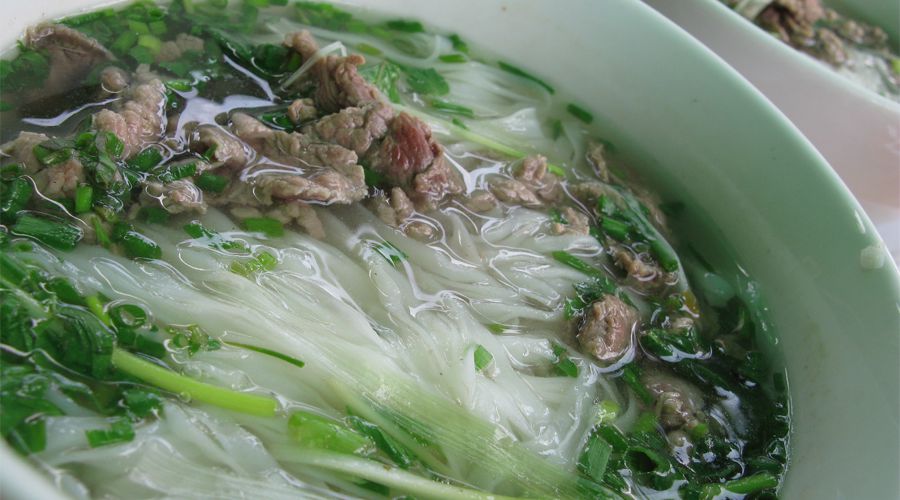 Pho is arguably the most popular street food in Hanoi and one of the best known Vietnamese dishes. It's a rice noodle soup and it comes in two main varieties: pho bo (beef pho) and pho ga (chicken pho). Hanoi is more known for pho ga, but both types are widely available in the city, especially for breakfast and lunch.
Best Pho Street Food in Hanoi
Phở Gia Truyền – This street food stall in Hanoi is on every "must-eat pho" list. As soon as you arrive you will realize how popular it is from the long line of people waiting for their pho.
Pho Thin – A little way from the center of Hanoi's Old Quarter, but many people still make this trip.
2. Banh Mi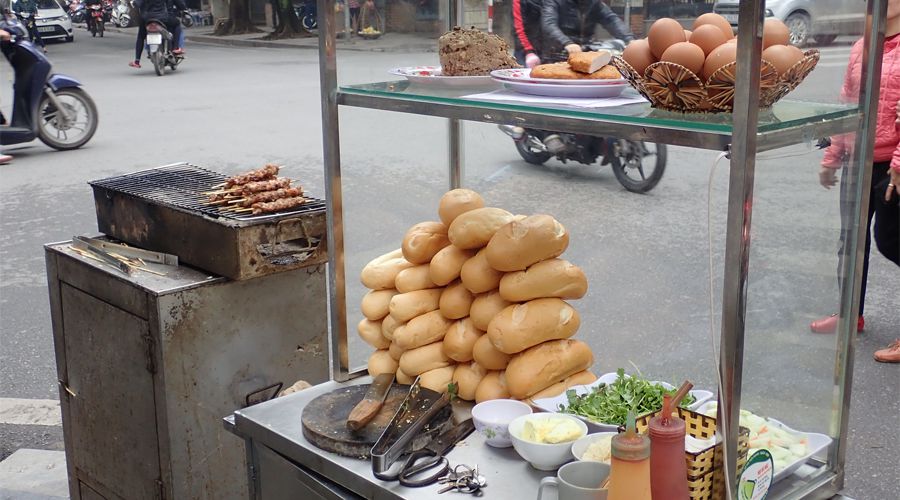 Banh mi is the most famous Vietnamese dish outside the country. Strictly speaking, it is the Vietnamese word for bread, but people use it to mean sandwich. A small French baguette is split lengthwise and filled with a variety of ingredients such as liver pate, cold cuts, pickled vegetables, cucumber slices, and cilantro. It is a light sandwich usually eaten as a snack.
Best Banh Mi street food in Hanoi
Bánh Mì 25 – Google "best banh mi in Hanoi" and this place pops up often. Bánh Mì 25 is one of the most popular banh mi stores in Hanoi, especially among tourists, based on more than 5,300 TripAdvisor reviews. But that does not mean that it is touristy and not authentic. Filter reviews by language and you'll read that most Vietnamese reviewers give it an "excellent" rating as well.
Bami An Bread – In this small cozy street food restaurant you can get delicious sandwiches. They also have many different vegetarian choices.
Bami Bread – They sell their sandwiches as "Hoi-An style" banh mi. Bread baked in Hoi An is different from other parts of the country. They are thinner, crunchier and lighter.
3. Bun Cha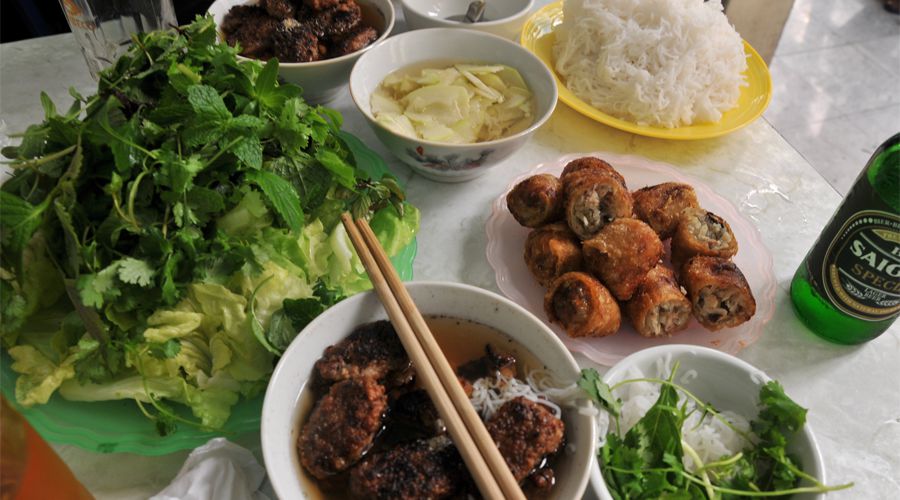 Normally, Vietnamese people serve Bun Cha for breakfast because it takes 12 hours for the rice noodles to ferment at night. Due to the fermentation, the noodles have a light and pleasantly spicy edge, which contrasts nicely with the fresh herbs, garlic and sweet dipping sauce.
Best Bun Cha street food in Hanoi
Bun Cha Huong Lien – The most famous Bun Cha restaurant in Vietnam. Anthony Bourdain once brought ex-president Barack Obama here! They even changed their menu with the Obama set.
Bun Cha Ta – One of the most popular Bun Cha street food restaurants in Hanoi.
4. Bun Bo Nam Bo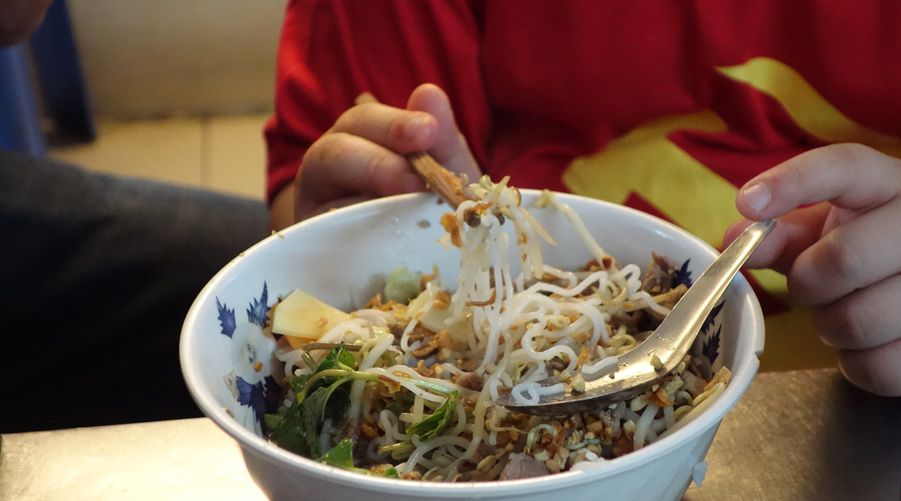 Bun Bo Nam Bo (beef noodles in the south) is also known as smoked beef vermicelli. Instead of using refined broth like Pho, it is eaten without soup, but with sauce. In addition, fresh raw vegetables, fried onion, roasted peanuts and bean sprouts are indispensable elements.
Best Bun bo nam bo street food in Hanoi
Bun bo nam bo – For some of the best bun bo nam bo in town. The narrow restaurant is well back, so there is plenty of seating for diners to partake of their excellent bowls of vermicelli noodles and beef.
5. Bun Ca Ro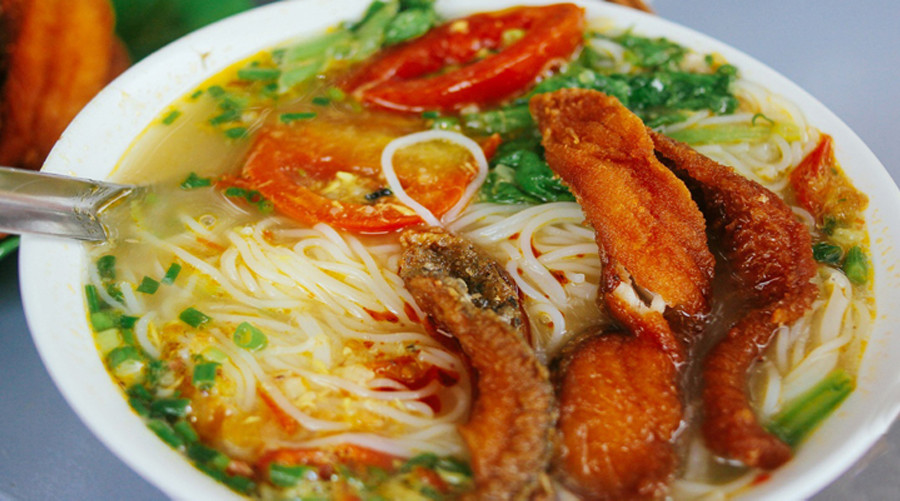 Bun Ca Ro means fish noodle soup. The fish is cut into slices or made into fish cakes and baked so that it is slightly crispy on the outside. Bun noodles are medium thickness rice noodles. The broth is usually quite light. In Hanoi they often also put tomatoes and a piece of pineapple in it.
Best Bun Ca Ro in Hanoi
Bun Ca Sam Cay Si – Very tasty fishcakes and Bun Ca. Tasty local food on a stool. Quick service.
6. Cha Ca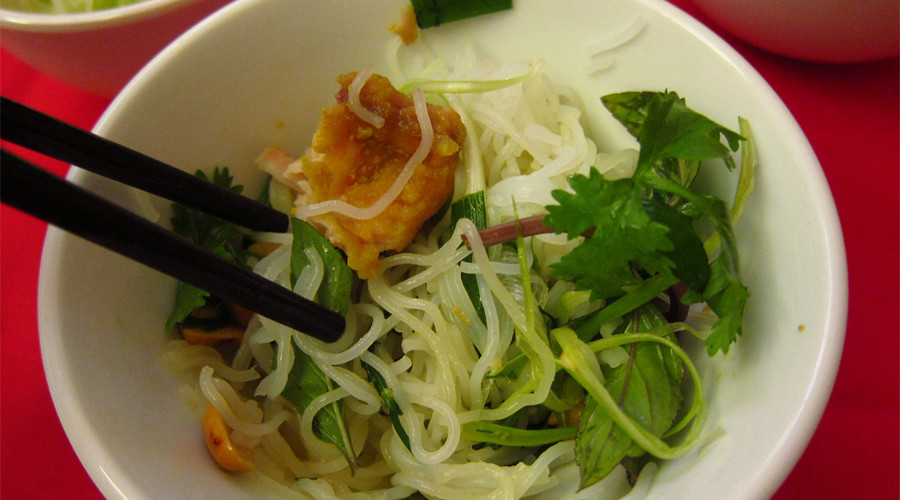 Like bun cha and banh cuon, cha ca is a dish associated with Hanoi. It refers to grilled turmeric marinated catfish served with a mountain of fresh dill.
Best Cha Ca La Vong in Hanoi
Chả Cá Lã Vọng – It was popularized and maybe even invented over a hundred years ago by the restaurant Chả Cá Lã Vọng. That restaurant still exists in Hanoi, although it has had its best days. People often complain about the service, hygiene and poor value for money.
Chả Cá Lão Ngư – One of Cha Ca's favorite. Pricing is fair. Service is fine. However, it is often packed with guests in the afternoon.
7. Banh Cuon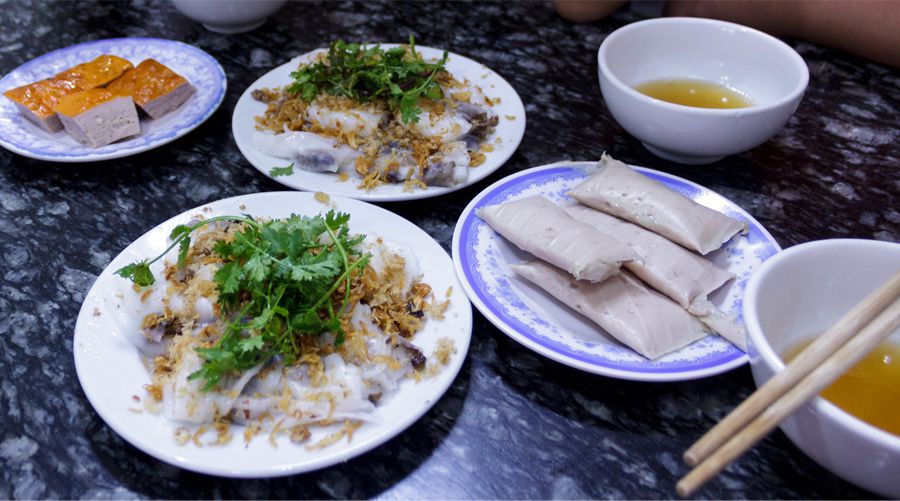 Banh cuon is delicious as a light breakfast or afternoon snack and is a combination of ground beef (chicken, shrimp or pork), chopped ear mushroom, onions, Vietnamese ham (cha lua), steamed bean sprouts and cucumbers in a steamed rice flour leaf.
Best Banh Cuon street food in Hanoi
Bánh Cuốn Bà Xuân – The cafe was made famous by Mrs. Xuan who operated it many years before her death, with her daughter now taking over the duties and cooking at the front of the store.
8. Hanoi BBQ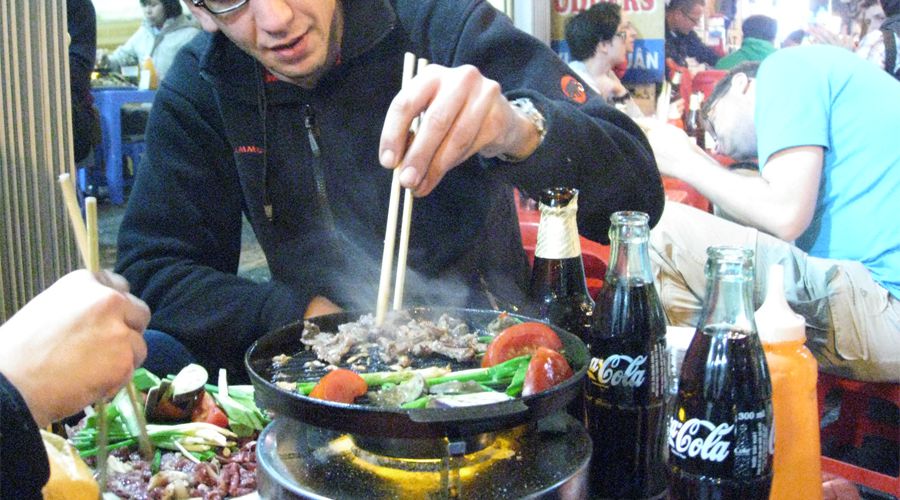 When you walk through the old streets you will probably see them everywhere, the BBQ stalls and BBQ restaurants. There are different versions, but the most popular is that a mini BBQ is placed on your table and that you can choose what meat, fish, shellfish and vegetables you want. The meat is served raw so that you can barbecue it yourself on your table. Often the employees help or show how it works and when the grid gets dirty, they replace it.
Best Hanoi BBQ in Hanoi
The best streets for a BBQ are: Nướng Xuân Xuân – 47 Mã Mây and Phương Mực – Số 5 Hàng Đậu. Walk through the Old Quarter and you will see plenty of stalls and restaurants.
9. Mien Luon Xao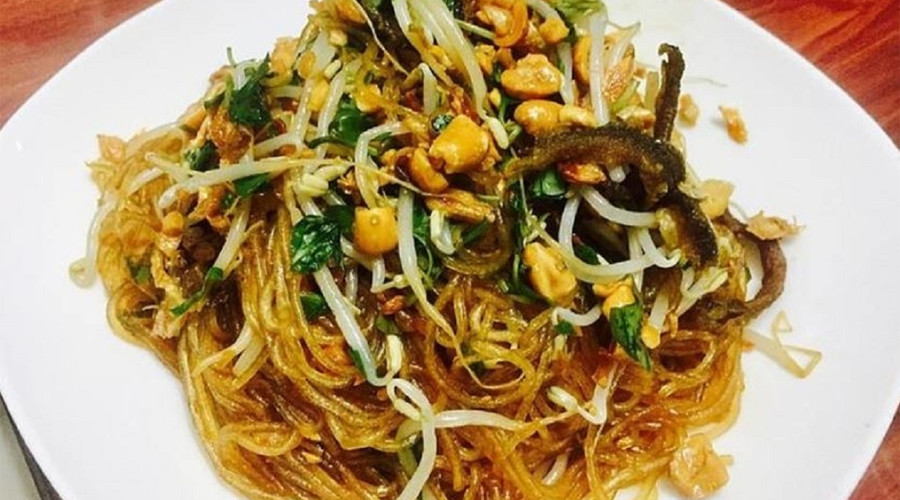 Mien Luon is a popular street food in Hanoi, made from eel noodles. There are 2 types of eel noodles: "dry eel noodles" and "eel noodle soup". Dry eel noodles are made by frying oil with dried onion, then adding eel and mushrooms. Glass noodles complete the dish. It is usually served with raw vegetables. Eel noodle soup is made with a broth of braised eel bones with salt and ginger. Eel and glass noodles are served in the broth along with other raw vegetables.
Best Mien Luon Xao in Hanoi
Mien luon No.1 Chan Cam – In the center and therefore accessible to travelers.
10. Bun Dau Mam Tom
he famous noodle that not every foreigner is brave enough to try because of the strong smell of the shrimp sauce that is served with it. If the smell is too strong, ask for an alternative sauce. Like durian, people get addicted to it very easily and it is one of the favorite foods of the locals, especially those from the north. Bun dau mam tom has three main ingredients: vermicelli noodles, fried tofu, and shrimp paste. Often served with different pieces of meat that you can dip in the sauce.
Best Bun Dau Mam Tom in Hanoi
Phat Loc Alley – The place for Bun Dau, located in the Old Quarter. At less than 100 meters in length, Phat Loc Alley is always busy, especially in the afternoon.
11. Xoi Xeo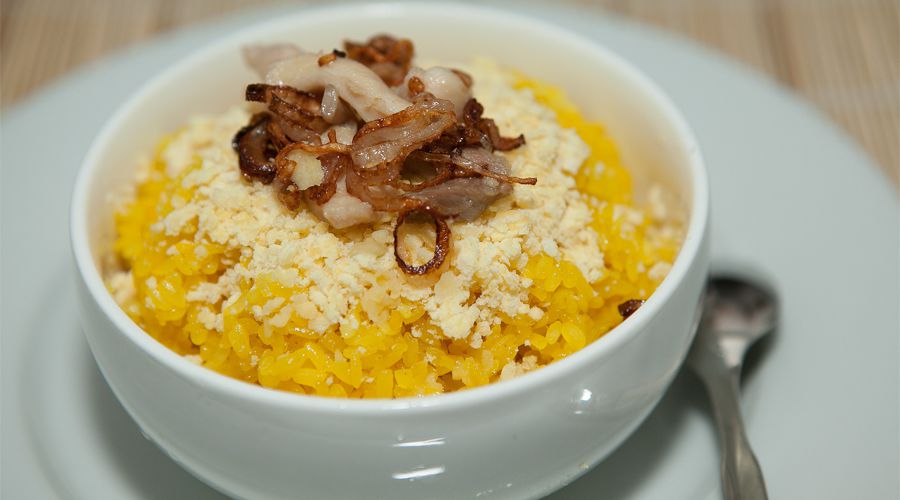 Xoi xeo is one of Hanoi's best-selling breakfast dishes because it is both easy to eat, nutritious and convenient to take away. Each grain of white, shiny sticky rice is covered with a layer of green beans, sprinkled with a little oil, and fragrant dried onions. It is also possible to add different toppings, such as, boiled chicken, marinated pork belly, or preserved eggs.
Best Xoi Xeo
Xoi Yen is selling Xoi Xeo from 15,000 and you can add different kind of toppings.
12. Banh Goi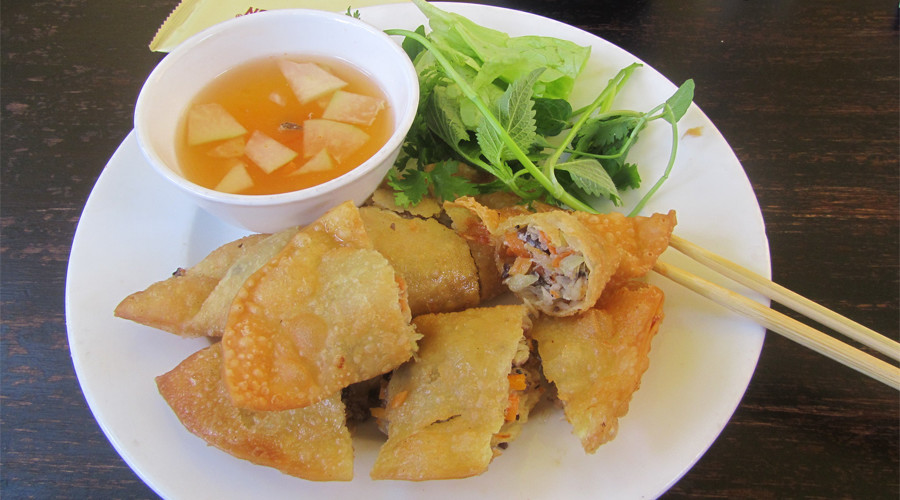 Another popular street food in Hanoi dish is Banh Goi. Banh Goi is a typical cake or dumpling from Hanoi, especially eaten in autumn and winter, when it is getting colder. The crust is made mainly from wheat flour and is crispy. The filling is usually made from minced pork and some vegetables. The cake is served hot with raw vegetables, pickles and sweet and sour dipping sauce.
Best Banh Goi
Quan Goc Da is a good place to get Banh Goi.
13. Bun Thang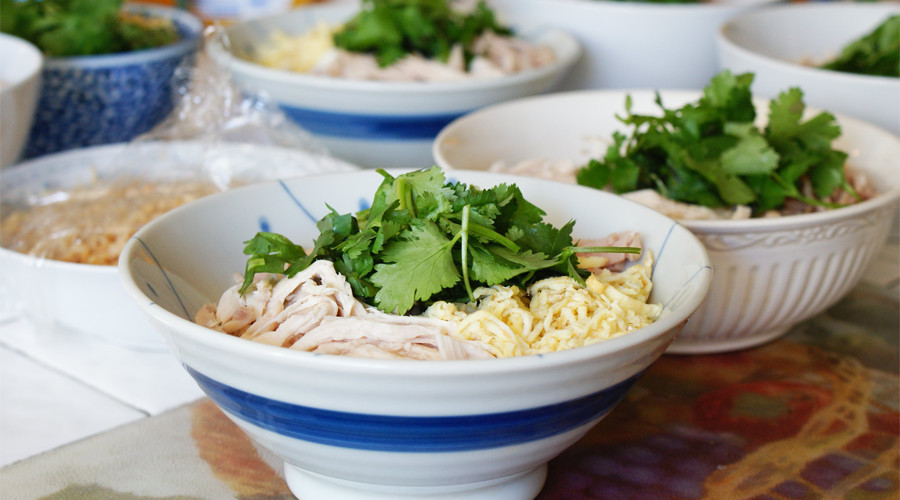 Bun thang is a typical Hanoi dish with bold flavors and famous for its sophisticated and elegant style of the local cuisine. It is a soup made of 20 ingredients, including rice vermicelli with egg, pork, chicken, dried shrimp, shrimp paste, squid, coriander, spring onion, ginger, mushroom, beet, fish sauce, vinegar and sugar candy.
Best Bun Thang
You can find Bun Thang anywhere within Hanoi Old Quarter, but Bun Thang Ba Duc is recommended, as you can enjoy a generous bowl for about VND 30,000.
14. Oc Luoc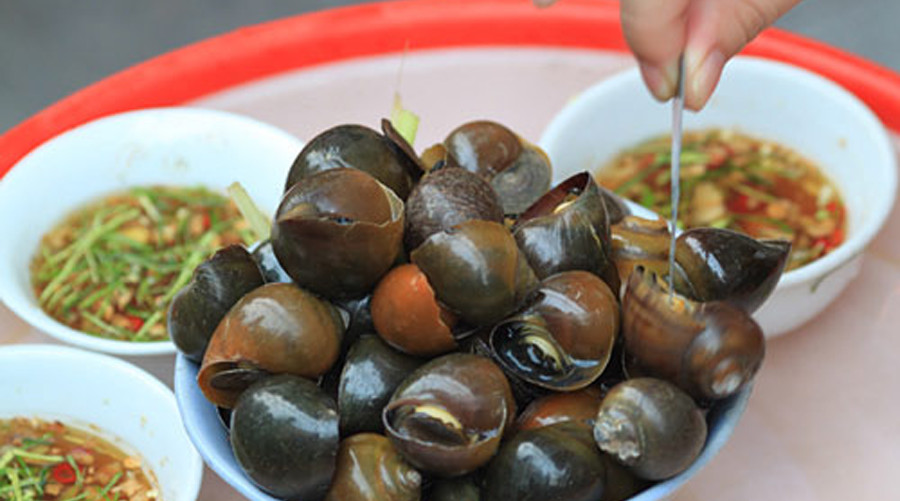 Oc Luoc are hot boiled snails dipped with sweet and sour sauce to bring up the taste of ginger and lemongrass. It may sound a bit strange and exotic to eat snails, but you should give it a try, because it is extremely popular in Hanoi.
Best Oc Luoc
There are a few places where you can eat snails, but the most well known in the center is at 1 Dinh Liet.
15. Hoa qua dam sua chua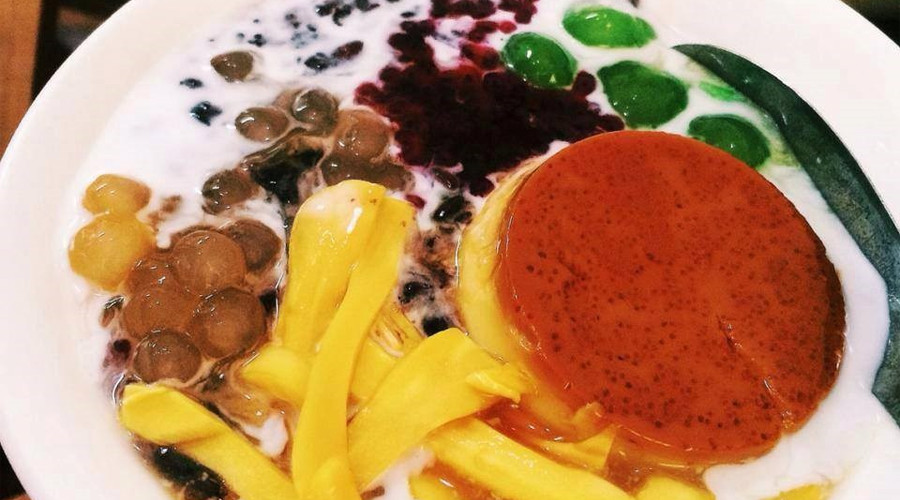 Street food in Hanoi is more than just noodles, rice, baguettes and hot dishes. You can also go there for dessert. A favorite among the inhabitants of Hanoi are the yogurt with fruit desserts, or Hoa qua dam sua chua. In addition to yogurt and fruit, you can also choose from different toppings, such as jelly, ice cream and sprinkles.
Best Hoa qua dam sua chua
To Tich street is full of dessert street food in Hanoi, with a lot of different choices.
On the corner of 5 Dinh Liet street you will find another great place for desserts, only serving in the evening and often very crowded.
Street drinking scene in Hanoi
Besides the culture of street food in Hanoi, you also have a drinking culture on the street. At the end of the working day, friends and colleagues gather to eat first and then drink. When you walk through the streets of the old quarter you will see this in enough places. There are certain street stalls that sell local draft beer, also known as Bia Hoi. With a price from 30 cents, this is also the cheapest beer in the world. So if you are looking for nightlife in Hanoi, it is definitely recommended to sit with the locals at least once to drink beer. Read all about Bia Hoi in Hanoi here.