Bia Hoi is locally brewed beer and often referred to as Vietnamese street beer. This is because the beer is often being sold on the street from 0,30 USD, making it the cheapest beer in the world! But it is more then just beer, it is a unique drinking culture mainly found in the northern cities and towns of Vietnam. It is a daily ritual from 4pm, where locals and tourists sit on a small plastic chair on the corner of the street and drink some locally brewed beer.
What is Bia Hoi?
Bia Hoi can be roughly translated to "fresh beer". This is because it is brewed every day and should be consumed within 24 hours as it contains no preservatives and for that reason it spoils fast. However, its purity isn't the only unique thing about this local beer, it also has a rice content of up to 50% depending on the brewery. This gives the beer its golden color and a light and airy taste. In a classic Vietnamese way, the beer is distributed on the back of the motorbike to the bia hoi bars in the city.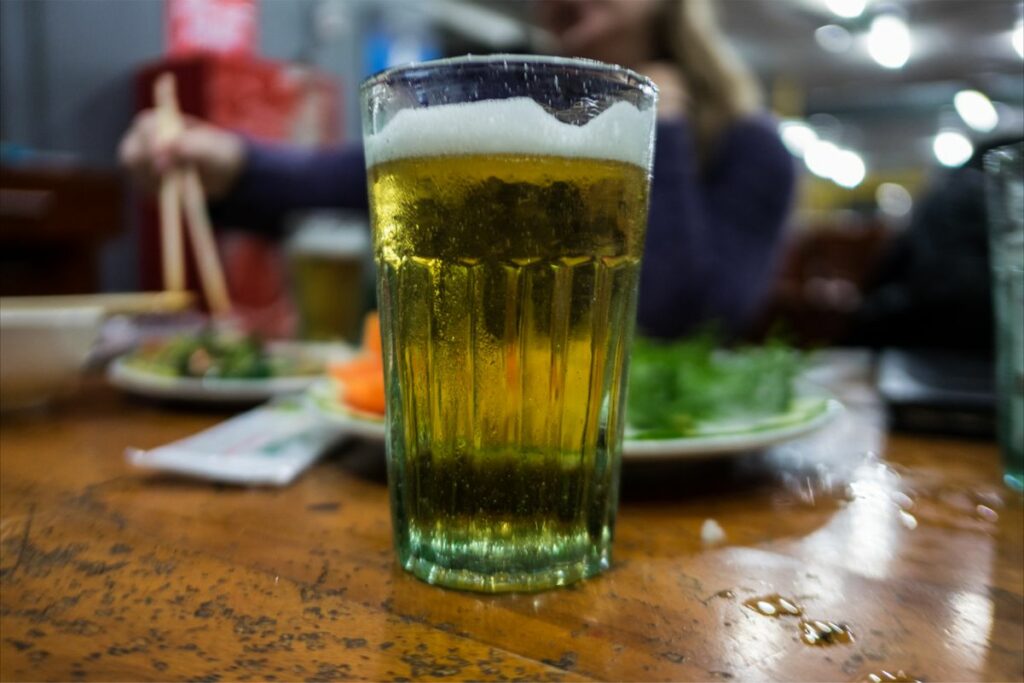 Bia hoi is also called the cheapest beer in the world. In most places, a glass of beer is between 3,000 and 10,000 dong, which equates to between 10 and 30 cents. A local bottled beer costs anywhere from 12,000 to about 25,000 dong, depending on where you order it, so these 3,000-dong beers are extremely cheap.
Brief history
Like a number of famous buildings in Hanoi, the Banh Mi baguette and other cultural traditions, Bia Hoi also originated during the French colonial era in the late 19th century. The French rulers brought beer to Vietnam around 1890 to stop the Vietnamese from drinking their beloved homemade rice wine. In the end, only one brewery was built in Hanoi, the Hommel Brewery. With 30 employees, the brewery produced about 150 liters of beer per day. However, this strange new drink was too bitter for the locals and the drink was expensive, something that only the wealthy rulers themselves could afford.
When Vietnam was declared independent in 1954, the brewery's name was changed to Hanoi Brewery and continued making bottled beer. The locals still called it a luxury product for the rich and preferred their cheap homemade rice wine. The brewery came with the idea to create an instant draft beer, what they then called Bia Hoi. The beer caught on with the local residents. However, residents of Hanoi still continued to drink their home-made rice wine, until the government decided to curb this home-made production. From then on, the local population had "no choice" to switch completely to Bia Hoi.
In the 1970s, people had to queue to buy beer because of the subsidy economy. At the time, the offer was limited by coupons and / or food coupons. Even if you had money, you couldn't buy more than anyone else. Following the 1986 Doi Moi policy, which literally means restoration, the country's economy shot up after being on the verge of economic collapse. This also resulted in hundreds of privately-owned Bia Hois in Hanoi.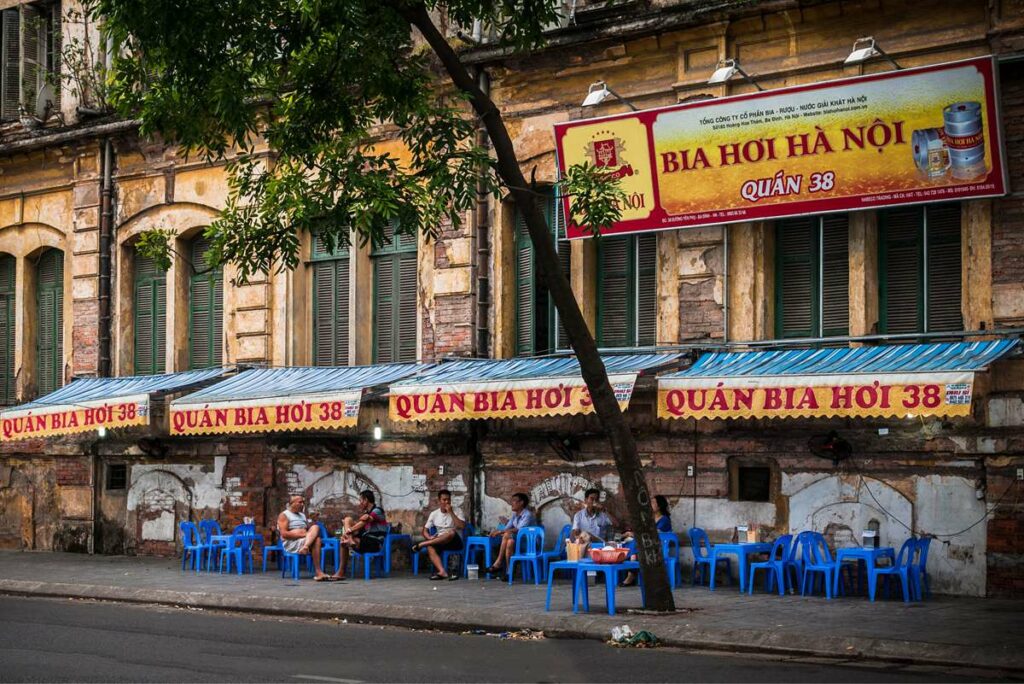 Drinking Bia Hoi in Hanoi
When you walk through Hanoi Old Quarter in the evening you will see the Bia Hoi stands at a lot of streets. You can easily recognize it by the sign with "Bia Hoi Ha Noi", with some low plastic stools around it and where you are warmly welcomed. The sign also often states the price, usually around 7,000 Vietnamese Dong (about 0.30 USD). That is why it is also called the cheapest beer in the world They usually start opening their street stand around 4 p.m. The taste can sometimes differ per stall or even per day.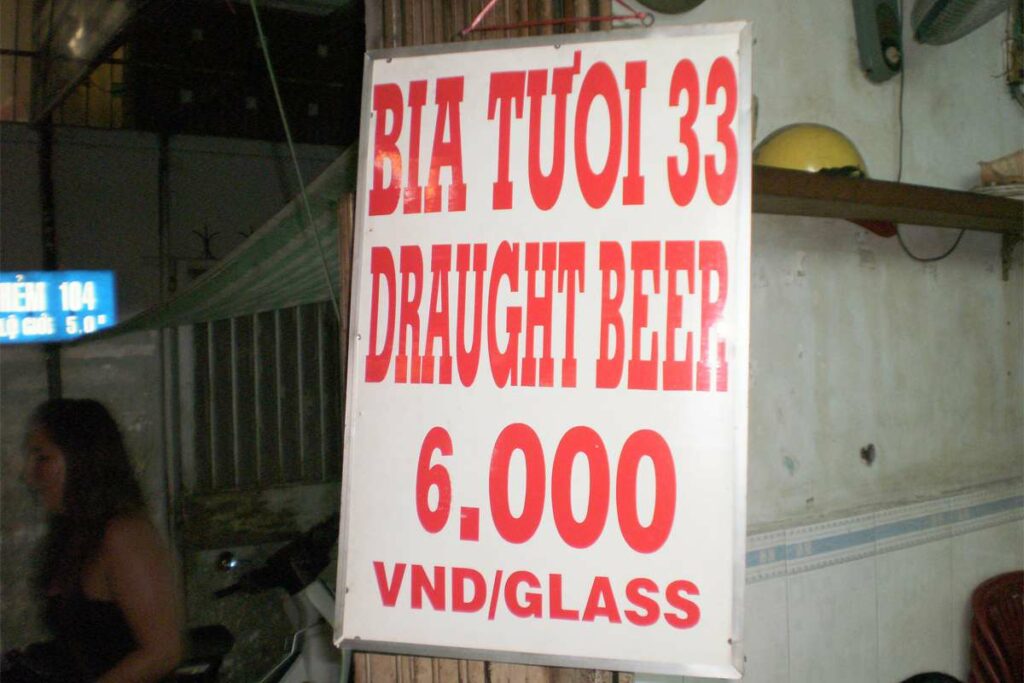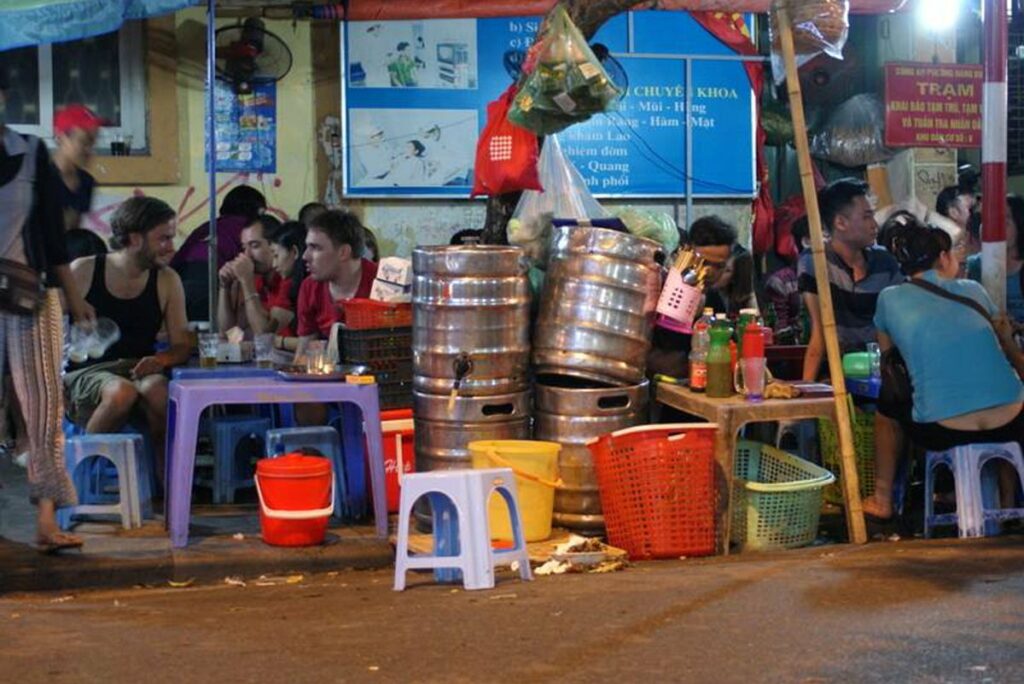 From small beer stalls to large ones and in all seasons, streets are filled and full of people drinking Bia Hoi. It has become a cultural tradition where locals come together after a hard day of work to enjoy a beer together. Here people laugh and stories are exchanged. You will also often hear people counting down 1, 2, 3 in Vietnamese and then shouting "dzo", which means cheers. The group that shouts the loudest "dzo" wins the "game".
Beer lover or not, it is one of the best things to do in Hanoi. A small but unique experience being part of a local drinking tradition.
Best Bia Hoi in Hanoi locations
Today, bia hoi bars are all over the north of the country, but they are mainly found in Hanoi, as this is where the whole tradition started. Here are some places you can drink it.
1. Streets in the Old Quarter
For the cheapest Bia Hoi and the most local experience you just have to wander around the Old Quarter. You easily spot the Bia Hoi places, often very small on the pavement with a small sign.
2. Bia Junction
Bia Hoi Junction is the most famous place for drinking this local beer. Continue reading below for more information about Bia Hoi Junction.
Address: Intersection of Nha Hoa and Duong Thanh
3. Bia Van Ho
One of the oldest Bia Hoi restaurants, open since 1991.
Address: Số 2B, Hoa Lư, Hà Nội
4. Quán Bia Hơi Nam Còi
Cheap beer in the Old Quarter and they also serve street food.
Address: 11 Đường Thành, Cửa Đông
5. Lan Chin
Lan Chin is a chain of restaurants where you can drink Bia Hoi.
Bia Hoi junction in Hanoi
Bia Hoi junction is also called Bia Hoi corner or Bia Hoi street and is the most famous place to drink Bia Hoi in Hanoi. This street is a must for any visitor coming to Hanoi and is considered the best nightlife in Hanoi. All day, but especially in the evening, this is a lively beer paradise, where hundreds of people sit on plastic stools with a glass of local beer in hand.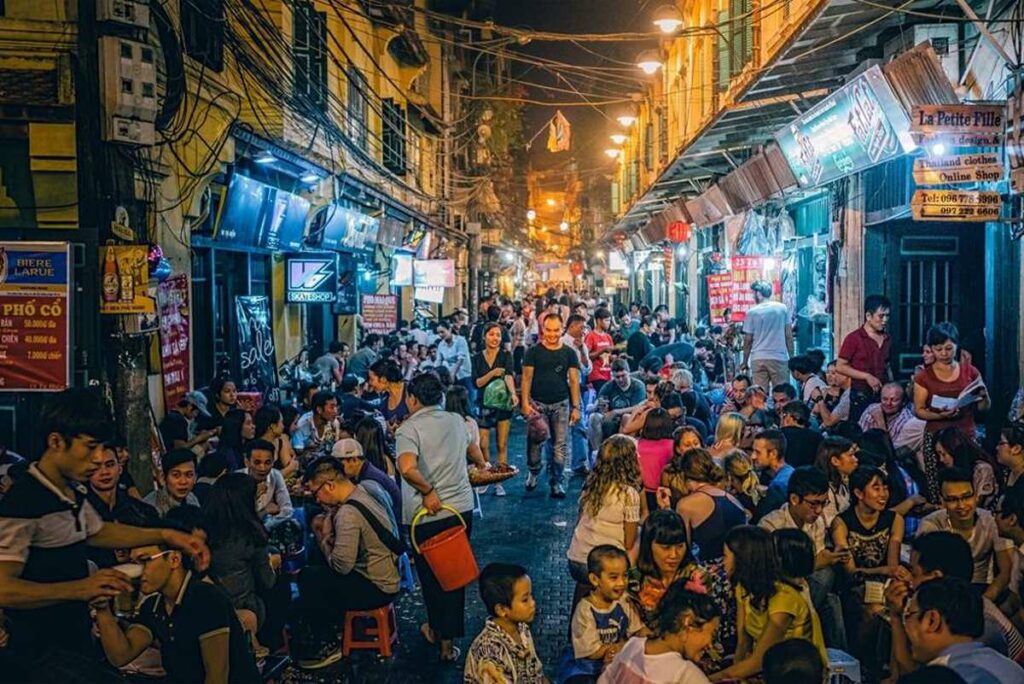 The beer is available from various makeshift bars on Bia Hoi corner. The street is full of locals, expats and tourists. You don't have to worry here if you don't want to drink Bia Hoi and still want to experience the atmosphere of Bia Hoi Junction. They sell other beer brands here as an alternative, such as Tiger and Heineken, but also have various soft drinks.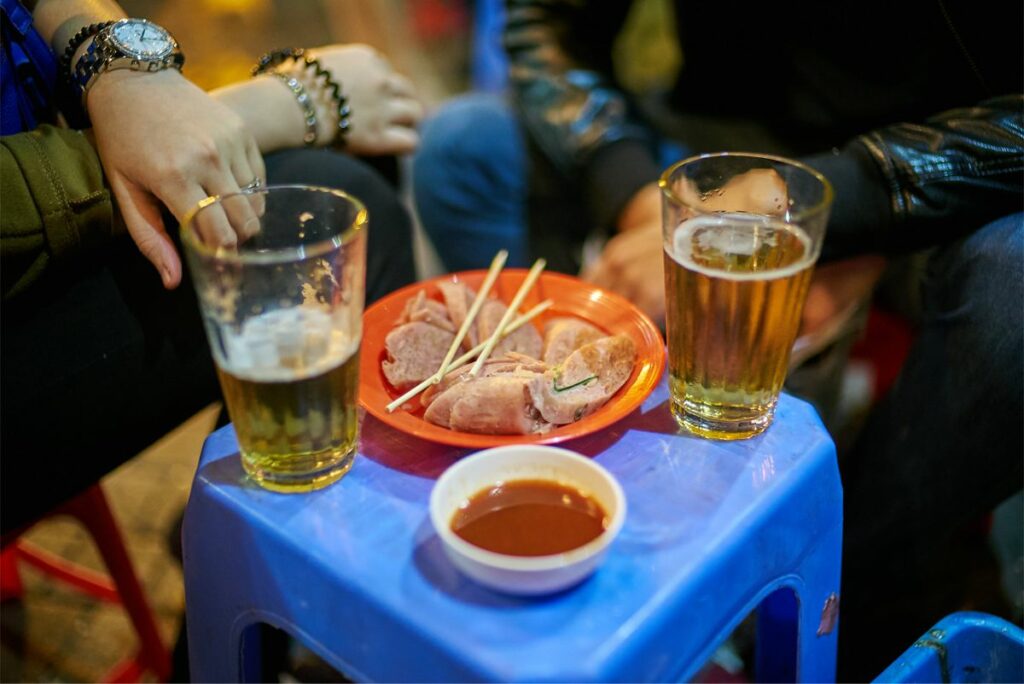 The Vietnamese combine their drinking with the necessary tasty dishes and this is part of the experience. Try some tasty snacks they offer at Bia Hoi junction. Most places here have menus in English. Some popular snacks are dried squid, salted peanuts and spring rolls, but there is so much more that one visit is not enough.