The easy Riders in Vietnam are local local guides who take you on the back of their motorcycle to explore the country. It's a great way to, for example, visit sights spread across different locations, or get off the beaten track.
What are Easy Riders?
An Easy Rider is a local guide who takes you from A to B on the back of the motorcycle and shows you various well-known and unknown sights. They offer a tailor-made motorcycle tour, you can indicate what you want to see, but listen carefully to their recommendations. These Easy riders know everything about the area and can therefore show more places than if you do everything with the motorcycle yourself.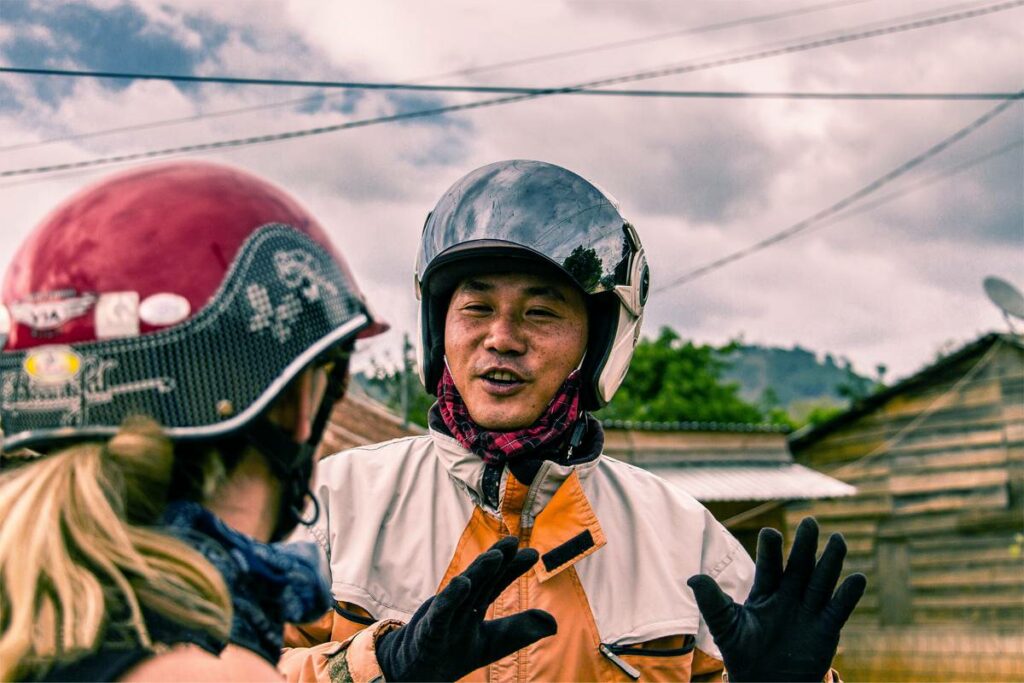 The Easy Riders started in 1990 in Dalat, with men who had no post-war jobs in Vietnam. Starting unprofessional with old motorcycles, but over the years of development, it became more and more popular and professional and many of them have gained a lot of experience.
The Easy Riders are very flexible with the travel plans of the guests. You can do a tour of 3 hours, a day, a number of days or even several weeks throughout Vietnam. You can drive a motorcycle yourself if you wish (be it a regular motorcycle / scooter or slightly more powerful) or on the back (usually an impressive bike with a comfortable seat in the back). Keep in mind that sitting as a passenger gives you the freedom to enjoy the scenery and take pictures the most.
8 best Easy Rider routes in Vietnam
1. Dalat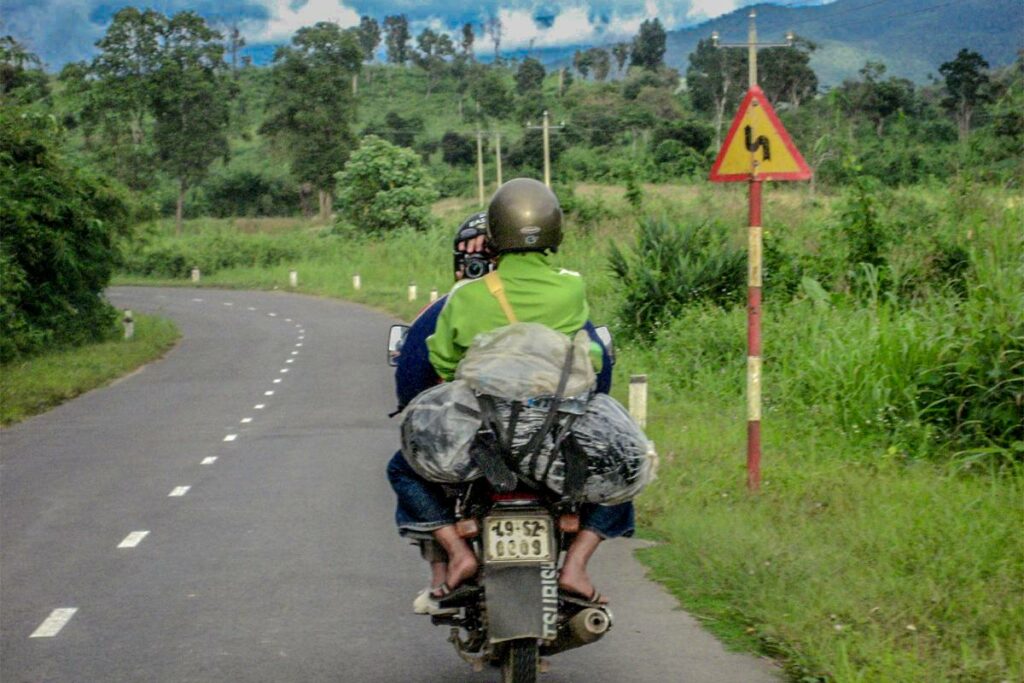 Dalat is where the easy riders started, so of course also one of the best locations for an easy rider tour in Vietnam. Below you can see a number of popular routes.
Waterfalls, Lakes and Plantations: There is hardly a better place in Vietnam to explore by motorcycle than Dalat. On the back of the motorcycle you drive through countryside and forests, visit waterfalls, lakes, villages and local factories. (1 day)
From Dalat to Nha Trang: The route from Dalat to Nha Trang is very impressive, through a valley with waterfalls, forests, viewpoints and rivers, to finally arrive at the beach. (1 day).
Through the central highlands: If you have more time, choose the best alternative to the much-traveled coastal route in central Vietnam. Instead, you can drive right through the central highlands, where you can view the rugged and authentic landscape. (3 -4 days)
2. Ha Giang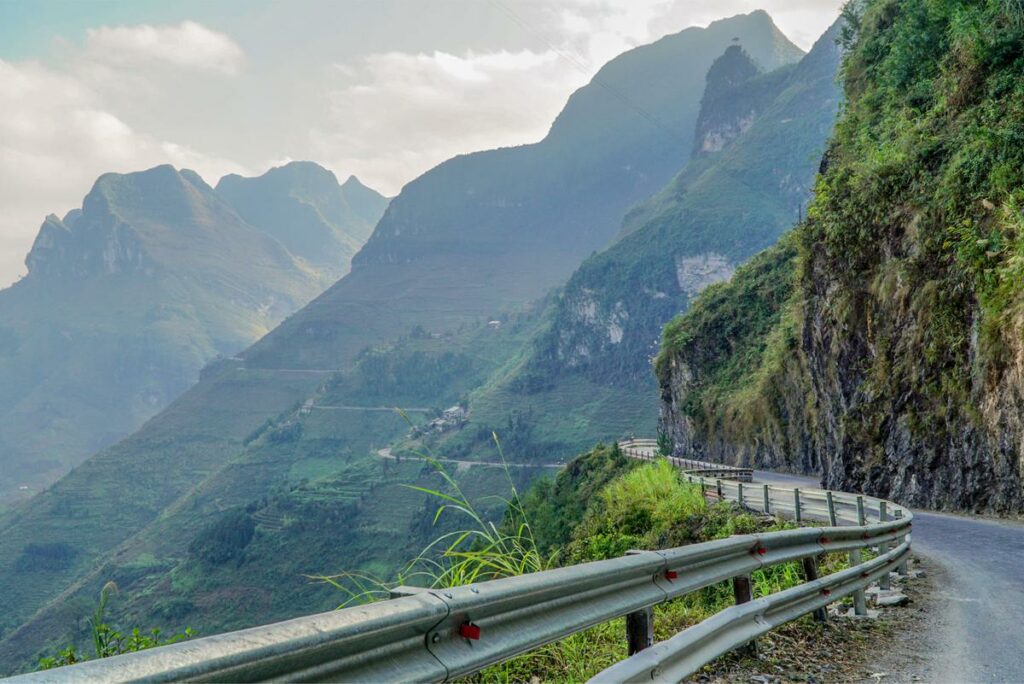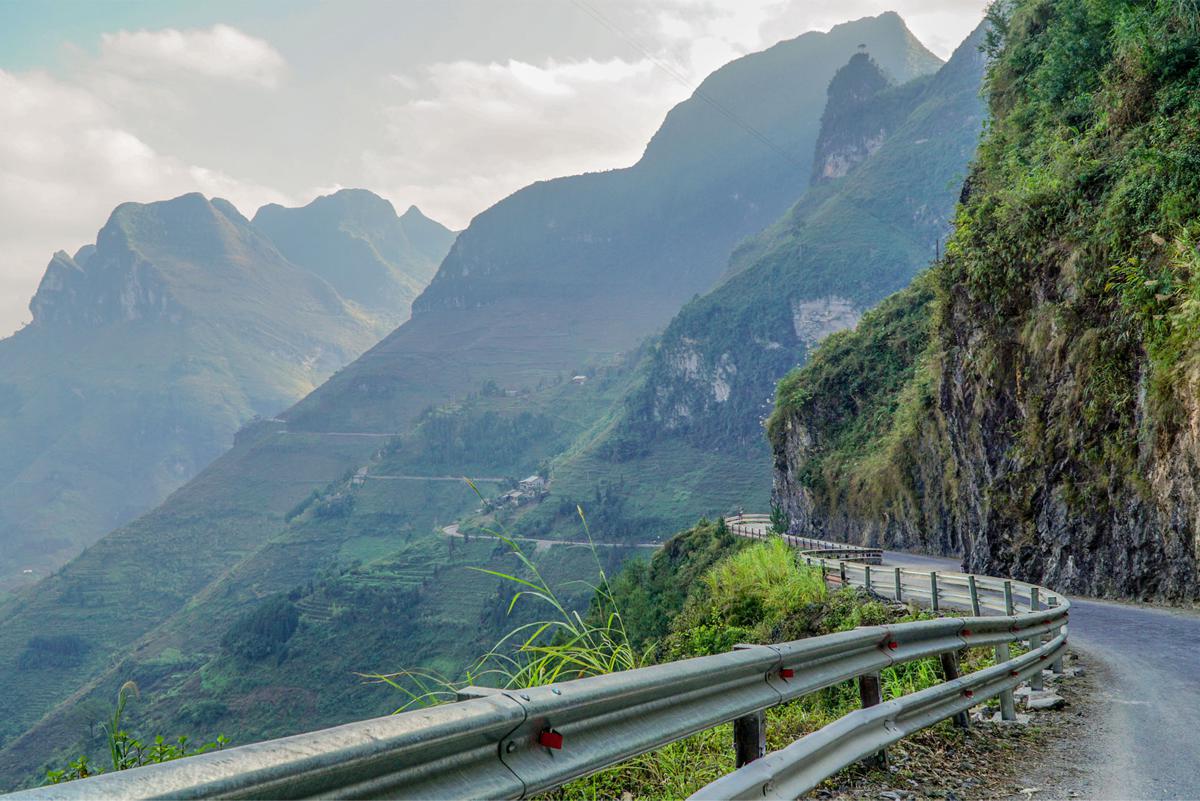 The most beautiful motorcycle route you can take in Vietnam is the Ha Giang loop. Here you will find the most impressive mountains in the country, with beautiful views. Along the way you can stop at local small villages and minority markets where you can learn more about the unique culture here.
3. Hoi An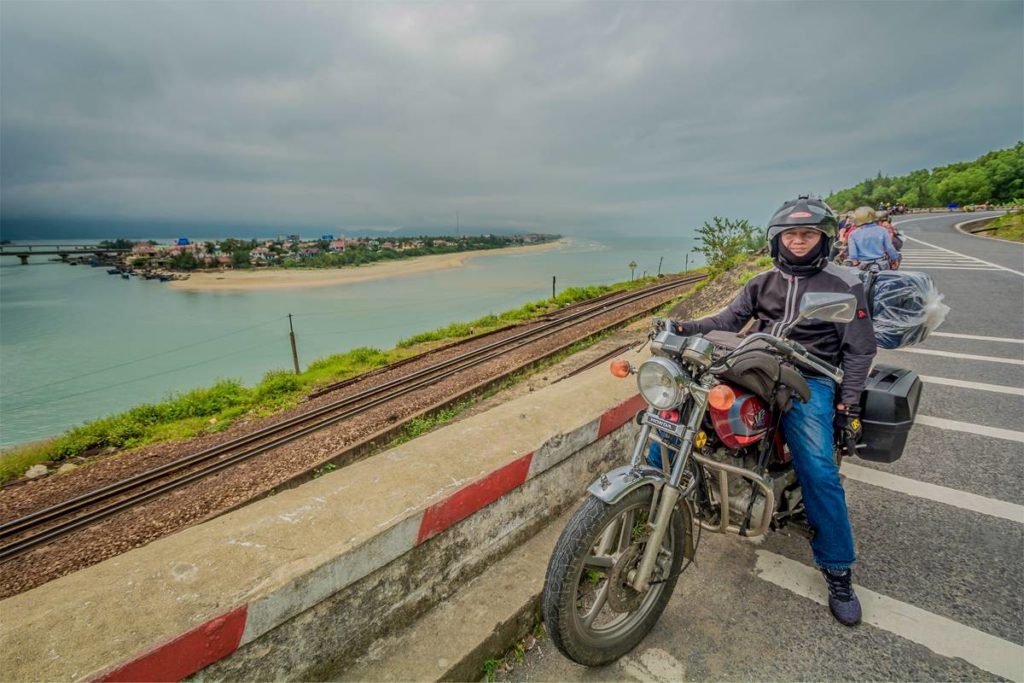 Around Hoi An you have several options, including the most popular easy rider route in Vietnam: over the Hai Van Pass.
Hai Van Pass: The most popular motorcycle route in Vietnam is without a doubt about the Hai Van Pass. From Hoi An you drive with an Easy Rider to Hue, with a number of stops such as at the Marble Mountains, beaches, fishing villages and a waterfall near Hue. (1 day)
My Son: The ruins of My Son are a popular day trip from Hoi An. You can do this with a group tour by bus, but an Easy Rider tour to My Son is a much nicer experience! (0.5 / 1 day)
Craft villages: Around Hoi An there are many craft villages where you can learn more about the local life of the inhabitants. You can spend a full day driving from village to village and learn how they work the land with water buffalos, bake pots and plant rice fields. The rides between the villages you drive through beautiful rice fields. (0.5 / 1 day)
5. Hue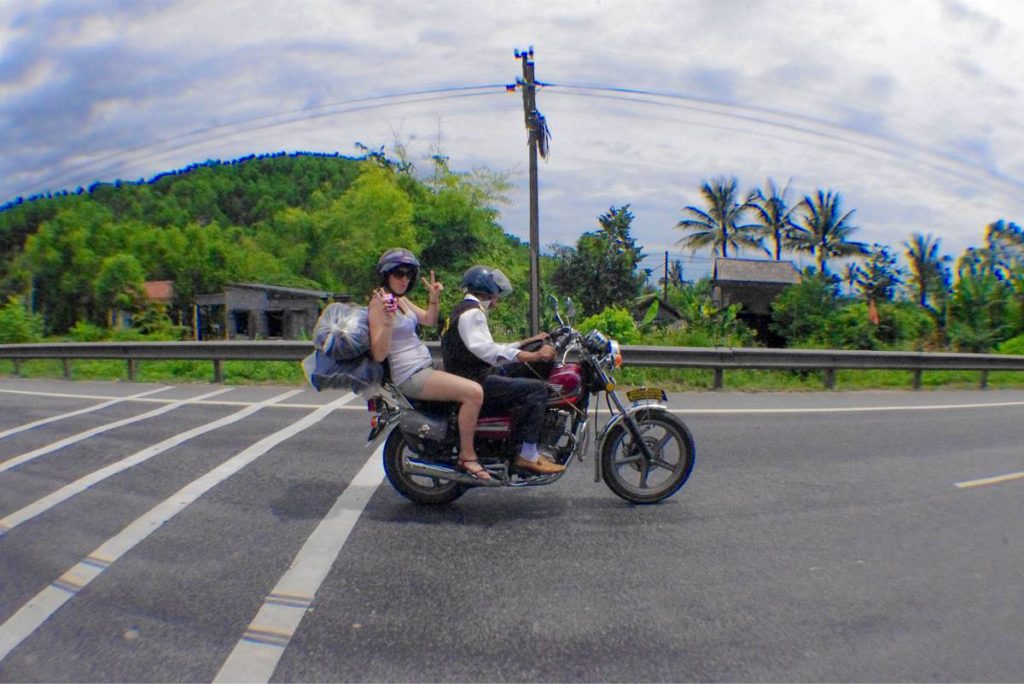 It is clear that central Vietnam is the best place for easy rider tours, because Hue is the third in the list. Popular routes are:
Hai Van Pass: You can of course do the reverse route from Hue to Hoi An, over the Hai Van Pass.
DMZ: Hue is the closest city to the DMZ (Demilitarized Zone). This is the place where there was the most fighting and was the border between North and South Vietnam. You will find here the Vinh Moc Tunnels, Hien Luong Bridge, an abandoned US army base, various bunkers and a cemetery. (1 day)
From Hue to Phong Nha: The route from Hue to Phong Nha is also popular to do with an Easy Rider. You will visit pagodas and temples in Hue, the most famous sights of the DMZ and two caves in Phong Nha. (2 days).
Temples and Pagodas: Hue has many temples, ancient tombs and pagodas. There are a number of them in the city, but you will also find plenty outside of it. You can visit it with an Easy rider in combination with a ride through the countryside. (1 day)
6. Sapa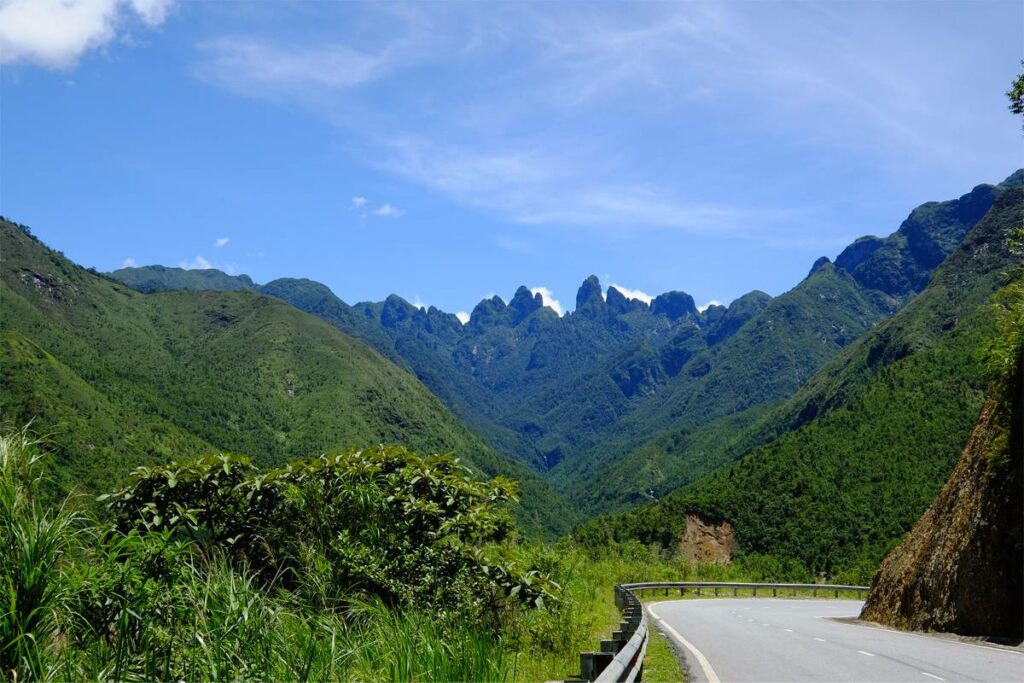 For people who want to escape the hustle and bustle of Sapa, it is best to jump on the back of the motorcycle of an easy rider. A trekking in Sapa is not the only way to see the area. From the motorbike over mountain passes and roads through the countryside you can also admire the famous rice fields of Sapa.
The most popular Easy rider routes in Sapa are:
Villages and waterfalls: The surroundings of Sapa are beautiful with rice fields, fish bags and minority villages. There is even a Sapa loop that you can ride for several days. (1-3 days)
Tam Tron Pass: A must-see attraction in Sapa is the highest mountain pass in Vietnam: Tram Ton Pass. You can get there in no time from Sapa and the mountain pass itself is also quickly over, so combine this place with a visit to some waterfalls in Sapa en route and minority villages. (1 day)
7. Cao Bang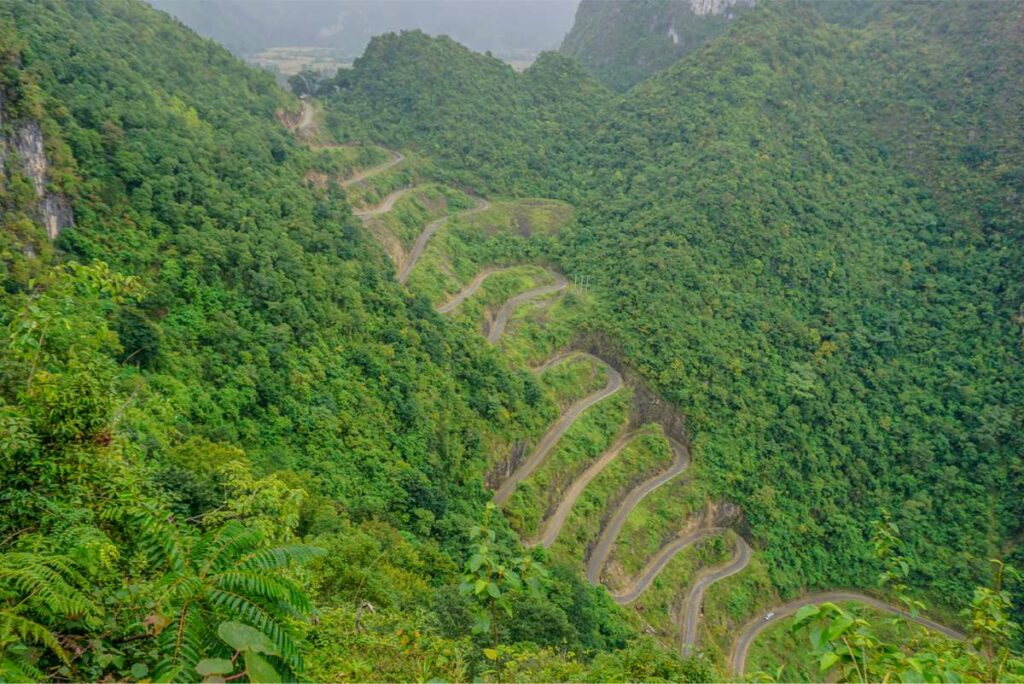 Cao Bang is still an unknown area. Travelers only come here to see the mighty Ban Gioc waterfall, but the province has a lot more to offer. In fact, it is one of the most beautiful provinces in the country, where it feels super authentic due to the lack of tourism. A great route is from Ban Gioc to Cao Bang and from here to Bao Lac.
8. Mekong Delta
The Mekong Delta is often visited in a day trip from Ho Chi Minh City. But this region is gigantic and has no less than 12 provinces. Because there is little traffic in the countryside between the villages, and the land in the delta is completely flat, cycling in the Mekong Delta is one of the most popular means of transport. But you can also climb on the back of the motorcycle to cover much more distance every day and visit places where no tourists come. This way you can really get a taste of the local life.
How to book an Easy Rider tour?
Local Vietnam is in contact with several reputable easy riders in Vietnam. Some of the most popular routes can be booked directly through our tours on this website, such as the Ha Giang loop by motorbike and the Easyrider tour over the Hai Van Pass. View all easyrider tours here. Contact us for tailor-made itineraries.
FAQ about Easy Riders in Vietnam
Is there a minimum age
There is no official minimum age to sit on the back of the bike. In fact, many Vietnamese parents use a motorbike every day to drive their children to school, as cars are priceless for most residents. That said, on an easy rider tour in Vietnam it is of course important that children feel comfortable enough to sit on the back and are not too small.
I have never been on a motorbike before, what is it like?
The majority of travelers that go on a Easy rider in vietnam have never been on the back of a motorbike before. It can be a bit exciting at first, but you get used to it very quickly. The motors they use are quite comfortable and feel safe. Tip! If you still a bit scared or hesitate because of the comfort, then start with 1 day…
Are Easy Riders safe?
We would be lying to say that Vietnamese roads are very safe. The fact is, accidents happen every day. However, Easy Riders have been doing this almost every day for many years and are therefore very experienced. In addition, the drivers have a great sense of responsibility and will never take risks in traffic.
Is it legal?
Yes, sitting on the back of a licensed motorbike guide is perfectly legal. There is a maximum of 2 people per motorcycle, so if you want to make an easy rider tour in Vietnam with 3 people, you need 3 different easy riders.
What do I do with my luggage on multiple day trips?
When you do a loop, so ending in the same place you started, you can leave some of your luggage behind and only take what you need. When you end up in another place you have to take your luggage with you. This is generally not a problem, there is enough space on the back of the motorcycle as long as you are not traveling with several suitcases. Your luggage will be placed in a large plastic bag so that it is protected against any rain on the way. Backpacks are generally more convenient to carry than suitcases.
What if it starts to rain when I'm on the motorbike?
Easy rider tours in Vietnam also operate in the rain. It is useful to bring a raincoat to keep you dry. Of course, rain can diminish the experience, so it's good to study the best time to visit Vietnam.
Alternatives for Easy Riders
While an easy rider in Vietnam is one of the coolest ways to explore the country, it's not for everyone. Some travelers like a little more comfort or don't feel safe. The best alternative is to rent a car in Vietnam. With a car you can drive many of the same routes as those with an easy rider, although the feeling of adventure and the convenience of a 360 degree view will be less. Another advantage of a car is that you are more resistant to the elements of the weather, such as rain, sun, wind and the cold.
You can also go the other way, to even more adventurous. That is driving a motorbike in Vietnam. Keep in mind that you need to be experience and confident. The roads in Vietnam are not for learning to drive for the first time. Despite the fact that police often tolerate foreign travelers, it is officially not legal to drive without a Vietnamese driver's license. This means that if you were to have an accident, you are liable for this and possibly your insurance will not pay out anything.