A trekking in Sapa through the rice fields, mountains and forests is one of the highlights of a trip in Vietnam. Visit local minority villages and see the beautiful surroundings. Trekking in Sapa is an experience that you will not soon forget. Read this guide to help you on your way to choosing the right trek that meets all your needs and to prepare you for a great trek.
1. What to expect when trekking in Sapa
As mentioned above, Sapa is one of the highlights of Vietnam. In our opinion, the best way to discover the area around this town is on foot. First we explain some basic principles of trekking through this area; what can you see and how difficult is it.
What can you see?
The Sapa rice fields are famous, probably one of the most beautiful rice fields in Vietnam and perhaps even Asia. With a trekking in Sapa you walk along paths between the rice fields, including great viewpoints over the valley. Along the way you pass several minority villages, where you feel that you have stepped back in time. You see local minorities working on the fields and in the village wearing their traditional clothes. You will probably come across a few water buffalo's that are used to work on land. It is a great place to take photos and learn more about the culture of these ethnic minorities.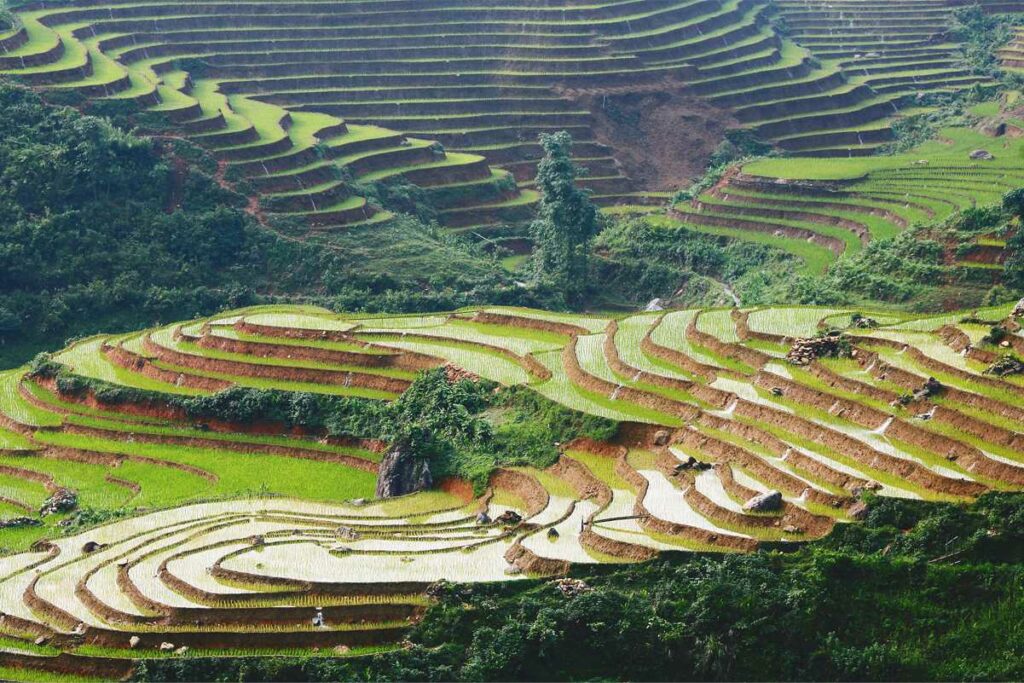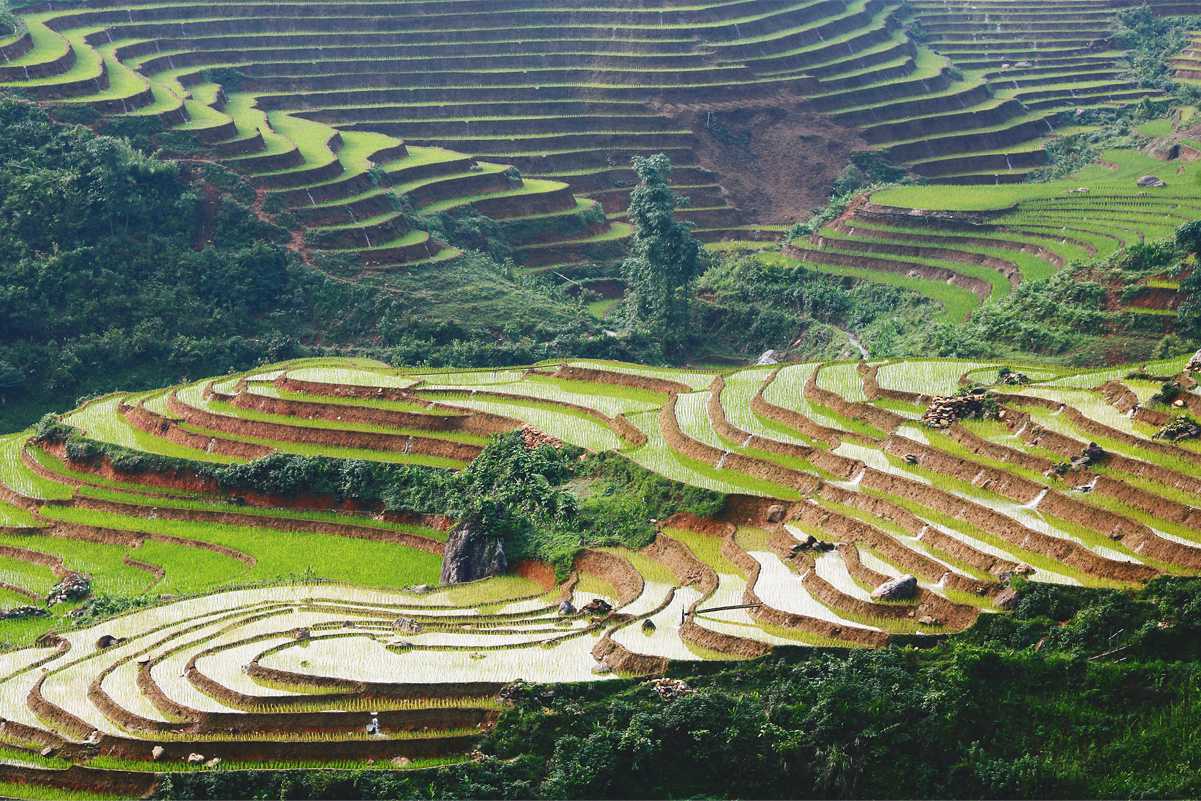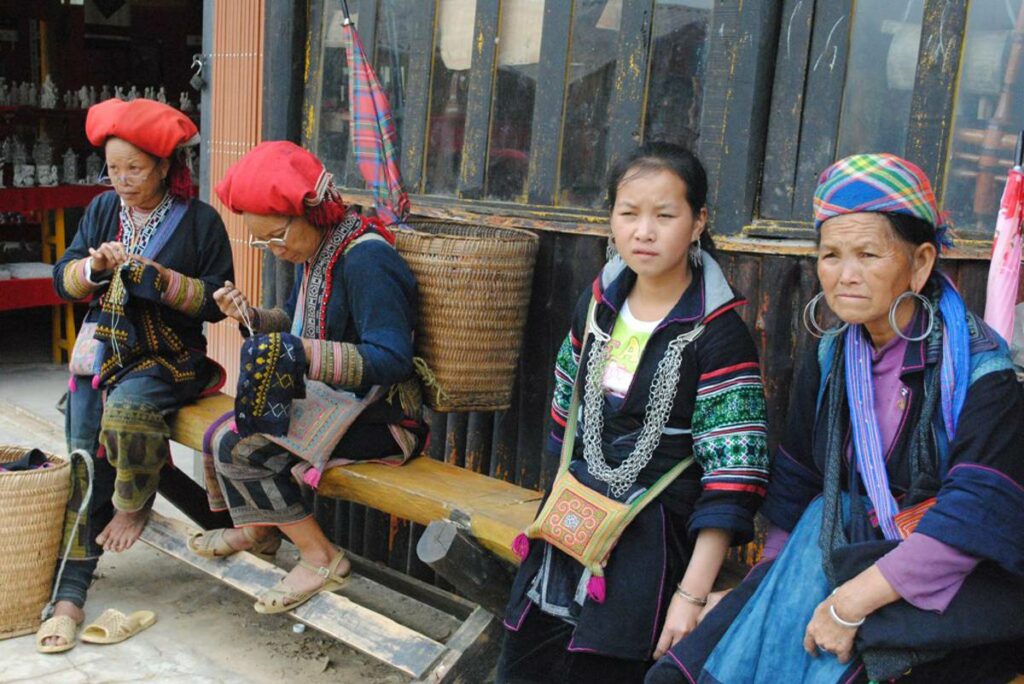 How difficult is the trekking?
You walk up and down hills, so your health and endurance must naturally be in good shape. A normal trek is around 12-15 km per day and you walk around 5-6 hours. Don't expect difficult climbing and the roads aren't bad either, although you don't walk on paved roads. That is why it can be a bit smoother in some places after a heavy rain. But really, anyone with good or reasonable health can do this. When you make a private draw in Sapa, you can tell your guide in advance what you can do so that he can decide what the best route is for you. You can also decide to make a day draw or several days, depending on what you can handle.
2. Trekking with or without a guide
If you are planning to go Trekking in Sapa, we would definitely recommend a guide. The guides are mostly locals who know everything about Sapa, every little path, rice field and forest. In this way a guide can take you to remote places that are not on a map and leave the tourist hiking trails through rice fields and jungle. You will see more and it is more comfortable that there is a guide who takes care of food and accommodation when you make a multi-day trip.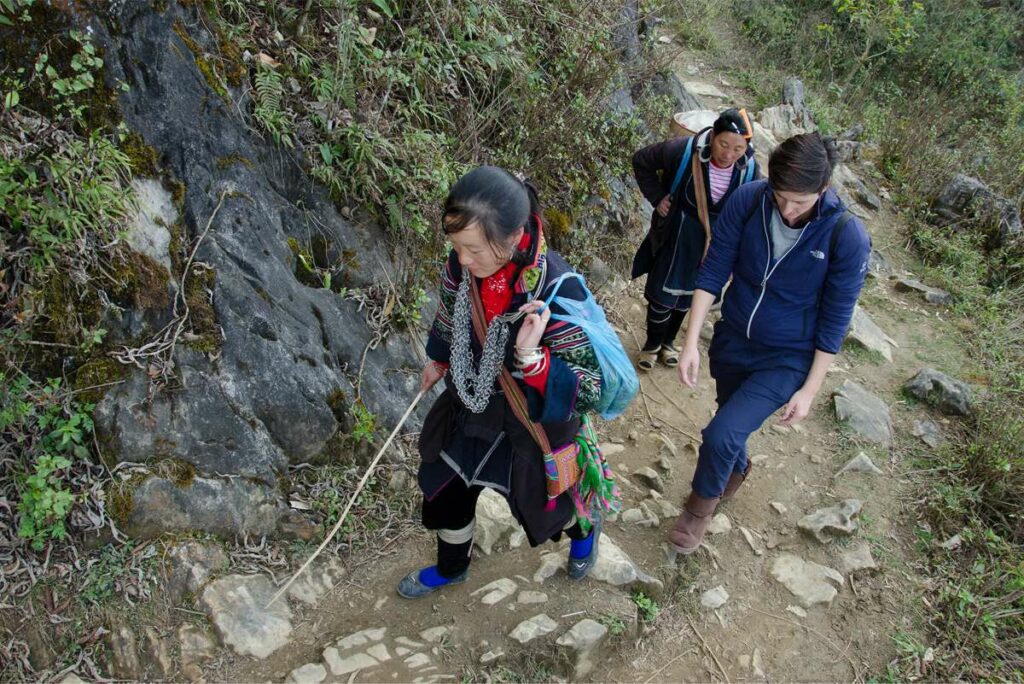 If you feel like a real adventure, then you can go trekking yourself. Before you leave, you must prepare the routes that you are going to walk. The easiest way to do this is to go to villages where you can arrange a homestay for an overnight stay, such as Cat Cat Village, Y Linh Ho or Ta Van. Make sure you bring enough food and water, there are no stores if you get lost. There are also options for small day trips without a guide.
3. What are the different trekking options in Sapa
One day trekking or multiple day trekking
Trekking tours are offered from one day to three days. Four-day tours often mean that the first day you travel from Hanoi to Sapa is not a real day of trekking, so make sure you read the itinerary carefully.
If you make a day trekking in Sapa, you can already enjoy seeing the beautiful rice fields and local minority villages. It is the best option if your endurance is not in a very good condition, if you do not have enough time or if you want to stay in a very comfortable hotel at the end of the day.
It is advisable to take the two-day one-night draw for the best experience. The second day of trekking is the best day for many people, because the landscape becomes more dramatic and you encounter fewer tourists. Next to the beautiful rice fields you walk through the jungle and visit remote villages. At the end of the day you sleep in an authentic homestay, which definitely adds to the overall experience.
Three days of trekking is for people who really enjoy walking, because the landscape will not change much. Of course you will go further, which means that you will see even fewer tourists.
Private or group trekking
The most popular trekking tours can be done in groups and are often the best option if you are on a budget. If you are in a group or you want to go more off the beaten track you need to go with a private tour. The guides and homestays are not very expensive, so this is the most recommended option.
Easy, moderate or difficult trekking
The Sapa trekking tours on Local Vietnam are subdivided into 3 levels of difficulty:
Easy trekking
Moderate trekking
Hard trekking
The level of the draw depends on how many kilometres you walk per day. The roads are generally the same everywhere. There are a number of routes where you have to walk a little more up and down.
Fansipan trekking tour
Another very popular trek is the Fansipan trekking tour. There are people who can do it in one day. Not recommended, you start very early, you return late in the evening and you walk all the time. A more comfortable way and probably more fun is the two-day one-night trek. At night you sleep on the mountain in a hut or tent. There are also three-day treks that take you through a different route. Officially you cannot go without a guide. There are still people who do this, but we do not recommend this. In the past, people lost their way and there were even fatal accidents. Always bring a guide!
If you are in Sapa for the famous rice fields, then it is better to do a normal trekking tour. If Fansipan is still on your Sapa bucket list, you can go to the top of Fansipan by cable car.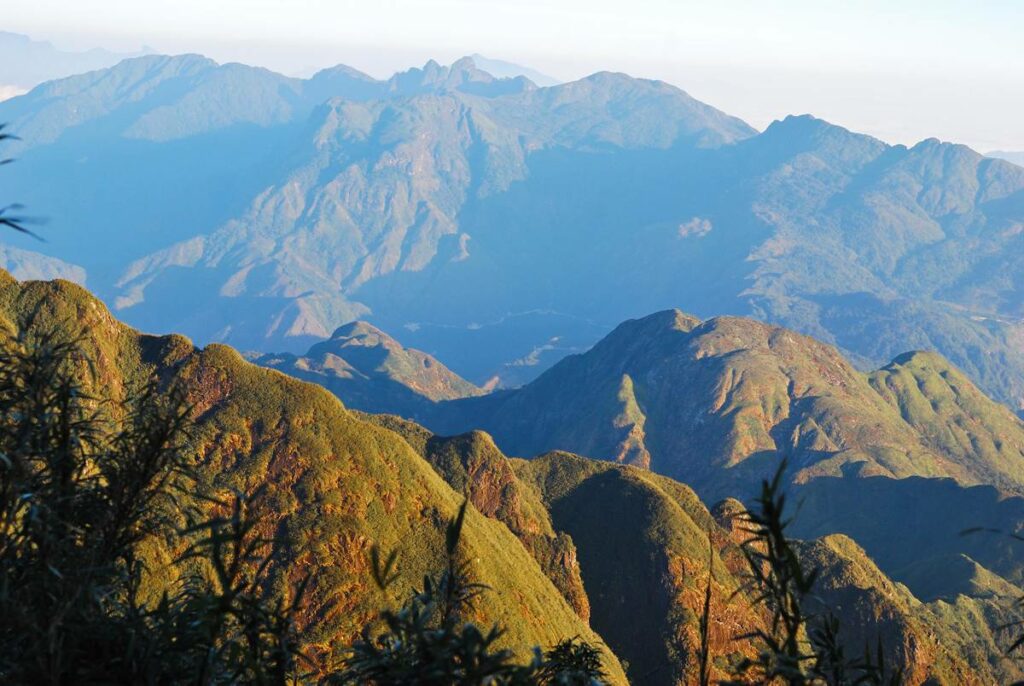 4. Homestay trekking in Sapa
When you opt for a multiple day trekking in Sapa, you often stay in a homestay. Doing a homestay trekking in Sapa can be an amazing local experience, but this is not for everyone. A homestay in Sapa means that you spend the night in a local's house, as the name suggests. Official homestays must be registered. This means that the house must have a toilet that can be flushed, a bed with mosquito net and must be clean and hygienic. However, don't expect a luxury room, it's a bit more than a cabin.
If you are travelling with a group, you are probably already sleeping in the same room. Dinner and breakfast are served by your host's family. It is a very nice cultural experience that also supports the local population with extra income that can improve their lives. In addition, a homestay trekking in Sapa means that you can go further away from town and discover more of the area with fewer tourists.
Read more about homestays in Vietnam here.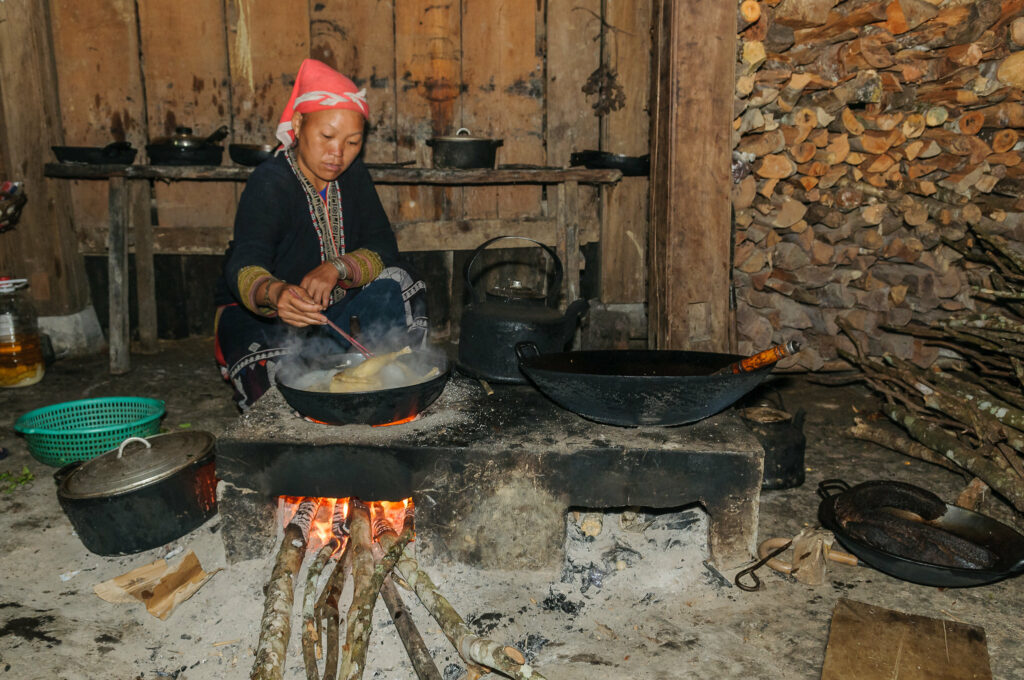 5. Best time to go trekking in Sapa
December – June: The dry season.
March to May – The best time for trekking in Sapa during this period; the weather is very nice, good for walking and visiting the local villages.
June to August – The rainy season. September is the end of the rainy season. This makes September to the end of November another great time to go trekking in Sapa.
December – February During this months it is winter and it will be colder. The temperature can even drop to 0 ºC.
When is Sapa the most beautiful?
The rice fields are very green in June and July, a very beautiful landscape, but it also rains a lot and it can get very hot, more than 30 degrees, which makes walking uncomfortable. In August the landscape is still very green and a little less rain. In September the rain is less and the landscape is changing. The rice fields are tinted yellow and harvesting starts, which is very beautiful. The beginning of this month is probably the ideal combination of weather and landscape. It is possible that the rice fields have already been harvested at the end of the month.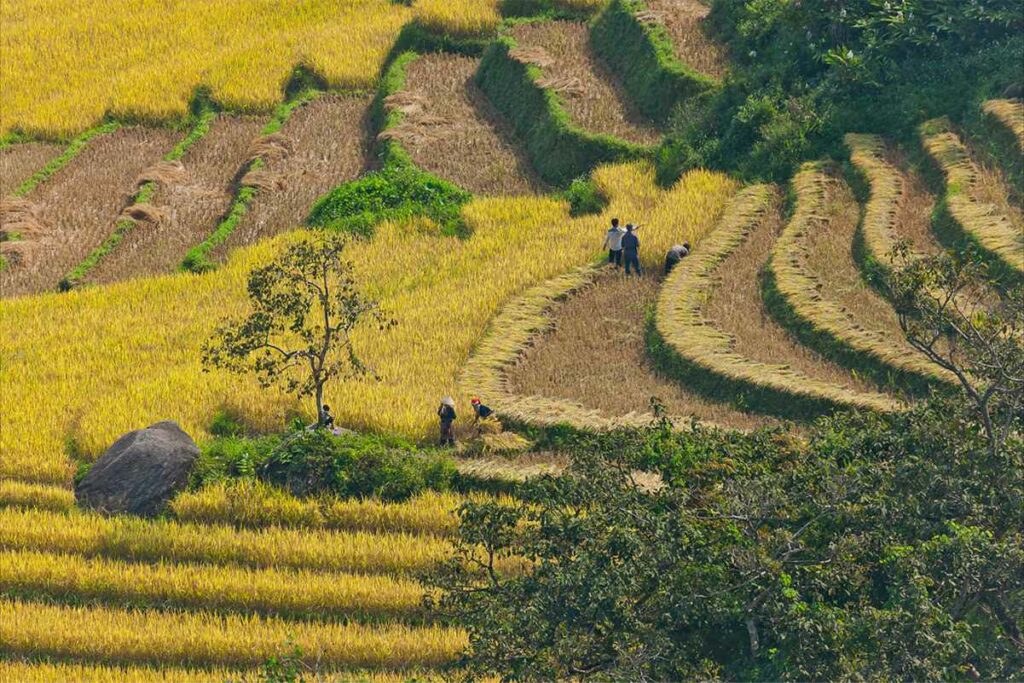 6. How to arrange your trekking tour
If you are ready to arrange your trekking in Sapa, you have a few options. You can either arrange it online (through Local Vietnam), so you don't need to worry or spend time researching during you trip. Everything is planned and arranged for you from transfers to Sapa from Hanoi and a stunning trekking in Sapa. You can check our Sapa tours here, including combinations with a visit to a local ethnic minority market, cycling or even climbing Fansipan.
Another option is to arrange it while you are in Hanoi. There are over a hundred travel agencies in the city center. Just make sure you check the itinerary and reviews first and also the name of the company. Some agencies use the name of a well known company with a good reputation to lift on their success, but don't offer the same quality.
Last option is to arrange it while you are already in Sapa. Every hotel can arrange a trekking for you.
7. What to bring
When you are almost ready for your journey to go trekking in Sapa, you must ensure that you are well prepared. Take the following items with you:
Good hiking shoes
Raincoat
Personal small water bottle
Snacks
Insect repellent
Small medkit: for small wounds, blisters and medicines against flu, diarrhea and fever
Hand sanitizer
Toiletries
Camera with extra batteries
Spare clothing
What clothes should you pack
The clothes you should bring for you trekking in Sapa depends on the season, because this region has both a winter and summer period and a rainy and dry season.
Winter: During this time there is not going to be a lot of rain, but it is smart to take some kind of rain jacket with you to protect you from the cold wind. Don't pack too many warm clothes, it is better to wear layers, which are not as heavy and easy to take off when it is getting to warm during your hike.
Summer: In the summer months you should prepare for hot weather and the occasional shower. Bring a light rainjacket to protect yourself and some extra clothes for when you are getting too hot. During your trekking in Sapa you could also encounter some streams for swimming to cool off. Bring some swimming gear and a fast drying towel.
Do not take too many things with you. Pack light, which makes walking a few hours a lot more comfortable.
8. During your trekking
When you go trekking in Sapa there are a few things to look out for.
Local villagers can sometimes be very pushy to sell your things during your trek. This can be uncomfortable. Just politely refuse. Do not ask the guide to do this, because these people can come from the same villages or are directly related to him/her.
Having that said, you can consider buying something as a souvenir. By doing this, you directly support the local minorities.
Do not give money or snacks to children. It will make them very happy, but encourage them to go begging instead of going to school.
Ask permission before you take a photo of the local minorities.
Do not enter a house or property unless you are invited.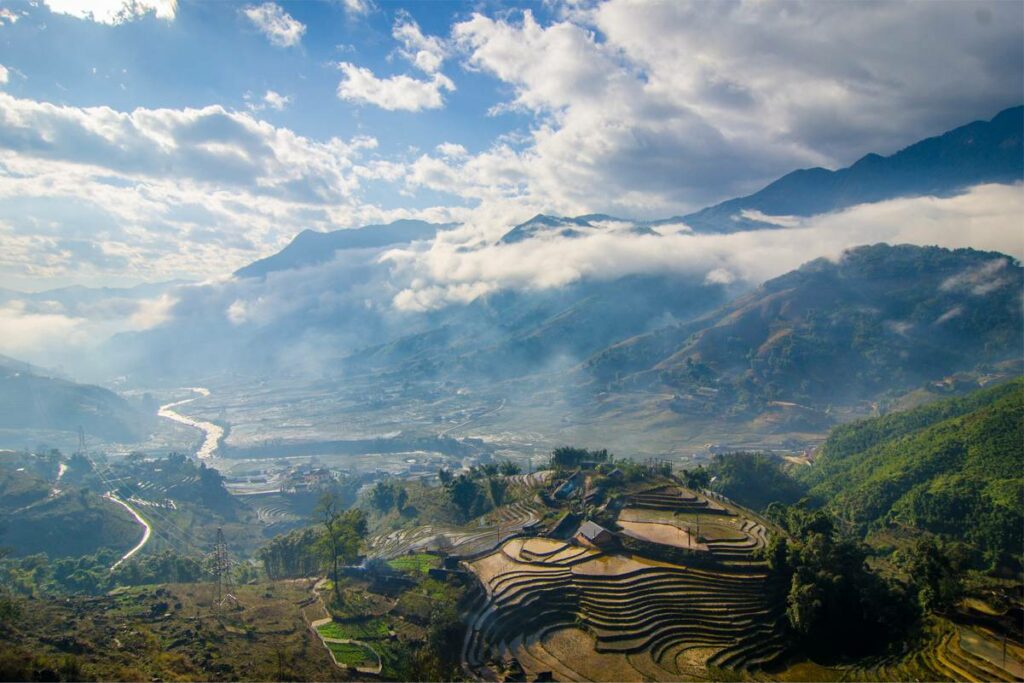 9. Best alternatives to trekking
If you plan to visit Sapa but do not want to go for a hike, you can explore the beautiful landscape in other ways. If you are adventurous, renting a motorbike and driving around is very cool. Visit scenic viewpoints and the beautiful waterfalls in Sapa. There are a lot of smaller roads you can drive on to get close to the rice fields.
A more comfortable way is to go by (private) car with driver and go along some scenic routes. You can stop on the way to make photos and you are also still able to visit some of the villages by car to experience the culture of ethnic minorities. By car you can also go a lot further and even combine it with a visit the a local minority market around Sapa.
The last option is to go mountain biking. There are a few tours that go along the rice fields. There is less time to make photos compared with trekking, but it is a lot of fun.
10. How to get to Sapa
If your trekking tour in Sapa does not start in Hanoi, you first have to go to Sapa. There are a few options to do this.
Bus – There are night buses that you can book in Hanoi and bring you to Sapa. You arrive very early in the morning.
Limousine buses – These vans can often be very comfortable and drive during the day time. It can takes around 5 hours from Hanoi to Sapa. This means you will arrive around noon.
Train – There are no trains directly to Sapa, but there is a station 30 minutes from the town in Lao Cai. You have different options, from the standard train to luxury options. The standard trains have an option for 4 bed cabin, 6 bed cabin and a cabin with soft and hard seats. It takes around 6,5 hours. Most trains departs in the evening and arrive in the early morning. From here you can take the bus to Sapa, go by taxi or arrange a car to pick you.
Go trekking in Sapa with the unique tours of Local Vietnam
Have a look at some of the unique tours in Sapa. There are different options of trekking with homestay, trekking in combination with a visit to a local minority market and even combo's with other destinations such as Sapa and Ha Giang or Sapa and Halong Bay.