Ban Gioc waterfall tour & Ba Be lake 3 day experience
Vtisit Ban Gioc waterfall; the most imrpessive waterfall in Vietnam
Explore stunning Ba Be lake by boat, the biggest natural lake
Stay overnight in a homestay for a true local experience
Day 1: Hanoi - Ba Be National Park
Ba Be Lake, Widow island, Cam village, An Ma temple, and hiking a 3-5km walk
Your journey will begin with a welcome from the tour guide who will pick you up from your hotel in Hanoi around 7:30 AM. From there, you will go on a scenic 4-hour drive towards the stunning Ba Be National Park.
Upon arrival, you will be greeted by te host who will be your guide to the cozy homestay. After settling into your comfortable room, you will be treated to a delicious lunch.
In the afternoon, embark on a scenic boat trip around Ba Be Lake led by a knowledgeable local guide. The lake is calm and surrounded by limestone mountains covered with forests. It's incredibly relaxing to be surrounded by nature and feel like you're in the heart of the jungle.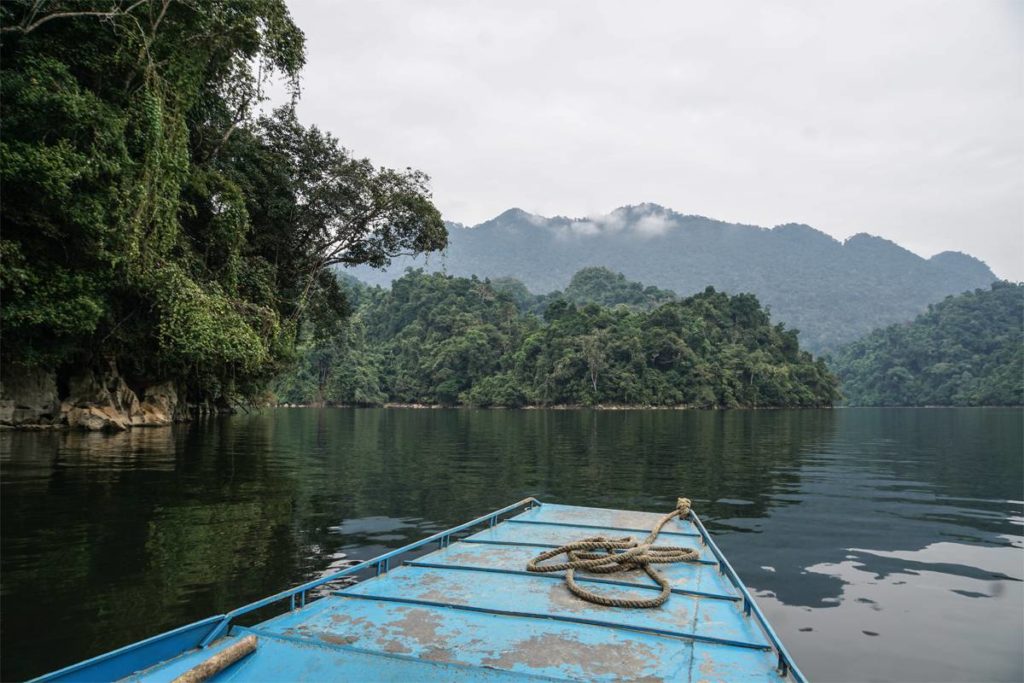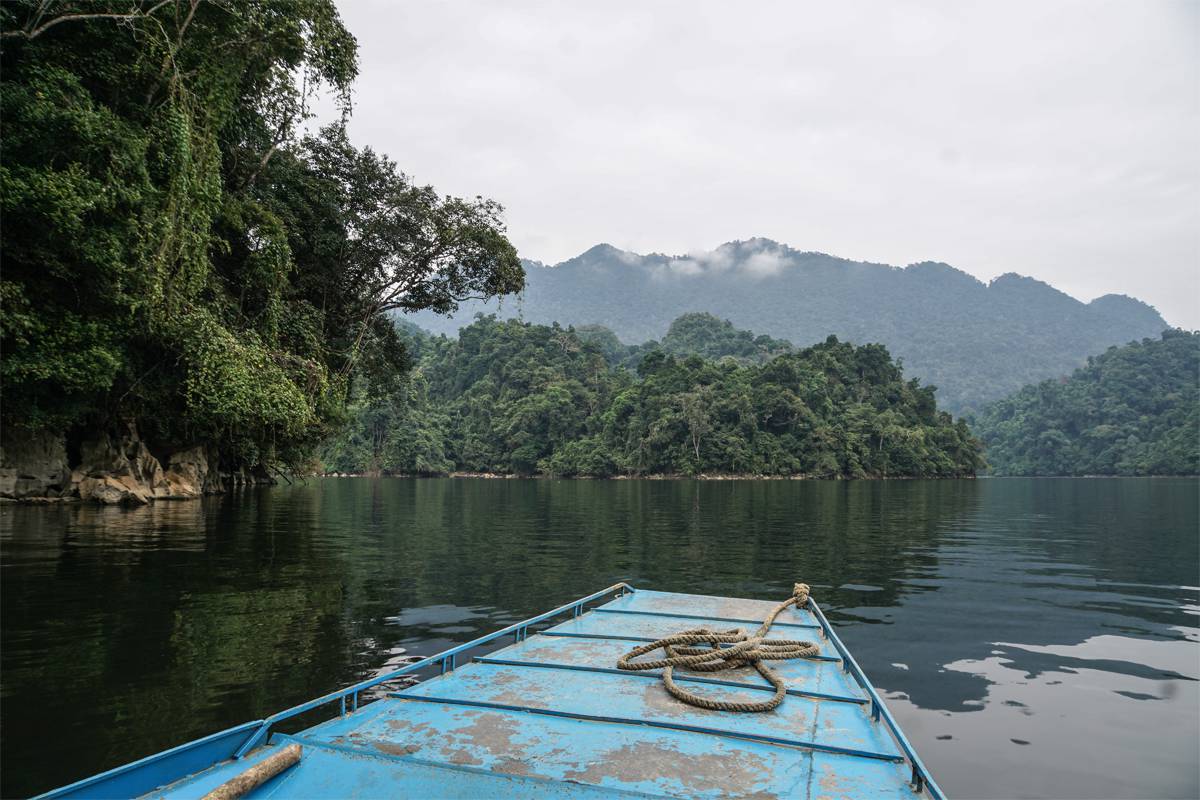 During your boat trip, you'll get to explore the lake's hidden gems, including Widow Island, Cam Village, and An Ma Temple. Afterward, you can take a brief hike to the animal observation huts ranger station's panoramic viewpoint and harbor.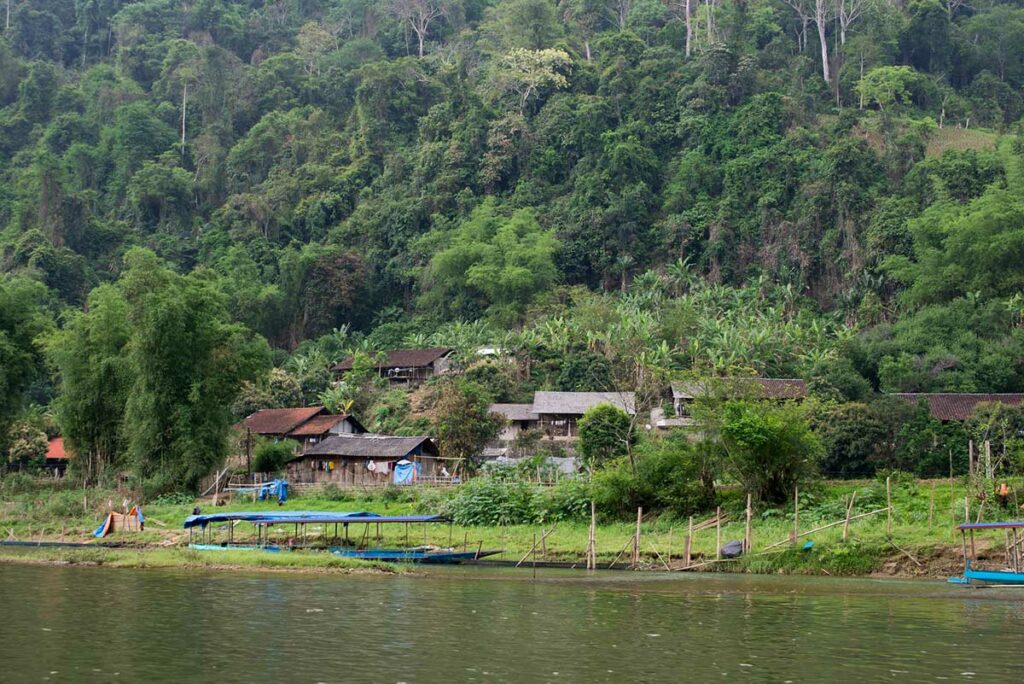 As the evening approaches, you'll have the opportunity to kayak and admire the mesmerizing sunset before returning to your homestay for a delicious BBQ dinner.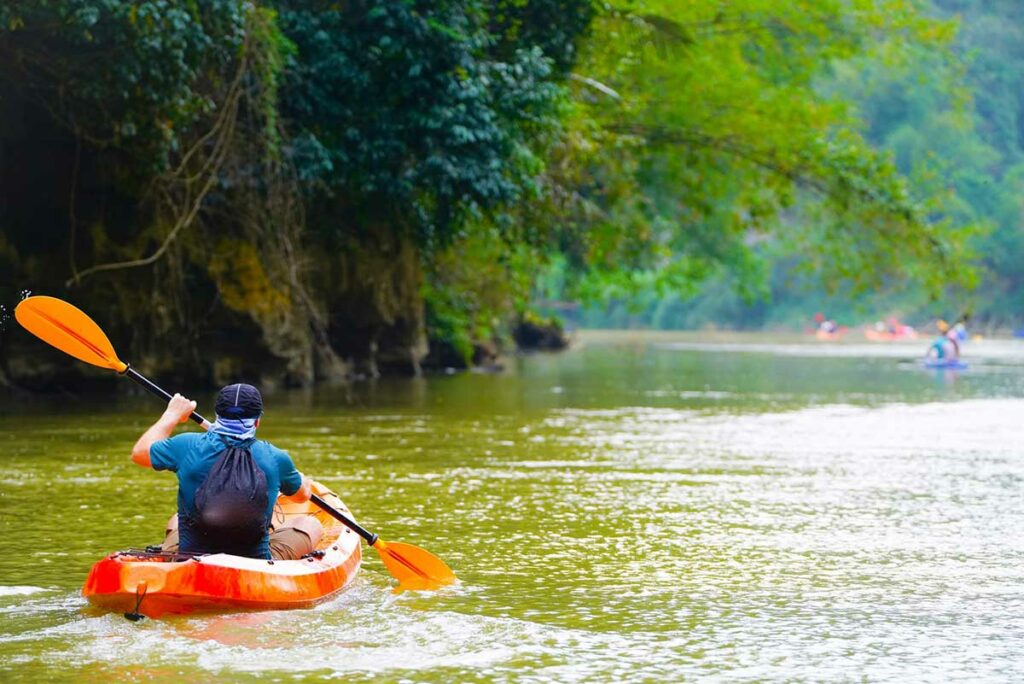 Day 2: Ba Be National Park - Ban Gioc Waterfall
Ban Gioc waterfall, Nguom Ngao cave, China border, ethnic villages and a 3-5km walk
You'll begin your day with breakfast at the homestay before departing for Quang Uyen. This district is home to Nung ethnic minority communities and their centuries-old traditions and culture remain distinct due to their isolation and the remote nature of the district. The area's traditional simplicity and isolation make Quang Uyen an appealing destination.
You'll stop at a local restaurant for lunch.
In the afternoon, you will explore the enchanting Nguom Ngao Cave, located deep underground. The cave extends for 2,144 meters and is adorned with stunning stalactites and stalagmites that will leave you in awe.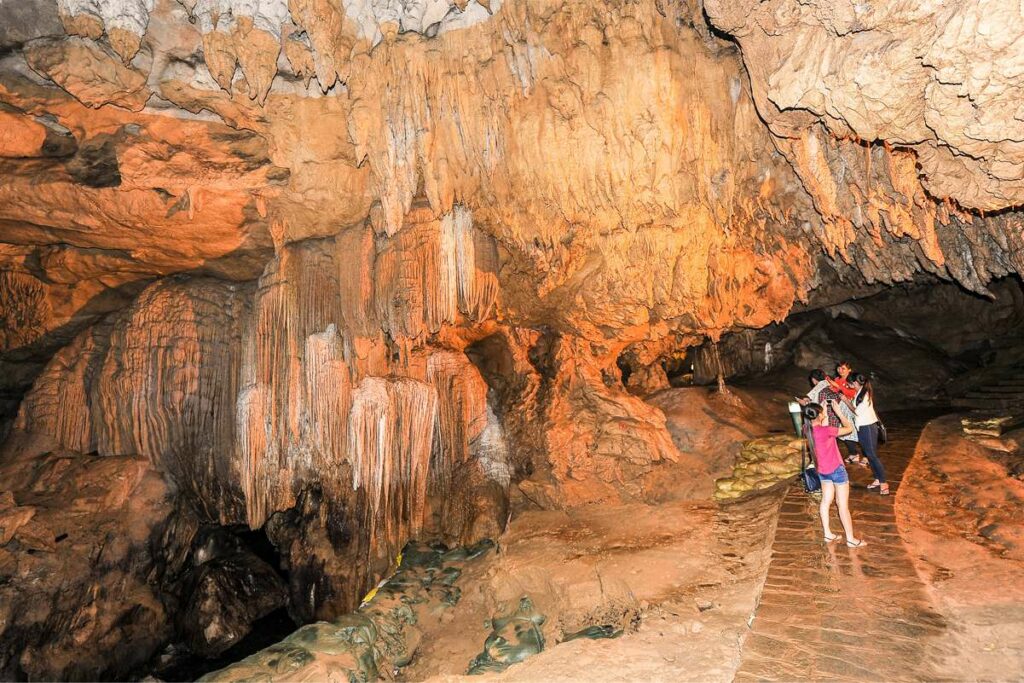 The highlight of this tour is a visit to one of the most impressive natural wonders in Northern Vietnam – Ban Gioc Waterfall. This stunning 300-meter wide waterfall is situated on the border between China and Vietnam, surrounded by picturesque mountains.
During your visit, you can enjoy the tranquility of nature, capture stunning photographs, and optionally ride on a bamboo boat that will bring you so close to the falls that you can feel the mist on your face. You'll be at the edge of Vietnam, so close to China that you can almost touch it.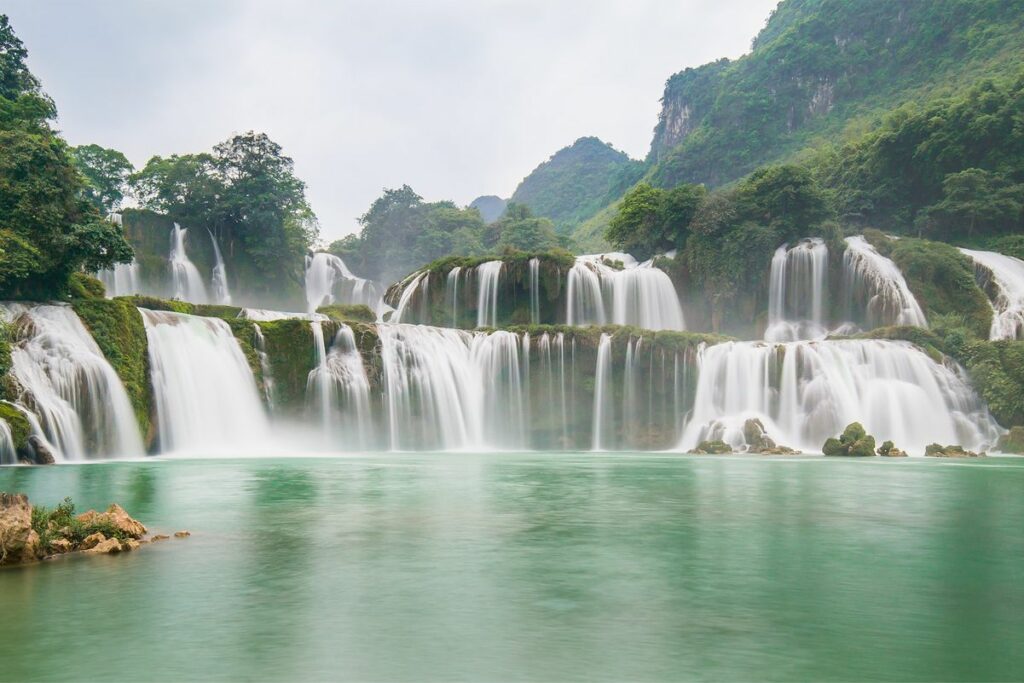 Finally, you will make your way to Quang Uyen where you will spend the night at a Nung's ethnic house and have dinner.
Day 3: Ban Gioc Waterfall - Lang Son - Hanoi
Chi Lang pass, Quy Mon Quan, Dong Khe battle site, ethnic villages and a 3-5km walk
After breakfast, we will head towards Dong Dang, passing through the beautiful mountainous terrain. Along the way, we will make stops at important historical sites, such as Mother's Temple and Dong Khe, where the First Indochina War's Battle of Dong Khe was fought.
This battle marked the beginning of the Indochina Wars and lasted from September to October 1950, culminating in a decisive victory for the Viet Minh. You'll have the opportunity to learn about the significance of these sites and their role in Vietnam's history.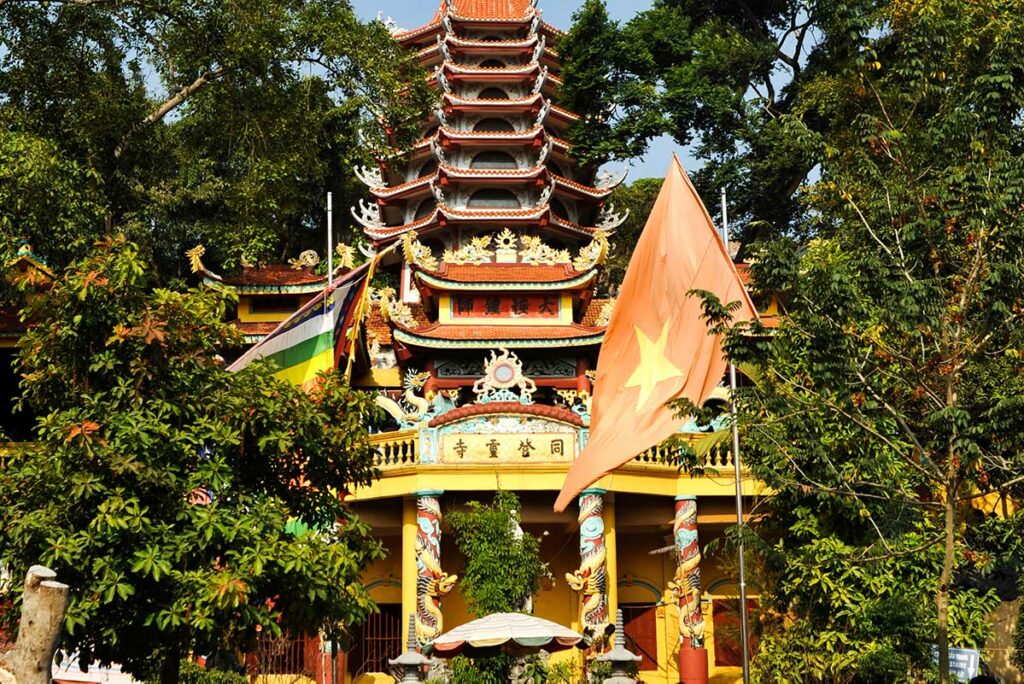 After lunch in Lang Son, we'll drive for about 3 hours towards the Chinese border to reach Chi Lang Pass. This 20-km-long gorge has played an important role in Vietnamese history, with many victories against Chinese invasions over the centuries. It's known as Vietnam's strongest citadel and bastion.
You'll have an hour to explore the area around the Quy Mon Quan Gate, named for the many invasion forces that were beaten back by Vietnamese defenders.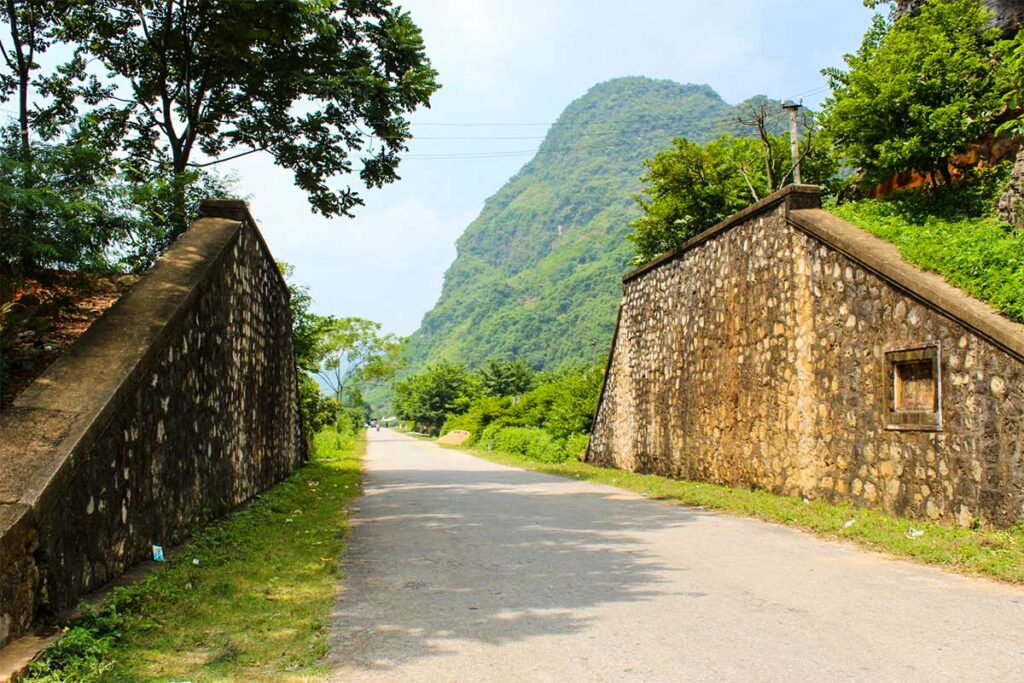 From here it is around 120 km or 2 hour trip back to Hanoi where you Ban Gioc Waterfall tour and Ba Be Lake experience ends with a drop off at your hotel.
Planning
Start tour: Hanoi
End tour: Hanoi
Duration: 3 days and 2 nights
Including
AC transportation
02 nights at homestay
Meals; 02 breakfast, 03 lunches and 02 dinners
Entrance fees mentioned in the itinerary
Professional English-speaking tour guide
01 bottle of water (500ml) is served every day during the time travelling by car
Excluding
Meals and services not describer in the itinerary
Personal expanses
What to bring
Pack essentials, including light comfortable clothes suitable for outdoor activities, comfortable walking shoes.
Take a small day pack for hiking and trekking
It is essential to bring your passport on this trip
Recommend packing: insect repellent, sun cream, raincoat and sun hat
The Ban Gioc Waterfall is a beautiful natural wonder that can be visited all year round. However, the best time to visit is during the rainy season (June to September) when the waterfall is at its fullest and most impressive. During the dry season, the waterfall may be less impressive due to lower water levels. Nonetheless, the surrounding scenery is always stunning and worth a visit regardless of the time of year.
Booking & Information request
Ask for booking, availability, pricing or general questions about this tour.