For a true unique experience with local minorities you have to stay overnight in one the homestays in Sapa. There are several villages where you can find these kind of accommodation. Often located right between the rice fields.
Why you should stay in a homestay in Sapa
Staying in a homestay in Sapa is a wonderful experience, offering a unique insight into the world of the locals living in this area. There are different types of homestays (explained below), each with its advantages. But they all have one thing in common, it's a more personal and authentic experience than staying in a hotel.
When you book a typical accommodation in Sapa, such as a hotel or a hostel, you often miss a connection with the local culture. And let this local culture be one of the main reasons why this area is so unique. Besides the famous Sapa rice fields it is the biggest reason for people to travel to this region. So don't miss out on it!
Different types of homestays in Sapa
A homestay in vietnam originally meant staying at the home of a local Vietnamese. You rent a room like you would do in a hotel, only with a lot more authentic and personal touch. You can directly communicate with the locals and some even host shared dinner. Over the years, the term homestay got more widly uses as a marketing term. Now a homestay could be anything from a basic stay at some once home to something that looks more like a small hotel. They are all small-scale accommodation, but not all of them offer a closer look into the local culture.
Most homestays in Sapa a luckily true to the name. You stay overnight in a home of locals to experience their culture. A lot of these homestays are owned by ethnic minorities and very basic. It gives you the most authentic experience and a amazing look into their unique culture. It is not for every one, because the house and facilities offer almost no comfort. But if you can, at least stay here for one night. During a multiple day trekking in Sapa you often stay overnight in these kind of homestays.
In Sapa you also have more modern homestay. The authentic feeling is a bit less, but still a lot better than the hotels insight the city. These homestays are also located in and around the villages of Sapa. The biggest benefits is that you can still enjoy the local feeling, only with modern day comforts. Thing about an AC in your room, private bathroom, comfortable bed with mattress and sometimes a small restaurant onside so you can pick your own food, instead of eating with the family.
What to expect from local homestays in Sapa
The homestays in Sapa must meet certain criteria in order to host tourist. You can always expect western toilets, showers and mosquito's nets in the sleeping area of the homestays in Sapa. At night you often eat together with the local family. Food is often cooked on an open fire and it is great to watch how they do that. Some homestays in Sapa offer herbal bath (or medicine bath). The Red Dao ethnic group are is especially known for doing this kind of baths. It is great if you have been trekking all day. At night it is often time for drinking (you don't have to join) and sharing stories. If you happen to be in a homestay with your trekking tour guide, he or she can help you communicate and ask questions the the local host.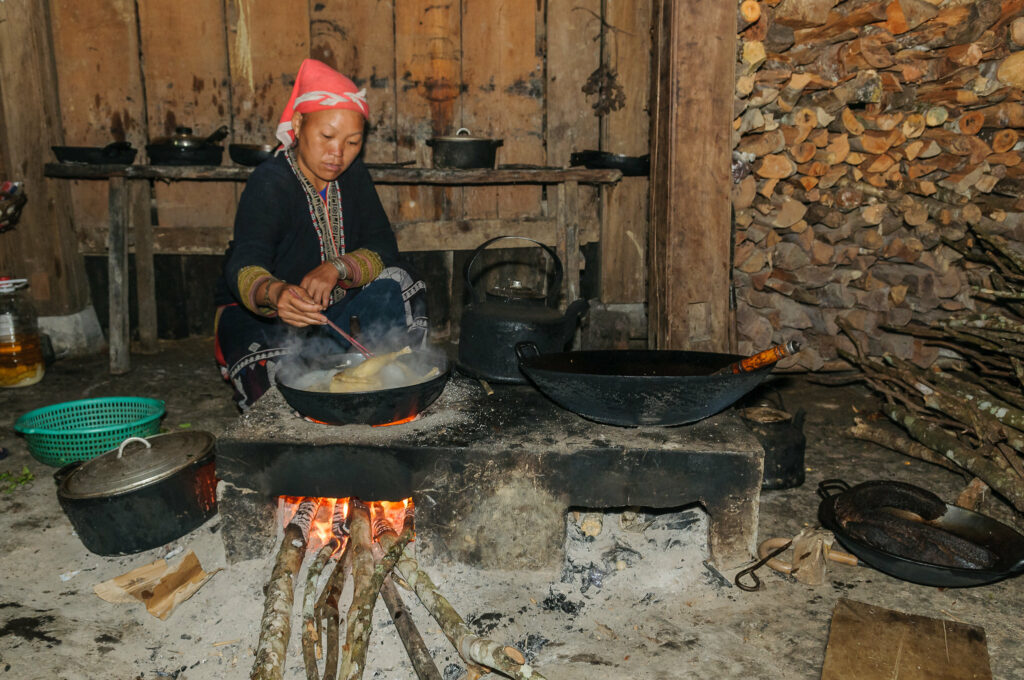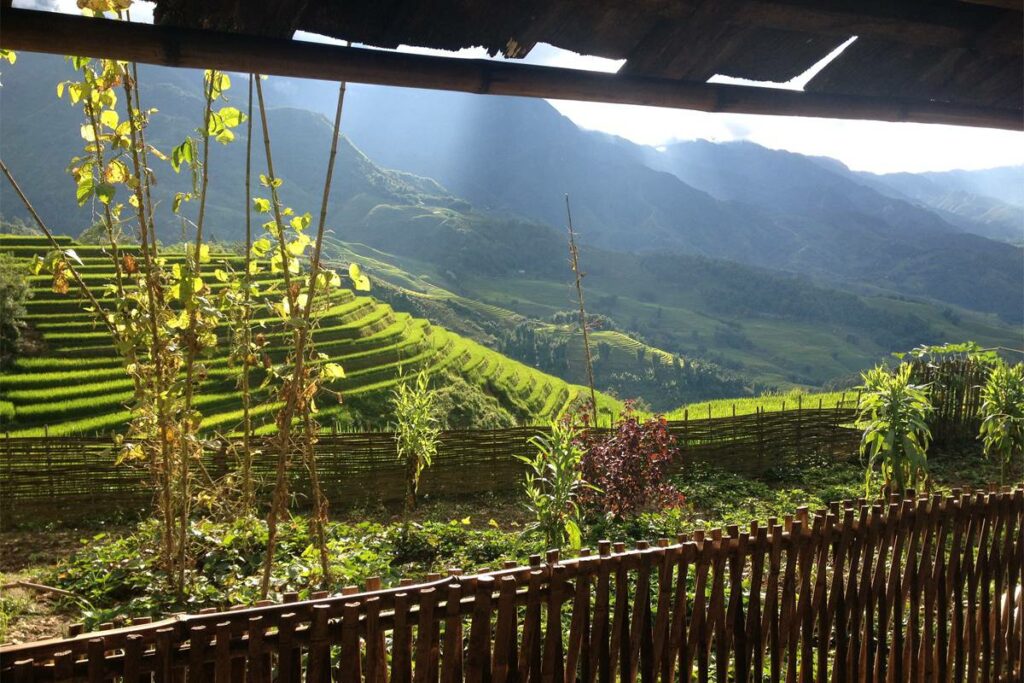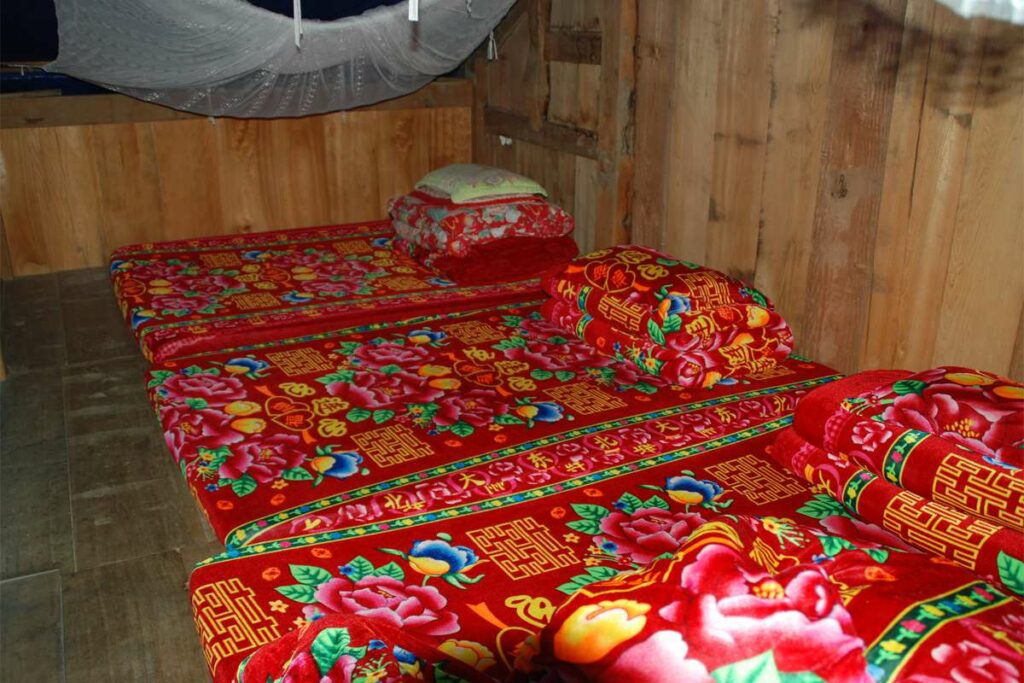 The overall experience in staying in a local homestay in Sapa is amazing. Despite the fact that comfort is sometimes insufficient, this is just something you should do at least one time during your Vietnam holiday.
Best villages around Sapa for homestay experience
| | | | |
| --- | --- | --- | --- |
| Village | Ethnic minority | Distance from Sapa | Note |
| Ta Van | Hmong, Red Dao, Giay | 10 km | Most choice in homestays |
| Lao Chai | Hmong, Red Dao | 7 km | Popular as day trekking from Sapa |
| Ban Ho | Tay, Red Dao | 30 km | Authentic, but also homestays for travelers |
| Ta Phin | Red Dao | 12 km | Typical Red Dao culture |
| Y Linh Ho | Hmong | 5 km | More remote village |
| Sin Chai | Black Hmong | 5 km | Less touristy than other villages |
| Y Ty | Hani | 70 km | Most remote, beautiful rice fields |
1. Ta Van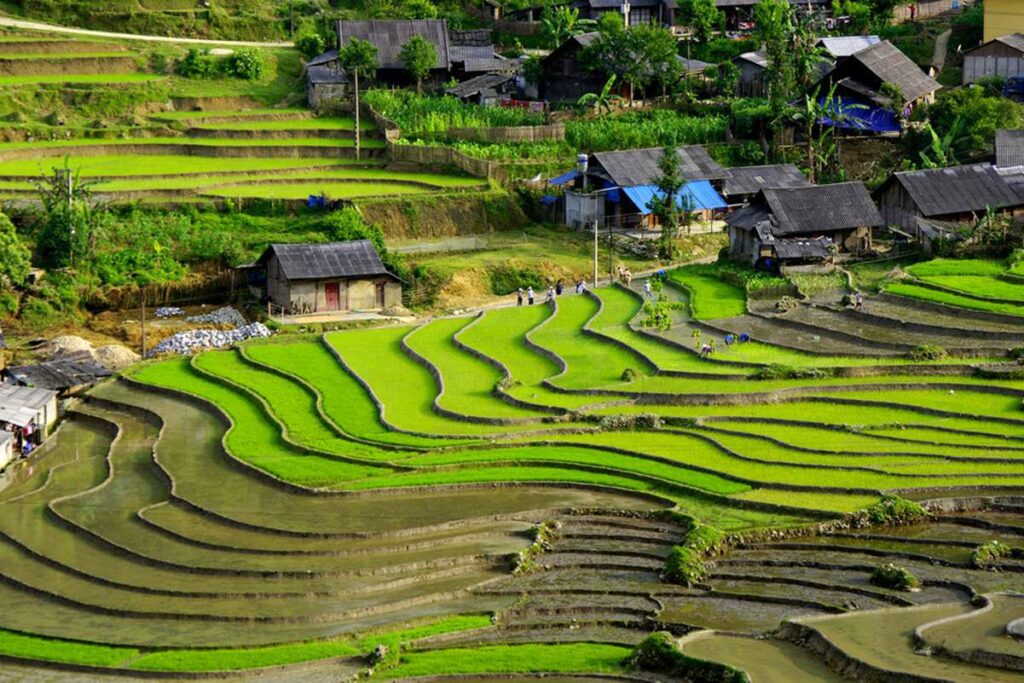 Ethnic Minority: Hmong, Red Dao, Giay
Distance from Sapa: 10 km
Entrance: 70,000 VND
Most travelers looking for a real Sapa homestay experience go to Ta Van village. This is mainly because it is easily accessible and relatively close to Sapa. There are even direct limousine vans that run between Ta Van and Hanoi. In addition it also have the most options for homestays in Sapa and around. The village is beautiful, but the scenery around it is amazing. The terraced rice fields of Ta Van are considered one the most beautiful in the province. You will also find suspension bridge over a river that flows through the village.
Homestays in Ta Van
Luckydaisy Buffalo House – Much more comfort and a slightly modern homestay, this is the best option. There are, among other things, heated mattresses.
Eco Hills Homestay – Basic and not very traditional, but the bungalow style rooms have a spectacular view of the rice fields and mountains
Zmonghomestay – This homestay is beautifully situated among the rice fields and hosted by a friendly family
Indigo Snail Boutique Hmong Homestay – Excellent homestay and helpful family.
2. Lao Chai
Ethnic Minority: Hmong, Red Dao
Distance from Sapa: 7 km
Entrance: 50,000 VND
Lao Chai is also very easily accessible from Sapa. About 100 Black Hmong families live there and their houses are scattered in the rice fields. It is part of the mighty Hoang Sien Lon mountain range. This village is popular as a trekking tour from Sapa, to Ta Van via Lao Chai.
Homestays in Lao Chai
Lao Chai Bamboo Stay – Comfortable traditional Hmong house in the middle of the rice fields.
3. Ban Ho
Ethnic Minority: Tay, Red Dao
Distance from Sapa: 30 km
Entrance: 15,000 VND
Ban Ho is located 30 kilometers southwest of Sapa town. It is s a pretty village where the Mong, Tay, Giay and Dao ethinic minorities live. The local people here are really great and authentic. You often get greeted with a smile and treated like a friend. You often see women sitting in groups weaving in front of their houses. Weaving is not only to earn money, but it is also part of their culture. At night, people often gather around a campfire and sing traditional songs and dance. As a guest you can join them as this is the best way to meet the locals. There is also a waterfall nearby that you can visit.
Homestays in Ban Ho
In Ban Ho it are mainly very simple homestays. Shared rooms, with mattresses, mosquito net and a fan.
Homestay Mr Thang
Homestay Mr Lai
Homestay Mr Kien
4. Ta Phin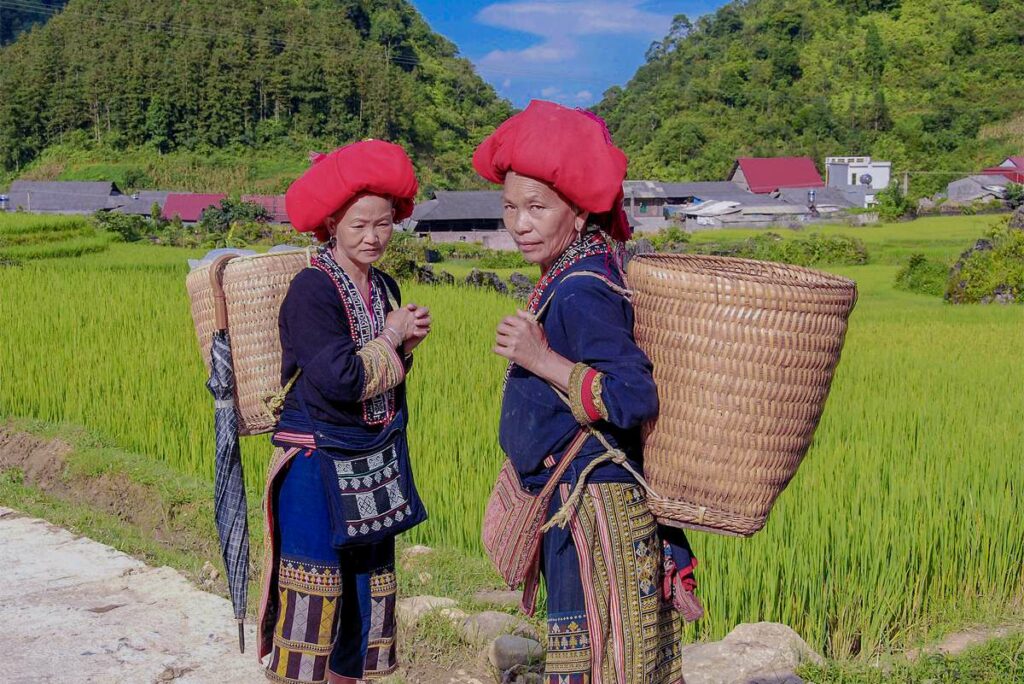 Ethnic Minority: Red Dao
Distance from Sapa: 12 km
Entrance: 20,000 VND
Ta Phin village is home to the Red Dao ethnic group. This place is known for bath salts from which the brand "medicine bath Red Dao" comes. If you walk through Sapa town, you will find many massage salons with baths from Red Dao. Today, Ta Phin is one of the most developed villages in terms of homestays. Besides visiting the old village, you can take a medicine bath, buy brocade or enjoy the specialties served here in the local restaurants. At the village there is also a cave that you can visit.
Homestays in Ta Phin
Ta Phin Homestay – Cozy house located on the edge of the touristic part of the village which makes it very quiet and authentic.
Sapa Homestay Ta May – Cozy family, nice homestay and option to take a medicine bath
5. Y Linh Ho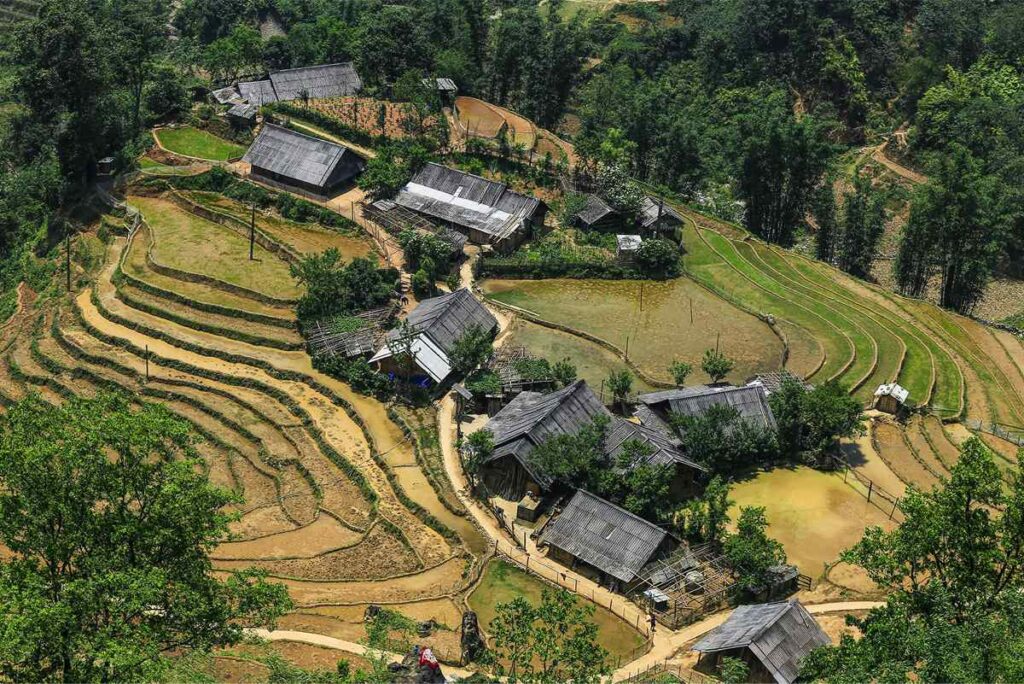 Ethnic Minority: Hmong
Distance from Sapa: 5 km
Often not mentioned, but Y Linh Ho village is great for trekking. Located on the southern outskirts of Sapa city, it feels very close but due to the difference in topography, and as the road to the village is difficult, it is a longer walk than you expect. The village has a school that you can visit and there is a local shop where you can get some snacks.
6. Sin Chai
Ethnic Minority: Black Hmong
Distance from Sapa: 5 km
Entrance: 40,000 VND
Sin Chai village is just five kilometers from Sapa. Even though it is so close to the town, it is unspoilt and less touristy than other villages around.There are almost no street vendors here selling souvenirs such as brocade or embroidery. Here you will see the daily lives of the ethnic people, often working in the land, in front of theirhome or drinking with friends. They are very kind and happy to show travelers their rice terraces and village.
7. Y Ty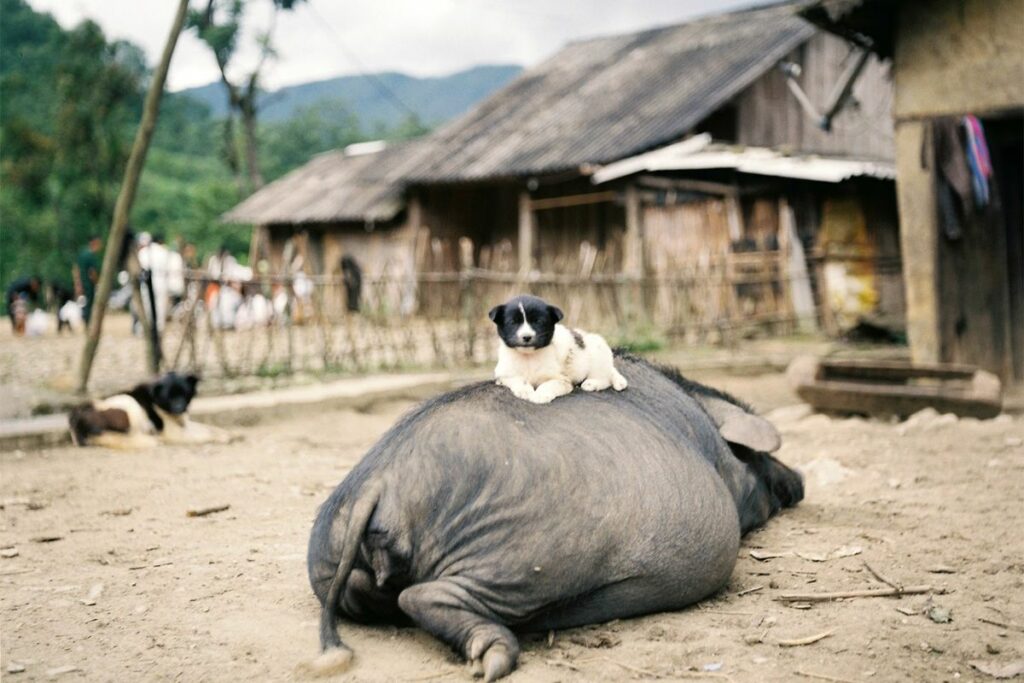 Ethnic Minority: Hani
Distance from Sapa: 70 km
The Y Ty village is more than 70 kilometers from Sapa. The village is located at an altitude of 2000 meters, so you can be surrounded by clouds! It is one of the poorest regions in this part of Vietnam. It mainly attracts photographers, because here you can find one of the most beautiful terraced rice fields.
Another special feature of Y Ty are the houses made of earth in a kind of mushroom shape. There is only one door and a small arched window, but enough to keep warm in winter and cool in summer. Every Saturday there is a market selling various items such as agricultural products and traditional clothing made by the ethnic groups.
Best homestays in Sapa
Below are some of the best homestays in Sapa that you can book online. All of these homestays have modern facilities and often private rooms with en-suite bathroom. The real local and basic homestays can only be booked when you are there or through a Sapa trekking tour.
Experience a real Sapa homestay tour
Are you interested to make a trekking through the rice fields and stay overnight in a local homestay of ethnic minority. We offer several trekking tours to different villages. You can also combine a homestay trekking tour with a visit to one of the local minority markets in Sapa.