North Vietnam is known for the spectacular scenery, the beautiful villages of the ethnic groups, rice terraces and the busy and unique markets. These markets around Sapa are the perfect place to learn more about the local culture and to watch your eyes. With Sapa as a base you can visit a number of these markets.
These are the 8 best known and less well-known markets around Sapa:
Map of the Sapa markets
Why you should visit a minority market near Sapa
The markets around Sapa are more than a place where people come to buy their stuff. They are also very different then other markets in Vietnam, such as in the big cities like Hanoi, Da Nang and Ho Chi Minh City. The area around Sapa is inhabited by ethnic minorities, who still live a very authentic life. They were bright traditional clothes, work on the lands and have unique traditions that yo can not find anywhere else in the county.
Most mountain towns and bigger villages in the north host a weekly market. During this market, minorities from the whole area come to visit, to sell their goods, buy the products they need for a week until the next market and socialize. These minority markets in the mountains are very colorful because of the traditional costumes of the locals. It is a place not just for trading, but to tighten old friendships and to make new friends. You will see people drinking rice wine (in the morning!), kids playing around, woman eating breakfast together and even people getting their hair cut right at the market.
On these Sapa markets you can find anything, such as farm equipment, food, homemade rice wine, herbs, clothes, cloths, household goods and even phones and chargers. Most markets also have a part where they sell farm animals, such as cows, buffaloes, pigs and ducks. The market looks crazy, but there is surprisingly are very relaxed atmosphere.
Overall, visiting ethnic minority markets around Sapa is a unique experience that you can not miss!
How to visit the markets around Sapa
As you can see in the overview above, some of the Sapa markets are located quiet far from the city. With the lack of public transportation in the northern mountains of Vietnam, the only way to go is either by tour or private car with driver. You can also rent a motorbike in Sapa and drive to the markets yourself. Keep in mind that with these distances in the mountains you are easily driving 2 hours or longer one way. Also driving yourself by motorbike is only for the most experience drivers. The mountain roads are not safe if you don't have experience or are not confident enough.
Visit the Sapa markets with Local Vietnam
With our local Sapa tours you can choose one of the Sapa markets, depending on what you prefer and what day you visit Sapa. Combine it with a trekking through the rice fields or go sightseeing by car.
1. Sapa Market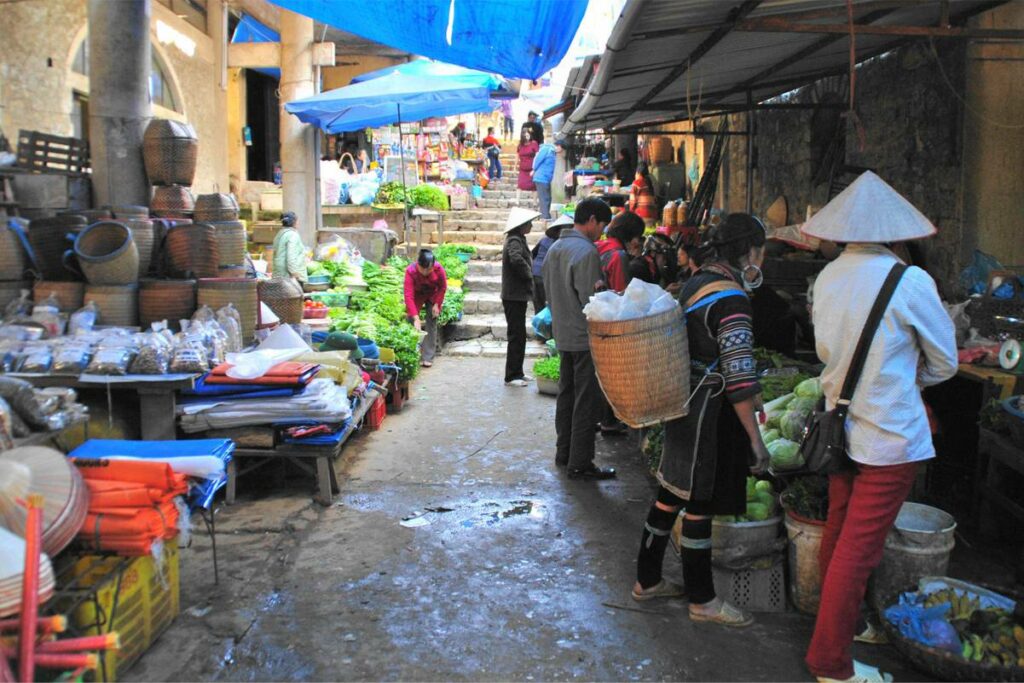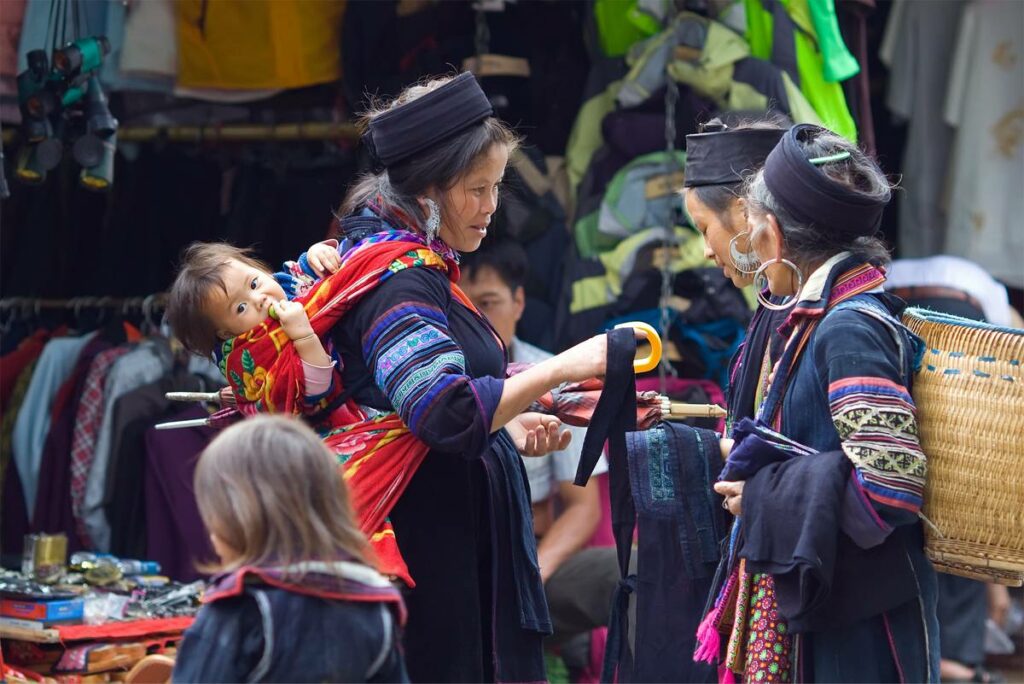 The market in Sapa is a gathering of colorful activities, with fresh produce, a butcher's shop (which you have to cope with) and mountain people from surrounding villages who go here most days to sell handicrafts.
Every Saturday evening you will find the Sapa Love Market here. This love market was the place to find a partner to get married, but because of tourism the real love market no longer takes place. Don't miss it if you stay here on Saturday evening. Apart from the busy trade, the market is still used by the ethnic minorities to socialize and make friends.
2. Coc Ly Market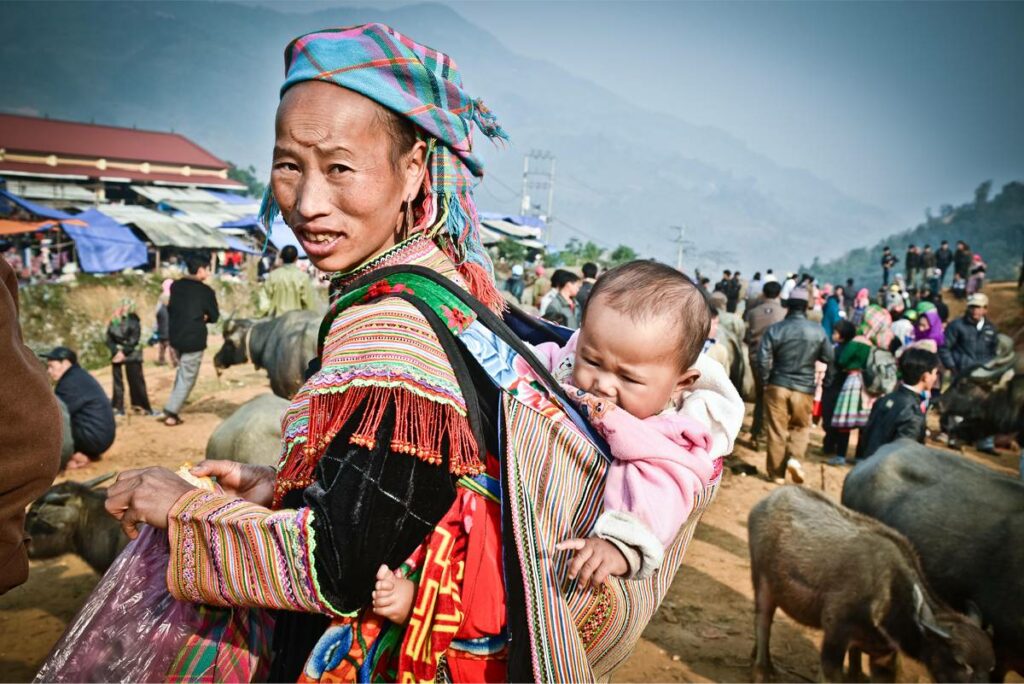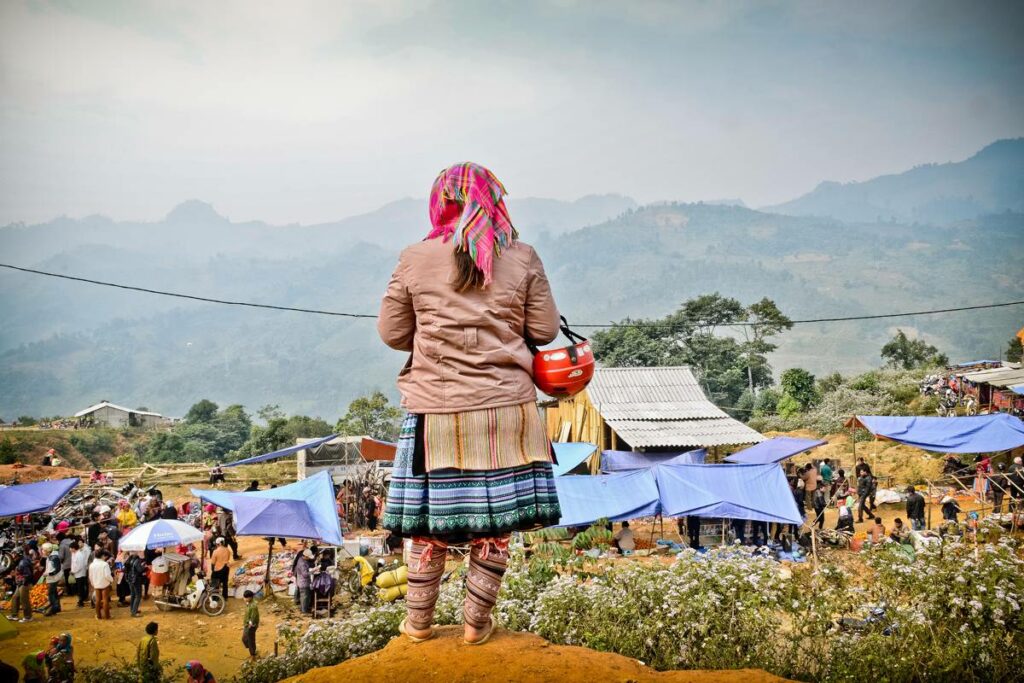 The Coc Ly market is a colorful market in a mountainous area where ethnic minorities come together, including the Nung, Tay, Black Zao and Flower Hmong, to trade out their home-made products. This Tuesday market is approximately 35 km from Bac Ha. There is a nice warm atmosphere and a great place to see traditional costumes and to learn more about the local culture.
3. Sin Cheng Market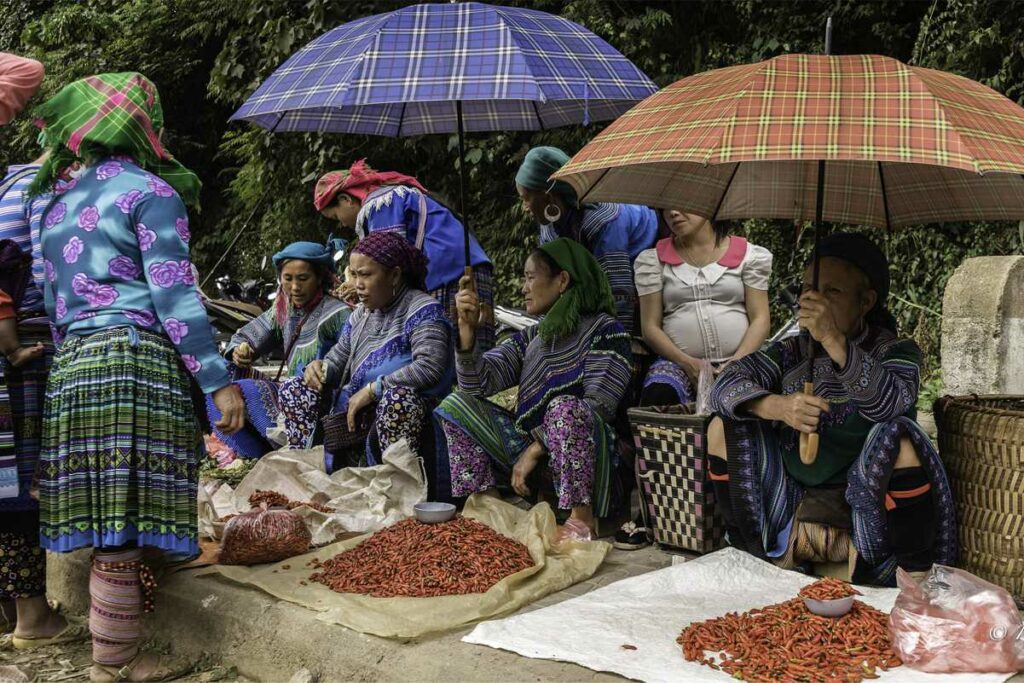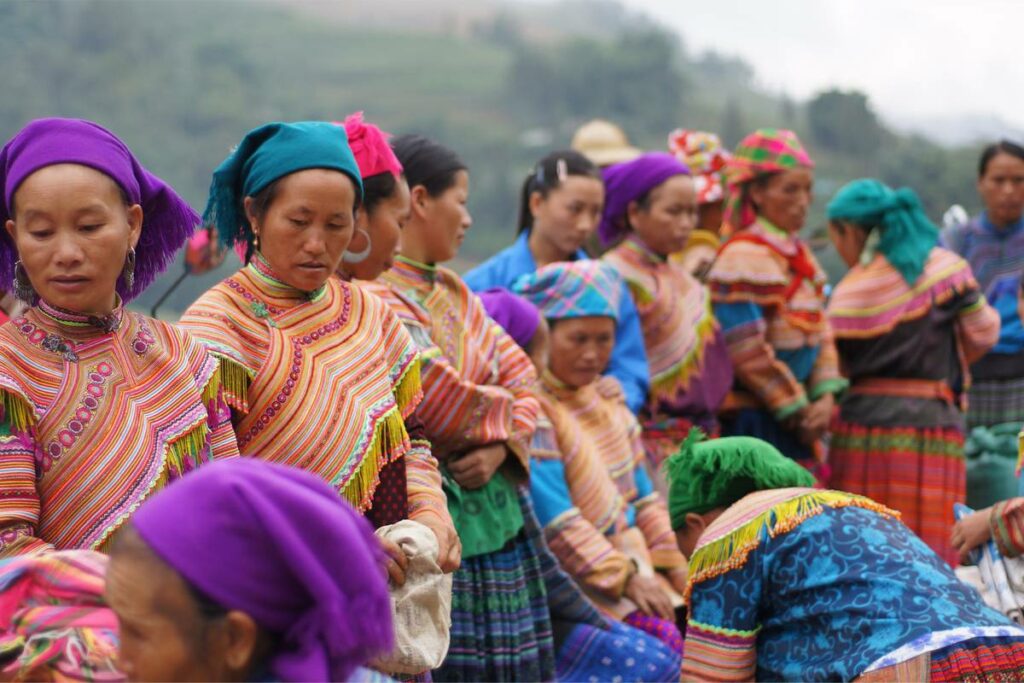 This market is located in the remote border area, 40 km from Bac Ha. It is not very large, but it is a lively and chaotic market of local hill tribes that live in the surrounding villages. Beautiful traditional costumes are sold. Because it is very remote, the market can be difficult to reach due to the state of the road.
4. Cao Son Market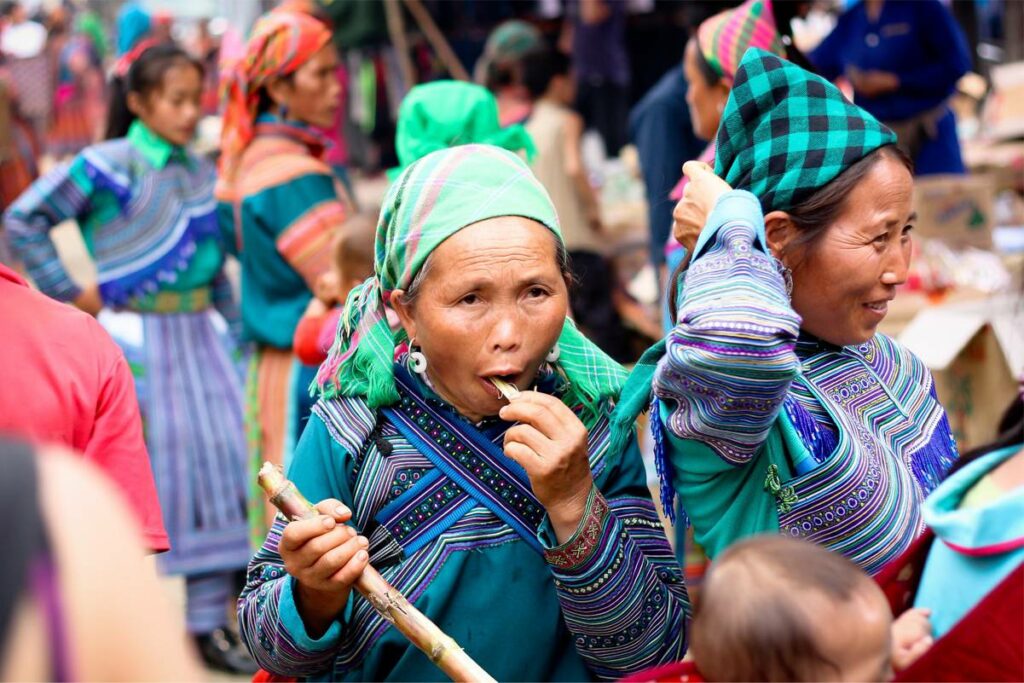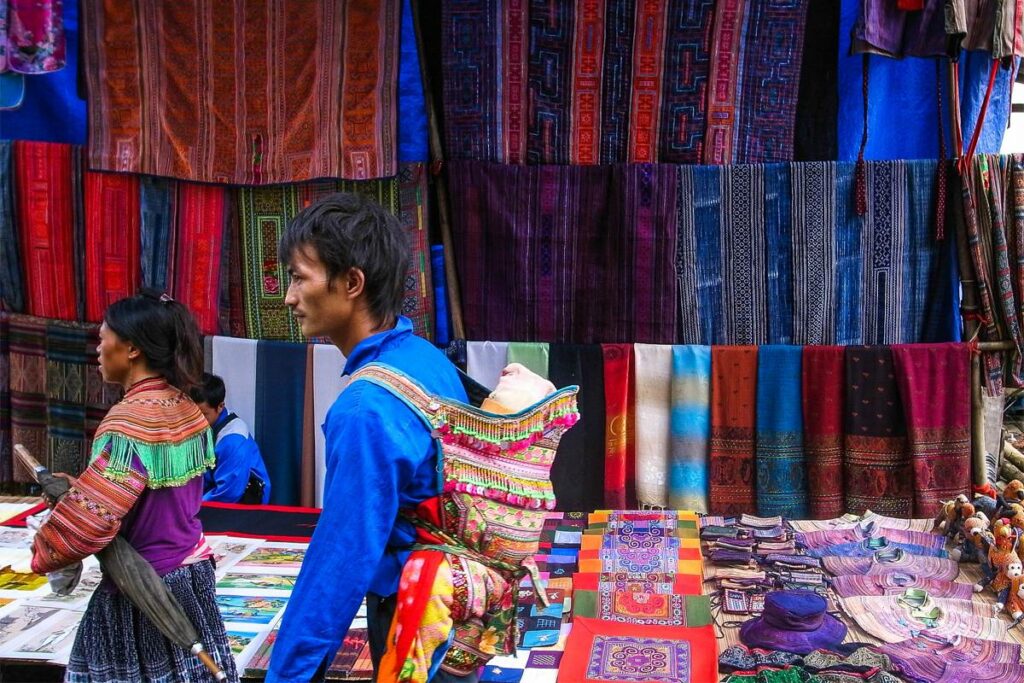 Cao Son Market is a small to medium-sized market that is held every Wednesday. The market is located between beautiful mountains. It is colorful with local products and handicrafts. In addition to selling herbs, mushrooms, honey, wine, household items and jewelry, you also see the sale of livestock and animals such as pigs, chickens, dogs and horses.
5. Lung Khau Nhin Market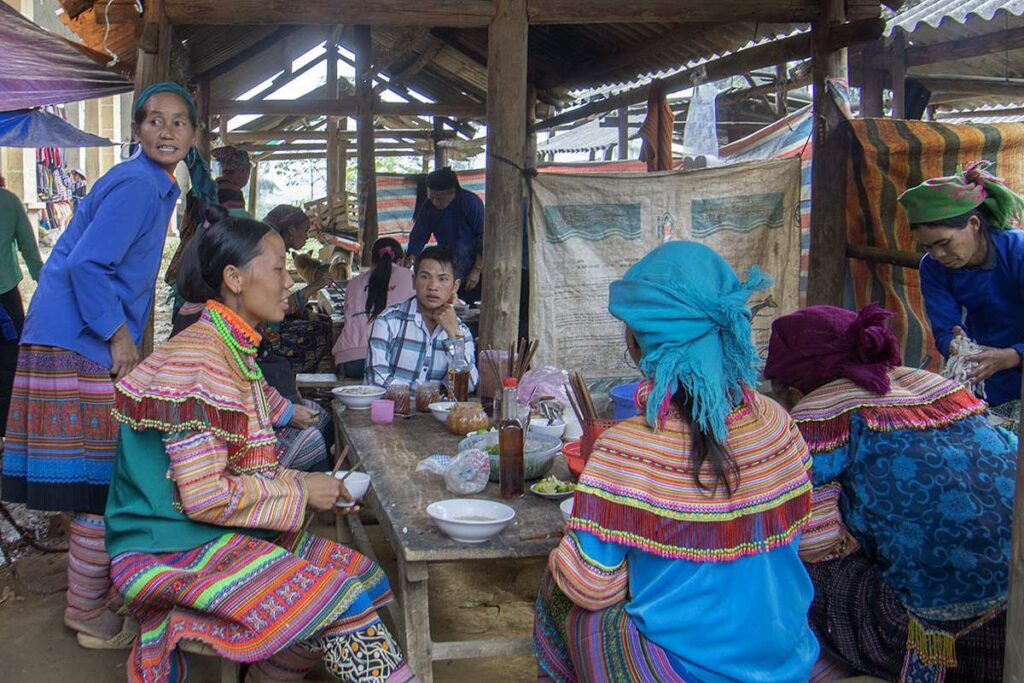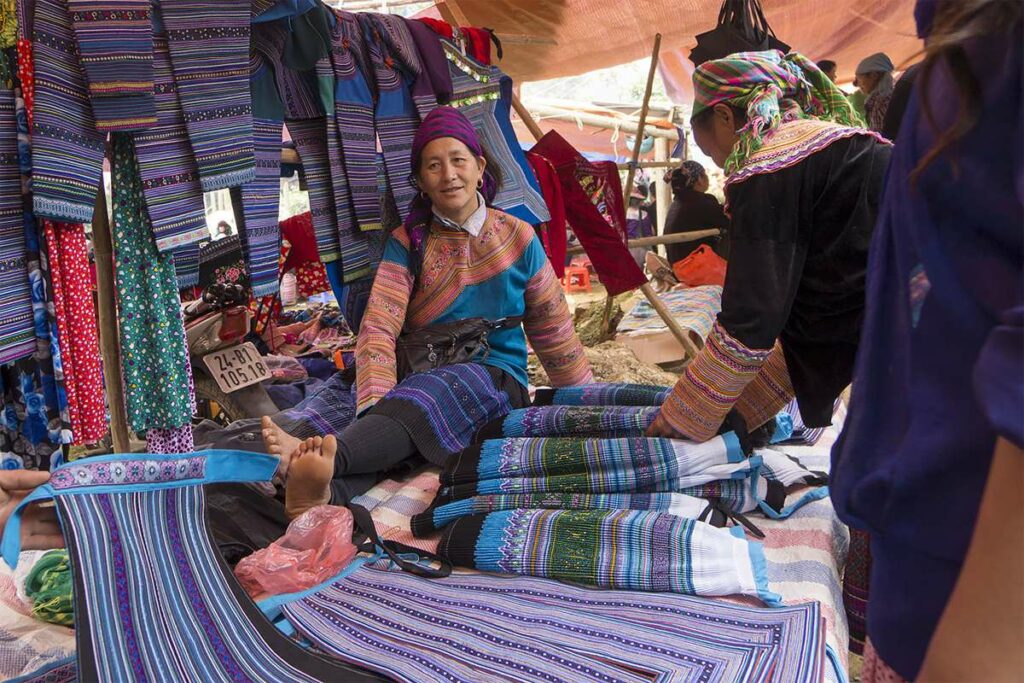 Lung Khau Nhin market is held every Thursday from around 7.30 am and closes in the early afternoon. The market is filled with beautiful colors of the dresses, blankets, vegetables and local products made by the local hill tribes. This market is located high in the mountains of the Tram Ton pass.
6. Can Cau Market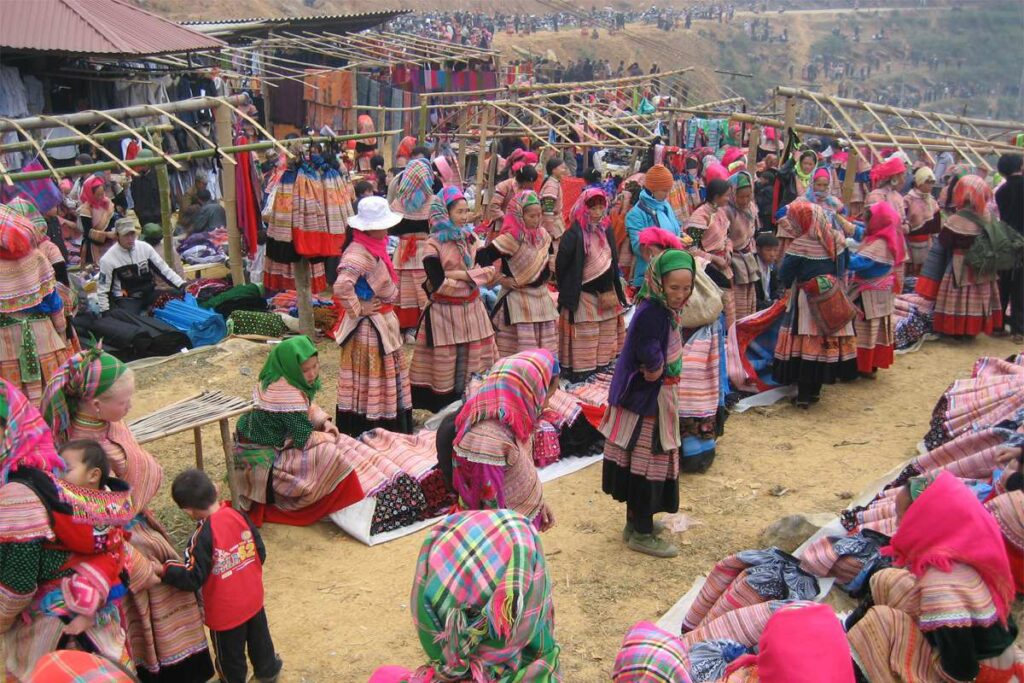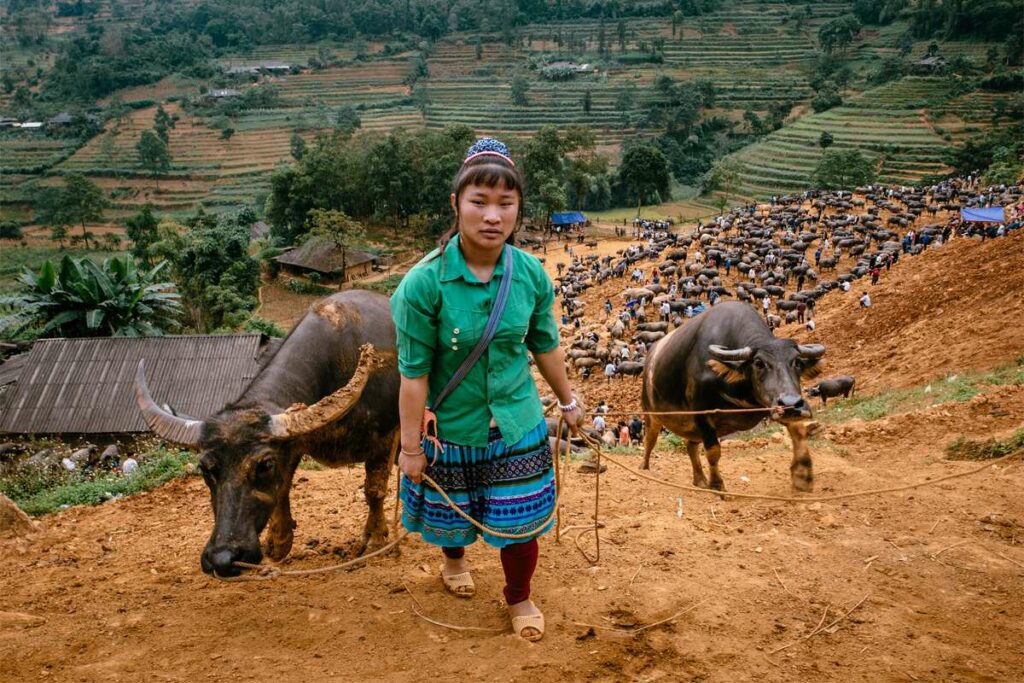 Can Cau market is one of the most fascinating open-air markets around Sapa, specializing in cattle. This market is only 7 kilometers from the Chinese border. Almost every Saturday around 8 different minorities are represented on the market. Traveling is often made by horse to transport the heavy loads to and from the market. Can Cau also attracts a large number of Chinese traders, as evidenced by the trade in dogs here.
7. Bac Ha Market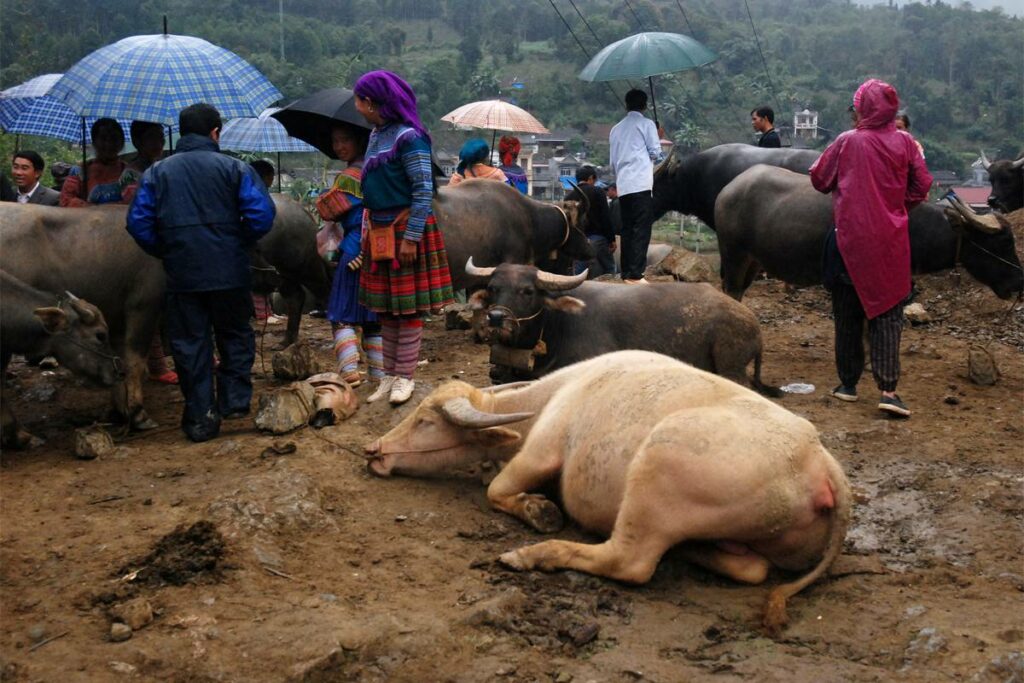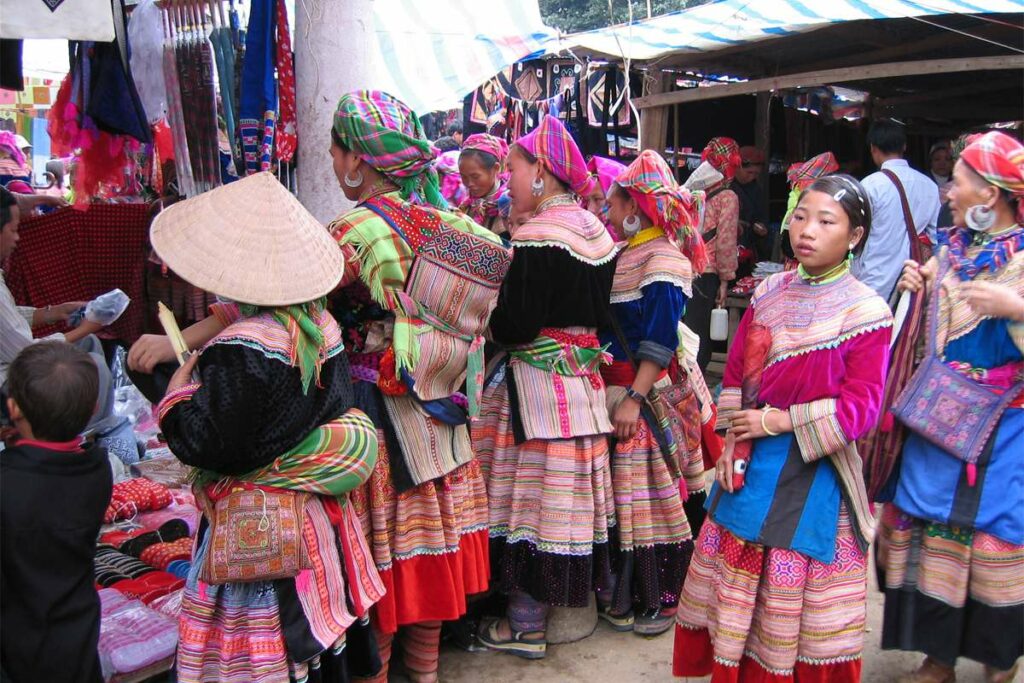 Bac Ha market is one of the largest and most famous in North Vietnam. You can buy various products such as handicrafts, traditional costumes and food. Different tribes gather on this market. Bac Ha Town is a three-hour drive from Sapa and the market takes place every Sunday. The best way to see the market in all its glory is to arrive early and leave before the crowds of tourists arrive between 10 a.m. and 11 a.m.
8. Muong Hum Market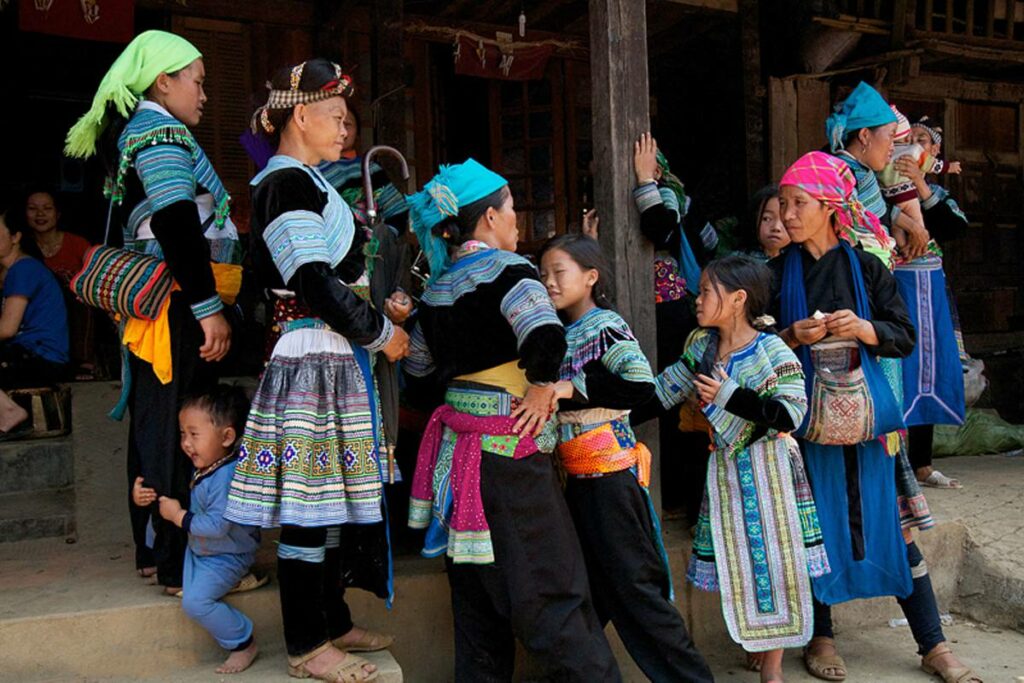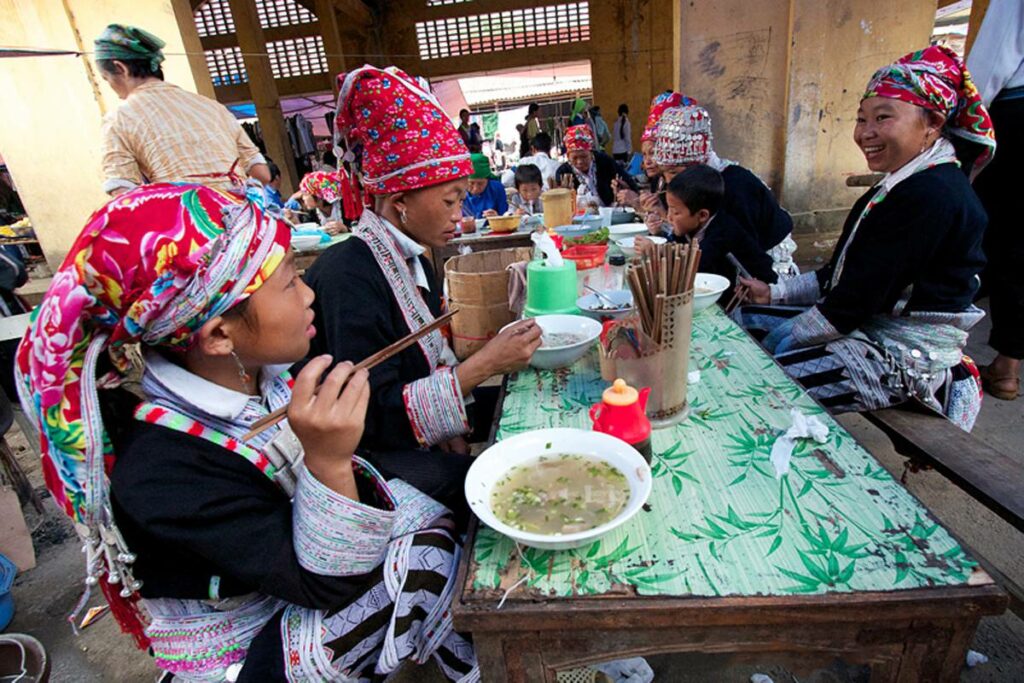 This market is one of the least tourist markets around Sapa. It is located in the area of ​​Ban Seo, which is still largely undiscovered by tourists, giving you an authentic experience of the local hill tribe culture. Very different from the Bac Ha and Sapa market, which is located in the villages of the district, this market is located on an open flat land at the foot of a large and picturesque valley on a small river and is surrounded by rice terraces. It is empty and quiet all week, except on Sundays.
Tip! More minority markets in Vietnam
The markets around Sapa are the most well known minority markets in Vietnam. Though only the Bac Ha market every Sunday gets frequently visited. But you can find many more of these minority markets around Sapa and in the rest of north Vietnam. Almost each village and town has one, often held once a week. You can also find many of these markets in Ha Giang. The province Ha Giang has the largest groups of ethnic minorities of the country.