Vinh Nghiem Pagoda, situated in District 3 approximately 3 km from the bustling city center, may not have a long history as it was built in 1964, but it holds significant importance as one of the largest and most revered Buddhist places in Vietnam. There is a very active engagement with the local Buddhist community, so a visit to Vinh Nghiem Pagoda offers an authentic experience into the local temple culture, allowing you to witness the devotion and religious practices of the Vietnamese people.
Opening times & address
Address: Vinh Nghiem Pagoda is located at 339 Nam Ky Khoi Nghia Street, Ward 7, District 3, Ho Chi Minh City, Vietnam.
Opening times: The pagoda is open daily from early morning to late evening. Typically, it opens around 6:00 AM and closes around 9:00 PM.
Entrance fee: There is no entrance fee to visit Vinh Nghiem Pagoda. However, donations are welcome to support the maintenance and preservation of the pagoda's cultural and religious heritage.
How to get there
To get to Vinh Nghiem Pagoda in District 3 from District 1, the most convenient option is to take a taxi. The pagoda is located on the edge of District 3, so it is too far to walk. The distance from Ben Thanh Market, a central landmark in District 1, is approximately 3 kilometers. The taxi ride typically takes around 15 minutes, depending on traffic conditions, and the fare can range between 50,000 and 90,000 VND, depending on the exact location in District 1.
Visiting tips & rules
Dress modestly and respectfully when visiting the pagoda. It is recommended to wear clothing that covers your shoulders and knees as a sign of respect.
Be mindful of your behavior and maintain a quiet and peaceful atmosphere within the pagoda premises.
It is customary to remove your shoes before entering the main prayer halls or designated areas. Look for signs or observe others to follow the appropriate shoe removal procedure.
Taking photographs is generally allowed, but it is advised to be discreet and respectful. Avoid using flash and be mindful not to disrupt any ongoing ceremonies or disturb other visitors.
Consider visiting during weekdays or non-peak hours to avoid crowds and have a more serene experience.
Short history
Vinh Nghiem Pagoda in Ho Chi Minh City carries the name and heritage of its counterpart in Bac Giang, a renowned center of Truc Lam Zen Buddhism in Northern Vietnam. The establishment of Vinh Nghiem Pagoda in Ho Chi Minh City was a testament to the devotion and support of monks and followers who migrated from the North to the South during the 20th century.
The pagoda was built between 1964 to 1971, making it relatively new compared to other ancient pagodas in the city. It resulted in the completion of three significant structures: a main hall dedicated to the worship of Buddha, a grand tower to house sacred relics, and a space for various social and cultural activities within the pagoda. In 1982, an additional tower was established, offering accessibility and engagement to the local community.
Despite its young age, Vinh Nghiem Pagoda holds great significance in Vietnamese Buddhism and is recognized as one of the largest and most important pagodas in the region. In 2015, the pagoda had the honor of receiving a visit from the Prime Minister of the United Kingdom, David Cameron.
Highlights of Vinh Nghiem Pagoda
Vinh Nghiem Pagoda encompasses several remarkable buildings that showcase unique architectural styles and cultural significance.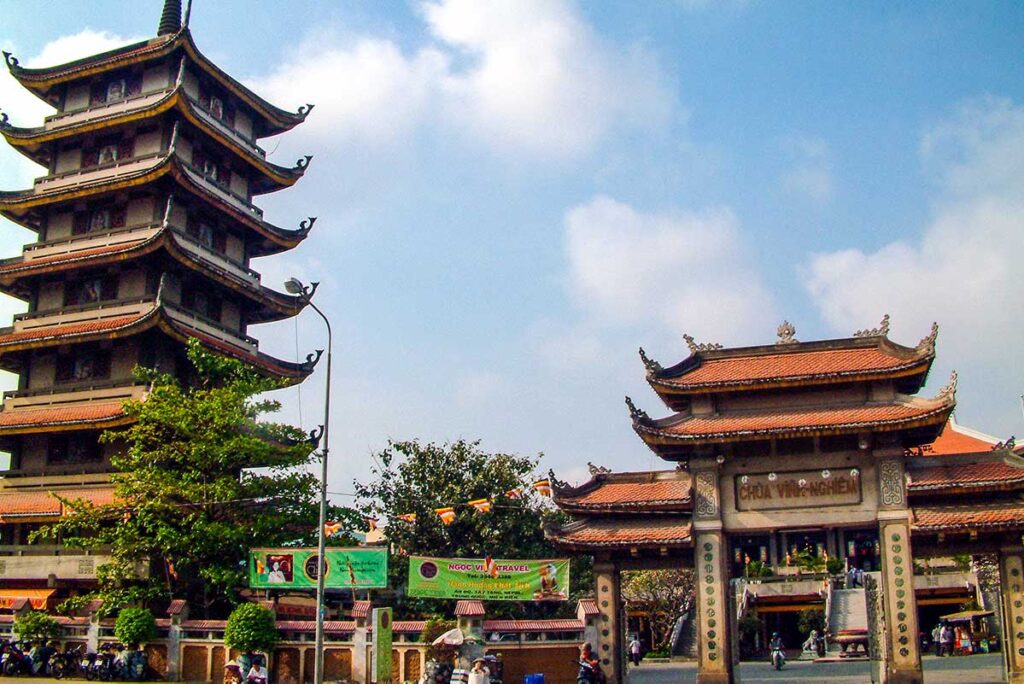 At the front, a "three-door" gate welcomes you into the front yard of the pagoda.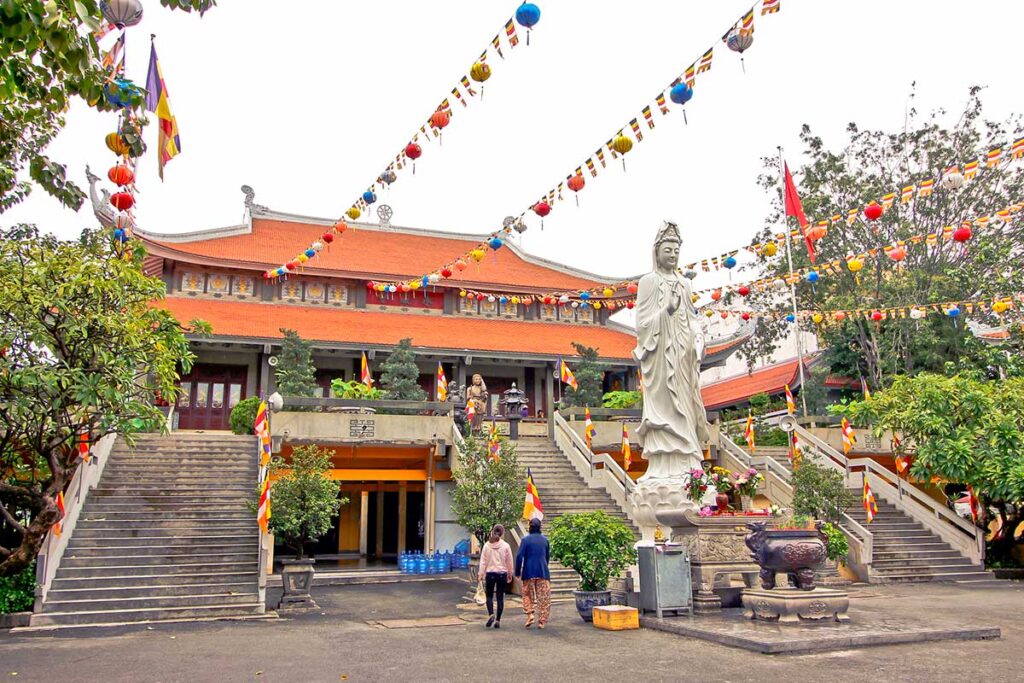 Standing in the middle of this yard is a remarkable statue of Guanyin. In the corner to the left of the pagoda's entrance is a small garden adorned with lush greens and stone steps.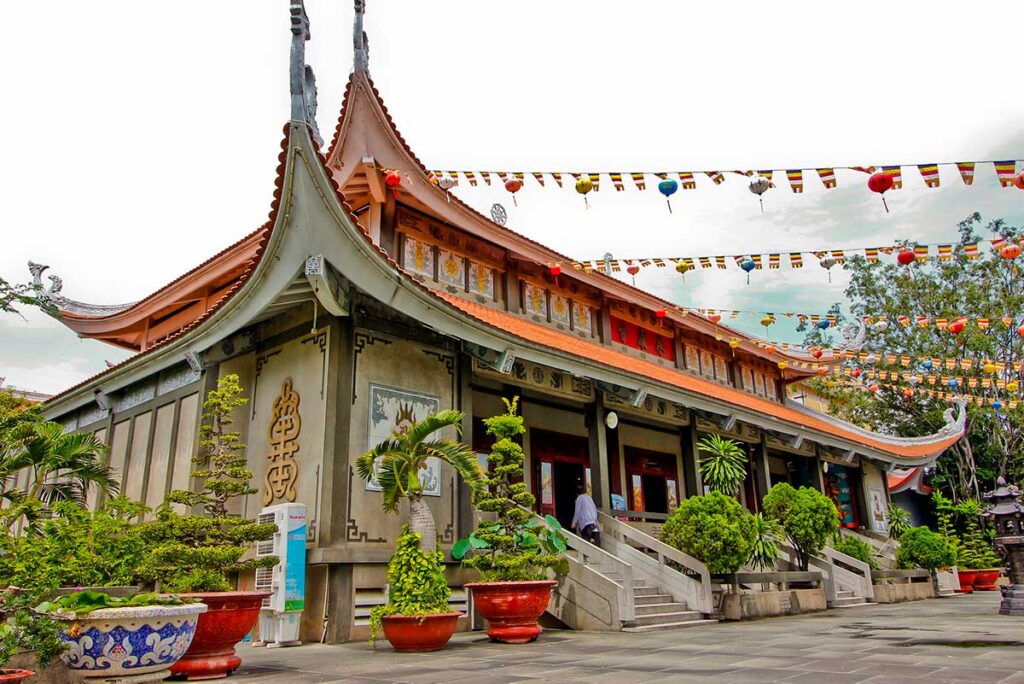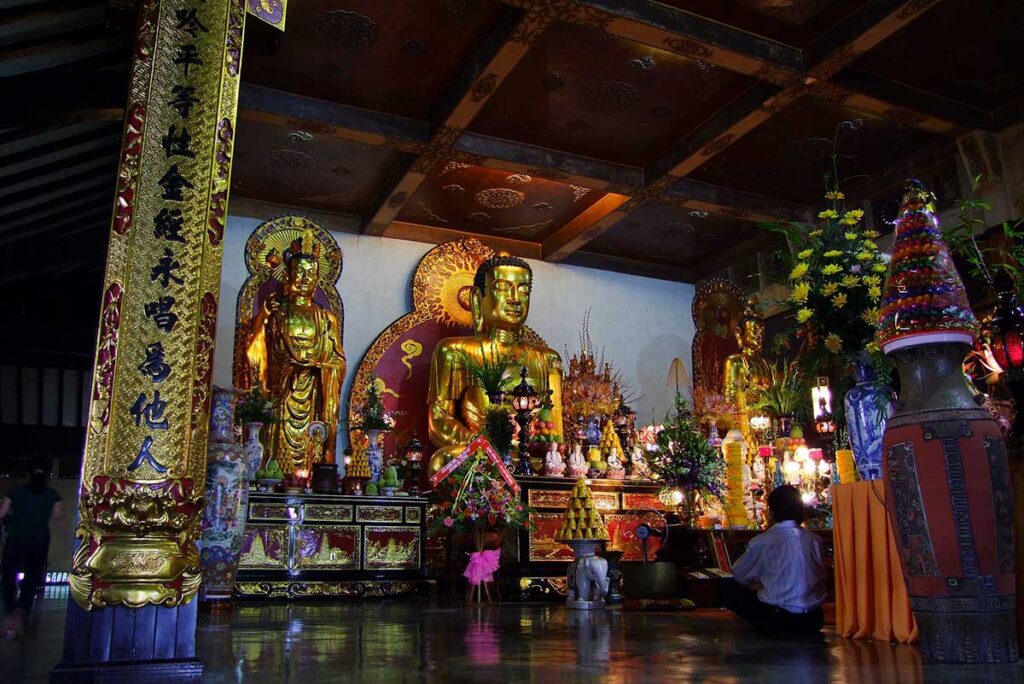 The main hall, dedicated to Buddha worship, stands as the focal point of the pagoda. The design is an unique combination of traditional Vietnamese and contemporary architectural elements, featuring intricate carvings and vibrant colors.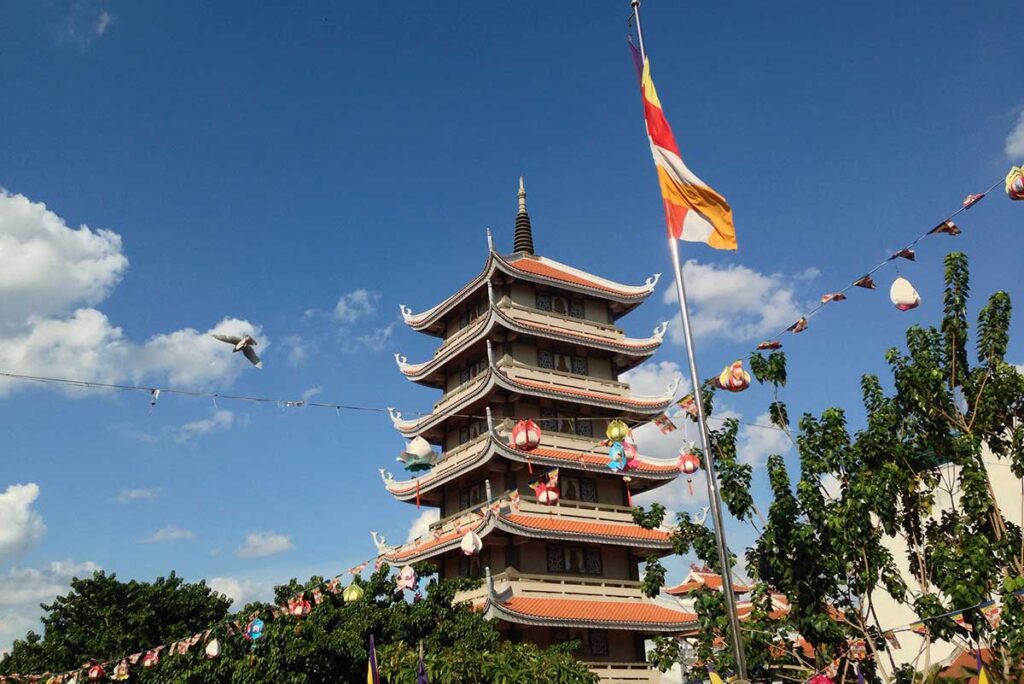 The grand tower within Vinh Nghiem Pagoda serves as a storage place for sacred relics. It stands tall and majestic, decorated with ornate decorations and intricate details. The tower's architecture reflects a fusion of Vietnamese and Indian influences, representing the rich cultural exchange between the two nations.
Additionally, the pagoda boasts another tower that serves as a gathering place for the local community. This tower, designed with a more contemporary touch, provides a space for social and cultural activities.
Overall, the buildings of Vinh Nghiem Pagoda offer a visual feast for visitors, with their elaborate designs, vibrant colors, and architectural styles that seamlessly blend traditional Vietnamese elements with influences from other cultures.