The flower market of Hanoi, Quang Ba flower market, is a unique market. Masses of beautiful flowers are bought and sold and put on incredibly loaded motorcycles. It feels like you are walking through a gigantic, colorful garden.
The markets in Vietnam are an important part of Vietnam's culture and traditions, and every city has several. These markets sell everything; clothing, electronic equipment, food and household products. Some markets are specialized and sell for example only fish, food, motorbikes, clothes or, like Quang Ba, flowers. Another well known flower market is the flower market in Ho Chi Minh City.
What to expect at the Quang Ba flower market
The Quang Ba flower market in Hanoi is mainly a commercial market that operates as a wholesaler. It is busiest at night when all the flower shops in Hanoi come here to pick out the best flowers to sell during the day. This hustle and bustle also attracts people who love to take pictures of this colorful spectacle.
There are flower shops in the city and some individual buyers who want to decorate their homes and office spaces flock here. You will see all kinds of people in the market, from florists and sellers to photographers, and young couples looking for a romantic atmosphere.
The market mainly consists of many stalls and a number of permanent shops. There are also many sellers who sell their flowers directly from their motorcycle, which has been transformed into a mobile shop or directly from the truck. Often these sellers specialize in just one or two different flower types, making it easy for buyers to find what they need.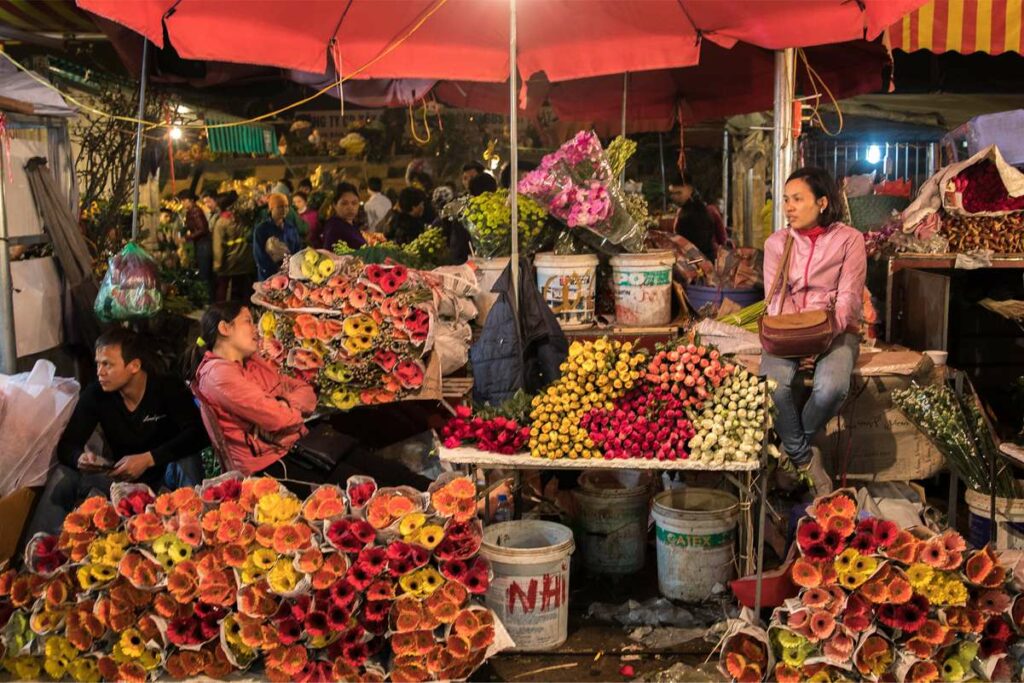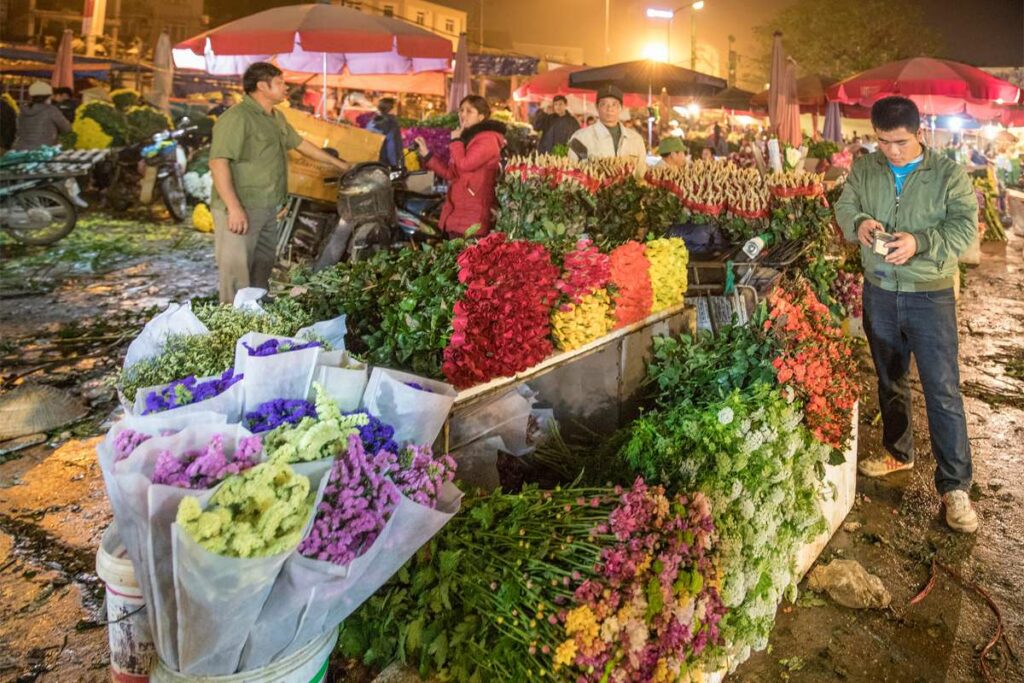 Flowers are also often used for offerings in temples and altars in people's homes. This is why the flower markets are especially busy during Tet, the Vietnamese Lunar New Year and during full moons it is also busier than usual. Flowers play a major role during these periods.
The Quang Ba flower market is a unique place to explore and worth waking up early. Especially when you love to make photos this is one of the best things to do in Hanoi. You can also buy flowers yourself at this market. Because you buy directly from the supplier, they are often a lot cheaper than in the shops in Hanoi.
Best time to visit the flower market in Hanoi
The Quang Ba Flower Market is every day open from 8:00 PM to 6:00 AM for wholesalers and from 6:00 AM to noon for retailers. To see the market in its full bloom, it is best to visit early in the morning, between 2:00 AM to 5:00 AM. This is when florists hit the market, selecting the best flowers they need for the day. Especially around Vietnamese New Year (Lunar New Year or Tet) this market is extremely busy with an enormous amount of flowers. The market is still active during the day, but the number of people is much less.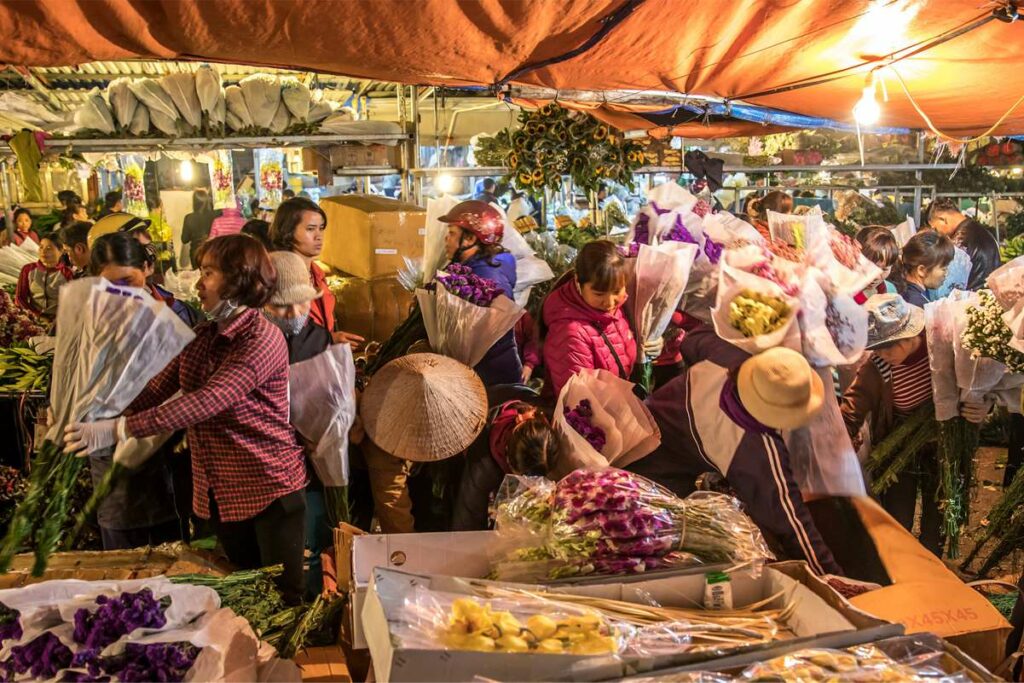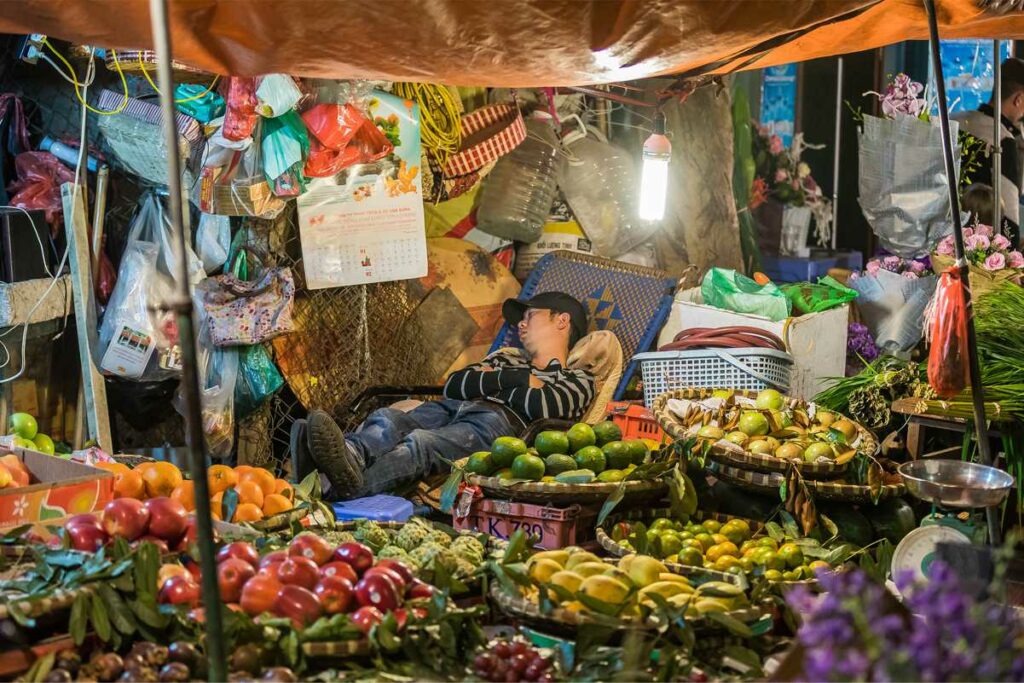 How to get there
The Quang Ba Flower Market is located on the Nghi Tam dyke, Quang An Ward, Tay Ho District, around 4,5 km from the heart of the Old Quarter. Because it is at night or very early in the morning, it is best to go there by taxi. At night when there is no traffic, it takes probably less than 15 minutes to get there.
What to do next
You should visit the Hanoi flower market very early in the morning. You can then choose to go back to bed or make the most of your morning.
To help you with the latter, you can use the following itinerary.
3:15 AM – Take a taxi (car or on the back of the motorcycle) to the flower market.
3:30 AM – 4:30 AM – Explore the Quang Ba Flower Market. An hour is generally enough, but if you think you need longer you can go earlier.
4:30 AM – Take a taxi to Long Bien market.
4:45 AM – 5:30 AM – Have a look at this entire local market. Not exactly clean or sterile – but not the dirtiest either. There will be no or at most a single tourist walking around, so it is a truly local and authentic experience.
5:30 AM – Walk to famous Long Bien Bridge, where you can see one of the most beautiful sunrises in Hanoi.
6:00 AM – Make a quick visit to Long Bien Train Station, that is located right in a residential neighborhood
6:15 AM – Just 300 meters from here is the Dong Xuan Market, the biggest market in Hanoi! Take your time to explore this massive local market.
7:15 AM: It is time for breakfast. You are right on the edge of the Old Quarter already, so can find food here some of the best street food in Hanoi. You can also eat at the market itself, in a restaurant in old town or at your hotel.