Ho Chi Minh City is renowned for its vibrant night markets, offering a lively and immersive shopping experience. From the bustling streets lined with colorful stalls to the enticing aroma of street food wafting through the air, these night markets are a must-visit for any traveler seeking a taste of the city's vibrant nightlife. Whether you're searching for souvenirs, delectable street food, or a lively atmosphere, the night markets in Ho Chi Minh City have it all.
1. Ben Thanh Night Market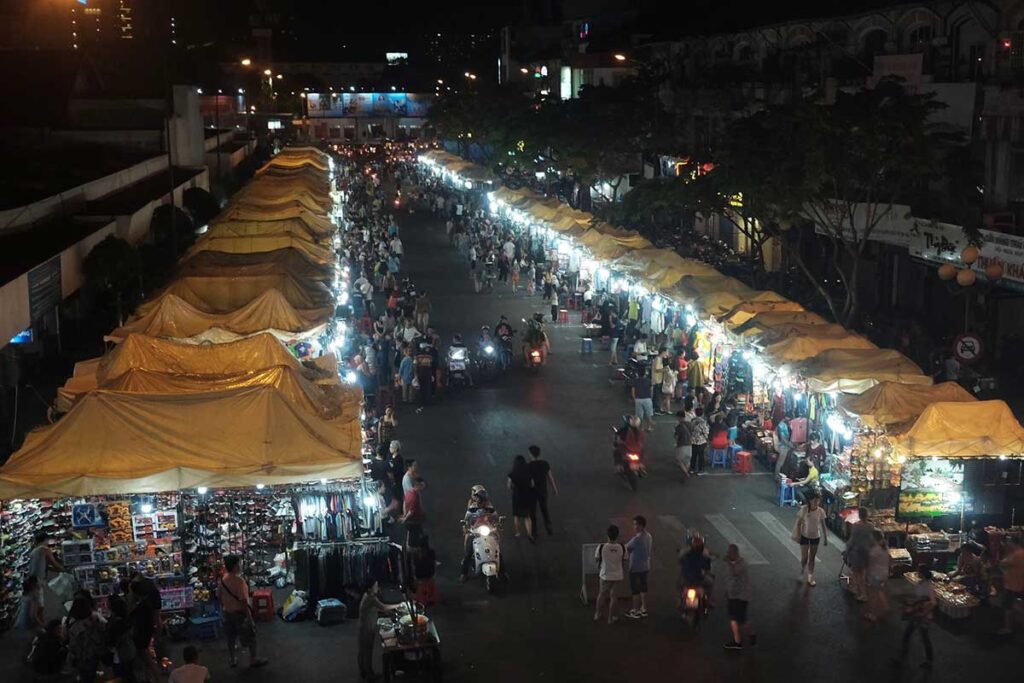 Ben Thanh Market is the most iconic and popular market in Ho Chi Minh City. When the main market closes around 5-6 PM, the Ben Thanh Night Market springs to life, offering a bustling atmosphere and a wide range of products. Here, you can find everything from clothing, accessories, souvenirs, to street food. It's a vibrant and lively place to explore in the evening, filled with both locals and tourists.
Adjacent to the market, there is also the Ben Thanh Street Food Market, which provides a more curated and convenient street food experience. This area offers a modern and hip ambiance, making it an excellent choice for those new to street food. The vendors here serve up delicious local delicacies, and the environment is clean and tourist-friendly, with English menus available. Although prices may be slightly higher than street food stalls, it provides a great introduction to the diverse flavors of Vietnamese cuisine.
Address: Intersection of Le Loi, Ham Nghi, Tran Hung Dao Avenues, and Le Lai Street, District 1, Ho Chi Minh City.
2. Ho Thi Ky Night Flower Market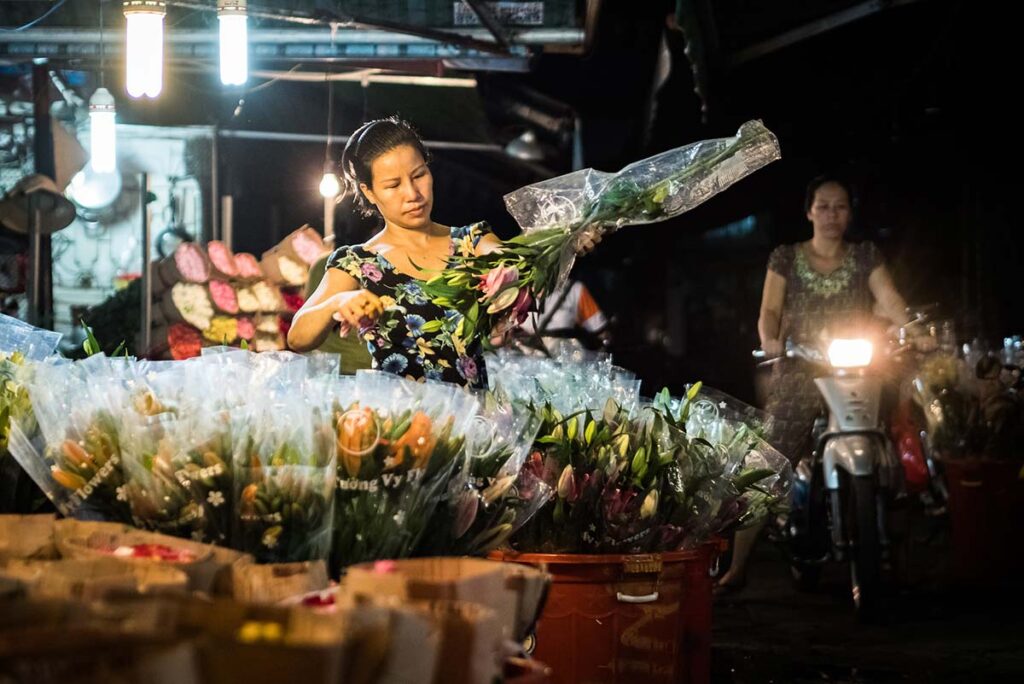 Ho Thi Ky Night Flower Market stands out among the night markets in Ho Chi Minh City due to its unique focus on fresh flowers. This market comes to life at night as suppliers bring in a wide variety of flowers from different provinces in Vietnam and wholesalers comes to buy. It serves as a hub for floral trade, where vendors purchase their stock for distribution to stores across the city. The vibrant atmosphere and the captivating aroma of flowers make it a delightful place to visit.
What many visitors may not be aware of is that behind the flower market, there is a bustling street food market area. Known as Le Hong Phong Market or Cambodian Market, this section offers a diverse range of Cambodian street food dishes. The vendors, many of whom originate from Cambodia, serve up authentic flavors that showcase the culinary heritage of the region. Exploring this hidden gem of a street food market is a must for food enthusiasts seeking unique and flavorful experiences.
Address: Ho Thi Ky Street, Ward 1, District 10, Ho Chi Minh City.
3. Minh Phung Night Market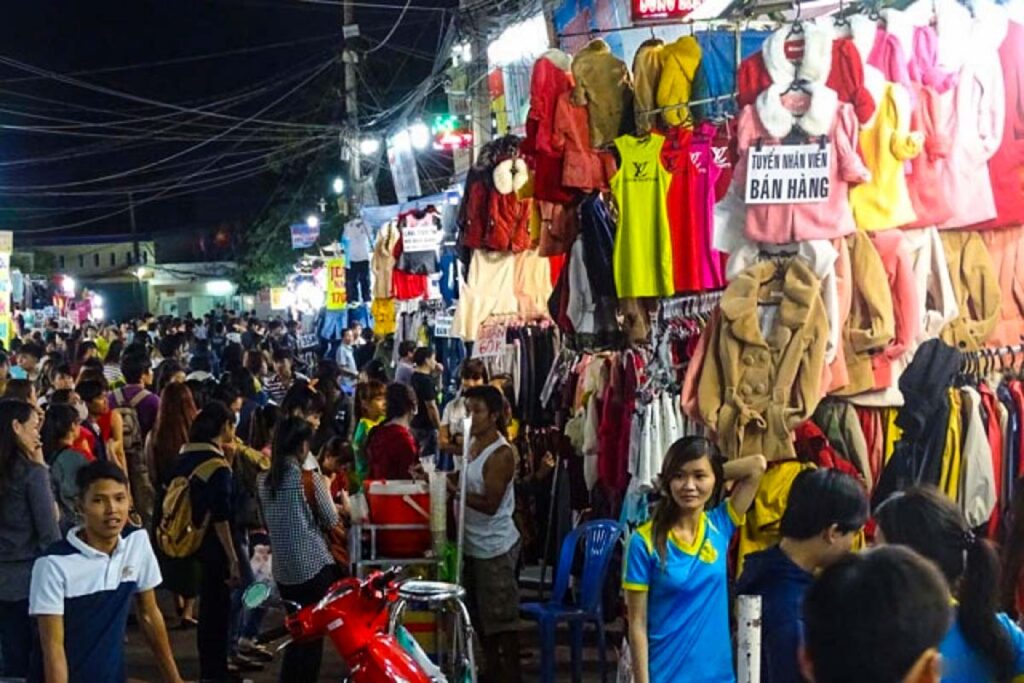 Situated in District 6, Ho Chi Minh City, Minh Phung Night Market offers a vibrant shopping experience. By day, the market caters to agricultural products and consumer goods, but at night it transforms into a bustling hub for clothing, bags, and jeans. This market is particularly popular for its wide selection of children's and adults' apparel. What sets Minh Phung Night Market apart is its reasonable and fixed pricing, allowing visitors to shop with ease and without the need for extensive bargaining. The friendly and welcoming atmosphere created by the sellers adds to the overall charm of the market.
Address: Minh Phung Street, Ward 9, District 6, Ho Chi Minh City.
4. Hanh Thong Tay Night Market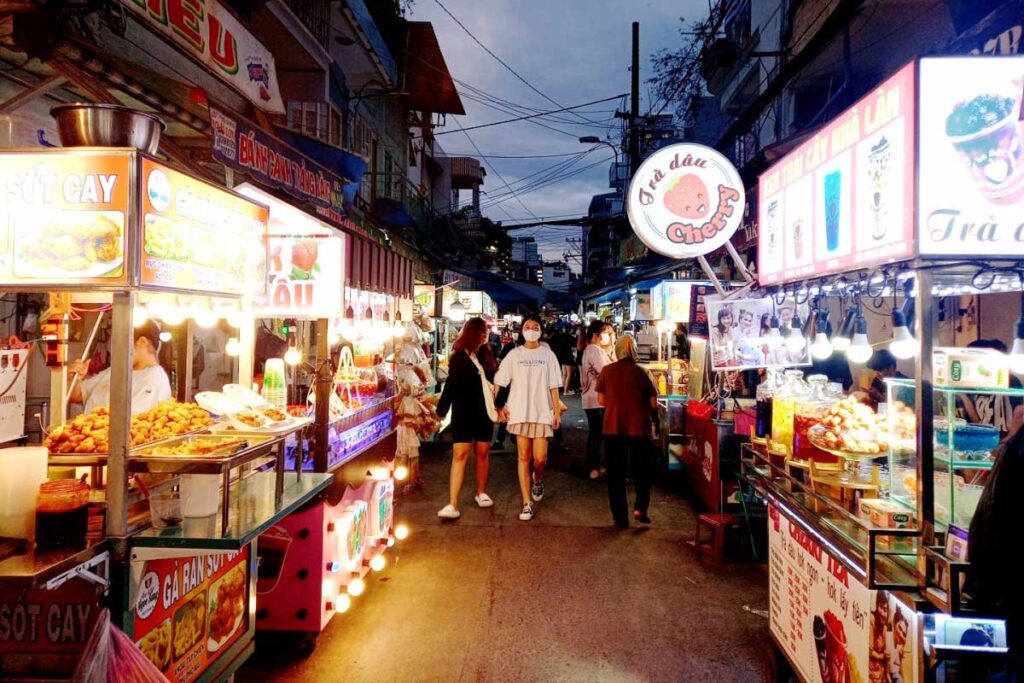 Hanh Thong Tay Night Market has gained popularity among local students for its affordability, making it a go-to destination for budget-conscious shoppers in Ho Chi Minh City. This bustling night market offers a wide array of products including clothing, handbags, footwear, cosmetics, and more. The diverse range of items available attracts people from all walks of life, ensuring a vibrant shopping experience.
Additionally, one of the highlights of this market is its street food vendors, who offer a tempting selection of dishes characterized by generous portions and delicious flavors. With its reasonably priced products and delectable food options, Hanh Thong Tay Night Market promises a rewarding visit for both shopaholics and food enthusiasts.
Address: Hanh Thong Tay Street, Ward 2, District 12, Ho Chi Minh City.
5. Ba Chieu Night Market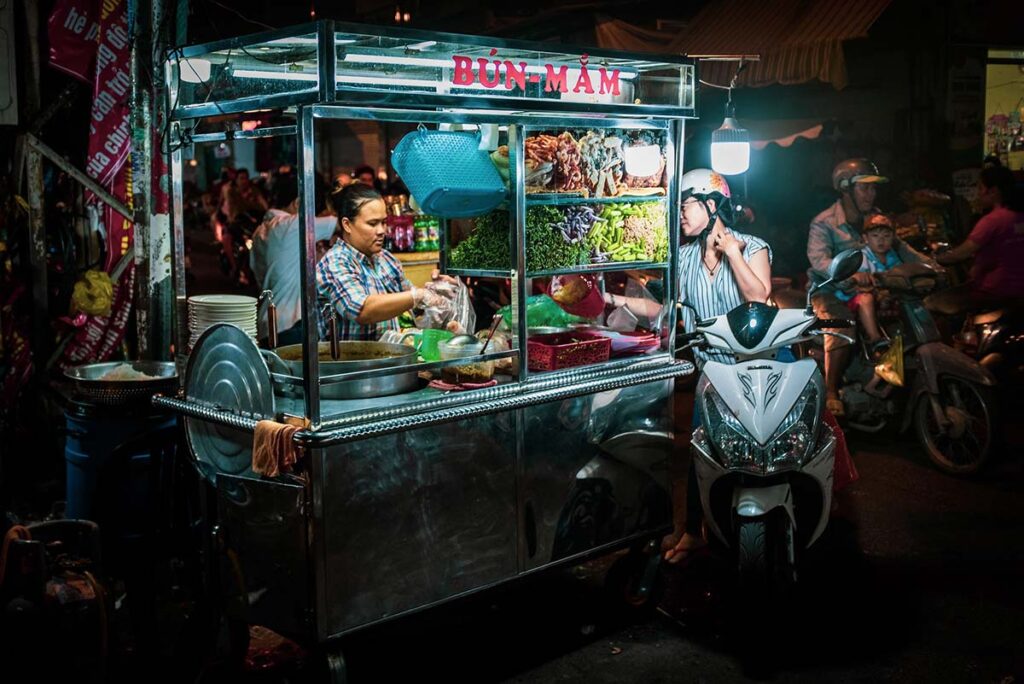 Although Ba Chieu Night Market is situated in the neighborhood of the city center, its products are sold at the average prices. That is the attractive point of the market. Besides, there is a variety of choices for the buyers, such as clothing, shoes, fresh and dried fruits.
More specifically, coming to Ba Chieu market in the early afternoon, you can enjoy the delicious banh chung, banana cake, pineapple leaf molded cake served with irresistible greasy coconut milk. Ba Chieu night market is also a place to visit for many people who want to buy goods in large quantities and at cheap prices. The market's goods are highly appreciated for its richness and diversity from clothing, to shoes, bags, hats…, which makes Ba Chieu one of the most worth visiting Saigon night markets.
6. Binh Tay Night Market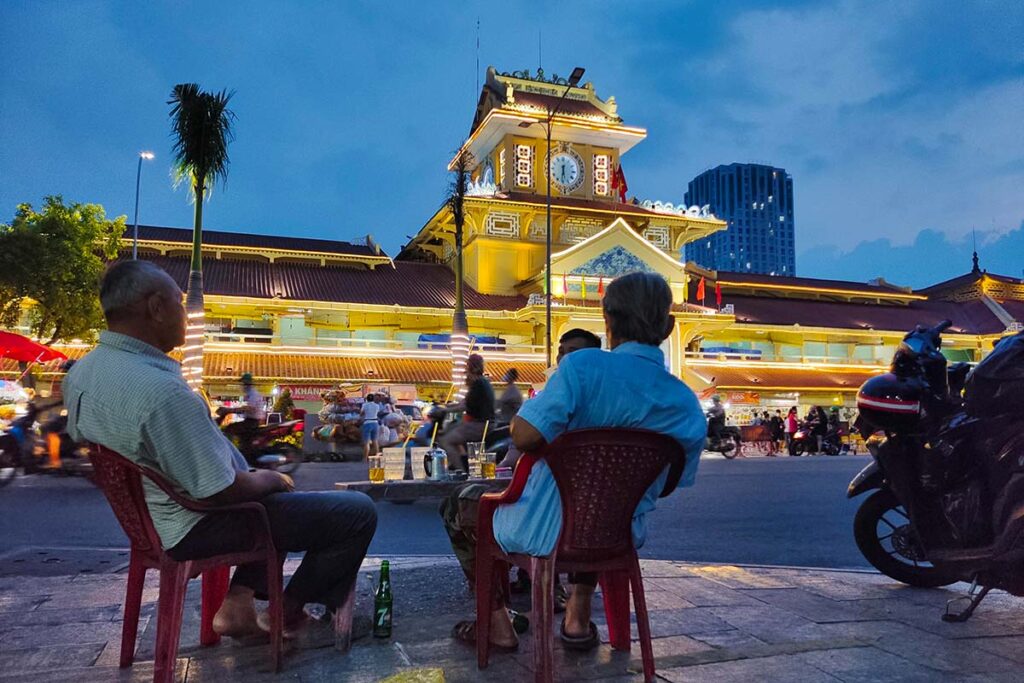 Binh Tay Night Market, one of the oldest markets in Ho Chi Minh City, operates from 2 AM to 10 PM, catering to the daily grocery needs of locals during the day and transforming into a bustling wholesale market with the best prices in the evening. In addition, the area surrounding the market comes alive at night with a wide variety of street food options, offering visitors a delightful culinary experience. You can sample a diverse array of local delicacies, including grilled meats, seafood, noodle dishes, and delectable snacks.
Address: Thap Muoi Street, Ward 2, District 6, Ho Chi Minh City.