Cycling & mountain biking in Dalat is one of the best ways to discover the stunning hills and forest areas. Despite the fact that you can find similar nature areas throughout the Central Highlands and you also have many mountains in the north of the country, Dalat is actually one of the only places where you can go mountain biking in Vietnam. This is because cycling, and especially mountain biking, is not (yet) very popular in Vietnam.
Dalat though, has grown as the adventure capital of the country, so everything is way more developed here in terms of outdoor activities than at many other destinations. In addition to beautiful bicycle and mountain bike routes, you can also go kayaking, whitewater rafting and even canyoning.
Tips for cycling & mountain biking in Dalat
Check the weather
Check the weather before you go cycling or mountain biking in Dalat. Especially during the rainy season between April and October. The Dalat area consists of many hills and mountains. During the rainy season, biking trails can become slippery and even land slides can occur.
Choose the right trail
You can either go cycling or mountain biking in Dalat. There are also different levels. Do you wish for an adventurous day of mountain biking through the hills of Dalat, or rather enjoy a more peaceful route with sightseeing on the way.
What to bring
Tour guides will take care of the bikes and necessary (safety) equipment. It is recommended to bring a light backpack with you and include rain- and sun protection. Tours are including water and lunch, but it might me smart to take an extra snack for energy and drink with you.
Mountain biking routes in Dalat
Crazy 8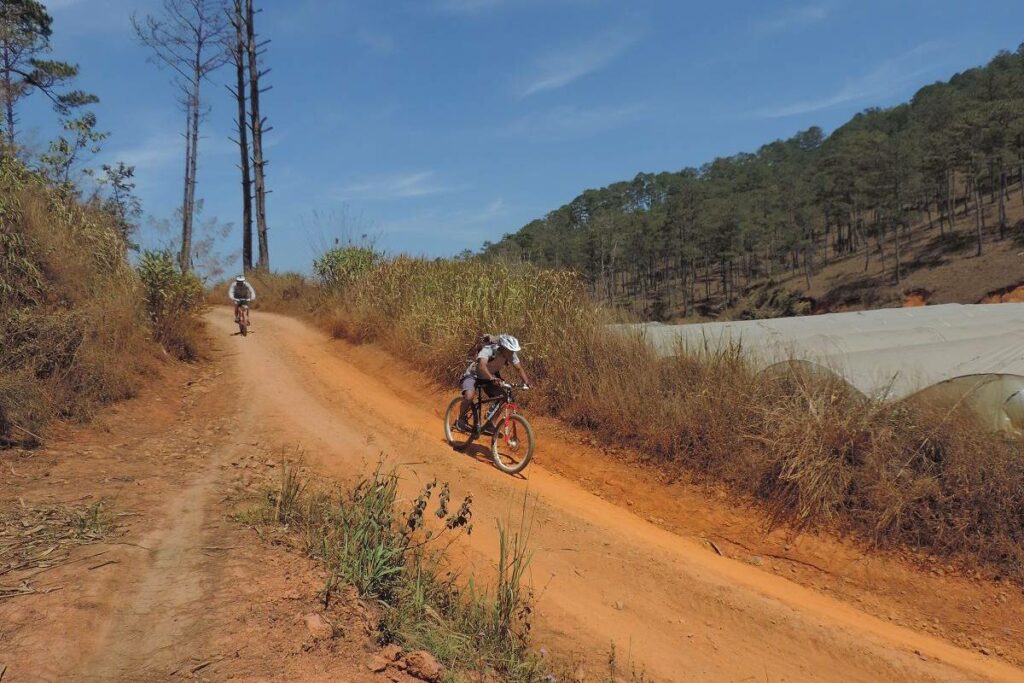 The Crazy 8 trail is the best for mountain biking in Dalat. It has the most amazing trails. Lots of hills, great forest roads, amazing single track downhill riding and stunning views on the way, through pine forest and past farms and lakes. The complete distance of this mountain bike trail is 37. The route goes from wider dirt tracks to more technical single tracks.
It is the most physically challenging mountain bike trail in Dalat, so it is recommended to have some descent stamina and health. You can check the itinerary and book the Crazy 8 mountain biking tour here. It included pick up and drop off from your accommodation in town and lunch during the trip.
Phoenix Hill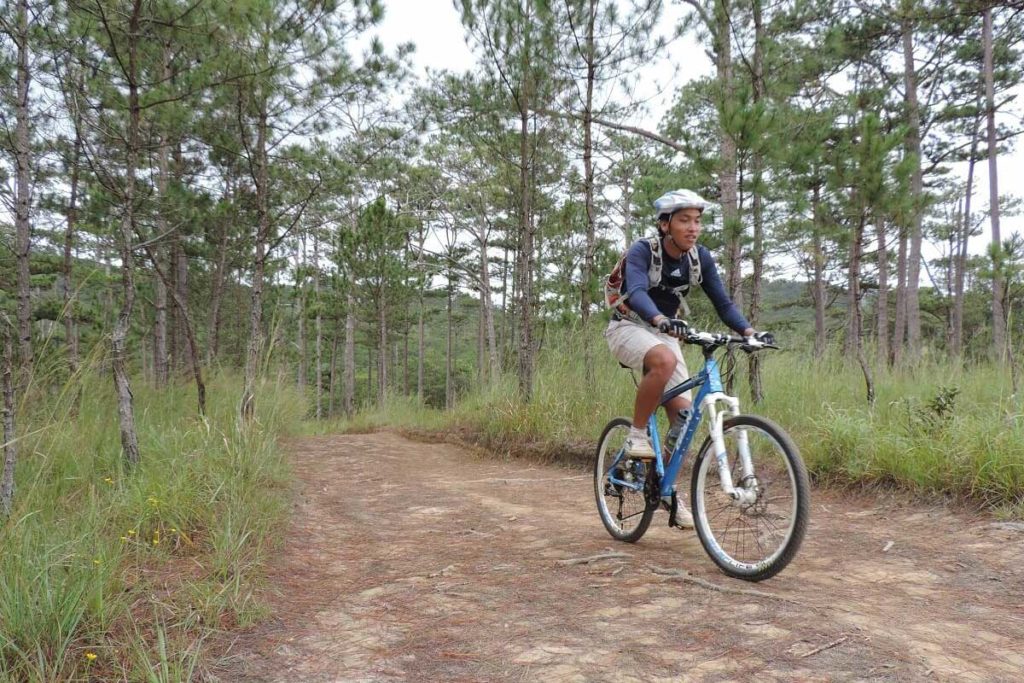 Phoenix Hill is less challenging compared with Crazy 8, but has everything you expect when you go mountain biking in Dalat. This includes nice forest trails and country roads. During the trail you will bike past a few lakes, farms, plantations and go trough countryside and forest. There is time to stop on the way at a local pagoda or to cool down with a swim in the lake. It is a great combination of sightseeing, enjoying nature and mountain biking in Dalat.
Look at the full itinerary of the Phoenix Hill mountain bike tour here.
Cycling routes in Dalat
Dalat to Nha Trang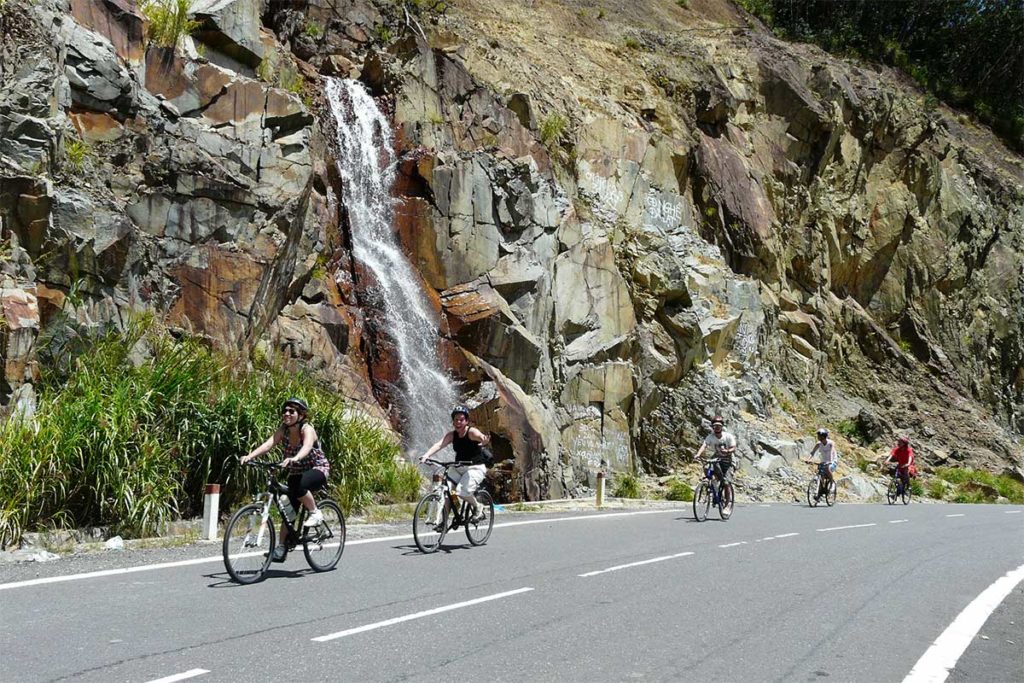 The route from Dalat to Nha Trang is so beautiful that it is worth doing it by bike or (on the back of) the motorcycle. The complete distance between these two cities is 135 kilometers, of which a small part is covered by car. The best part, however, is that most of the route is downhill. So it is physically not the most difficult trip.
The route down is spectacular. You will start in the forests of Dalat and you will finish on the beautiful coast of Nha Trang. This transition from the cool forest to the hot coastal area is great to experience. Along the way you drive through a beautiful green area with small waterfalls.
During a tour there is a car available to guide you if it becomes too much and your luggage is also immediately taken, so that you can continue your tour through Vietnam from Nha Trang further up north.
Dalat to Mui Ne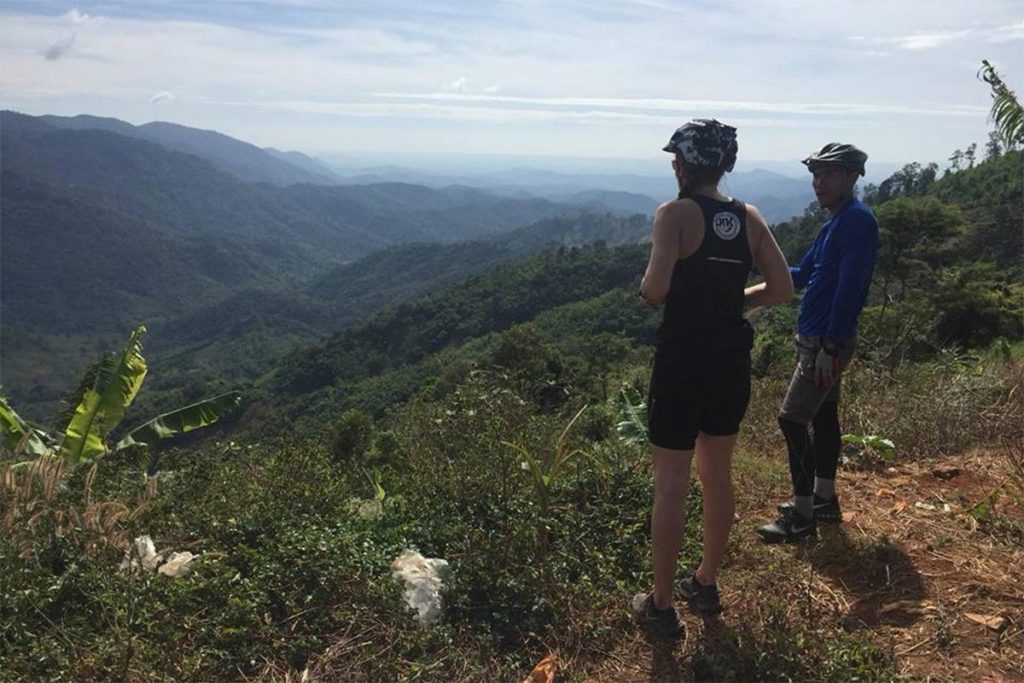 A similar route is from Dalat to the coastal town of Mui Ne, which is further south. This can be a good option if you are traveling from Dalat to Ho Chi Minh City. The cycling route brings you through jungle forested valleys and small villages of minorities and end at the beautiful beaches below. There is more than 900 meter of descent and the complete route that you bike is just over 70 kilometer.
Countryside cycling
Many travelers choose to explore Dalat on the back of an Easy Rider. If you're looking for something more active, explore the Dalat countryside by bike. Along the way you can enjoy nature and culture. Visit an impressive waterfall, coffee plantations, a temple, a local said factory and an ethnic minority village.
The complete route of the Dalat countryside cycling tour is 32 kilometers.