Located quite far from the city center, Buu Long Pagoda in Ho Chi Minh City offers you a truly local experience. This temple stands out as a unique and distinctive gem among the many other temples found not only in the city but in Vietnam as a whole. Its architecture is strikingly different, featuring a style reminiscent of temples found in Thailand rather than the traditional Vietnamese style, making it a must-visit if you are looking for a different cultural experience.
Visiting information
Location
Address: Buu Long Pagoda, Long Binh Ward, District 9, Ho Chi Minh City, Vietnam.
Opening Times: The pagoda is generally open from early morning until late afternoon. Exact opening hours may vary, so it's best to visit during daylight hours.
Entrance Fees: There is no specific entrance fee to visit Buu Long Pagoda. However, donations are appreciated to support the maintenance and upkeep of the temple.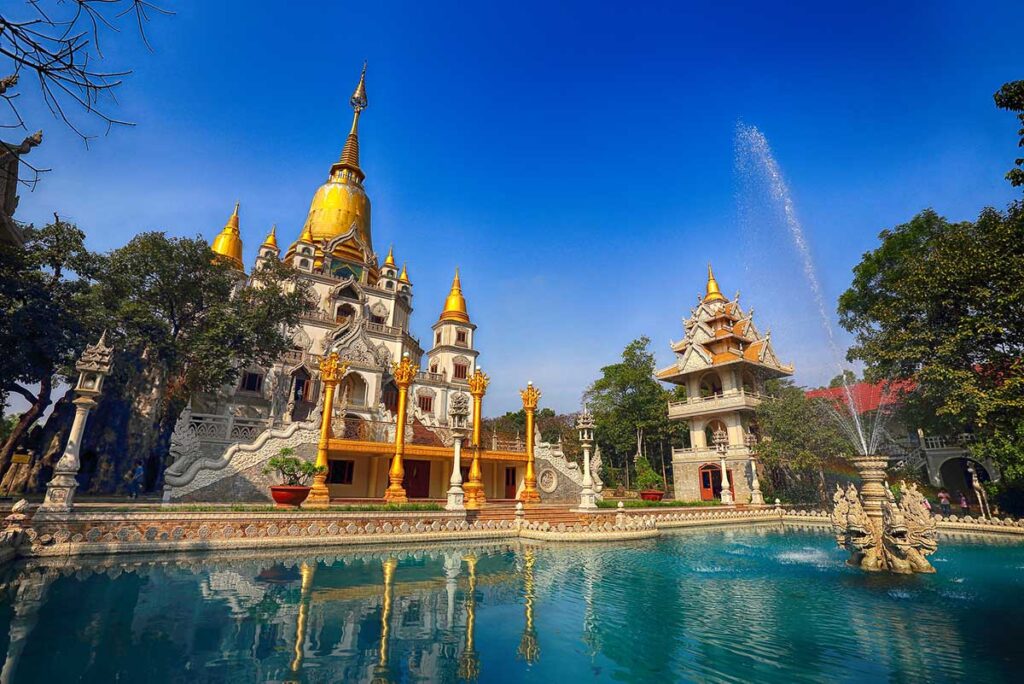 How to get there
Buu Long Pagoda is located in District 9, quite far away from the city center. Bus options are available, but the journey can take around 2 hours due to the distance. Taking a taxi or using a taxi app like Grab is the most convenient option.
The approximate distance from the city center is 18 km, and the travel time by taxi is around 45 minutes (depending on traffic conditions). Taxi costs can be around 200,000 to 300,000 Vietnamese Dong (VND), but it is advisable to check with the driver or refer to the taxi app for accurate pricing.
Other things around
There are not many other prominent sights in the immediate vicinity of Buu Long Pagoda. However, the Ao Dai Museum is located in the same district, around 2.7 km away. It is a nice museum set in a lush green area, showcasing the traditional Vietnamese garment.
Exploring the District 9 area itself can be a rewarding experience, offering a glimpse of rural and authentic surroundings compared to the bustling city center.
If you're up for an even more adventurous journey, approximately 15km beyond Buu Long Pagoda and even farther from Ho Chi Minh City, you'll discover Chau Thoi Temple. It is located on top of a mountain and seeing this temple from a distance is an impressive sight.
Visiting tips
As Buu Long Pagoda is still an active temple, it is important to dress modestly and respectfully. Ensure that your attire covers your shoulders and knees.
The pagoda provides great opportunities for photography.
Weekends and certain afternoons can be more crowded, as locals often visit the temple to take photos. Consider visiting during weekdays for a quieter experience.
History & architecture of Buu Long Pagoda
Buu Long Pagoda, built in 1942, showcases a unique blend of Southeast Asian architectural styles, drawing inspiration from Thailand, India, and the Nguyen dynasty in Vietnam. Despite its resemblance to Thai pagodas with its predominant yellow color, the pagoda incorporates Vietnamese elements such as dragon and crane motifs.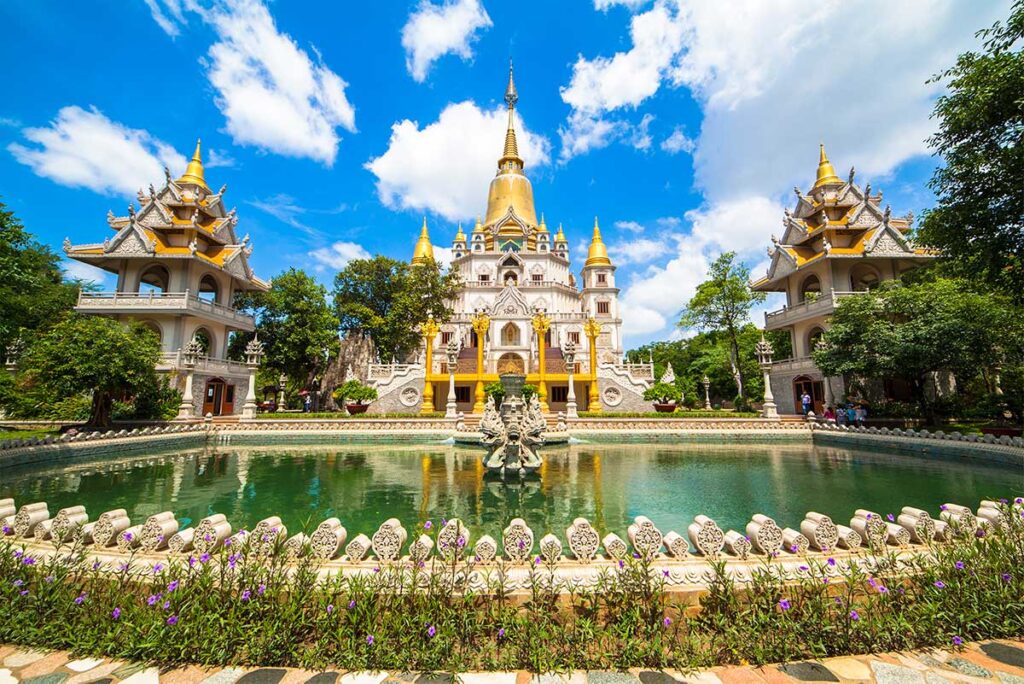 Its main stupa, standing at an impressive height of 56 meters, is the largest in Vietnam and is surrounded by four auxiliary towers.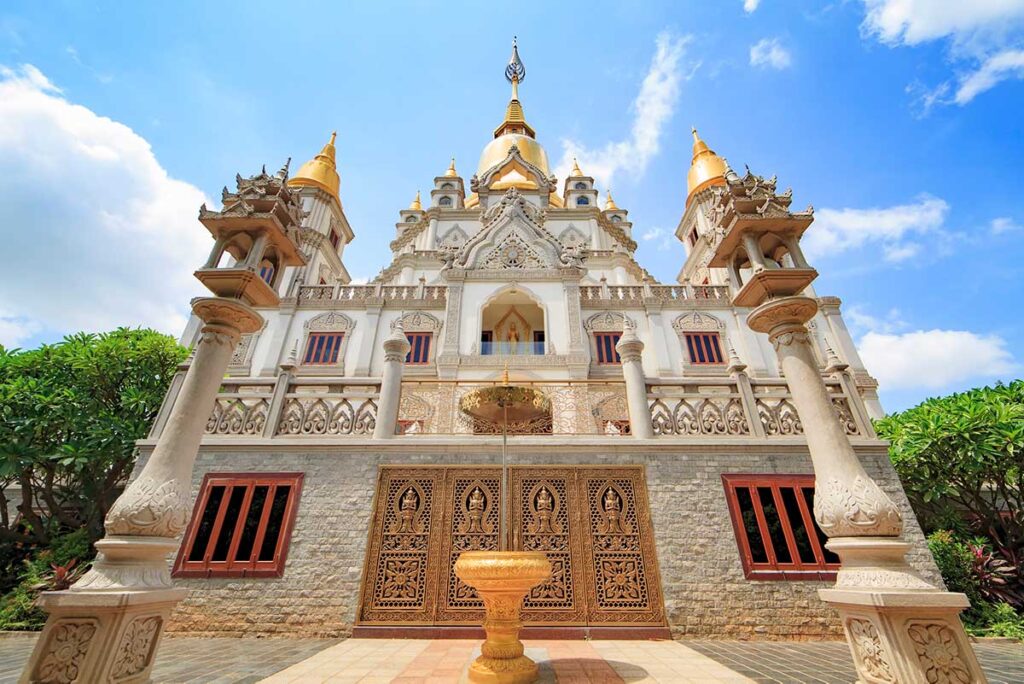 The serene ambiance and picturesque landscape of Buu Long Pagoda offer you a peaceful retreat from the bustling city life. Exploring the expansive grounds, you can admire the intricate statues, stroll through the tranquil garden, and even enjoy a vegetarian meal at the onsite restaurant.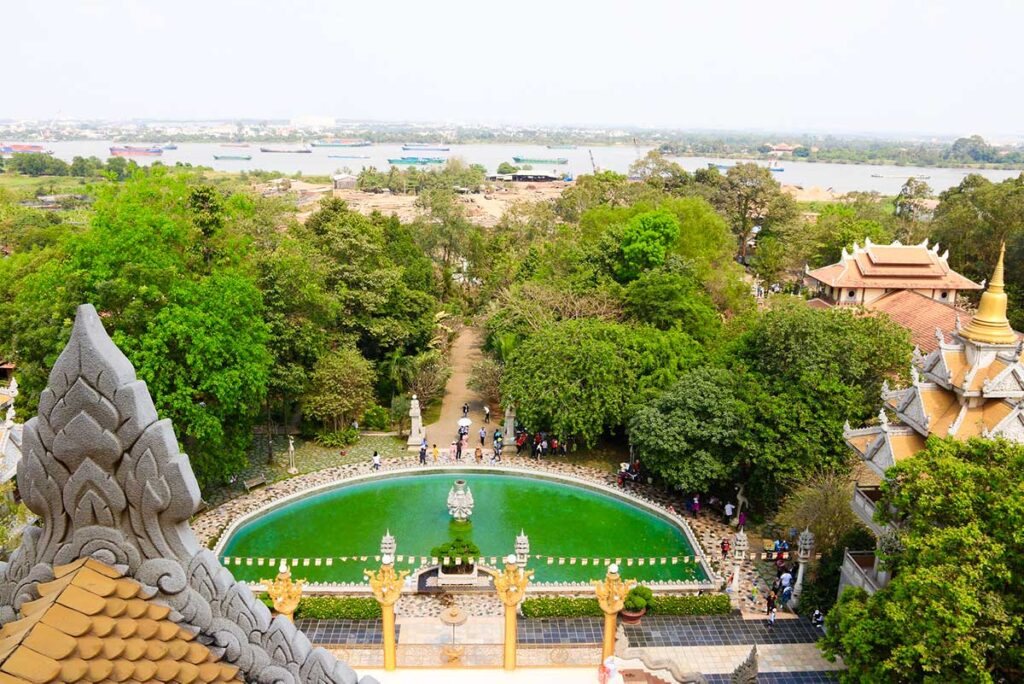 Don't miss the opportunity to climb to the top of the tower, where you can behold panoramic views of the Dong Nai River and the surrounding rural District 9.